Oh, how we love picnics! Those sunny and gorgeous days when you cannot even think about eating indoors because it would be a crime. Since weather can be unpredictable, they are usually impromptu decisions, and we need to move fast! There's no doubt that pasta salad seems to be a picnic favorite so remember to save this recipe for those incredible blue sky days.
The Perfect Picnic: Go Fresh!
Picnic food has to be simple, cold and fresh. I don't think many people would consider taking a heavy stew on their picnic, right? Nope! Fruits and veggies seem to be the obvious choice.
Let's imagine a perfect picnic basket, shall we? No matter how cute the basket, the food inside has to be delicious and adequate for a long day under the sun. First on the list: bread. A must! Some fresh baguette or ciabatta would be ideal. A bottle of fizzy drink or fresh cold juice (or a sparkly wine if you're doing a Sunday picnic brunch!) Pick some fruits to snack on or just as a post-lunch sweet treat. Fresh strawberries, blueberries or some cold grapes, or all of them in a mixed fruit salad.
You could make it a multi-snack kind of picnic with vegan cheeses, some delicious hummus, crackers, olives, and a dip. Maybe a trail mix to snack on? You get the idea. Easy cold foods that make you feel good while enjoying the sun.
Of course, you can make some amazing sandwiches with some hummus, arugula and cherry tomatoes. This might be the best choice if you are improvising and need to throw together something quickly.
But today we're going to focus on a main picnic dish—this pasta salad from the Mississippi Vegan cookbook!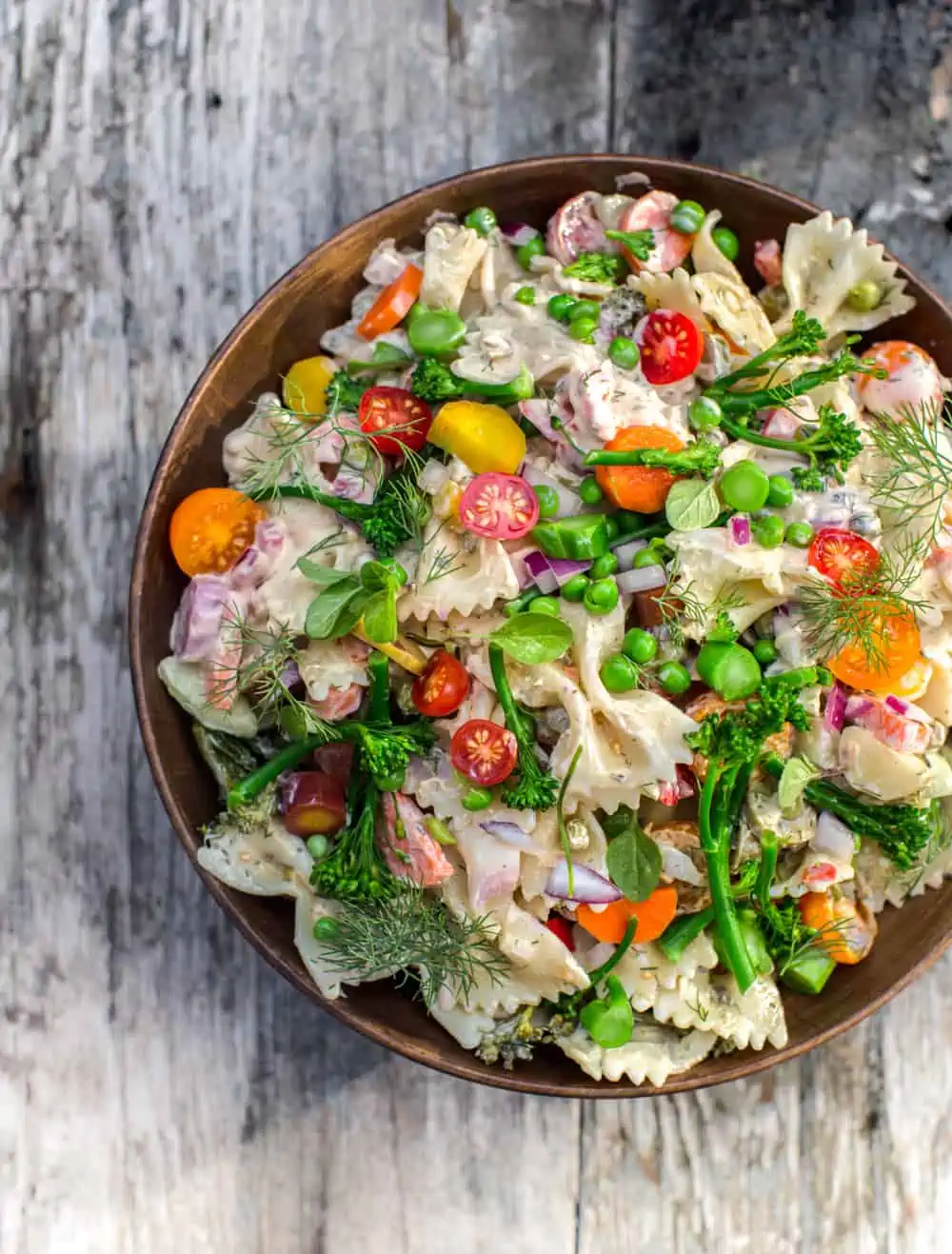 Creamy Oregano Dill Dressing
1½ cups vegan mayo
½ cup finely chopped fresh oregano
½ cup finely chopped fresh dill
3 tablespoons fresh lemon juice
2 tablespoons white wine vinegar
2 tablespoons nutritional yeast
1 clove garlic, minced, using a garlic press or microplane
½ teaspoon granulated sugar
½ teaspoon sea salt, or to taste
½ teaspoon freshly cracked black pepper, or to taste
1 dash cayenne pepper
Pasta Salad
1 pound bow-tie or squiggly pasta
3 cups bite-size pieces Broccolini, about 1 bunch
2 cups bite-size pieces peeled carrots
½ cup frozen peas
1 small red bell pepper, chopped
1 large cucumber, peeled and chopped
½ cup diced red onion
2 cups cherry or grape tomatoes, halved
½ cup high-quality pitted green olives, sliced
Sea salt and freshly cracked black pepper
Chopped fresh oregano and dill, for garnish
Make the vegan dressing: In a bowl, whisk together the mayo, oregano, dill, lemon juice, vinegar, nutritional yeast, garlic, sugar, sea salt, black pepper, and cayenne.

Make the pasta salad: Fill a large bowl with ice and a little water to make an ice bath. This is to shock the vegetables, locking in their color and retaining their crunch, while also cooling down the pasta for the dressing.

Bring a large pot of salted water to a boil. Add the pasta and cook for about 7 minutes. Try a piece. When it feels close to being done, needing about 1 more minute, toss in the Broccolini, carrots, and peas. Cook for 1 to 2 more minutes, until the pasta, is done. Drain and transfer to the ice bath.

Once cooled, transfer the pasta/vegetables back to the colander and drain thoroughly. Excess water will dilute the dressing, which is a no-go, people.

In a large bowl, toss together the dressing, drained pasta/ vegetable mixture, bell pepper, cucumber, red onion, tomatoes, and olives. Mix well. Season with sea salt and black pepper to taste. Garnish with the fresh dill and oregano. Serve.
You can make this pasta salad the day before (or even two days before), as it keeps well in the fridge. Some might say it's even better the next day. For serving at a picnic, try using Chinese-food takeout containers and chopsticks.
Calories: 783kcal | Carbohydrates: 85g | Protein: 18g | Fat: 40g | Saturated Fat: 5g | Polyunsaturated Fat: 1g | Monounsaturated Fat: 1g | Sodium: 770mg | Potassium: 700mg | Fiber: 10g | Sugar: 11g | Vitamin A: 10394IU | Vitamin C: 152mg | Calcium: 213mg | Iron: 5mg
Oh-So-Creamy Pasta Salad!
This recipe is so good! All the colorful, crunchy veggies and the herby, creamy dressing make it the perfect cold pasta salad. Of course, you can replace any vegetables you don't like or don't have on hand. Same with the pasta! Use fusilli or macaroni or any pasta shape you'd like if you don't have bow ties.
If you want to take this salad to the next level in terms of flavor then you should try and make it the night before! Leave it in the fridge overnight and it will taste even better the next day. It allows for all the flavors to blend together and makes it so yummy!
Did Someone Say Barbecue?
This recipe is not only a perfect match for a picnic, but it's also a fantastic choice for a family barbecue! Would be complete with some freshly grilled corn on the cob (drenched in vegan butter!) and some nutritional yeast sprinkled on top. Pop a few black bean burgers on the grill, and you will have a complete feast.
As I said, you can make this vegan pasta salad on repeat. It would also work for a quick Saturday dinner along with some vegan sausages. The best part of this salad is that you can use all of your leftover veggies and herbs. It's one of those "I haven't had time to go grocery shopping" kinda meal. We always love SOS recipes for those emergency moments. Right?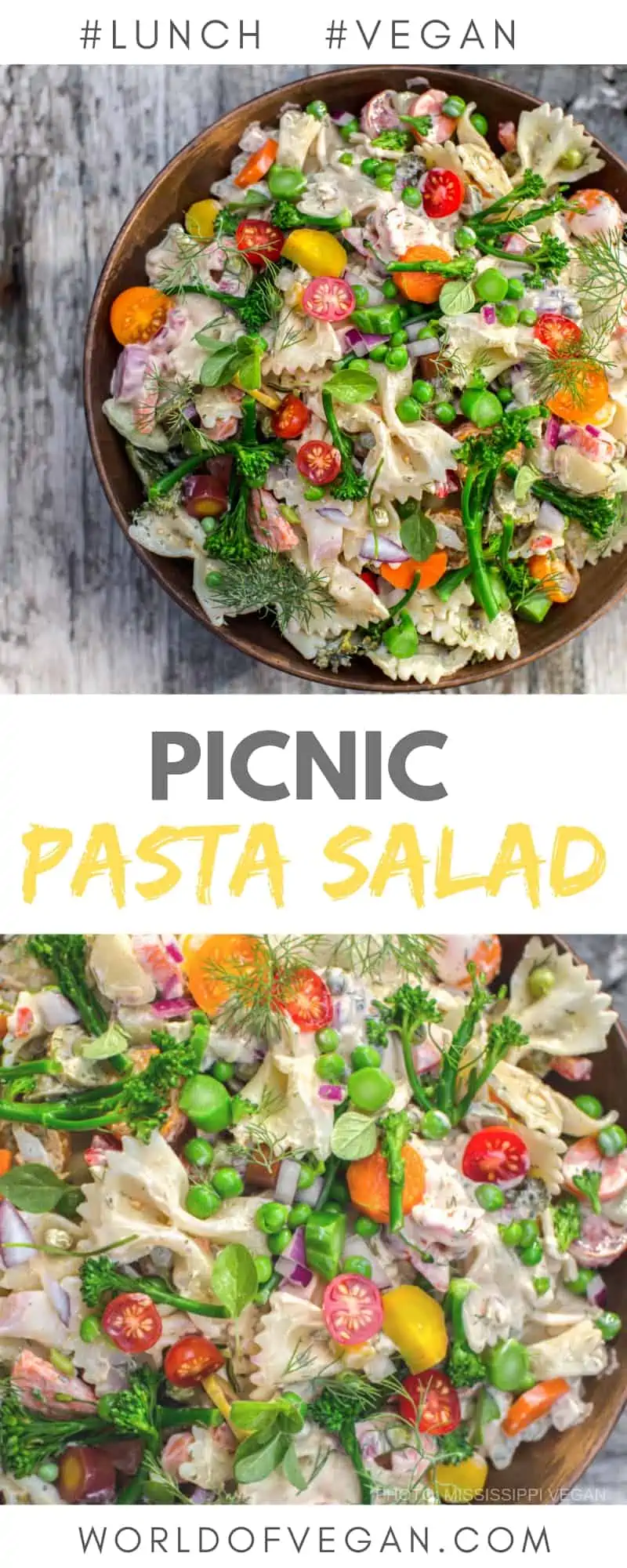 About The Cookbook
Timothy Pakron is a super talented photographer, artist, and chef who decided to share his passion for vegan food and his love for New Orleans living. His perspective gives a beautiful fresh look into the plant-based cooking world and opens up a world of new southern ingredients. Soulful food made with passion? It works!
His acclaimed food blog Mississippi Vegan is a perfect glimpse into his cooking style. He has now released his first-ever cookbook by the same name and it's definitely one for your collection. From popcorn tofu sandwich to crab cakes and fried pickles; to amazing gorgeous looking cakes and desserts. This cookbook has something special. Do you wanna see for yourself? Get it here!
More Vegan Picnic Recipes
Are you already planning your next picnic? Don't miss these outdoor-friendly recipes!
Reprinted from Mississippi Vegan by arrangement with Avery, an imprint of Penguin Publishing Group, a division of Penguin Random House LLC. Copyright © 2018, Timothy Pakron. Please note that this article contains affiliate links that support our work here at World of Vegan.