Park your broom and sit for a spell while we share the most ravishing vegan Halloween recipes, heart-pounding All Hallow's Eve activities, and cackling, cruelty-free candies that are all vegan-friendly. Get possession of your pumpkin and let's carve out some good times!
When black cats prowl and pumpkins gleam,
May luck be yours on Halloween.
– Author Unknown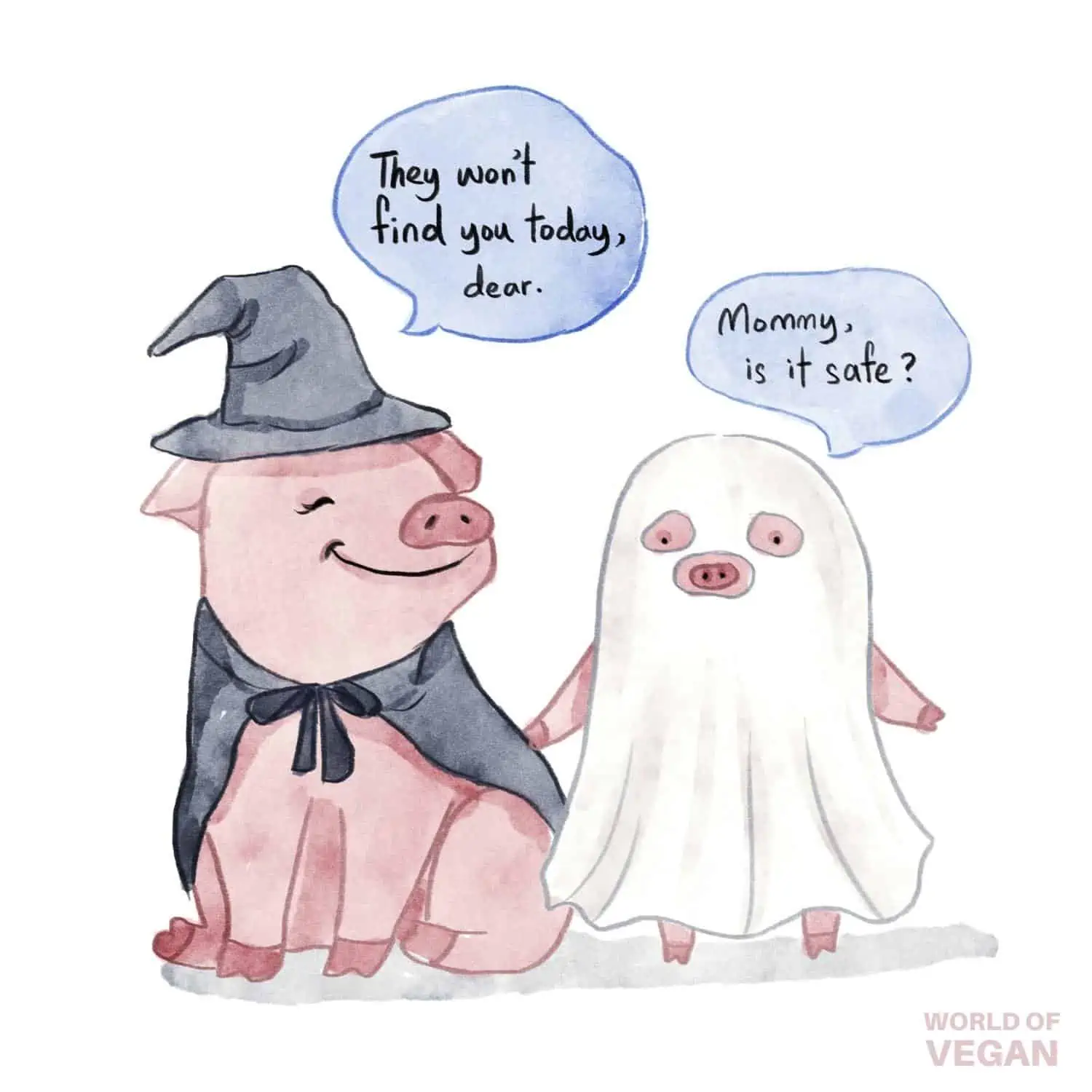 Fun Vegan Recipes to Enjoy at Halloween
It's easy to eat, drink, and be scary while being vegan. Just beware of bones, anything made of animals (including gummies made with ghastly gelatin), and please leave the honey for the bees (and, of course, poor Pooh Bear!).
You may be wondering which cauldron creations you can concoct to please both friend and foe this eerie October 31st evening. Both kids and adults will be utterly enchanted by these haunting, Halloween-themed recipes from the dark shadows of our witchy kitchen.
Halloween Traditions That Are Already Vegan
Feeling panicked that people who are plant-based or vegan can have no hand in Halloween hocus-pocus? We're here to put your fears to rest (RIP FOMO!) and share with you all of the holiday traditions that are super fun and free of animal products and animal cruelty.
Trick or Treating – Buy or create your own costume (see section below) and go forth with frightening speed around your favorite neighborhood or shopping area. Find time to swap non-vegan candy for vegan-friendly candy with fiendish friends or neighbors. Bring the extras to work, if you dare.
Campfires and Ghost Stories – A crackling, cozy fire is the perfect place for ghastly ghost stories. Even if it has to be in your own backyard, you can bask in the blaze of light, warmth, and werewolves.
Decorating Pumpkins – One of our favorite activities. Choose to carve up your plump pumpkin or paint with paranormal perfection. Remember to reveal your orange orb before the macabre magic ends at midnight.
Corn Mazes – If you're lucky and live in an area with corn mazes, try to take part! Flying free from this puzzle of plant growth can be super satisfying!
Hayrides – Feeling a little fatigued after eating all of those hand-picked apples? Catch a ride with the grim-reaper (aka farmer) and take a rest in the sweet smelling dry grass as it takes you around the farm.
Making Caramel Apples – A sweet treat that will have you spellbound! Creating the chewy caramel is monstrously fun, but taking that first bursting bite of apple skin will have you vishing you were a vampire.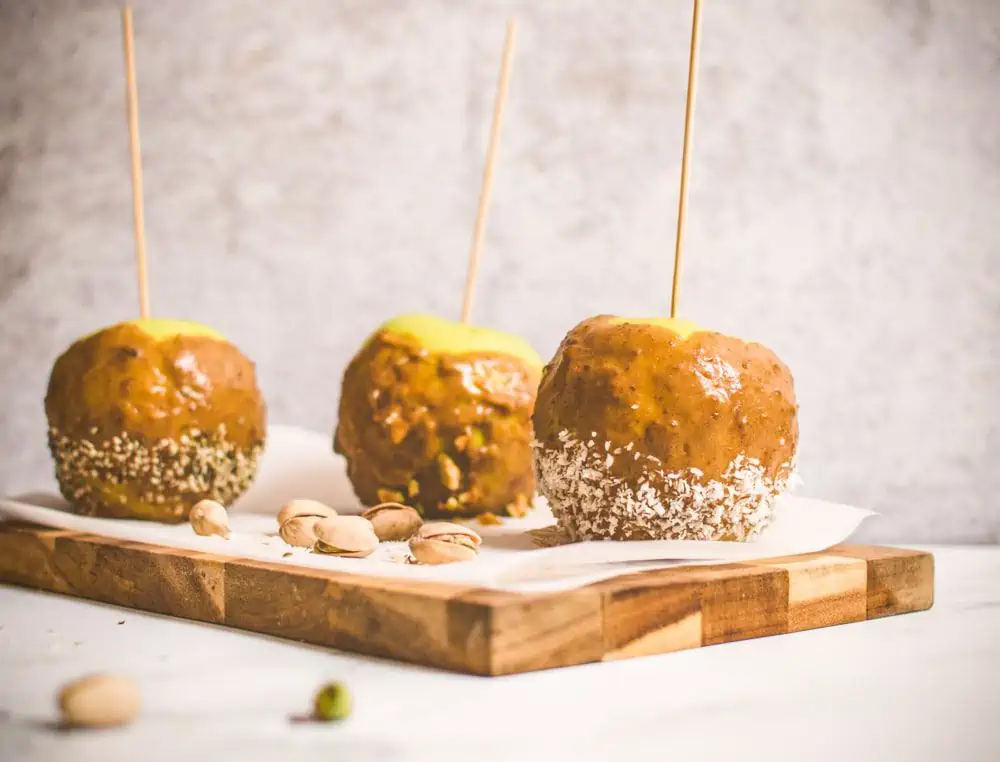 Which Halloween Candy is Vegan?
So glad that you asked! We have a separate vegan Halloween Candy guide that will make your candy shopping super simple. Not only do we share which chocolate and candy brands are 100% vegan, but also a list of commercial candy brands that have vegan-friendly options.
Want a sneak peek? Here are the 100% vegan candy brands at a quick glance:
100% Vegan Candy Brands
Black Forest Organic – Adorable gummy bear, worms, and critters, all plant-based. You can't go wrong with their juicy, fruit flavors.
Dandies – The best vegan-friendly marshmallows that will ever taste! The pumpkin flavor is especially perfect for this time of year.
Eva's Cultured Candy – Vegan, gluten-free, raw, and organic. How can you go wrong? Each candy is infused with kombucha cultures for a unique and tasty treat.
Seitenbacher – 100% vegan fruit snacks and happy-fruits all ready in super cute bags to share on Halloween night.
Sjaak's – Scrumptious skulls, fantastical frogs, deep dark chocolates, and tempting trick-or-treat assortments will totally take your breath away.
Smarties – With just 25 calories per roll, these classic pastel-colored candies are easy to find and fun to share.
Torie & Howard – These chewy fruits (think Starbursts) and sweet n' sour hard candies will cast a curious spell on you
Vegan Trick-or-Treat Candy Categories
If you're feeling totally spooked and a bit frozen with fear about which candies to choose from the crypt, we made up this handy little list to help you out.
Enchantingly Inexpensive: Airheads, Dum Dum Pops, Now and Laters, Skittles, and Twizzlers
Ghoulishly Gourmet: Sjaak's, Schmilk, or Compartés Vegan Chocolate Gifts
Scarily Studious: Pencils, pens, notebooks, and rulers
Eerie Explorers: Small flashlight, mini compass, or magnifying glass
Hauntingly Health Conscious: Annie's Fruit Snacks, fresh fruit or fruit leather, and granola bars (Clif, Lara, MadeGood and GoMacro bars are all great)
Alternatives to Candy for Trick-or-Treaters
That's a good question! It's an issue that we often think about and the answer isn't always easy. If you have the means to offer two options (either a candy or a fun item), the kids will be able to choose for themselves. Although most kids will most likely choose the candy if given a chance, we think these alternative Halloween options are pretty darn fang-tacular, too!
Colorful Pencils, Erasers, or Art Supplies – Inspire a burst of creativity by giving one of these kits to your ghostly guests as they knock at the door.
Coloring Books – Coloring books are a great choice because they're suitable for all ages and can be fun to fill in with mummy and daddy at home with a giant box of colorful vegan crayons.
Stickers – We're so happy that Sticker Mania is back! There are so many creepy choices for stickers online (or even at dollar stores!) to choose from. Grab as many packs as you wish and give them out as the masked girls and boys march up to the door for a tempting trick or trick.
Mini Toys – Sensational options for when you don't know what to buy and you're feeling the doom and gloom of indecision.
Fruit Snacks or Mini Granola Bars – Healthier versions of candy or candy bars. Just sweet enough to feel like a treat, but also with a nugget of nutrition.
Mini Flashlights – A functional favorite and can be used for imaginative play, daring discoveries, and also finding your way home in the dark on Halloween night.
Puzzle Cubes – The return of a retro classic! Activate your brain cells and keep busy with this perplexing puzzle game.
Packets of Seeds – Encourage gardening by sending some easy-to-grow seeds into the world.
Bookmarks – Inspire reading with some fun bookmarks for the neighborhood kids. I'm sure the parents of trick-or-treaters will appreciate this one!
How To Handle Halloween for Vegan Kids
It's totally up to you whether or not you choose to let your children to go trick-o-treating (seriously, no judgement here), especially when it comes to the candy haul they'll be bringing home. Pretty scary to say the least! With that in mind, we have practical suggestions on how to handle their brimming bags of tempting treats or simply just switch things up for maximum magical merriment.
Shift & Sift – Make a game out of going through the candy bags and let your child figure out which candies are vegan-friendly and which are not. You can print out our candy list to have on hand and quickly check if it's a "go" or a "no".
Trick-or-Trade – Once you know which candies are safe to eat, you can organize a trade with other kids in the neighborhood. Trade the non vegan-friendly candies for ones that your child (and you!) might be able to enjoy without fear.
Parents' Pumpkin Stash – Trade at home from parents' candy supply. You can have an assortment of vegan candies to swap with your kids for any that they are unable to eat. The other candies can be donated, taken to work, or given to non-vegan friends or family.
Host a Home Party – Instead of the children going out for fun-tastic festivities, have a party at your own house! Play a Halloween-themed movie (suggestions for little kids and a list for slightly older children), make popcorn with vegan butter, plan a few spooky crafts, decorate pumpkins, and share a supply of vegan candies for them to take home in a cute little cloth bag that they can reuse every year.
Eco-Friendly Vegan Halloween Decorations
We don't know about you, but we love getting the (haunted?) house decorated for Halloween. It might be because it makes you feel like a kid again or maybe it just helps to bridge the fall season into the winter season more smoothly. Either way, it's super fun and can be just the right amount of spooky if you want it to be.
Here are some fun and festive suggestions for a more earth-friendly Halloween-decorated home:
Bring the Outdoors Indoors – This is a good idea not only for Halloween, but for any holiday in general. Go on a nature walk (or drive), bring a basket (or wagon), and bring back all the the seasonal fruits you can find—like corn stalks, pumpkins, wheat sheaves, gourds, apples, fall fruits, colored leaves, or even interesting rocks or fallen tree branches that have been trimmed. The best thing is that all of these things can be composted or put back in nature (or eaten!) when done.
Call Up Your Creativity – Create your own art (or your children's) using colored paper, paint, scissors, crayons, markers and colors such as orange, black, gold, and green. Check out these super fun ideas for children's Halloween craft projects or several spooky Halloween crafts for adults. Our vegan coloring pages would make awesome decorations, too!
Tackle Those Thrift Stores – If you're having trouble rounding out your devious decorations with natural materials, think about shopping at thrift stores first. There are so many used holiday decorations available and you will not only be saving money, but helping to reduce more landfill waste. If it's something you'd rather not use every year and it's still in good condition, consider donating it back instead of throwing it away.
What Should I Be for Halloween This Year?
Coming up with unique ideas that are easy to make (or find) and fun to wear is sometimes challenging. We've put our hobgoblin heads together and came up with a number of chilling (and not-so chilling) choices for you or a child in your life:
Rescued Farm Animals – cow, pig, chicken, turkey, etc.
Your Vegan Hero – Earthling Ed, James Aspey, Colleen Patrick-Goudreau, etc.
Plant-Based Doctor – Dr. Michael Greger, Dr. Neal Barnard, T. Colin Campbell, Ph.D., etc.
Vegan Celebrity – Moby, Alicia Silverstone, Joaquin Phoenix, and more!
Plant-Based Athlete – Meagan Duhamel, Rich Roll, David Carter, and so many more!
Silly – a bottle of sriracha, a bucket of popcorn, a slice of vegan pizza, Starbucks or Dunkin' Donuts beverage, etc.
Here are a few World of Vegan favorites…
Adorable Avocado Costume
Is there anything more perfect than an avocado? Well, perhaps an avocado Halloween Costume would win that match. This costume is fun, and if you find a good one for babies or toddlers, they can be very comfortable and cozy too!
Be An Animal Sanctuary (Family Coordinated Costume)
Have each personal in your family choose a farmed animal, and you can collectively be an Animal Sanctuary for Halloween! Don't worry if people double up—there can be multiple chickens in the flock! This would also make a great theme for a vegan Halloween party, too.
"Not A Nugget" Costume
If the whole family doesn't want to get in on the farm animal costume fun, you can embrace PETA's classic "Not A Nugget" concept! Make a little sign to put on the costume that says "Not A Nugget."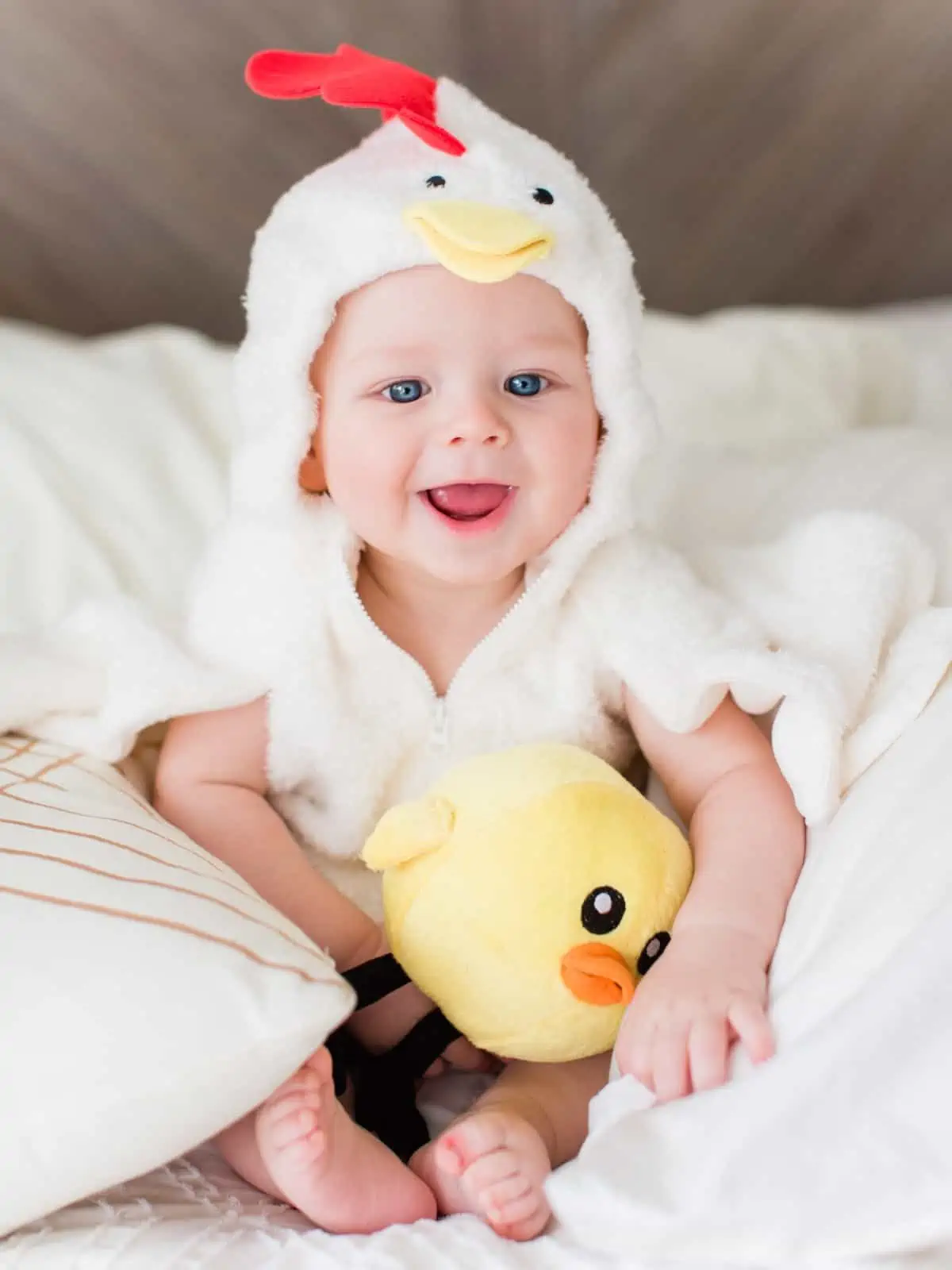 Which one sounds the most appealing to you? Will you be decorating yourself with a devilish disguise this year? Comment below if you are and which costume you might wear––we'd love to know!
How Do I Find a Vegan-Friendly Halloween Costume?
I think we can all agree that wearing a Halloween costume is just plain cool. Being able to dress up like your favorite hero or cartoon character lets you (or your child) express your individuality for all to see. When choosing a vegan Halloween costume, there are only a few things that you should keep in mind:
Material – Make sure that the materials that you're using or wearing are free of animal products like wool, leather, silk, suede, or includes any animal skin.
Accessories – Try to steer clear of pearls, shells, animal bone, ivory, or animal hair when choosing adornments for your costume.
Make Up – Most commercial Halloween make up is not vegan or cruelty-free. If possible, consider buying new and bold colors from your current favorite vegan-friendly make-up company instead. Or, you can browse through these bold brands for an extra ghoulish getup.
Many pre-packaged (and eerily expensive) Halloween costumes are made mostly made out of plastic and polyester. This makes them more vegan-friendly, but also less eco-friendly. If you can find a costume that you love so much you want to wear it every year (or share with others), then go for it.
Otherwise, check out your local thrift stores and you're bound to find plenty of secondhand halloween costumes to choose from! Many secondhand children's stores are also flowing with like-new Halloween costumes for kids since they grow so fast and can only wear them for one year. Or, tap into your crafty side and make your own!
Vegan Halloween Comics & Art Worth Sharing
Throughout this guide we've shared several pieces of vegan Halloween artwork. Feel free to download these and share them on social media!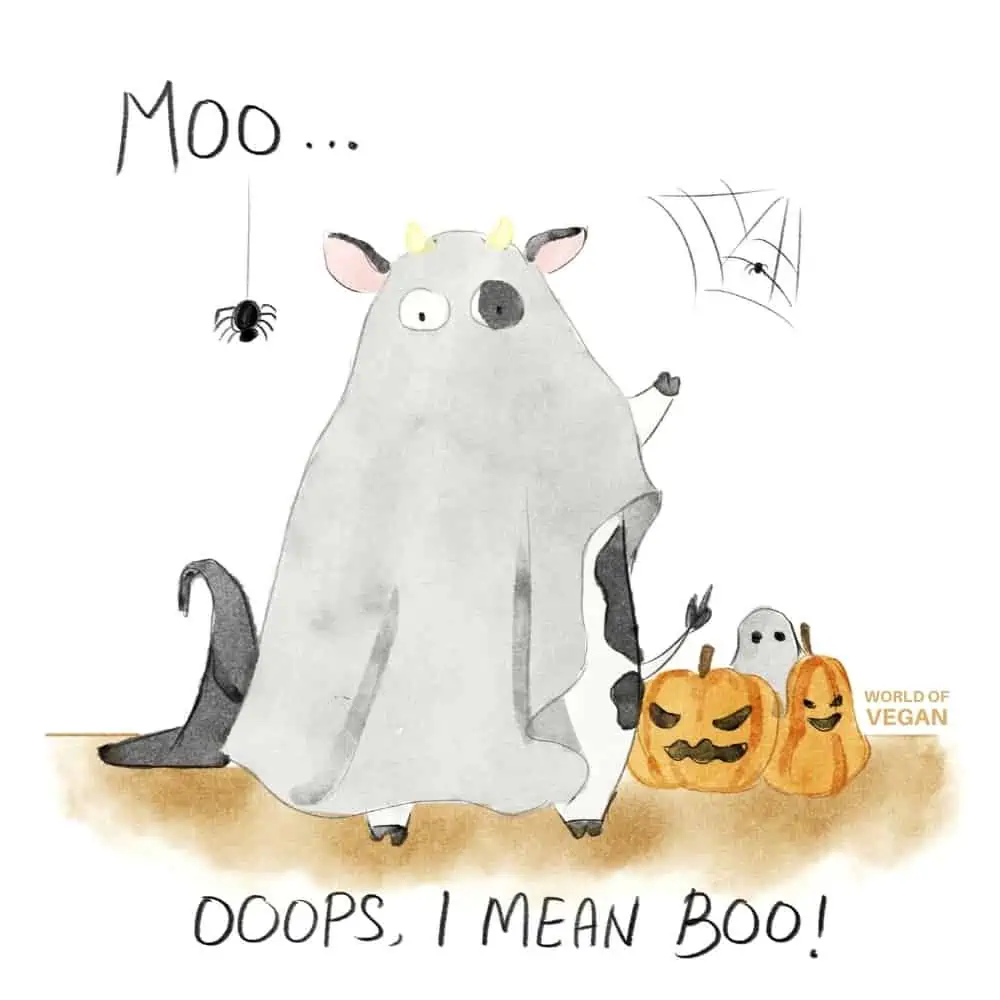 There are lots of great witch cauldron memes circling the internet, making light of the very sad reality for farmed animals, and misleading labels like "free range" and "cage-free."
We hope that you find a few valuable suggestions for celebrating a vegan-friendly Halloween this year. If you have any holiday traditions or even better ideas to integrate into this eerie and exciting holiday, we'd love to hear them. Please feel free to share them in the comments below.
Best Witches for a Safe and Scary Howl-o-ween from all of us at World of Vegan! 🎃🔮👻🧡🕷️🖤
More Halloween Recipes & Articles