You won't believe how easy it is to make this insanely delicious dairy-free ice cream cake. With just minutes of effort, your favorite flavors of store-bought vegan ice cream, and a package of Oreos, you'll have the best vegan ice cream cake ever. It's the perfect vegan dessert to serve at any birthday, holiday, or event. Just be warned, you may never want to bake a birthday cake again!
The centerpiece to any great celebration is always cake. While all cakes are invited to my parties, absolutely nothing beats this vegan ice cream cake. Stacked up high with layers of creamy vegan ice cream and chopped nuts, tucked in a crust made from blended Oreos, and decorated with chocolate drizzle or frosting and with sprinkles, every slice is a riot of flavors, colors, and textures. Whether it's summer or winter, every last bite will be gleefully gobbled up before a single drop can melt away.
It may sound like an impossible dream once you've gone vegan, but you'll be thrilled to discover that's not the case! Making your own ice cream cake without any dairy or eggs is surprisingly easy, if not downright fun. This recipe comes from The Vegan Friendly Cookbook by Michelle Cehn and Toni Okamoto. It's a recipe passed down from Toni's mother-in-law, Jolene Shapiro. Enjoy!
Why You'll Love This Recipe
Key Ingredients in this Ice Cream Cake
Vegan ice cream: I scream, you scream, we all scream for vegan ice cream! Whether it's made from oats, soy, coconut, pea protein, or any combination, everything goes here. Just make sure that you picking up a full pint (16 ounces) and not a downsized container, since some manufacturers have started packaging a scant 14 ounces at a time to boost their bottom line.
Oreo-style cookies: Chocolate wafer cookies with a vanilla crème filling is the classic combination, but you have plenty of opportunities to add even more flavor to this layer! And yes, Oreos are vegan! You can also find other brands like Back to Nature. You'll just blend these up with vegan butter in the food processor to create your delicious cake crust.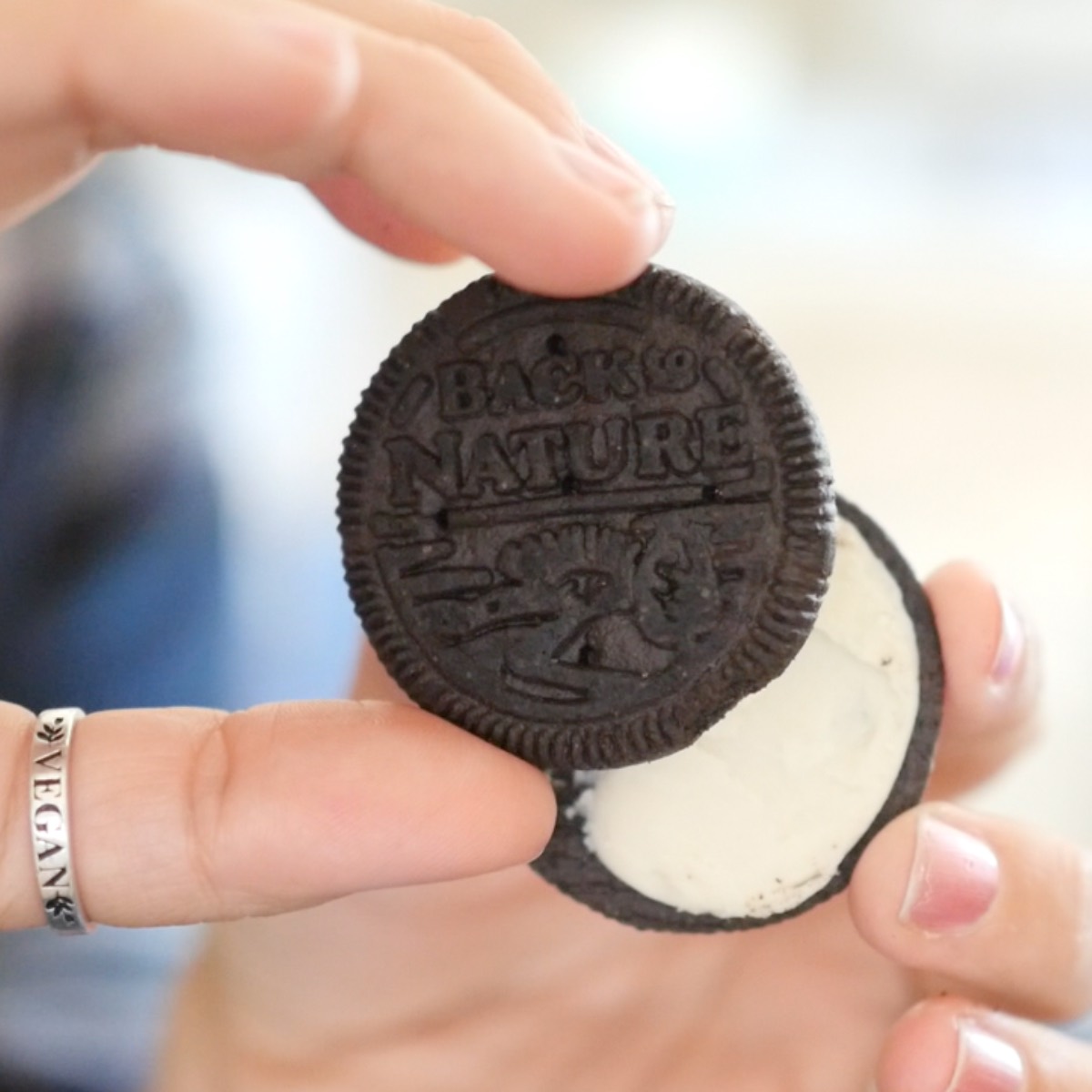 Vegan butter: Since vegan butter becomes solid at cold temperatures, it acts as a binder here for the crust, while preventing the cookie layer from getting too soggy.
Chopped peanuts: Go nuts! For a crunchy, salty contrast to the sweet and creamy ice cream, classic peanuts always satisfy. If you have a nut allergy, though, you can always swap them out for pepitas, sunflower seeds, or simply more sandwich cookies.
Melted chocolate: For aesthetics and flavor, you can't top a generous drizzle of chocolate. This could be just straight up melted chocolate, chocolate ganache, homemade magic shell, or even chocolate syrup.
Chocolate and buttercream frosting: Don't leave your creation naked; frosting is a fun and easy way to make it look amazing. If you don't want to make your own, you could take a shortcut here with store-bought frosting too. Most flavors of Duncan Hines frosting are "accidentally" vegan, but always check labels to make sure.
Sprinkles: Add a dose of magic and happiness to your dairy-free ice cream cake by shaking on your favorite brand of vegan sprinkles! These days there are lots of colorful sprinkles, sparkly sprinkles, and all sorts of fun-shaped sprinkles that are made without the dreaded confectioners glaze (which isn't vegan). Yay, sprinkles!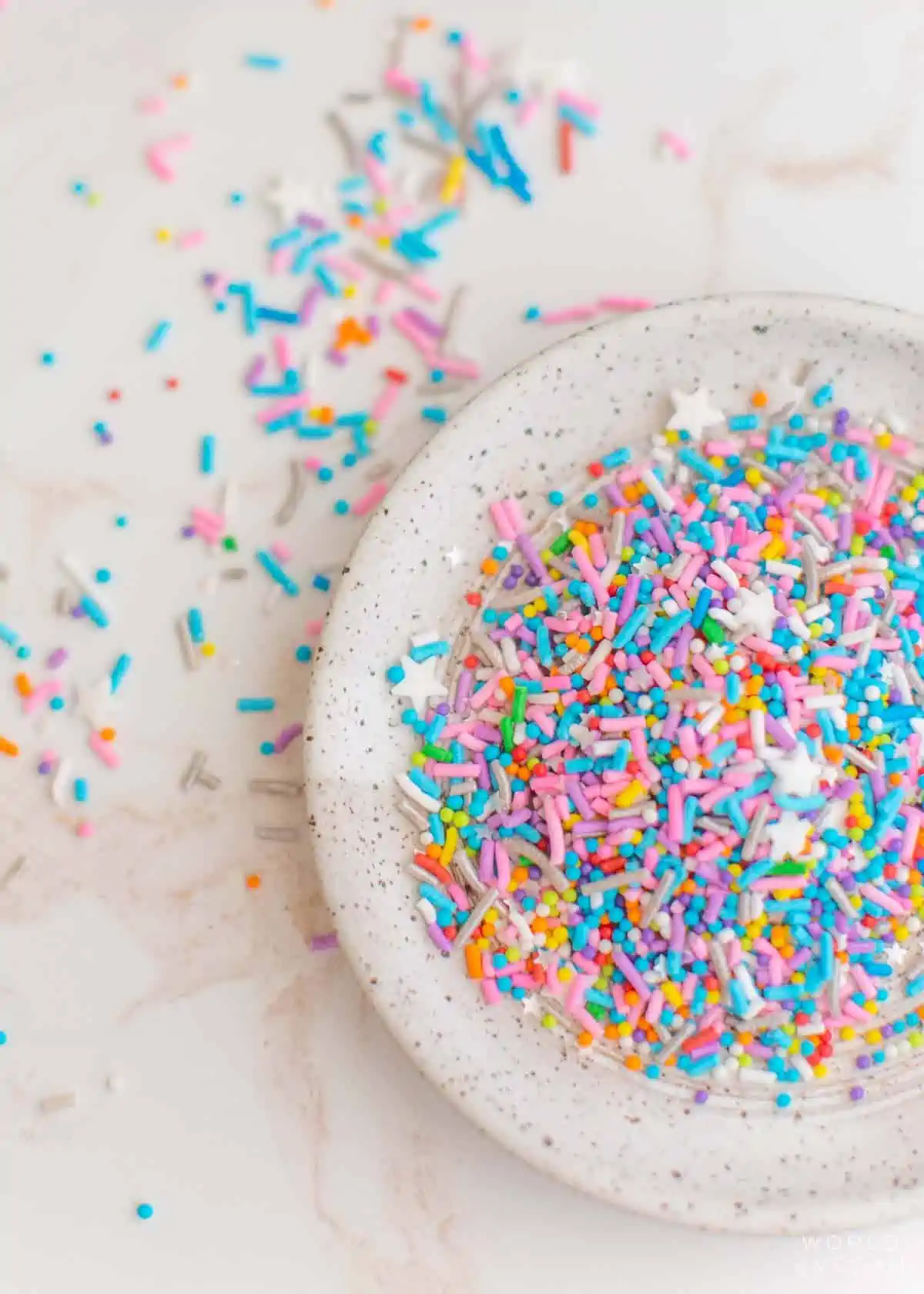 Flavor Combination Ideas
Not sure where to start, or simply overwhelmed by the endless possibilities? Here's a cheat sheet for some of our favorite pairings.
Recipe for Success
If this is your first time making an ice cream cake, don't sweat it! Here are some tips to party-perfect results.
Make sure the ice cream has been "tempered" before adding it to the cake pan. That means slightly softened. All you need to do is let it sit out at room temperature for about 10 minutes so it's not frozen solid, but not yet melted. This makes it much easier to spread smoothly.
Press the ice cream layers down firmly to remove any air bubbles for an even, flush fill.
Keep your kitchen as cold as possible so the ice cream doesn't melt while you work with it. If that's not possible, take breaks between each step, putting your cake back into the freezer to re-solidify.
To make cutting the cake easier when it's all said and done, run your knife under hot water before each slice, wiping the blade off on a clean kitchen towel to keep the cuts neat.
Tips for Storing and Saving Your Ice Cream Cake
Make your cake well in advance of your party so you can simply enjoy the festivities. Keep it in the pan to prevent any other items from bumping into it, cover with a layer of plastic wrap, and label clearly. It should keep in the freezer for up to 6 months.
When you're ready to serve, transfer it to the fridge and let sit for 20 – 30 minutes before slicing so it's not rock solid. Add any fresh fruits or final garnishes right before bringing it out to the table.
Return any uneaten pieces back to the freezer immediately so they don't melt away!
More Frozen Dessert and Vegan Ice Cream Recipes
If you're looking for more delicious vegan dessert recipes, take a peek at our favorites below. You can also find amazing vegan bakeries and bakers who ship nationwide! What at time to be alive.
If you're more of a frosty froyo fan, make sure to check out our guide to the best dairy-free frozen yogurts (plus recipes!)
Equipment You'll Need
2 1-pint containers vegan vanilla ice cream (or flavor of your choice)
2 1-pint containers vegan ice cream in a flavor other than vanilla (we recommend using the same flavor, but feel free to go wild and mix it up if you prefer)
1 14.3-ounce package Oreos (or nutter butters or other vegan cream filled sandwich cookies)
½ cup vegan butter, at room temperature
2 cups chopped peanuts, or another package of cookies that you can lay flat for the middle layer, divided
Take the ice cream out of the refrigerator and allow it to thaw on the counter while you prepare the crust.

In the bowl of a food processor, combine the whole package of cookies and the vegan butter. Process until thoroughly combined.

Line a springform pan (8 inches wide × 3½ inches deep) with parchment paper. To do so, cut one piece of parchment to the size of the bottom of the pan, and cut another strip to wrap around the sides.

Using your hands, evenly press the cookie mixture into a thin layer on the bottom of the pan. (This will leave the sides of the cake exposed so you can see the layers, but if you're worried about the ice cream melting, you can press the cookie mixture up the sides of the pan, too, for a crust that will keep the ice cream well contained while serving.)

Scoop the vanilla ice cream out of the cartons and spread it into an even layer over the cookie mixture.

Evenly spread 2 cups of the chopped peanuts (or sandwich cookies laid flat) over the vanilla ice cream.

Scoop the other-flavored ice cream over the peanuts and spread it into an even layer. (If you added cookie mixture to the sides of your pan and there is any excess reaching above the sides of the ice cream, cut the excess away so the cookie mixture is level with the ice cream cake.) Lay a piece of parchment paper over the open top of the springform pan, and press the parchment against the ice cream until it's tightly packed.

Place the ice cream cake in the freezer and allow it to harden overnight or for at least 12 hours.

Remove the ice cream cake from the freezer, invert it onto a plate, and undo the springform pan. Flip the cake onto a serving plate or cake stand.

Top the cake with any of the optional decorations. Serve the cake immediately or return it to the freezer until you are ready to serve.
Optional Decorations – melted chocolate, chocolate shell, chocolate glaze, vegan rainbow sprinkles, chocolate or buttercream frosting, chopped peanuts, and/or fruit.
Presentation Tip – "If presentation is important and you want clean lines, then pop the bottom layer of vanilla ice cream back into the freezer to firm up before adding the next layer of ice cream on top." —Emily R.
Calories: 305kcal | Carbohydrates: 6g | Protein: 10g | Fat: 29g | Saturated Fat: 5g | Polyunsaturated Fat: 10g | Monounsaturated Fat: 13g | Sodium: 96mg | Potassium: 275mg | Fiber: 3g | Sugar: 0.2g | Vitamin A: 2IU | Vitamin C: 0.003mg | Calcium: 40mg | Iron: 1mg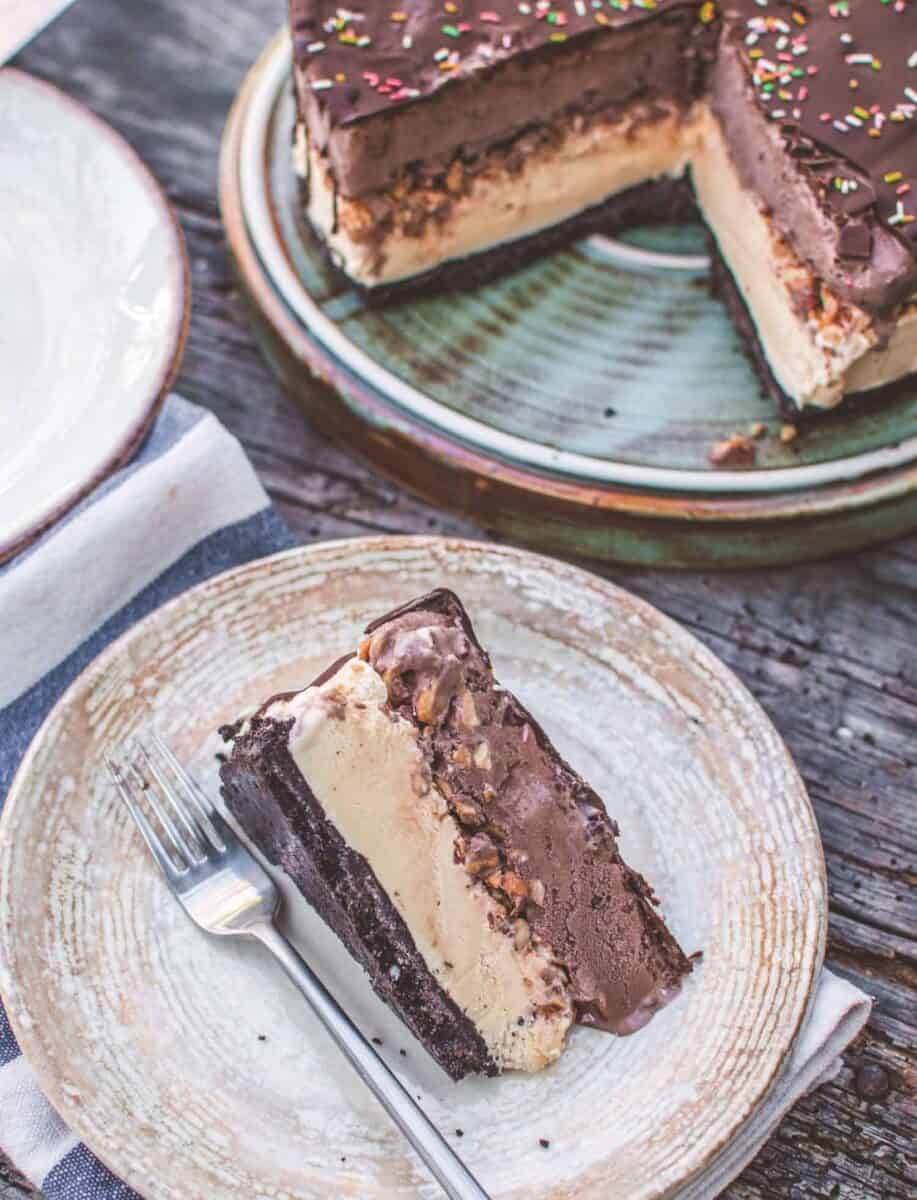 This vegan ice cream cake recipe was created by Jolene Shapiro and originally published in The Friendly Vegan Cookbook by Michelle Cehn and Toni Okamoto. Gorgeous vegan ice cream cake photos by the incredibly gifted vegan photographer Zhoro Apostolov.