Snap out of your baking rut with these spicy little morsels! While most gingersnaps are hard and brittle, you can really sink your teeth into these soft and chewy vegan gingersnap cookies. Warm and spicy, brown sugar and molasses round out the flavors with unrivaled richness. A crunchy layer of granulated sugar on the outside gives them a satisfying bite, yielding to a tender interior for the perfect textural contrast.
This recipe comes from Vegan Christmas Cookies and Cocoa by Audrey Dunham and is an easy win this holiday season, and beyond! They're the kind of cookie that Santa would leave extra presents for, though they might be hard to share.
Why You'll Want to Snap Up this Recipe
There's never a bad time for cookies, but these warmly spiced vegan ginger cookies are especially well-suited for winter celebrations. Vegan holiday parties, Christmas Eve gatherings, even New Year's Eve with a side of bubbly! Everyone will go wild for these at cookie swaps big and small.
So simple you'd think that baking is child's play, you really CAN get the kids involved in this one. Create sweet memories in the kitchen while the little ones learn how to mix and measure to make their own treats.
No need to shop for rare, specialty ingredients for this fool-proof formula. That makes this recipe especially affordable, too.
Perfect for a crowd, you can easily double, or even triple the recipe. Everyone on your list can get a sweet, homemade gift!
Star Ingredients in this Vegan Gingersnap Cookie Recipe
Ground Flaxseeds
Taking the place of conventional eggs, a tablespoons of ground flaxseeds (also called flaxseed meal) mixed with water functions as a binder and help retain moisture, keeping this cookie soft and chewy. When you allow ground flaxmeal to sit in water, they thicken up and form an egg-like consistency.
All-Purpose Flour
Standard white flour provides a neutral foundation to build such a flavorful spice profile upon. While we haven't tested gluten-free flours, we imagine they would work well with this recipe. If you do try making these gluten free, please let us know how it goes in the comments below!
Cinnamon
You can't have a classic gingersnap without cinnamon! This sweet spice rounds out the sharper edges of the flavor profile with a nostalgic taste and subtle warmth.
Ginger
The namesake of this cookie, powdered or dried ginger is used here to easily incorporate its bold essence evenly throughout.
Cloves
Just a tiny pinch will do, since this spice goes a long way. It's less commonly used in American households, so you could also experiment with using ground nutmeg or cardamom for a delicious change of pace, if you're all out.
Brown Sugar
Contrary to common belief, brown sugar is not less refined or processed than white sugar. In fact, it is white sugar, with molasses added back in! It's not a healthy food by any stretch of the imagination, but let's not forget that this is a dessert, after all. Comfort food is just as important to mental health and happiness, too.
Vegan Butter
Plant-based butter is easily substituted 1 for 1 in any recipe that calls for conventional dairy butter. All brands have a different blend that is typically made avocado oil coconut oil, palm kernel oil, olive oil, or some combination of those. Check labels for soy-free options, if needed.
Molasses
This sticky stuff is a thick, dark syrup made from sugarcane or beet sugar, and is less sweet than refined sugar. It has a robust, unique flavor most commonly associated with gingerbread, and also baked beans.
Granulated Sugar
Used just to gild the lily here, a touch of granulated sugar is used to roll the cookies and create that irresistible crunchy crust on the outside of your vegan gingersnap cookies. Feel free to amplify that texture by using coarse sugar, such as turbinado, instead.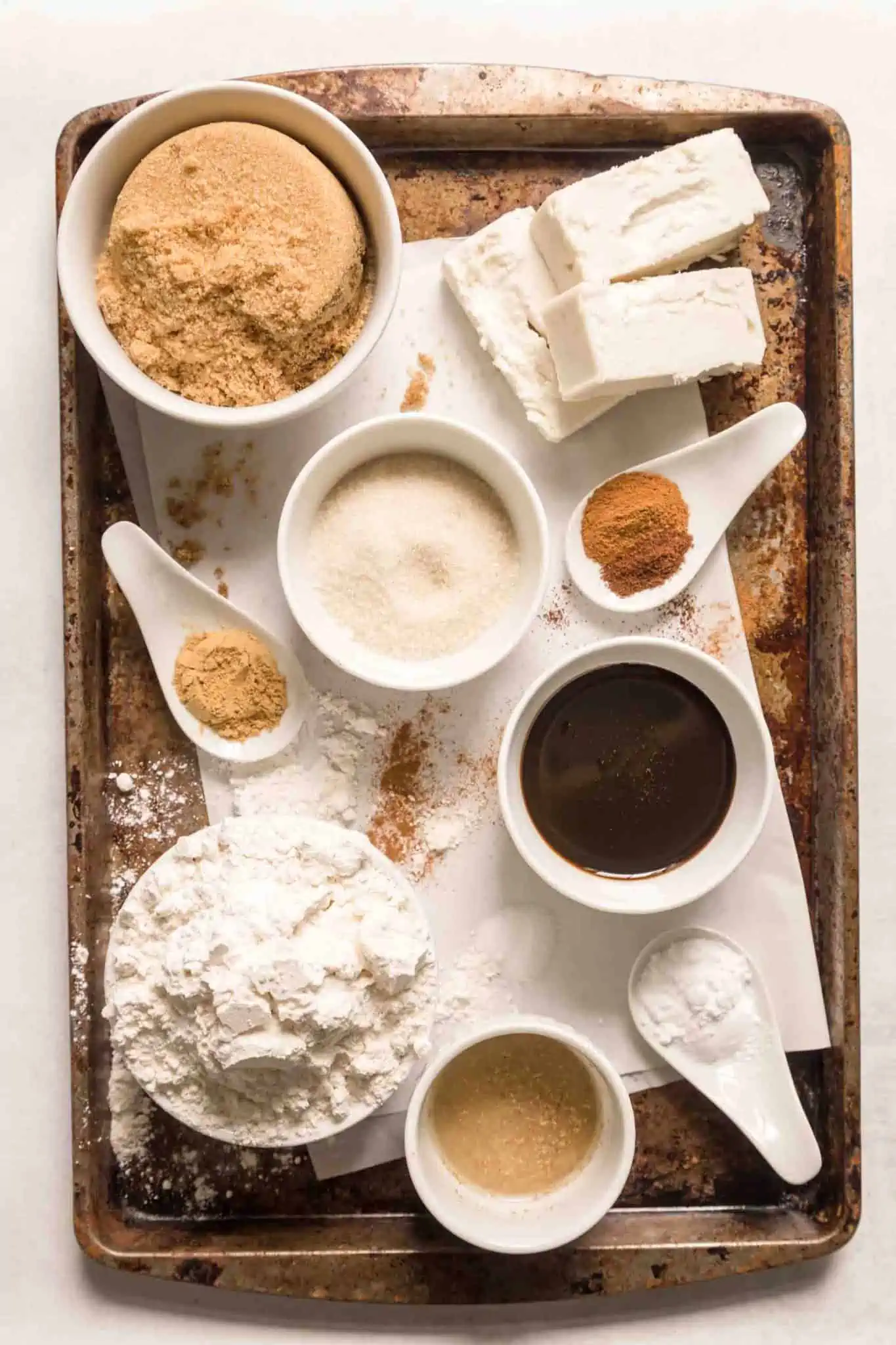 Recipe Swaps and Substitutions for these Vegan Gingersnap Cookies
If you have a hard time going by the book for any recipe, don't worry! This formula is so solid that you can easily modify it to fit your needs and cravings.
Make these extra-chewy by using part oat flour instead of all-purpose flour. For this version (which is actually Audrey's original recipe), use 1¼ cup of oat flour, and 1½ cup of all-purpose flour. You can get oat flour at the grocery store or grind up your own by popping old fashioned rolled oats in the blender until you have a silky smooth flour.
Make it gluten-free by using your favorite gluten-free flour blend instead of all-purpose flour.
Spice it up by adding finely chopped crystalized ginger, and/or grated fresh ginger to the batter.
Everyone loves chocolate, so go ahead and add a generous handful of vegan chocolate chips for an extra sweet finish.
Vegetable shortening can be used instead of vegan butter in a pinch, but the texture will be much more cakey than chewy.
What is the "Creaming Method" for Cookies?
Don't worry, there's no dairy involved! This classic technique involves beating together the butter and sugar very thoroughly before adding in the remaining ingredients to lighten and leaven the dough, while ensuring even distribution of fat and sweetener throughout. It's a very simple but essential skill to master.
Allow the vegan butter to warm to room temperature before beginning. Straight out of the fridge, it will be too hard to mix smoothly, but it shouldn't be melted, or the cookies might turn out greasy. Generally, it helps to take the butter out 1 hour before getting started.
It's easiest to use a stand mixer since it takes considerable and consistent stirring. Use the paddle attachment for more complete coverage. You can also use a hand mixer, though it may take a bit longer.
Lock the mixer into place and beat on medium speed for about 3-5 minutes. Pause to scrape down the bowl with your spatula at least once about halfway through, to make sure everything gets incorporated.
You'll know it's properly creamed when the mixture is light and fluffy, almost like grainy frosting.
Equipment You'll Need:
1 tablespoon ground flaxseed, (8 grams)
3 tablespoons water, (45 ml)
2¾ cups all-purpose flour, (345 grams)
2 teaspoons baking soda
½ teaspoon salt
1 teaspoon cinnamon
1 teaspoon ginger
½ teaspoon ground cloves
1 cup packed brown sugar, (216 grams)
¾ cup vegan butter or margarine, softened, (170 grams)
¼ cup molasses, (59 ml)
¼ cup granulated sugar for rolling, (58 grams)
Preheat your oven to 375°F (approx. 190°C) 

Combine the ground flaxseed and water in a small bowl and set aside.

In a medium-sized bowl, combine the flours, baking soda, salt, cinnamon, ginger, and cloves and stir to combine. Set aside. 

Using a stand or handheld mixer, cream the brown sugar, butter, and molasses until fluffy, about 1 minute. Then add the flaxseed mixture and mix again for another 30 seconds.

Add half of the dry ingredients to the sugar mixture and mix on low until mostly combined. Then add the second half of the dry ingredients and mix again, this time starting on a low speed and then increasing to high as the dough becomes thick and hard to mix. Scrape the sides and bottom of the bowl as needed. The dough will be very thick when it's done.

Pour the granulated sugar into a bowl and set aside. Then form 16 golf ball-sized dough balls and place them on parchment-lined or ungreased baking sheets. Roll each ball in the granulated sugar to evenly coat, then return to the baking sheet, ensuring they're at least 3 inches (about 8 cm) apart from one another, as they will spread.

Bake the cookies one sheet at a time on the top rack in your preheated oven for 9-10 minutes or until cracks form across the surface. It's better to slightly underbake than to overbake. Allow the cookies to cool on the baking sheets for 3-5 minutes before transferring to a cooling rack.
FOR BEST GLUTEN-FREE VERSION: Try using your favorite gluten-free all-purpose flour in place of the regular all-purpose flour. Check the labels for all remaining ingredients to ensure they're gluten-free, as well.  STORAGE: These cookies are flexible and can be stored in airtight or non airtight containers, tins, or on plates covered in foil or plastic wrap. You can also freeze these cookies for several months and they'll be just fine! AUDREY'S ORIGINAL RECIPE: The original recipe calls for 1¼  cup of oat flour and 1½ cup of all-purpose flour, which makes these cookies extra chewy. We tested them using just all-purpose flour so the ingredient list would be very simple and familiar to people, and the cookies are absolutely delicious both ways!
Calories: 232kcal | Carbohydrates: 37g | Protein: 2g | Fat: 8g | Saturated Fat: 2g | Polyunsaturated Fat: 3g | Monounsaturated Fat: 4g | Trans Fat: 1g | Sodium: 281mg | Potassium: 125mg | Fiber: 1g | Sugar: 20g | Vitamin A: 1IU | Vitamin C: 0.01mg | Calcium: 29mg | Iron: 1mg
If you try this recipe for vegan ginger cookies, let us know what you think by leaving a comment and rating below! Be sure to follow along on Pinterest, Instagram and Facebook for even more vegan recipe inspiration.
Health Benefits of Ginger
One of the original superfoods, ginger has been used as supplement, home remedy, and medicine since ancient times. Even when baked into a sweet treat, it has a lot of benefits to offer. The essential oil gingerol is the primary component responsible for its bold flavor, aroma, and medicinal properties.
Powerful anti-inflammatory and antioxidant – This helps prevent or fight free radicals, which can damage cells, causing illness and aging, along with many more serious diseases like cancer, Alzheimer's, and arthritis.
Prevents nausea – Studies have shown that as little as 1-1.5 grams of ginger can ease the symptoms and severity of numerous various types of nausea, including sea sickness, indigestion, and morning sickness.
Regulates blood sugar – For people with type 2 diabetes, ginger has been shown to lower blood sugar levels and reduce risk factors for heart disease.
Antibacterial – It is possible that ginger can help reduce your risk for infections by fighting many harmful bacteria and viruses.
Vegan Christmas Cookies Cookbook
This recipe for vegan gingersnap cookies comes from the cookbook Vegan Christmas Cookies and Cocoa by vegan recipe creator and personality Audrey Dunham. This book is a festive collection of holiday sweets and sips to enjoy with the whole family. Full of nostalgic classics and new favorites to explore, every recipe is 100% plant-based, with easy gluten-free options included. Now you can transform your kitchen into Santa's workshop to delight both kids and kids-at-heart.
Named one of VegNews' Top 10 Vegan Cookbooks of the Holiday Season (2020), even the pros turn to these pages for trustworthy treats.
More Spiced Treats to Try
Vegan gingersnap cookie recipe adapted with permission from Vegan Christmas Cookies and Cocoa by Audrey Dunham. Vegan gingersnap photos by J.J. Steele. Article written by Michelle Cehn with support from Hannah Kaminsky and edited by Amanda Meth. Please note that this recipe for vegan gingersnaps may contain affiliate links which supports our work at World of Vegan.