This delicious vegan birthday cake recipe was kindly supported by our friends at Fancy Sprinkles. They make some of the most beautiful vegan sprinkles on planet Earth.
We set out on a mission to make the most delicious vegan birthday cake…and finally, here it is! We're so happy to bring you this scrumptious, crowd-pleasing, foolproof, easy vegan cake recipe for a celebratory dessert made without a drop of cow's milk, chicken eggs, or bug secretions.
This cake is 3 layers of moist vanilla cake with the most irresistible vanilla frosting layered in between. Perfection. It's light and fluffy, and the frosting is rich and decadent. And friends, don't worry. You don't have to be a pastry chef or a crafting queen to bring this beautiful cake to life. This recipe makes it easy-as-pie!
Why This Vegan Birthday Cake is So Awesome
100% Vegan
Vegetarian
Dairy-Free
Cholesterol-Free
Plant-Based
Easy-to-make
Absolutely Delicious!
The Best Vegan Cake for Any Occasion
Whether you want to make a special cake for someone you love, for a kiddo's birthday party, or just for the heck-of-it, we've got your back with this tried-and-true recipe. It's been tested and enjoyed by many—vegans and omnivores alike. Truthfully, you'd never know it's vegan!
This 8-inch cake is perfect for a gathering and will serve at least 12 people, if not more because it's rich. It doesn't have to be just for birthdays, as it could really be served for any occasion. Heck, you don't even need a special occasion, just make it for you and your family or friends if you feel like it!
Vegan Birthday Cake Basics (Hint—It's Wicked Easy)
For this recipe, all you need to do is prepare the batter and bake the cake layers.
Just keep in mind the size of the cake pans you use does matter, as it will impact how thick each layer will be. 8-inch pans like these are ideal! If you only have one cake pan, you can bake the three layers one at a time, just know that it will take significantly longer that way (instead of just 30 minutes, you'll need to allow 90 minutes for baking). But hey—it also gives them time to cool!
While the cake layers are baking you can prepare the icing. Once the cakes are removed from the oven and completely cooled, you can frost, layer, and decorate them. Before you know it, your homemade vegan birthday cake will be ready to enjoy!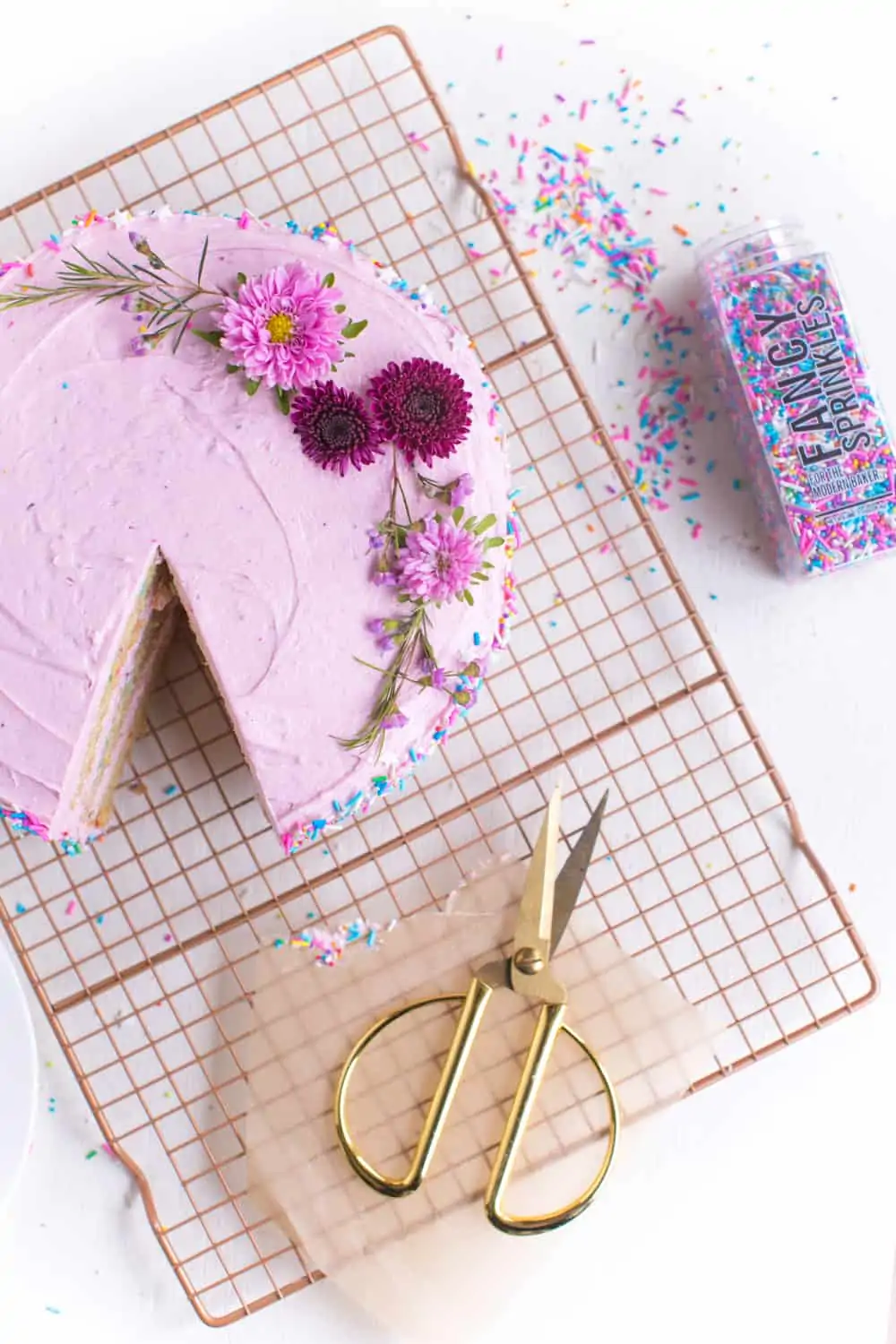 Make It a Vegan Confetti Cake!
Birthday cakes are supposed to be fun, right? And I think we'd all agree that more color = more fun. So I invite you to do what I did. To turn your cake into a vegan confetti cake!
You can easily turn your traditional cake into a color-speckled confetti cake by mixing 1/4 cup of confetti sprinkles (like these vegan confetti sprinkles from Fancy Sprinkles) into your batter before pouring it into the cake pans to bake.
If you're baking for a little one who loves unicorns, you could call this a "unicorn cake" and decorate it accordingly! Or… celebrating Pride? Call it a rainbow cake!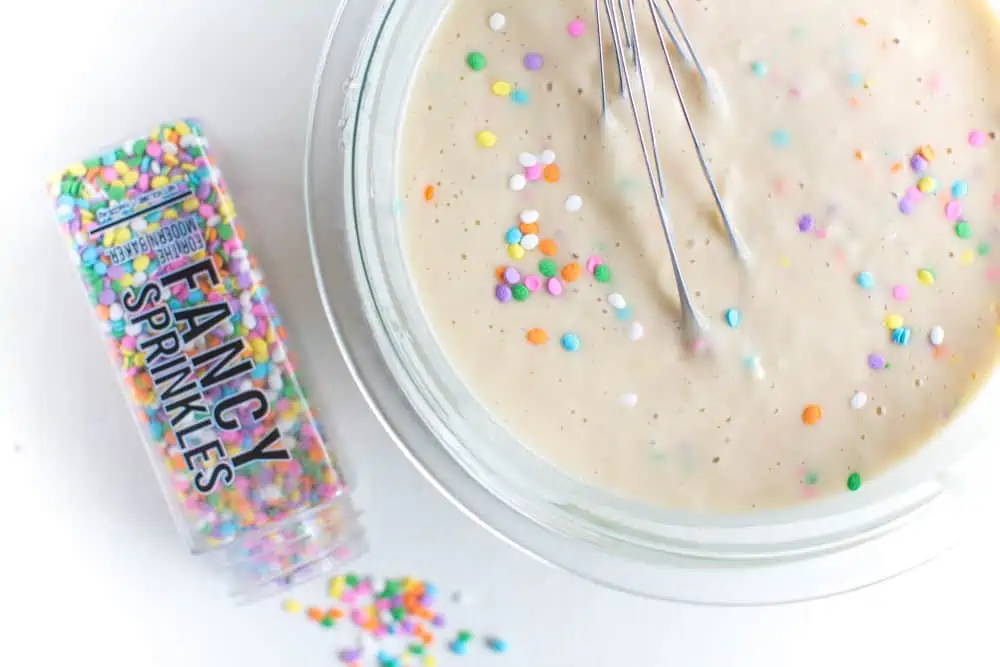 Are There Bugs in Your Sprinkles?
The more vegan sprinkles, the more fun and festive, in my opinion! But be forewarned, many sprinkles out there today are not vegan. Sprinkles are commonly colored with food dyes that are animal-derived. Plus, sprinkles are often coated with confectioner's glaze derived from shellac.
According to our good friend Wikipedia, shellac is a resin secreted by the female lac bug. It's commonly used as a glaze or varnish for food products (like baking sprinkles) and…wood? Yup. Wood varnish. Shellac gives that high-gloss to most sprinkles you see in the store.
And if that doesn't weird you out, consider this.
It can take between 50 thousand and 300 thousand lac bugs to produce just 1 kilogram of resin, and when the resin is collected from the trees, squashed up lac bugs are too. The bugs are theoretically removed before the resin is sold for use in food products, but still. Yuck.
Vegan Sprinkles, Please!
Here at World of Vegan we're not into eating bug secretions that have been melted off of dead bugs (seriously—who comes up with these things?!). And that's exactly why we were so thrilled to discover Fancy Sprinkles.
Fancy Sprinkles offers a huge array of 100% vegan sprinkles that are shellac-free. Not only that, but they are stunning! Vibrant colors, fun shapes, glossy finishes, creatively themed sprinkle mixes…you'd never know they're vegan. Plus, they taste delicious!
Seriously, when I served up this cake to a group of friends, more than one commented about how good the sprinkles are. They have a delicate sweet vanilla flavor and don't leave that nasty waxy residue on the roof of your mouth.
You can also check out our Guide to the Best Vegan Sprinkles for even more option!
Let's Talk Vegan Cake Frosting
This is our favorite vegan frosting recipe because it stays perfect at almost any temperature. Assuming you don't live in a crazy-hot climate, you should be able to leave the cake out all day if you feel like it! Some vegan frosting recipes don't sit well at room temperature, but this one is perfectly stable.
But if you are battling particularly hot temperatures, just pop the cake in the fridge and it will firm up. This frosting is made with vegan butter which, like any butter, is very firm when cold and can get soft and even melty in the heat. The same applies to this frosting!
And don't worry, you can store this cake in the fridge for days and it won't get too firm. In fact, it tastes absolutely delicious straight from the fridge!
Aside from the fact that this vegan frosting is super stable and won't melt at your dinner party, it's also likely to be the most delicious and authentic vegan frosting you'll ever have! It really does taste just like conventional frosting. It's sweet, buttery, creamy, and soooo tasty.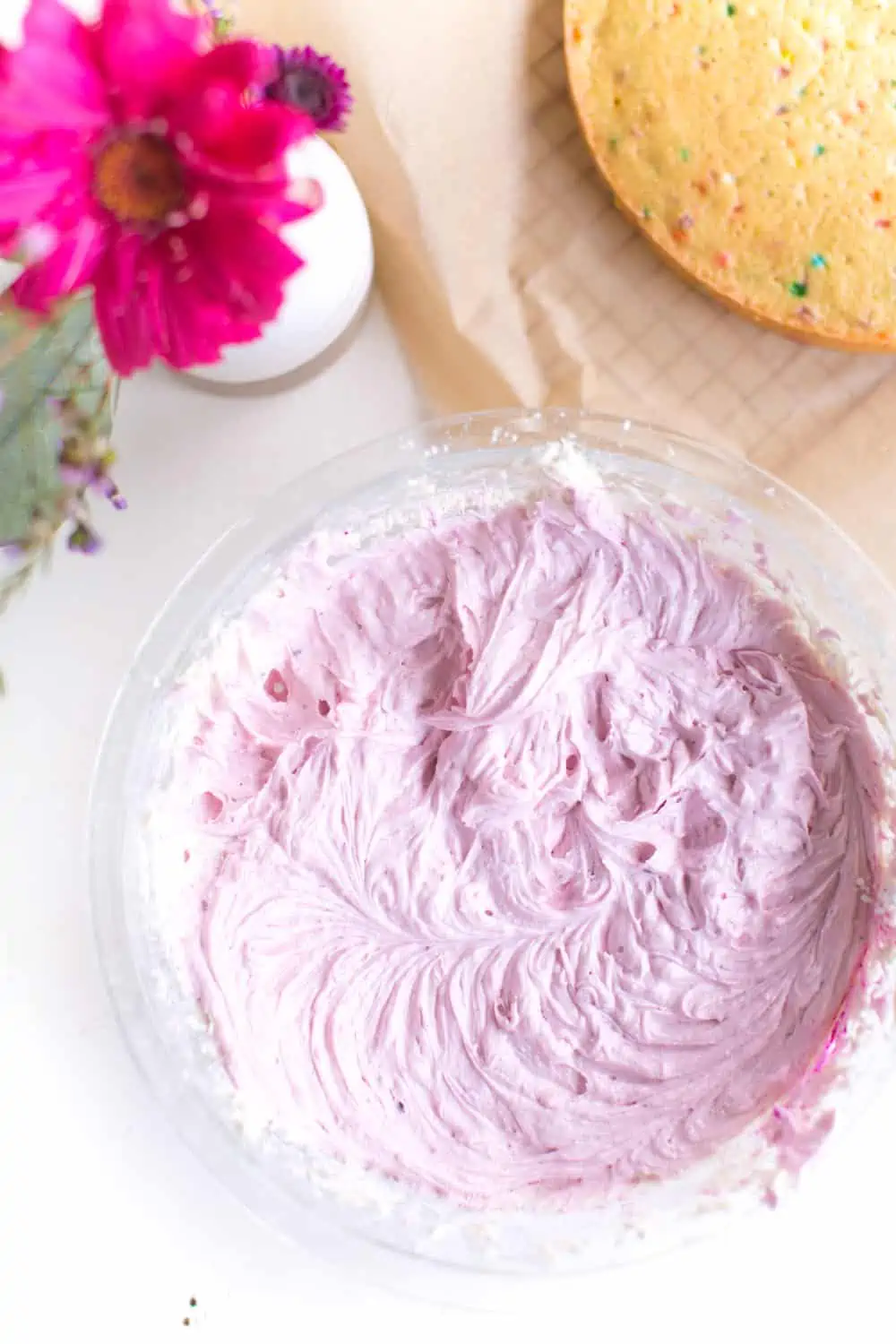 How to Color Frosting Naturally
You can leave the frosting white as it is, or you can have a little bit of fun with it and use all-natural vegan food coloring. Many conventional food dyes aren't vegan, and they're usually filled with chemical ingredients.
There's no need for that.
You can use all natural food coloring and natural food dyes to achieve beautiful colors in cooking and baking, without artificial ingredients.
Natural Food Coloring Options
Some basic ingredients that you can use for vegan food coloring to achieve your desired look are:
Red/Pink
frozen blended dragonfruit pulp with seeds, thawed (this is what I used—I mixed a teaspoon at a time directly into the frosting until I got the pink shade you see in the photos)
freeze-dried dragonfruit powder
beet crystals or beet juice
berries or berry juice from fruits such as strawberries and raspberries
Yellow / Orange
Green
barley grass juice powder
spirulina powder
chlorella powder
matcha green tea powder
Blue
organic blue matcha powder (aka blue butterfly pea powder)
blue majik powder (a form of blue spirulina)
Purple
blueberries or blueberry juice

Find Vegan Food Coloring in Stores
Also, note that there are many vegan-friendly food dyes on the market as well! You'll most likely find these in a large health food store or even online.
When adding food dyes to this icing recipe, I suggest whipping up the icing first. Then turn on the stand mixer on medium speed (or your handheld mixer) and add very small amounts of food coloring just a little bit at a time until you achieve the desired hue that you're going for.
If adding food coloring elements makes your frosting too soft and liquidy, you can always add in more powdered sugar to firm it up!
Customize Your Vegan Birthday Cake
This vegan birthday cake is the perfect base recipe for many cake variations. Feel free to play around with the recipe and customize it as you wish!
Want a vegan chocolate cake?
You can add some cocoa powder to the batter and/or the frosting for a decadent chocolate cake.
Want a vegan strawberry whipped cream cake?
Switch out the icing for coconut whipped cream instead and add slices of strawberries in between the layers!
Want a vegan blueberry cake?
Add fresh blueberries into the cake batter or even the icing.
There are so many possibilities with a recipe like this that truly acts as a blank canvas.
Looking For The Perfect Vegan Ice Cream Cake?
Check out the most insanely delicious dairy-free ice cream cake that can be made in a short amount of time with your favorite flavors of store-bought vegan ice cream and a package of Oreos. We guarantee it'll be a hit! Also, if you can't decide on what type of frosting to use on your beautiful vegan birthday cake, this Vegan Frosting Guide is sure to help!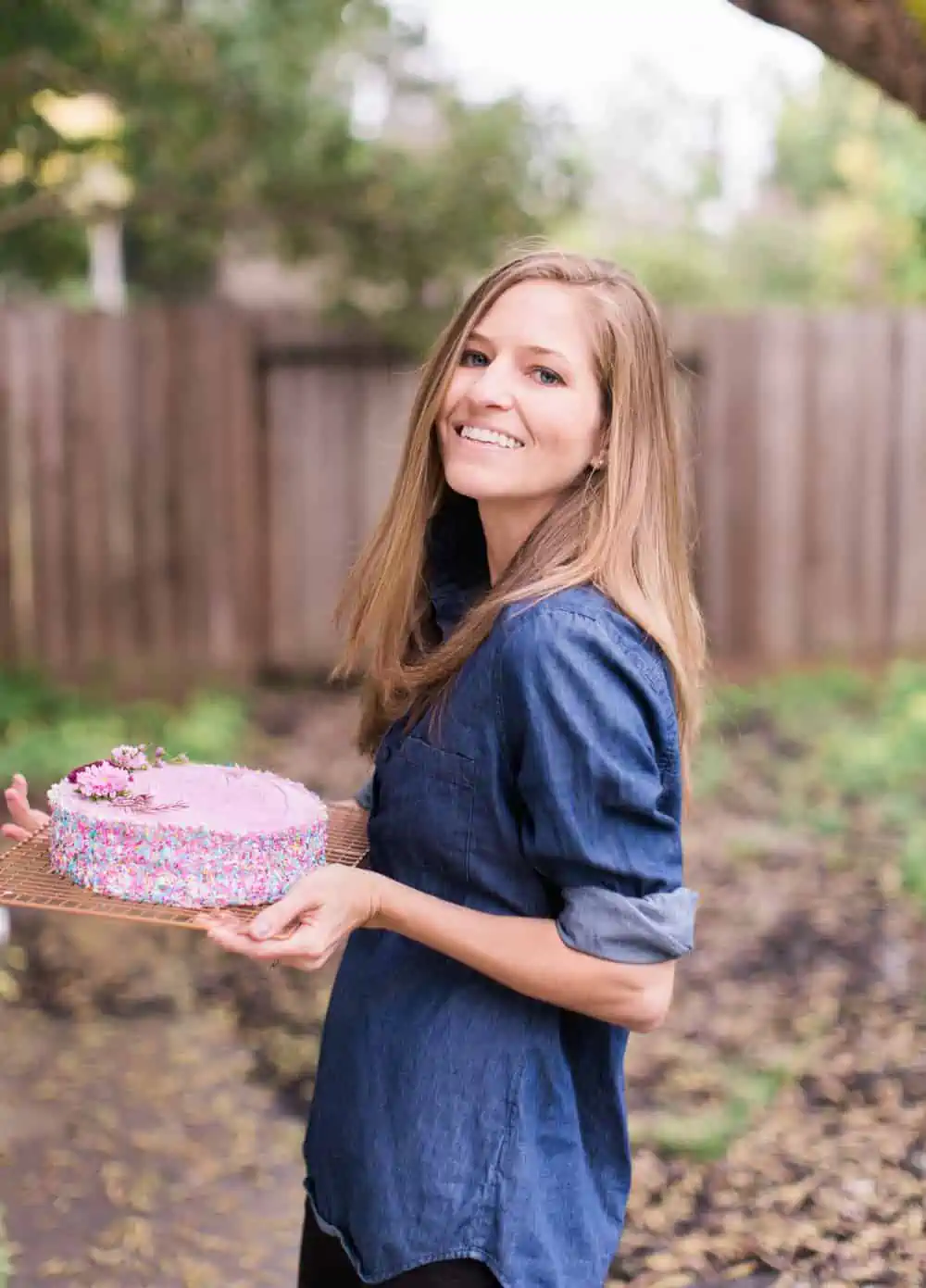 Alright, comrades. With that, you're ready to tie up that apron and get to baking. Enjoy! This vegan birthday cake has such a nostalgic taste to it, and something about it is even reminiscent of the childhood classic Dunkaroos. Yep, it's that good. (P.S. If you're looking for another staple cake recipe for your kitchen, this basic vanilla sponge cake recipe is incredibly delicious or, if quick and adorable is what you're searching for, try these super cute vegan cake pops!)
Cake Batter
2 cups soymilk, at room temperature—this is important
1 tablespoon apple cider vinegar
2 cups all-purpose flour
1 tablespoon baking powder
1 teaspoon baking soda
½ teaspoon salt
1⅓ cup granulated sugar
¾ cup vegan butter, at room temperature
1 tablespoon pure vanilla extract
Frosting (this makes enough for a 3 layer cake; halve the recipe for a 2 layer cake)
2 cups Earth Balance vegan butter, at room temperature—do not melt
5½ cups powdered sugar
2 teaspoons vanilla extract
Advance Prep: Allow butter and milk to come to room temperature.

Preheat the oven to 350 degrees F.

In a small bowl, whisk together the milk and apple cider vinegar and allow it to sit for at least 10 minutes.

In a medium bowl, sift together the flour, baking powder, baking soda, and salt. Whisk to combine and set aside.

In a large bowl, cream together the sugar, butter, and vanilla using a stand mixer or an electric hand mixer.

Run the mixer and slowly drizzle the soured milk until combine. Slowly add the flour mix a little bit at a time and again, beat until combined.

Distribute the batter evenly between 3 8″ greased and floured cake pans. Bake the cakes on the center rack of the oven for 27-30 minutes, or until the cakes are golden and a toothpick inserted comes out clean.

While the cakes are baking, you can prepare your frosting. Use an electric mixer to whip the butter for a couple of minutes until it's nice and smooth. Add the powdered sugar half a cup at a time and mix until it begins to form a frosting. Add the vanilla extract and whip until the frosting is smooth. If you'd like to color the frosting, add the coloring agent now and mix well. 

When the cake is completely cooled, you can gently remove each layer of cake from the pans. If your cakes are a bit rounded at the top and you want them to be perfectly flat, feel free to use a cake leveler (or sharp, serrated knife) to gently slice off the top of each cake. Then stack the layers, one on top of the other, smearing a layer of frosting between each using an icing spatula (or a generic spatula). Beware, if the cake is still warm, the frosting will melt!

Frost the cake exterior using your icing spatula (or kitchen spatula) and decorate as desired.
Want to make a 2 layer cake instead? You can use the same recipe, just divide the batter into two cake pans instead of three (approximately 2.5 cups of batter in each). Increase the baking time to approximately 45 minutes, until baked through (test for doneness by piercing the center of the cake with a wood or metal skewer and seeing if it comes out clean). Then halve the frosting recipe (you can always whip up more if needed, depending on how you choose to decorate). If you notice the cake frosting is softening or you won't be serving the cake immediately, store it in the refrigerator. The frosting will firm up in the fridge and the cake can last several days there! Please note that different brands of vegan butter behave differently in frosting. Earth Balance vegan butter baking sticks have provided the most consistent results for me, so that's what I recommend! I also tried Miyoko's butter which didn't work nearly as well in this.
Calories: 500kcal | Carbohydrates: 97g | Protein: 3g | Fat: 36g | Saturated Fat: 8g | Polyunsaturated Fat: 10g | Monounsaturated Fat: 15g | Trans Fat: 2g | Sodium: 645mg | Potassium: 95mg | Fiber: 1g | Sugar: 23g | Vitamin A: 1593IU | Vitamin C: 3mg | Calcium: 118mg | Iron: 1mg
This vegan birthday cake recipe was developed by Kathy Chrzaszcz for WorldofVegan.com. Vegan cake photos by Michelle Cehn. Recipe and photographs copyright of World of Vegan™, all rights reserved. Please note that this article contains affiliate links which means shopping through them helps lights on at World of Vegan. Many thanks to Fancy Sprinkles for making delicious vegan sprinkles, sponsoring this recipe, and supporting our work at World of Vegan!