When the midday heat on a sunny summer day feels like almost too much to bear, don't lose your cool! The quickest way to chill out is with an invigorating citrus popsicle modeled after the nostalgic creamy confection, the orange creamsicle. This revamped recipe is way better than anything you'd get out of a roaming ice cream truck, though, since it's made with real, fresh orange juice and a generous amount of boldly flavored orange zest. It's hard to believe that such a sweet, satisfying experience comes without any refined sugars, too!
These vegan creamsicles come from Super Vegan Scoops!: Plant-Based Ice Cream for Everyone by Hannah Kaminsky. Proving that healthier options can also be tastier ones, you'll be able to upgrade all your favorite childhood frozen desserts and explore entirely uncharted territory in decadent new scoops.
Why These Vegan Creamsicles Are A Must-Try
No Machine Needed – This is a completely no-churn recipe which means you can get started right away, without investing in any fancy equipment! If you have a working freezer and space to spare, you're good to go.
No Refined Sugar – Sweetened entirely with agave nectar or maple syrup, depending on your preference, you won't see such a dramatic spike in blood sugar as you might get with conventional frozen desserts.
Dairy-Free – Despite being incredibly rich, velvety, and creamy, you won't find a drop of dairy here. This luscious texture is all thanks to blended cashews and coconut milk, full of healthy fats and zero cholesterol.
Almost Instant – The hardest part of this recipe is just waiting for it to freeze! It takes less than ten minutes of hands-on work to blend, pour, and swirl your way to creamsicle delight. Just plan ahead so you'll always have a batch on hand when cravings strike.
Beloved by All Ages – Kids and kids-at-heart alike will adore these crowd-pleasing flavors. Familiar and comforting yet fresh and exciting, it's an easy win for even the pickiest food critics.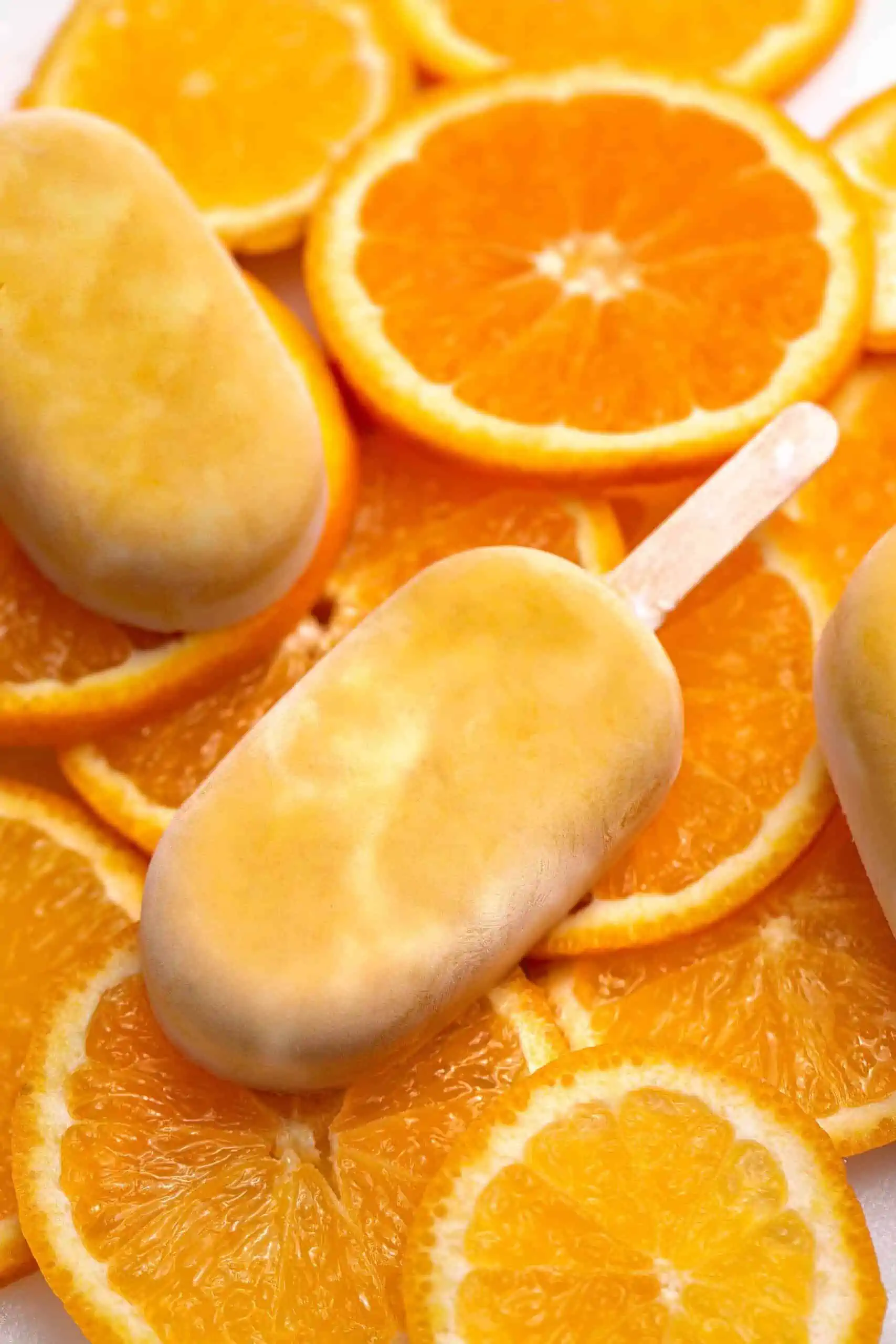 Get Creative With Popsicle Molds
Hundreds of different popsicle mold shapes and sizes can be readily found these days. Whether you would rather lick rockets, dinosaurs, or simple cylinders if up to you; the main thing to be on the lookout for is the assurance of BPA-free plastic or silicone.
How tot Make Your Own DIY Popsicle Molds:
For a quick, crafty fix, you've still got plenty of options. Simple pop molds can be fashioned out of waxed paper cups and short wooden dowels or chopsticks in a pinch. Place six to eight 4-ounce cups on a small baking sheet so that you can transport them all together, and fill 'em up! Insert the sticks after about forty-five to sixty minutes into the freezing process to keep them standing up straight in the center
Essential Ingredients
All you need are six basic staples (seven if you count salt) to whip up ice cream treats that are guaranteed to delight.
Raw Cashews – These humble nuts are the key to creating a creamy texture and substantial bite. Make sure they're raw to impart a more neutral flavor, but feel free to purchase cashew pieces rather than whole cashews to save a bit of money. Soaking them in advance makes them easy to blend more smoothly, so it's worth waiting, even if you have a high-speed machine. For a nut-free option, substitute and equal measure of raw sunflower seeds.
Orange Juice – Fresh is best, and if you're willing to squeeze your own, that means you'll need approximately three whole oranges to equal one cups of juice. Otherwise, there's nothing wrong with taking a shortcut from bottle juice. Pulp, no pulp, added vitamins; that's your call!
Coconut Milk – This is canned, full-fat coconut milk, not the refrigerated coconut beverage. We need all those good fats to get the right creamy mouthfeel; save the thinner alternatives for your breakfast cereal.
Agave or Maple Syrup – Light agave nectar is my preference here because it has a cleaner, simpler sweetness, whereas amber has a honey-like flavor and maple is even stronger. They do work just as well, so it you prefer one over the other, then by all means, use what you like best.
Orange Zest – Use a microplane to remove fine flecks of the outer peel only; the inner white pith is quite bitter, which is not what sweet dreams are made of.
Vanilla Extract – Do not accept any substitutes! Artificial vanilla may be cheaper, but you'll pay for it later in the flavor department. Most extracts are alcohol-based, so if you're sensitive, opt for vanilla paste instead which is made with invert sugar.
Tips and Tricks for Making Better Ice Cream Pops
Start with cold ingredients so everything freezes solid even faster.
If you have trouble getting the popsicles out of the molds, carefully run the outsides of the mold under hot water for 30 – 60 seconds. Make sure you don't splash any water inside onto the popsicles themselves. This will melt just the outer layer, making it easier for them to slide right out.
How to Store Your Vegan Ice Cream Bars
Once fully frozen, these orange creamsicle ice cream bars will last in the freezer almost indefinitely, or for as long as you can keep your hands off them! Beyond six months, they may start to take on some off flavors in your freezer, but realistically, I've never had them stick around long enough to find out. Just remove them from the molds and wrap each individually in plastic wrap. Store them together in a zip top bag or airtight container, and don't forget to clearly label them so you know what's inside.
Equipment You'll Need
1 cup raw cashews, soaked for at least 6 hours and drained
1 cup orange juice
½ cup full-fat coconut milk, divided
¼ cup light agave nectar or maple syrup, divided
1 tablespoon orange zest
1 teaspoon vanilla extract
¼ teaspoon salt
Place the soaked cashews, orange juice, half of the coconut milk, and half of the agave or maple syrup in your blender. Puree on high speed, pausing to scrape down the sides of the container if necessary, until completely silky-smooth. If you still see a few stray pieces remaining after 5 - 6 minutes of continuous blending, pass the mixture through a fine mesh strainer and discard any solids.

Stir in the orange zest. Separately, whisk together the remaining coconut milk and agave along with the vanilla and salt.

Pour the orange cashew mixture into popsicle molds, filling them about ⅔ of the way to the top.

Add the vanilla coconut mixture the fill the rest of the space. Lightly swirl the two together with a popsicle skewer before inserting sticks and placing in the freezer.

Let set for at least 6 hours, ideally overnight, before unmolding and enjoying.
Calories: 206kcal | Carbohydrates: 19g | Protein: 5g | Fat: 14g | Saturated Fat: 5g | Polyunsaturated Fat: 2g | Monounsaturated Fat: 5g | Sodium: 103mg | Potassium: 269mg | Fiber: 1g | Sugar: 11g | Vitamin A: 87IU | Vitamin C: 24mg | Calcium: 18mg | Iron: 2mg
About the Author
Hannah Kaminsky is the author, photographer, and tireless taste-tester behind BitterSweet Blog and eight vegan cookbooks. Super Vegan Scoops! Is her second book about frozen desserts, the first of which being Vegan a la Mode. This innovative new take on frosty treats is a must-have for anyone with a sweet tooth. Going well beyond plain chocolate vanilla, there are recipes for grand ice cream cakes, fun handheld novelties like popsicles and sandwiches, elaborate sundaes for everyday of the week, and even ideas for cooking and baking with ice cream base. Yes, you can make cookies out of ice cream, and so much more!
More Frozen Dessert Recipes
We want to thank our amazing recipe testers Annie Sparks & Aston Martin for helping us perfect this recipe!
This vegan vegan creamsicle recipe and photos by Hannah Kaminsky was reprinted with permission from the Super Vegan Scoops!: Plant-Based Ice Cream for Everyone cookbook (Skyhorse Publishing, June 1, 2021). Please note that this post includes affiliate links when available which supports our work at World of Vegan.