When I went vegan, my family didn't make the change with me, but I insisted upon one thing—no dairy. I removed it from my house after learning about the atrocities of dairy farming and the awful ingredients in milk. And we immediately replaced cow's milk with plant-based milk and dairy butter with vegan butter.
I found butter to be one of the easiest dairy-free switch-outs you can make in your fridge. With the abundance and quality of vegan butter products in the marketplace today, you can easily replace it without tasting the difference. I promise! And you can bake without it too!
Whether you need some butter to spread on a grilled cheese, blend with sugar in a vegan birthday cake with dairy-free buttercream frosting, butter your morning toast, or melt on a baked potato, this guide to vegan butter has got you covered!
Whole Food Alternatives to Butter
It's easy to find vegan butter in virtually all major grocery stores today, but before we go into the list of vegan butter brands to look for, let's talk about some healthy plant-based alternatives you can use instead of butter! Here are our top two options for a vegan butter substitute.
Refined Coconut Oil
If you want to keep things really simple you can use refined coconut oil in place of butter. Coconut oil is solid at room temperature, and liquid when heated, so you can spread and melt this spreadable oil on hot toast. Note that you'll want to sprinkle some salt on top to get that true buttery vibe as butter is traditionally loaded with salt and coconut oil doesn't have any.
But what about that coconut-y flavor? If you're not into coconut, just get "refined coconut oil," which has zero coconut flavor. If you want the coconut flavor, choose unrefined coconut oil (aka unfiltered coconut oil), which can be delicious in sweet recipes, or on toast or pancakes with some cinnamon and sugar!
You can also use coconut oil in your favorite recipes just as you would dairy butter! You can cook with it, bake with it, melt it, dollop it on a steaming stack of pancakes, etc. Virtually any recipe that calls for butter will work with coconut oil instead!
Avocado (Nature's Butter)
Avocado is often considered "Nature's Butter"—because you can mash and spread it on toast just like you would butter! It has that same desired fatty, delicious, savory vibe. Add a little salt (and maybe a dash of garlic powder), and you've got better-than-butter toast that's actually nutritious. Thanks, nature!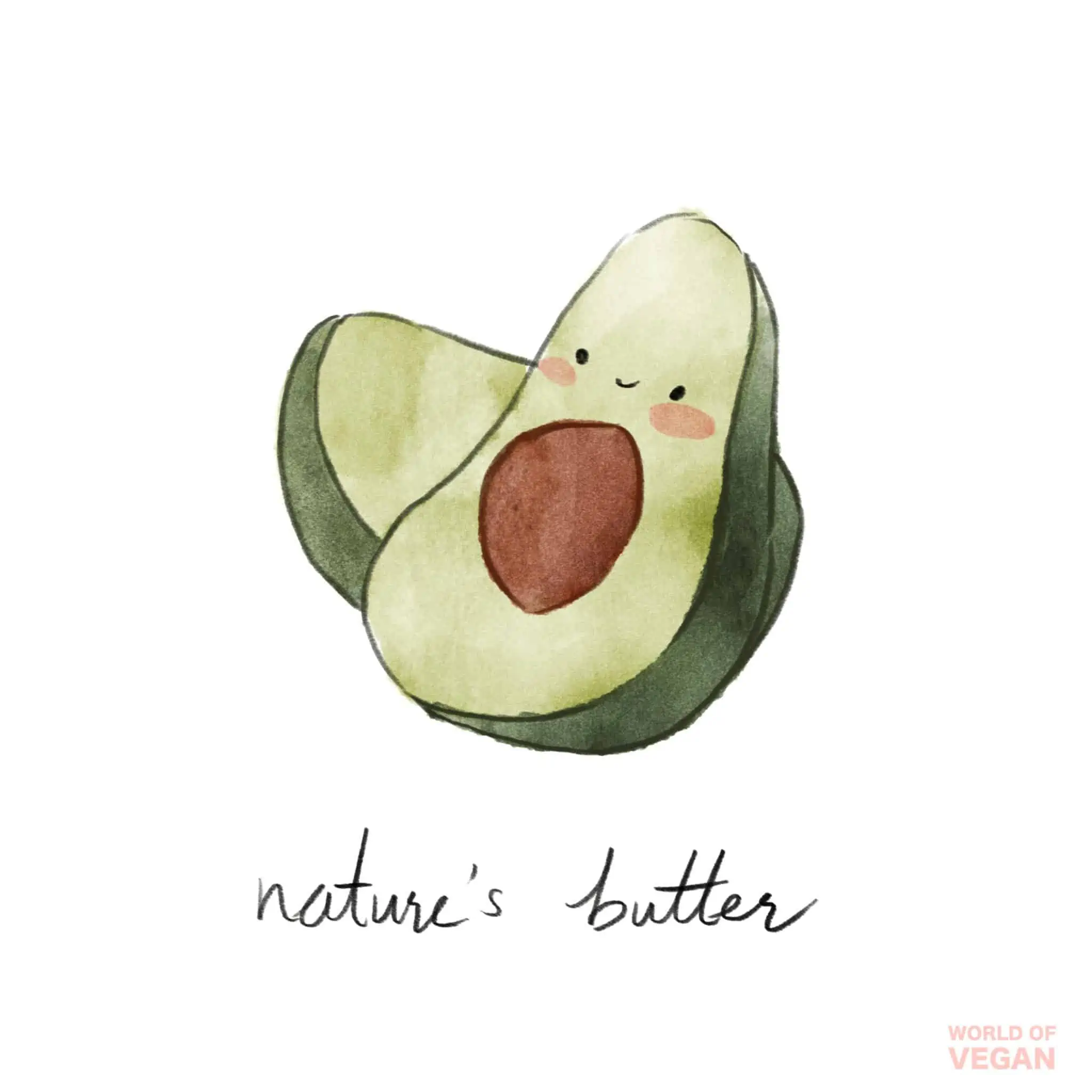 100% Vegan Butter Brands
This is the go-to dairy-free butter many vegan households—and it's one of the most widely available! Earth Balance vegan butter tastes just as great as butter…many people like it even better! They have dozens of varieties, including whipped butter and baking sticks.
You can't go wrong with any of the Earth Balance line of dairy-free butters, but when it comes to baking, their butter (and shortening) sticks replace the dairy versions with ease and delicious taste.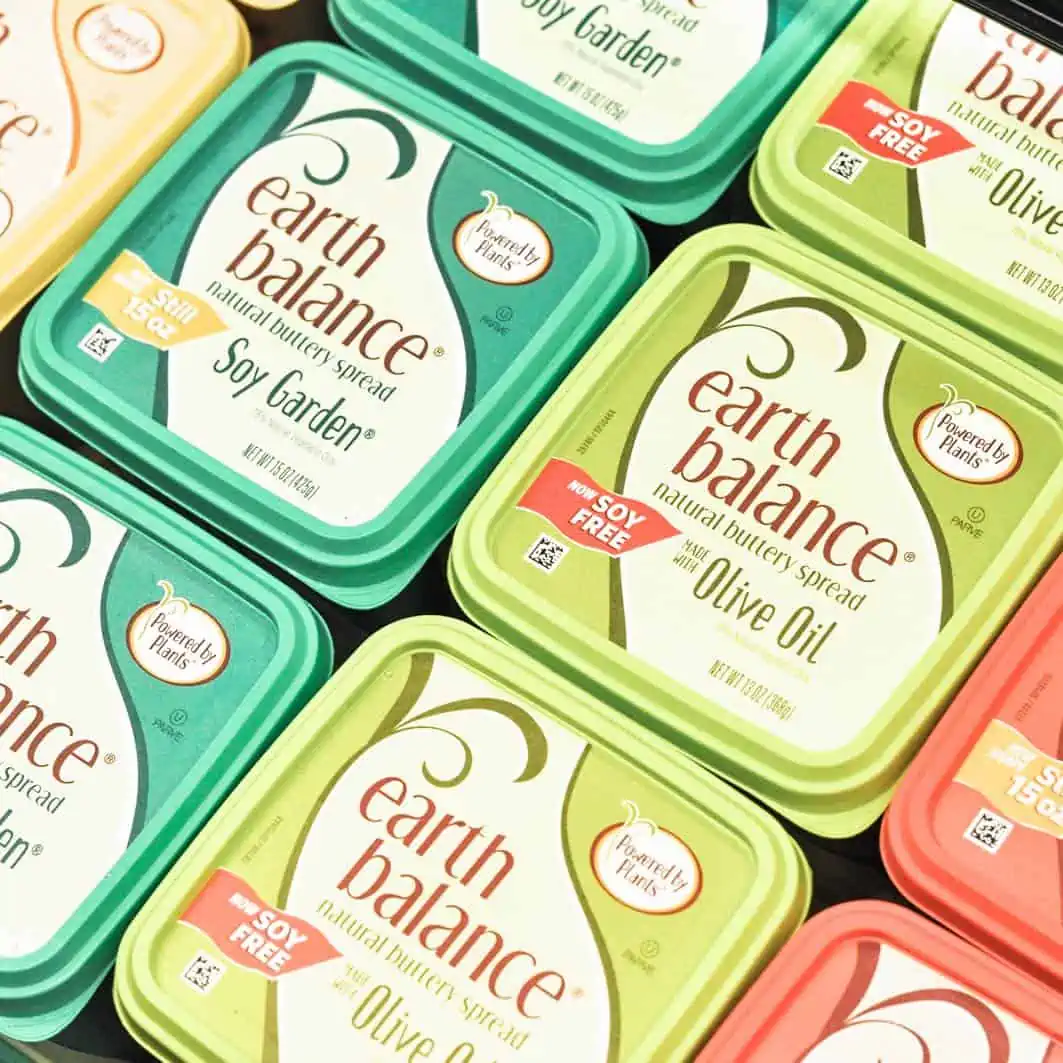 This coconut oil-based buttery spread can be used to butter toast or to make decadent sauces. This Quebec-based company offers a sea salt and unsalted variety which contains certified organic and non-GMO ingredients.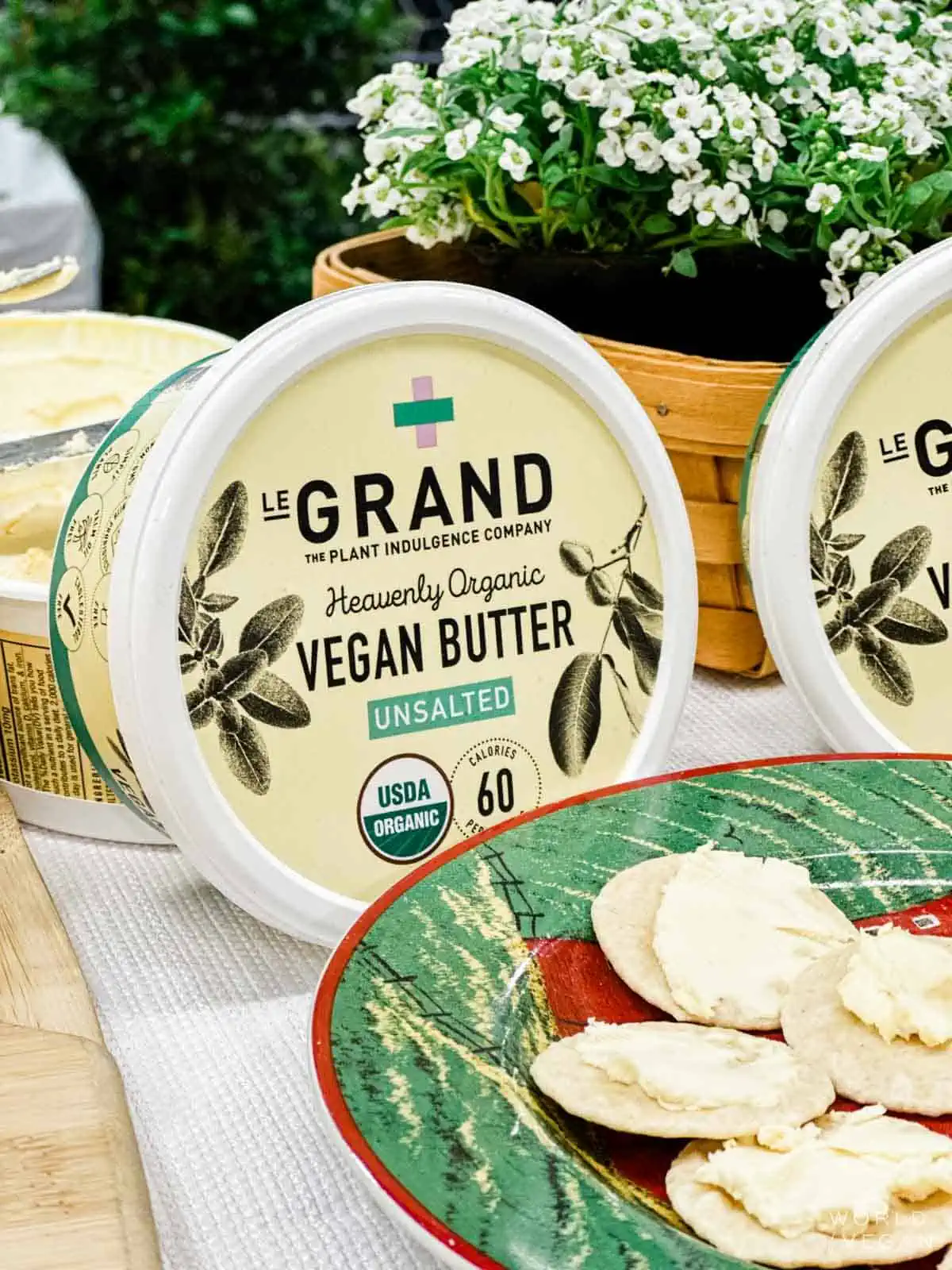 Brace your taste buds for this creamy butter. This is the good stuff so you want to use it where you are really going to taste it. I use it as a premium spread when I have a high-quality baguette or am making a special piece of toast. It will elevate anything you spread it on. It's organic, non-GMO, and made without palm oil. It's quickly becoming more accessible and can now even be found at Trader Joe's! 
Miyoko's vegan butter is also my go-to for popcorn. Melt a few pats and drizzle it over a freshly popped batch of kernels along with a few pinches of sea salt and a generous sprinkling of nutritional yeast for a game changer. It's equally delicious slathered on freshly grilled corn on the cob.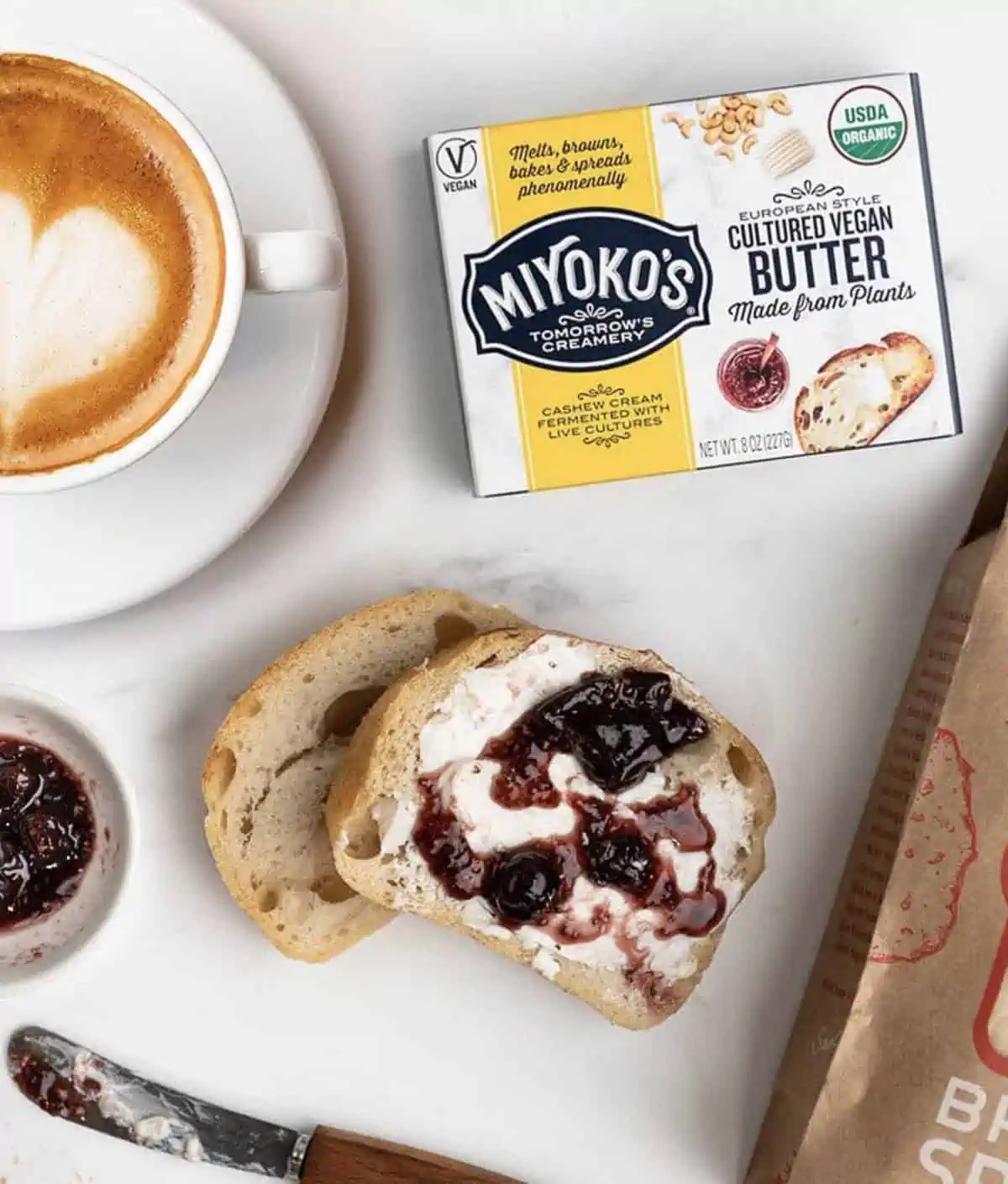 This rich and creamy organic spread is a favorite among many. It uses a blend of fruit and plant-based oils. Melt also recently launched vegan butter sticks that are optimized for baking with oils that are not high in omega 6 ALA's (such as soybean, canola, and safflower).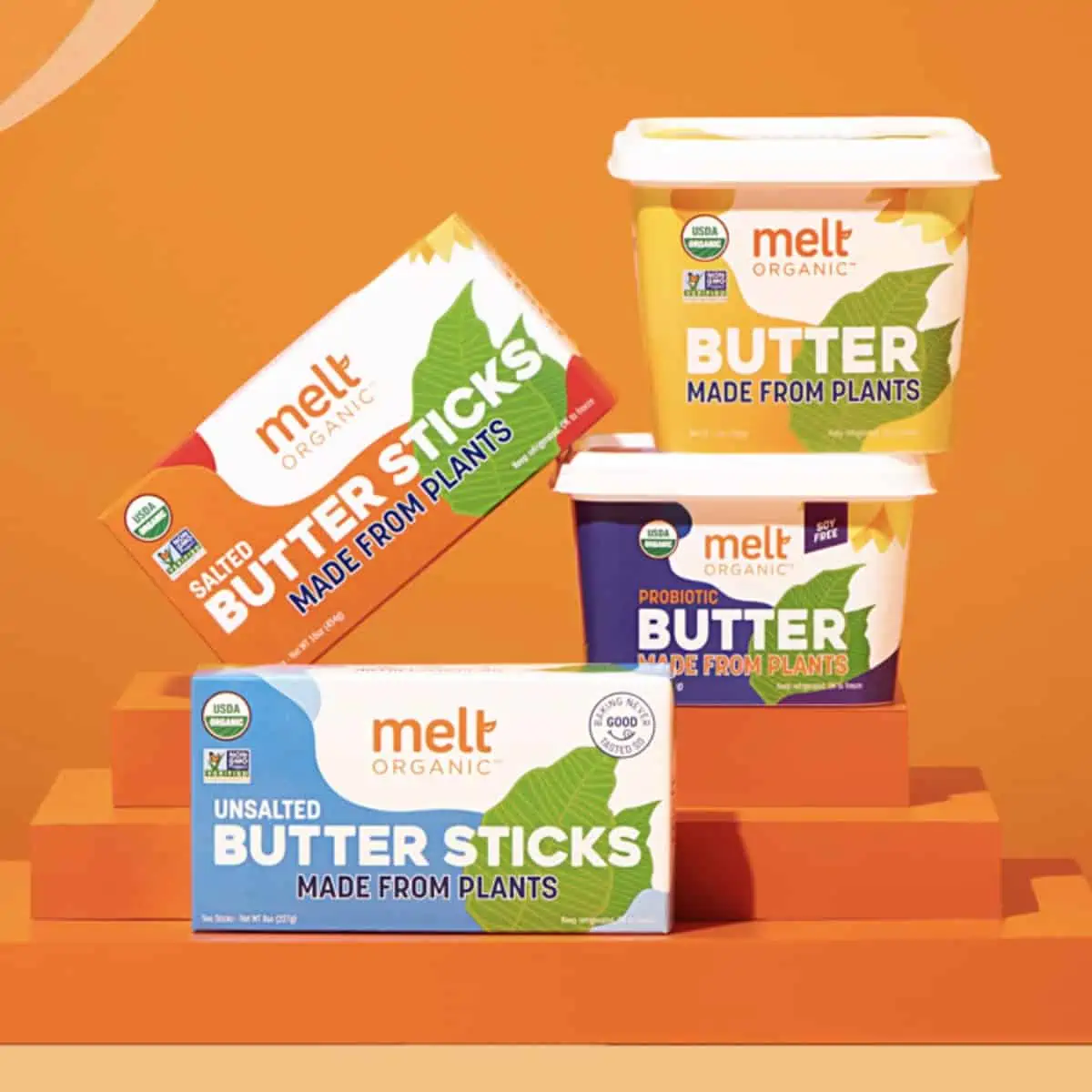 This butter is 100% plant-based with a rich and buttery taste. It's designed to be used just like butter, from spreading onto bread to sautéing and baking. Made from a blend of shea butter and coconut oil, this product contains mostly organic ingredients and is free of palm oil.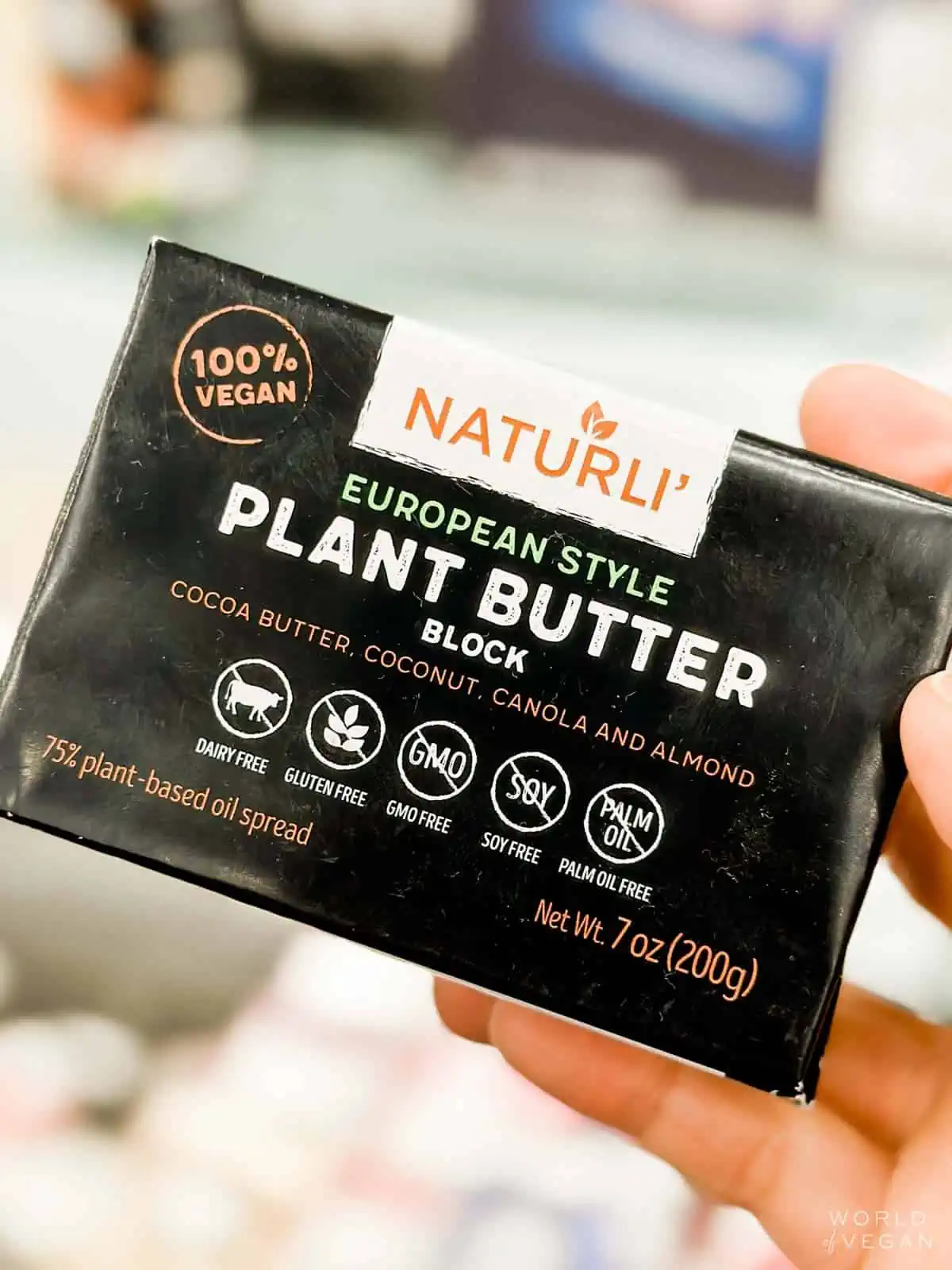 Wayfare recently rebranded and is becoming quite a hot choice in the vegan scene. Their packaging is now modern and sleek, and their dairy-free products are quite good. Their butter is gluten-free, organic, non-gmo, soy-free, and parve, so it ticks many boxes.
The ingredients include: water, butter beans (neat!), coconut oil, sunflower oil, sea salt, cultured dextrose, sunflower lecithin, konjac root powder, natural flavor, and turmeric powder.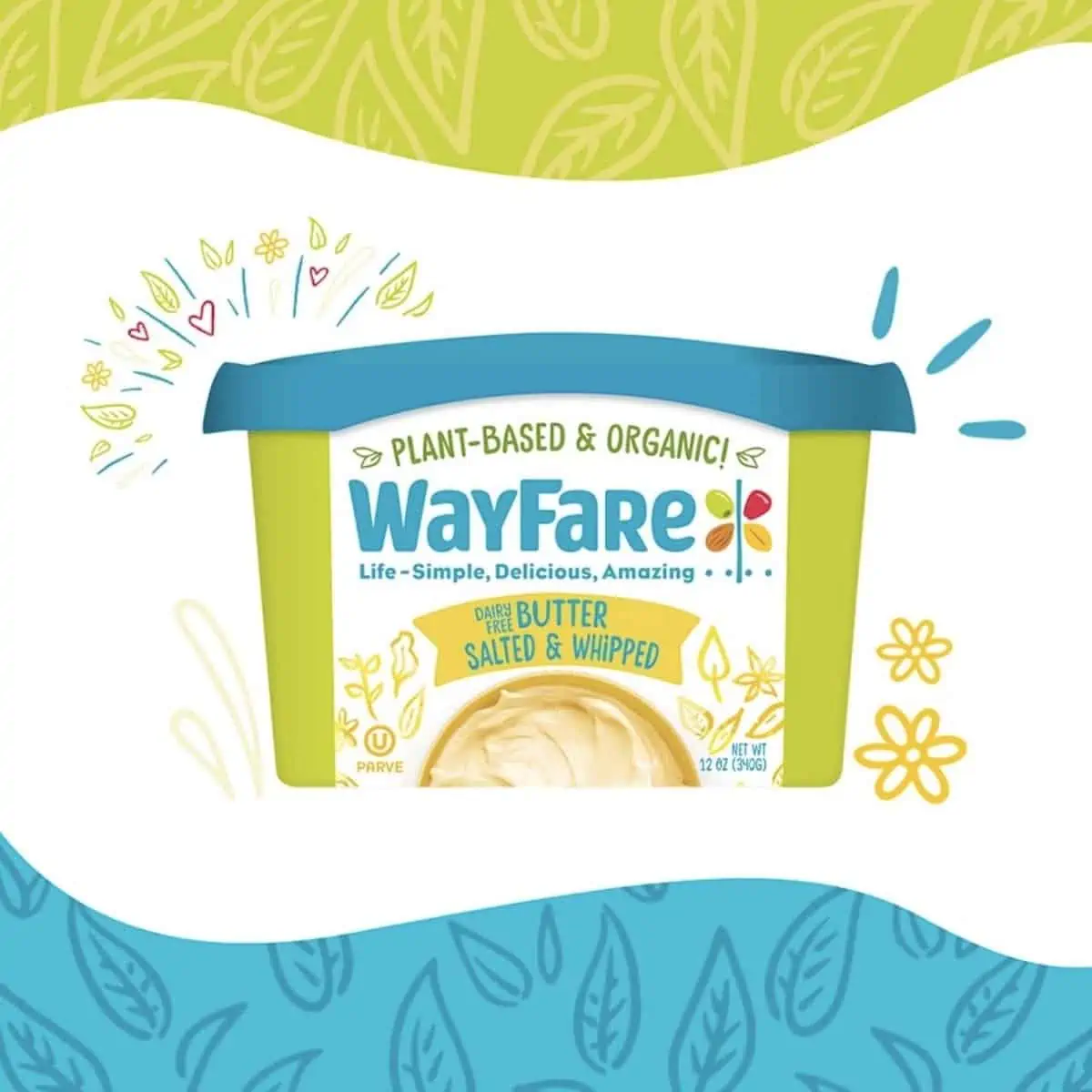 Wildbrine is a rising vegan brand that was originally known for their kimchi. But they've recently branched out to offer a whole line of dairy-free dips, dairy-free cream cheese, and vegan butter!
Wild Creamery plant-based butter is made with: coconut oil, water, sunflower oil, cashews, and 2% or less of: sunflower lecithin, yam, sea salt, cabbage, oats, lactobaccillus cultures, cultured dextrose.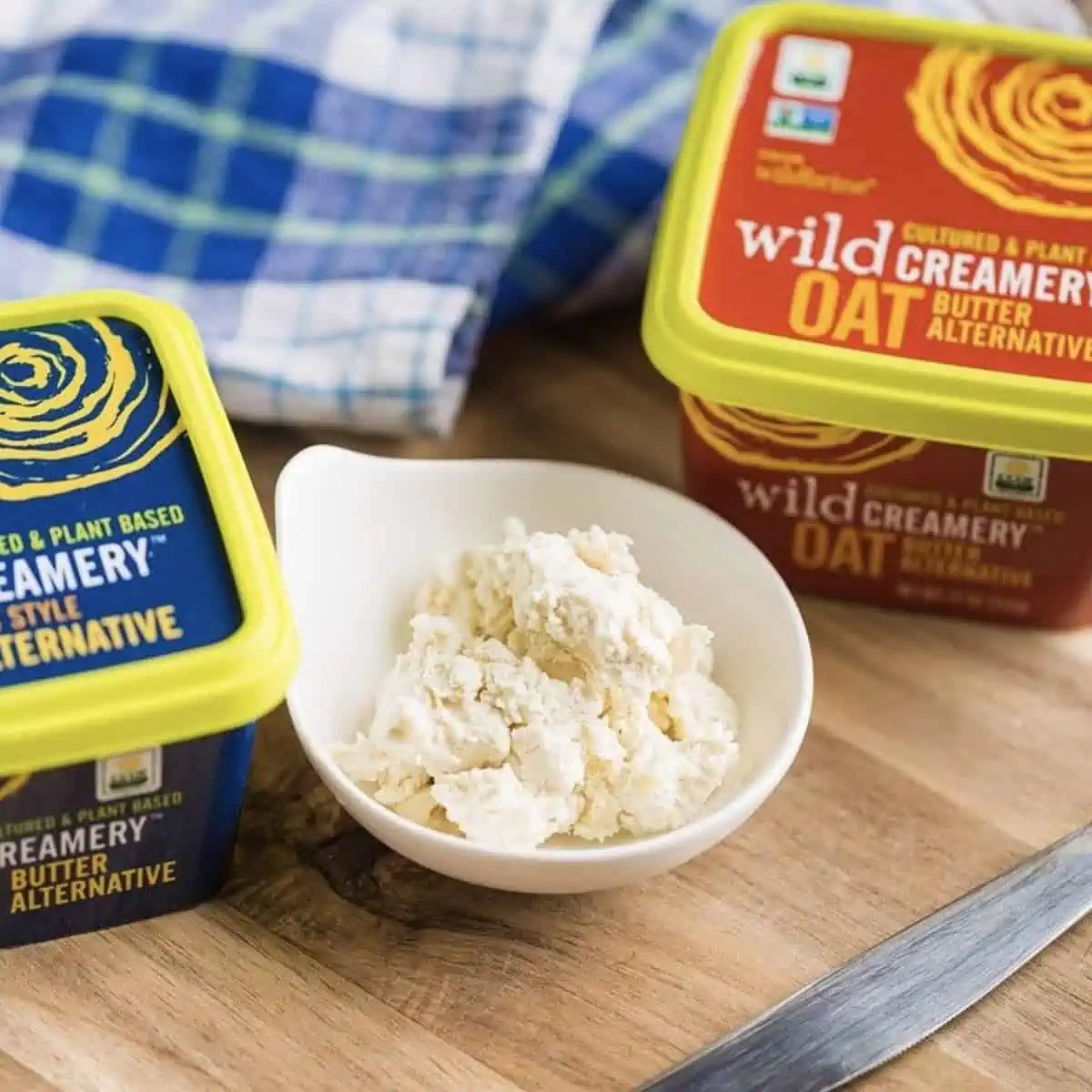 One of the smaller brands on the list, you'll be lucky to find this butter in specific natural foods stored and regions of the United States.
The original butter ingredients couldn't be more simple: sunflower oil, sustainable palm oil, water, turmeric, and Himalayan sea salt. That's it!
They also offer several fun varieties including garlic chive butter and even a sweet cinnamon date vanilla butter. Delicious.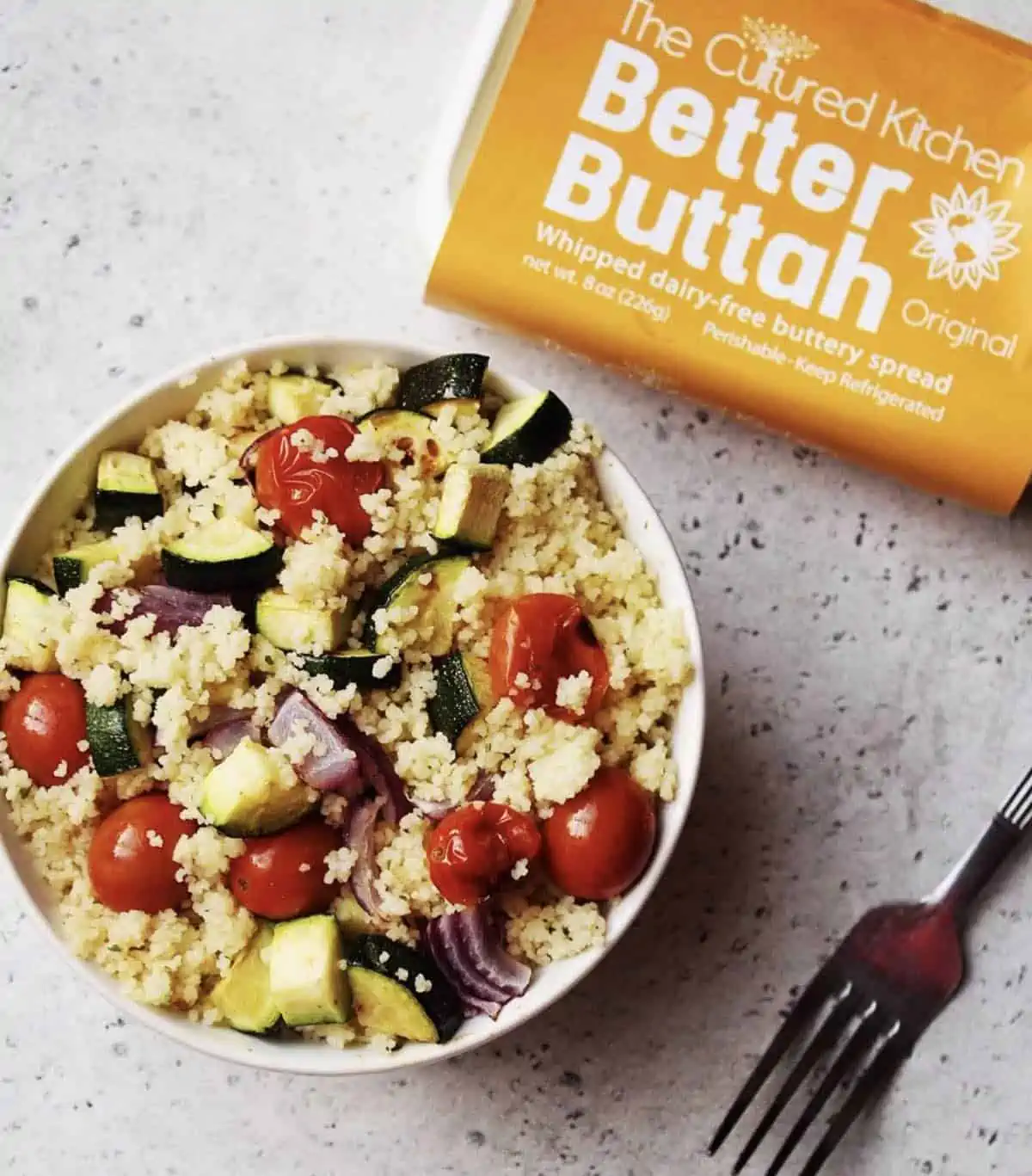 Butter Brands With Vegan Options
Smart Balance Vegan Butter (Most Butters from Smart Balance Aren't Vegan!)
This dairy-free butter spread has been around forever and is available at just about any mass grocery store—but beware, most Smart Balance butters are not vegan! Most varieties have vitamin D added, which they source from sheep's wool oil (lanolin).
I Can't Believe It's Not Butter It's Vegan
This notorious brand recently came out with a vegan version of their butter spread. It's 100% non-dairy and Vegan Action Certified.
Country Crock Plant-Butter
Longtime butter brand Country Crock finally joined the flock in releasing a dairy-free butter! You can find it at many mainstream grocery stores in the U.S.
Nutiva Organic Buttery Coconut Oil
This a versatile, all-purpose cooking oil, but also doubles as a delicious butter alternative.
Land O Lakes Vegan Butter ("Plant-Based Creamy Spread")
This massive dairy company that has been in the news time and again for their mistreatment of dairy cows is the last brand we'd ever want to support. But even they are now offering their own vegan butter!
What to Consider When Picking a Vegan Butter?
What About Palm Oil?
When you start looking into vegan butter substitutes, you're likely to find palm oil on thee ingredient list of many. Most of the vegan butter brands use "sustainably sourced" and "ethically sourced" palm oil, but many still choose to support palm-oil-free options. Here are some fabulous palm-oil-free vegan butters:
Miyoko's Cultured Butter (coconut oil and cultured cashew milk base)
Milkadamia Buttery Spread (macadamia nut base)
Kite Hill Plant-Based Butter (almond base)
What About Plastic? Is There A Plastic-Free Zero-Waste Vegan Butter?
Yes, many plant-based butters come in plastic tubs. Even though these are usually recyclable (wash them first!), it's much more sustainable to skip the single-use plastic altogether. Here is one vegan butter brand that uses plastic-free packaging:
Miyoko's Cultured Butter (packaged in cardboard)
What's the Best Organic Vegan Butter?
First of all, round-of-applause to you for choosing organic! Several of the brands listed above carry organic options, while a few are organic across their entire line of plant butters. Here are a few (of many) organic vegan butter options:
Miyoko's Butter (always organic)
Earth Balance (organic butter options)
With so many dairy-free butter options, your only challenge is which to try first! Have fun with it—and enjoy!
Plant-Based Butter Brands That Have Come & Gone
There are a few vegan butter options that entered the marketplace and then left, including:
Forager Project (they have many other great dairy-free products thought)
Flora Plant Butter
The BEST Homemade Dairy-Free Butter Recipe
If homemade staples is your thing, we've got the BEST easy vegan butter recipe for you.
This recipe was developed by chef Allison Rivers Samson and comes from The Dairy-Freedom Cookbook. It's easier to do than you'd think! In fact, once make this yourself you may never buy store-bought butter again. Cha-ching! Money saved. You're welcome.
You can find sunflower lecithin powder here, and refined coconut oil here.