If you have a sweet tooth, prepare to meet your new obsession. Classic Scotcharoos are a common dessert popular in the Midwest that's been around for ages. Think of it like an upgraded Rice Krispy Treat with peanut butter, butterscotch, and chocolate. Today, we're making vegan Scotcharoo Bars with a few simple swaps.
My mother-in-law has been making Scotcharoos for her family for decades and everyone in the family is hooked. We're so lucky that she veganized them for us! The recipe is so easy to make, sweet, chewy, caramel-y, great for parties, potlucks, holidays, or any occasion.
Why You'll Love This Recipe for Scotcharoo Bars
Honestly, what's not to love about such a crowd-pleasing, quick indulgence? 9/10 people fall in love at first bite, and the other 1 is just trying to play it cool.
Key Ingredients for Vegan Scotcharoos
The list of ingredients is very short, so each one counts. Who said you couldn't have healthy Scotcharoos?
History of Scotcharoo Bars
Not much is known about exactly who first created these irresistible treats, the recipe was first seen in print on a box of Rice Krispy Cereal in the 1960s. Thus, it stands to reason that the Kellogg's company is behind the creation in the first place. They are most popular in the Midwestern United States, and especially Iowa.
They get their name from the unique addition of butterscotch, which turns them into more of a candy bar than cookie. They were originally made over the stove using a double boiler since microwaves weren't yet a common household appliance, but that's about the only way they've changed since then.
Fun Variations of Scotcharoo Bars to Try
Beyond the recipe as written, there's a whole world of new culinary adventures to be had! Make it your own with some fun and easy modifications.
Frequently Asked Questions
How long can you keep vegan Scotcharoo Bars?
Once cooled and cut, you can store the Scotcharoos in an airtight container, separated by sheets of parchment paper, at room temperature for up to a week.
Can you freeze Scotcharoos?
Yes, you can stash your Scotcharoos in the freeze for safe keeping if you'd like! Prepare them as before and they'll last for up to 6 months in the freezer. Just make sure they come to room temperature again before serving. They'll be hard and brittle while still cold.
Can I double the recipe?
This recipe is great for serving a crowd; absolutely, double away! Make sure you have two baking pans handy.
Can I half the recipe?
If you have fewer mouths to feed, it's no problem to make fewer tempting treats. Cut the ingredients in half and use an 8 x 8-inch square baking dish instead.
What if I can't find vegan butterscotch chips?
Okay, don't panic. They won't be quite the same, but you can just use more chocolate chips instead. I don't think anyone's complained about having too much chocolate. Maybe you can call them Choco-roos?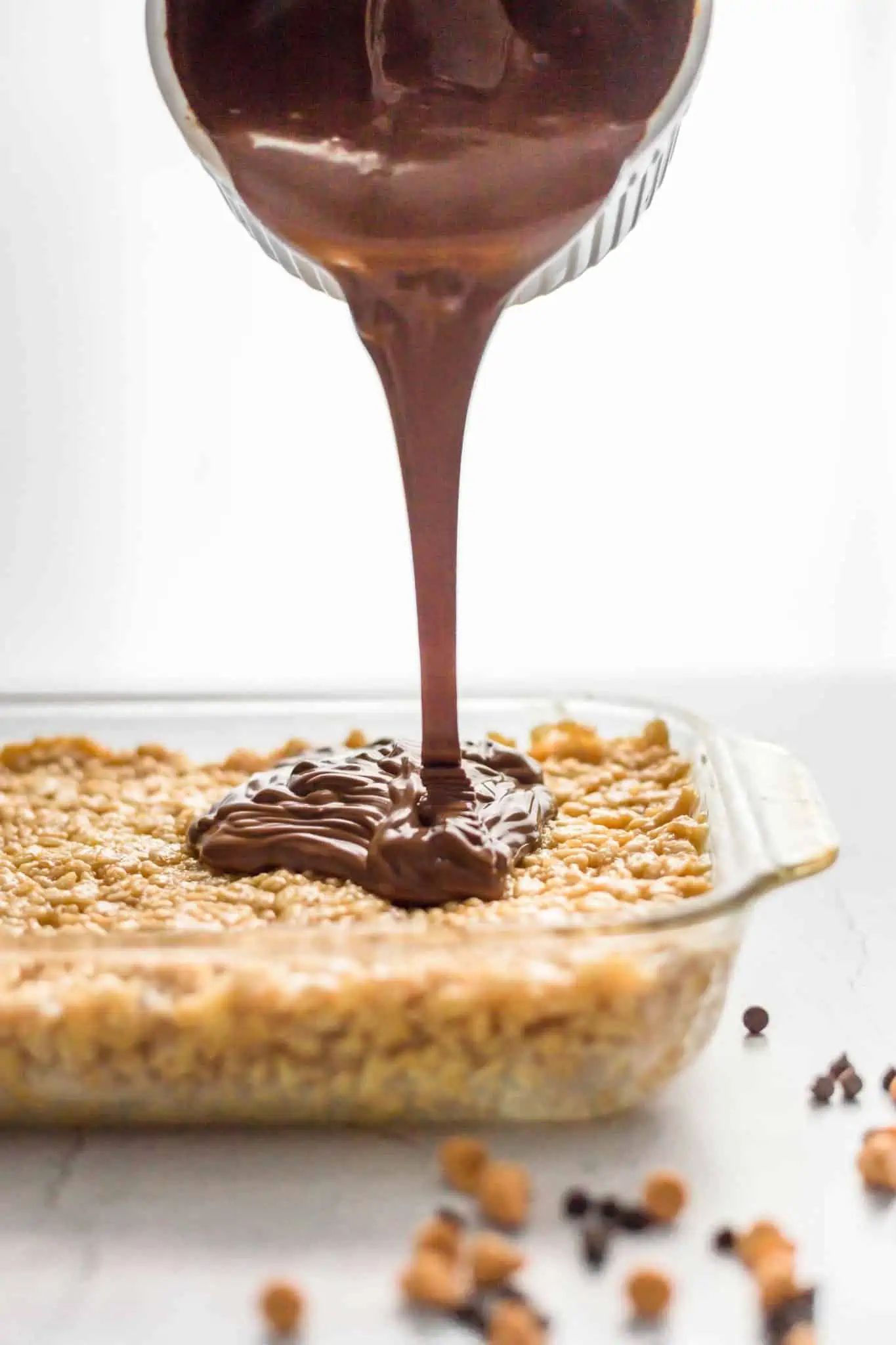 Equipment You'll Need
• Measuring Cups and Spoons
• Baking Dish
• Parchment Paper
• Mixing Bowl
• Rubber Spatula
• Saucepan (medium)
• Microwave
6 cups Rice Krispies, or any puffed rice cereal
1 cup granulated sugar
1 cup creamy peanut butter
1 cup light corn syrup
6 ounces vegan chocolate chips
6 ounces vegan butterscotch chocolate chips
Grease a 9 x 13 pan or Pyrex dish with oil or vegan butter and set aside.

In a large glass or metal bowl, add rice krispies and set aside.

In a medium saucepan add the sugar, peanut butter, and corn syrup. Place over medium heat on the stove and stir consistently as you bring to a boil. The mixture should turn completely smooth. As soon as bubbles start to form, remove from heat.

Pour peanut butter mixture into the bowl of rice krispies and carefully mix with a spoon. The mixture is extremely hot so be very careful not to touch it (it can burn your skin). Continue mixing until the rice krispies are evenly coated.

Spoon the rice krispie mixture into the greased 9 x 13 pan and press down to spread evenly. Coat hands with vegan butter or oil (rub between hands like lotion) so you can press it down without sticking. Or, cover with parchment paper and press down until it fills the pan and has a flat even surface.

Add chocolate chips and vegan butterscotch chips to a small bowl and melt by microwaving for 20-30 second increments and mixing between each. Drizzle the melted chocolate over the rice krispie treats in the pan and smooth evenly over the top with a spoon.

Refrigerate for 1 hour until chocolate is hardened.
Calories: 453kcal | Carbohydrates: 76g | Protein: 7g | Fat: 17g | Saturated Fat: 5g | Polyunsaturated Fat: 3g | Monounsaturated Fat: 6g | Sodium: 239mg | Potassium: 140mg | Fiber: 2g | Sugar: 60g | Vitamin A: 945IU | Vitamin C: 9mg | Calcium: 34mg | Iron: 6mg
If you try this vegan Scotcharoos recipe, let us know what you think by leaving a comment and rating below! Be sure to follow along on Pinterest, Instagram, and Facebook for even more vegan recipe inspiration.
More No-Bake Dessert Recipes to Try
Vegan Scotcharoos recipe was veganized by my mother-in-law, Joyce Miller, who has been making these for her family gatherings for decades. Thanks, Mah! Photos by JJ Steele. Article written with support from Hannah Kaminsky and edited by Amanda Meth.