If you're craving the nostalgic taste of creamy tuna salad layered in thick between two slices of soft bread, don't go fish- Go plants! Canned artichoke makes a stunning substitution for that characteristic tuna fish mouthfeel that's both meaty and tender, solid yet shredded, interspersed with pops of fresh flavor. Take this family favorite in a new, more compassionate direction, that's both tastier and healthier than the traditional recipe.
Hopefully by now you've already tried (and fallen in love with) our chickpea tuna salad, and maybe even this jackfruit tuna, but if you're itching for a new tuna, this will be an exciting way to mix up this vegan tuna fish lunch staple. Let this be yet another reminder that we don't need to turn to seafood or harm fish to enjoy you old tuna-style favorites.
Why You'll Love This Recipe
Nothing fishy: If you're not a fan of fishy flavors, you're in luck! This variation on the idea doesn't taste like seafood, putting more emphasis on fresh veggies and bright seasonings instead.
Fiber-full: Fiber is the key to staying satisfied long after lunchtime, which makes this highly nutrition sandwich staple a great meal to tide you over through a full day of work, school, or play.
Super simple: If you have a can opener and a food processor, you're in business. There's no need for specialized equipment, fancy techniques, or rare ingredients here!
Keeps well: Meal planning has never been easier when you keep a batch of this "tuna" on hand. Prepare it up to a week in advance so you can spend less time in the kitchen and more time living life!
Travels beautifully: Planning a trip out to the beach, hiking in the woods, traveling by car or airplane? There's no bad place to take these versatile sandwiches! Wrap them tightly and keep cool, but no need to refrigerate if eating that same day.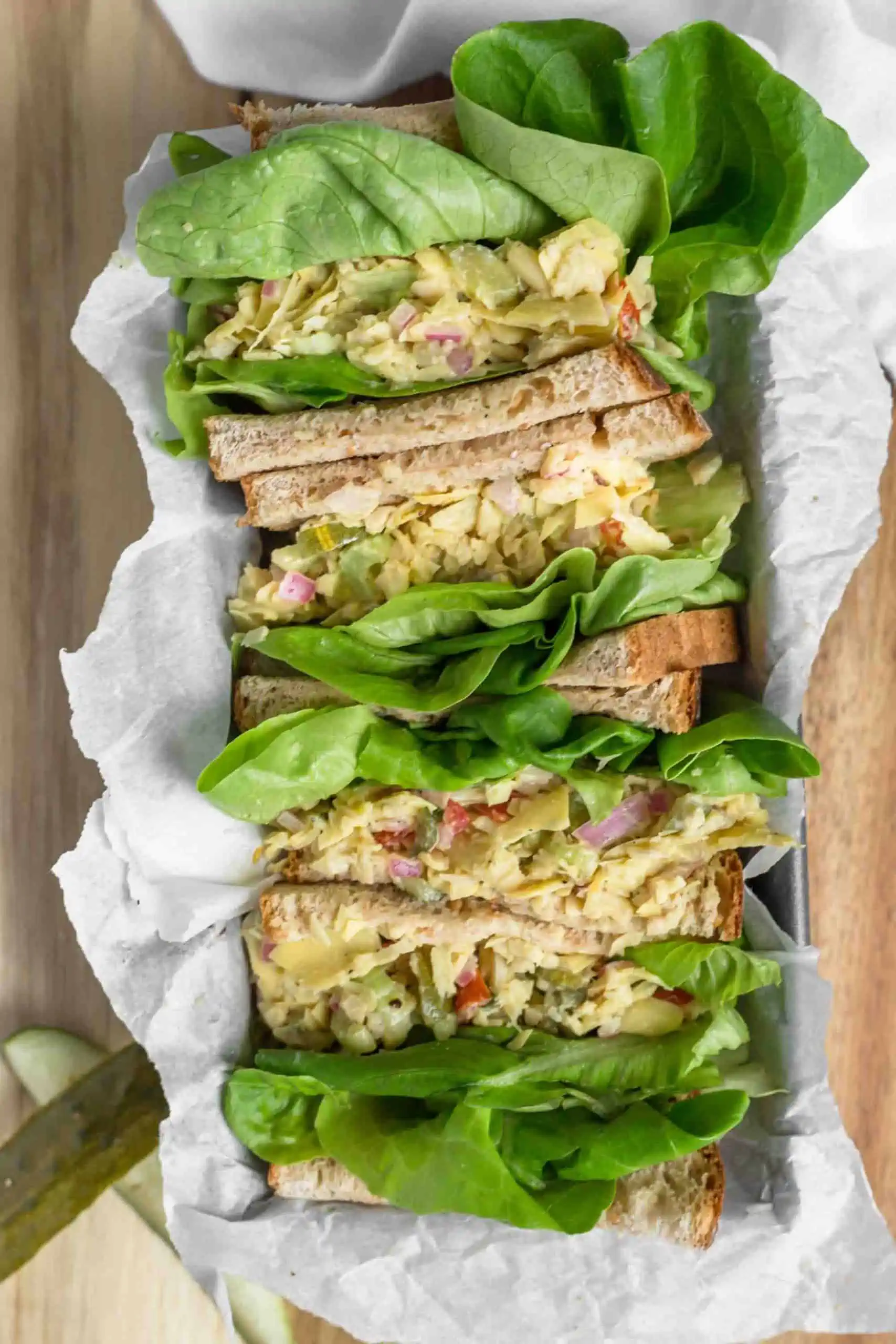 Key Ingredients and Substitutions
Canned artichokes: Cleaning fresh artichokes is a pain but getting them canned makes them easy and effortless to cook with. Seek out artichoke hearts packed in water or brine, not marinated, which would add other seasonings and oil into the mix.
Vegan mayo: Whether you want to buy or DIY, vegan mayo has none of the egg and all the creamy, dreamy richness. You can find tons of plant-based options at most grocery stores in the refrigerated section, typically near the vegan sour cream, yogurt, and cheese.
Red onion: Raw onion might sound harsh, but it lends a satisfying bite that becomes more mellow and mild the longer it sits. You can go for more delicate sliced scallion or shallots if you'd still prefer a less assertive onion flavor.
Celery: Adding satisfying textural contrast throughout the creamy mixture, crunchy chunks of celery are a classic inclusion. If you really dislike celery though, you can swap them out for chopped carrots instead.
Pickles: Subtly briny, salty, and savory, simple garlic pickles can't be beat. Bread and butter pickle could lend a sweeter flavor, or spicy pickles would be perfect to turn up the heat. Pickle spears are easiest to dice into consistent sizes for this recipe.
Cherry tomatoes: Bursting with fresh flavor, ripe cherry tomatoes are like little red gems hidden within the sea of "tuna" salad. When not in season, you can omit them, or use diced bell peppers instead.
Sandwich bread: Anything goes when it comes to sandwich bread. Whole wheat, multigrain, sourdough, rye; whatever you like is the best choice! You can also use a gluten-free bread to accommodate those with celiac disease, since the recipe is otherwise completely gluten-free.
Nutritional Benefits of Artichokes
In addition to fiber, artichokes are packed with vitamins and minerals. They're a great source of vitamin C, folate, magnesium, and potassium. That goes for fresh, canned, and even frozen, so you can take advantage of that great nutrition without any additional prep work. Artichokes are also very low in calories, so if you've got a monster appetite, you can eat a second serving with no guilt!
How to Spice Up Your Salad
If you're tired of the standard seasonings, you're in luck. Consider this a blank canvas to paint any of your favorite flavors on top of! There's a bolder world of savory tastes waiting for you with just a few quick tweaks.
Curry: Add 2 – 3 teaspoons of mild yellow curry powder, along with a handful of golden or standard raisins.
Buffalo: Add 1 tablespoon of hot sauce and top with vegan blue cheese, to taste.
Sonoma: Swap the grape tomatoes for sweet red grapes, add 1⁄4 cup of chopped walnuts or pecans, and 1 teaspoon of poppy seeds.
Tex-Mex: Replace the mayonnaise with 1⁄2 mashed avocado. Add 1⁄4 cup corn kernels, 1⁄4 cup diced red bell pepper, and 1 – 2 teaspoons chili powder.
Ideas for Serving "Tuna" Salad
If you're big on filling but not much for bread, this incredibly versatile fishless salad will be the star of any meal! There's more than one way to enjoy these flavors in all sorts of meals.
Wraps: Roll out with flour tortillas or flatbread, stuffing the edible vessel with some crisp vegetables, greens, or cooked whole grains. You can also wrap it in foil to heat it in the oven or toaster on cold days.
Leafy green salads: Get your daily greens by using them as a base for your "tuna." As a bonus, it's so creamy and flavorful, the dressing is already built in.
With crackers, chips, or cut vegetables: If you're a perpetual snacker, this one's for you! Treat your "tuna" salad like a dip and pair it with your favorite crunchy scoopers. Keep it light with fresh sliced cucumbers, baby carrots, or celery sticks, or use more hearty pretzels, tortilla chips, water crackers, and more. Use a variety to mix things up.
Pasta salad: Toss with al dente noodles for an instant pasta salad. Short shapes are general best, like medium shells, fusilli, penne, and bowties.
Avocado boats: Double down on those good fats by piling your "tuna" salad up high in a ripe, buttery avocado! You may need to carve out a bit of the meat to fit a bigger serving inside; save that for guacamole or smoothies later.
Lettuce cups: Keep it low-calorie by using crisp, sturdy lettuce leaves as the base. It's like a salad you can eat with your hands!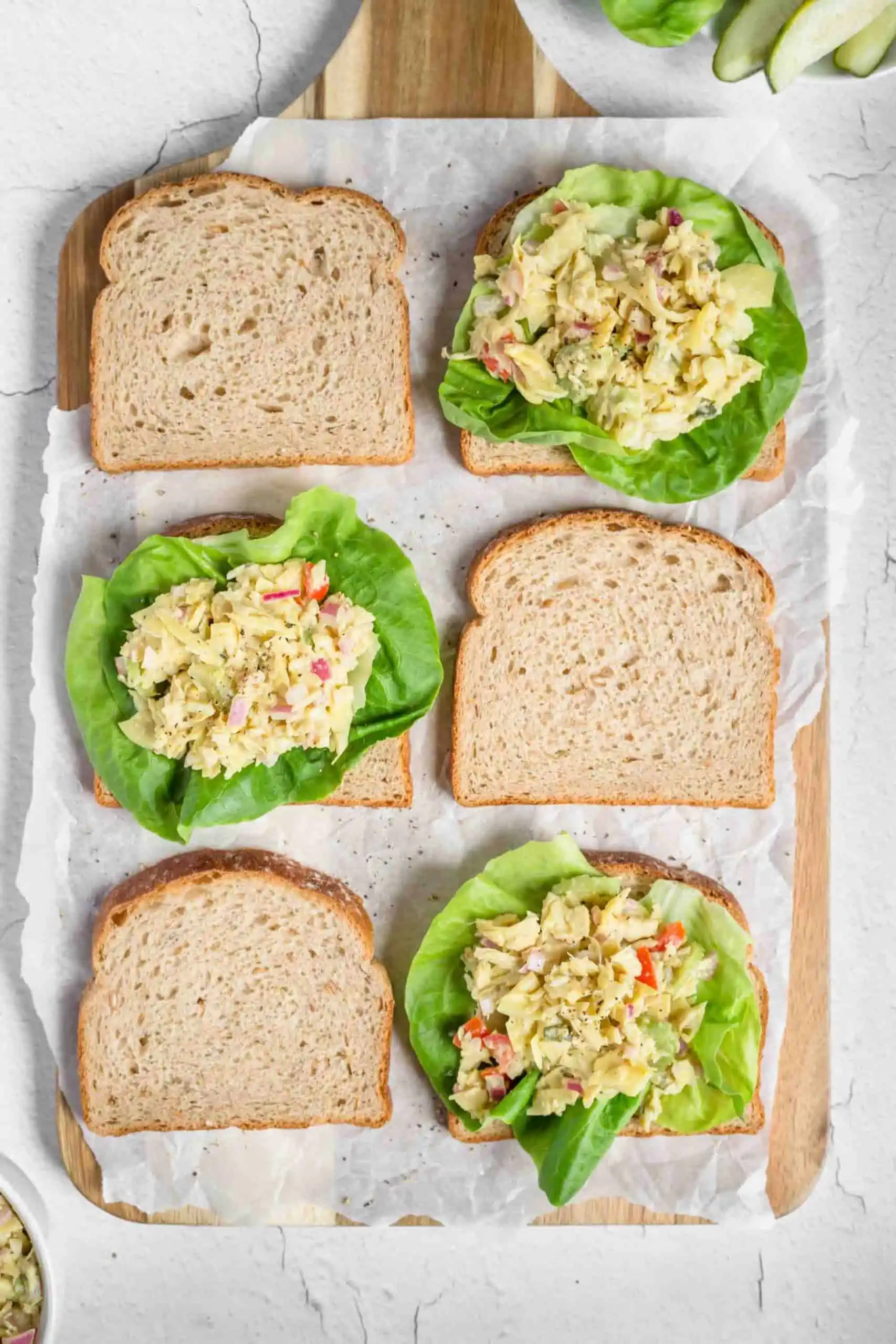 More Lunchtime Sandwich and Wrap Recipes to Try:
2 cans artichokes, whole or quartered packaged in brine, not marinated
¼ cup vegan mayo
1 teaspoon yellow mustard
½ red onion, finely diced
2 stalks celery, finely diced
2 spears dill pickle, finely diced
8 cherry tomatoes, quartered
¼ teaspoon black pepper
⅛ teaspoon salt, if desired (taste first)
8-12 slices sandwich bread
4-6 large lettuce leaves
Open the cans of artichokes and drain the water well. Use your hands to squeeze our the majority of the brine, and place artichokes into a food processor. Pulse 8-10 quick times until the artichokes look roughly shredded (should be a tuna-like consistency). Do not over-blend.

In a medium bowl, add the shredded artichokes, vegan mayo, yellow mustard, diced onion, diced celery, diced pickle, tomatoes, and black pepper. Mix with a spoon until thoroughly combined.

Lightly toast bread. For each sandwich, lay a large piece of lettuce on the bottom slice of toasted bread and top with a generous layer of artichoke "tuna" salad. Top with the other piece of bread, cut in half using a sharp knife (if desired), and enjoy.
This artichoke salad stores beautifully in the fridge. You can make a batch and keep it on hand for simple vegan sandwiches all week long.
Calories: 301kcal | Carbohydrates: 42g | Protein: 10g | Fat: 11g | Saturated Fat: 1g | Polyunsaturated Fat: 1g | Monounsaturated Fat: 0.4g | Trans Fat: 0.01g | Sodium: 549mg | Potassium: 699mg | Fiber: 9g | Sugar: 6g | Vitamin A: 2052IU | Vitamin C: 28mg | Calcium: 183mg | Iron: 4mg
Tuna Salad History and Trivia
There are few foods as quintessentially American as the tuna salad. Did you know that the concept is well over 100 years old? The first reference to this fishy creation was found printed in 1907, and within the next decade, there were already dozens of similar recipes in circulation. It was inspired by chicken salad, making use of cheaper tinned tuna for the protein while maintaining the same creamy formula overall.
The tuna melt came a short time later, invented in 1965, supposedly as a happy accident. The legend goes that at the Woolworth's lunch counter in Charleston, South Caroline, the cook knocked a bowl of tuna salad on top of a grilled cheese sandwich in process while rushing to fill orders. Somehow, he managed to miss that fact and served it as is. The customer was delighted, and it became another classic sandwich in our culinary lexicon.
Although Americans are proud to make the biggest and best of everything, it was a bakery in Cheshire, UK, that can lay claim to the largest tuna salad sandwich in the world. Created in 2003 and weighing almost two tons, Roberts Bakery needed a special oven to bake the gargantuan buns which were then moved using a forklift. Now that's above and beyond super sizing it!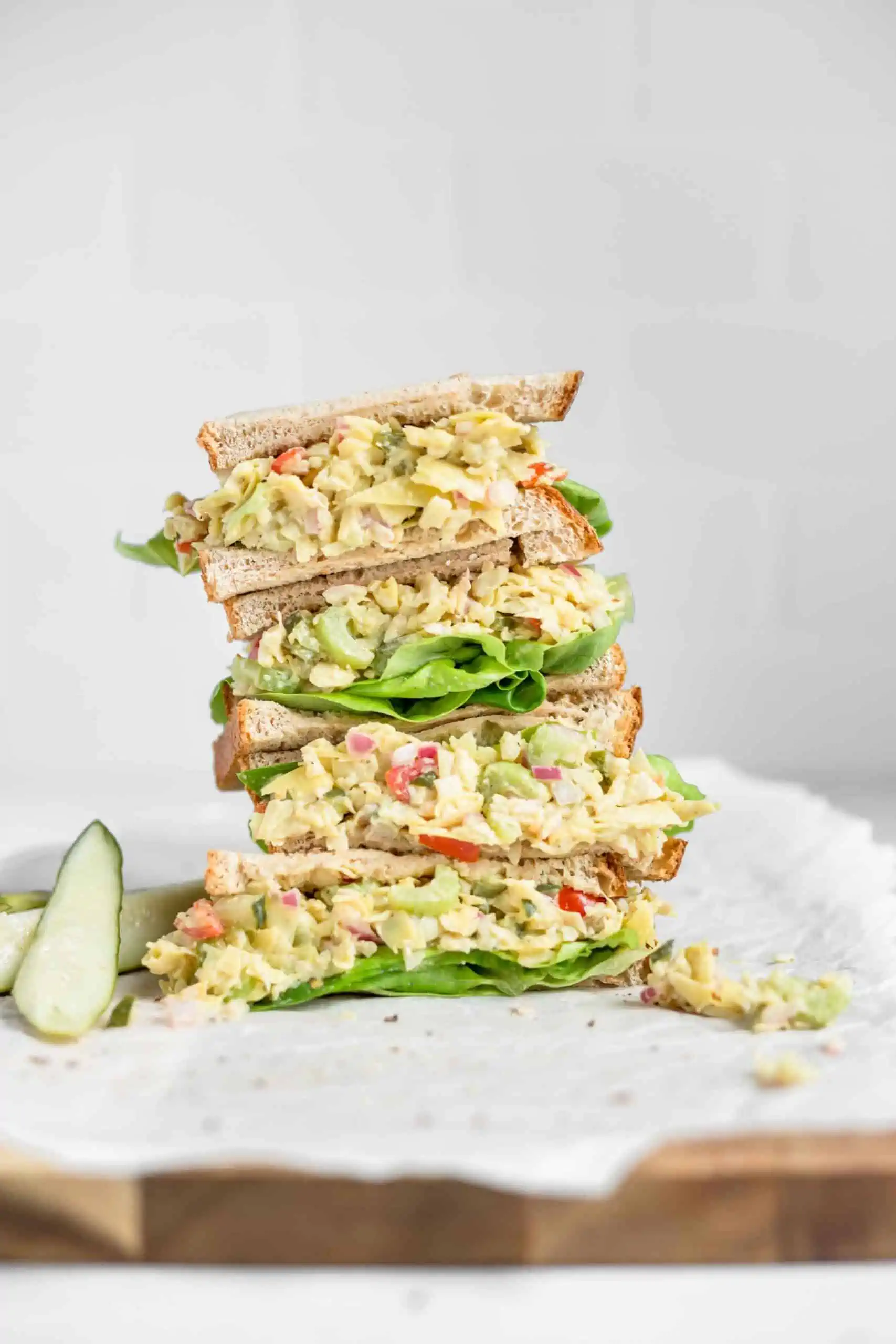 This vegan artichoke tuna salad recipe was developed by Michelle Cehn, photographed by JJ Steele, and written with support from Hannah Kaminsky. Please note that this vegan stew article may contain affiliate links which supports our work at World of Vegan.