You know you want to dig your spoon into this thick, creamy, velvety, vegan chocolate pudding. And I don't blame you. It's crazy-delicious. And guess what? You can. Just hop into your kitchen and whip up a batch of this super-easy 5-ingredient vegan dessert and dive right in.
But wait! Before you glance at the recipe below, I need to ask you to trust me. Do you trust me?
It's important. Because you're about to see that the base ingredient in this vegan chocolate pudding is something a little unusual: silken tofu. Now, I know this may make you want to abandon ship right now, because…
Eeeeew, tofu? In pudding? Gross!
But I promise you. If you closed your eyes and took a bite of this deliciously vegan chocolate pudding, you'd never in a million years believe that there's tofu in the recipe. Trust me and give it a try, okay? You can thank me later.  
12 ounces silken tofu, drained
¼ cup peanut butter
½ cup plant-based milk
2 tablespoons maple syrup
1 cup vegan chocolate chips, or 7 ounces of dark chocolate
Place the silken tofu, peanut butter, plant-based milk and maple syrup in a blender and blend until smooth and creamy.

Melt the chocolate using a microwave or double boiler. To set up a double boiler, fill a small saucepan with 2 inches of water and set over medium heat on the stovetop. Place a heatproof bowl on top, ensuring the bottom of the bowl doesn't touch the water. Add the vegan chocolate chips to the bowl and slowly melt, stirring frequently.

When the chocolate is completely melted, turn on the blender again and slowly pour the chocolate through the feed chute. Blend until well combined. The mixture will not be very thick at this point but don't worry, it will completely thicken up in the fridge!

Pour into glass ramekins and chill in the fridge for at least 1 hour (or overnight). Serve chilled. These are especially beautiful when decorated with berries, sliced fruit, and/or coconut whipped cream (we have a recipe for that here at World of Vegan).
Calories: 401kcal | Carbohydrates: 40g | Protein: 11g | Fat: 26g | Saturated Fat: 11g | Polyunsaturated Fat: 3g | Monounsaturated Fat: 5g | Sodium: 115mg | Potassium: 267mg | Fiber: 4g | Sugar: 30g | Calcium: 141mg | Iron: 4mg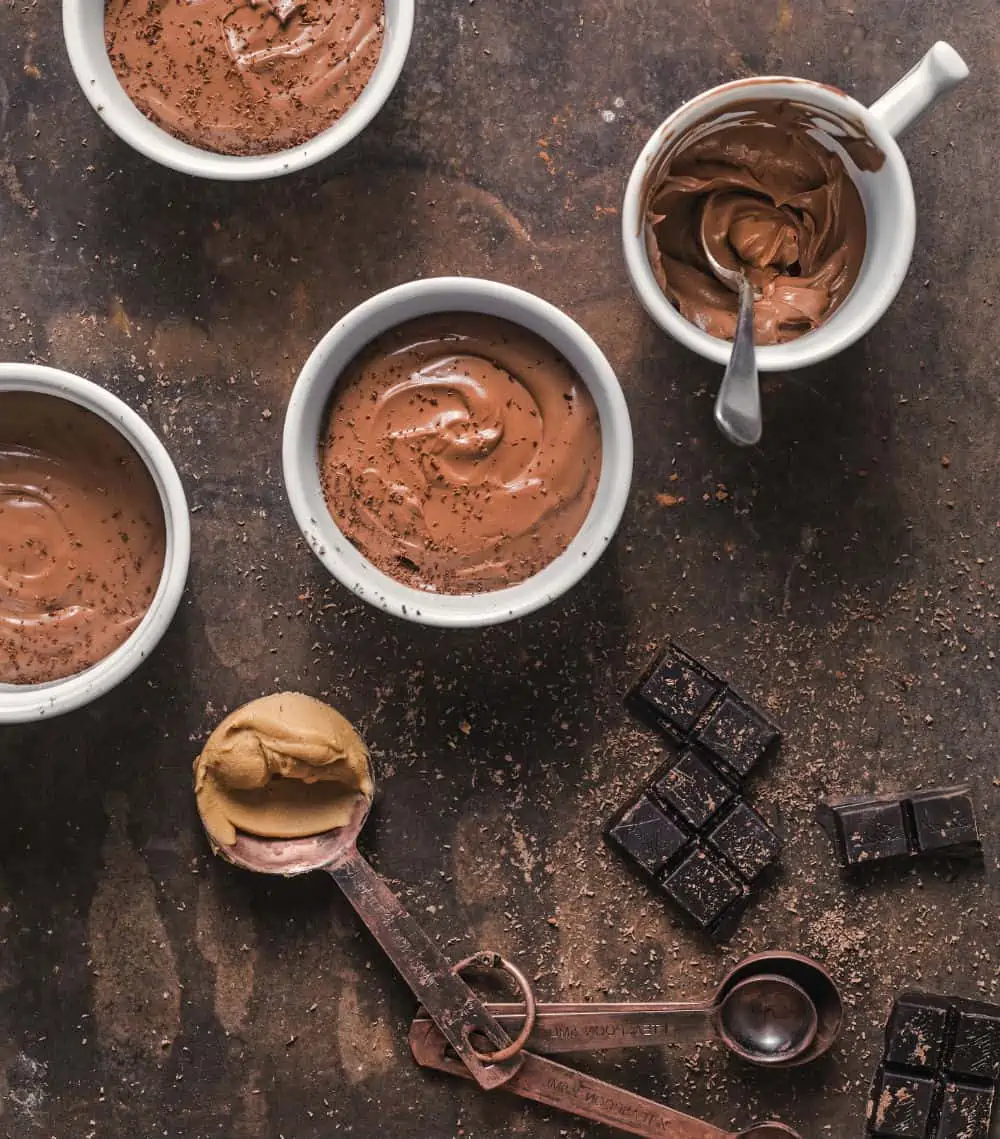 Keepin' It Simple!
This silken chocolate pudding is beautifully simple and makes the perfect treat—whether you're dishing it out to kids or serving it up in delicate glass ramekins after a fancy family dinner. I am always looking for quick staple recipes which can be made without too much effort, and this one is golden.
You apply ingredients in the right ratios and, when you do make recipes like this enough, they end up sticking with you (so you no longer need the recipe).
That's one great tip I can give you: Internalize a few of your favorite vegan recipes and preparing meals will start to feel a whole lot less stressful. Maybe a simple pancake recipe, a simple soup, a burger, a veggie-loaded pasta sauce, and a dessert. On special occasions or when you have more time on your hands, you can always go for more elaborate recipes or try new ones, but in your day-to-day life, simplify and you'll rock it!
But…Should I Really Be Eating This Much Soy?
Soy (which comes from edamame soybeans) is a wonderful, healthy, protein-rich food. But sadly, soy has become very controversial lately. There's a lot of misinformation circulating about the topic these days, confusing many out there. I'm sure you've encountered several articles claiming soy is dangerous or gives you man boobs or contributes to hormone disruption.
But have you actually read and analyzed the referenced studies? And, more interestingly, have you looked into who funded them? Check out our article all about the soy controversy written by a registered dietitian:
The Low-Down On Soy: There's No Reason to Be Afraid
Don't believe everything you read. Try to educate yourself and be critical about claims without proper information or references to back them up. Do your own research!
One great resource for nutritional information is the website Nutrition Facts! Dr. Greger is an American physician who has dedicated himself to try and compile truthful facts about nutrition. He is constantly creating educational videos on countless topics you may feel the need to catch up on. So whenever you feel the need to clarify something related to nutrition, this is your place!
More Tantalizing Tofu Recipes To Try
Oh good, you're not scared of soy anymore. Yay! Check out our other yummy vegan tofu recipes:
If you are a tofu fan or tofu-curious, you'll love our video showing how tofu is made.
About the Cookbook
And now Amanda Logan has gifted the world a gorgeous new vegan cookbook. Her book Great Vegan Meals for the Carnivorous Family is full of recipes specially designed for those self-proclaimed "carnivores" who won't give up the substance or the chewiness of meat.
Amanda Logan started her vegan food blog My Goodness Kitchen back in 2016, and it's not just any other vegan food blog. The twist is total inclusion. There's no need to be fully plant-based to enjoy preparing or eating these vegan dishes. And the best part? She has tested all her creations on omnivores to make sure they're omni-approved.
Her recipes are down to earth and succulent like this Silken Chocolate Pudding which promises to satisfy any chocolate pudding craving a dessert lover might have. Using very simple ingredients and methods, she shows us that anyone can create delicious and wholesome vegan dishes, even while dealing with our busy lives.
Classic and quick meals which give us comfort is what it's all about. We can't deny that special connection between what we eat, who we eat it with and how it makes us feel.
Hungry for more plant-based recipes from Amanda Logan? Pick up your own copy of her vegan cookbook.
Reprinted with permission from Great Vegan Meals for the Carnivorous Family by Amanda Logan, Page Street Publishing Co. 2018. Photo credit: Amanda Logan. Article edited by Amanda Meth. Please note that this article contains Amazon affiliate links, and shopping through these links supports World of Vegan.