Ghostly Greetings! Are you ready for some partake of some phantasmic peanut butter popcorn? This sweet and salty mix is guaranteed to have you howling at the moon at midnight.
If you're trembling for the terrific texture of corn kernels combined with candy and crunchy pretzels, you're in for a the best trick-or-treat of your life. Others may turn over in the graves for such macabre morsels, but we know that you're one of us. The Spooky Plant-Based Snackers!
Break out your broomstick, procure plenty of corn cobs, and let's get poppin'!
Why This Peanut Butter Popcorn Trail Mix Recipe Is So Awesome
Do we really need more reasons to enjoy the most magical of all savory snacks? If you would appreciate additional motivation to maximize your munch, here are grounds that are far from ghoulish:
We promise that you (and your tantalizing taste buds) will have a gravely good time crunching from your candy-filled cauldron full of peanut butter popcorn.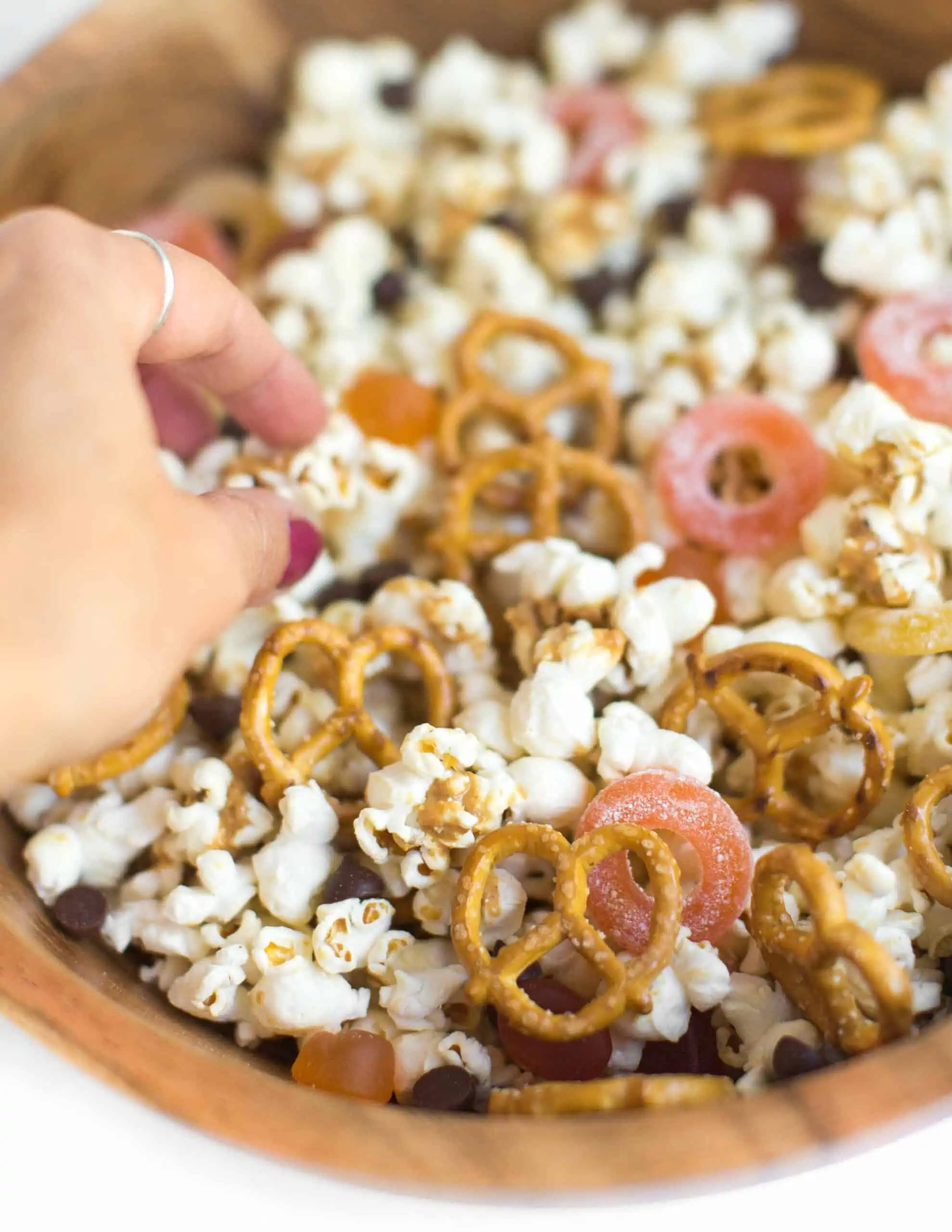 Tips For Serving Up Your Peanut Butter Popcorn
While this toad-ally terrific recipe was specifically created for celebrating a vegan Halloween, there's no earthly (or unearthly) reason why you can't switch it up for other holidays during the year. If you are a possessive popcorn lover like we are, you'll jump at the chance to eat more of this gruesomely gratifying grub.
How To Make This Halloween Popcorn Recipe
You won't believe how easy it is to put together this enchanting peanut butter popcorn recipe. While your friends and family are plumping up the couch cushions and dimming the lights, you can fly into the kitchen (on your broomstick?) to make this brimming bowl of sweet and salty snacks.
Measure out all of the ingredients. Put candy aside until the popcorn is ready.
Make the popcorn using your desired method.
While the popcorn is still warm, drizzle on the peanut butter. Mix gently.
Add in the pretzels, candy, chocolate chips, and other seasonings, if desired.
Enjoy!
Equipment You'll Need
This super simple, spine-tingling recipe needs only a few easy items to get started. Most of the measurements are only guidelines, so feel free to make more or less popcorn and add more or less candy to the crazy concoction. Be bold and bring in your own pleasing personalization to the recipe. Here are the basics so that you can begin:
¼ cup unpopped popcorn kernels
½ cup small pretzels, your choice of shape
2 tablespoons natural peanut butter, or favorite nut butter
¼ cup vegan-friendly chocolate chips or chunks
¼ cup favorite vegan-friendly Halloween candy, Choose an orange shade for even more fun – like YumEarth Giggles, Skittles, Sour Patch kids, Dots, or Annie's fruit snacks!
Optional add-ins:
1 pinch salt, or two!
1 teaspoon powdered sugar, for a puppy chow effect, especially if not using any candy
Dried fruit, a healthy alternative to candy
Measure out the popcorn kernels, pretzels, peanut butter, chocolate chips, and candy.

Using your favorite cooking method (see below), pop the popcorn.

As soon as the popcorn is done and still very warm, drizzle the peanut butter slowly on top of your popcorn, mixing gently. The heat from the newly popped popcorn will help to melt the peanut butter more easily.

Add the pretzels and candy and mix again. Sprinkle the chocolate chips and optional salt and sugar on last.
Microwave – Place kernels into a paper bag or microwavable container, cover (or, for the bag, roll down the top) and cook on high for about 2-3 minutes, depending on your microwave. When you hear the popping of the kernels slowing down, it's time to stop before it burns.
Stovetop – Place a pan on medium to high heat on the stovetop. Add 3 kernels to the pot (with optional teaspoon of oil) and cover. When you hear the kernels pop, you can add the rest of the kernels, cover, and gently shake until the popping becomes more regular. When the popping slows down, take the pot off of the heat and let it continue to pop until done. Be careful when taking the lid off – the steam is very hot.
Air Popper – Turn on your air popper, add the kernels to the well, and place a large mixing bowl beneath to catch the kernels. (Make sure to follow the specific instructions for your particular air popper.)
Use Natural Peanut Butter – Natural peanut butter usually has a much thinner consistency and makes it much easier to drizzle over the popcorn. If you only have the thick and dense kind, heat it up for a minute or two until it's warm and liquid-y. You can even whisk in a little bit of water for a thinner texture before adding to the popcorn.
Oil-free Version – You can pop the corn without oil in the pan, if using the stovetop method. Just be careful to keep the pan moving quickly to avoid the kernels burning.
Sugar Sensitive – You can either eliminate the chocolate chips and candy or use a sugar-free version instead. Choose an all natural peanut butter with no added sugar – only ground peanuts.
Salt-free Version – You can make a no-salt version of this snack by not adding any additional salt and also using salt-free versions of pretzels (or another crispy snack), peanut butter, and chocolate/candy.
Soy-free, dairy-free, and high in fiber
Calories: 91kcal | Carbohydrates: 12g | Protein: 2g | Fat: 4g | Saturated Fat: 2g | Polyunsaturated Fat: 1g | Monounsaturated Fat: 1g | Sodium: 63mg | Potassium: 48mg | Fiber: 1g | Sugar: 3g | Vitamin C: 0.1mg | Calcium: 11mg | Iron: 1mg
If you try this peanut butter popcorn recipe, let us know what you think by leaving a comment and rating below! Be sure to follow along on Pinterest, Instagram and Facebook for even more vegan recipe inspiration.
How To Store Peanut Butter Popcorn Leftovers
The best way to keep any popped and prepared popcorn fresh is in a dry, airtight container on the countertop. You can buy large metal popcorn tins, but feel free to use a sealed, plastic container or any other type of tin that closes completely. It will last for about 5-7 days in a dry environment but, beware, it will become stale soon after that.
Another option (and this might blow your mind) is to freeze any leftover popcorn. For some reason, popped corn does not freeze if stored properly. Just add the popcorn to the tightly zipped freezer bag or container. It should last for up to 2 weeks. No need to defrost, just eat it right out of the bag! (Though, it might be a little chilly.)
Frequently Asked Questions About Ingredients
I try not to use oil in my diet. Can I make this recipe oil-free?
You bet! If using the stovetop method, simply cook the popcorn without oil in the pan. Just be careful to keep the pan moving quickly to prevent the kernels from burning.
Is it possible to make this popcorn without all of the sugar and salt?
Definitely! You can either eliminate the chocolate chips and candy all together or use a sugar-free (and salt-free) version instead. Choose an all natural peanut butter with no added sugar or salt —only ground peanuts. For our salt sensitive readers, don't forget to leave out the additional salt and also use salt-free versions of pretzels (or another crispy snack), peanut butter, and chocolate/candy. It sounds daunting, but it can be done!
I'm not a huge chocolate lover. Which non-chocolate candies can I use instead of the chocolate chips?
No worries! Feel free to substitute black licorice flavored candies for the chocolate chips or any other cute, dark-colored candies that you like. You can even use black olives or blackberries instead.
Eating healthy is important to me. Do I have to use Halloween candy in this peanut butter popcorn recipe?
Not at all. You should be congratulated for eating in such a healthy way! Instead of using Halloween candy, consider leaving out the optional orange candies and double up on the dark chocolate chips (which have fewer ingredients). Another option is to swap the candy for fruit snacks, small pieces of dried fruit, or even fresh fruit (make sure the pieces are not too damp when adding)––chopped apricots, mango, or oranges would all work well. 
Oh, no! I'm allergic to peanuts! Would I be able to use a different nut butter?
Yes! That's no reason why you couldn't use another type of nut butter. Almond, cashew, sunflower, coconut, or even tahini would all taste yummy mixed into this popcorn. Just make sure to use a version that is more liquid than solid. Or, in a pinch, heat it up a little bit until the consistency is easier to mix or add a small amount of warm water to whisk with it.
More Vegan Halloween Recipes
Our round-up of the best vegan pumpkin recipes is a great place to turn to for Halloween and fall recipe inspiration!
More Pleasing Plant-Based Peanut Butter Recipes To Try
This hocus pocus peanut butter popcorn recipe and article was written by Gina House. Vegan food photography by JJ Steele. Edited by Amanda Meth. Please note that this article may contain affiliate links which supports our work at World of Vegan.