Hungry for the perfect vegan pop tarts? Unfortunately the classic frosted Pop Tarts are not vegan, but don't fret. We've got you covered with the best homemade Pop Tarts that are lightyears better than the kind from a box. This recipe is my pride and joy — it's one of my most requested recipes at home and they are just so cute! Grab an apron and let's get baking!
Anyone who's enjoyed a slice of leftover pie for breakfast knows the joy of sinking their teeth into buttery pastry with fruit filling first thing in the morning. Granted, that's a rare indulgence, but it's not beyond the pale when you can make your own toaster pastries!
Modeled after classic Pop-Tarts, these single serving hand pies from my cookbook, The Friendly Vegan Cookbook, give you all the sweet gratification of that nostalgic experience, but without any questionable ingredients. Add a splash of color to your day with rainbow sprinkles on top, and best of all, you can still call it a reasonably balanced breakfast. 
Why You'll Fall In Love with These Vegan Pop Tarts
Super simple – Though pastry dough can be daunting for newbie bakers, this recipe is a great way to get started. Think of it as "pie with training wheels." Since you don't need to get it into a round pie pan in once piece, holes are easily patched up, and you can make the pastries into any shape you want, it's incredibly forgiving.
Infinitely adaptable – What's your favorite fruit, what kind of jam do you have in the cabinet, or would you prefer something even sweeter for dessert? These are all entirely valid question to ask that will guide our flavor adventure. Any sort of spread can become a prime candidate for filling inspiration.
Great for a crowd – Each batch makes 10 – 12 pastries, but you could always cut those in half to make mini Pop-Tarts for twice the fun. Plus, each one could be a different flavor if you vary the fillings, so there's something that everyone will love.
Make ahead – Just like the original, the real beauty of this concept is being able to heat up a bite of pie that you can take with you on the go, whenever cravings strike. You can easily make your pastries well in advance and keep them in the freezer for up to six months.
Can be gluten-free – If needed, you can swap out the all-purpose flour for your favorite gluten-free baking mix to instantly make this recipe suitable for those with celiac disease.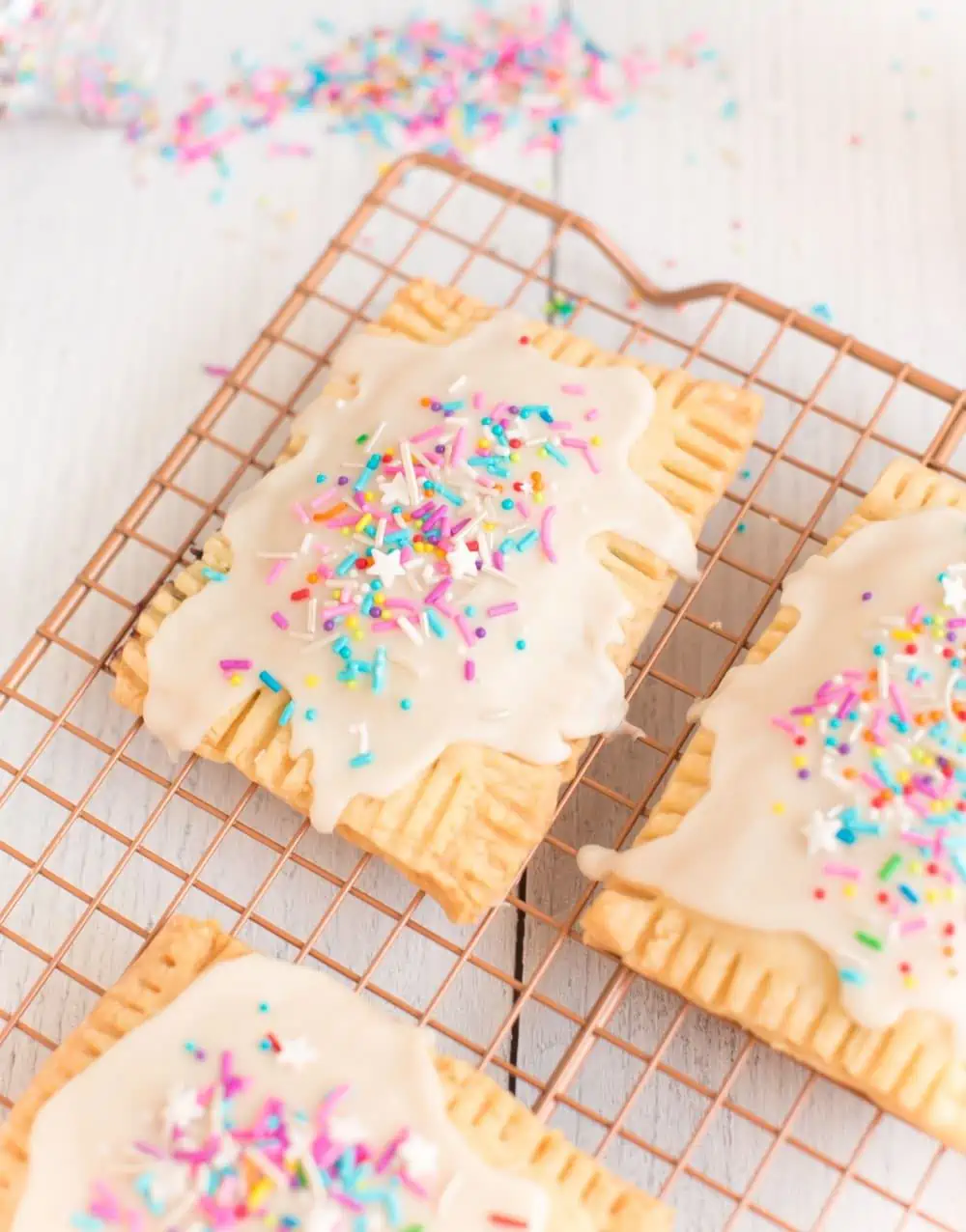 Essential Ingredients
All-purpose flour: Simple, plain, wheat flour, this is the most basic pantry staple that everyone should have on hand. Seek out unbleached options for better nutrition.
Granulated sugar: Otherwise known as white sugar, this dry sweetener has been refined to remove all impurities to create a neutral flavor that's perfect for baking. For those that are watching their sugar intake, a sugar substitute such as monk fruit or stevia made to measure 1:1 for traditional sugar can be used instead.
Vegan butter: This rich, golden yellow spread looks and tastes like dairy, but is made from plant-based fats such as olive oil, avocado oil, coconut oil, palm kernel oil, or a combination of those options. It's solid when chilled but melts easily on the stove or in the oven.
Jam or preserves: Smooth or chunky, no-sugar-added or maple-sweetened; truly anything goes! You don't even need to stick with fruit; peanut butter, homemade vegan Nutella, or speculoos (cookie butter) spread are all great ideas for turning this recipe into a real treat.
Powdered sugar: Exactly as it sounds, this is simply granulated sugar that's been ground and finely powdered, making it dissolve easily to make super smooth frostings and icings. A tiny touch of cornstarch is added in most cases to prevent it from clumping.
Vanilla soy milk: For a finally extra touch of sweetness and flavor, this is my favorite dairy-free option. You could always use your favorite plant-based milk instead, whether that's almond, oat, cashew, hemp, or a novel blend.
Vegan Sprinkles: Certainly the most fun ingredient in any vegan baking recipe—sprinkles! Many sprinkles out there are not vegan, but we put together an entire vegan sprinkles guide to show you all the great options that exist today. Colorful sprinkles, rainbow sprinkles, edible sparkles, fun shapes—the sky is the limit! Choose your favorite and use them liberally on these pop tarts. 
How to Vegan Pastry Dough, the Easy Way
The easiest, quickest way to make a traditional pie crust is to get a helping hand from your food processor. Some say this approach sacrifices flakiness in favor of convenience, but I don't believe that any of my pies have suffered as a result. If you have the equipment, my advice is to use it!
Place the flour and sugar in the bowl of your food processor and pulse to combine. Add the vegan butter and pulse 6–8 times, until the mixture resembles very coarsely ground almond meal. A few small chunks of butter should remain visible, but nothing larger than the size of peas.
Sprinkle the first few tablespoons of water in while pulsing to incorporate. If the dough holds together when squeezed, you're good to go. If it remains crumbly, keep adding water while pulsing, one tablespoon at a time, until the dough is cohesive.
In case you don't have a food processor or just don't want to clean the darn thing afterward, the old-fashioned method is just as effective, if a bit more labor-intensive.
Place the flour and sugar in a large bowl and use a pastry cutter or two forks to cut in the pieces of vegan butter. A few small chunks of butter should remain visible, but nothing larger than the size of peas. Sprinkle in the first few tablespoons of water and stir well with a wide spatula. Sometimes it can be difficult to get the liquids properly incorporated, so it may be helpful to drop the formalities and just get in there to mix with your hands.
If the dough holds together when squeezed, you're set. If it remains crumbly, keep adding water and mixing thoroughly, just a tablespoon at a time, until the dough holds together. Do your best not to over-mix or over-handle the dough, as this will make it tough when baked.
In either case, press the tough together into a flat round and wrap tightly with plastic wrap. Let chill in the fridge for at least an hour before baking, or up to a week. To save the unbaked dough even
longer, store the pieces in your freezer for up to 6 months. Don't forget to clearly label them and add today's date!
Equipment You'll Need
More Easy Vegan Pastry Recipes You'll Love
Servings 10 -12 pop tarts
4 cups all-purpose flour
4 teaspoons granulated sugar
1½ cups chilled vegan butter, chopped into chunks
6 tablespoons cold water, plus additional as needed
1½ cups jam or preserves
2 cups powdered sugar
¼ cup vanilla soy milk, sweetened or unsweetened
Vegan rainbow sprinkles, or your favorite decorative toppings
Place the flour, sugar, and cold butter chunks in the bowl of a food processor. Pulse minimally until the butter is mostly incorporated and a loose, crumbly powder forms.

Add 6 tablespoons of water to the food processor and pulse again until clumps begin to form. If the clumps can be hand-formed into a dough at this point, move to step 3. If the mixture is too crumbly to form into a dough, more liquid is needed—add additional cold water 1 tablespoon at a time just until you can hand-form the clumps into a dough.

Form the dough into a rectangular patty, wrap it tightly in plastic wrap, and refrigerate for at least 1 hour.

Preheat the oven to 350 degrees F. Line a baking sheet with parchment paper or a silicone mat.

Remove the dough from the fridge. Unwrap it and place on a large lightly floured surface or countertop. Using a floured rolling pin, gently roll the dough out to a 1/8-inch thickness, or as thinly as possible without breaking it. The total size should be at least 12½ × 16 inches. (If your work surface is not large enough, split the dough into two parts before rolling it out and refrigerate the second part until ready to use.)

Once the dough is rolled into a thin sheet, use a pizza cutter or sharp knife to cut out 2½ × 4-inch rectangles of dough. While rolling, press together broken edges of dough as needed to fit as many rectangles as possible. You should be able to get 20 to 24 rectangles out of the dough.

Using a thin spatula, place half of the dough rectangles on the prepared baking sheet. Fit as many as you can, leaving ½ inch between each slice. Add 1 to 2 tablespoons of jam along the center of each dough slice. Place an additional dough slice on top of each jam-covered slice and seal all four edges using a fork, gently pressing down the fork prongs into both layers of dough. If the dough doesn't seem completely sealed, it's okay. There is no harm if some jam seeps out during baking. Using a toothpick, pierce three or four holes on the top of each pastry. Repeat until you've used up all your dough.

Bake the pastries for 25 to 30 minutes, until very lightly golden around the edges. Remove from the oven and allow to cool for a few minutes on the baking sheet. Using a spatula, transfer the pastries to a cooling rack to completely cool before icing.

To prepare the icing, pour the powdered sugar and vanilla soy milk into a small bowl and whisk until combined. The icing should be thick so that the majority will stay atop the pastry.

Place a paper towel or parchment paper below the cooling rack to catch icing drips. Spoon the icing onto the middle of the cooled tarts, nudging it outward and allowing some to naturally drip off the sides. Add the sprinkles before the icing dries and hardens.
You can fill these with the jelly or jam of your choice—but if you want to get really fancy, make your own three-ingredient Strawberry Chia Jam.
Calories: 561kcal | Carbohydrates: 100g | Protein: 6g | Fat: 26g | Saturated Fat: 5g | Polyunsaturated Fat: 8g | Monounsaturated Fat: 12g | Trans Fat: 5g | Sodium: 229mg | Potassium: 107mg | Fiber: 2g | Sugar: 27g | Vitamin A: 24IU | Vitamin C: 5mg | Calcium: 27mg | Iron: 3mg
Are Pop Tarts Vegan?
Before we jump into the recipe, let's answer this question that every new vegan asks at some point. Are Pop Tarts vegan? Well, lucky for us, some are—but not the frosted kinds. And what's a Pop Tart without frosting? Booooring, I know. The frosted strawberry Pop Tarts are where it's at, right? With those little colorful sprinkles that were just calling you from a vending machine, your kitchen cabinet, or the grocery store shelves.
Vegan Store-Bought Pop Tarts Flavors
If you like the boring frosting-less kind, the vegan store-bought Pop Tarts include:
Blueberry (unfrosted)
Strawberry (unfrosted)
Unfrosted Brown Sugar Cinnamon
You may be tempted to reach for one of the other varieties because they taste so much better, but hold on! Many of them contain:
gelatin (from animal skin and bones rendering them not even vegetarian)
milk
eggs
carmine (from bugs)
confectioners glaze (shellac that beetles excrete).
Nasty? Yup. Go for the delicious vegan homemade Pop Tart recipe below instead.
Also note: even the three vegan Pop Tart flavors contain palm oil which is a big no-no for some vegans (even though it's technically vegan). 
Are Other Pop Tart Brands Vegan?
We covered the three vegan options from the main Pop Tarts brand. But what about copycat products from other brands? Most of these options aren't vegan, but there is one brand that has an entirely vegan line of pop tarts (well…they call them "toaster pastries"). Meet: Bobo's.
While Bobo's does offer a full lineup of vegan flavors (see list below), they are a considerably more healthy option which mainstream people may interpret as less delicious. I think calling these hippie-dippie Pop Tarts is fair. They are still delicious, just not in the same realm as traditional pop tarts that serve more as dessert than a proper meal.
strawberry
blueberry
apple pie
raspberry lemon poppyseed
chocolate almond butter protein
chocolate peanut butter protein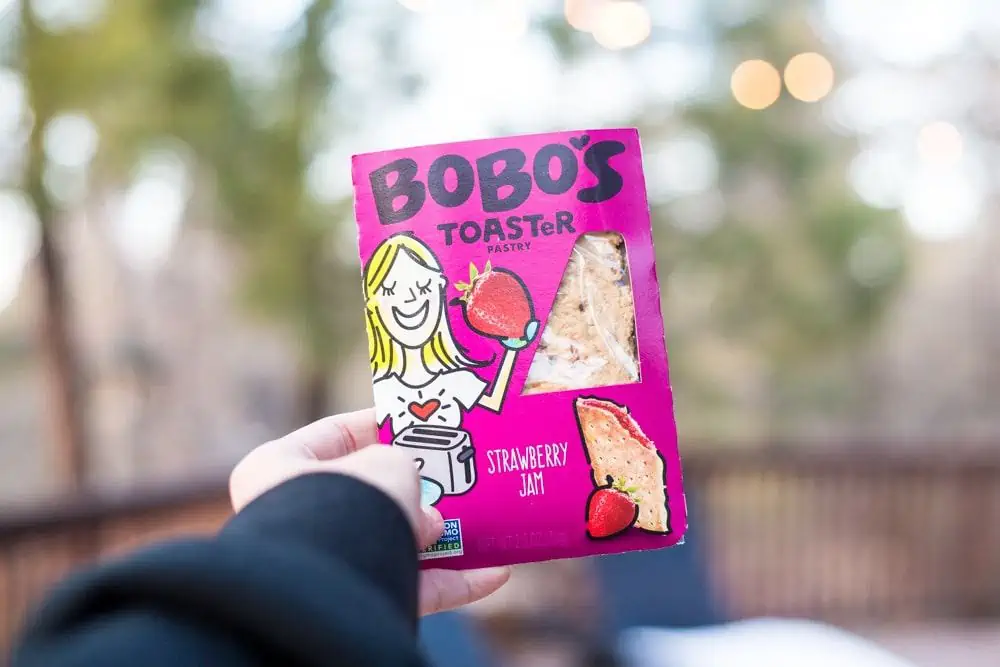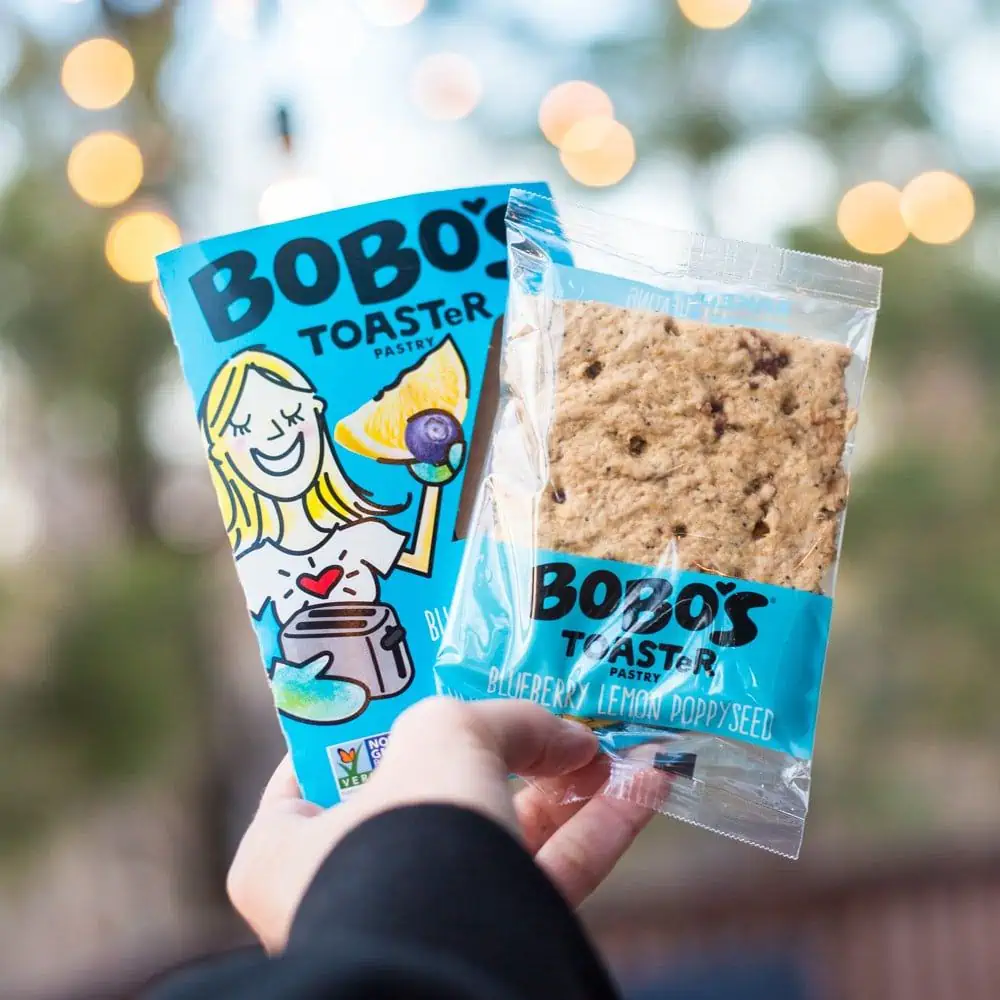 The History of Pop Tarts
First invented by Kellogg's in 1964, there were originally only four flavors: apple currant, strawberry, blueberry, and brown sugar cinnamon. None of them had frosting, which is notable because this component is exactly what makes modern Pop-Tarts not vegan. The frosting contains gelatin, made from ground hooves and bones, so it's not even vegetarian, either!
There are over twenty standard flavors available today, with many limited edition varieties and even more that have been discontinued. Do you remember Frosted Grape, Orange Cream, Root Beer, or Mint Chocolate Chip Pop-Tarts? Those may be long gone, but now you can recreate your own!
Approximately 2 billion Pop-Tarts are sold every year in the United States alone. If you laid those end-to-end, they would reach halfway to the moon!
This vegan pop tarts recipe is from The Friendly Vegan Cookbook by Michelle Cehn and Toni Okamoto. Photos by Zhoro Apostolov. This easy vegan recipe was published with permission from BenBella Books, 2020, all rights reserved. You can find more vegan pop tart recipes from bloggers including Minimalist Baker, Yum Vegan Lunch Ideas, and The Picky Eater. Please note that this article may contain affiliate links that support our work at World of Vegan.