Chocolate and peanut butter are a match made in sweet tooth heaven. Something about that nutty, creamy richness paired with the dark, slightly bitter edge of cacao is utterly irresistible. It's a winning combination in any format, but especially when transformed into soft, chewy, buttery cookies that you can really sink your teeth into. These vegan peanut butter chocolate chip cookies are easy to make and versatile.
These thick, bakery-style vegan peanut butter chocolate chip cookies may just be your new favorite dessert. And guess what? The dough can also be rolled into balls and dipped in vegan chocolate for the most divine cookie dough truffles!
The Last Vegan Peanut Butter Cookie Recipe You'll Ever Need!
With hundreds, if not thousands, of peanut butter cookie recipes on the internet, what makes this the best one ever? Well, I'm glad you asked!
Vegan – No eggs and dairy products needed in this formula, creating a more inclusive treat that everyone can appreciate, including the animals.
Perfect texture – So many peanut butter cookies have great flavor, but are dry, crumbly, or unpleasantly dense. Life is too short for disappointing cookies! Don't waste any more time settling for anything less than super soft, chewy morsels.
Foolproof – You don't need to be an experienced baker to turn out downright professional results every time. They'll beat store-bought treats by a mile, too.
Tons of chocolate – Chocoholics, rejoice! Every bite is pack with tons of chocolate chips to fully satisfy all cravings.
Affordable – Even when money is tight, these will always fit the bill. The ingredients are all simple, common things that can help you stick to a budget.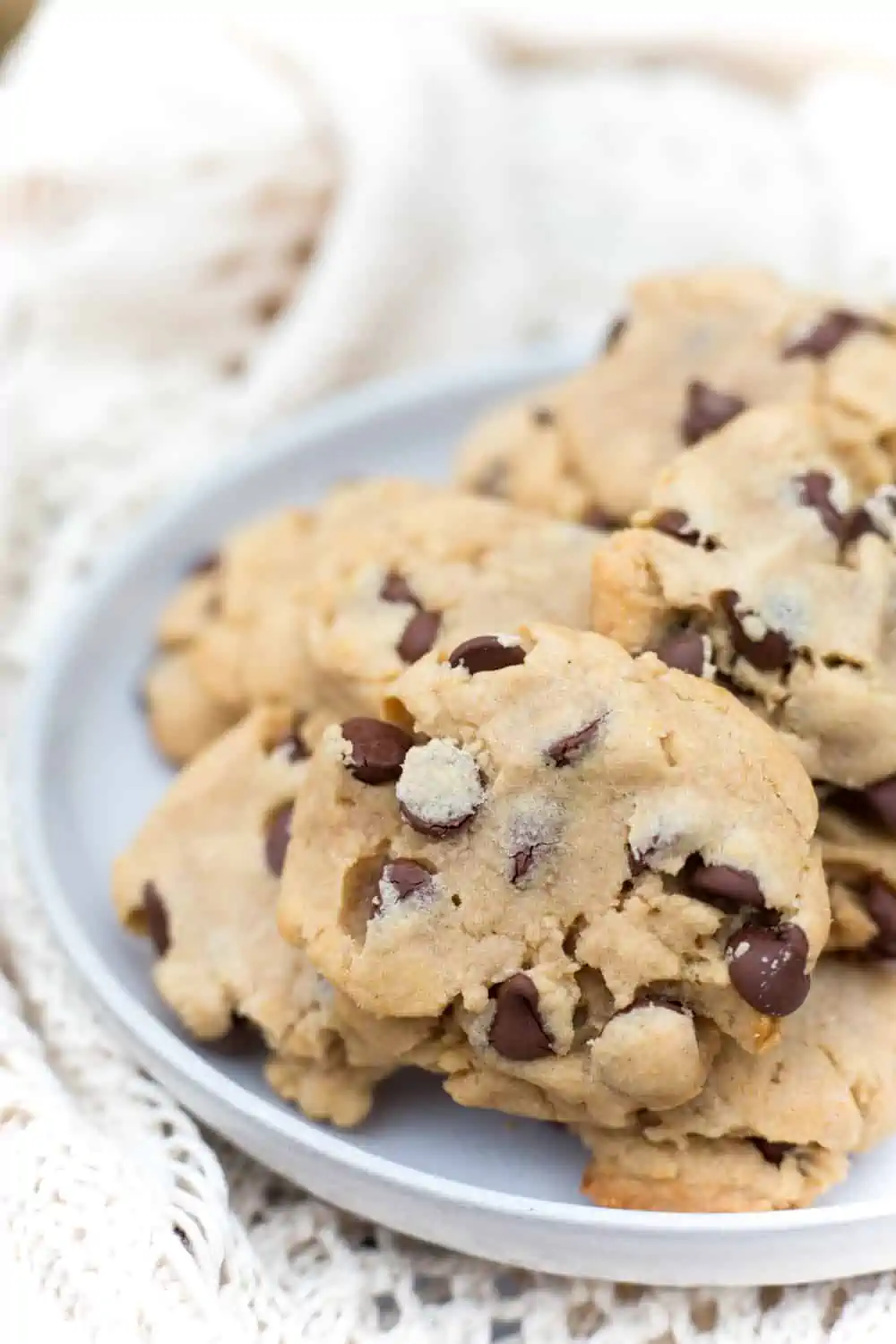 Essential Ingredients for These Vegan Peanut Butter Cookies
Vegan butter
Seamlessly replacing dairy-based butter at an equal ration and with the same great taste, there are many options available now on the mainstream market. They're typically made from a combination of plant-based oils, so double-check labels to find brands that are soy- free or palm-oil free if needed.
Sugar
Keep it sweet! Both brown and granulated sugar are used here for the right texture and flavor, but you could use coconut sugar and evaporated cane juice instead for a less processed option.
Applesauce
You're the apple of my eye, and the replacer of my eggs! That's right, good old applesauce seamlessly takes the place of eggs (a perfect vegan egg replacer!), working as a binder and adding moisture at the same time. In a pinch, you could try using pumpkin puree or mashed banana instead, but bear in mind that it will change the overall flavor.
Peanut butter
The real star of the show, make sure you get high-quality natural peanut butter with no hydrogenated oils. You definitely taste the difference, so make it count. If you'd like to try a new flavor adventure, experiment with some of the different varieties on the market, like chocolate peanut butter, spicy peanut butter, or just classic crunchy peanut butter. If peanut allergies are an issue, consider substituting sunflower butter, soynut butter, or tahini (sesame seed butter) instead.
Flour
Holding everything together as the foundation of this treat, all-purpose is the flour for
this job. If gluten is a concern, use your favorite gluten-free flour blend that measures the same
as conventional white flour.
Vegan chocolate chips
Not all dark chocolate is vegan, but there are plenty of cacao morsels
out there without and milk derivatives. You could always change things up by using half dark, half vegan white chocolate, or experiment with using mini chips for better distribution.
Secrets for Vegan Cookie Success
It's impossible to go wrong with this recipe, but for the best results, there are a few tips and tricks to easily step up your cookie baking game.
Chill the dough. Cold cookie dough stays firmer, spreads less, and leads to thicker, chewier treats.
Under-bake your cookies. Although it's tempting to let them get fully golden brown in the oven, that's what leads to dry, brittle cookies in the end. They continue to bake due to the residual heat in the sheet pan, so it's best to pull them while they still seem slightly soft.
Enjoy warm. Make sure they're cool enough to handle of course, but nothing beats a freshly baked cookie still warm out of the oven, gooey chocolate chips and all!
How to Serve Up These PB Chocolate Chip Cookies
I'm sure I don't need tell you how to eat a cookie, but here are a few ideas for further enhancing the experience:
Drizzle with extra melted chocolate, for devoted chocolate-lovers.
Make ice cream sandwiches by pressing a scoop of your favorite vegan ice cream between two
fully cooled cookies.
Crumble into milkshakes or on top of parfaits.
Dip into vegan whipped cream or vanilla yogurt.
Serve on a dessert "charcuterie" board alongside fresh fruits, nuts, and jam.
Equipment You'll Need for These Peanut Butter Cookies
1 cup of vegan butter, softened
1 cup of granulated sugar
1 cup of packed brown sugar
¼ cup of plain applesauce
¾ cup of peanut butter
2 teaspoons of vanilla extract
3 cups of all-purpose flour
1 teaspoon of baking soda
2 teaspoons of hot water
½ teaspoon of salt
2 cups of vegan chocolate chips
Preheat oven to 350º and line cookie sheets with parchment paper.

Cream together the butter and both sugars until smooth.

Beat in the applesauce, peanut butter, vanilla, and salt.

Dissolve baking soda in hot water, and then add it to the batter.

Stir in flour and chocolate chips.

Scoop dough into large spoonfuls and place on prepared cookie sheets.

Using your fingers or a spatula, pat down the dough to flatten slightly.

Bake for 10 minutes in the preheated oven, or until edges are nicely browned.
A Brief History of Peanut Butter Cookies
A fully American food if there ever was one, it all started with George Washington Carver, a famed agricultural educator largely credited with the invention of peanut butter itself. To promote peanuts as a more viable crop for farmers, he compiled over 100 peanut recipes, demonstrating their diverse culinary applications.
In 1925, he published a research bulletin called How to Grow the Peanut and 105 Ways of Preparing it for Human Consumption, which included three recipes for peanut cookies calling for crushed or chopped whole peanuts. It wasn't until the early 1930s, however, that ready-made peanut butter was used.
Did You Know…
National Peanut Butter Cookie Day is celebrated every year on June 12th.
Peanut butter chocolate chip cookies were voted the most popular type of cookies in Alabama,
Arkansas, California, Georgia, Mississippi, Nevada, Ohio, Pennsylvania, South Carolina, and
Virginia.
Outside of the US, Canada is the only other country that you're likely to find peanut butter
cookies. Peanut butter itself is relatively unknown worldwide.
Peanut butter is a good source of protein and healthy fats. These cookies are still desserts, but a
smarter choice than many others.
More Vegan Cookie Recipes to Try
This Vegan Peanut Butter Chocolate Chip Cookie recipe comes from the kitchens of Toni Okamoto & Michelle Cehn and was published in an early version of The Friendly Vegan Cookbook. Article written by Michelle Cehn and Hannah Kaminsky and edited by Amanda Meth. Please note that this vegan cookie recipe may contain affiliate links which supports our work at World of Vegan.