Looking for the best vegan bacon recipes and easy-to-find plant-based bacon brands? This guide will show you how to make tofu bacon, tempeh bacon, mushroom bacon, eggplant bacon, seitan bacon, coconut bacon, carrot bacon, and more. Whether you're looking for a pig-free alternative to your sizzling bacon strips or savory bacon bits, we've got you covered!
Whoever said you had to give up bacon upon going vegan was sorely mistaken. Sure, having the words "vegan" and "bacon" in the same sentence may seem like a contradiction but we assure you that vegan bacon not only exists but can also be quite delicious!
What You'll Find in this Vegan Bacon Guide
From the meaty texture of seitan bacon to the sweeter flavors of carrot bacon, the possibilities are vast and there's something for everyone. In this guide, we'll outline some of the best vegan bacon recipes out there: gluten-free recipes, soy-based recipes, soy-free recipes, and much more!
We also include a list of vegan bacon options that can be purchased at your local supermarket or online in case you just can't wait to get your vegan bacon fix.

And if you or someone you know are currently trying to give up the meat-based version of bacon but need some extra encouragement, we'd highly recommend checking out this sweet video for some inspiration.
Without further ado, here is our guide on some of the best vegan bacon recipes and vegan bacon brands you can find.
Popular Types of Vegan Bacon
Almost any vegetable that can be thinly sliced into strips can be transformed into bacon with some chef tricks and a dash of salt, oil, and liquid smoke. Here are some of the most popular vegan bacon bases:
Tofu Bacon
Tempeh Bacon
Seitan Bacon
Mushroom Bacon
Eggplant Bacon
Coconut Bacon
Carrot Bacon
Read on to see recipe for each, plus some delicious dishes sandwiches and dishes you can cook up with vegan bacon!
Best Vegan Bacon Brands in Stores
Whether you're in a time crunch or just like to have some emergency vegan bacon on hand, getting vegan bacon from the store sometimes just makes sense. Thankfully it's never been easier to find a wide array of wonderful meat-free brands. Below are some of our favorite vegan bacon brands!
Vegan Bacon Slices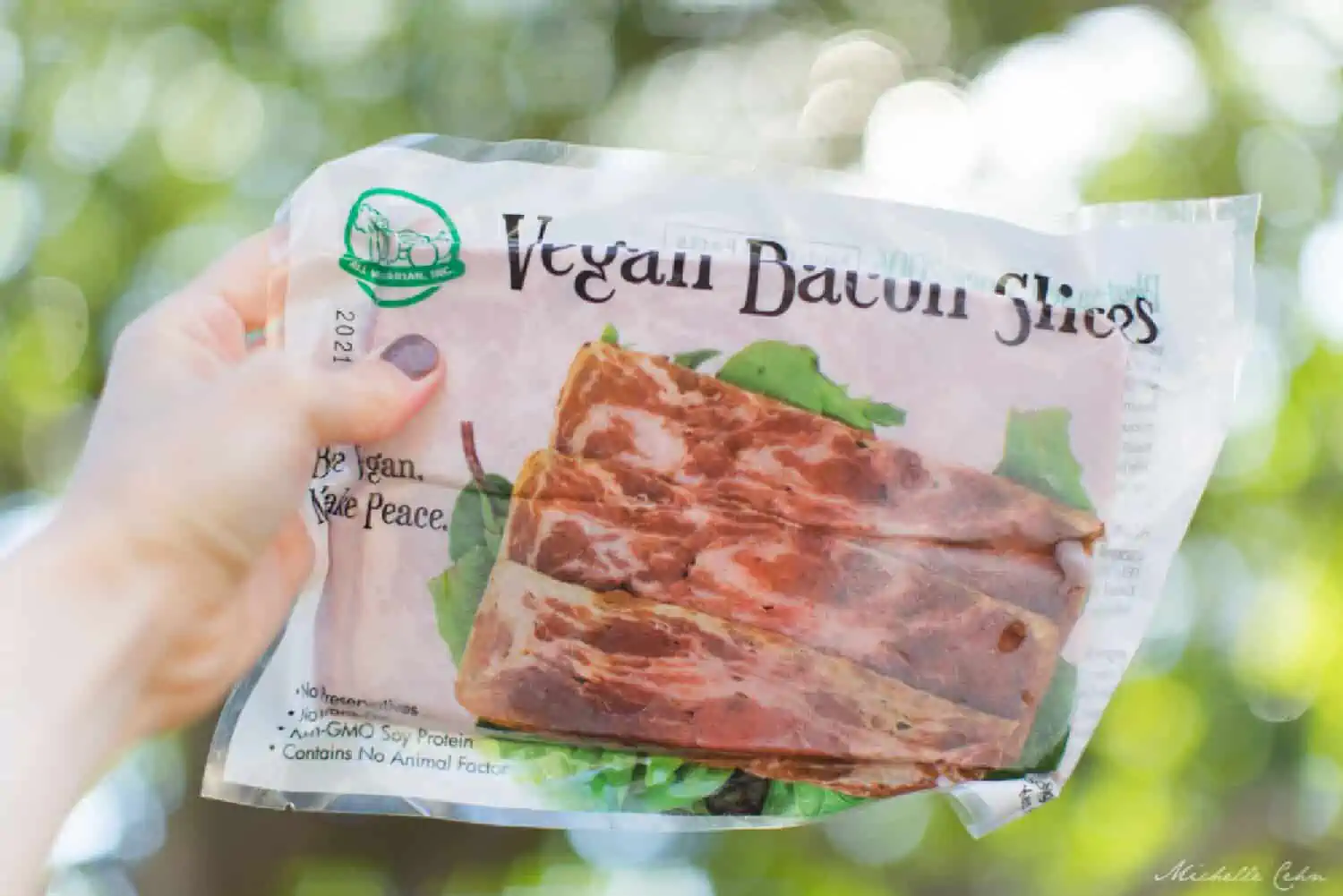 Seitan Bacon
Tempeh Bacon
Vegan Bacon Bits
Did we miss your favorite vegan bacon brand? Give it a shout in the comments section below! This field is growing fast and new vegan bacon innovations are coming to life every year. If you don't already love vegan bacon, just wait. It will keep getting better and better! One day soon we even expect to see cultured bacon (aka "lab grown bacon) for meat lovers who want an exact bacon replica minus the animal cruelty.
The Best Vegan Bacon Recipes from Around the Web
The number of things you can make with tofu is truly endless so it should come as no surprise that vegan tofu bacon is an absolute treat. Luckily this recipe from The Cheeky Chickpea has us covered with a totally awesome recipe for the juiciest tofu bacon you could imagine. Made with ingredients such as liquid smoke, balsamic vinegar, tamari, and spices, this recipe only takes a little more than half an hour total to come together.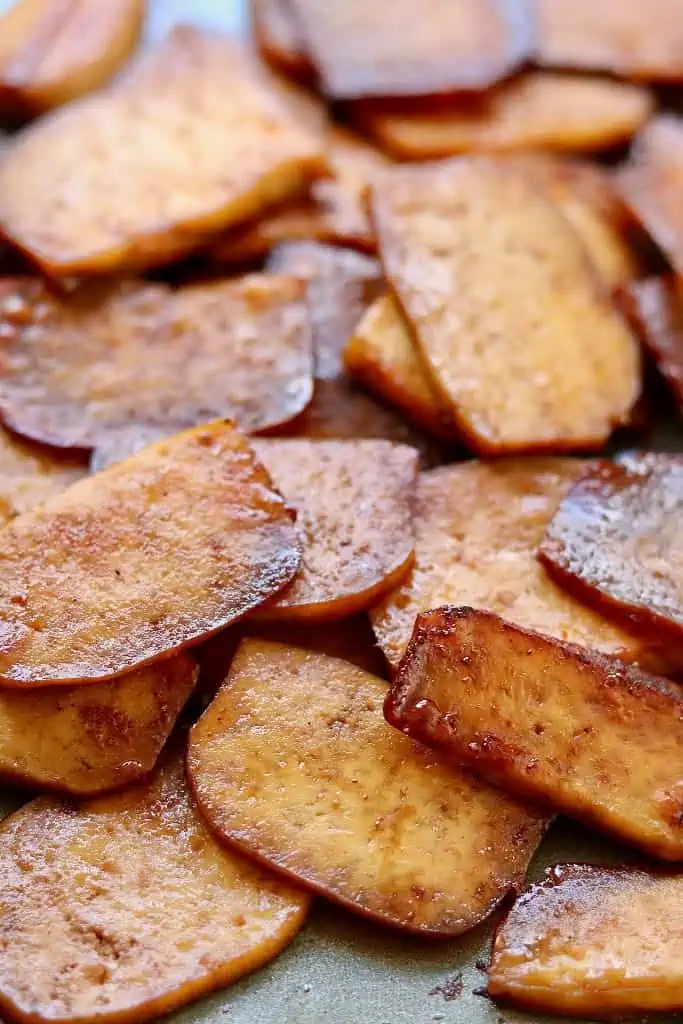 What would a guide of vegan bacon recipes be without the coveted tempeh bacon?! Crispy, chewy, and full of flavor, vegan tempeh bacon is one of the most popular meatless bacon options out there. If you've ever been hesitant about trying bacon made from fermented soybeans, fear not! This recipe from Happy Kitchen will give you the most delicious tempeh bacon you could ever imagine, full of protein, texture, and flavor. It also lasts up to one month in the fridge (just keep the marinade separate from the tempeh)! Yum!
This awesome seitan bacon recipe from Meesha at My Plantiful Cooking has it all—texture, flavor, and plenty of protein! If you've ever wanted to make your own seitan from scratch, this recipe is for you. This vegan seitan bacon will even keep for up to a week in the fridge or up to three months in the freezer!
This vegan eggplant bacon from our sandwich recipe is perfect for a number of reasons. First, it's naturally gluten-free. Second, it is ridiculously easy to make. All you need is to slice up some eggplant, brush the slices with a savory sauce mixture, and pop them in the oven. You'll love how the smokiness of the eggplant comes out and how much better your pasta dishes, burgers, and sandwiches will be with this beautiful aubergine bacon.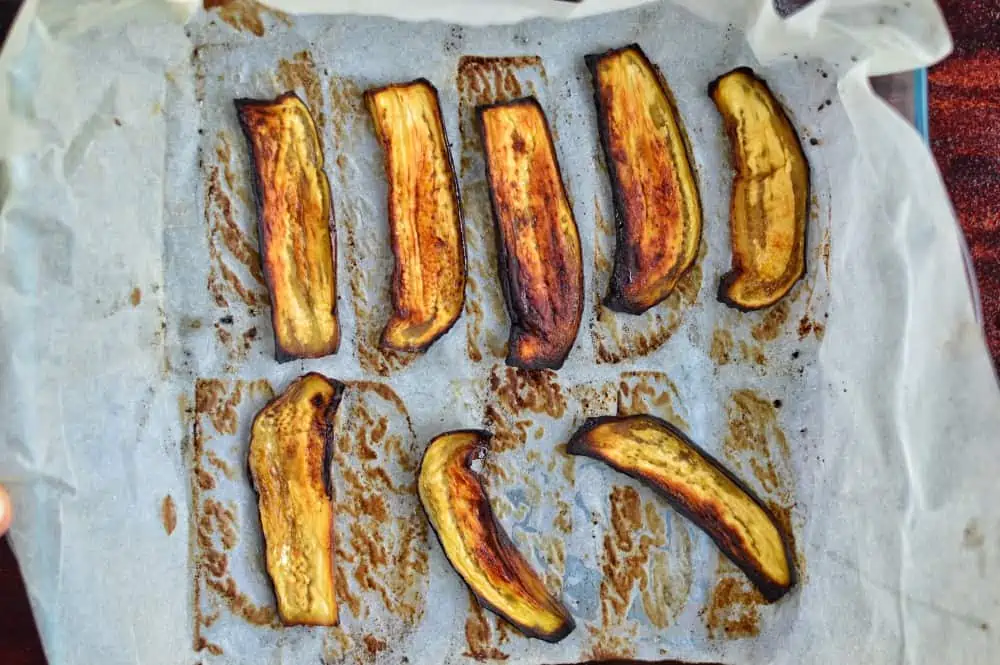 Coconut bacon? Why, yes! Coconut flakes actually make a delicious vegan bacon once they're coated with the proper flavors and baked to perfection. This recipe from Alissa at Connoisseurus Veg checks off all the boxes for easy, simple, quick, and delicious! One of the best things about coconut bacon is its long shelf life! It'll keep for up to a week tightly covered at room temperature.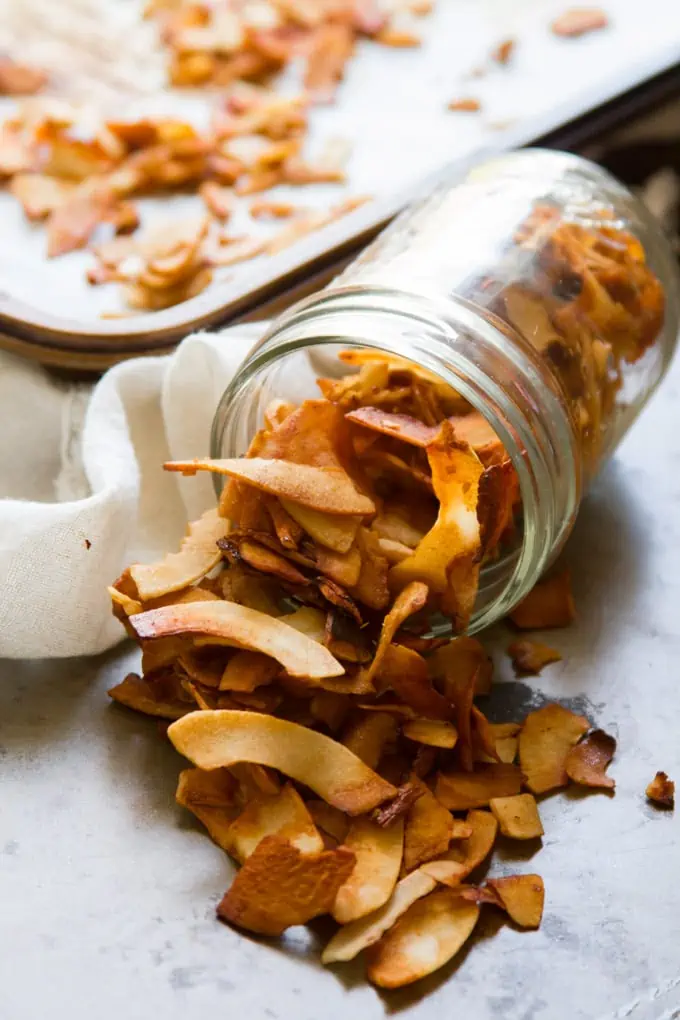 It may sound a little strange, but carrot bacon is actually quite delicious! Made with thinly sliced carrots, a variety of spices, maple syrup, soy sauce, nut butter, apple cider vinegar, oil, and liquid smoke. This vegan bacon is not only gluten-free is bursting with flavor. We also love that this recipe is extremely economical and accessible as well. Carrots are very easy to come by and are often quite inexpensive!
If you're looking for a truly unique vegan bacon recipe, then you'll love this recipe from The Vegan Dollhouse. Made with adzuki beans, vital wheat gluten, chickpea flour, and a wide array of spices, this adzuki bacon has an awesome texture and unique flavor that will have your mouth watering. Great for making in large batches and freezing for later use, this vegan bacon recipe is truly a keeper!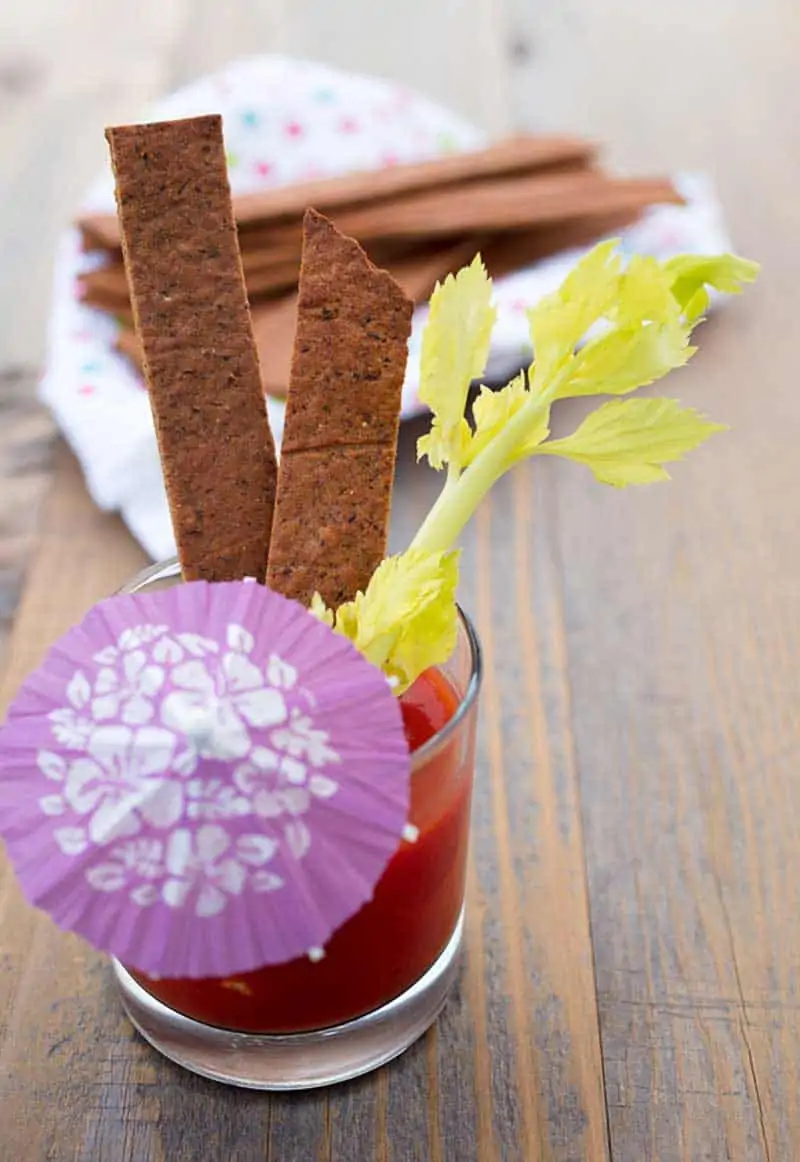 If you truly want to maximize the vegan bacon in each bite you take, then this awesome recipe for tempeh bacon bits by Home-Cooker Roots are for you! Chunky, deeply flavorful, and rich in golden brown color, you just might find yourself throwing these into all of your favorite lunches and dinners!
Vegan Bacon Dishes
So now that you have enough vegan bacon to last a whole year, you may be wondering what to do with it! Well, lucky for you, we have some delicious recipes featuring vegan bacon that you'll absolutely love
Our recipe for this vegan BLT with eggplant bacon is not only a mouthful of texture but it's totally gorgeous to boot. Made with smoky eggplant bacon, this sandwich may just become your favorite new thing to have for lunch. This sandwich can easily be made gluten-free and soy-free as well! Just swap out the soy sauce with something soy-free and use your favorite bread alternative.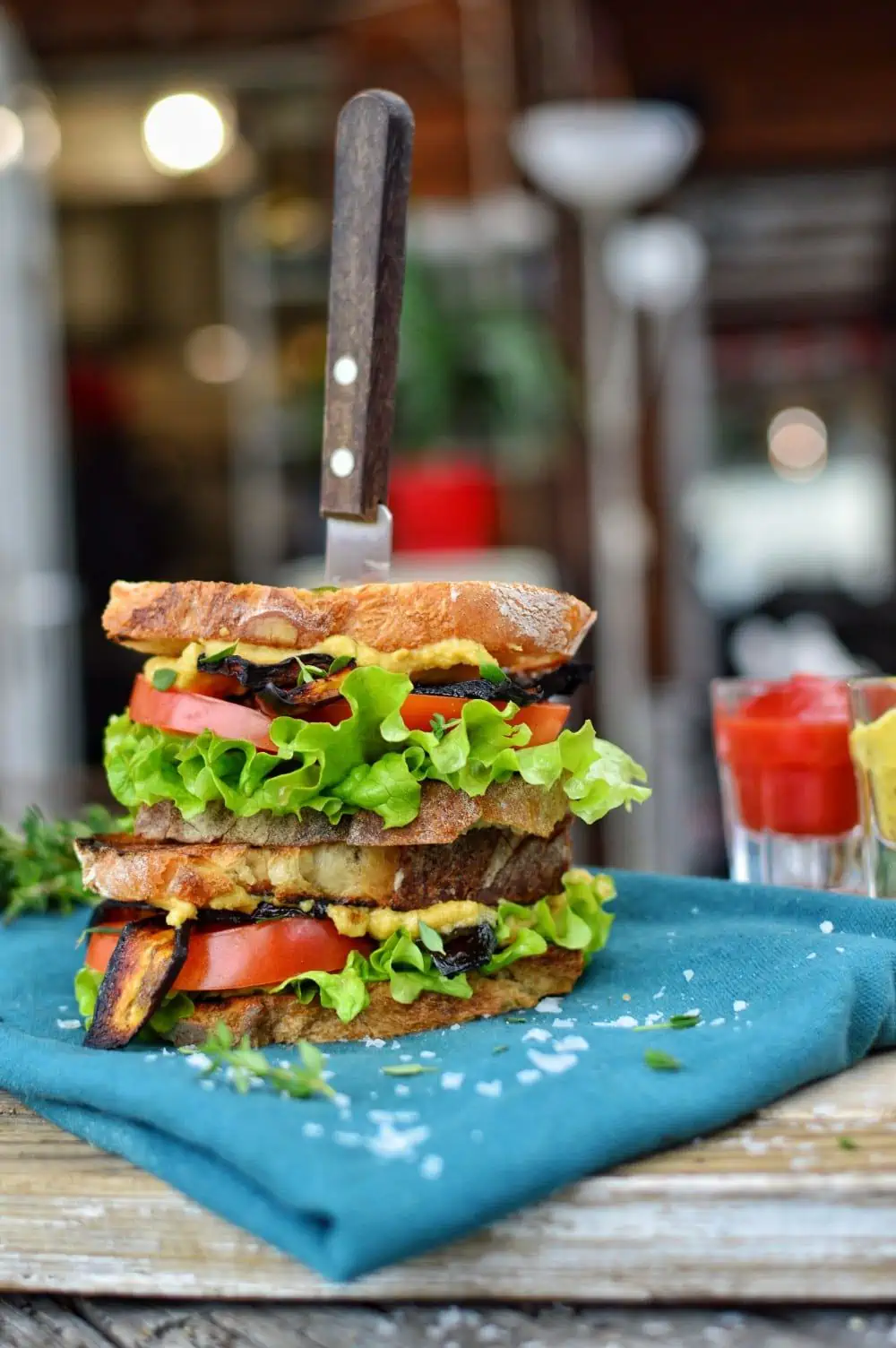 Pasta salad is one of our favorite things and this amazing recipe by Larisha Bernard from Make It Dairy Free is a real treat! Not only is this the perfect potluck dish but it's a great recipe to get your kids involved with! Featuring vegan ranch, bac'un bits, pasta, and more, you'll wonder why you didn't make this sooner.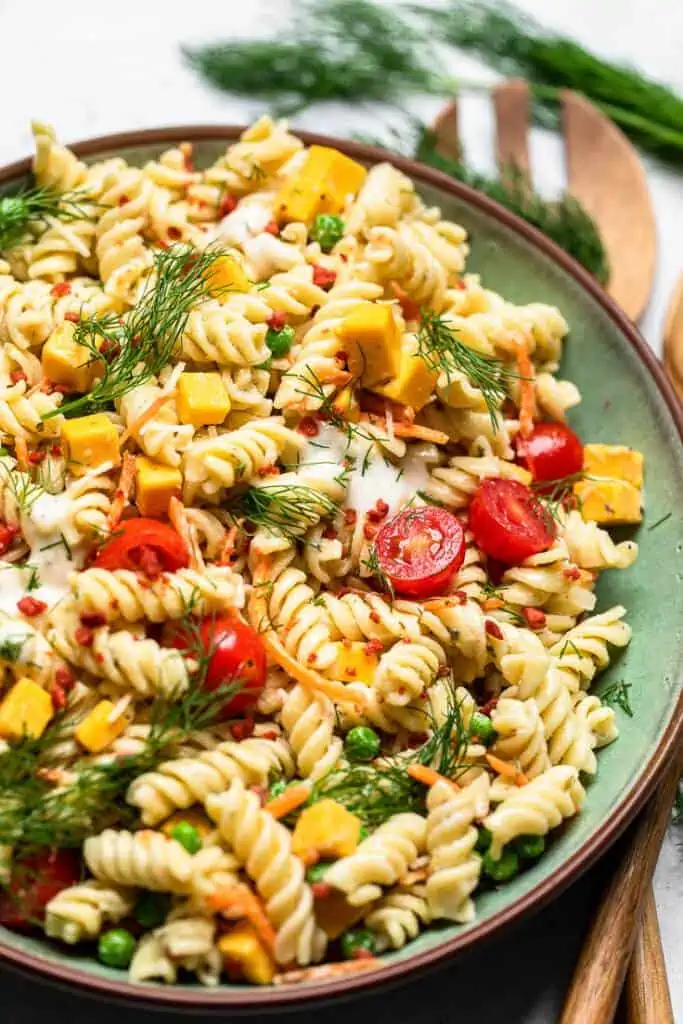 Want to make the ultimate breakfast? Then you've got to try these vegan bacon pancakes! Imagine the fluffiness of a perfect vegan pancake full of vegan bacon chunks. What could be better? Ridiculously easy and tasty, these pancakes are a true game-changer. Serve with some tofu scramble for the ultimate brunch!
We hope you've found an excited new way to get more vegan bacon into your life through this guide! Whether you're gluten-free or a true tempeh lover, there's something for everyone to try.
How to Live Without Bacon (Advice From a 10 Year Old)
Vegan bacon recipes guide written by Amanda Meth and edited by Michelle Cehn. Photos by our vegan food blog contributors, shared with permission. Carrot bacon photo and homemade vs. store bought bacon photos from Canva.com. Please note that this article may contain affiliate links which supports our work at World of Vegan. Although we love the brands mentioned above, this article is not sponsored by any of them!