You'll absolutely love this luscious vegan lemon olive oil cake! The bright, citrus aroma and light, airy texture make it a winner in our world. So easy to whip together with ordinary, everyday ingredients––you probably already have them canoodling in your kitchen cupboard.
With no eggs or dairy in sight, you might think that this cake would be totally dense and dry but, FYI, it's not. Adding a ripe banana and moist applesauce to the mix creates the most perfect consistency. This Italian-inspired dessert is incredibly divine and begging to be baked ASAP.
How to Serve Up This Vegan Olive Oil Cake
Although a freshly baked cake smells amazing, I always feel that the texture and taste is even better the next day. When the cake has cooled, the lightness and airiness of the cake is improved. The lemon flavor is more pronounced, too. Other ways you can serve up this delightful cake include:
Bring on the Bananas – Serve your cooled vegan lemon olive oil cake with a solitary scoop of banana nice cream. Strawberry would be scrumptious or also a marvelous Mango Berry. It's all up to you!
Opt for Oranges – You can easily swap the lemon juice for orange juice in this recipe, as well as for the zest. Your cake will become a little sweeter and have an entirely new and fantastic flavor.
Cover With Coconut Cream – Instead of powdered sugar, add a layer of coconut cream to your cake. The cream will add another dimension to your cake and serve as a lovely white background for any toppings or decorations.
Reach for Raspberries – These sweet and tart berries are a perfect pairing for this light and fluffy dessert. You can either add a bit of buttercream frosting, coconut cream, or perky powdered sugar to the top and then arrange your berries as you please.
Layer With Lemon Slices – Candied lemon slices would be both delicious and gorgeous as a garnish. With their bright citrus tang and sugar-crusted exterior, they're sure to bring out the best of the cake's flavors. (If lemons are top priority for taste, you'll love this Lemon Smoothie recipe!)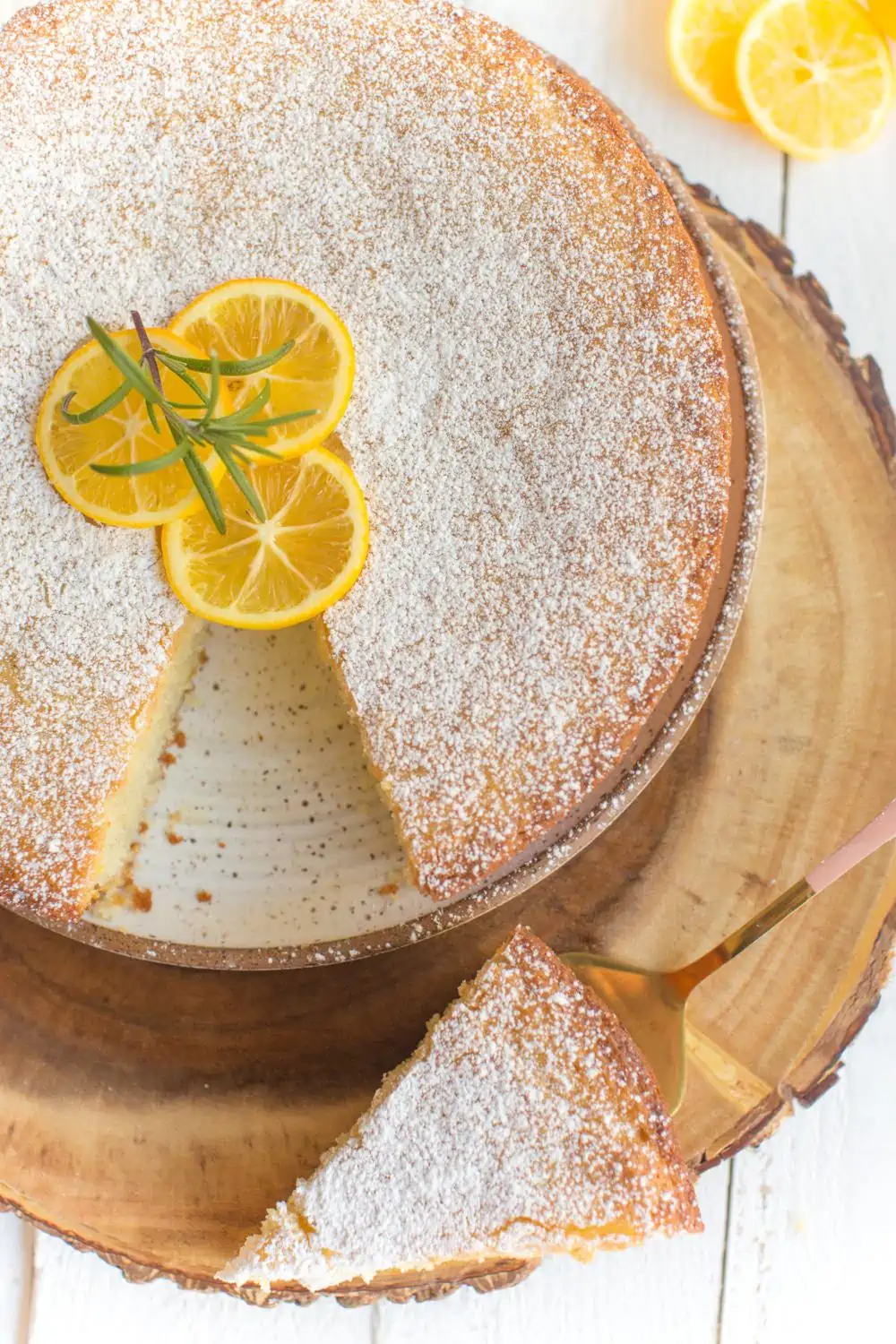 How to Store Your Lemon Olive Oil Cake
Storage is simple because this cake is unfrosted. To keep the cake from drying out due to moisture loss, cover with a cake keeper or an overturned bowl to keep it fresh. This vegan lemon olive oil cake should be fine at room temperature for a few days.
Freezing is also an option. Cut any leftover cake into slices and wrap each well with plastic wrap. Place the wrapped slices in freezer safe bags, like Stasher bags and they should last at least a few months. To defrost, make sure to take the slices out of the freezer the night before so that they'll be all ready the next day.
What's the Best Olive Oil to Use?
Olive oil is key to this cake recipe. It is an olive oil cake after all! So while you can use any olive oil you have on hand for this recipe, you might want to choose a higher quality oil or take into account the different flavor profiles of olive oil. Just like wine, olive oil can be made using many different olive varieties, processing techniques, and they all have very different flavors.
If you love the flavor of olive oil, be sure to choose "Extra Virgin" which is less processed and retains that olive flavor.
Here are a few tips to consider before baking your cake:
An Italian olive oil (especially from Tuscany) has a slight buttery, mild flavor.
Use a Spanish olive oil for its fruitier-with-a-slightly-peppery-taste profile.
Choose extra virgin olive oil because it's more flavorful and is less processed.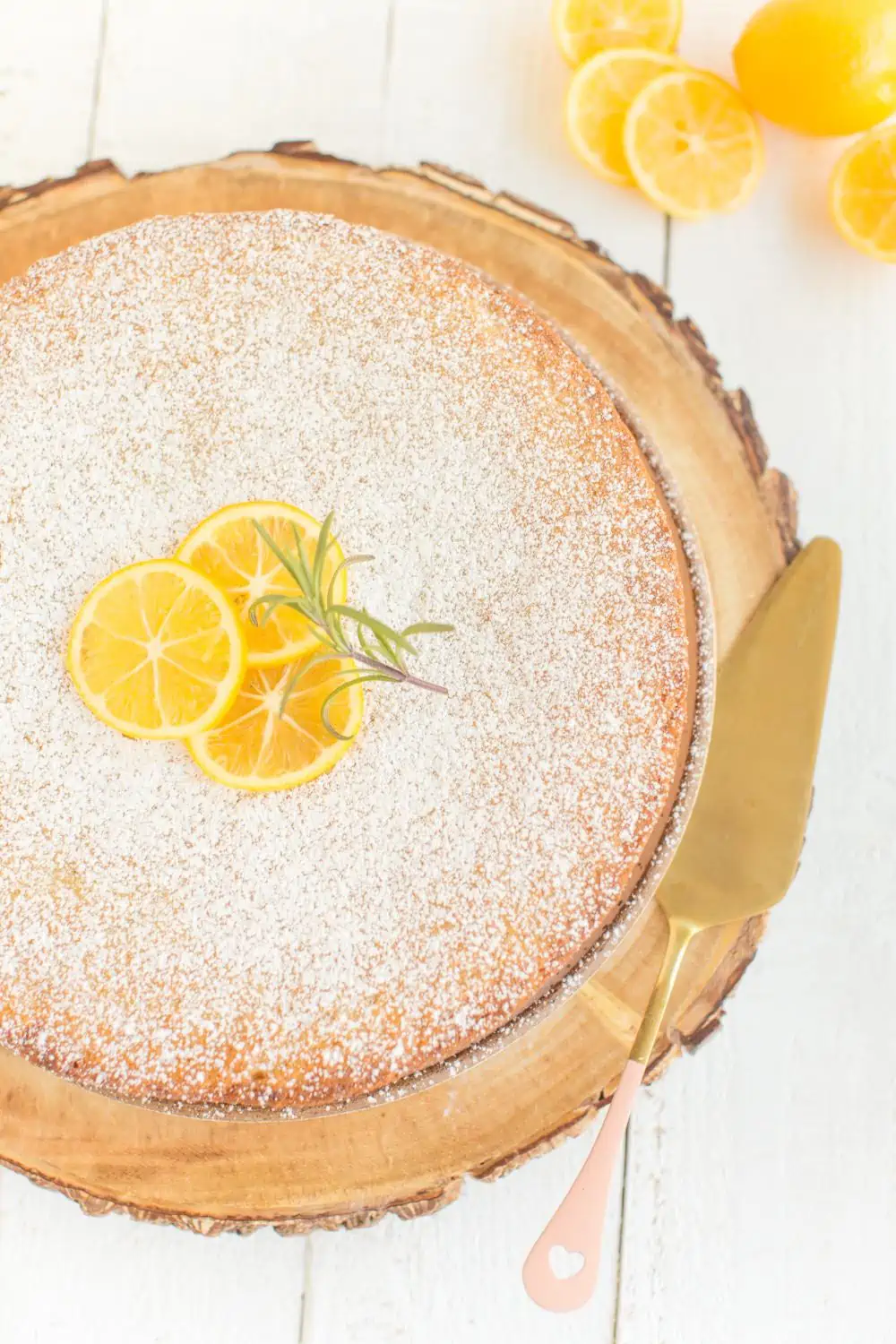 Equipment You'll Need for This Recipe
More Mouthwatering Vegan Cake Recipes
1¾ cups all-purpose flour
1 teaspoon baking soda
2 teaspoons baking powder
¼ teaspoon salt
1 cup granulated sugar
½ cup olive oil, we used Bono Olive Oil
½ cup applesauce
1 large ripe banana, mashed completely with a potato masher
½ cup fresh-squeezed Meyer lemon juice
3 teaspoons fresh lemon zest
2 teaspoons vanilla extract
powdered sugar, for dusting
Preheat oven to 350°F.

In a medium bowl, mix the flour, baking soda, baking powder, and salt together until evenly incorporated.

In a large bowl add the sugar, olive oil, and applesauce. Using a hand mixer, mix on high for 2 minutes. Add in the mashed banana and whip to combine. Add in the lemon juice, lemon zest, and vanilla extract and mix with a spoon just until combined.

Slowly add the flower mixture into the wet mixture and stir with a spoon just until combined. Do not overmix.

Scoop the batter into a greased 9″ cake pan and tap it roughly on a hard surface to remove any pockets of air.

Bake for 35 minutes, or until golden on top and a toothpick inserted into the center of the cake comes out clean.

Remove from oven and allow to cool fully in the pan before gently removing and plating and dusting the top generously with powdered sugar. If desired, decorate the top with a few thin slices of lemon that have been patted dry before adding to the top, and a sprig of rosemary.
Calories: 2750kcal | Carbohydrates: 424g | Protein: 25g | Fat: 112g | Saturated Fat: 15g | Polyunsaturated Fat: 12g | Monounsaturated Fat: 79g | Sodium: 2538mg | Potassium: 965mg | Fiber: 12g | Sugar: 233g | Vitamin A: 137IU | Vitamin C: 68mg | Calcium: 534mg | Iron: 13mg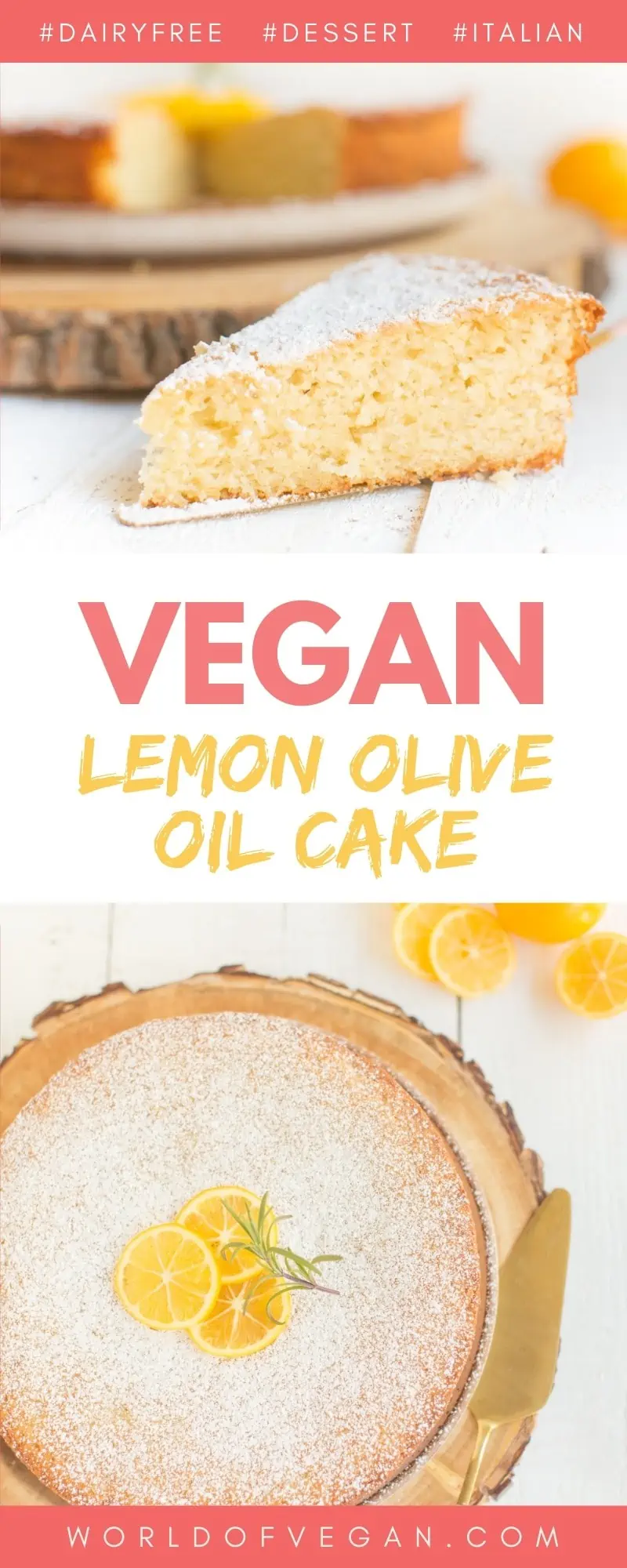 This Vegan Lemon Olive Oil Cake recipe and vegan food photography by Michelle Cehn. Article written by Gina House and edited by Amanda Meth. Content copyright World of Vegan, all rights reserved. Photo from Canva.com and Zhoro Apostolov. This delicious cake recipe includes affiliate links when available and shopping through these links supports World of Vegan.