If you thought that by becoming vegan you would have to give up on your beloved weekend breakfast frittata, then think again! We have the perfect recipe for you! It uses a super simple, affordable, and packed with plant-based protein ingredient, tofu. You can add any veggies you have on hand and spices you love and even mix in some vegan cheese if you're feeling adventurous!
Stephanie Dryer is the brain behind this delicious recipe:
I love, love, love brunch!  As a mom of three, it's not something I get to indulge in often, as Saturday and Sunday mornings are busy with the kids' activities, friend birthday parties, and family outings. But, oh how I savor a great frittata. It's the quintessential item on my brunch menu, and I have even been known to serve them for dinner!

With Spring upon us, it's the perfect opportunity to chop up some of my favorite veggies of the season and bake them in a frittata. This particular recipe has artichoke hearts, asparagus, and sun-dried tomatoes. It sings Spring to me and tastes like it too!
What Makes a Frittata?
A frittata (usually made with eggs) is a like a quiche without the crust. Or a tofu scramble without the scramble. Or an omelet without the folding. Ok, it's not as mysterious as it sounds though. It's basically a base of tofu (in this case) with veggies and seasonings which is baked in a skillet or pan. There are other vegan versions of this typical brunch or lunch dish which are made with a base of chickpea flour.
You can include a variety of different veggies in your frittata but in case you need some ideas, consider the following color categories:
Green – Zucchini, asparagus, green bell pepper, kale, spinach
Red – Red bell pepper, sun-dried tomatoes
Brown(ish) – Mushrooms, yellow onions, artichokes
Purple – Olives, red onions, red cabbage
Below are some steps outlined for you accompanied by some awesome photos!
Cook your veggies in a pan with the broth!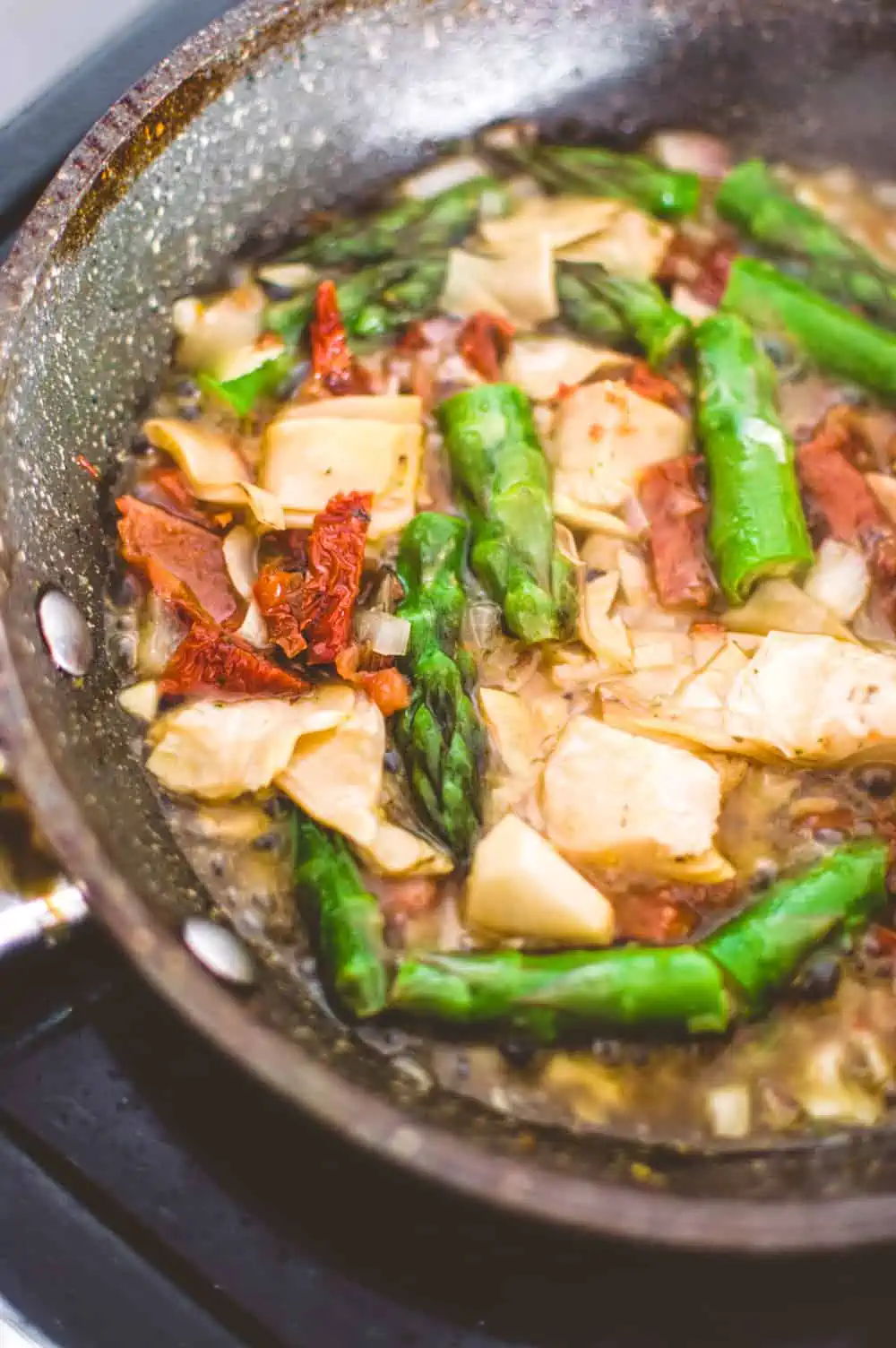 In a food processor, add the tofu, water, and nutritional yeast. Blend until smooth.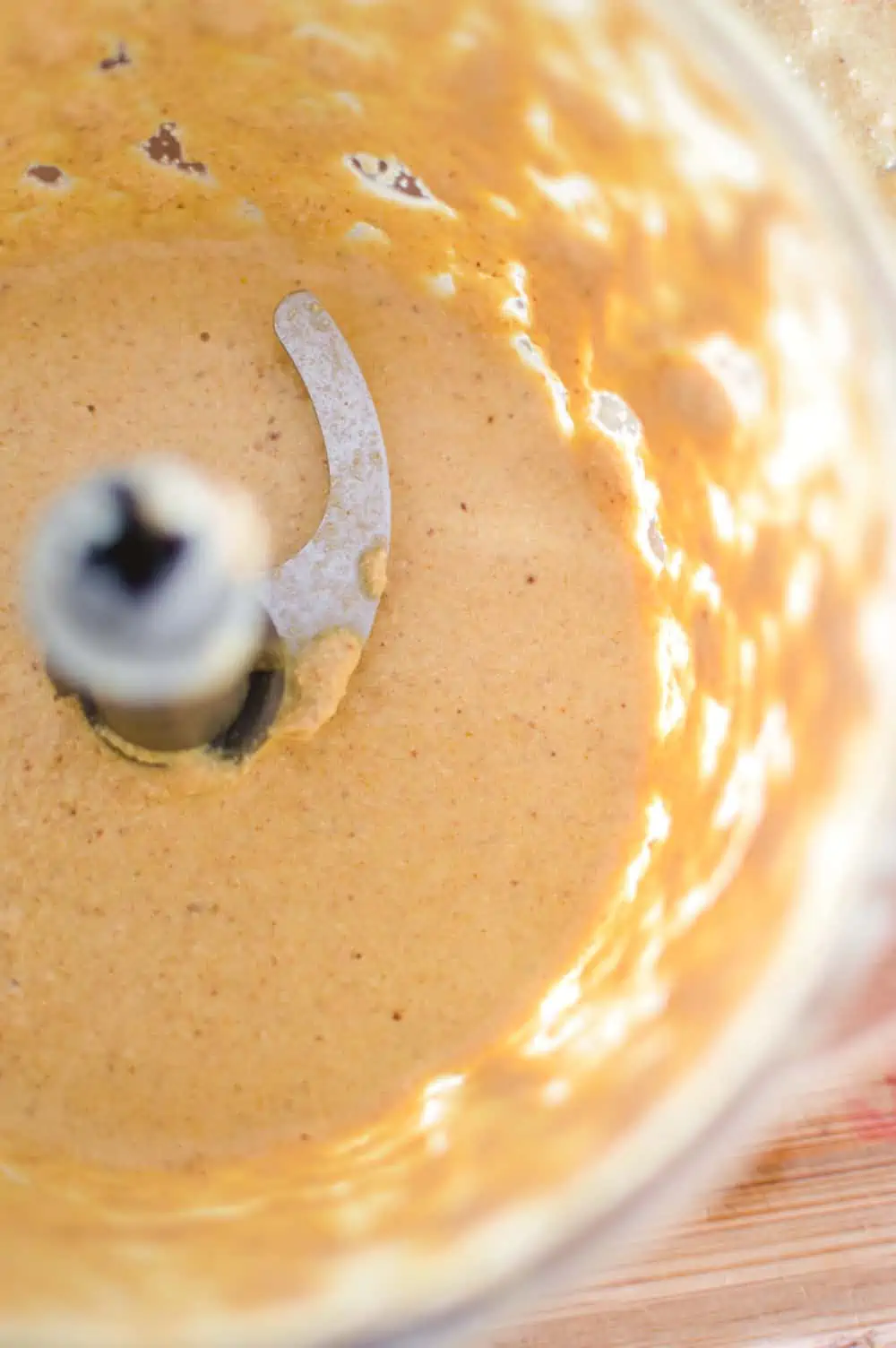 Serve and enjoy!
How to Serve Up Your Fantastic Frittata
What else goes with a delicious vegan frittata? Many things! Here's some ideas to get you started:
¼ cup vegetable broth
1 medium sweet onion, chopped
2 cloves garlic, minced
12 ounces asparagus (tips only), cut in ½-inch pieces
1 cup sun-dried tomatoes, chopped
1 14-ounce canned artichoke hearts in water, coarsely chopped
½ cup water
14 ounces firm tofu, drained
2 tablespoons nutritional yeast
Salt and pepper, to taste
Preheat the oven to 400 degrees. Grease a spring form pan.

Heat the broth in a medium sauté pan. Add the onion and garlic. Stir in the asparagus, tomatoes, and artichoke hearts. Cook for 3-4 minutes.

In a food processor, add the tofu, water, and nutritional yeast. Blend until smooth.

Add the mixture to the saucepan with the vegetables.

Season with salt and pepper, to taste.

Spoon into a spring form pan. Bake for about 30-40 minutes.

Cut into wedges and serve.
Calories: 143kcal | Carbohydrates: 20g | Protein: 11g | Fat: 4g | Saturated Fat: 0.4g | Polyunsaturated Fat: 2g | Monounsaturated Fat: 1g | Sodium: 69mg | Potassium: 863mg | Fiber: 5g | Sugar: 11g | Vitamin A: 612IU | Vitamin C: 13mg | Calcium: 130mg | Iron: 4mg
If you try this Vegan Frittata recipe, let us know what you think by leaving a comment and rating below! Be sure to follow along on Pinterest, Instagram and Facebook for even more vegan recipe inspiration.
Storing Leftovers
If you find yourself with more frittata than you can handle, worry not! It will keep about 4 to 5 days in the refrigerator when kept in an airtight container or you can freeze it. If freezing, cut into equal slices and keep in an airtight container for 2-3 months. When ready to eat, take out your preferred amount to defrost overnight before heating on the skillet.
More Amazing Vegan Brunch Recipes to Try:
Vegan Frittata recipe by Stephanie Dreyer. Photos by Zhoro Apostolov for World of Vegan. Article written by Stephanie Dreyer and edited by Amanda Meth. Recipe and photographs copyright of World of Vegan™, all rights reserved. Please note that this article contains affiliate links which support our work at World of Vegan!