Searching for the best darn vegan oatmeal cookies you'll ever taste? Your hunt ends here! This is the last recipe you'll ever need. They're so easy to make that they're practically foolproof for bakers of any skill level. Best of all, the cookie dough can even be balled up and stored in the freezer so fresh-baked cookies are always only a few minutes away.
These cookies are a veganized version of an old family recipe that's been passed down through generations of my family—along with our neighbors and friends—clamoring at my grandmother's door to get their fix. From my family to yours, we wish you happy baking and hope these cookies become a cherished treat in your family, just as they have in ours.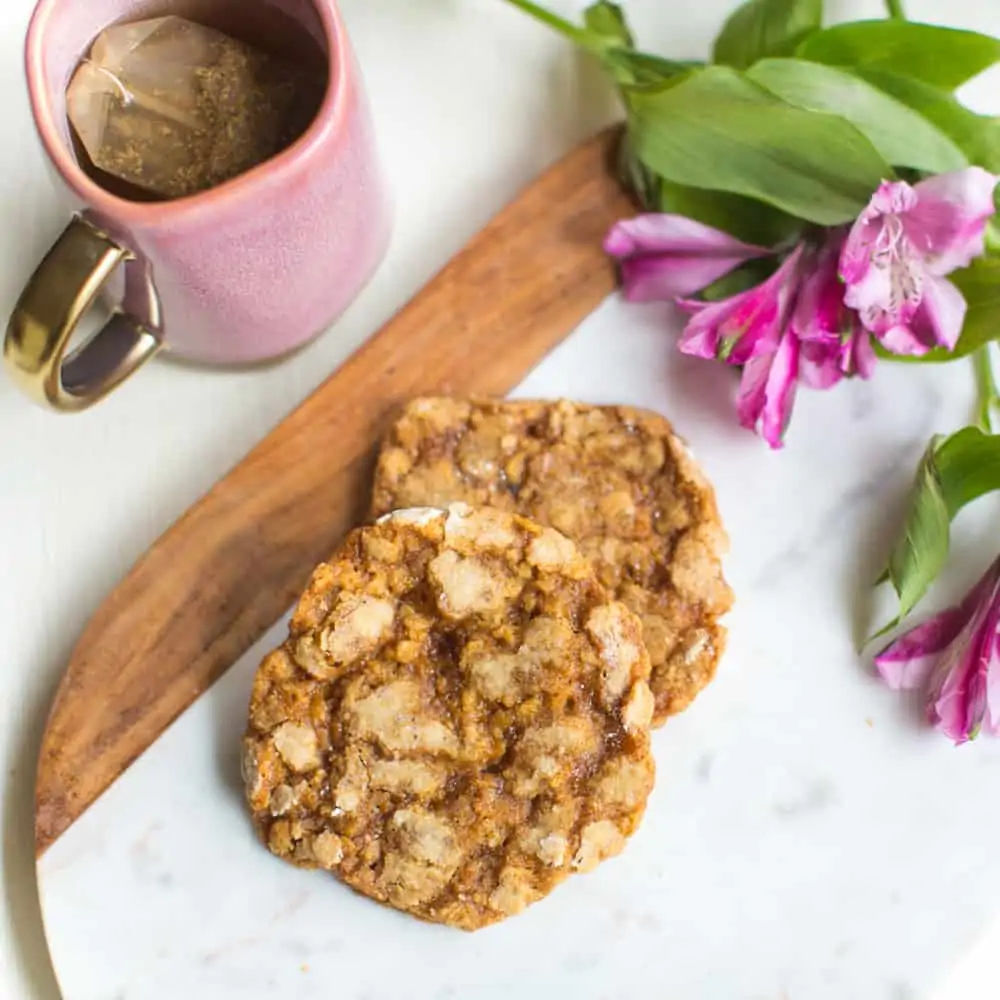 Why You'll Love These Plant Based Oatmeal Cookies
Homemade cookies are never a hard sell.
Ready in 30 minutes: Struggling with an urgent cookie craving? Have unexpected guests drop by? Remember the school bake sale at the last minute? Don't worry, you can whip up these amazing homemade treats in no time at all!
Crowd-pleasing flavors: No one can resist the simple pleasures of a soft, chewy cookie. Defined by a simple brown sugar sweetness and subtly caramelized edges, the oats add a hearty toasted, almost nutty flavor.
Fun for the whole family: Get the kids in the kitchen to help make these easy vegan oatmeal cookies! They'll build baking skills and confidence while spending quality time with you.
Great gifts: For the person who has everything, cookies are still a welcome present. You can make a big batch to treat everyone on your list at once.
Key Ingredients
True to their humble origins, there are no fancy, expensive, or esoteric ingredients on the roster. In fact, everything here is shelf stable and may already be waiting for you in the pantry!
Flaxseeds: Once ground and mixed with water, these seeds transform into a thick gel that can be used to replace eggs. Both brown and golden flaxseeds work the same way; picking one over the other is more of an aesthetic choice, since darker flecks may change the appearance of your baked goods.
Shortening: Vegetable shortening is the secret to making flaky pie crusts, fluffy frostings, and soft cookies. Crisco is the most common brand, but you can also find organic coconut shortening made by Nutiva in some natural food stores.
Brown sugar: Dark brown sugar has more molasses added back in, which might be a bit heavy-handed for this recipe. Light brown sugar has a good balance of sweetness and depth that won't overwhelm the cookies. Be sure to pack it into the measuring cup firmly to get an accurate reading.
Flour: Basic all-purpose flour will do the trick here. Sift the flour before measuring to weed out any clumps before they hit the batter.
Oats: Old Fashioned rolled oats create a thick, hearty breakfast cereal and cookies alike. They contribute to that satisfying texture that you can really sink your teeth into. Avoid quick and instant oats which will create cakier results.
Powdered sugar: This final coat of super-fine sugar is what makes that crisp exterior with caramelized edges, setting it apart from the average oatmeal cookie.
How to Make The Best Vegan Oatmeal Cookies
Step One: Start by mixing ground flaxseeds and water in a small bowl and let sit for at least 5 minutes to thicken.
Step Two: Add Crisco shortening and brown sugar in a large mixing bowl and beat with an electric hand mixer until thoroughly combined. Then stir in vanilla extract and flaxseed "egg" mixture from the first step.
Step Three: In a separate mixing bowl, combine the dry ingredients including the flour, baking powder, baking soda and salt together.
Slowly add the dry mixture to the wet mixture and stir until well combined. Stir in rolled oats.
Step Four: Roll dough into 1-inch balls and refrigerate for at least two hours.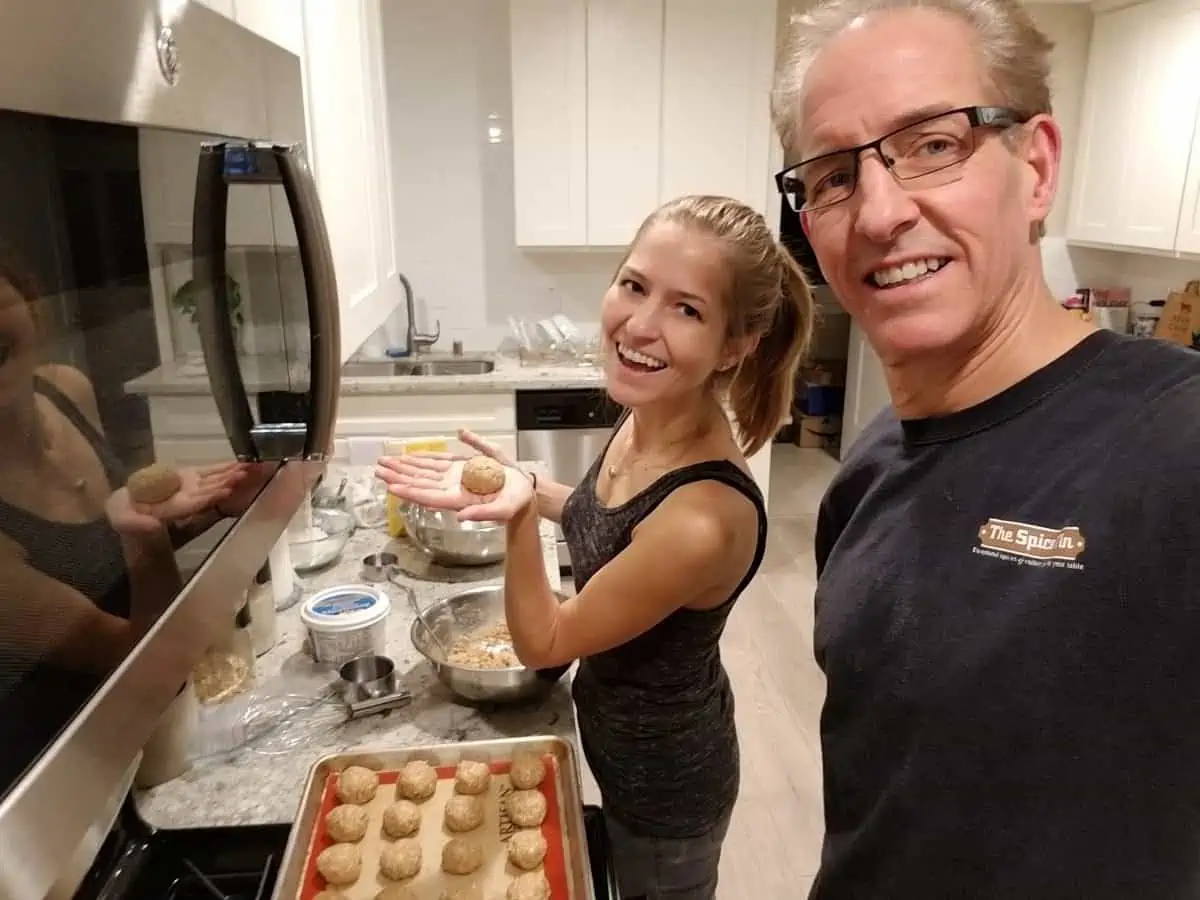 Step Five: Once properly chilled, roll each ball in powdered sugar, then transfer to a lined cookie sheet 3 inches apart. Flatten by pressing down with a flat-bottomed glass dipped in powdered sugar.
Step Six: Bake at 350°F for 8-12 minutes until puffy and golden around the edges. The exact baking time will vary depending on the size of your cookies. Allow to cool on the baking sheet for at least 15 minutes before enjoying (they will flatten more as they cool).
Tips For Making Perfect Oatmeal Cookies
Measure carefully: This carefully calibrated ratio will only work if all the amounts add up. Make sure you pack your brown sugar firmly and sift the flour before spooning it into measuring cups.
Don't over-mix: Excessive stirring will work up the gluten in the flour, which creates tough, dense, and crumbly cookies. It's perfectly fine to leave a few lumps in the batter, rather than risk overdoing it.
Chill the dough: Give the cookies a solid 2 hours in the fridge, minimum, to allow the flavors to meld and the structure to set. That ensures they won't just melt and become flat or crispy while baking.
Slightly under-bake: If your cookies look just barely set in the centers, they're perfectly done. They'll continue to bake out of the oven as they sit on the hot sheet pan, too.
Fun Additions And Flavorful Ideas
Consider this basic formula your starting point for even greater flavor adventures. Feel free to infuse any of your favorite flavors into this accommodating base to make every batch different! Here are my favorite mix-ins:
Oatmeal raisin cookies: Vegan oatmeal raisin cookies are the gold standard that all other cookies strive for. All you need is 1 ½ cups of raisins, but I also love incorporating 1 teaspoon ground cinnamon for that extra cozy warmth.
Oatmeal chocolate chip cookies: Raisins can be a controversial addition. If you're a raisin-hater, that's okay! Grab a bag of chocolate chips instead. 1 ½ cups of semi-sweet morsels will do the trick, although you could mix it up and use some mini chips or larger chunks too.
Oatmeal gingerbread cookies: Lean into the autumnal vibes and switch out the light brown sugar for dark. Add 2 tablespoons gingerbread spice blend, or pumpkin pie spice in a pinch. Mix in ½ cup finely minced crystalized ginger for an extra spicy bite.
Iced oatmeal cookies: Forget about the cherry on top; I'm all about the icing on top! Mix 1 ½ cups powdered sugar, 1/4 teaspoon vanilla extract, and 1 to 2 tablespoons plant-based milk until smooth. Drizzle or dip your cookies after they're baked and completely cool.
FAQs
How can I make vegan gluten free oatmeal cookies?
It's easy to convert this recipe into a wheat-free treat! Replace the all-purpose flour with your favorite gluten-free flour blend and double-check to make sure that your oats are certified gluten-free. Alternately, you can swap out the oats for rolled quinoa flakes. 
How long will oatmeal cookies keep? Can I prep them in advance?
Once baked and fully cooled, the cookies can be kept in an airtight container on the counter for up to 5 days, or in the fridge for up to 10 days. You can make the dough ahead of time and portion individual cookies onto a baking sheet the same as you would to bake them, but instead freeze them until firm enough to handle. Transfer the dough balls to a storage container or freezer bag and freeze for up to 3 months. You can bake them straight from frozen, no need to thaw, but they may take a few additional minutes in the oven.
Can I use vegan butter instead of shortening?
While you can swap them 1 for 1, cookies made with vegan butter will likely end up thinner and crispier around the edges. If you simply love the flavor that vegan butter imparts, your best bet is to substitute half vegan butter while keeping half of the shortening.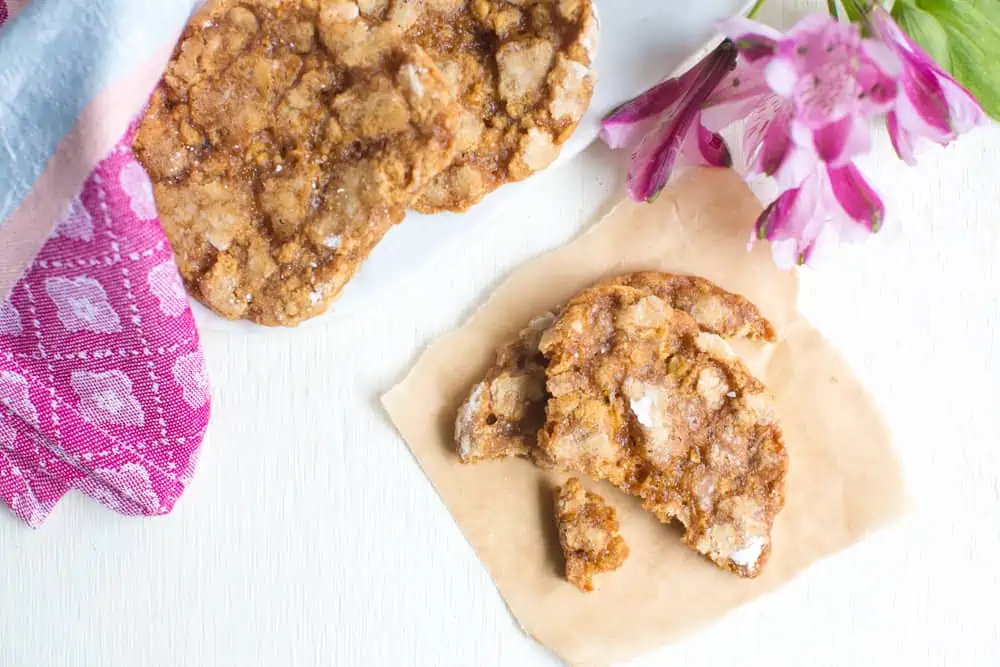 More Delicious Vegan Cookie Recipes
3 tablespoons ground flaxseeds
½ cup water
1 cup Crisco shortening
2¼ cups packed light brown sugar , (about 1 pound)
1½ cups all-purpose flour, sifted
1 teaspoon baking powder
1 teaspoon baking soda
1 teaspoon salt
2 teaspoon pure vanilla extract
3 cups Old Fashioned rolled oats
1 cup powdered sugar
In a small bowl, mix ground flaxseeds and water and let sit for at least 5 minutes.

In a large mixing bowl, beat Crisco shortening and brown sugar together until thoroughly combined. Then stir in vanilla extract and flaxseed "egg" mixture.

In a separate bowl, whisk flour, baking powder, baking soda and salt together.

Slowly add the flour mixture to the wet mixture and stir until well combined.

Mix in rolled oats.

Roll dough into 1-inch balls and refrigerate for 2+ hours.

Roll each ball in powdered sugar, place on a lined cookie sheet 3 inches apart, and flatten by pressing down with a flat-bottomed glass dipped in powder sugar.

Bake at 350°F for 8-12 minutes until puffy and golden around the edges. Exact baking time depends on the size of your cookies. Allow to cool for at least 15 minutes before enjoying (they'll flatten as they cool).
Calories: 226kcal | Carbohydrates: 39g | Protein: 2g | Fat: 10g | Saturated Fat: 2g | Polyunsaturated Fat: 3g | Monounsaturated Fat: 4g | Trans Fat: 1g | Sodium: 168mg | Potassium: 80mg | Fiber: 1g | Sugar: 20g | Vitamin C: 0.01mg | Calcium: 36mg | Iron: 1mg
This recipe for the best vegan oatmeal cookies on planet earth was developed by Greg Hicks, inspired by his mom. Copyright of World of Vegan™, all rights reserved. Photos by Michelle Cehn.