As a Mom of three "forever hungry" little boys, I need to have filling snacks at hand 24/7! Most of the regular store-bought snacks are full of added sugars and palm fat or oil (which we know by now can be a very cruel industry). I try my best to take the time and make our own home-made snacks using—ideally—very few and fresh ingredients. That's why this stuffed dates recipe is so perfect!
Gooey soft dates alone are already one of my favorite snacks. They are one of my top must-have vegan ingredients in my household, a staple in our pantry. It's so important to get them as fresh as possible if you want to experience nature's caramel to the fullest. They are like little drops of heaven! 
Get to Know Your Dates
This recipe is pretty foolproof—a 4-year-old can easily make it! But the recipe can go very wrong if you don't choose the right dates.
You want fresh dates that are very soft, plump, and glossy-looking—almost oozing with sweetness. They should almost melt in your mouth. These are very different from dried dates you might find in the baking aisle. Oftentimes you'll find packaged dates in mainstream supermarkets that look deflated, dry, and are quite hard. These are not only difficult to work with in recipes, but they're also a whole lot less delicious.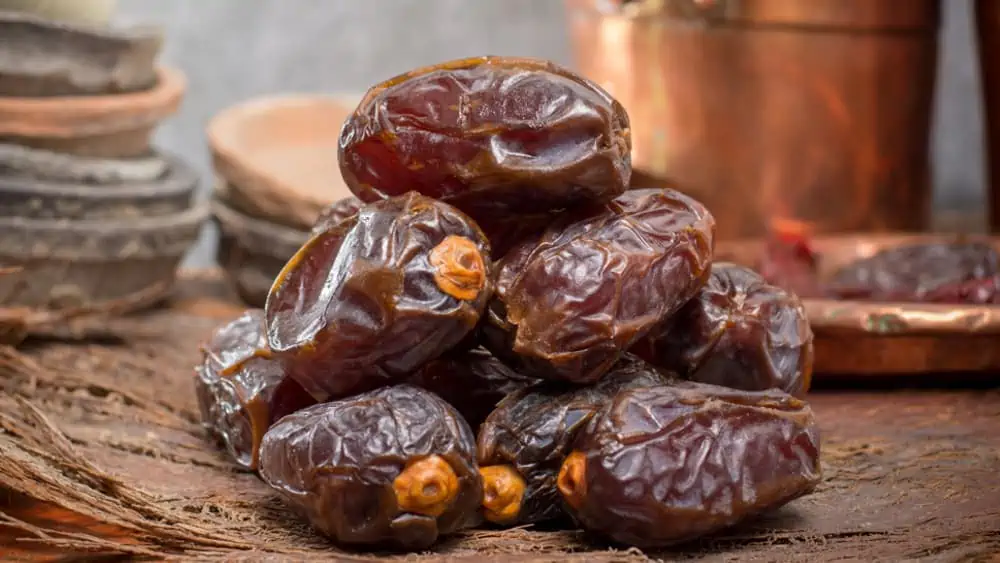 The best dates can be found at Farmers' Markets when they're in season (for those who are lucky enough to live in areas where they're grown). Dates grow on date palm trees that flourish in hot-and-dry areas like California, Arizona, Florida, the Middle East, Northern Africa, and Southern Asia. Date season in the United States runs from September through March. During these times you may be able to find fresh whole dates in the produce section of your grocery store (especially if you shop at a store like Whole Foods).
If you're not in a date-growing area, you can look for imported fresh dates at Middle Eastern markets (since they're so common in middle eastern cooking) and some Natural Foods stores. If you can't find them locally, many growers offer delicious freshly-harvested dates through mail order online! The best Medjool dates can be a bit pricey, but if you go for the freshest high-quality dates, you'll quickly see why they're worth it.
4 soft Medjool dates
2 tablespoons nut butter, approximately (my personal favorite is peanut butter)
2 tablespoons vegan chocolate chips, approximately
The idea here is to create a sweet "taco" in a sense, where the date is the shell and the nut butter and chocolate chips are the fillings. Remove the pits in the dates by cutting into the top lengthwise just until you hit the pit. Don't cut all the way through. Remove and discard the pits.

Spoon some nut butter into the opening of each date "shell." Top with roughly chopped vegan chocolate chips lined along the opening.

Optional step: place in a covered container and freeze until hardened if you prefer a chewier and more candy-like stuffed dates.

Serve, and enjoy!
These can be enjoyed right after making them, as soft and gooey sweet treats with a little crunch from the chocolate. But my favorite way to enjoy stuffed dates is frozen. I make a big batch of these and pluck one out of the freezer whenever I need a sweet treat. They will stay good in the freezer for several weeks, at least.
Calories: 200kcal | Carbohydrates: 30g | Protein: 3g | Fat: 10g | Saturated Fat: 4g | Polyunsaturated Fat: 1g | Monounsaturated Fat: 3g | Sodium: 1mg | Potassium: 227mg | Fiber: 4g | Sugar: 24g | Vitamin A: 36IU | Calcium: 65mg | Iron: 2mg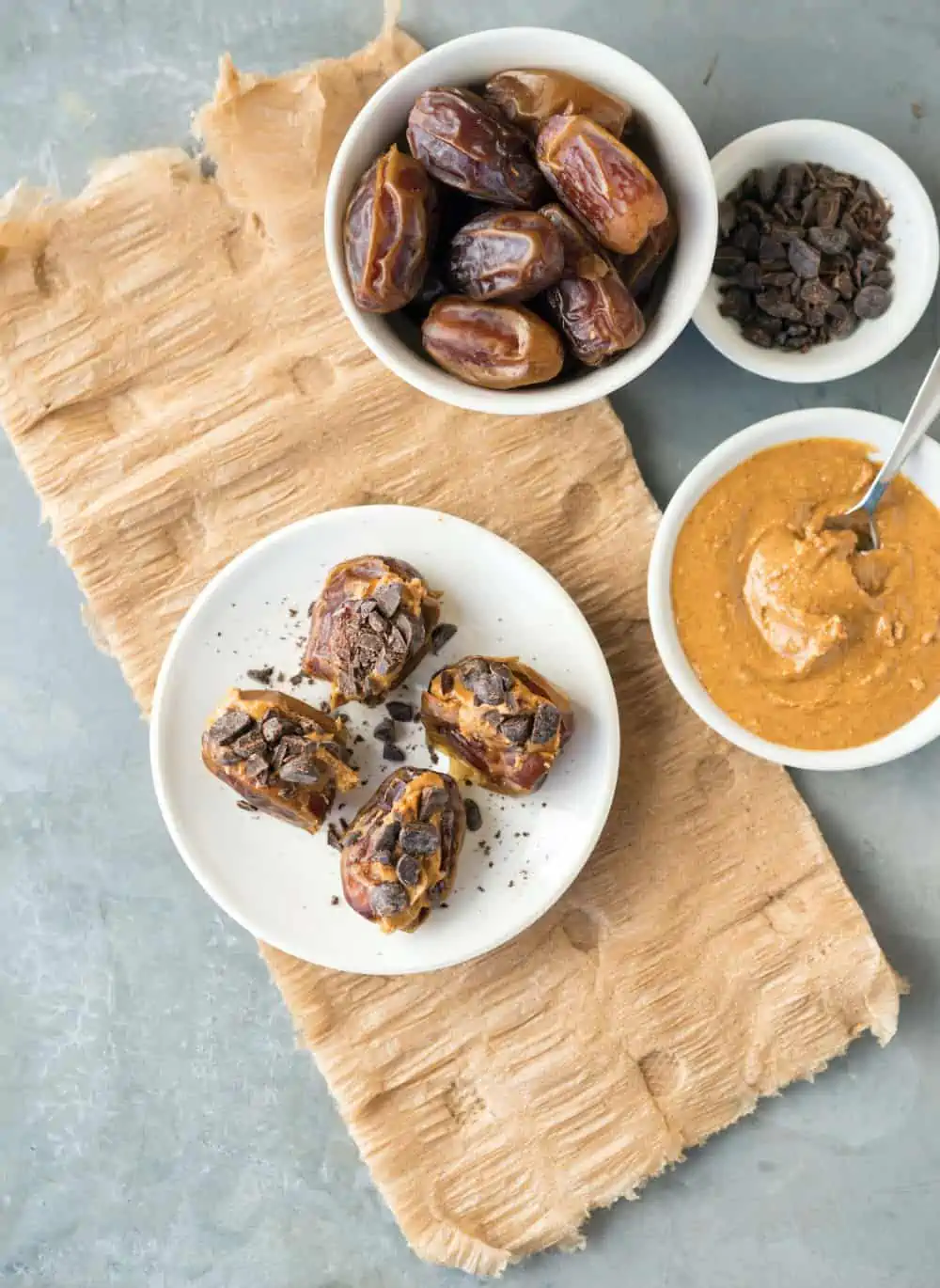 These tasty treats are a great workout fuel: they're full of nutrient-rich carbohydrates to help sustain your energy. Dates are rich in potassium, fiber, iron and B vitamins—and despite all their natural sugar, they remain low on the glycemic index making them a fantastic healthy sweetened and dessert.
There are so many different things dates can improve, apart from your mood! You can use them to sweeten any home-made veggie milk (especially if you add a pinch of sea salt) or you can make a gooey date caramel spread. Add dates and your favorite nuts in a food processor and you have a delicious raw pie crust or use them to sweeten your smoothie when the fruit is not ripe enough. I could keep going on and on…
Life-Changing Documentary 'What the Health'
After the release of their highly acclaimed documentary What the Health on Netflix last year, Kip Andersen, Keegan Kuhn and Eunice Wong, have given us a book version with the same title.
This film has already impacted the world so strongly and keeps on doing so, streaming for free on Netflix. It's a window into how the consumption of meat and dairy is having a major impact on peoples health and have direct links to the huge rise on chronic disease around the world. But it doesn't stop there, as it reveals how the major food and pharmaceutical industries are covering this up for their own benefit.
With this new book, they not only give us the information we need to make our own conscious choices but also provide us with 50 nutritious vegan recipes to add to our menus. Among these are these heavenly stuffed dates. Enjoy!
More Super Easy Recipes
Hungry for more super easy recipes that are practically foolproof? Check these out:
Recipe shared with permission and excerpted from the book What the Health by Kip Andersen and Keegan Kuhn with Eunice Wong. Copyright © 2018 by Benbella Books. All rights reserved. Article edited by Amanda Meth. Photo of fresh dates from Canva.com.