Sweet, sticky, golden vegan caramel is simple treat with incredible complex flavors. Whether it's a rich and gooey sauce used to drench an ice cream sundae, or a chewy confection wrapped up in shiny foil, the lure of that burnt sugar taste is irresistible.
With notes of buttered toast, hazelnuts, vanilla beans, molasses, bourbon, and so much more, caramel pairs beautifully with pretty much any ingredient you can imagine—even savory ones!  
Not long ago, vegan caramel was very hard to find, and the most devout caramel lovers learned how to make their own at home. But times are changing. Now you can find vegan caramel candies, dairy-free caramel sauces, and beyond.
Popular chocolate candy company OCHO is just one brand bringing plant-based caramel options to life. They made a splash with their recent launch of four chocolate-covered caramels, which might just be the most ooey-gooey vegan caramel to date.
What Is Caramel?
The only consistent, mandatory ingredient in caramel is sugar. That sugar is cooked over high heat until it dissolves and browns when it reaches 340 degrees Fahrenheit. Things start to get interesting when other components come into play.
If nothing else is added at that point, the caramel will harden into a brittle hard candy when it cools.
If a small amount of butter and cream is added, it can be turned into soft caramel candies.
If a larger amount of butter, and especially cream, is added, it will remain a pourable liquid and become caramel sauce.
Most caramel recipes also include a liquid sweetener to prevent crystallization while cooking, in addition to vanilla and salt to accentuate the natural flavors.
A Brief History Of Caramel
The origins of caramel are murky and hotly debated, but it's generally believed to be an Arabic invention that came about around 1000 CE. At that time, it was known as kurat al milh, which translates to "sweet ball of salt." Made with simply boiled water and sugar, the resulting candy was hard and brittle. Americans are credited with being the first to add milk and fat around 1850, producing the soft, rich treats most beloved today.
Given its versatility, today you're likely to find caramel as an option on coffee shop and dessert menus across the globe.
Is Caramel Vegan? 
Caramel can be vegan, but it's usually not. Beneath those amber brown waves, a lot goes into making this sweet treat. So, how can you tell if caramel is vegan?
Traditional caramel is not vegan, since it's made with a ton of dairy; conventional butter and heavy cream, which are animal products.
However, more fine confectioners and candy companies are making conscious, compassionate choices to source plant-based alternatives instead. Full-fat coconut milk is a natural substitute for cream and there are numerous vegan butters now available too.
A good rule of thumb that unless it clearly says "vegan" on the label, it's safe to assume that it isn't. One notable exception is at Starbucks, where the caramel syrup is accidentally vegan, so you can still get your fix by swapping it for the non-vegan caramel sauce.
Read on to see a wide array of vegan caramel brands!
Vegan Caramel Candies
When sugar cravings hit, don't worry, you have plenty of ways to satisfy your sweet tooth! A wide range of plant-based caramel treats can be found online, and increasingly at both natural and high-end grocery stores. These are the decadent vegan caramel candy brands you want to add to your cart ASAP!
OCHO (Look for the "Plant-Based" Label)
The new line of vegan caramels from the Oakland-based company OCHO has generated lots of buzz—and for good reason. They are a must try for caramel lovers. The OCHO plant-based caramel line includes four flavors: Classic, Cinnamon, Chocolate, and Coffee, which all come wrapped in a chocolate shell.
Each caramel square is individually wrapped so they're perfect for sharing, adding to Easter baskets, and giving away for Halloween. Just be sure to look for the plant-based label, as they do also carry dairy-based products!
One of the first mainstream vegan caramel candies, this humble coconut milk-based confection is now available in many flavors, such as espresso, pumpkin spice, and maple, plus chocolate-covered squares, bites, and even sugar-free options.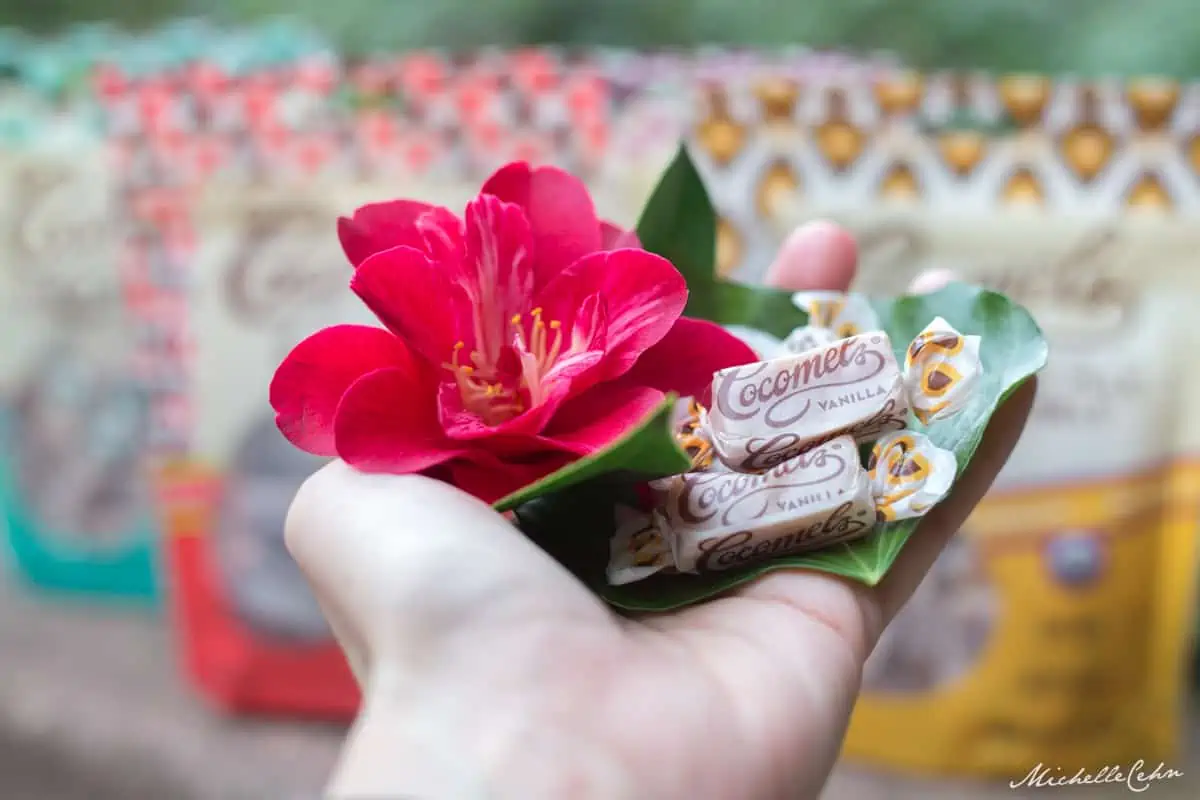 Though primarily a chocolate company, they offer a few classic candy bar look-alikes that include caramel fillings enrobed in a chocolate-y coating. The "No Tricks" bar is like a Twix, with a crisp cookie, while the "PeaNOT" includes nougat and velvety, vegan caramel.
Made the old-fashioned way in giant copper kettles, these caramels are the real deal. Their plant-based options are the best sellers by far, for good reason! There are 16 different flavors to choose from so you can always snack happy.
If you're looking for a low-sugar caramel option, Smart Sweets makes one that's fully plant-based! We're talking just 1 gram of sugar for the entire bag. Instead of sugar, these golden nuggets are sweetened with allulose and stevia. They're also gluten-free!
Vegan Caramel Sauce Brands
Good caramel sauce is like the little black dress of the dessert world; it works for every occasion and never goes out of style. Here are the best brands to stock your pantry with to be always party-ready.
Hey Boo – Billed as an artisan product, this is the good stuff you'll want to hide from the kids. It fully embraces its coconut base with a fragrant tropical aroma.
Date Lady – Coconut Date Sauce may not sound like much, but it's truly greater than the sum of its parts. Each thick, gooey spoonful will have you coming back for more.
Nature's Charm – Whether you go with plain Coconut Caramel Sauce or Salted Coconut Caramel Sauce, your dessert will thank you. A touch of coconut sugar is added in at the end for an extra malty richness.
Bloom Caramel – Made in Oregon but turning heads across the US, these golden elixirs are award winning for a reason. Take your pick from vanilla, cardamom, or salted coconut caramel sauce… Or don'! Try one of each for the full experience.
Walden Farms – Your milage may vary in terms of taste here, but if you're trying to cut sugar, fat, or carbs, this might be the answer to your prayers. The Caramel Dessert dip is primarily made from corn fiber and erythritol.
Homemade Vegan Caramel Sauce
Vegan caramel sauce can be made exactly like the traditional version by simply swapping out the dairy with coconut products. It's an easy process but may take some practice to perfect.
How To Make Vegan Caramel Sauce
Heat sugar with a small amount of water in a medium saucepan over medium heat. Swirl the pan to combine and avoid stirring with a spatula, as this can make the sugar crystalize, creating a grainy texture.
Eventually, the sugar will dissolve. The sugar syrup will be clear at first. Continue to cook, swirling the pan periodically, until it slowly develops a golden-brown color. When it's dark, add either coconut oil or vegan butter along with full-fat coconut milk. Be careful as it may splatter.
Remove from the heat and add in salt and vanilla, if desired. It will continue to thicken as it cools.
Bubbling hot sugar syrup can be daunting for the uninitiated but fear not! There are other ways to make delicious, luxurious caramel sauce from dates, maple syrup, and brown sugar. You can find countless recipes online!
Recipes Featuring Vegan Caramel
Few foods are quite as nostalgic as caramel apples. The very sight of them can transport most people right back to memories of a childhood carnival or fair. This healthier spin on caramel apples is just as sweet, but without the sticky cavity-causing effect of traditional caramel apples. This caramel is made with Medjool dates and coconut milk!
A caramel guide wouldn't be complete without a nod to America's favorite caramel-y candy, Snickers! While old-school Snickers certainly aren't vegan or dairy-free, you can make your own that taste even better with this recipe!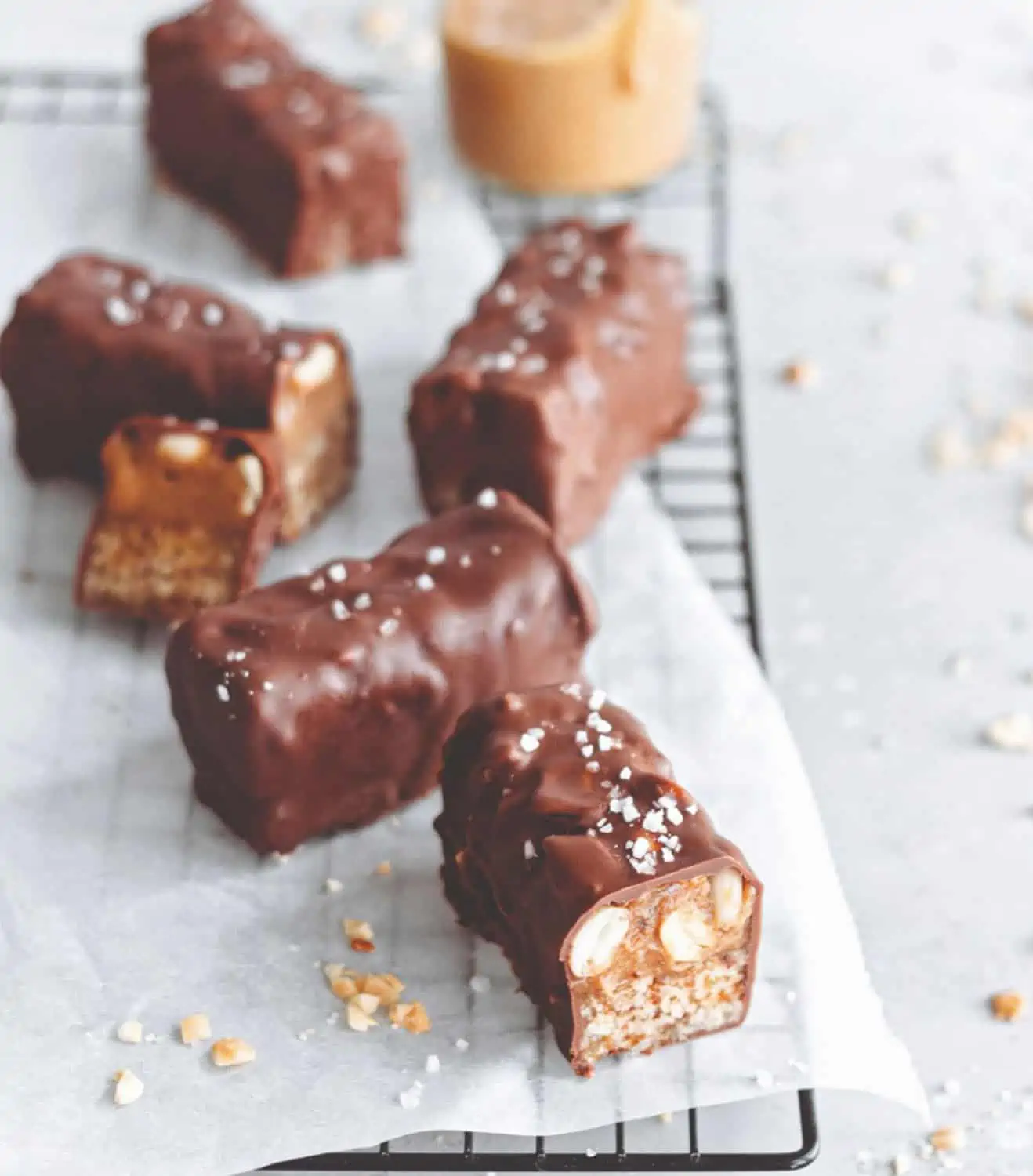 Scotcharoos are a wildly popular midwestern treat that we've veganized. They are similar to Rice Krispies Treats, except that they are made with a caramel-like sauce instead of marshmallows, and they're covered in butterscotch chocolate. They are easy to make and absolutely divine.
These divine chewy caramel-y squares are like the healthier sibling of Scotcharoos (above). They take a little more effort to make, but they taste incredible and are also packed with nutrition.
Create a fine-dining French dessert in your own kitchen with this Crème Brûlée recipe. The brown sugar on top caramelizes to create a crispy sweet shell that you'll knock through with your spoon to get to the silky smooth interior. Bon appetit!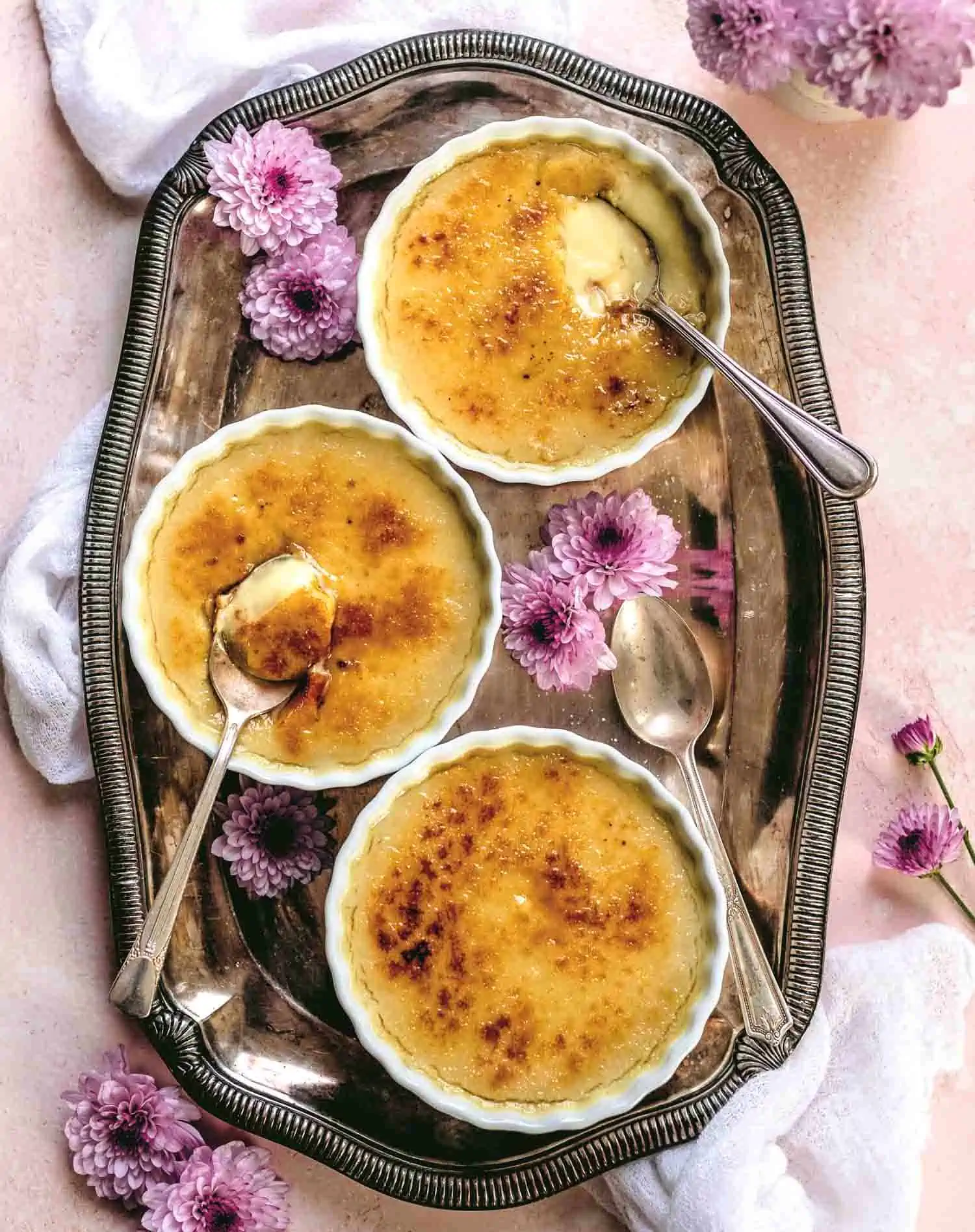 This article was written with support from OCHO, a phenomenally vegan-friendly candy company that makes some of the best vegan caramel candies on the planet. We only feature brands we sincerely adore, and we very much hope you have a chance to try them.