It may seem simple to ask for vegetarian marshmallows, but conventional options are off the table. Did you know that these fluffy sweet treats contain some truly gruesome ingredients? Let's stop sugar-coating the truth to uncover the real story behind this classic confection. There are plenty of options for buying genuine vegan marshmallows and making your own from scratch!
Soft and chewy, yet light and ephemeral. Eating a good marshmallow is like biting into a vanilla-scented cloud. While some of the mass-produced extruded variety can be tooth-achingly sweet, evolving technology has given rise to a more balanced mallow, making them even more addictive than before.
Artisan marshmallow makers whip up dreamy flavors and dips to transform the simple squares into gourmet delicacies that far exceed the old-school jet puffed variety from the 1950s. Shouldn't your snacking habits get with the times, too?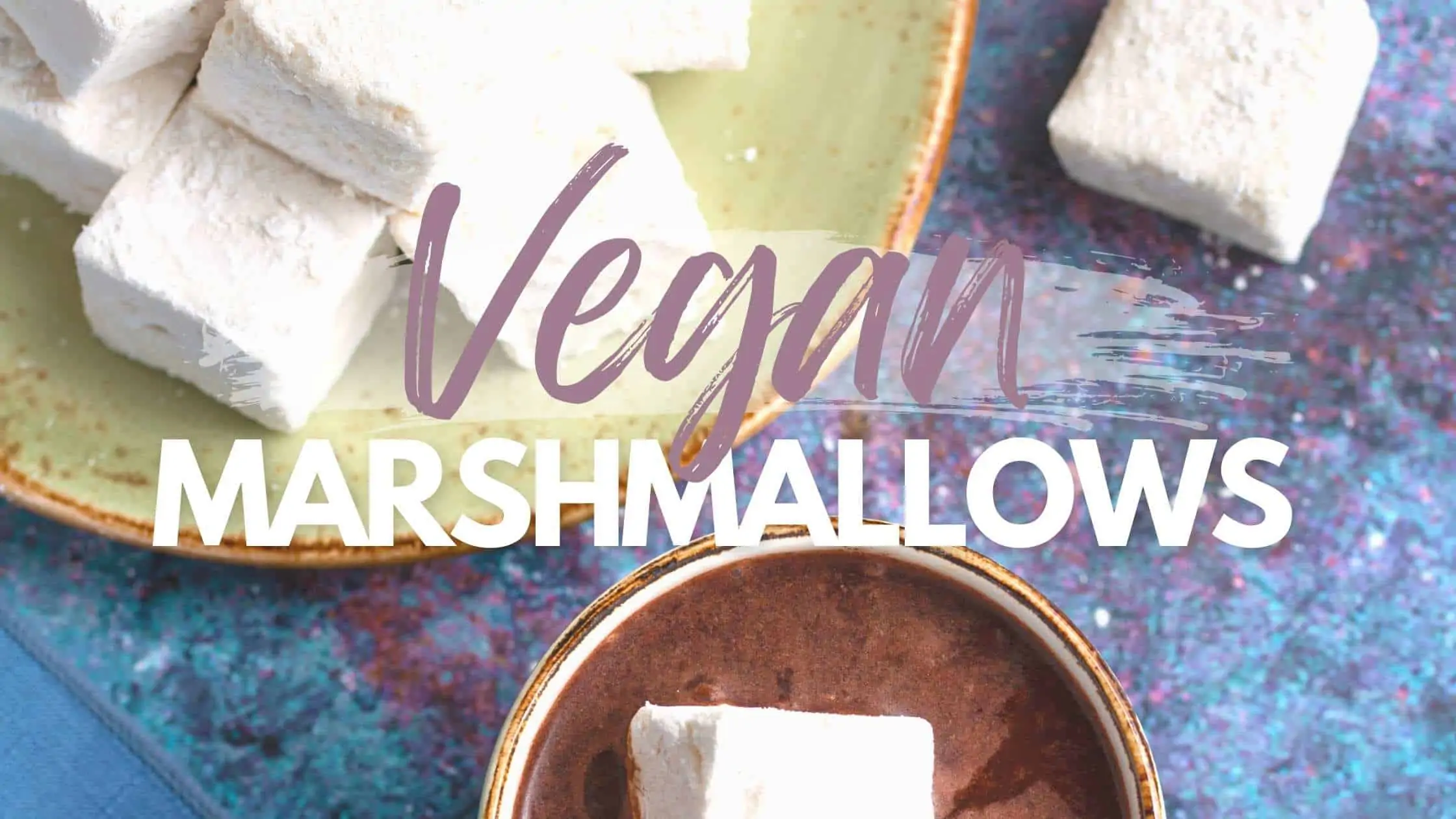 Why Aren't All Marshmallows Vegetarian?
It's a common mistake made by fledgling vegetarians and vegans. Who could ever be suspicious of such an innocent, nostalgic childhood indulgence? Marshmallows are mostly whipped sugar, after all. Unfortunately, the gelling agent that keep their bouncy shape (gelatin) is made straight from animals, and that's not all. These are what you need to look out for when shopping for vegan and vegetarian marshmallows:
Gelatin: Found in almost all commercial marshmallows, gelatin is derived from ground animal bones, typically pigs, cows, and horses. You may see "kosher gelatin" in some cases, but that just means it's more likely to have come from fish, in compliance with Jewish dietary laws. There is no such thing as vegetarian or vegan gelatin (although there are gelatin alternatives).
Egg whites and egg albumin: More commonly used in gourmet or French marshmallows to make a more velvety texture, egg whites are often used to whip up conventional marshmallow fluff or marshmallow creme as well.
A Note About Sugar: Sugar itself is plant-based, made either from sugar beets or sugar cane, but the way it's processed may involve animals. To clean and clarify granulated sugar to become a pristine white color, it's sometimes passed through bone char filters, which are exactly what they sound like. This is never specified on labels, so you may need to contact the manufacturer if you're concerned. So… is sugar vegan? This question sparks much debate, but most vegans consider sugar vegan. It's a plant-based food and there are no animal products in the ingredients. If you consider the processing of sugar, you'd also need to consider that most of our fruits and veggies are grown using animals products.
Best Brands of Vegan Marshmallows
As awareness of ingredient quality grows, so does the demand for better options. Now, there are many places where you can buy vegan marshmallows. Most mainstream grocery stores carry them, either in the natural foods section or the baking aisle. Trader Joe's even has their own house brand of mini marshmallows that are "accidentally" vegan! Next time you're shopping for something sweet, look for these brands at the store.
A pioneer in the field, Dandies was the one of the first companies devoted to entirely plant-based marshmallows starting in 2009 by Chicago Soy Dairy. They make full-sized cylinders ideal for roasting over a fire to make s'mores, and mini mallows perfect for topping cups of hot cocoa. There's also seasonal flavors like maple, pumpkins spice, and peppermint during the autumn and winter months. They also have Campers—extra large, vanilla-flavored marshmallows for camping! You can find these at Whole Foods Market, Sprouts, natural foods stores, some mainstream grocery stores, and on Amazon.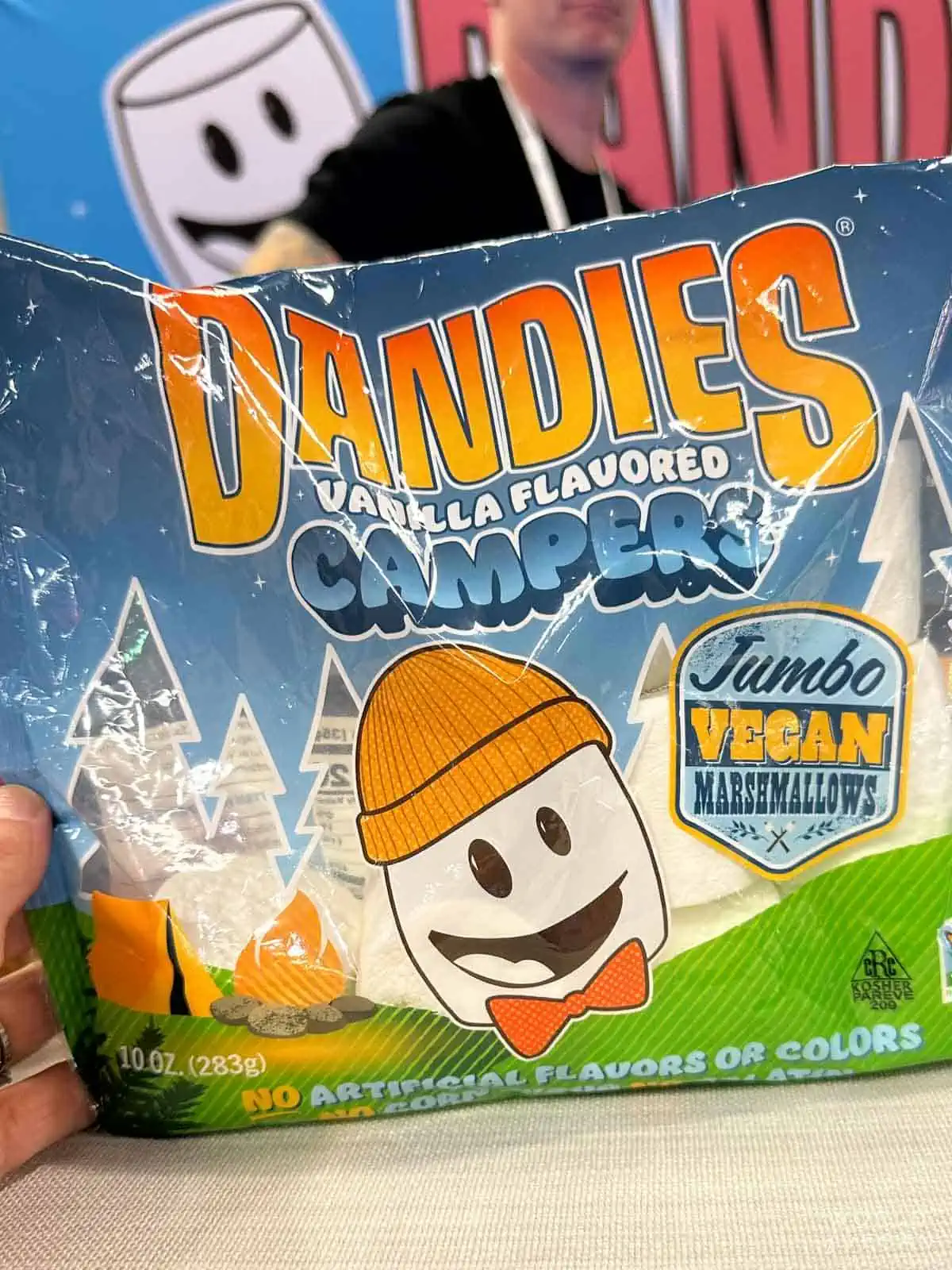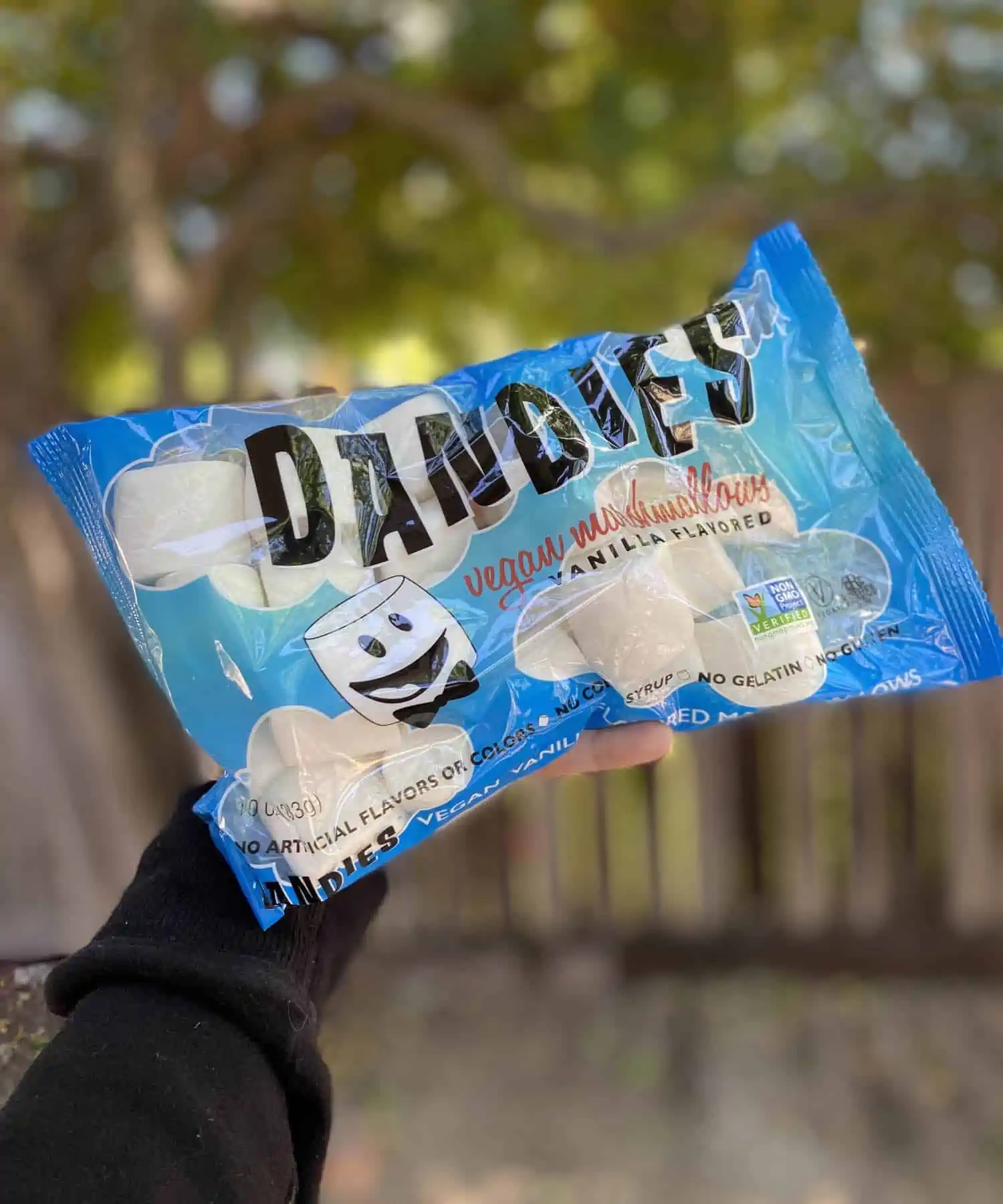 While the entire company isn't vegan, they do make a specifically gelatin-free line of marshmallows, sold only at Walmart. Availability can be limited, so double-check with your local store before heading out.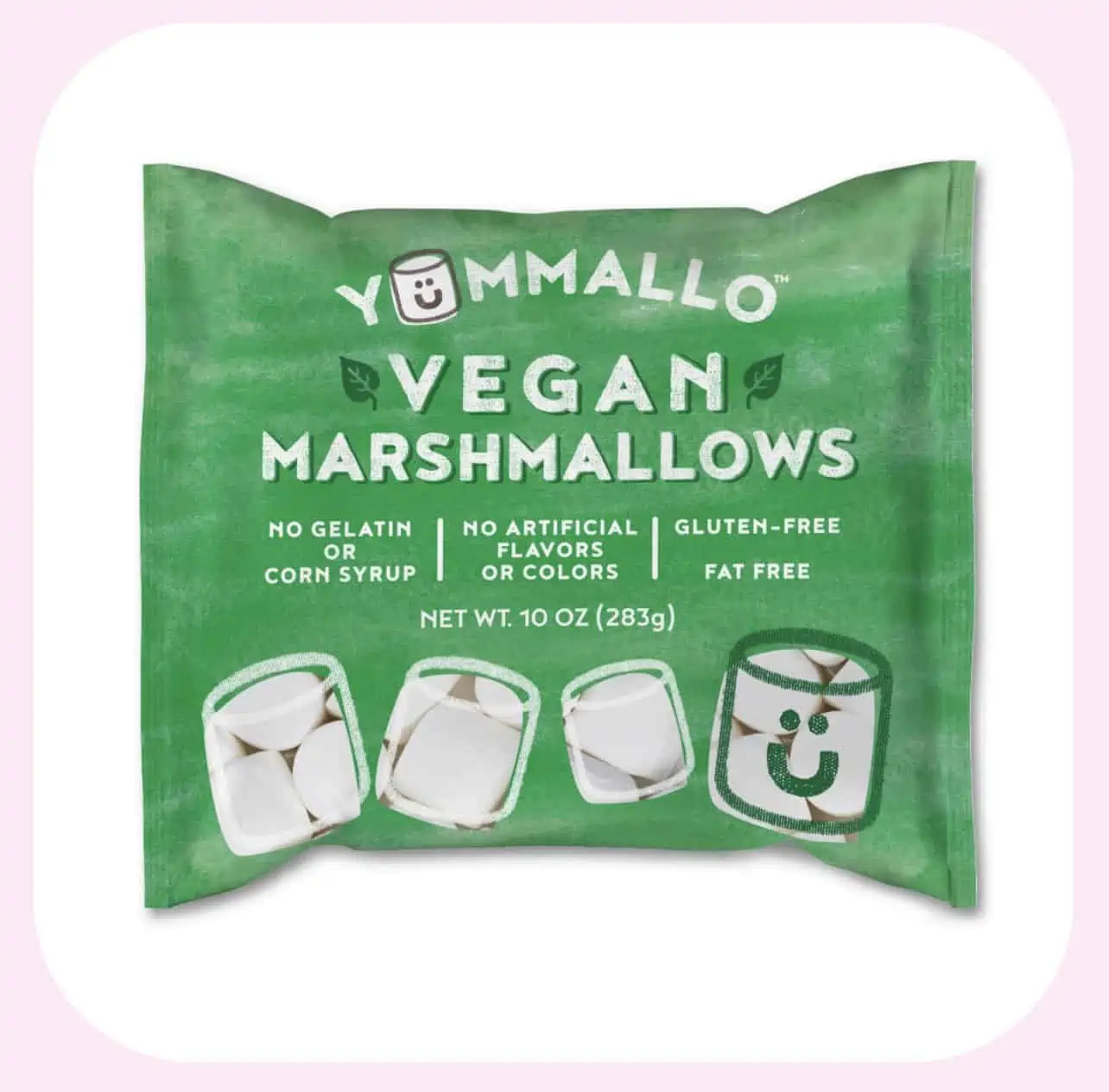 Trader Joe's Mini Marshmallows
You might miss it if you're not looking closely because these don't explicitly say "vegan" loud-and-proud on the front of the package. But take a peek at the ingredient label and you'll find that these marshmallows are vegetarian and vegan. Rumor has it that they're repackaged Dandies sold at half the price!
Vegan Marshmallow Cream Brands
Suzanne's Specialties Ricemellow Creme: Before we had whole marshmallows, we had sticky, spreadable Ricemellow Creme. This wholesome alternative to conventional marshmallow fluff is made with soy protein and brown rice syrup. These blue and white tubs have slowly fallen out of favor, fading away from mainstream markets, but are still available from some online stores.
Dandies: This brand makes the list again for their fluffy vegan marshmallow cream. Free from corn syrup and top allergens, this light-as-a-cloud treat is perfect for vegan fluffernutter sandwiches and anything else that loves marshmallow cream!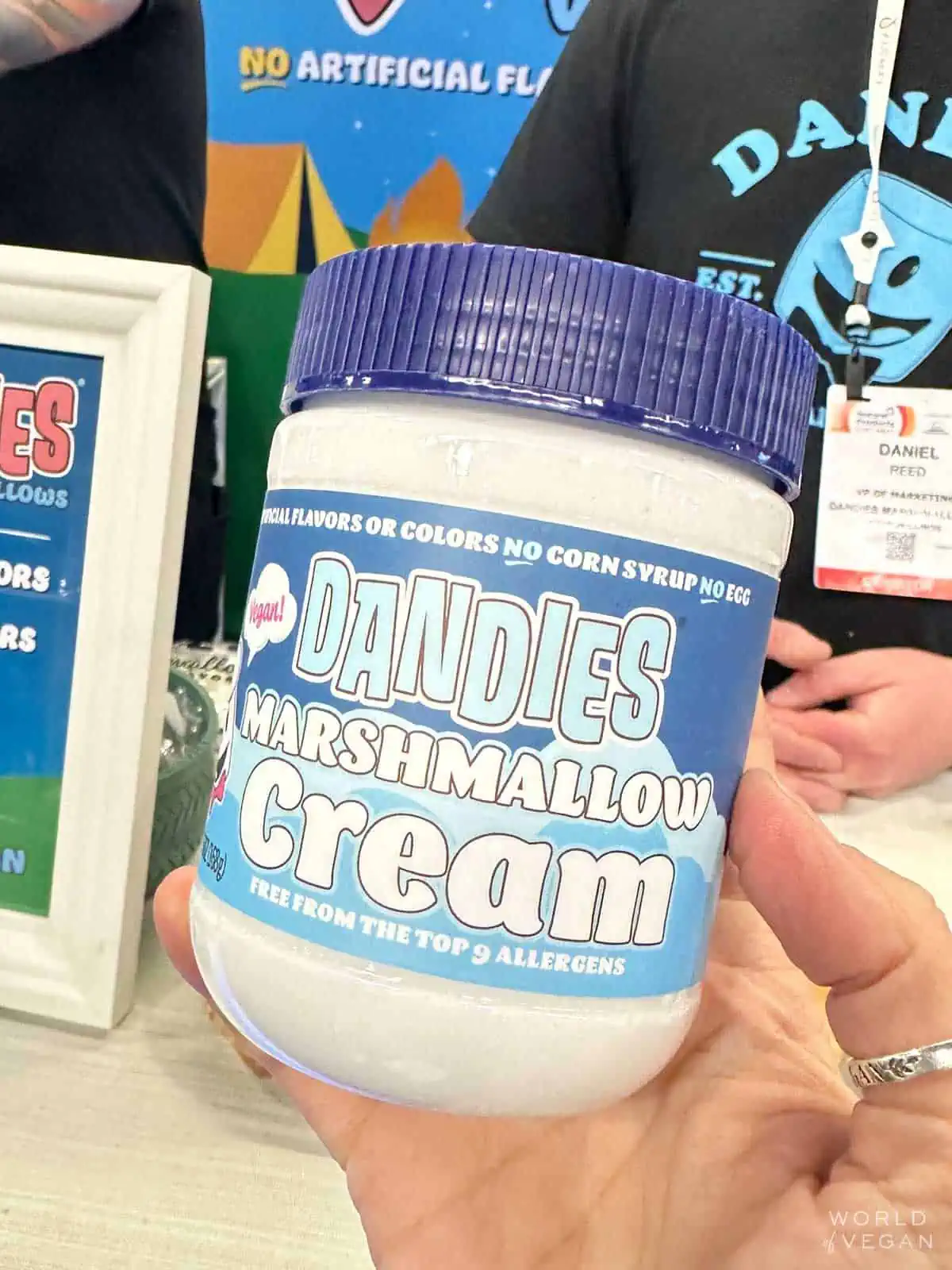 Funky Mello: Smooth, gooey, and stunningly clean marshmallow cream is now accessible to everyone! Made from the magic of aquafaba, AKA chickpea brine, these spreads are free of all common allergens. They come in vanilla, strawberry, and cookie flavors to make every dollop delicious. You can find them online and in select Whole Foods Markets now, with more locations coming soon.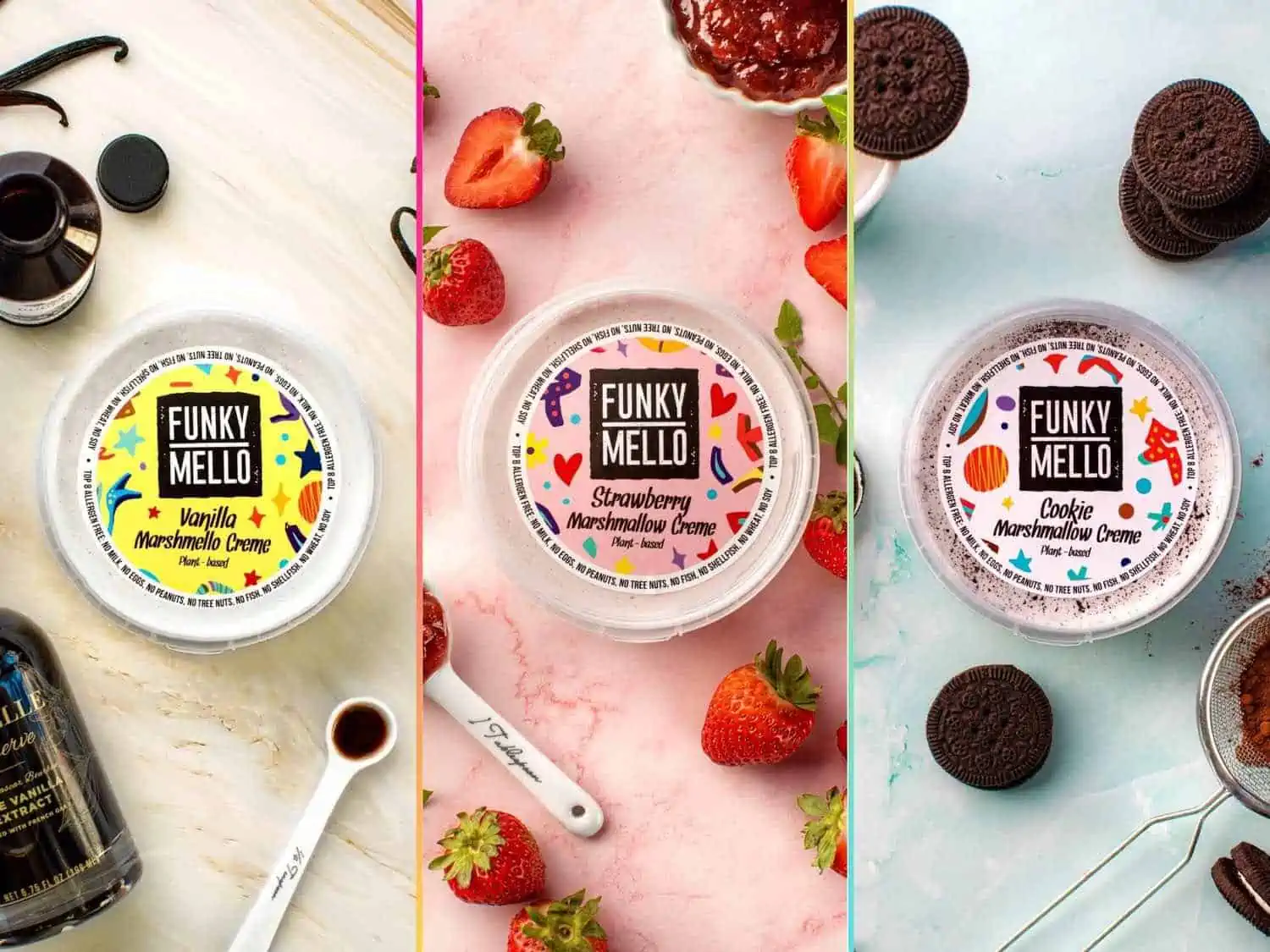 Recipes to Make with Vegan Marshmallows
Lightly caramelized over an open flame, a freshly roasted marshmallow is a thing of beauty. Even if it's slightly burnt, that crunchy exterior that gives way to a sticky, liquefied center is still completely crave-worthy. Marshmallows are already delicious straight out of the package, but using them as ingredients other treats creates a next-level mallow experience.
Dairy-Free Hot Chocolate: Drop a handful of white marshmallows in your hot and steamy vegan sipping chocolate for the perfect cozy drink.
Vegan Hot Cocoa Mix: Prep a batch of this hot cocoa mix for the winter season or as a DIY holiday gift for friends. Add in in some mini vegetarian marshmallows to complete the package!
Marshmallow Hot Cocoa Rolls: Wrap up mini marshmallows and hot cocoa mix in buttery, yeasted dough and seal the deal with a sticky homemade marshmallow glaze.
Vegan Rice Krispie Treats: No matter how old you get, you can't outgrow this classic combination of crunchy puffed cereal and melted marshmallows.
Vegan Strawberry Marshmallow Ice Cream: Melted marshmallows make the base of this dairy-free frozen dessert smooth and scoopable straight out of the fridge, with fresh marshmallow flavor for a summery twist.
Marshmallow-Topped Vegan Sweet Potato Casserole: Coconut milk, warm spices, toasted pecans, and vegan marshmallows updates the classic sweet potato casserole for an unforgettable Thanksgiving feast.
Two Ingredient Marshmallow Fudge: Better than "fantasty fudge," these dark, decadent, rich chocolate squares come together in mere minutes.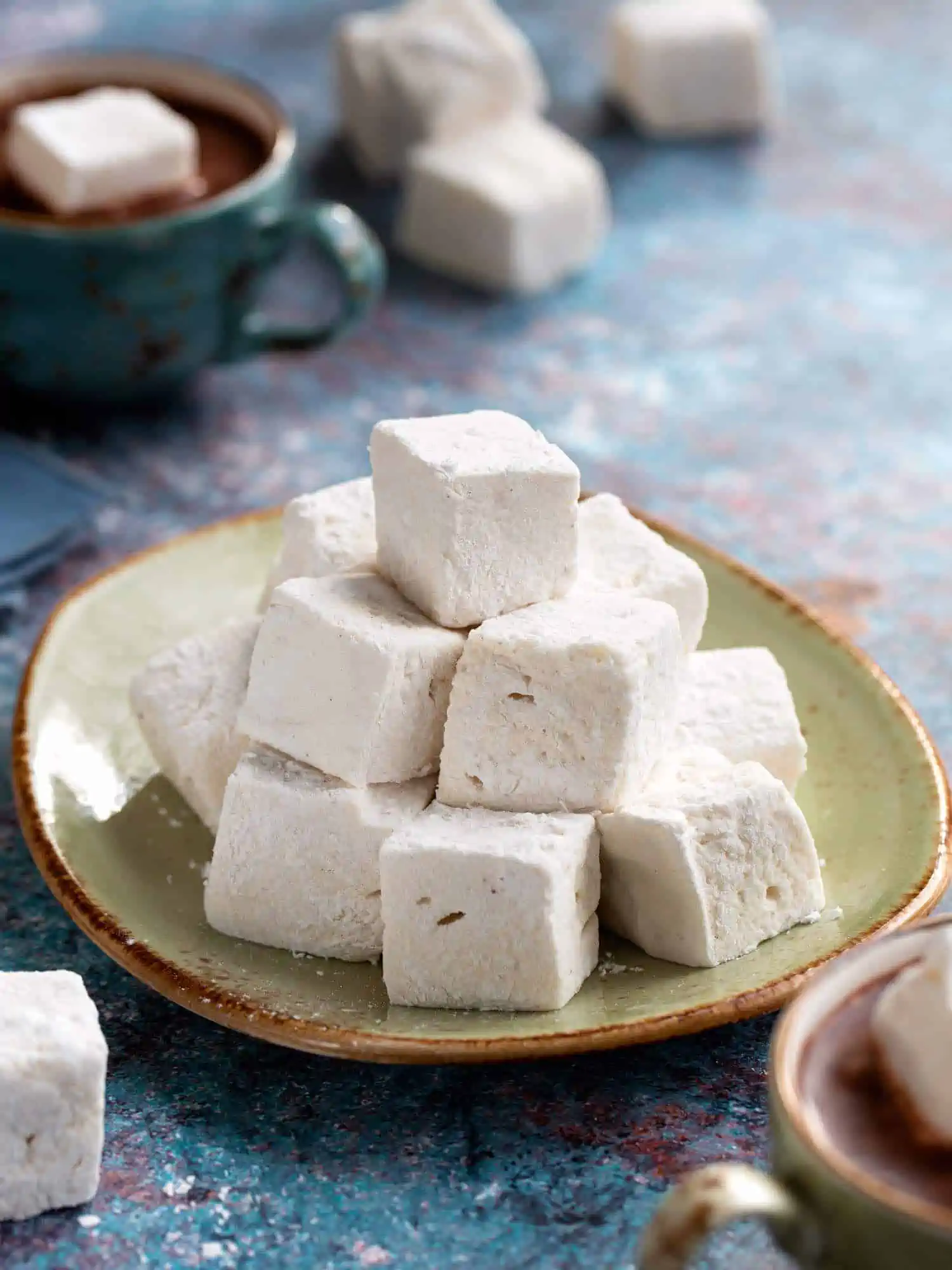 Frequently Asked Questions
Q: Can I veganize a traditional marshmallow recipe by replacing the gelatin with agar?
A: Unfortunately, no. Marshmallows have a very specific structure and while agar can make a good gelatin substitute in some cases, it would create something more like foamy jello in these recipes.
Q: Can I make sugar-free marshmallows?
A: Since sugar is the primary ingredient in all marshmallows, vegan or not, it's really difficult to replace it entirely with alternative sweeteners. You may have better success creating a marshmallow creme, which can be made entirely with low-glycemic liquid sweeteners like maple syrup.
Q: Are vegan marshmallows gluten-free?
A: Yes! Marshmallows contain no wheat or gluten ingredients, so they're perfectly safe for those with celiac disease. If you have an extreme sensitivity, however, check to make sure that they're not produced in a factory that shares equipment with other gluten-containing products.
Q: Where can I buy vegan cereal marshmallows?
A: Otherwise known as marbits, these tiny, dehydrated marshmallows are the best parts of many kid's cereals. While there aren't any complete packaged marshmallow cereals that are vegan, you can make your own Vegan Lucky Charms from scratch if you're feeling ambitious.
Q: Will vegetarian marshmallows melt?
A: Most marshmallows are stable at room temperature, but will slowly dissolve when you apply heat. That means they'll melt into a mug of hot cocoa or dissolve into a hot syrup when cooked. If you live in a particularly hot or humid climate, it's still best to store them in an airtight container in the fridge to be safe.
The BEST Recipe for Vegan Marshmallows
Are you having trouble finding store-bought vegetarian marshmallows? Or are you a crafty lover of homemade sweets? Make your own homemade marshmallows from scratch! This recipe by Hannah Kaminsky will have you tying up your apron and licking your fingers in no time. This recipe has been tried, tested, and perfected, and is the ultimate way to make your own marshmallows at home. All without harming a soul!
Homemade Marshmallow Ingredients
There are some ingredients that may be unfamiliar to you, such as:
Cream of Tartar (a byproduct of fermenting grapes for wine that is commonly used in baking as a stabilizer and for other purposes)
Xanthan gum (a polysaccharide commonly used as a thickening agent, emulsifier, and stabilizer)
Agar-agar powder (used in place of gelatin, agar is derived from seaweed and is also used in recipes like jello, puddings, and marshmallows as a gelatin alternative).
Tapioca starch (this fine powdered starch comes from the roots of the cassava plant and creates a chewy consistency, which you can imagine if you've tried tapioca pudding or boba tea.)
But you can easily find these at most grocery stores or online. We linked to he more unique ingredients on Amazon in the recipe card to make it easy!
If aquafaba is new to you, we have a whole "What is Aquafaba" guide that you should definitely take a peek at. Aquafaba is the liquid brine from chickpeas that have been cooked—and it's a magical ingredient and egg substitute in vegan recipes. You can get aquafaba by simply opening a can of chickpeas (aka Garbanzo beans), and pouring out the liquid into a bowl. That liquid is your aquafaba! Alternately, you can cook chickpeas yourself and use the liquid they cooked in as your aquafaba.
Lightly grease a 13 x 9-inch baking dish and set aside.

Place 1 cup of the aquafaba and cream of tartar in your stand mixer with the whisk attachment installed and beat to stiff peaks. Slowly sift in the xanthan gum while the motor is running, until completely incorporated. Pause when the mixture is thick and fluffy. This can take about 10 – 15 minutes. 

Meanwhile, combine the sugar, and agar in a medium saucepan with the remaining ½ cup of aquafaba, water, vanilla bean seeds, and extract. Stir once to moisten all the sugar and then keep your spatula out of it! Gently swirl the pan from this point forward to prevent the mixture from crystalizing. Bring to a boil and cook until it reaches 250 degrees.

Turn the mixer up to high speed and very carefully stream the sugar syrup in. Beat for one minute longer before quickly transferring the sticky fluff to your prepared baking dish. Work quickly as it will begin to set as soon as it cools.

Let rest at room temperature for 30 minutes before wrapping the whole tray in plastic and refrigerating for at least 4 hours, or ideally overnight.

When thoroughly chilled, turn out the massive mallow onto a clean counter coated generously with tapioca or potato starch. Use kitchen shears or a very sharp knife coated with more starch to slice small cubes. Toss each once in the starch to coat, to prevent them from sticking to one another.
When you store these in an airtight container in the fridge, the marshmallows will keep for at least 5 days. Just note, as you let them sit they will get progressively softer and stickier. 
Calories: 1788kcal | Carbohydrates: 458g | Protein: 0.01g | Fat: 2g | Sodium: 202mg | Potassium: 295mg | Fiber: 5g | Sugar: 400g | Calcium: 20mg | Iron: 1mg
This phenomenal homemade vegetarian marshmallow recipe is reprinted with permission from Super Vegan Scoops: Plant-Based Ice Cream for Everyone by Hannah Kaminsky. Vegan marshmallow recipe photos and Funky Mello photo by Hannah Kaminsky. Dandies photo by Michelle Cehn. This article may include affiliate links when available and shopping through these links supports World of Vegan.