A bowl of cereal with plant-based milk is a delicious breakfast option—but is cereal vegan? What are the best vegan-friendly cereal brands available in stores? Lucky for you, nowadays, there are many vegan cereal brands that you can find easily.
In this article, you will find which common ingredients make most conventional cereal non-vegan and a list of 54+ vegan-friendly cereal brands.
Let's begin!
Common Ingredients That Make Cereal Non-Vegan
In most cereals, you can easily find various animal-derived ingredients, making many mainstream brands non-vegan.
Most common & sneaky non-vegan ingredients that you can find in cereal include:
Vitamin D – You can find two forms of Vitamin D – Vitamin D3, which comes from animals, such as sheep's wool, and Vitamin D2 from plants, like lichen. Most cereal brands add Vitamin D3, which makes it non-vegan.
Lanolin (also called Cholecalciferol) – An oil that sheep produce in their wool. It is added to create a coating on the cereal and make it water-resistant.
Processed (white) sugar – White sugar is processed with animal bone char in the commercial food industry. However, any cereal that uses raw, unrefined, organic sugar isn't filtered through bone char, and it is vegan friendly.
Gelatin – Gelatin is a protein that comes from boiling animal skin, tendons, bones, and ligaments with water.
Lecithin – An emulsifier found in egg yolks, the tissues and organs of many animals. It is commonly used as a sticking agent to keep all the ingredients together and balance the chewy, crunchy texture. A vegan-friendly alternative is soy lecithin or sunflower lecithin.
Tocopherol – Added for preservation to prevent color fading. It may or may not be vegan. It refers to Vitamin E, which can be derived from plant, animal, or petroleum sources.
Whey powder – Derived from animal-based milk.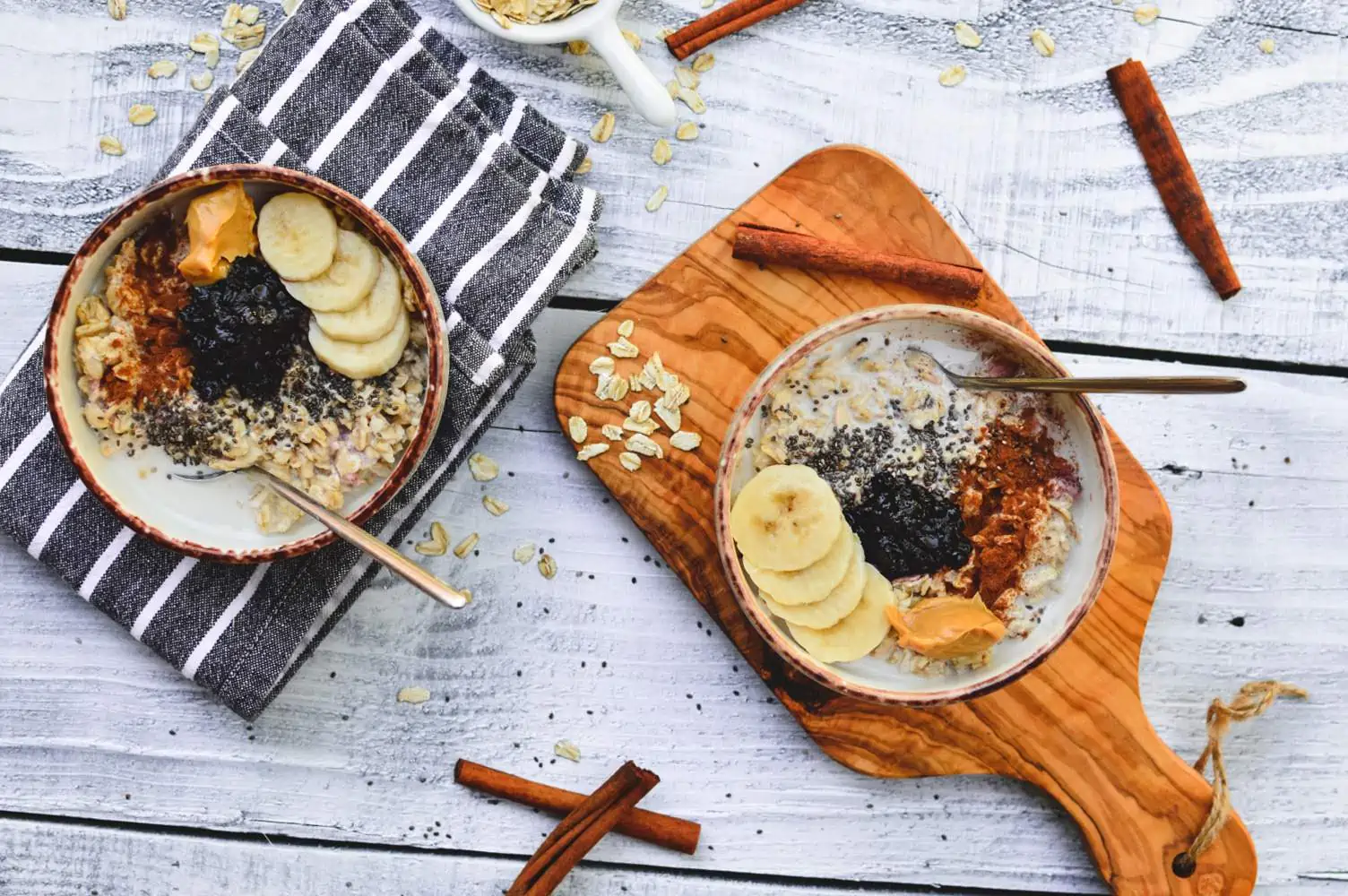 Vegan-Friendly Cereal Brands:
Barbara's Organics isn't a fully vegan brand, but they have many vegan-friendly cereals: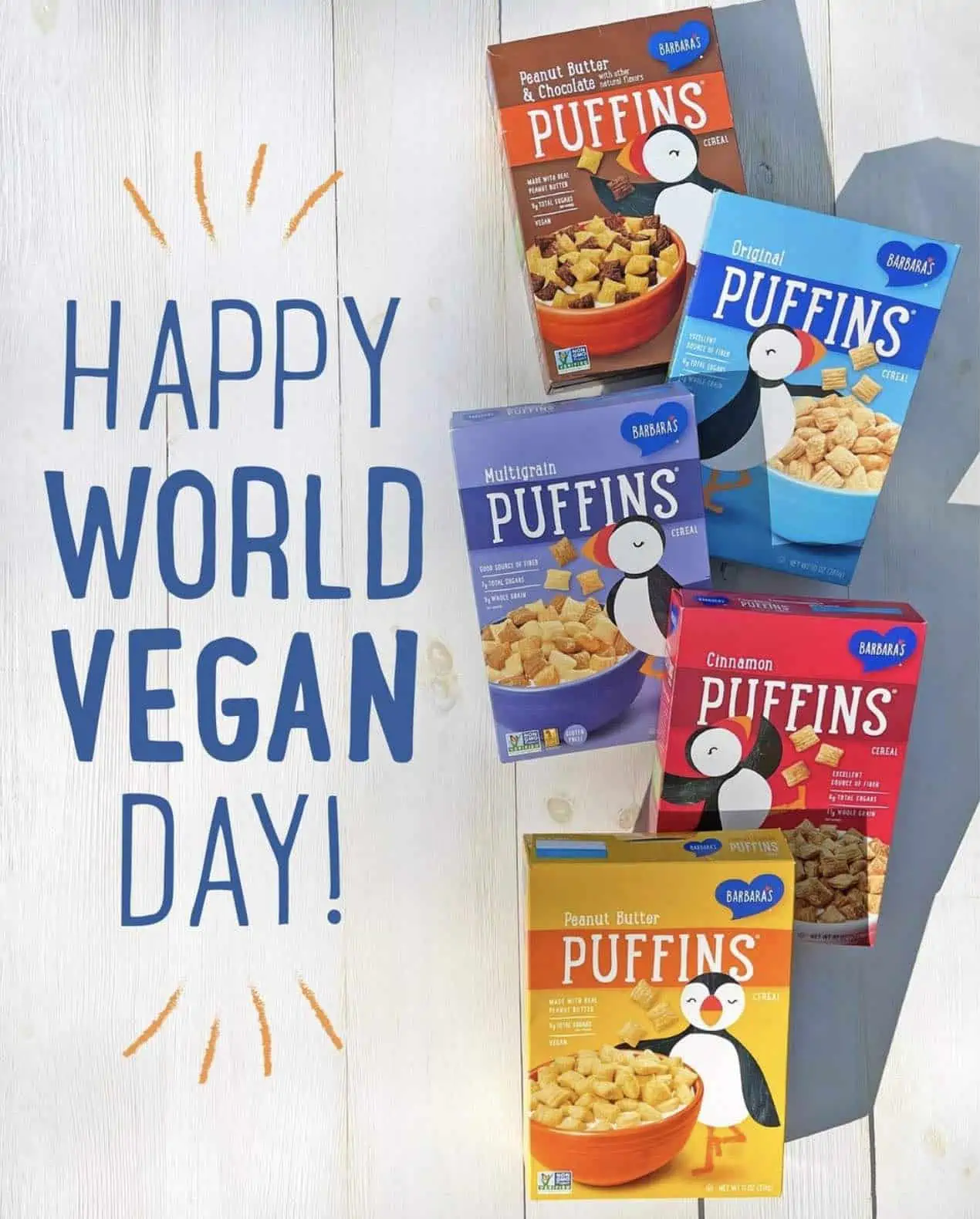 Their vegan-friendly options include: Purely O's, Cinnamon Crunch, Vanilla Crisp, Berry Vanilla Puffs, and Whole Grain Crunch Cereal.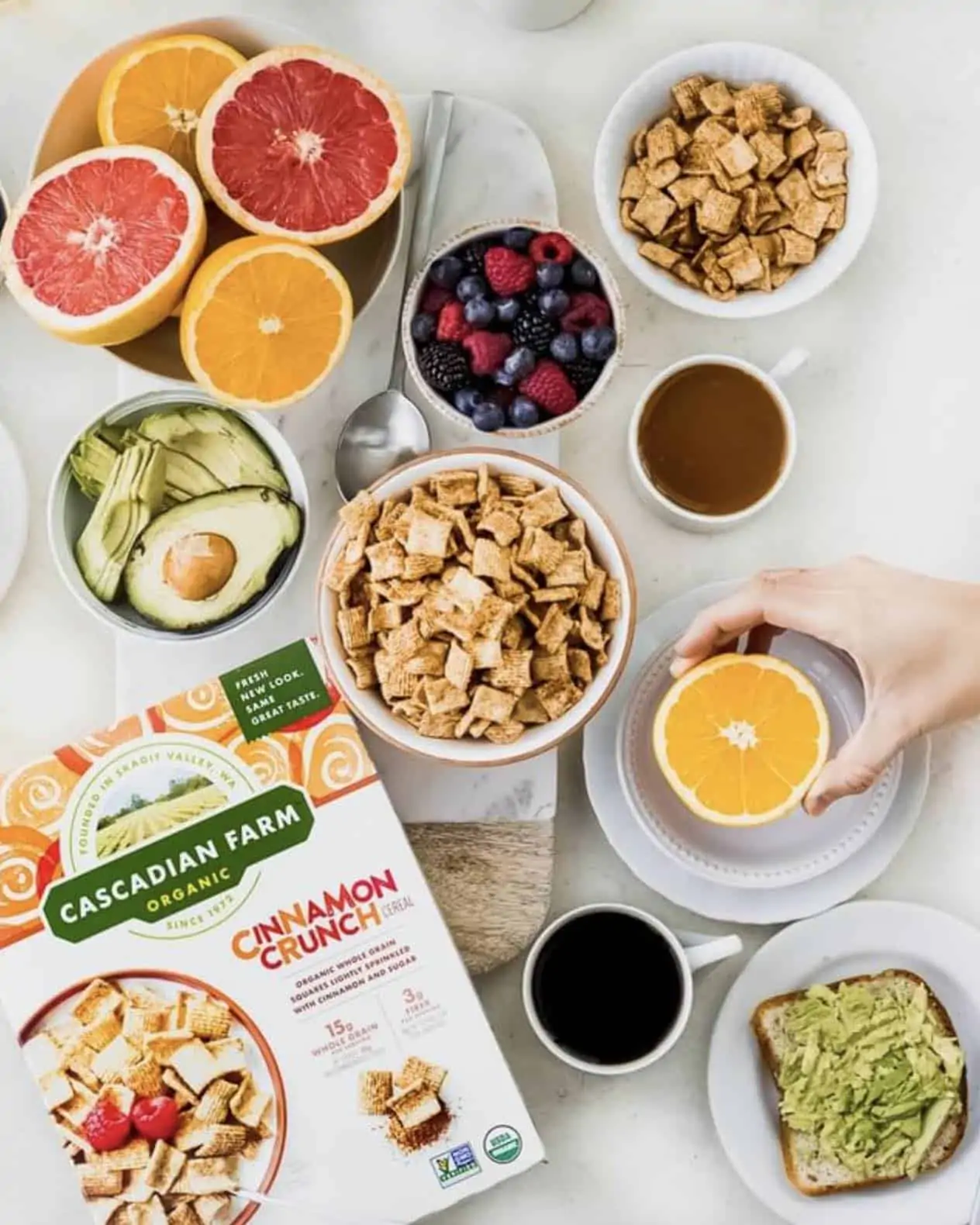 One Degree's vegan cereal options include: Sprouted Maize Flakes, Brown Rice Cacao Crisps, Sprouted Oat O's.
Kashi is another cereal brand that offers many different cereals, and the majority (but not all) of them are vegan. The most common non-vegan ingredients they use is usually honey, but the following Kashi cereals are 100% vegan-friendly:
You can currently find 43 vegan-friendly cereals on their website with many different shapes, flavors, and many gluten-free and organic options. They also have many super-cute and colorful kid-friendly vegan cereals. Options include (but are not limited to):
Gorilla Munch
EnviroKidz Koala Crisp
Panda Puffs
Coco Chimps
Leapin' Lemurs
Cheetah Chomps
Rhino Rolls
Turtle Splash
Sunrise Crunchy Vanilla
Fruit Juice Corn Flakes
Mesa Sunrise Flakes with Raisins
Rice Puffs
Crispy Rice (like Rice Krispies)
Whole O's (like Cheerio's)
Love Crunch
Ideal if you are looking for a vegan & healthier cereal alternative. Their vegan cereal flavors include: Whole Grain Cereal, Cinnamon Raisin, Sprouted Flakes, Golden Flax.
365 Everyday Value (the Whole Foods store brand)
You can choose between: Organic Morning O's, Corn Flakes, Raisin Bran, Wheat Waffle Cereal, or Wheat Squares.
15 Vegan-Friendly Mainstream Cereals
Trader Joe's Cereal
Trader Joe's has several accidentally vegan cereal options, including –
Joe's O's – Peanut-free, tree nut-free, dairy-free, soy-free and vegan-friendly. Whole grain oats, modified corn starch, sugar (possibly controversial ingredient), oat fiber, salt, tripotassium phosphate, and vitamin E.
Neapolitan Puffs – It is made with garbanzo beans and has cane sugar. It is kosher and gluten-free.
Panda Puffs – Peanut butter organic puffs that are crunchy, sweet, satisfying, and accidentally vegan! All the ingredients they contain include – whole-grain cornmeal, cornmeal, cane sugar, peanut butter, soy oil, sea salt, and vitamin E.
Crunchy Maple Ladders – Another Trader Joe's accidentally vegan cereal; it is also made with very clean ingredients, so it is an excellent healthy cereal option.
Bran Flakes – Crunchy, healthy, and vegan-friendly option. The cereal flakes are made with organic wheat and organic wheat bran.
Cocoa Crunch – A healthier cocoa puffs, which turned out to be vegan friendly, too.
Cap'n Crunch
Cap'n Crunch contains ingredients like artificial colors, palm oil, and sugar, which can be controversial. However, it doesn't have Vitamin D, honey, whey, gelatin, etc. If this is acceptable for you, the vegan options from Cap'n Crunch include:
Quaker
A well-known brand that has a handful of accidentally vegan cereal options:
General Mills Fiber One
Fiber One Original is a vegan-friendly cereal option by General Mills. Most of their other cereals aren't vegan-friendly because they are fortified with Vitamin D3 and contain pyridoxine hydrochloride, often derived from non-vegan sources.
Kellog's Mini-Wheats
Kellog's Mini-Wheats only contain whole grain wheat, iron, and folic acid, making the cereal vegan-friendly.
Make Your Own Vegan Granola
A great DIY alternative to store-bough cereal is granola. You can off course find dozens of brands in the grocery store (watch out for honey). But granola is one of the easiest foods to make yourself! Check out our vegan maple brown sugar granola recipe to see how it's done. It's delicious.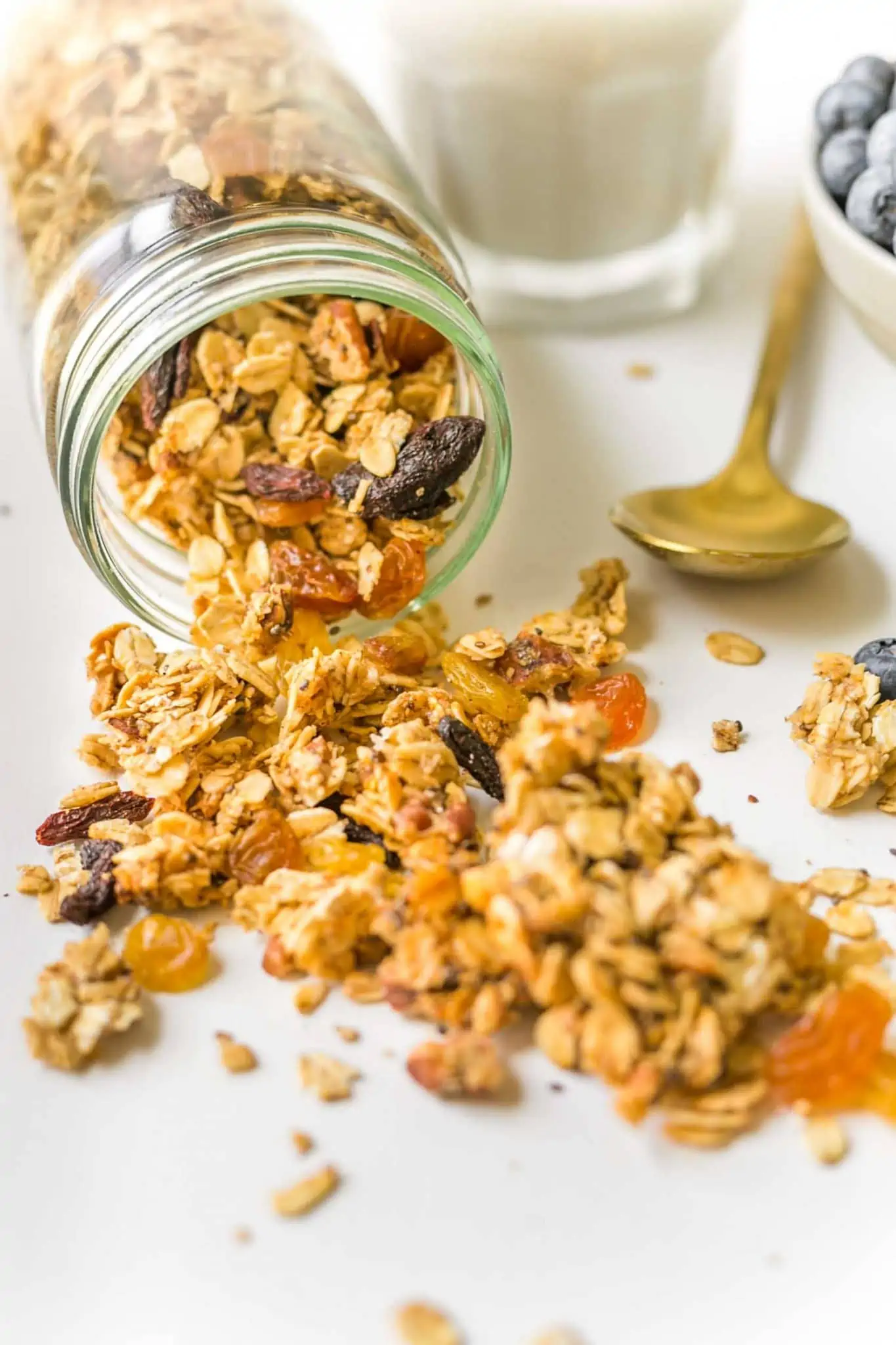 FAQ:
Are Cheerios Vegan? 
Cheerios aren't vegan. It contains honey, and it is fortified with Vitamin D3.
Is Captain Crunch Vegan?
The vast selection of Captain Crunch cereals is, in fact, plant-based and vegan-friendly. It contains no dairy, gelatin, vitamin D3, or honey.
Are Fruity Pebbles Vegan? 
Unfortunately, Fruity Pebbles are not vegan; they contain Vitamin D3.
Is Frosted Mini-Wheats Vegan?
Even though rare in cereal, Frosted Mini-Wheats contain gelatin, making them non-vegan.
Are Cocoa Pebbles Vegan?
Cocoa Pebbles are not vegan certified and contain Vitamin D3. 
Are Cocoa Puffs Vegan?
Unfortunately, Cocoa Puffs made by General Mills (The Original/Popular ones) are not vegan because they contain Vitamin D3 derived from lanolin.
Is Cinnamon Toast Crunch Vegan? 
The Cinnamon Toast Crunch is not considered a vegan product because of Vitamin D3.
Are Fruit Loops Vegan?
Vitamin D3 is also present in Fruit Loops, making it a non-vegan cereal.
Vegan Cereal Takeaways
As you can see, there are plenty of vegan-friendly cereal brands and options. It is always best to double-check the label before purchasing any store-bought cereal or food. Often, brands change their formulas or use sneaky ingredients that, unfortunately, make foods non-vegan.
Is there a vegan cereal brand you would like to see on this list? Let us know in the comments below!
We hope you found this vegan cereal guide helpful. Please note that brands and ingredients do change over time, so always check the ingredient label and contact the company directly with questions.
This article was written by Creative Compass. Creative Compass is a vegan-owned marketing team aiming to help vegan and animal-friendly brands and nonprofits make a difference in the world. Please note, this article may contain affiliate links that support our work at World of Vegan. Thank you!