Behold our brand new recipe, Brownie Lovers! When the creamy chocolate craving starts calling to you, these super vegan fudge brownies from The Friendly Vegan Cookbook can (and will) be your best friend. Chewy, sweet, and utterly satisfying, one bite is guaranteed to win you over.
They have the perfect texture and wonderfully rich flavor to tame the Chocolate Monster within. If you have a little bit of patience, make them the night before and devour them the next day. Our brownies are even better after baking and a night of beauty sleep in the refrigerator.
What are we waiting for? Let's get baking!
How to Serve Up Your Vegan Fudge Brownies
These rich and fudgy squares are out-of-this-world on their own, but there are several ways to bring out the best brownie flavor. Which option activates your appetite the most?
Topping Temptation – Chop up into tiny, bite-sized bits and sprinkle on top of ice cream, yogurt, or even oatmeal. You'll love the combination of chewy and smooth together. So good!
Pile on the Pie – On the flip side, use your vegan brownie bake as a foundation for a pleasing pie topping. It makes the most mouthwatering pie crust. Just press firmly into the pan, bake, let cool, and then add your toppings. Brownies would work really well as a basis for our No-Bake Chocolate Pie recipe—yum!
Make Festive With Frosting – Create an extra special batch of brownies by coating them in a layer of sweet buttercream frosting. If you or someone you love adore these chewy chocolate squares, they would make the most beautiful birthday cake—just add vegan rainbow sprinkles and a bunch of sparkly candles.
Dare To Be Decorative – Be daring and delve into the world of dried fruit! Instead of, or in addition to, the chocolate chips, toss in a couple of spoonfuls of diced dried apricots or cranberries, raisins, dates, and cherries. If you used to love Cadbury Fruit & Nut chocolate bars, also add in some chopped, roasted peanuts—it'll be incredible!
Simple Storage
We love that vegan brownies are super easy to store (and eat!). If you're lucky to have any leftover, you can either keep them on the countertop at room temperature for up to three days or store them in the fridge for up to a week. You can also freeze them in a covered container for up to 3 months.
To thaw from freezing, simply let the brownies sit in the fridge overnight or on the counter for a few hours. Giving them a zap in the microwave for 30 seconds might help, or better yet, throw a few in the toaster oven for a few minutes with extra vegan chocolate chips on top. Yum!
Equipment You'll Need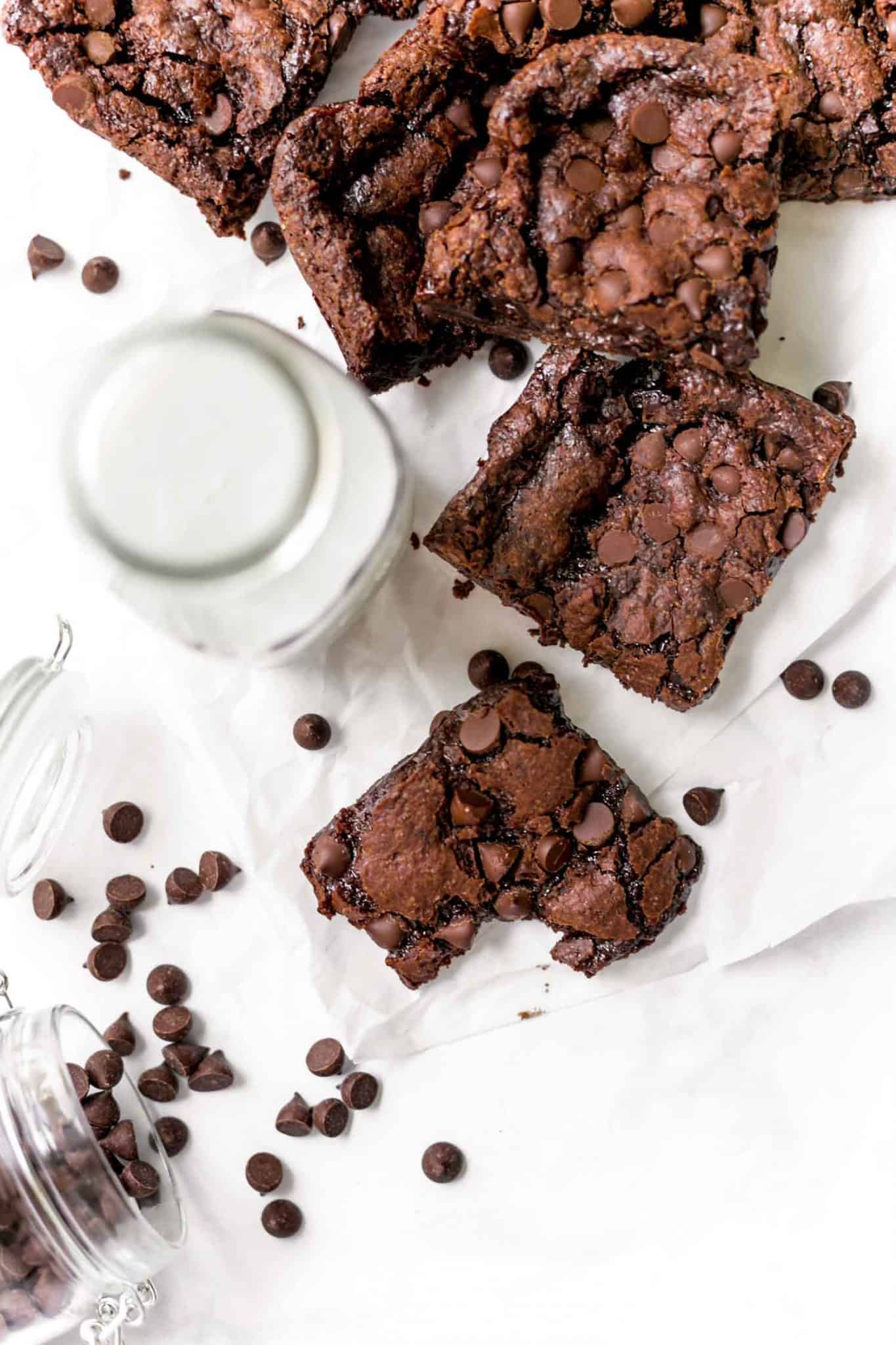 Simple Swap Options & Ingredient Substitutions
We always recommend following our baking recipes precisely since baking in such a delicate art and our recipes have been rigorously tested as they are. But we totally understand if oil is not an option for you or you might not have ground flaxseed in the house. Though the brownies won't be entirely the same flavor or consistency, you can still make, bake, and enjoy them by swapping out some of these ingredients:
Oil-Free? Use an equal amount of applesauce instead of oil.
No Ground Flaxseed? Use an equal amount of chia seeds, ¼ cup of applesauce, or mashed bananas.
Gluten-Free? Use an equal amount of gluten-free flour or replace with ground almond meal (keep in mind that this will increase the fat content).
Allergic to Soy? No worries! Just use a higher fat content and creamy plant milk, such as cashew or oat.
Sugar-Free? Switching this out might make the most flavor difference, but you could use a granulated sugar substitute or liquid sweetener. If you're using a liquid sugar, make sure to reduce the liquid in the recipe by 3 tablespoons. Scour the pantry for maple syrup or agave nectar to make the recipe less processed, as well.
Just note: this recipe has been tried and tested by a whole team of recipe testers and our team exactly as-is written, and baking recipes can be very finicky. We haven't tested the swaps above, so proceed at your own risk! If you give any of these ingredient swaps a try, let us know how it went in the comments below.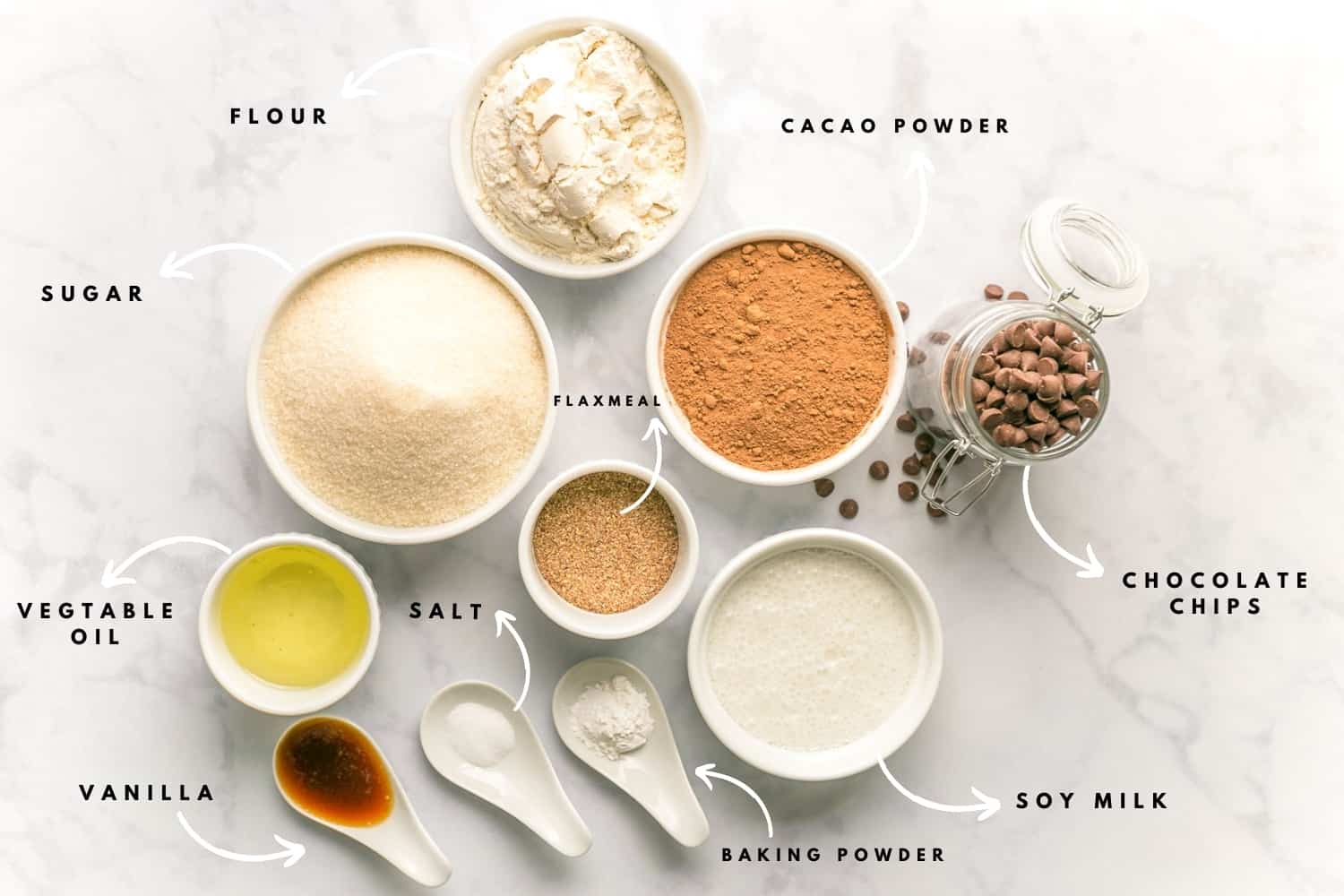 If you try this Vegan Fudge Brownie recipe let us know what you think by leaving a comment and rating below! Be sure to follow along on Pinterest, Instagram and Facebook for even more vegan recipe inspiration.
¼ cup of ground flaxseed meal
½ cup plus 2 tablespoons of soy milk, any variety
1 tablespoon of vanilla extract
2 cups of granulated sugar
1 cup of all-purpose flour
1 cup of cocoa powder
¼ teaspoon of salt
1 teaspoon of baking powder
¼ cup plus 1 tablespoon of canola or vegetable oil
¼ cup of vegan semisweet chocolate chips, for topping
Preheat the oven to 350 degrees F. Line a 9 x 9 inch baking pan with parchment paper.

In a small bowl, mix together the ground flaxseed meal, soy milk, and vanilla extract. Set aside for at least 10 minutes to allow the mixture to thicken.

In a large bowl, combine the sugar, flour, cocoa powder, salt, and baking powder and whisk until well-mixed.

Add the flaxseed meal mixture and canola oil to the dry ingredients and mix until just combined. Do not overmix. The resulting mixture will be VERY THICK, more like dough than batter. Don't worry—that's exactly how it should be for this recipe.

Spoon the thick brownie batter into the prepared baking dish. Sprinkle the top evenly with the chocolate chips.

Bake for 45 minutes. Allow to cool fully in the pan. For the fudgiest texture, refrigerate overnight or for at least 4 hours before slicing and serving.
Yes, you can dive into these right out of the oven. But these brownies are best when enjoyed chilled, straight out of the fridge.
My Brownie Batter is Too Thick—Help!
Don't fret. This recipe is different from most traditional brownie recipes. Instead of a soup-y batter that you can pour into your baking pan, the batter in this recipe should be very thick, more like a brownie dough than a batter. The dough should be scooped and pressed into the brownie baking tin (as pictured).
Are These Fudgy Brownies a Healthy Snack?
Broccoli is a healthy snack. Air fried tofu is a healthy snack. Our creamy mango smoothie is a healthy snack. These brownies are not your hippie dippie "healthy" brownies. These are decadent, gooey, chewy, fudgy, you'll-never-know-they're-vegan brownies. They have the advantage of being 100% plant-based and also homemade, but they do contain sugar and oil and chocolate chips. They're a special treat and great to have on hand when your sweet tooth is tempting you.
They do have some health wins that raise the bar from other brownies. In addition to the calcium and protein from the soy milk, the brownies bring in omega-3s and fiber from the ground flaxseed, and a little bit of theobromine from the cocoa powder. You can boost up the antioxidants by using raw cacao powder, as well.
More Creamy Chocolate Recipes to Try:
Vegan Fudge Brownies recipe Michelle Cehn & Toni Okamoto shared from The Friendly Vegan Cookbook. Photos by J.J Steele. Article written by Gina House and edited by Amanda Meth. Please note that this article contains affiliate links to help support our work at World of Vegan!