Some say eggs are "nature's perfect food," but these people clearly don't know about the problems with eating cholesterol and the cruelty inherent in the egg industry. Yikes, steer left! Let's find some better options.
Eggs have long been one of the most difficult staples to replace on the vegan diet, given their unique nutritional composition and foundational contributions to baking and cooking recipes. It might seem like a struggle to find an equivalent alternative to eggs for such a wide range of applications, but that's not the case!
From basic ingredients you probably already have on hand to amazingly advanced prepared mixes, there's a bold world of plant-based eggs to enjoy with a clear conscience. It is an adjustment if you've been relying on eggs to make your cakes and muffins fluffy all your life. Or if you're a big fan of your morning omelet. But friends, with some simple swaps you'll be egg-free in no time.
Worry no more and take notes because we have all the details on how to rock your recipes with these foolproof egg replacers.
Vegan Egg Substitutes for Baking
Baking is as much an art as it is a science. This makes it particularly tricky to determine what might make the best swap for a simple egg.
Most recipes intend bakers will use "large" eggs, which contain 4 tablespoons or 1⁄4 cup of liquid volume on average. The whites alone are typically 3 tablespoons, while the yolk is 1 tablespoon. Knowing this, we can break it down and better estimate what will work for different sorts of treats.
Handy Measuring Conversions for Baking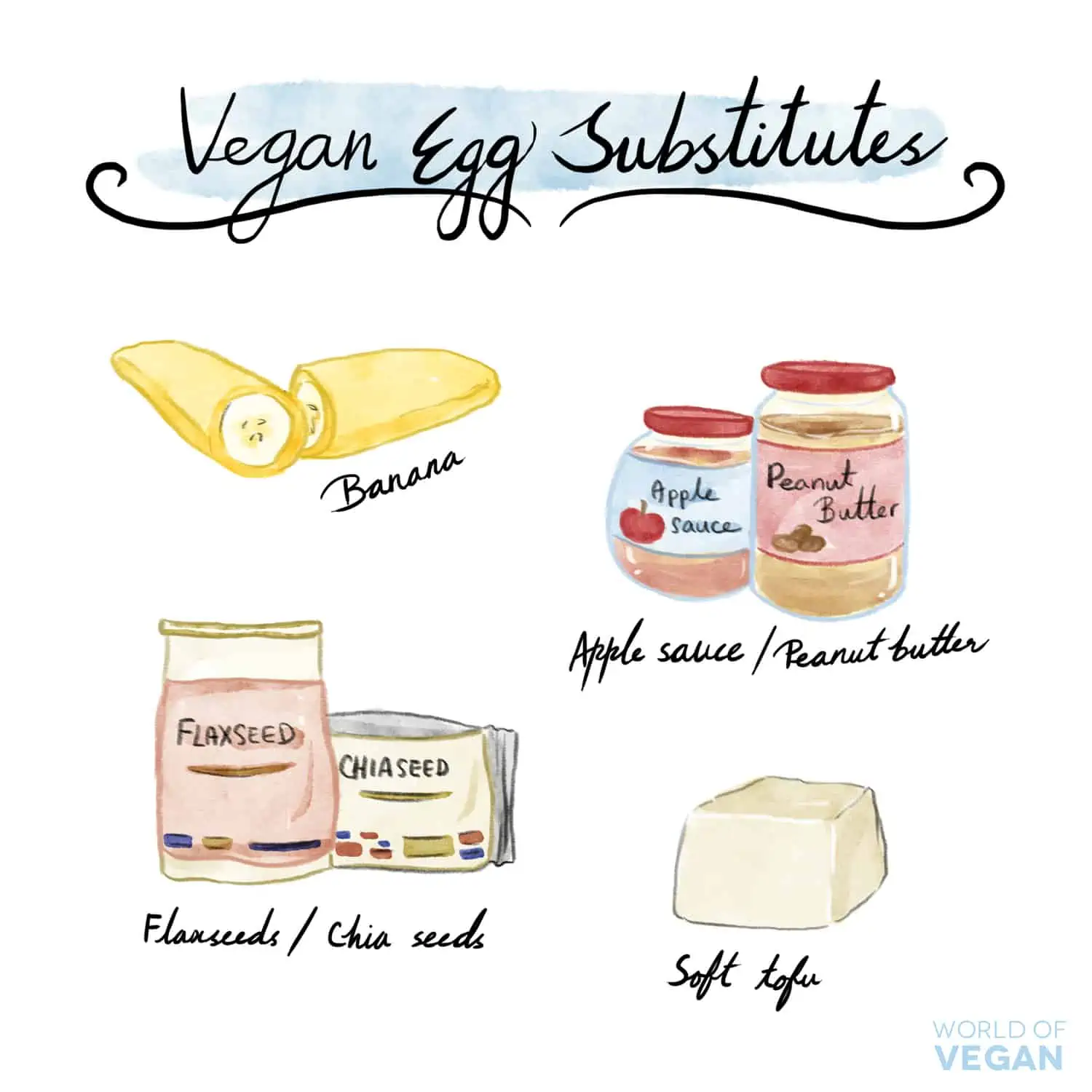 Ground Flaxseeds (Flax Egg)
My personal favorite for baking, ground flaxseeds work the same way by creating a gel with water, ideal for binding, thickening, and emulsifying in both sweet and savory baked goods. There will be subtle flecks of the ground seeds visible, and it can contribute an earthy flavor if used in quantity, so you might want a mixture of ground seeds and another egg replacer if swapping out more than 2 – 3 eggs.
Soak 1 tablespoon of ground flaxseeds in 2.5 tablespoons of water for about 5 minutes. Stir well and use once thickened.
Flax Egg Ratio: 1 Tbsp of ground flaxseeds + 2.5 Tbsp of water = 1 Egg
Applesauce
Quick and easy, smooth, unsweetened, and unflavored applesauce can work well in quick breads, cakes, and muffins. Replace every egg with 1⁄4 cup of applesauce and consider adding an extra 1⁄4 teaspoon of baking powder for a better rise.
Mashed Banana
Banana puree is the ultimate easy egg replacer. Peel, mash and go! It's healthy, you probably already have a banana on hand, and it works like a charm. But only replace 2 – 3 eggs at most this way!
Banana Egg Alternative: 1/4 cup of mashed banana (about 1/2 of a banana) = 1 egg (plus add 1/4 tsp of additional baking powder)
Pureed Pumpkin
Pureed pumpkin acts very similarly to mashed banana, but with a different flavor profile! It has a distinctive flavor and color, though, so only opt for this if you don't mind incorporating those aspects into your treats. Replace only 2 – 3 eggs this way at most.
Pumpkin Puree Egg: 1/4 cup pureed pumpkin = 1 egg (plus add 1/4 tsp of additional baking powder)
Peanut Butter (or any nut butter)
Another amazing use for the queen of nut butters! Peanut butter (or your favorite nut butter) adds elasticity to your recipes and obviously, an amazing flavor. It's possible to use any nut butter if you are allergic to peanuts or do not like the flavor.
Peanut Butter Egg Ratio: 3 Tbsps of smooth peanut butter = 1 egg.
Tip: Making your own peanut butter is so easy—and it can be zero waste! Just get some roasted unsalted peanuts in bulk and process them in your food processor for as long as it takes to get creamy. Don't forget to scrap the sides in between!
Aquafaba (egg white alternative)
The latest and greatest innovation the world of vegan baking has ever seen, aquafaba sounds like a crazy dream, but is an easily obtainable reality. It's the brine in the can of chickpeas that most people would otherwise toss down the drain.
Full of protein, aquafaba is the only plant-powered substance that can be used to make aquafaba whipped cream and replace egg whites. Whipped with a stand mixer, it becomes impossibly light and fluffy perfect for making macarons, meringues, marshmallows, and more.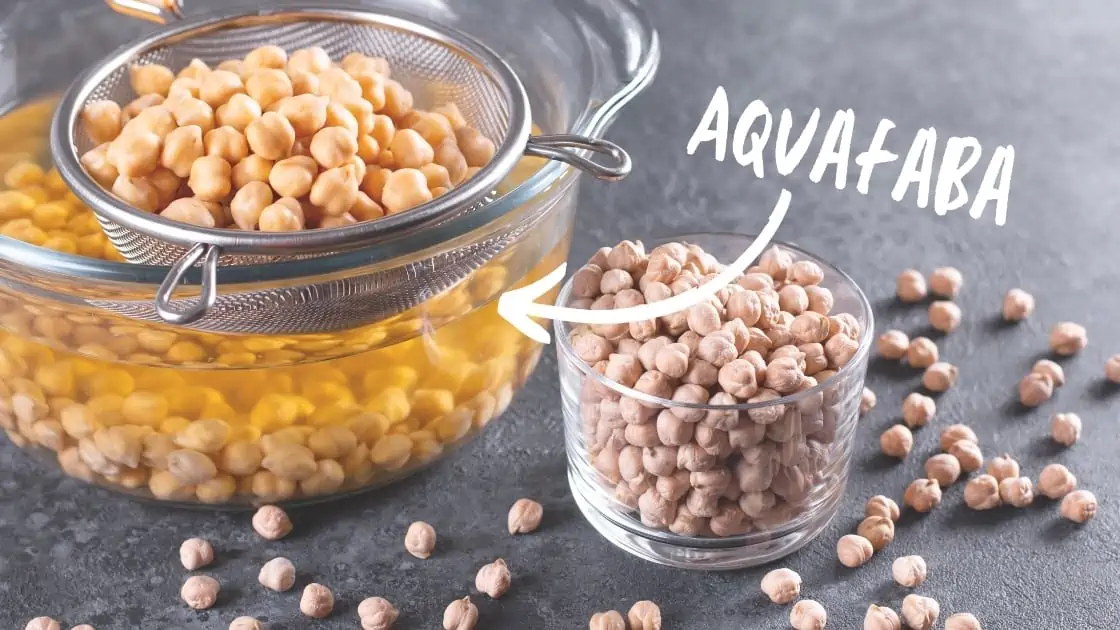 Mashed Avocado (egg yolk substitute)
Fully of healthy fats, creamy avocado is best for taking the place of rich egg yolks, particularly in cookies, mayonnaise, or aioli. The subtly green hue might change the look of your recipe, but it's trendy to be green these days! Use 1 tablespoon of very well mashed or pureed avocado per yolk.
Avocado Egg Yolk: 1 Tbsp avocado =1 egg yolk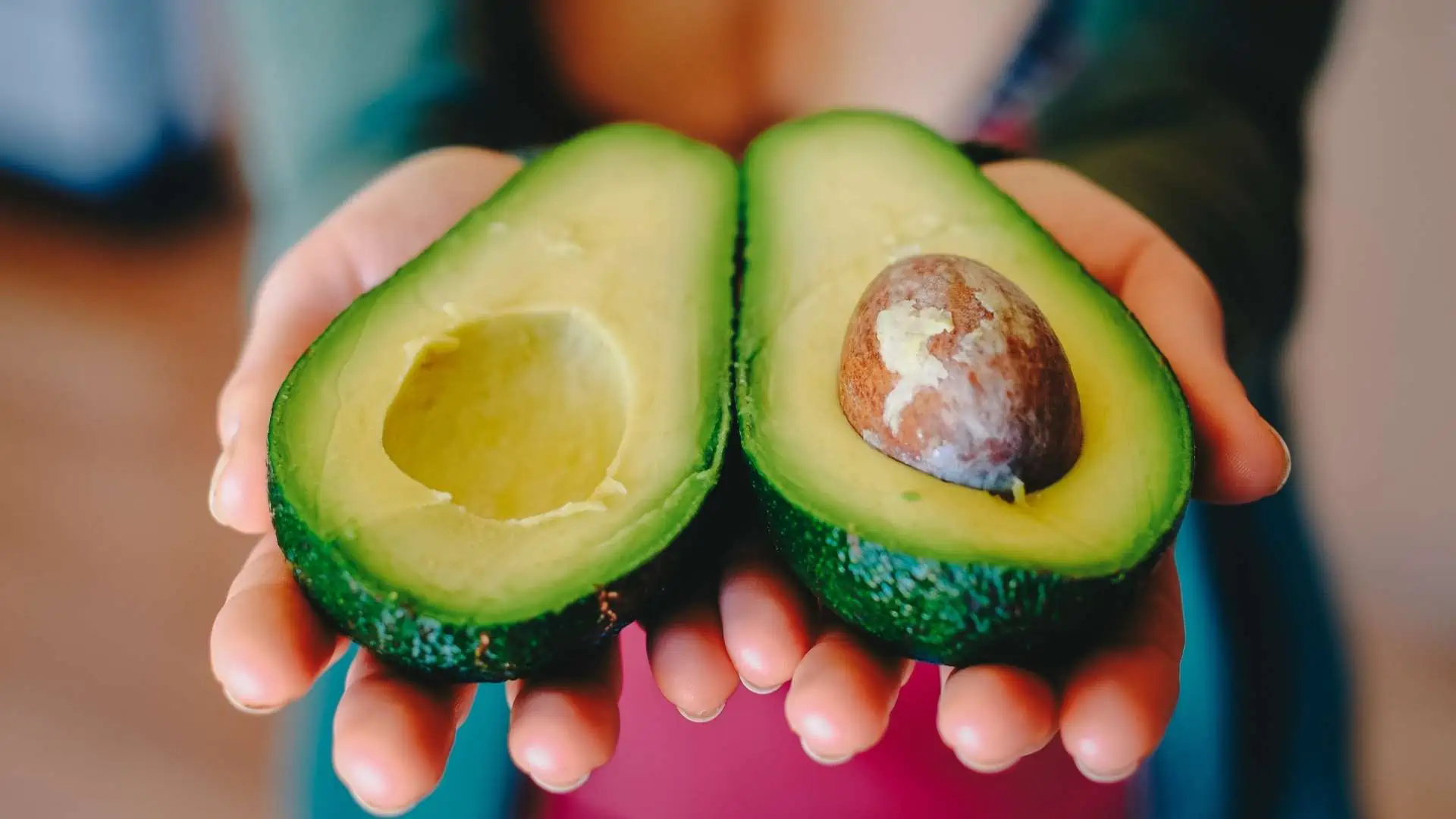 Soft Tofu or Silken Tofu
Tofu does it all, right? And yes, you can even use it in place of eggs in baking. just puree 1/4 cup of soft or silken tofu and add it to your baking recipes following this ratio to replace eggs:
Tofu Egg Replacer: 1/4 cup of pureed soft tofu = 1 egg
Chia Seeds
Chia seeds are a great way to skip the egg when baking. When soaked in water they become gelatinous and runny and it works like a charm. It's important to note that you have to mix the water and seeds before and let them soak for a few minutes. Do not add them separately to your preparation! They also add a good amount of healthy fats and Omega 3s to your final product. Win-win!
Chia Egg Ratio: 1 Tbsp chia seeds + 3 Tbsp of water = 1 Egg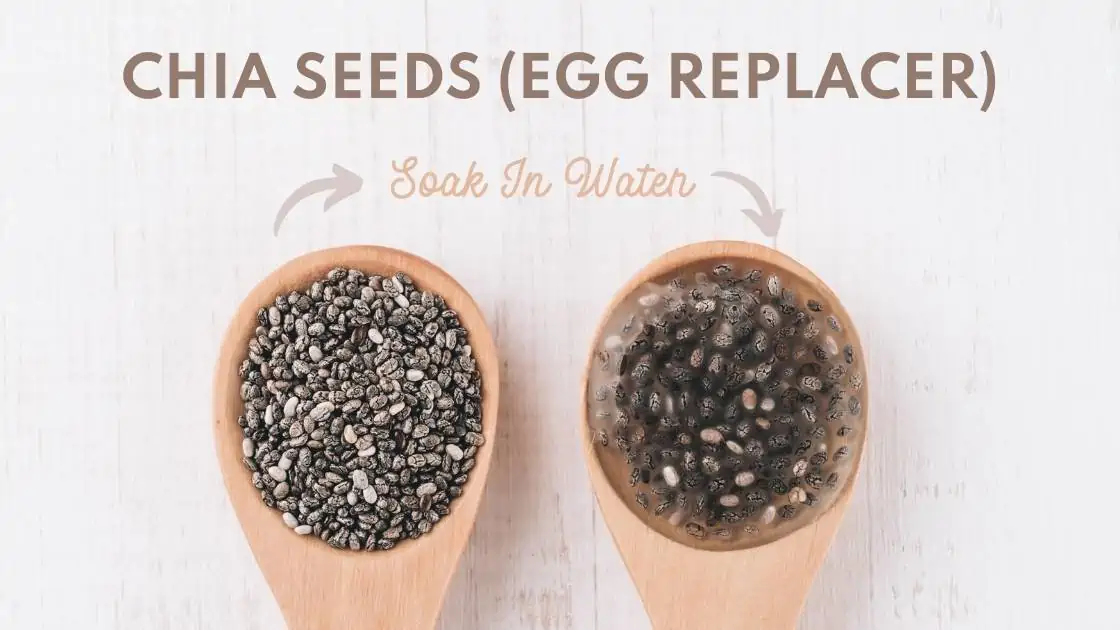 Store-Bought Vegan Eggs & Egg Replacers
For a fool-proof quick fix, it's convenient to have powdered egg replacements and liquid egg substitutes on hand. These easy solutions take all the guess work out of the equation. Also check out this Best Vegan Egg Guide for even more recipes and suggestions!
JUST Egg: The first liquid plant-based egg to high mainstream markets, JUSTegg measures 1:1 for conventional eggs, making it the most straightforward option for those first looking to transition. It works seamlessly in cooking and baking, sweet or savory. Watch the JUSTegg scramble here!
Follow Your Heart Vegan Egg: Brought to you by the makers of Vegenaise, the cardboard packaging might fool you into thinking it contains conventional eggs. Surprise: It's just plant- based powder that can be rehydrated to make scrambled eggs or help you bake better vegan treats. As an added bonus, it's based on soymilk powder so it contains a good serving of protein.
Bob's Red Mill Vegan Egg Replacer (Gluten-Free): Made from a combination of starches, psyllium husk, and baking soda, this dry powder was designed with baked goods in mind. It has no discernable flavor and is best when extra binding power is needed.
Ener G Egg Replacer: One of the OG brands of plant-based egg alternatives, it's become more difficult to find this mix in standard supermarkets over the years but is still going strong through retailers online. A little bit goes a long way; one 16-ounce package equals approximately 100 eggs. Ener-G is the most common commercial powdered egg replacer, but these days you can find egg replacer powders from many other companies as well, such as Bob's Red Mill.
Vegg Power Scramble and Vegan Egg Yolk: Specifically formulated to make the best breakfast scramble you've ever served, or replace rich yolks to make custards, hollandaise, and much more, these two separate blends place an emphasis on replicating that luxurious texture and flavor. You can also buy special French Toast Mix and Uncaged Baking Mix for another helping hand in the kitchen.
Simply Eggless Vegan Egg: This liquid vegan egg can be scrambled up just as you would make scrambled egg. It functions similarly to JUSTegg.
Nabati Plant Eggz: This is another liquid egg alternative that can be used for scrambles and beyond. It's made from a based of lupin protein (legumes) and pea protein. 
Vegan Egg Substitutes for Cooking
Okay, so now you know how to replace eggs in your baking. But what about your morning scramble? You've got plenty of options for that as well. If you're craving a hearty breakfast of scrambled eggs, or perhaps a fancy French omelet, you don't need to go hungry! It's easy to whip up a savory, plant-based substitute at home.
My favorite scrambled egg substitute is tofu. Every vegan needs a solid tofu scramble recipe in their arsenal. It's the quickest and tastiest way to get healthy protein in the morning while using up any vegetables you might have in the fridge.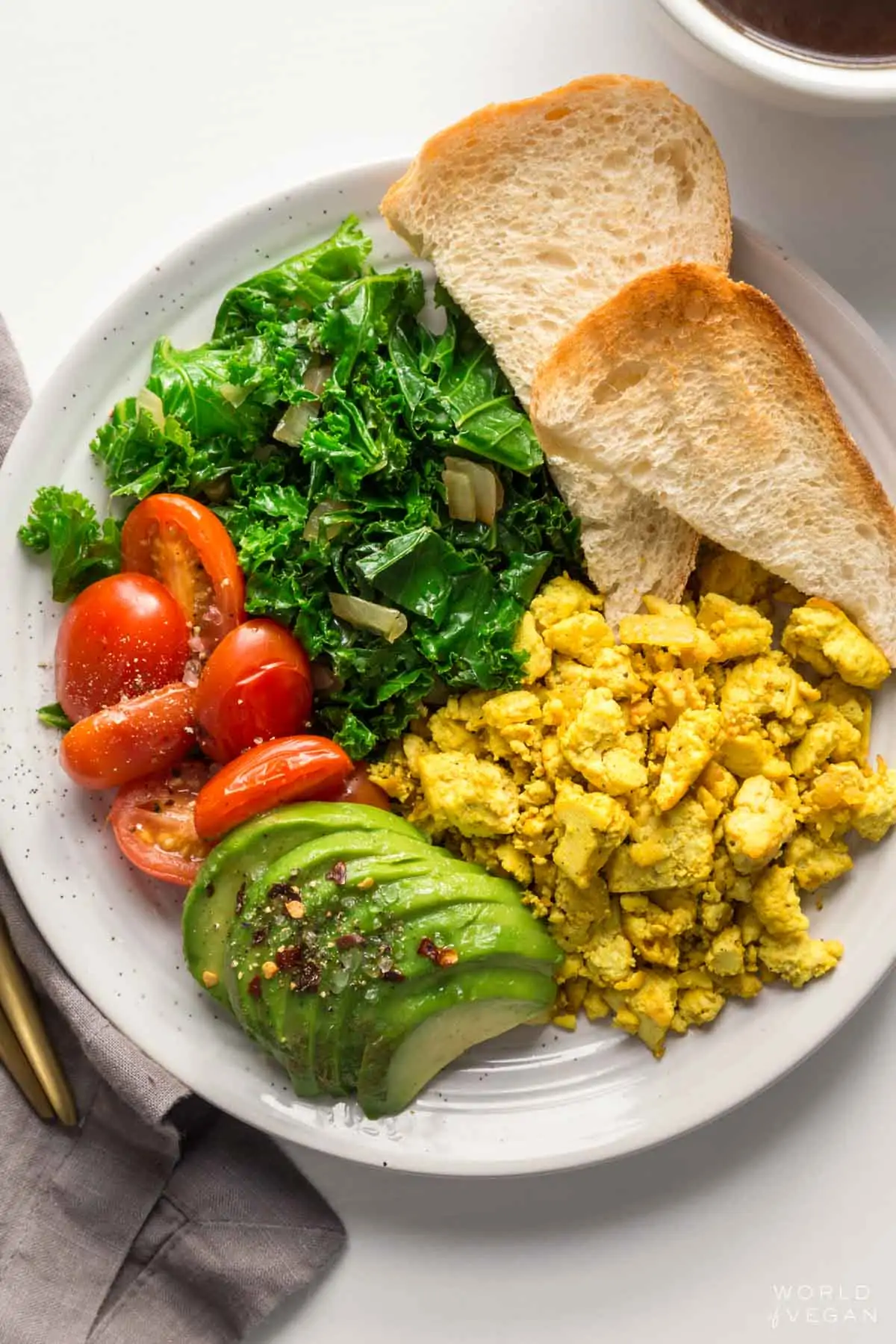 Crumble firm, extra-firm, or super-firm tofu into a skillet, depending on how dry you like your eggs. Sautee with a touch of nutritional yeast, garlic powder, and the secret ingredient: kala namak. Also known as "black salt," it's actually pink in color but has the unmistakable sulfurous flavor typically associated with eggs. You'll also want to add a dash of the extremely healthy spice turmeric to turn your tofu scramble yellow just like eggs. Fold in leafy greens like spinach or kale along with tender veggies such as tomatoes, peppers, or anything you like. A filling savory vegan breakfast is served!
Vegan Eggs
Several of the brands listed above offer vegan eggs that you can scramble in a pan and can look and taste just like chicken eggs—but made from plants!
Chickpeas or chickpea flour (soy-free)
Anything tofu can do, chickpeas can do, too! For a soy-free option, everybody's favorite bean works beautifully when mashed and pan-fried with the same sort of eggy seasonings.
If you want a folded omelet, start with chickpea flour whisked with water, much like pancake batter. Imagine making a thick crepe, and you're halfway there! Once the edges are set, give it a flip, and cook all the way through. Fill with your favorite cooked vegetables or vegan cheese, and don't forget the fresh herbs for the perfect finishing touch.
Store-Bought Vegan Egg Patties for Breakfast Sandwiches
What about egg patties to use on bagels or in vegan breakfast sandwiches? There are plant-based options for that as well! And you can sometimes find vegan breakfast sandwiches on restaurant menus as well.
Vegan Eggy Recipes
Homemade Vegan Egg Alternative
If you like the idea of a go-to vegan egg but still prefer a DIY approach, you can make your own egg replacer powder and liquid from scratch.
Egg Replacer Powder: Meant to imitate the results of Ener G Egg Replacer without the expense, this homemade version makes eggless baking a snap.
Homemade Egg Replacing Powder: If you do a LOT of baking, this is the recipe for you. It makes 5 cups of egg replacer, which is enough to cover up to 160 eggs according to the rehydration instructions!
Eggless Liquid Scramble: Red lentils are the foundation that make this breakfast staple even healthier, and arguably tastier, than the traditional eggless approach.
Please, Skip The Chicken Eggs!
You're lucky enough to live in a time when you've got a growing selection of veganized egg scramble products to choose from. Remember! Skipping eggs is easy, kind and way healthier. Cheers to that!