A dessert recipe always makes us happy! Preparing something sweet to enjoy after a meal always implies some sort of celebration even if there's no special occasion to be joyful for or any given reason to throw a party. It's a treat; it's a sweet indulgence that simply makes us happy.
But it's extra joyous if that treat is a healthy one! This fresh vegan strawberry ice cream from the Incredible Vegan Ice Cream cookbook is perfection! Wanna give it a try? Grab your ice cream maker and follow the five-ingredient recipe below.
Don't own an ice cream maker? You can pick one up on Amazon for under fifty dollars, or far less at a thrift store. But if that's out of reach (or you need ice cream now), don't worry! We have an excellent option for you. I think it's pretty safe to say that we've all fallen in love with banana ice cream which doesn't require an ice cream maker and can be ready in 5 minutes (assuming you have frozen bananas on hand). 
Fresh vs Frozen Strawberries
Strawberries are natures candy! After a long and cold winter, we all wait patiently for these delicious ruby fruits to appear in our local markets, right? Well, we better vow to make the best of the strawberry season because let's face it, it's way too short!
So, if the strawberry season is over, does this mean we can't prepare this delicious vegan strawberry ice cream? Absolutely not! We are blessed to have frozen berries year-round, and if you're like us, you might have some in your freezer at all times.
Not into strawberries? You can get cheeky and improvise with other frozen berries too! Blueberries, raspberries or even cherries (my favorites!)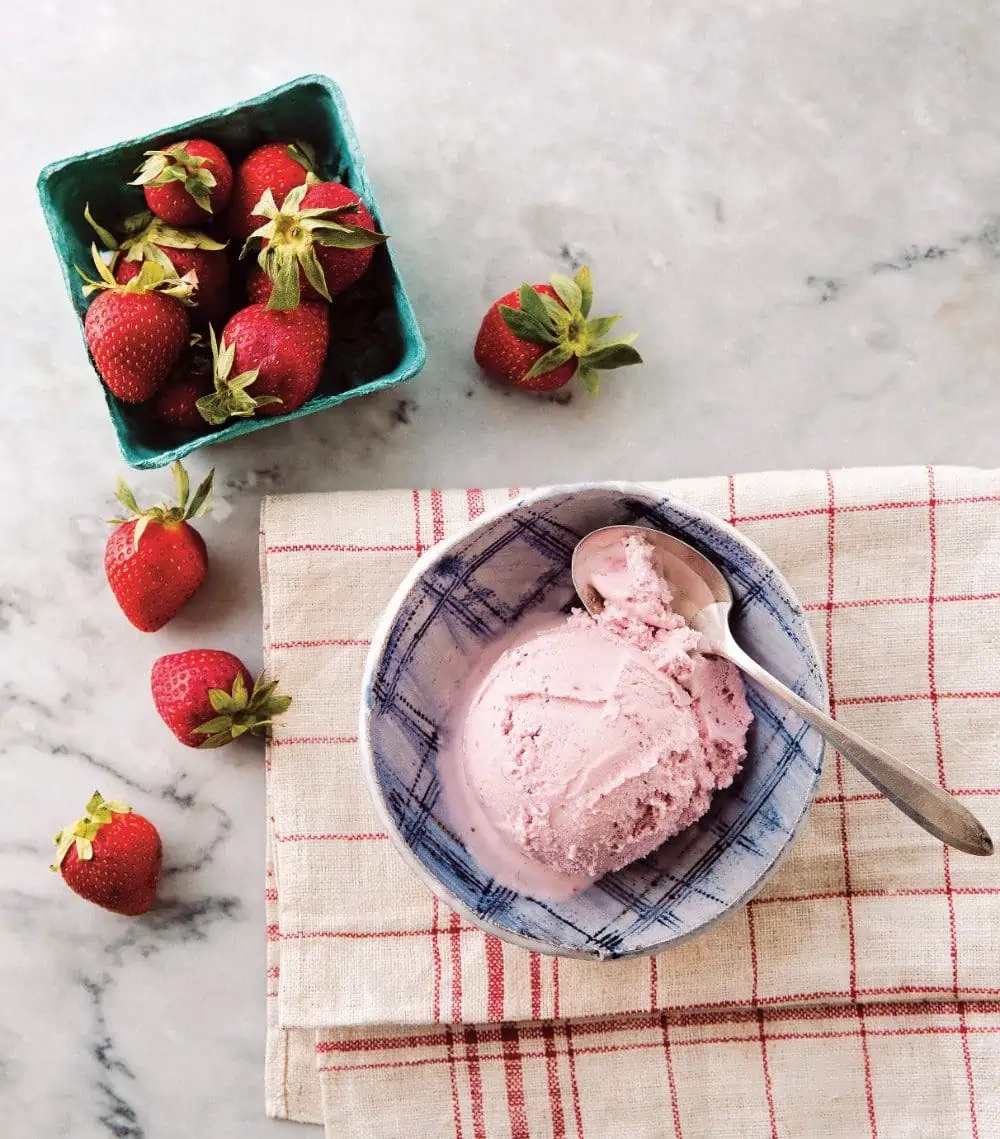 What If I Don't Have an Ice Cream Maker?
No problem at all! Not everyone has the budget or the space to purchase an ice cream machine, so we have an option for you! It takes a bit more of your attention, but I cannot stress enough how worth it will be!
First of all, you need to blend all of the ingredients (strawberries, coconut milk, sugar, syrup and lemon juice) in a high-speed blender or food processor. Then transfer the mix to a baking dish and place in your freezer.
Leave it there for 40 to 45 mins and check when the edges start becoming frozen. If this is the case, then stir the mix until smooth again. Place the dish back into the freezer and do the same until the ice cream finally has an ice cream texture. I know! It's more demanding than letting a machine do all the work, but it wouldn't be much of a trouble if you're already preparing other things in your kitchen. Psst! Your phone timer app will be a lifesaver! 
Vegan Strawberry Ice Cream Toppings
Let's be honest here. Can you eat an ice cream bowl without toppings? Me neither! Toppings are the best part of the ice cream eating experience! I don't think we need to think too hard to come up with delicious vegan toppings for this (or any!) ice cream, right? But let's just do it to amuse our inner ice creamholic!
Here are some delicious ice cream toppings:
Chocolate sauce 
Coconut flakes (tip: get the toasted ones! They are so sweet!)
A simple homemade strawberry sauce (heat up some frozen strawberries in the microwave and mix them with a handheld mixer!)
Chopped walnuts 
Slivered almonds
Pure maple syrup
Crushed Oreos
The list could go on forever! Pick your favorite and top away!
More Vegan Dessert Recipes You'll Love
2 cups fresh strawberries
2 cups coconut milk
¼ cup granulated sugar
5 tablespoons agave nectar
1 teaspoon lemon juice
Use a high-speed blender, puree the strawberries, leaving some chunks. Add the coconut milk, sugar, agave, and lemon juice and blend until combined. Transfer to a bowl or container, cover, and chill the mixture for at least 2 hours, or overnight.

Once it's chilled, add the mixture to your ice cream maker and churn according to the manufacturer's instructions. Most machines take 10 to 15 minutes depending on the temperature of the mix, and when it's finished it should look like soft serve.

Once it's churned, transfer the ice cream to a large, freezer-safe container, smooth the top and cover it tightly. Freeze it for at least 5 to 6 hours, or until it is firm.

Store this ice cream in the freezer in an airtight container for up to 1 week.
Calories: 751kcal | Carbohydrates: 83g | Protein: 6g | Fat: 49g | Saturated Fat: 43g | Polyunsaturated Fat: 1g | Monounsaturated Fat: 2g | Sodium: 33mg | Potassium: 723mg | Fiber: 3g | Sugar: 68g | Vitamin A: 17IU | Vitamin C: 97mg | Calcium: 65mg | Iron: 8mg
About The Cookbook
Deena Jalal is the author of this amazing book and the founder of Boston-based FoMu ice cream. This brand is a pioneer when it comes to plant-based and sustainable ice cream. They use all-natural and vegan ingredients, compostable paper products, and recyclable pints. FoMu is the ice cream of the present and the future!
Now we know why the visionary founder decided to write a book and share the best flavors with all of us! If you can't make it to Boston, you better get churning. This book is gold! You'll be spoilt for choices and might even become a professional artisan ice cream maker.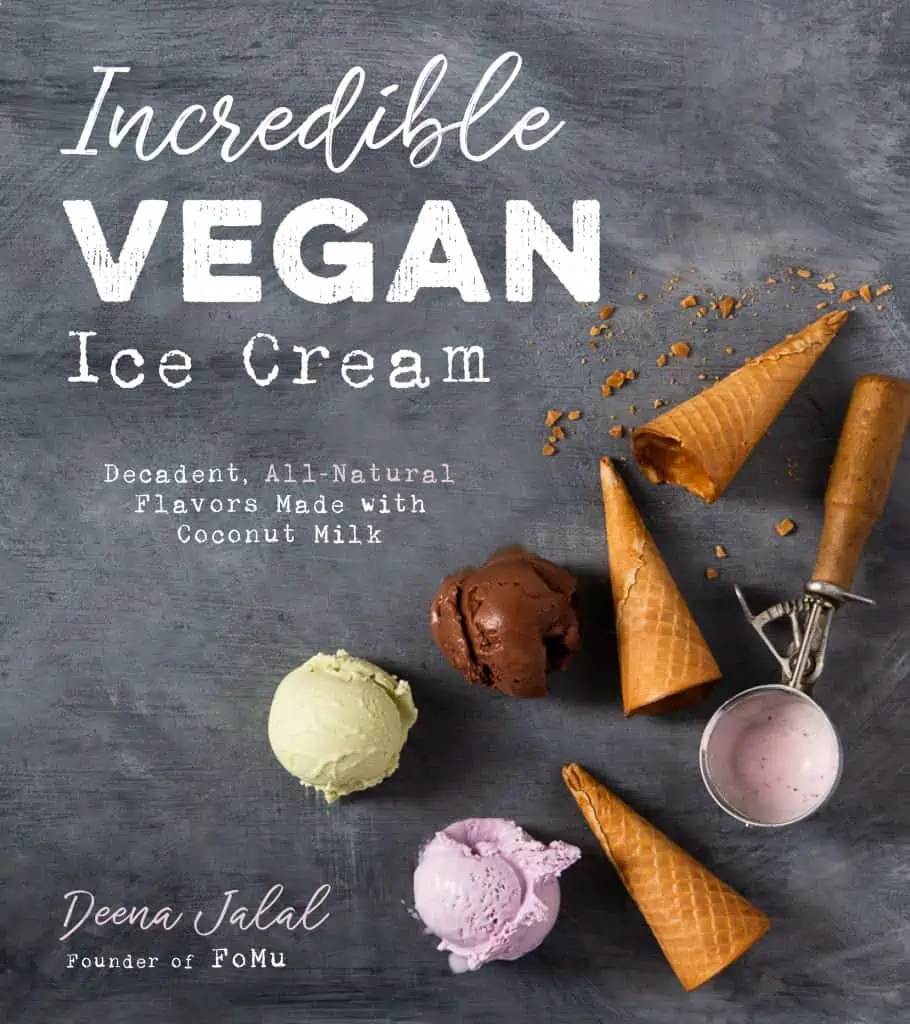 Vegan Strawberry Ice Cream recipe reprinted with permission from Incredible Vegan Ice Cream by Deena Jalal, Page Street Publishing Co. 2019. Photo credit: Emily Kan. Please note that this article contains affiliate links that help support our work at World of Vegan!