If you're searching for something sweet, our date walnut truffles can't be beat! With only four simple ingredients, you can make these blissful bites in a flash. Fiber-rich, full of flavor, and just the perfect size for snacking.
Make these mini morsels ahead of time so you can grab and go whenever hunger strikes. You can eat them positively plain or fantastically fancy dipped in delightful toppings. Either way, enjoying just one will be difficult. Probably better to be prepared and pop a few (hundred?) in your freezer.
Whether you're in a rush or just can't stand to cook, this raw recipe is super quick and easy. They're so handy to add to your lunch bag, hand out to the kids when they're hangry, or save for the evening to savor during a hot bath. Healthy and heavenly nibbles for any night of the week!
1 cup soft Medjool dates, pitted and packed
1 cup raw walnuts 
½ teaspoon vanilla extract
¼ teaspoon salt 
Optional: coating ingredients, such as coconut shreds, cocoa powder, powdered sugar, and chia seeds. 
Add all ingredients into the food processor and process until the mixture turns into a big dough ball.

Divide the dough ball into 12 parts and roll each into a sphere ball.

If desired, dip each ball into your desired coating ingredient and roll until fully covered.

Place in a sealed container and store in the freezer.
Enjoy these at room temperature for super-soft cookie-dough-like balls. Balls will firm up in the freezer, which is how we recommend enjoying them!
Calories: 98kcal | Carbohydrates: 11g | Protein: 2g | Fat: 6g | Saturated Fat: 1g | Polyunsaturated Fat: 5g | Monounsaturated Fat: 1g | Sodium: 49mg | Potassium: 129mg | Fiber: 1g | Sugar: 8g | Vitamin A: 20IU | Vitamin C: 0.1mg | Calcium: 17mg | Iron: 0.4mg
Delicious Dates
Can you believe that these delightful middle eastern delicacies have been around for thousands of years? Even the Egyptians were known to enjoy them daily and made a wonderful wine with them. For many cultures, dates represent the symbol of life and fertility and the date palm is commonly known as the World Tree.
These soft and sticky nuggets are not only sweet and satisfying but also bursting with health benefits. They are high in fiber, antioxidants, and minerals (such as potassium, magnesium, and calcium) that boost brain and heart health. Because dates have a low glycemic index, they also have the potential to help regulate blood sugar levels.
Wonderful Walnuts
Known as the "brainy" nut, walnuts are rich in antioxidants and omega-3s. A powerhouse of phosphorus, copper, folate, vitamin B6, manganese, and vitamin E, this nourishing nut packs a good amount of nutrition in such a small space.
The slightly bitter, but buttery flavor and crucial crunchy texture helps to balance out the softness of the sweet dates. Eating a small serving of walnuts each day has been linked in helping with heart health, brainpower, and cancer prevention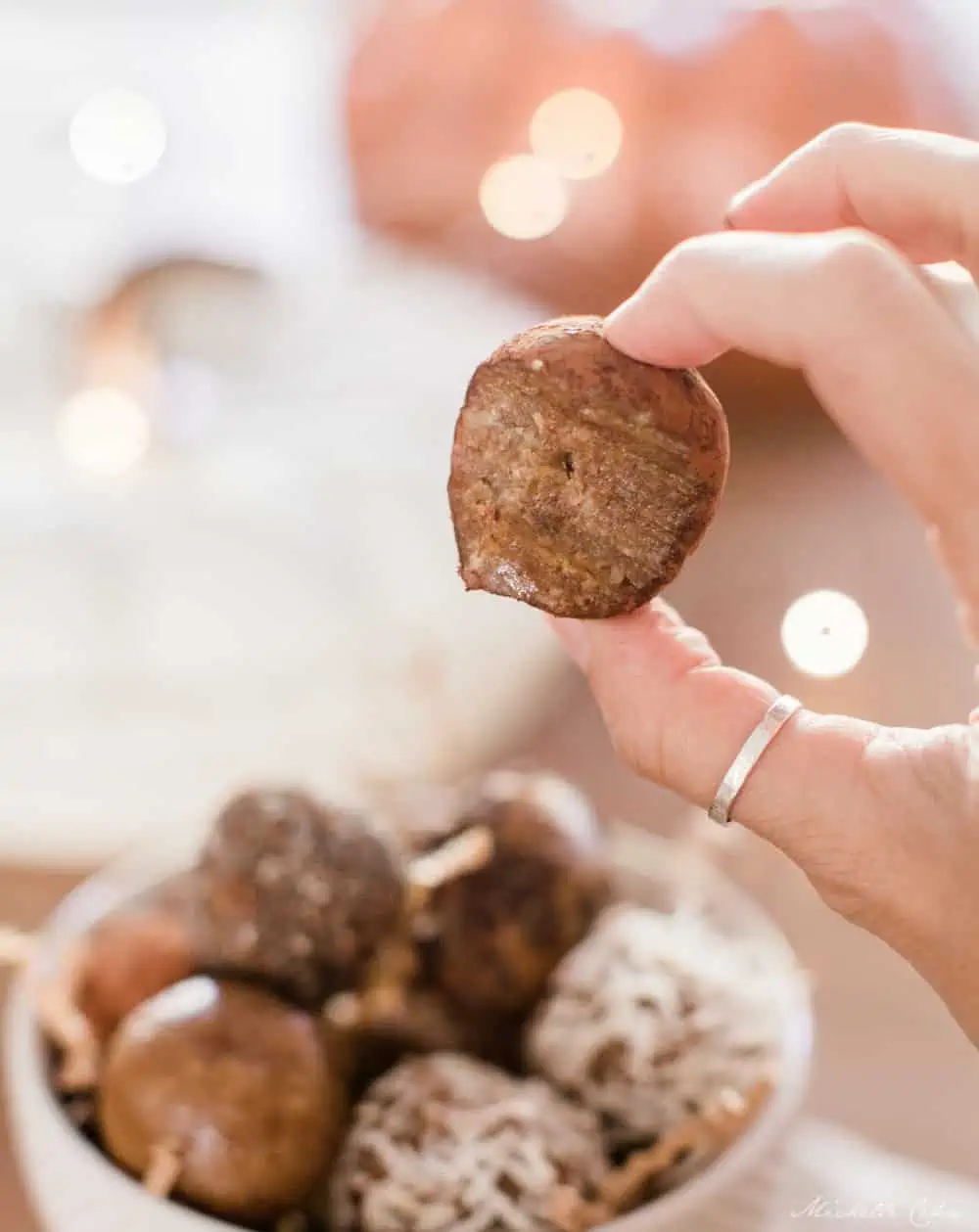 Can I Use Different Nuts?
Not a fan of walnuts? First, know that you'll barely taste them in these raw cookie dough balls. But if you'd prefer to use a different type of nut, you can absolutely do that! Almost any nut will work, but the softer nuts will work best (such as pecans, cashews, and peanuts). If you do try these with another type of nut, we'd love to hear how it goes in the comments below!
Tempting Toppings
To guarantee the toppings stay glued to the date walnut balls, make sure your mixture is still a little damp. If they feel too dry, wet your hands and roll the balls between them before rolling into the items below.
Chia Seeds – Rich in omega-3s, fiber, and protein. Gives a little crispness and nubbly texture to the outside.
Coconut Shreds – High in manganese, copper, and fiber. Adds a bit of extra richness to the flavor and a fun color contrast.
Cocoa (or Cacao) Powder – Loaded with polyphenols, flavonoids, iron, zinc, and selenium. Chock full of chocolate-y flavor and additional fiber.
Powdered Sugar – Only includes some extra sweetness, but totally worth it. They're commonly confused with munchkin donuts but in the best way.
Chocolate Chips – Similar to the cocoa powder in nutritional benefits, these little gems give the classic "cookie dough" character to this recipe.
Cinnamon – For all of you who love a little bit of spice, you'll be happy to know that this tastes sensational wiÏÏÏth dates. Add a sprinkle on the outside and you'll be in heaven! Vietnamese cinnamon is slightly sweet and perfect for this recipe.
How to Serve it Up These Date Walnut Truffles
Sweet and Savory Snack Plate – Pair these delicious date nut balls with a creamy vegan cheese log and crispy crackers.
Date Night Nut Rolling Party – Sounds a little kinky, but actually super fun. Make a bunch of balls ahead of time and arrange a table full of toppings. Let your date create their own concoctions and then enjoy your snacks while you play a game or watch a movie together.
Big, Bold Brownie Squares – Add a ½ cup raw cacao powder to your mixture and press the entire thing into an 8" x 8" baking pan. Sprinkle on your favorite toppings (or spread our luscious vegan nutella over the top) and place in the freezer for an hour. Once the mixture is firm, cut into squares and savor!
Makes a Great Gift – For loved ones in your life who adore sweets, this is a thoughtful (and yummy!) gift to give. Add assorted date balls into a mason jar, cover with pretty fabric, a beautiful bow, and a personalized note.
Simple Storing
Keep in a covered container in the freezer for up to 6 months. The date nut balls taste best at chilled, and are delicious straight out of the freezer.
More Super Easy Snack Recipes to Try
Date Walnut Truffles recipe and photos by Michelle Cehn, article by Gina House, copyediting by Amanda Meth. Copyright of World of Vegan™, all rights reserved.