We all have been there—we ate breakfast in the morning and we're sitting there later in the morning and lunch is still a couple hours away. Or maybe 3:00PM rolls around and you realize the small salad you had for lunch just isn't going to hold you over until dinner.
When this happens, what do you reach for? If you're going to eat something, let's try and make it a healthy vegan snack! Here are over 30 options for you to consider to satisfy that urge without sacrificing taste or nutrition.
Basic Healthy Snack Ideas
Before we get into specific healthy vegan snack recipes, let's first dive into the abundance of basic healthy snack components that will keep you nourished and satisfied.
Fresh Vegetables
Now before you stop reading, let's talk about this a little more. Of course, we can all chop up some carrots and celery, which is great, but you may want to jazz this up a bit. For example, you can add some strips of red bell peppers, which are high in Vitamin C, or maybe some edamame soy beans, which contain a high amount of fiber. Also, how about taking along some nut butter to dip it in, or maybe a vegan cheese spread. Don't forget to pack these veggies in your reusable containers instead of plastic bags.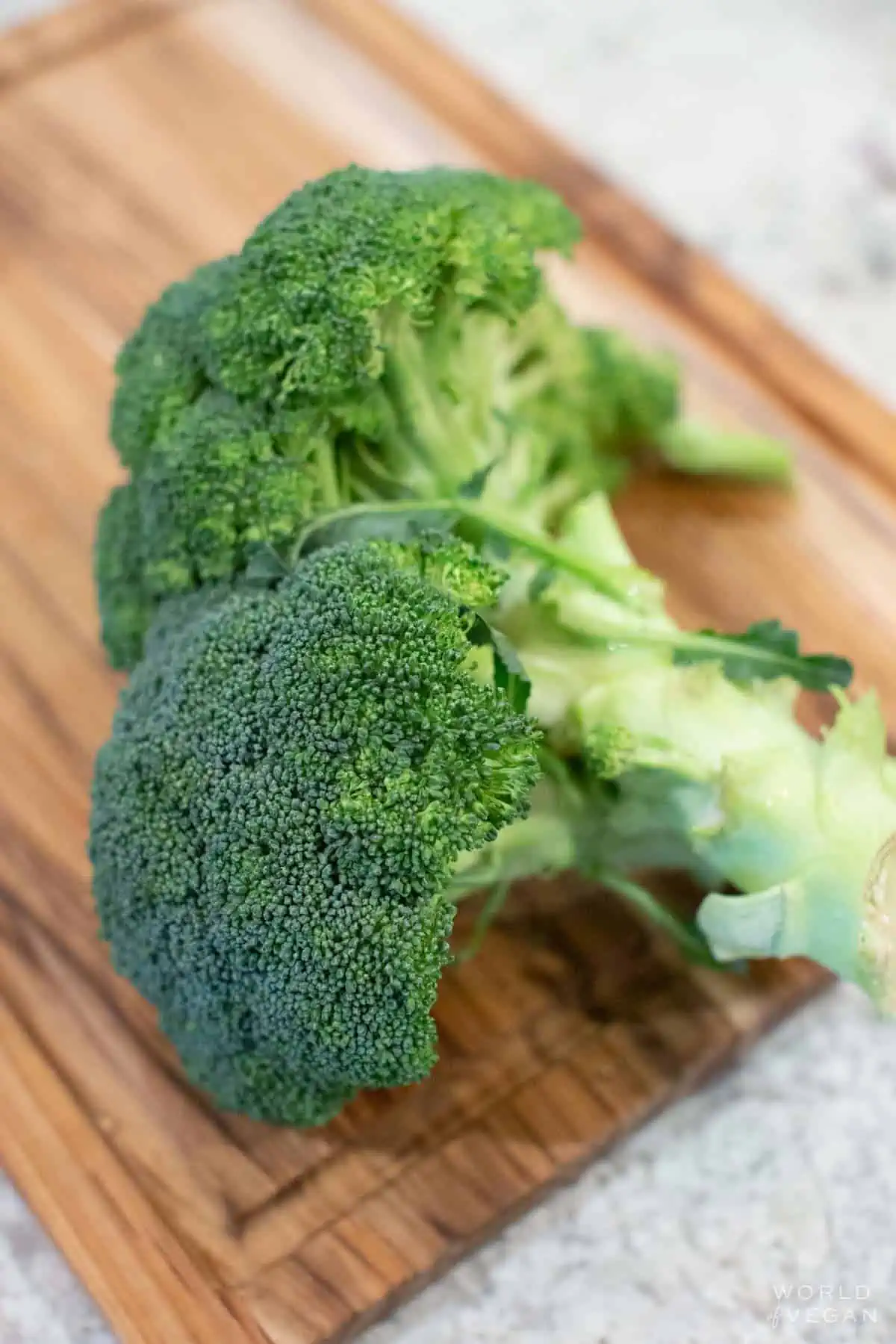 Fresh Fruit
Fruit can sometimes have a bad reputation since it contains a lot of "sugar," but let's keep in mind that the sugar found in fruit is not the processed sugar we need to avoid. The sugar found in fruit is broken down in our bodies much differently than processed sugar.
If you want to remove sugar from your diet, look at the source since not all sugars are created equal. Apples, mangos, strawberries, or oranges make great snacks. The key to having fresh fruit often is to vary what you eat. No one wants to eat only apples for the rest of their lives.
Smoothies
This is a personal favorite snack of mine. They are easy to make and extremely good for you. You can make them with all fruit or add some greens to them as well. You can easily and quickly make a few and pack them in a cooler in the morning to take with you the during the day. That's what I usually do and it works out great.
With a smoothie, you also keep all the fiber in the food that you are blending and making it easier for the body to digest since it's in a liquid form. Feeling creative? Then add some superfoods such as maca powder or chia seeds. We've got a few healthy smoothie recipes below that would be perfect to try out!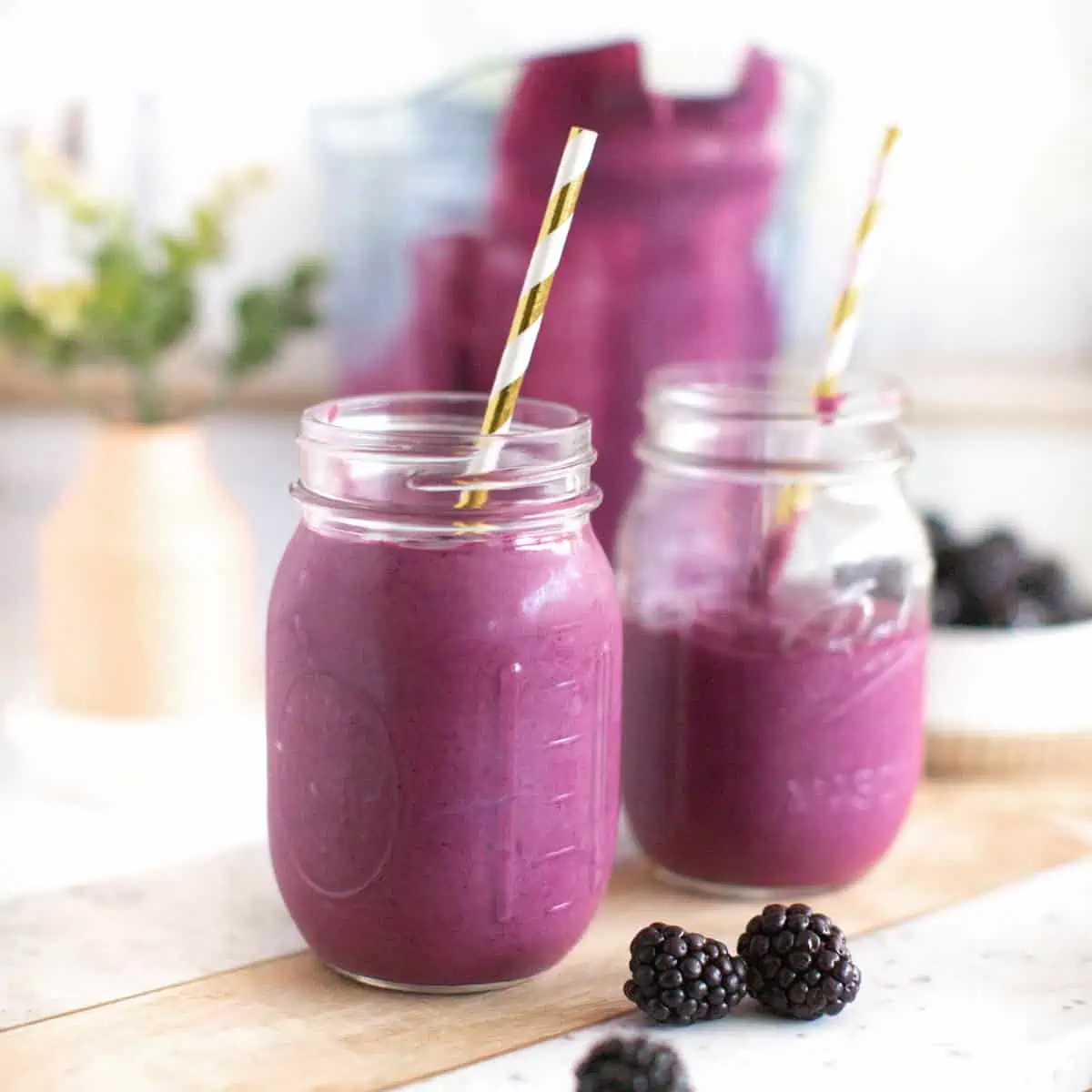 Green Juice
Similar to a smoothie, but without the fiber. You can also take these with you during the day in a cooler and they are great to have on an empty stomach as your body will absorb the vitamins and minerals quickly. The process is a little more time-consuming than making a smoothie, but a great way to reduce this is to prep the vegetables you're going to juice in the morning the night before. This is a great meal planning strategy.
Crackers
Now by crackers, we're not talking about your mom's saltine crackers you that she gave you when you were sick. I am referring to a healthier alternative, such as Flackers which are made out of flax seeds or almond flour crackers. These healthier alternatives are rich in omega 3's, fiber and antioxidants, which will help consume your daily nutrient needs and get you through the day.
Sweet Treat
I am not talking store-bought candy. However, if you suddenly have that sweet tooth craving and need something to get you through this, there are several options for you. Now these may not be the snacks to go to on a daily basis, but they can contain some great superfoods and help you get through the day. A great example are these date and walnut truffles. These are easy to make and taste delicious and contain no added sugar while supplying your body with some great antioxidant properties. The key is balance and not depriving yourself.
So these are just a few tips to help you stay healthy while on the go. Read on for more healthy vegan snack recipes!
Best Healthy Vegan Snacks
Satisfy your pre-meal munchies with these irresistible savory roasted chickpeas. Packed with fiber and guaranteed to satisfy, this healthy recipe is both easy to make and incredibly addictive!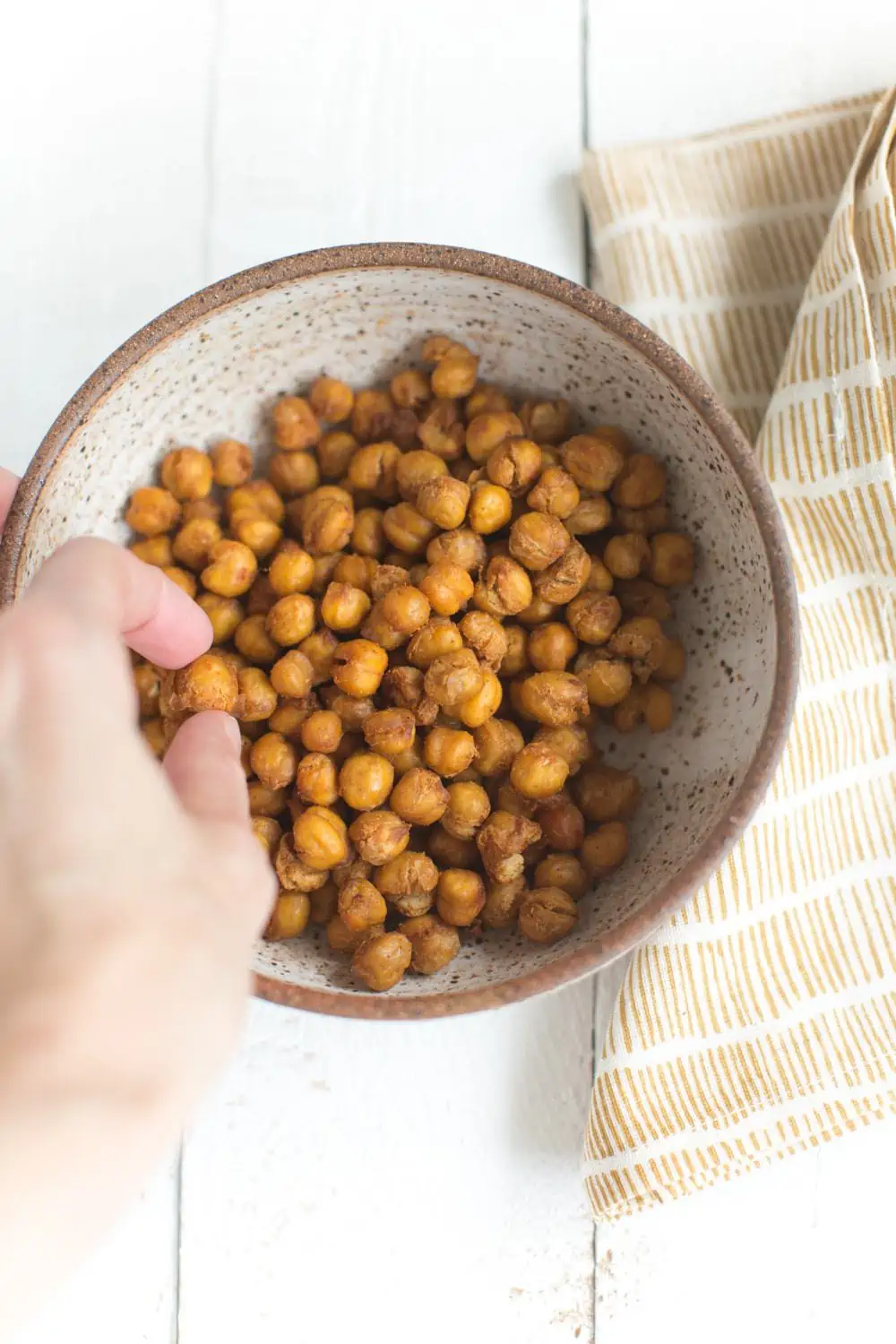 Indulge in the ultimate vegan snack and dessert: peanut butter chocolate chip stuffed dates. This unbelievably simple recipe combines nutrition and incredible flavor. To experience the best results, opt for the freshest, squishiest dates available.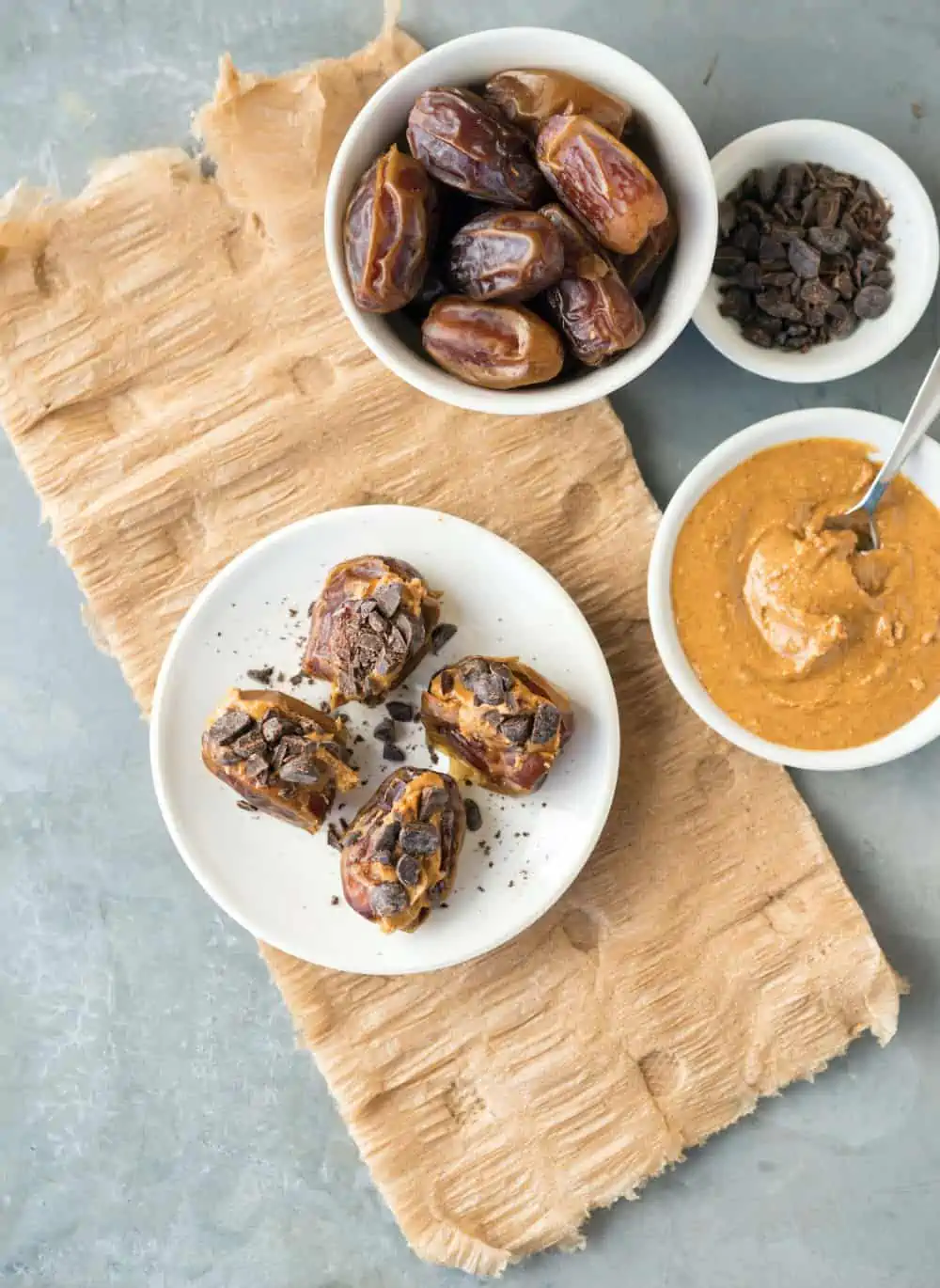 If you're a hummus lover, you're going to love this white bean variation! Prepare to be captivated by its smooth and velvety texture, combined with a burst of flavors that will have you wanting more!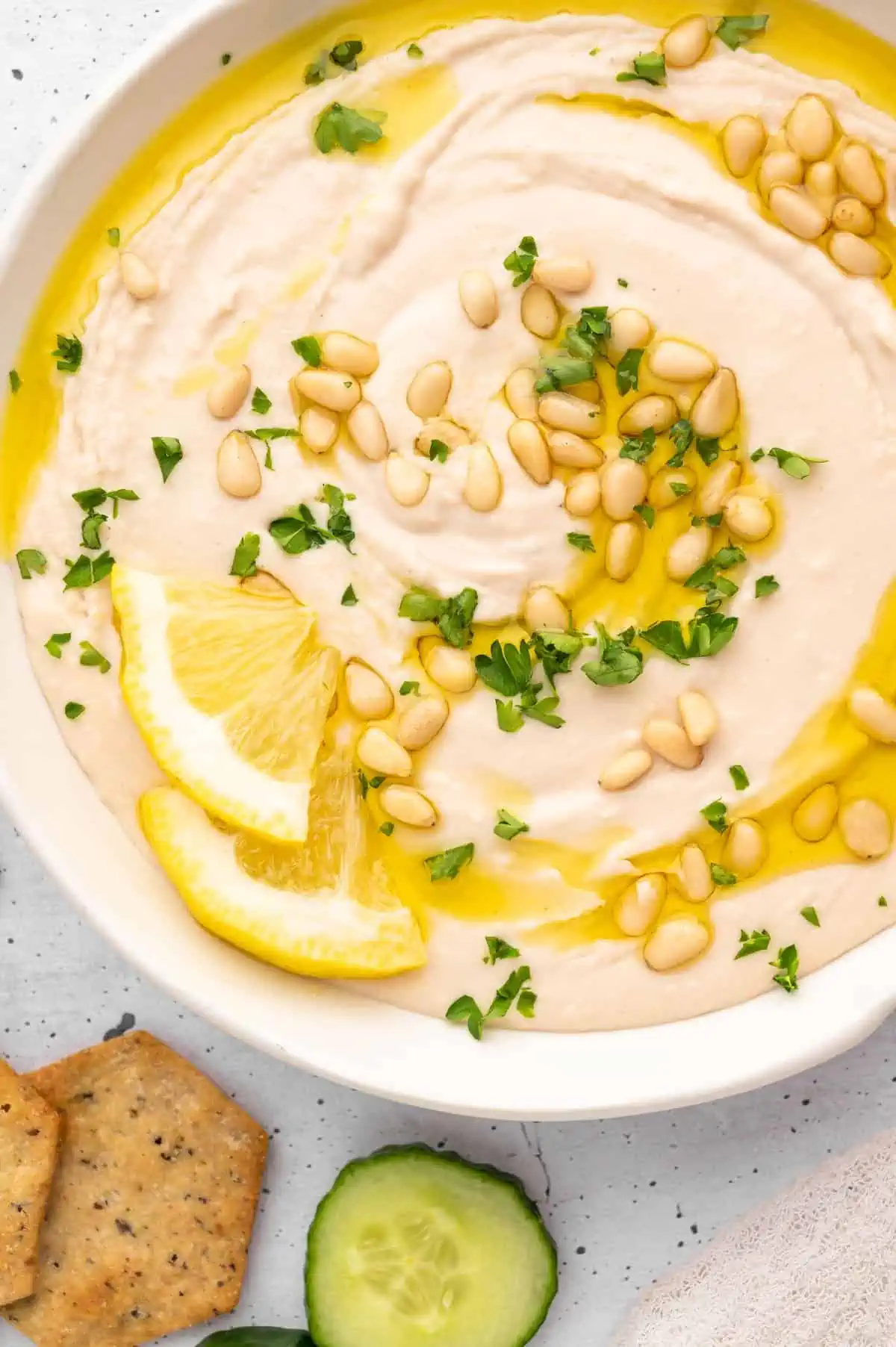 Embrace the green goodness of a delightful mango spinach smoothie that tastes like a treat! This sweet and simple concoction is not only sugar-free but bursting with flavor. It's guaranteed to become a new family favorite, satisfying both your taste buds and your health goals.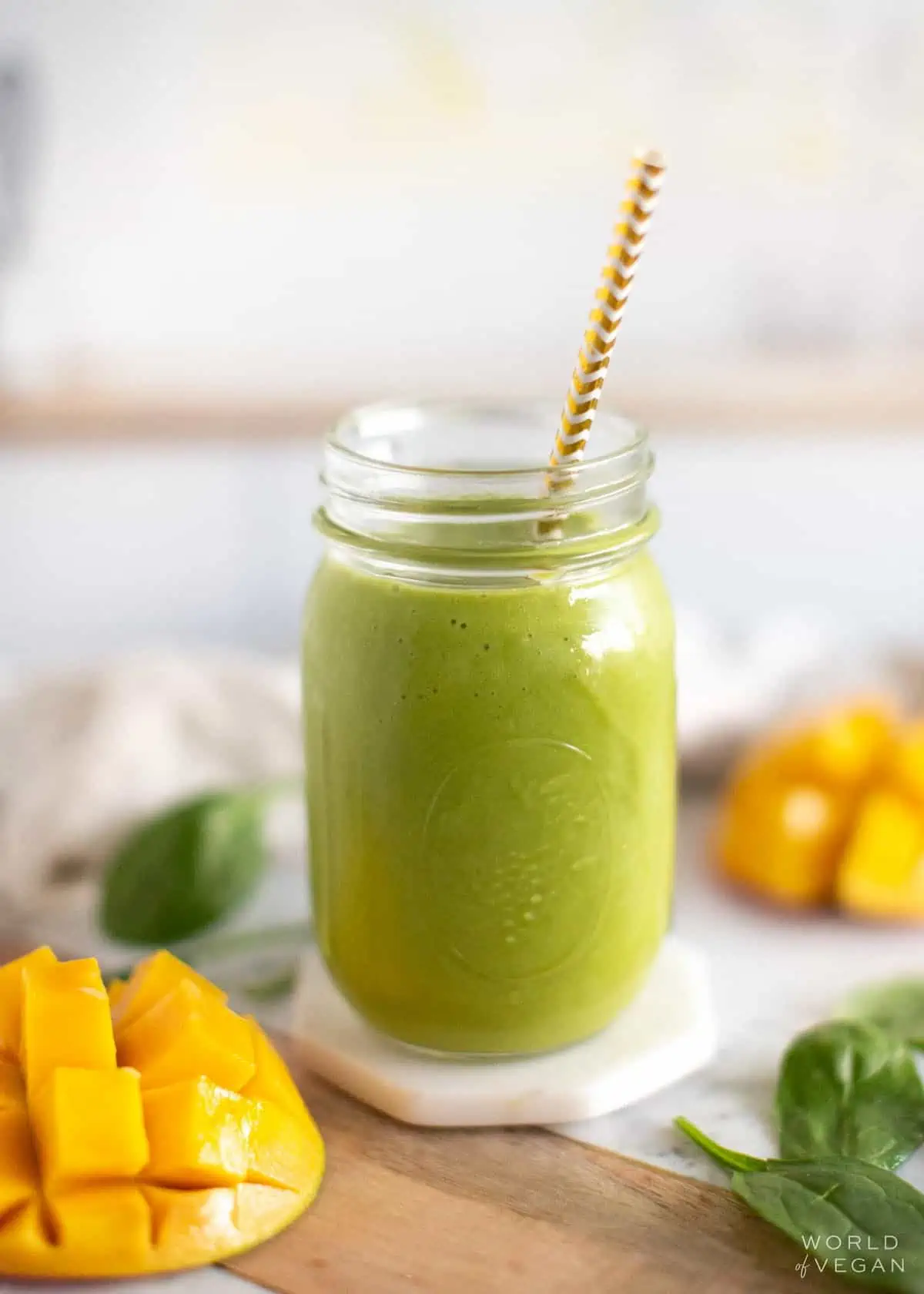 Tame monstrous appetites with effortless green blender muffins! These spinach banana muffins are secretly healthy and perfect for kids of all ages as a snack. Watch them disappear in no time as everyone indulges in this tasty treat!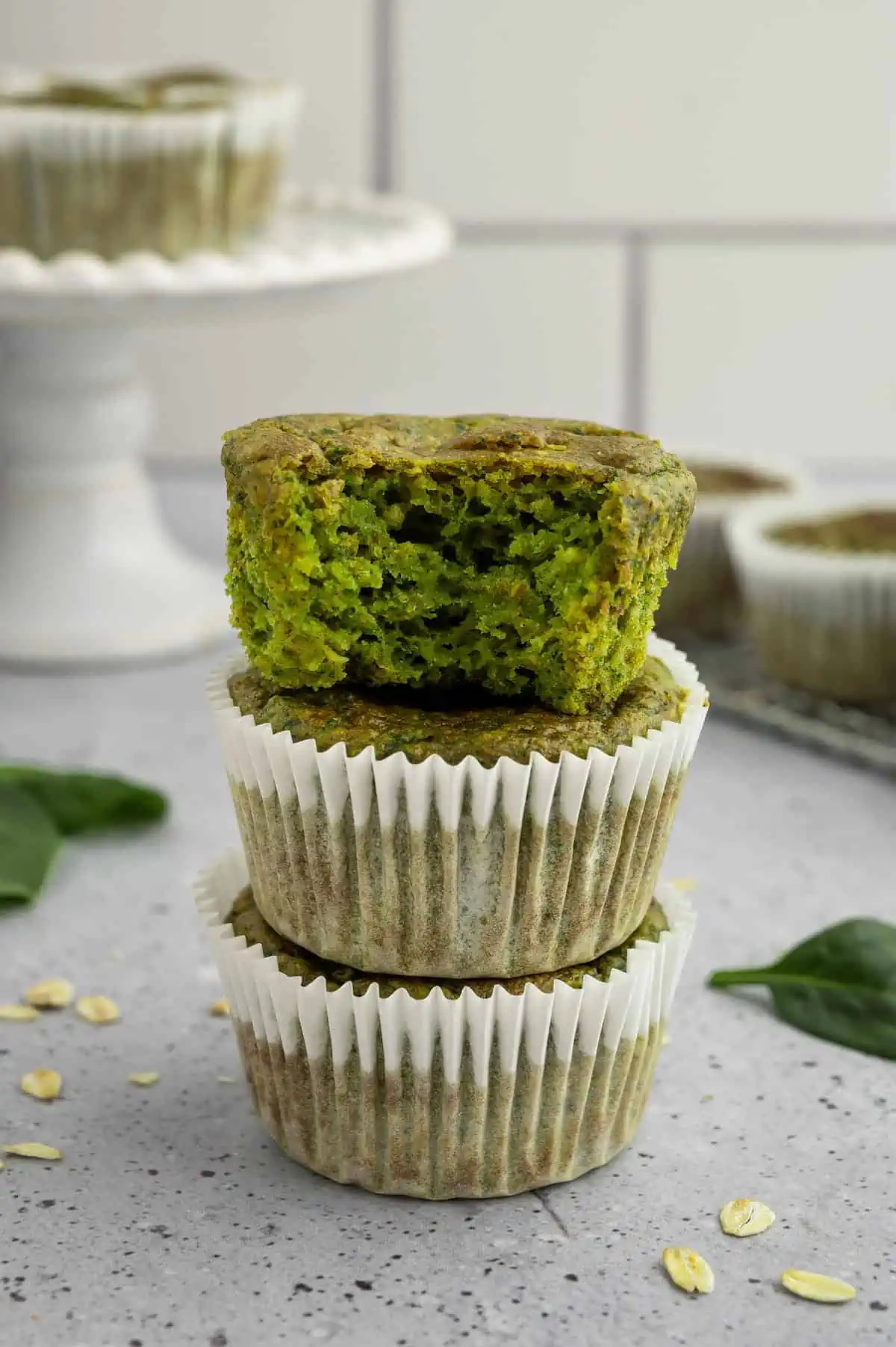 Introducing your new go-to quick fix snack: polenta pizza bites! These savory delights are bursting with flavor and pack a nutritious punch in every mini mouthful. Get ready to savor a delicious and satisfying treat that will become your new favorite snack!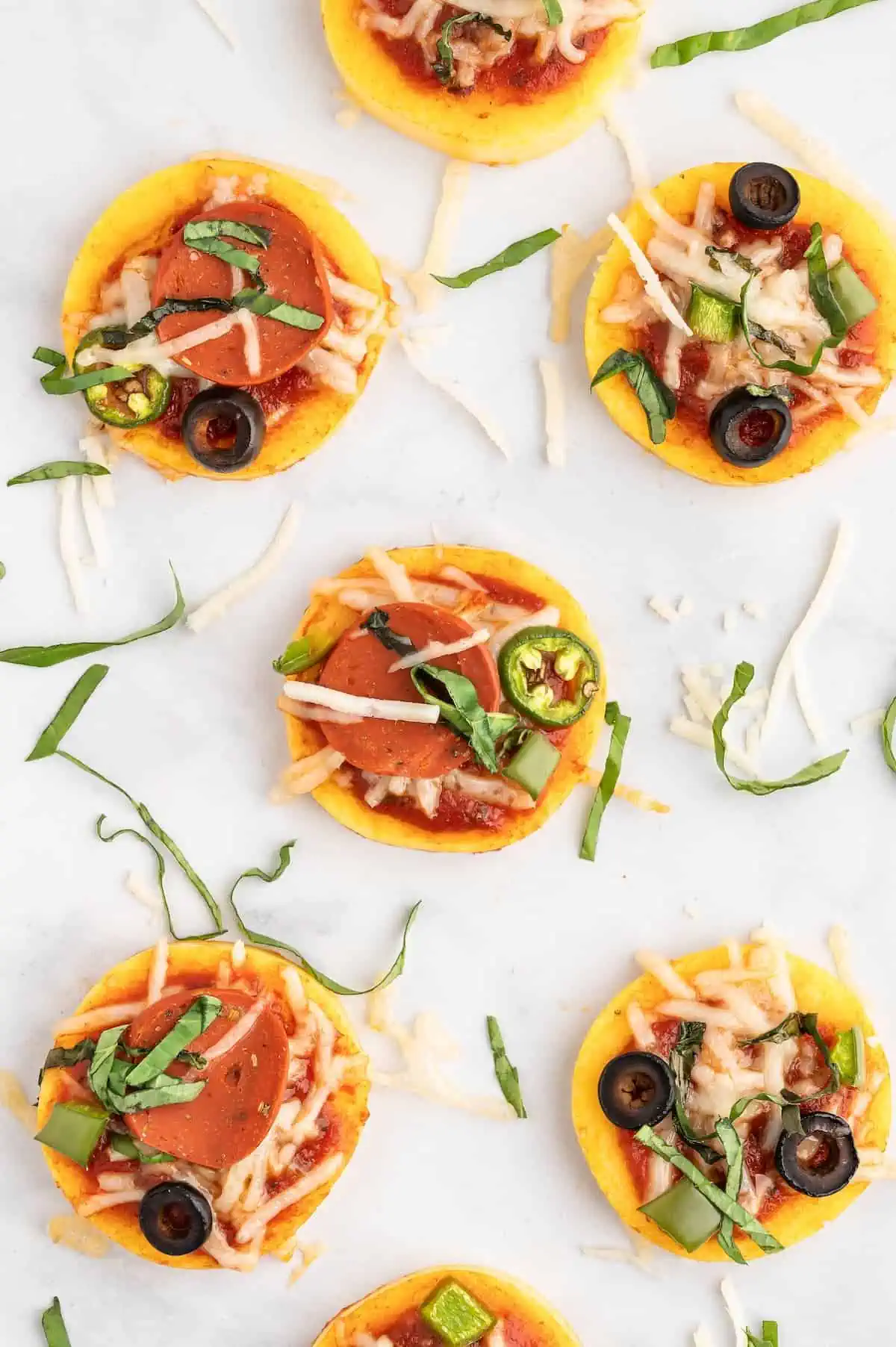 If you enjoy simple meal prep, you'll adore the speed and simplicity of overnight oats! With a handful of basic ingredients, you can create a delightful and satisfying snack that lasts all week. Overnight oats offer endless possibilities and serve as a customizable make-ahead option for a quick and easy morning meal or afternoon snack!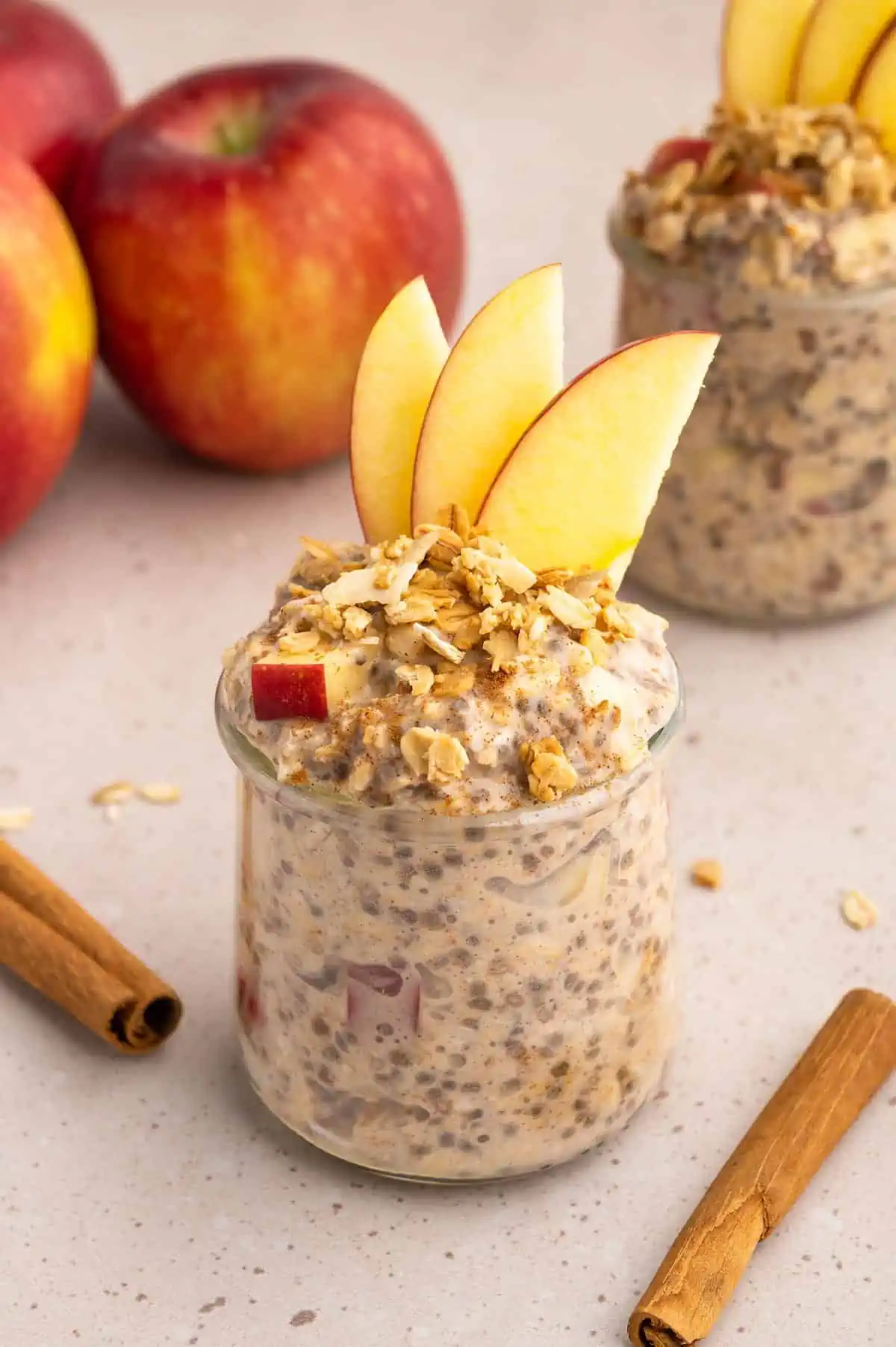 Indulge in the ultimate plant-based protein source with these crispy chickpea nuggets. Whether you're a kid or an adult, these healthy vegan chicken nuggets are a delightful choice that satisfies everyone's taste buds!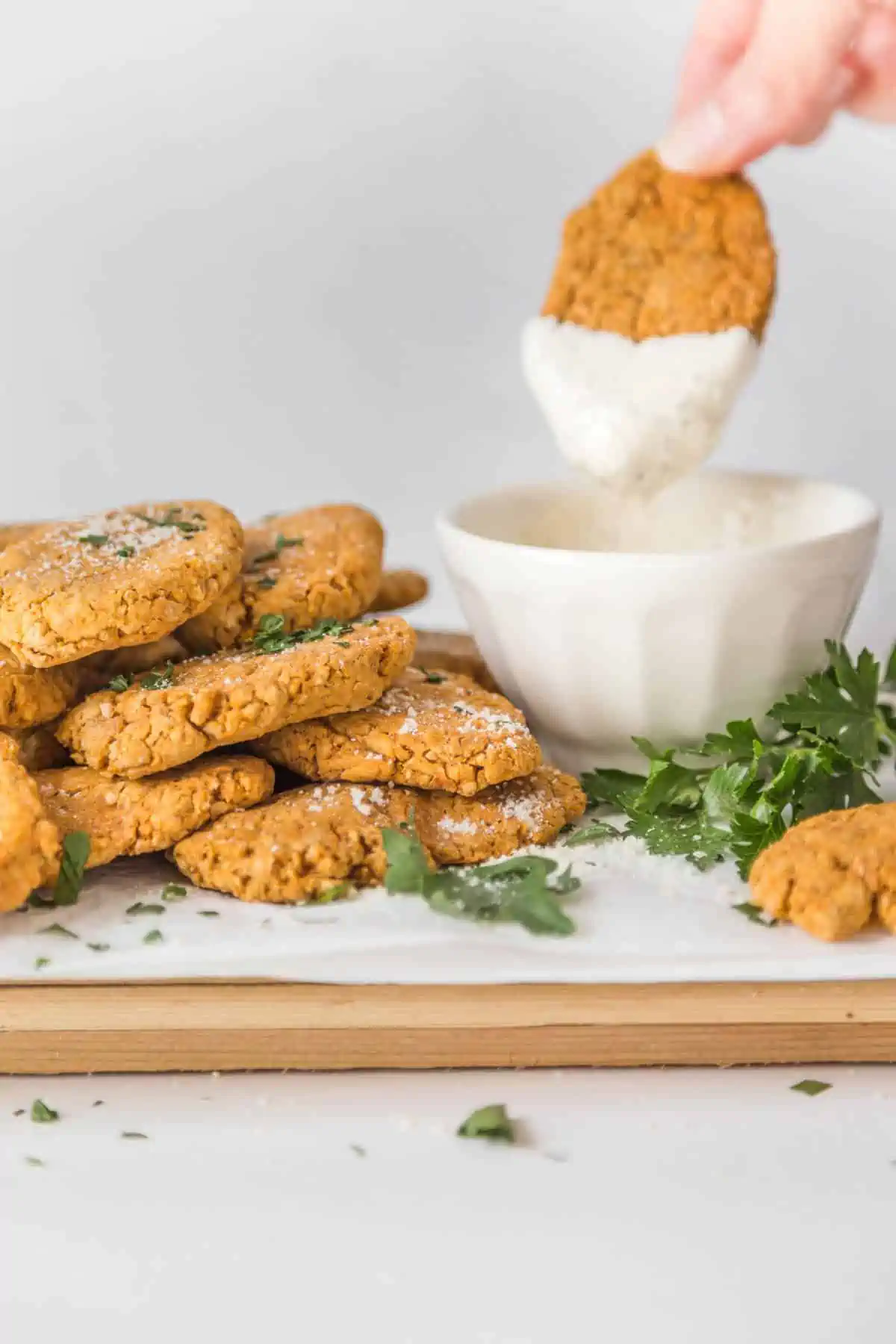 Prepare to be amazed by the deliciousness of almond flour crackers! These wonderfully crunchy and satisfying treats, made from seeds or nuts, will revolutionize your snacking experience. Discover the joy of baking your own dairy-free and gluten-free crackers right in your kitchen. Why settle for store-bought when you can enjoy homemade perfection?
Get ready to reimagine French fries with a twist—made from tofu! Indulge in the delectable goodness of crispy nutritional yeast-encrusted air fryer tofu fries. These savory fries are crunchy on the outside, soft on the inside, and offer a fantastic, protein-filled snack that's both healthy and satisfying.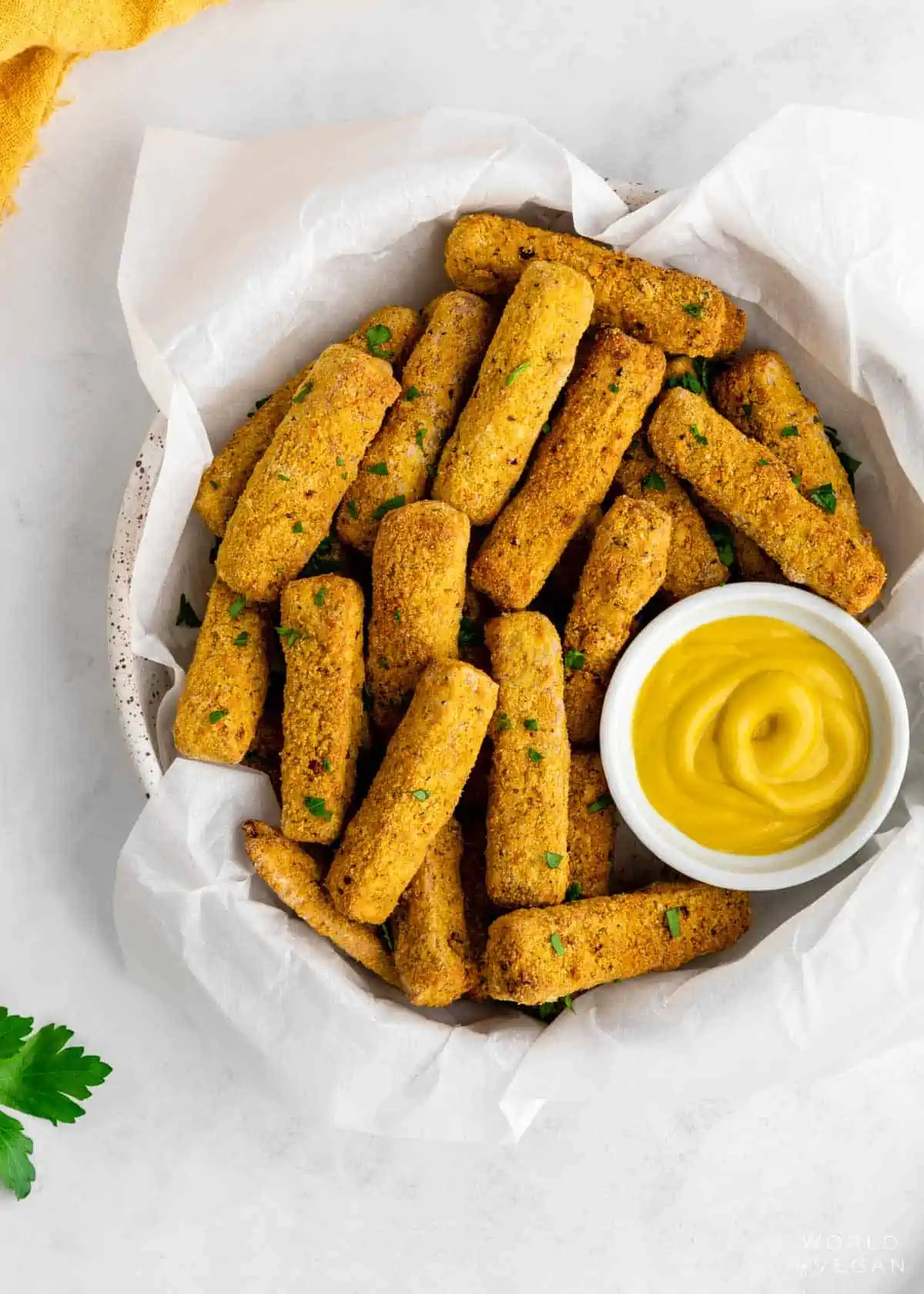 Experience the vibrant and refreshing delight of a raspberry smoothie. With only three simple ingredients, this nutritious snack is a breeze to make. Prepare to impress anyone who tries it with a delightful concoction that's sure to be a hit!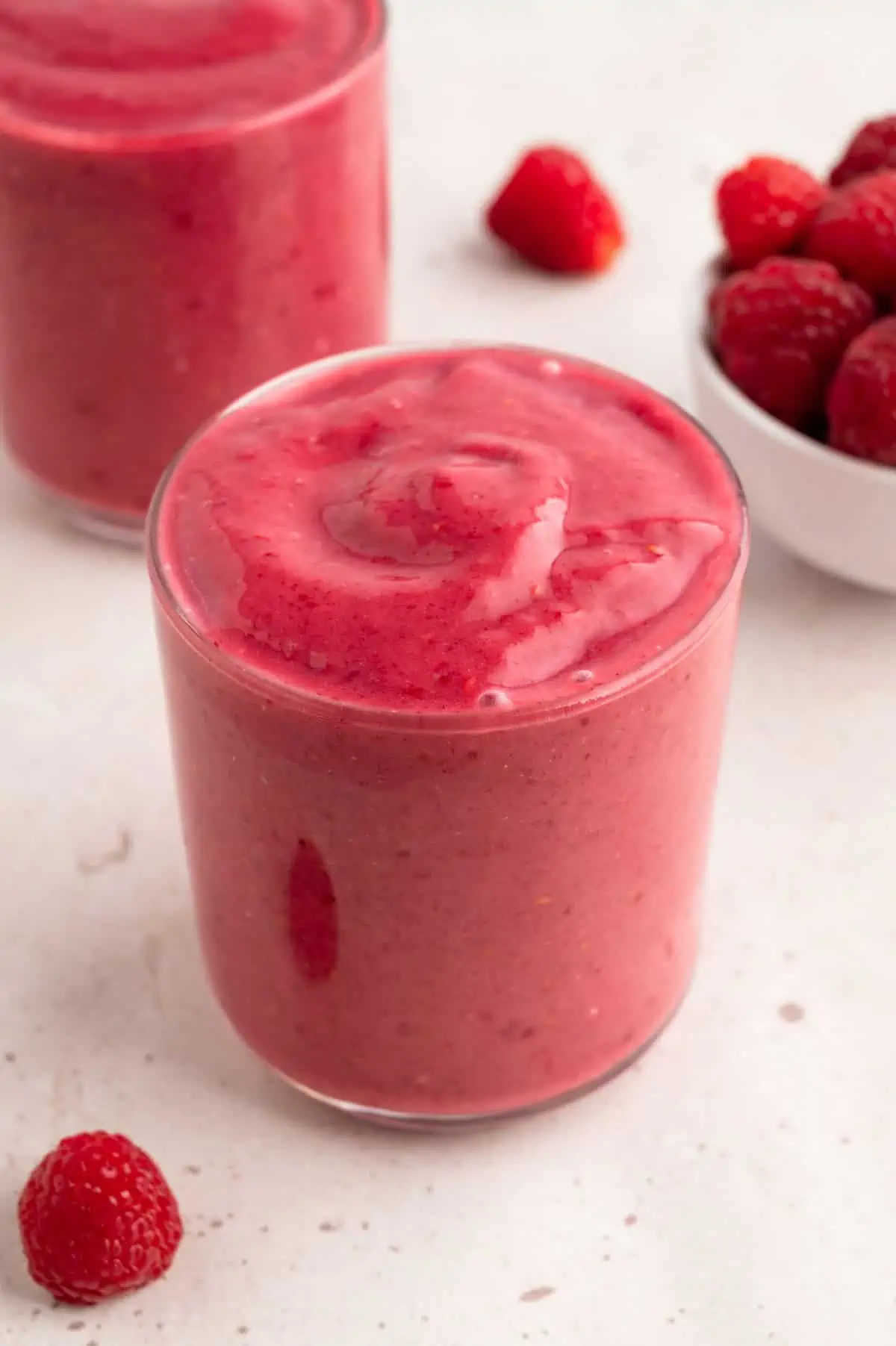 You won't be able to resist these herby vegan zucchini fritters. These crispy, golden bites are not only delicious but versatile too, making them a perfect snack, appetizer, or even a satisfying main dish. Satisfy your fried food cravings while nourishing your body with a wealth of nutrients.
You won't believe these cake pops are secretly healthy! Swap the cake for a delicious filling made with dates and walnuts that tastes shockingly like cookie dough! They're perfect for dessert but also nutritious enough for a healthy vegan snack!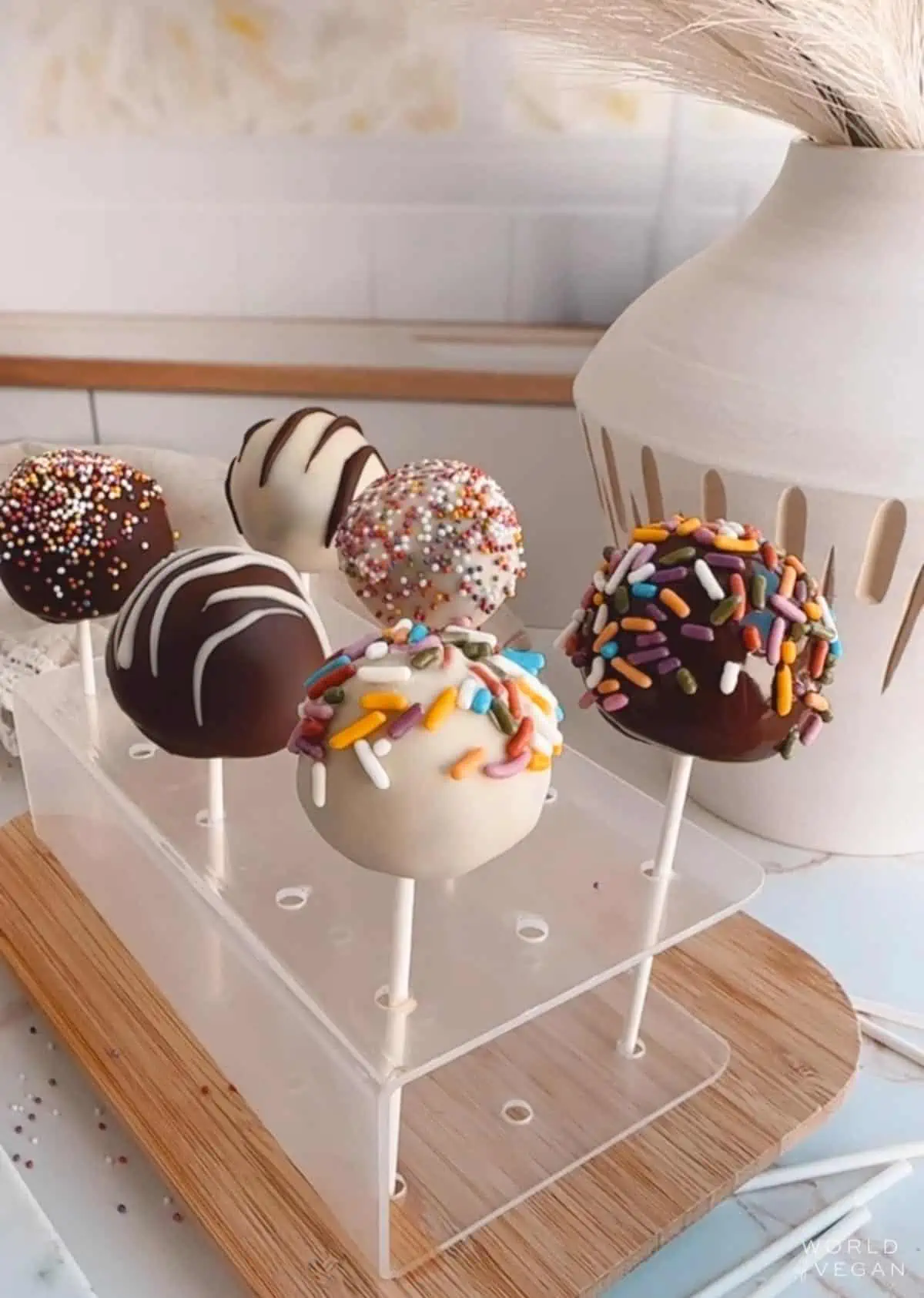 Discover the irresistible allure of baba ganoush dip! Dip vegetable sticks, chunks of bread, or toasted pita strips into this delectable dish. It's also perfect for sandwiches or as a topping for crostini, whether it's a party nibble or a satisfying snack.
Prepare to be blown away by the cheesy goodness of crispy kale chips! These crunchy delights are bursting with flavor, loaded with nutrition, and incredibly addictive. Satisfy your cravings with a savory snack that's as delicious as potato chips, yet remarkably healthy. Kale chips are the ultimate life hack, delivering a truly satisfying experience.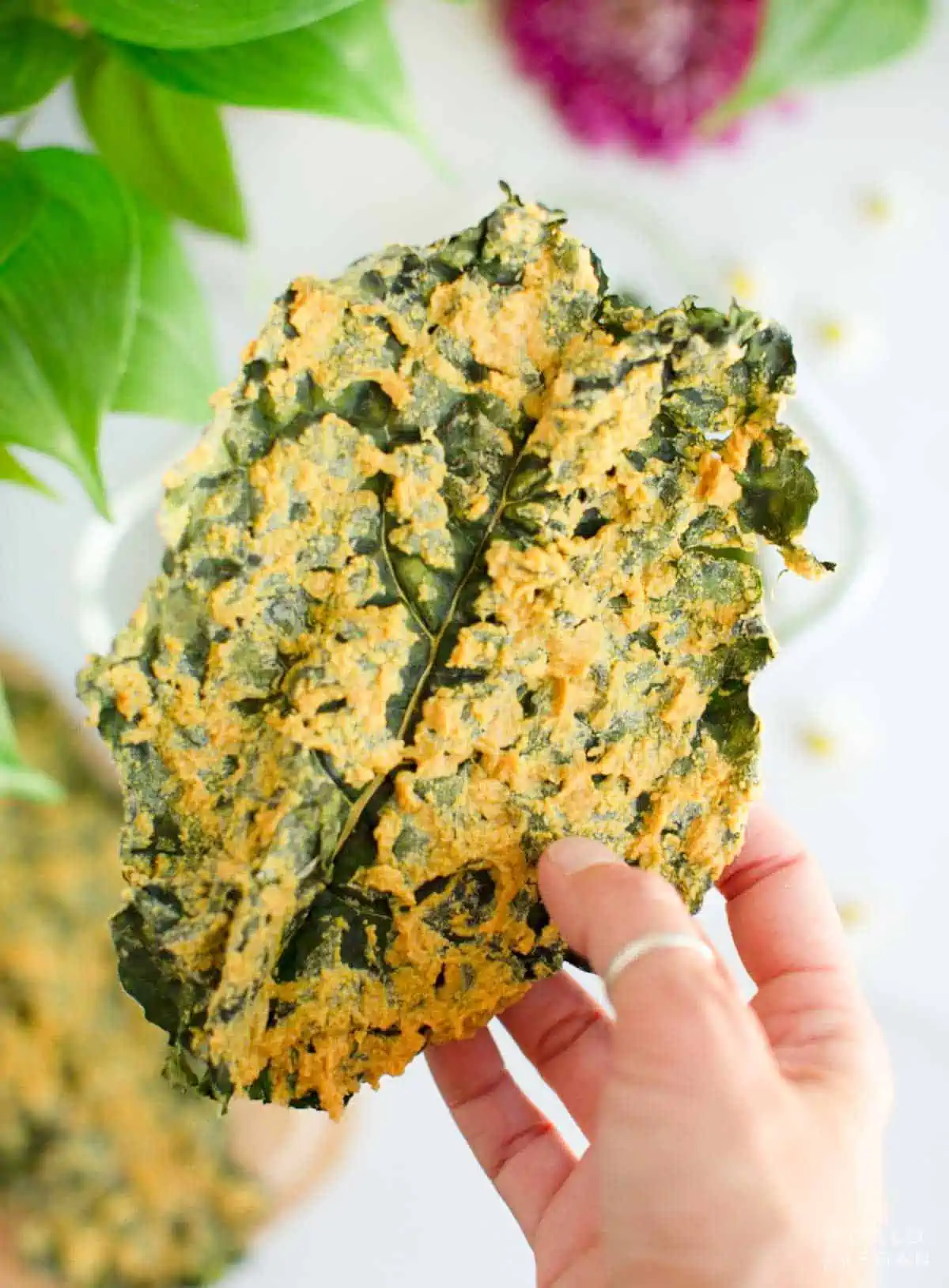 Sometimes the best snacks are often the simplest ones. While grabbing a piece of fruit is great, there are times when you crave something more. That's when Chocolate-Dipped Banana Pops come to the rescue! Enjoy a delightful treat that adds a little extra indulgence to your snacking experience. It's a win-win, promoting your health and benefiting the environment.
Get ready to have your taste buds amazed with our sensational air fryer zucchini fries recipe! Unlike other bland or boring zucchini recipes, these fries will truly knock your socks off. Experience the perfect balance of a crispy exterior and a soft, squishy interior that rivals even mozzarella sticks.
You can never have too many types of hummus! For the ultimate pink color and a hint of sweetness, the secret lies in roasted beets. This beautiful hummus, featuring beetroot, chickpeas, tahini, lemon juice, olive oil, and spices, is set to revolutionize your taste buds. It's a versatile option suitable for everyday snacking or impressing guests with!
Looking for a crave-worthy snack? Bursting with flavor and perfect for satisfying your cravings, these wings are a must-try. And the best part? Pair them with a quick and easy homemade vegan ranch dressing, and you've got a winning combination!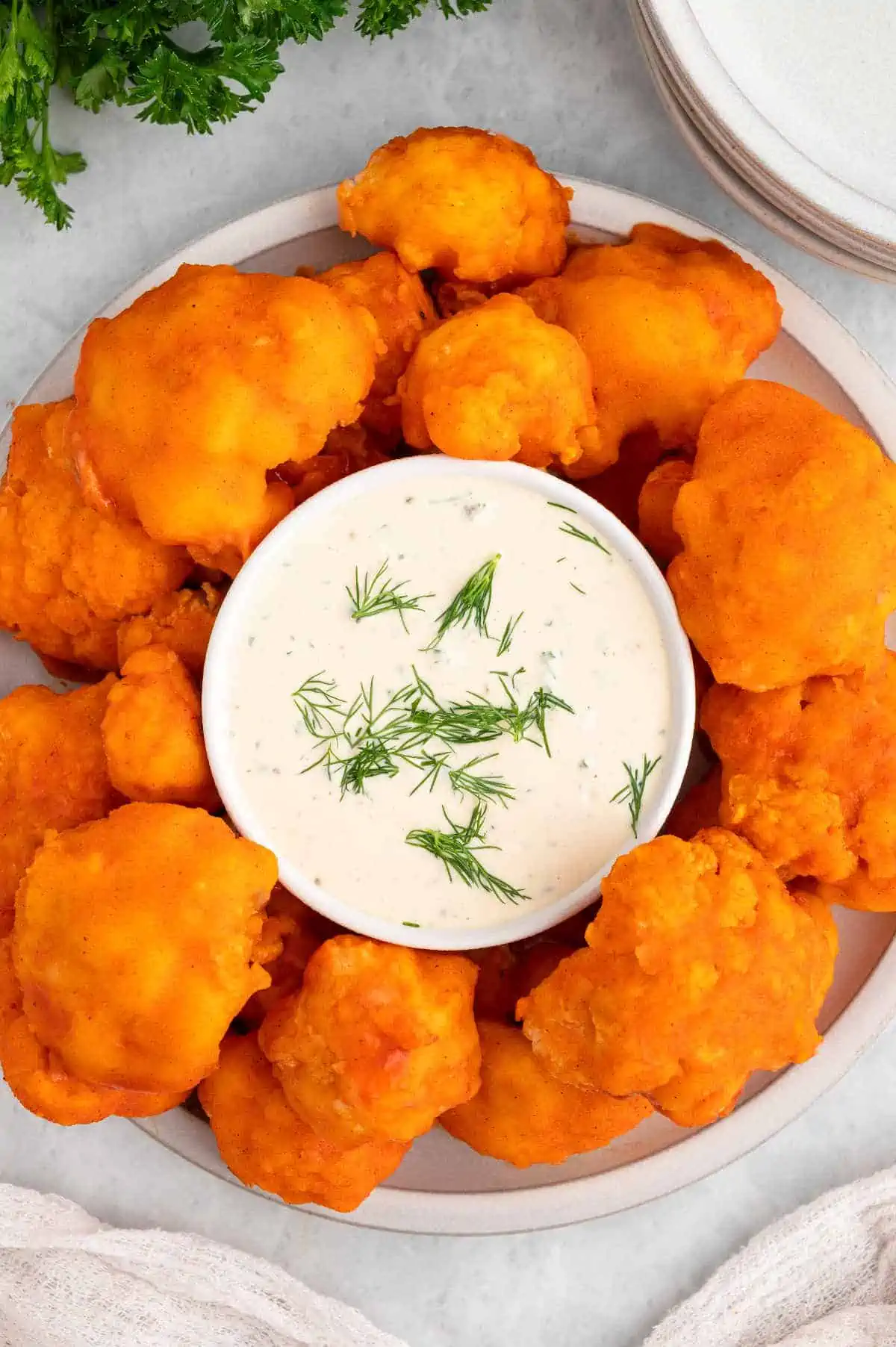 Enjoy the perfect autumn treat with this roasted pumpkin seeds recipe! Once you try these golden delights, you'll never settle for packaged again. The irresistible combination of sweet and salty flavors, along with a satisfying crunch, will have you reaching for seconds in no time.
Boost your nutrition with fresh juice in your daily diet! Our simple and peach juice recipe is a breeze. Slice perky peaches, juice them, add a touch of lemon and sweetness, and voila! Enjoy the perfect pick-me-up.
Don't let the name fool you—Texas caviar is completely vegan! This super delicious vegan Texas caviar recipe is the perfect fresh snack or appetizer. Serve with your favorite tortilla chips or crackers!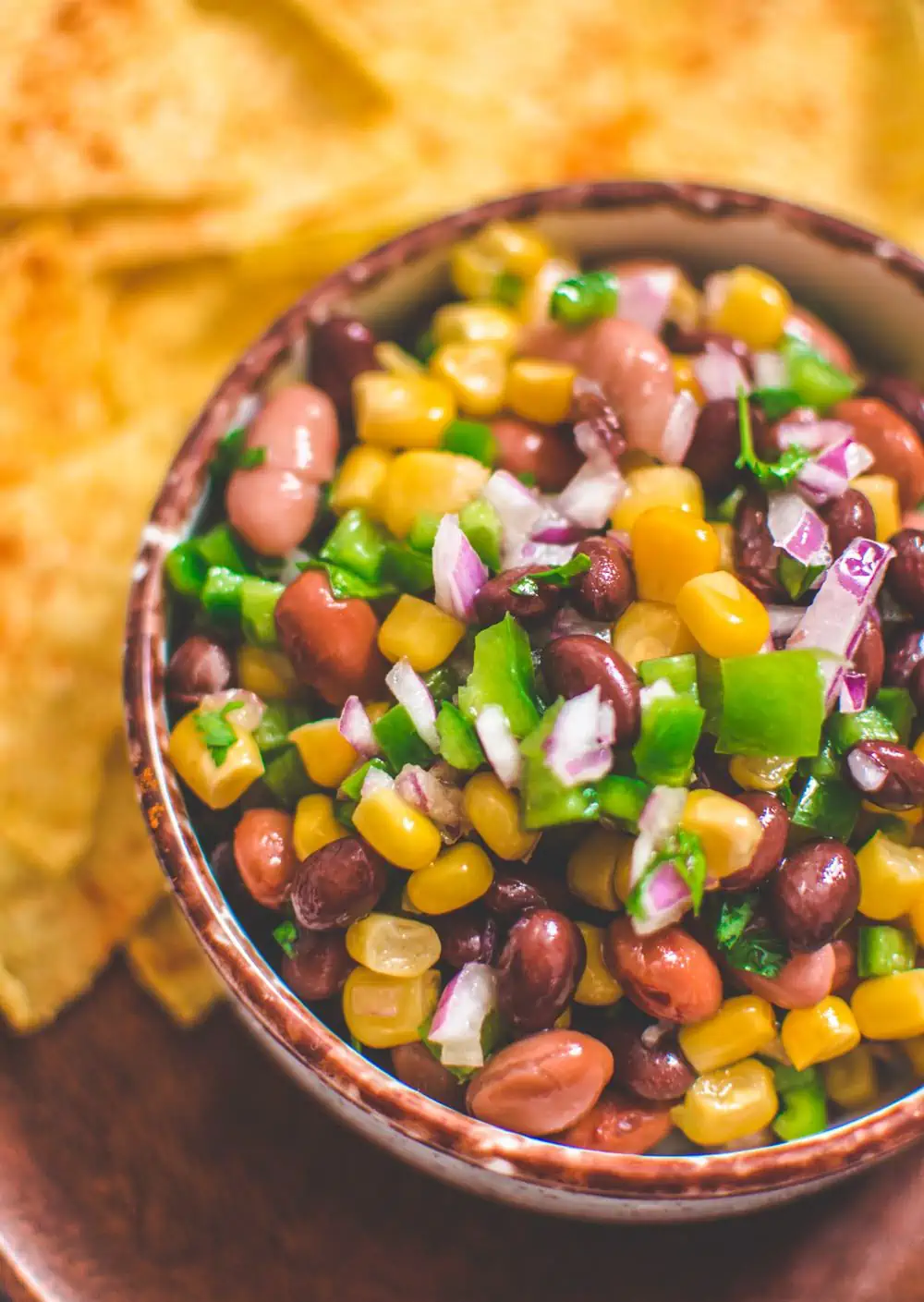 Indulge your sweet tooth with these simply sweet chickpeas. Easy to make and irresistibly addictive, they make for the perfect snack! The addition of maple syrup lends a soft and mellow flavor that will keep you coming back for more.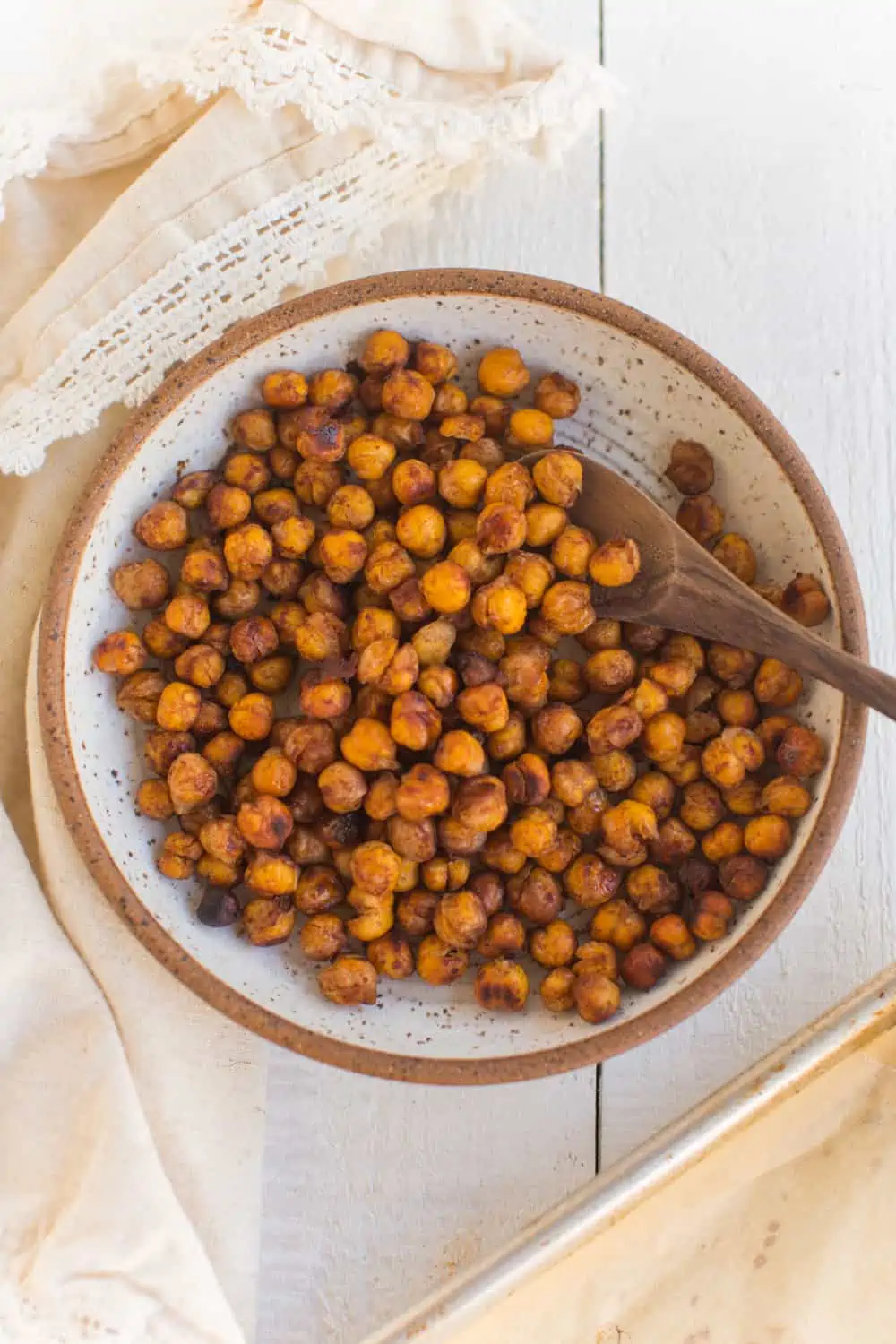 Escape to the tropical paradise with a homemade açaí bowl featuring only 5 ingredients (plus your preferred toppings). This delightful creation rivals the fancy, pricey versions found at beachside juice bars, and the best part? It takes just minutes to whip up in your own kitchen.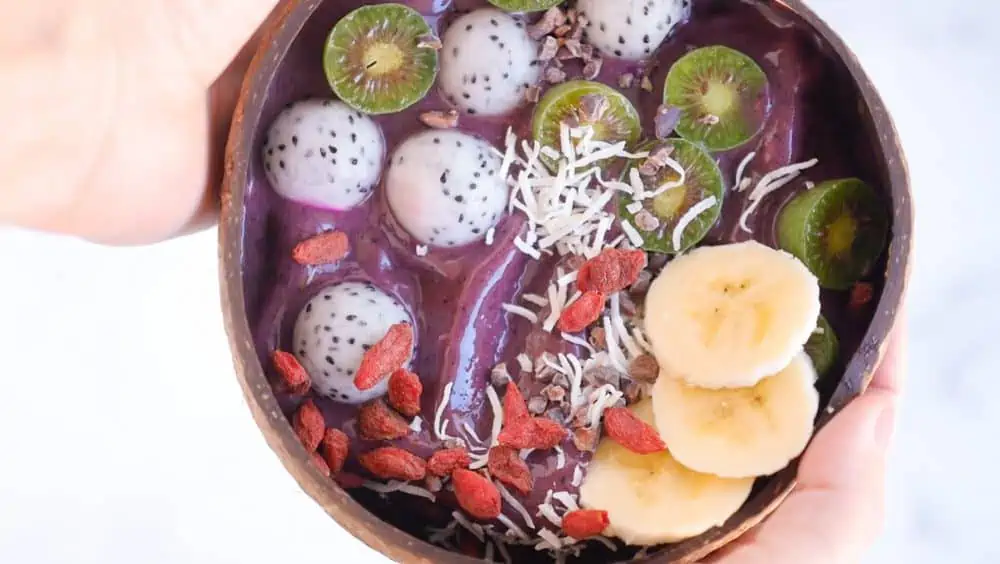 This easy-to-follow recipe delivers a creamy almond-based cheese log, bursting with herbs and flavors. Enjoy the perfect balance of taste and health with this irresistible vegan cheese log!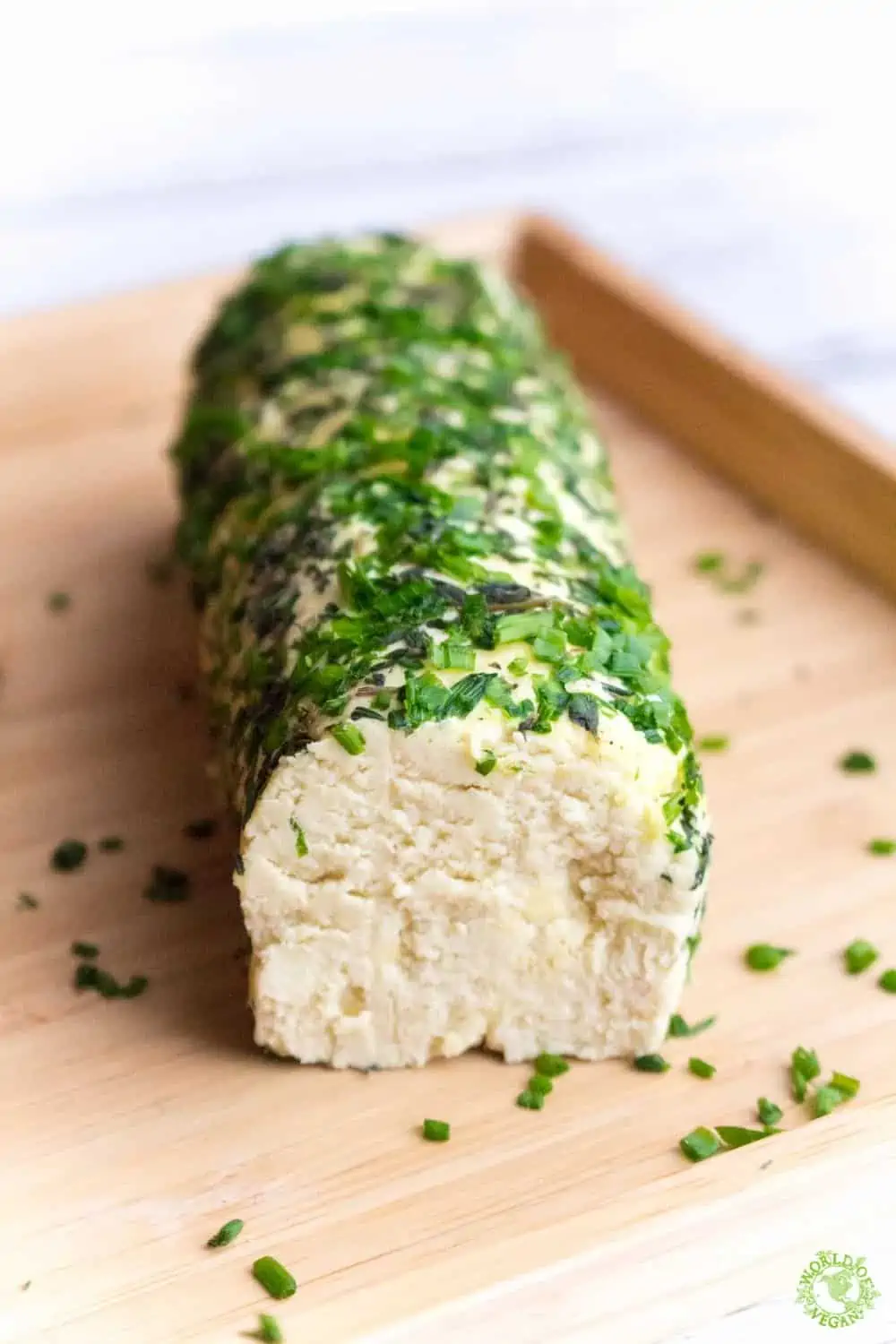 Brighten your day with a taste of spring through this easy sweet tart fruit salad. With its quick preparation, incredible versatility, and abundant antioxidants, this delightful salad is sure to capture your heart. Indulge in the perfect balance of sweetness and tartness that will leave you craving for more.
This next healthy vegan snack may come as a surprise. This incredible vegan buffalo queso is made from a base of tofu and cashews, but you'd never know. Whether paired with nachos, veggies, or macaroni pasta, it promises a heavenly taste sensation that will leave you wanting more.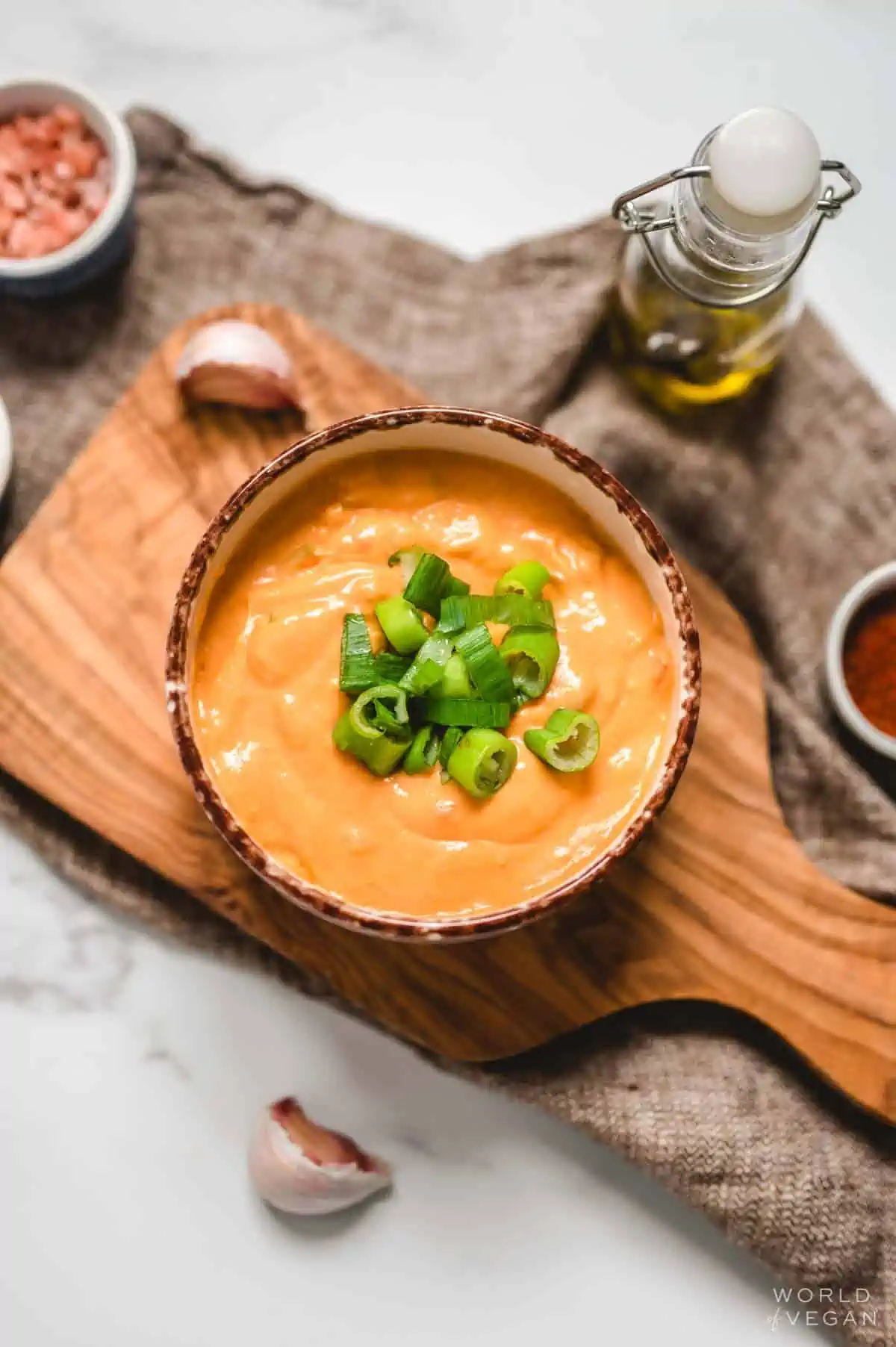 Discover the ultimate protein-packed snack with these nooch-encrusted air-fryer tofu cubes. In just minutes, your air fryer transforms cubed tofu, spices, and nutritional yeast into a delightfully simple and surprisingly healthy treat. Perfect for movie nights or any snacking occasion, these tofu cubes are a delicious alternative to popcorn!
Rediscover the joy of frozen orange creamsicle pops with a vibrant citrus orange juice smoothie! Indulge in the heavenly combination of sweet vanilla and fresh orange, creating a dreamy popsicle-like flavor. This healthy fruit smoothie is loaded with vitamins A and C, providing a refreshing and nutritious treat!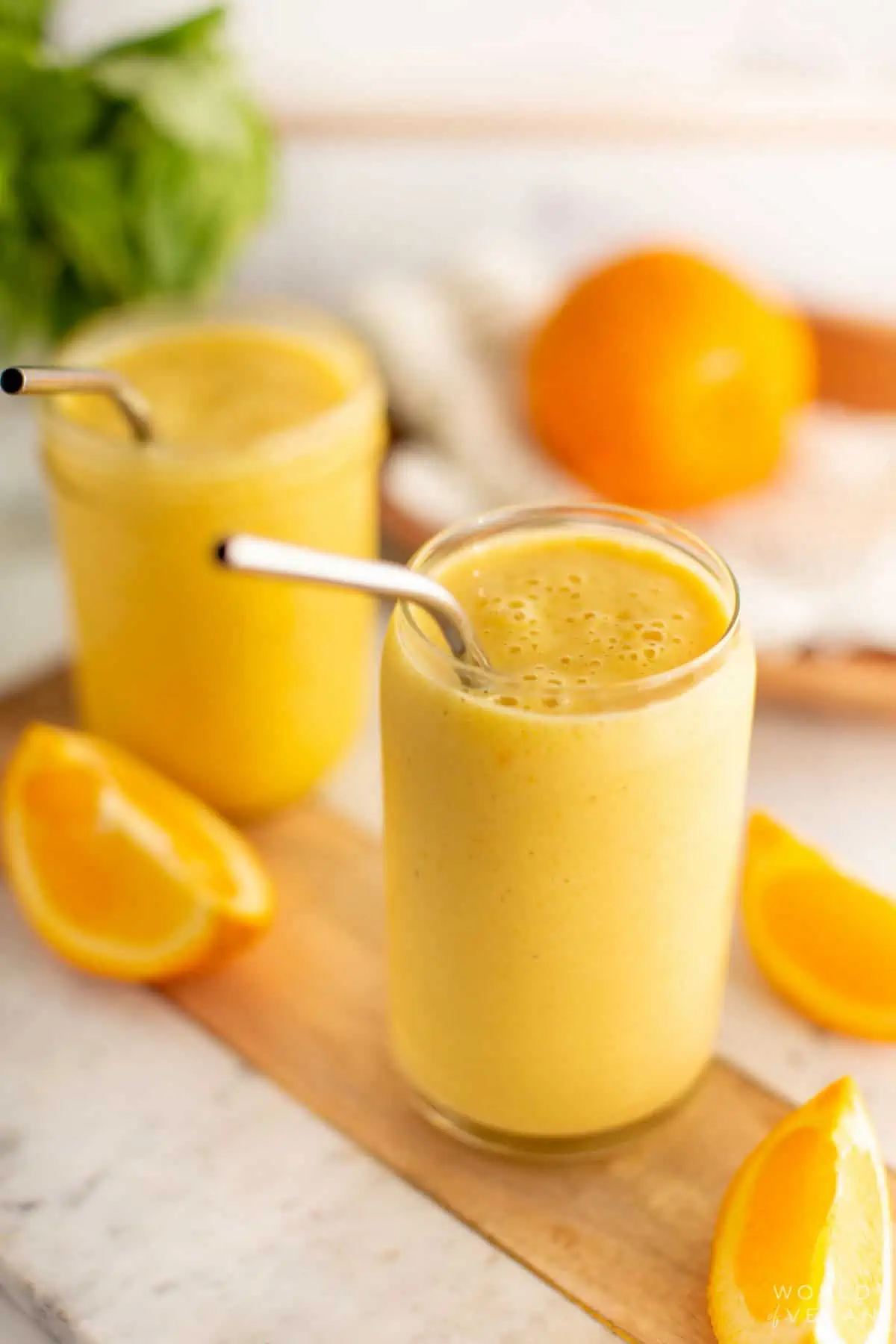 Craving something sweet? Look no further than our unbeatable date walnut truffles! With just four simple ingredients, you can whip up these blissful bites in no time. Packed with fiber and bursting with flavor, these truffles are the perfect size for a satisfying snack. Treat yourself to this delightful and guilt-free indulgence!
Elevate your french fry experience with these effortless vegan crispy air fryer potato wedges! In under 30 minutes, you'll reach a state of heavenly delight with these healthy and flavorful fries. Step up your game and savor the perfection!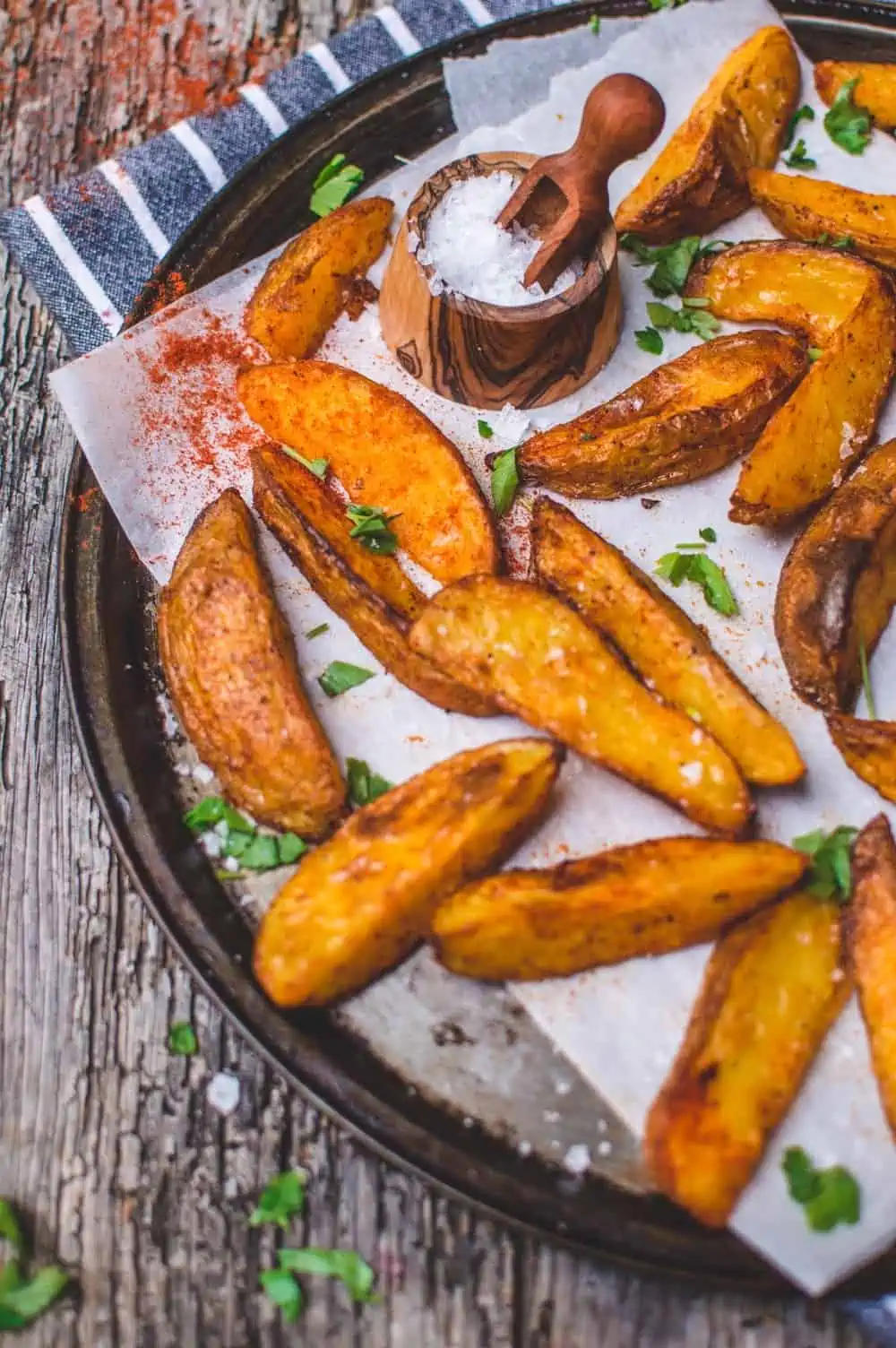 Indulge in the perfect on-the-go snack or breakfast with these delicious homemade granola bars. Crafted with nutritious ingredients and a delightful balance of spices and sweetness, they are sure to become your new favorite obsession! Satisfy your cravings and fuel your day with these irresistible treats.
More Healthy Vegan Recipes
Article written with support from Vince Lia, the Healthy Vegan Guy.