Your Guide to Making The Best Vegan Salads
Have you ever wondered why you get so sick of salad sometimes? Is it because your lettuce has lost its luster and your dressing is downright dreary? Maybe you can think of only cucumber chunks or tired tomatoes to toss in? Our ultimate vegan salad guide is the solution!
Are we doomed to constantly create the most boring bowl of plain, passive produce? Not anymore, my fresh veggie-loving friends! It's time to fight back against our fearsome foes—Limp Lettuce Man and Kranky Kale Woman!
Today, we're going to turn your Clark Kent collection of gloomy, grumpy greens into the Superman (or woman) of all salads! Find the nearest phone box (or iPhone store), lug on those leggings, and grab your most colorful cape. Let's make a superhero salad!
1. Gather Those Greens
Like any good vegan salad guide, we'll start with the greens. While iceberg may be the tried and true lettuce for a standard salad, we know that we can do better! There are so many types of tasty greens to choose from, you'll never have to make the same salad twice.
Here are some of our favorite greens to use in a salad:
Sweet & Mild – romaine, butter lettuce, iceberg
Best Blend – spring mix, 50/50 baby spinach/spring mix, mesclun
A Little Bit of Bitter – baby kale, dandelion greens, escarole
Perky & Peppery – arugula, watercress
Throw in Some Texture – frisée, green leaf, curly endive
Call in the Color – red leaf, radicchio, endive
To make your salad even more superb, use this system to entice your senses:
Monochrome – Create a salad base using only green lettuce, but use many colorful toppings and veggies on top.
Variegated – Use as many different shades of green, purple, white and yellow leaves as you can find and then top with only one color veggie and a neutral color topping (ie. strawberries, tomatoes, and chopped nuts OR carrots, orange bell pepper, and black sesame seeds).
2. Vary Your Vegetables
The best way to make salads less boring is to create a burst of color in every bowl. When your eyes are excited by a rainbow of colors and textures, your belly will beg for more!
Here are some cool and colorful veggies to make your salad sing:
Red – beets, hot peppers, radishes, red bell peppers, tomatoes
Orange – carrots, orange bell peppers, sweet potatoes, tomatoes
Yellow – corn, squash, tomatoes, yellow bell peppers
Green – asparagus, broccoli, brussel sprouts, cabbage, celery, cucumber, green bell peppers, olives, green peas, sugar snap or snow peas
Purple – purple cabbage, purple potatoes, red onion
White – cauliflower, garlic, onions, parsnips, potatoes, shallots
Brown – mushrooms
Black – olives
Another good idea is to vary the size and shape of each of your veggies. Chopping is fine for a quick, spur-of-the-moment salad but, if you have the time, add a little extra effort with your chef's knife. Use two or three different techniques to achieve the most appetizing appearance.
Fun Shapes to Try:
Spirals
Diced
Chunks
Shreds
Matchsticks
Cookie Cutter Shapes (involve the kids with this one!)
Mandoline – Very handy for slicing in any thickness.
Spiralizer – Creates lovely, long vegetable spirals and curls.
Food Processor with a shredding and grating attachment – this video is super helpful!
Wide-Mouth Mason Jars – Perfect for storing all of your fresh and colorful vegetables in the fridge.
Colander – For washing your greens and veggies
Can Opener – For opening cans of beans and other salad add-ons
3. Select a Sauce
Less is always more when it comes to a salad sauce or dressing. My instinct is to add a waterfall of watery dressing so that my salad can swim happily. Do yourself a favor and do the opposite of this.
Assemble your sassy salad and then portion it out onto individual plates. Let everyone add their own amount and let the rest of the bowl go bare. Believe me, this makes it much easier to store later on.
A good rule of thumb is 2 tablespoons of dressing per medium bowl of salad, give or take. It might not seem like a lot at the time, but once you get it mixed in, it's the perfect amount. Some people may even prefer their salad completely plain.
½ cup oil, olive, avocado, vegetable, safflower
¼ cup vinegar, rice, red wine, balsamic, champagne
1 tablespoon mustard, stoneground, yellow or dijon
1 tablespoon sweetener, agave, maple syrup, sugar
½ teaspoon garlic and/or onion powder
Pinch salt and pepper
In a small bowl add the oil, vinegar, mustard, sweetener, garlic and/or onion powder, salt, and pepper. Mix until thoroughly combined and serve over salad greens!
Calories: 254kcal | Carbohydrates: 3g | Protein: 0.2g | Fat: 28g | Saturated Fat: 2g | Polyunsaturated Fat: 8g | Monounsaturated Fat: 18g | Trans Fat: 0.1g | Sodium: 42mg | Potassium: 10mg | Fiber: 0.2g | Sugar: 1g | Vitamin A: 3IU | Vitamin C: 0.02mg | Calcium: 4mg | Iron: 0.1mg
Our Favorite Dressing Recipes:
Simple Dressings (with little to no preparation needed):
Lemon or lime juice
Hummus mixed with a little water or juice
Balsamic Vinegar
Flavored Vinegars (The Peach flavored vinegar from Rocky Mountain Olive Oil is out of this world!)
Mashed avocado
A sprinkle of toasted sesame oil or infused olive oil
4. Don't Forget the Fruit
Fruit makes an appealing addition to any salad. It gives each bite another layer of texture, sweet flavor, and a bit of extra color, too. Best left until you're just ready to serve and sprinkled on top.
A good rule of thumb is to use ½ cup of fruit per 4 cups of veggies, but it's all up to you and your taste preference. Thinly sliced fruit works really well in a salad and you can keep raspberries and blueberries whole.
Although any type of fruit can be used in salads, these are our favorites:
Berries – raspberries, blueberries, or strawberries
Stone Fruit – peaches, apricots, or cherries
Apples – honeycrisp (semi-sweet), fuji (sweet), green (sour)
Pears – bosc or asian
Citrus – oranges or grapefruits
Dried Fruit – chopped dates, raisins, sweetened cranberries
5. Tantalizing Texture
Once you choose all of your favorite greens, fruits, and veggies for a Superhero Salad base, it's time to think texture. No one wants a salad that's only squishy and soft. You need a bit of bite, a crispy CRUNCH, a stunning snap, and plenty of PUNCH!
Chopped Nuts and Seeds
Use any nuts or seeds that you love, either roasted or raw, and chop them roughly before adding to your salad. Not only do you get a good amount of healthy fat, but a terrific texture, too! My favorite are salted sunflower seeds —did anyone else love those at the Pizza Hut salad bar?
Croutons
Either bought or homemade, the lush crustiness is irresistible! But, beware, some packaged croutons contain butter, cheese, or egg whites. Try these baked croutons from our Italian Bread Salad recipe and leave out the other ingredients.
Potatoes
You can never go wrong by adding spuds to your salad! Our Crispy Air Fryer Potato Wedges have a super soft and crunchy character that you'll love.
Salsa
This gorgeously green Tomatillo Salsa would be a terrific topping with a bit of zest and zing, as well as added color.
Tortilla Strips
Either purchase pre-packaged or easy to make on your own, using either corn or flour tortillas. Cut each round tortilla into thin strips all the same diameter, lay out onto a parchment lined baking sheet, spray with a little bit of avocado or olive oil, and season with a sprinkle of salt, garlic powder and squeeze of lime. Bake in a preheated oven at 350 degrees for 7-10 minutes, making sure to check them often and turning them halfway.
6. Appetizing Add-Ons
When it comes to making the best vegan salad, toppings are key. The types of toppings you can add are endless! It's all about that little extra that can transform your Gathering of Greens into a Sensational Superhero Salad. To help you out, here are the most popular and praise-worthy garnishes for your garden salad:
Beans
Satisfying addition full of fiber, protein, and plant-based iron. Add ½ cup of cooked and cool beans to your bowl. Our Savory Roasted Chickpeas are so yummy.
Roasted Vegetables 
The perfect use of any vegetable leftovers. If you don't have any pre-made, just mix any veggies you like with a little balsamic vinegar or oil, add seasonings of your choice and roast in a preheated oven at 400 degrees for 35 minutes. The complete recipe is here. Tasty both warm or cool.
Glorious Grains
Transform your light salad into a filling meal by adding cooked and chilled grains! Quinoa, brown rice, barley, and farro are all great options. Add ½ cup to each serving of salad.
Baked or Grilled Tofu
You can find pre-baked and seasoned tofu at the grocery store or make your own. Chop it into small bite-sized cubes and add it to your salad as a great healthy alternative to grilled chicken!
Plant-Based Meats
Can't picture a salad without grilled chicken strips on top? You can get some vegan chicken strips or vegan chicken nuggets that are just as delicious but cruelty-free! Cook them up and let them cool, chop them into bite-sized pieces, and add them on top of your salad. Delicious!
Pickled Veggies
Topping with a tang! Pickled onions, carrots, or just plain pickles are a nice way to add another layer of fabulous flavor. Try our homemade pickled veggies recipe!
Coconut Strips
Adds a bit of buttery, crunchy sweetness.
Grains
Round out your salad plate with a scoopful of cooked brown rice, quinoa, or other favorite grain. Great for extra fiber and B vitamins.
Dare to Add Dairy-Free Cheese!
Sometimes, you just need something salty to step up your salad. Check out our Dairy-Free Cheese Guide for our favorite kinds. Or, you can add a few savory slices of your own homemade cheese with this recipe.
Or, how about a sprinkle of nutritional yeast? It's a great substitute for dairy cheese and adds a pleasant, dry cheesy flavor that's really addictive.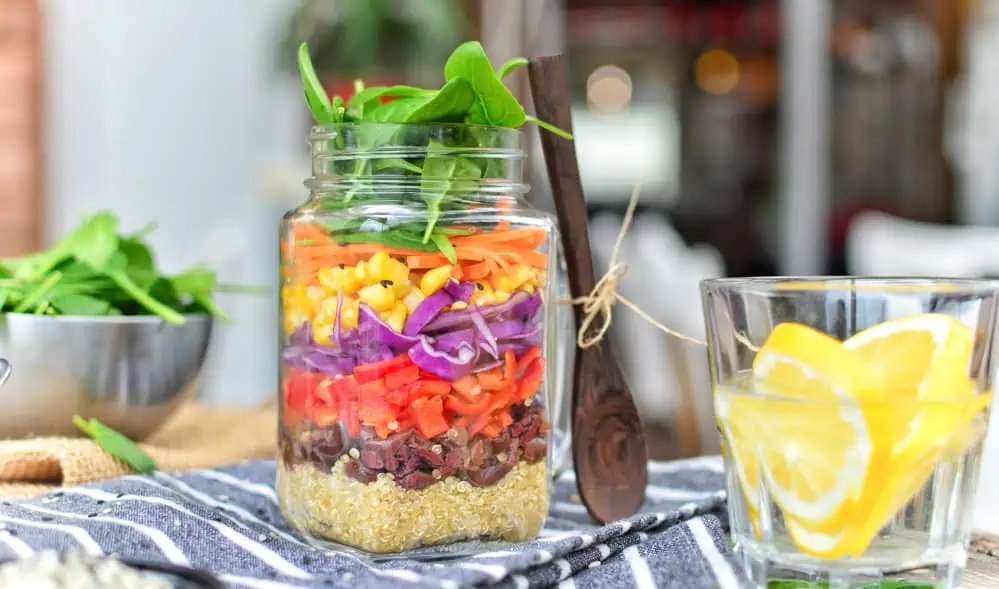 How to Store Your Salad
The best way to store any leftover Superhero Salad is to place a damp paper towel (or cloth) into the bottom of a container (or reusable bag), add your salad remains, and cover completely. Salad stored in the refrigerator will last up to 3 days, if kept cool and moist. Do not freeze.
If you're able, store your salad fixings in separate containers. Greens in one, veggies/fruits in another, and toppings by themselves. This will help to keep everything fresher and discourages sogginess and spoilage.
When you're ready for another round of salad, you can easily add extra lettuce, new veggies and fruit, and more awesome add-ons. Dare to try a different dressing or serve while you're still wearing your superhero cape!
Now that you've defeated all the biggest barriers to boring salad bowls, you're ready to face the world as a Super Salad Hero!
More Scrumptious Vegan Salad & Dressing Recipes
What's your favorite vegan salad recipe? Do you have any must-have ingredients you consider essential to create the best vegan salads? Tag us on Instagram, share with us on Twitter or post on our Facebook wall. We'd love to see your #superherosalad creations! And discover even more salad ideas over on our Vegan Salads Pinterest board.
Article by Gina House and edited by Amanda Meth. Content copyright World of Vegan, all rights reserved. Photo from Canva.com and Zhoro Apostolov. Cover photo designed by Michelle Cehn.