Searching for a sauce that does it all? We've found it for you, friends! This vegan buffalo queso recipe from the Two Dollar Radio Guide to Vegan Cooking has a rich, velvety texture with just the right amount of kick. No one would ever guess that the basis of this quick-to-make, creamy sauce is silken tofu!
Once you collect your ingredients, all you have to do is blend. How simple is that? You'll easily impress your guests with the feisty flavor and still have enough left over to enjoy the next day. There is no limit on what you can transform with this terrific topping!
1 cup cashews, soaked for at least 15 minutes
1 4-ounce block silken tofu
Salt + pepper to taste
¾ cup hot sauce, we used Frank's Red Hot
1½ tablespoons smoked paprika
1 cup nutritional yeast
¾ cup soy milk
⅓ cup olive oil
1 head garlic, minced
Soak the cashews in hot water for at least 15 minutes.

Add ingredients to a blender and blend until smooth.

Garnish with vegan bacon or diced scallions or both!
Pairing suggestions: Toss buffalo queso with noodles for buffalo mac & cheeze. Or use buffalo queso on tacos and nachos, drizzle on pizzas, or just warm and use as a dip with chips.
Calories: 422kcal | Carbohydrates: 20g | Protein: 14g | Fat: 34g | Saturated Fat: 5g | Polyunsaturated Fat: 5g | Monounsaturated Fat: 21g | Sodium: 1219mg | Potassium: 649mg | Fiber: 5g | Sugar: 4g | Vitamin A: 1540IU | Vitamin C: 39mg | Calcium: 96mg | Iron: 4mg
Baffled About the Buffalo?
Did you know that the term 'buffalo' (when it comes to the sauce) has nothing to do with the actual animal? Thank goodness! The term for this super spicy and tangy dressing originated in 1964 at the Anchor Bar in Buffalo, New York. The owners, Frank and Teressa Bellissimo, created this topping so they wouldn't lose money over an accidental delivery at their restaurant.
The original buffalo sauce included only three ingredients: melted butter, hot sauce, and cayenne pepper. Crunchy celery and cool bleu cheese were added on the side to balance out the heat. A plant-based version can easily be made by using vegan butter instead of dairy butter.
Eric uses a combination of cashews, silken tofu, and oil to mimic the thick, buttery texture and richness of the authentic recipe. To take it to another level, he added soy milk, nutritional yeast, and smoked paprika to create this distinctive vegan buffalo queso. Daring and delicious!
Quick Queso From Cashews
We all know that cashews are the King of Nuts. Not only are they killer at making creams, cheeses, and nut butters, but quesos too! Is there anything they can't do??
These curvy little nuts are full of healthy, plant-based fats, fiber, magnesium, iron, and protein. Because of their higher fat content and soft exterior, they're ideal for blending into any sort of creamy concoction.
The best thing about cashews is that they have a very neutral flavor. This is also true of tofu. Creating a special sauce is a snap because you have total flavor control. You can add whatever spices you wish and it will wind up wonderful.
How to Serve It Up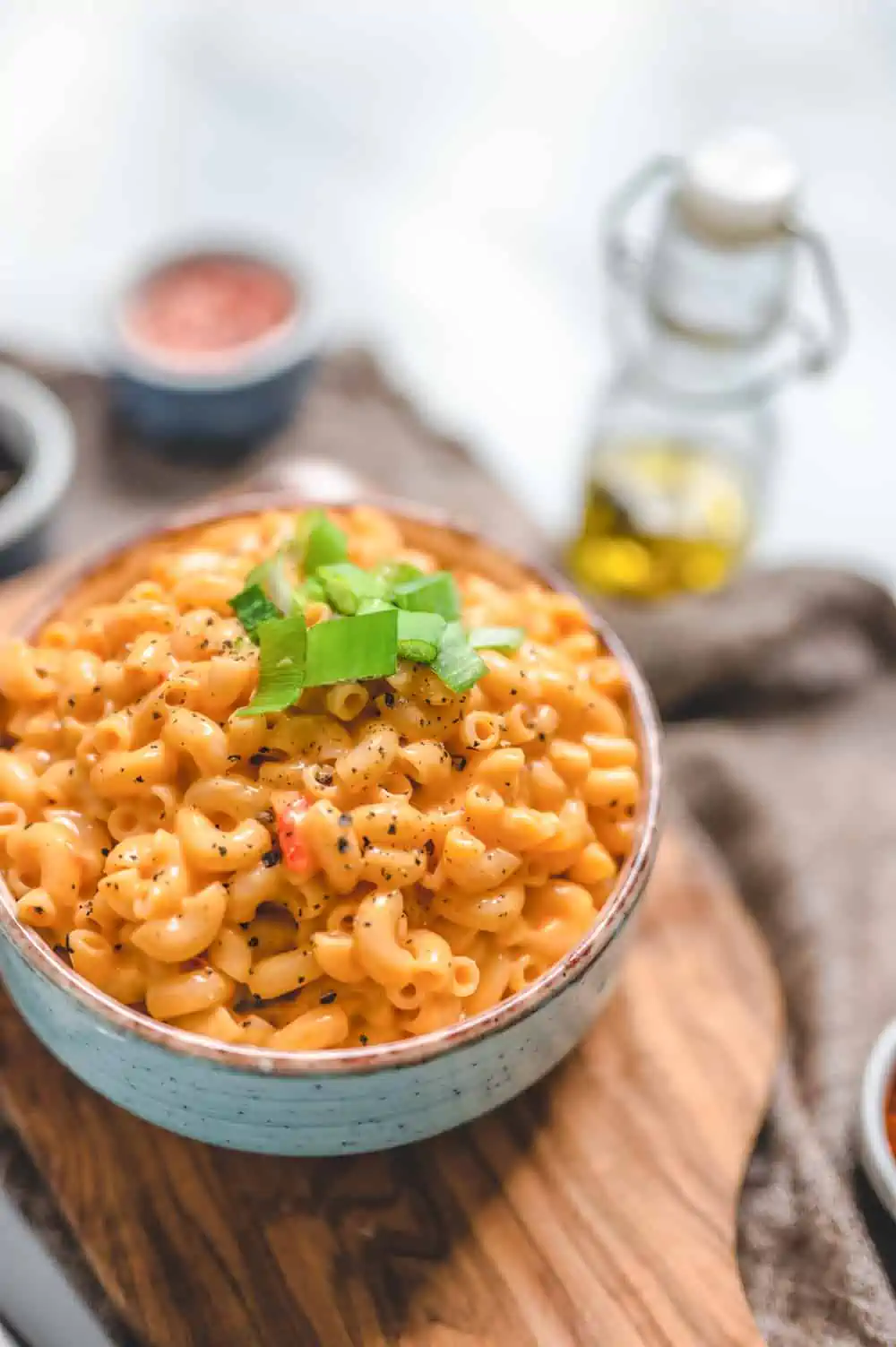 Storing Your Buffalo Queso
This recipe makes a large amount of queso––about 3.5 cups. If you are a huge fan of queso or planning to make this for a party, this is the perfect portion size. If this sauce is only for you, feel free to save whatever is leftover in the fridge.
The sauce will last up to 3 days, covered, in the refrigerator. To reheat, simply pour into a saucepan and heat over medium-low for 5 minutes or until the desired temperature. You could also heat the remaining vegan Buffalo Queso in the microwave in one-minute intervals, stirring the sauce in between.
Keep in mind that overheating the sauce might cause a grainy texture to form. Luckily, this doesn't affect the flavor at all. It will still be super tasty.
About the Author
Eric Obenauf is the Editorial Director of acclaimed indie press Two Dollar Radio, a press he founded with his wife, Eliza. Eric was included in Publishers Weekly's "50 Under 40" list, spotlighting 50 individuals working in publishing under age 40 worth watching, and was one of five finalists in the magazine's 2016 "Star Watch" awards.
At Two Dollar Radio Headquarters—an indie bookstore, vegan cafe, bar, and performance space opened in 2017 in Columbus, Ohio—Eric stocks the books and chefs it up in the kitchen. He enjoys camping, hiking, cooking, reading outside with a beer or two like a gentleman, and dad jokes. Two Dollar Radio Guide to Vegan Cooking is his first cookbook.
More Delicious Dips and Buffalo Recipes to Try:
We want to thank our amazing recipe testers J.J. Steele & Taylor Gillespie (@food.in.focus) for helping us perfect this recipe!
This recipe for Vegan Buffalo Queso was reprinted with permission from the Two Dollar Radio Guide to Vegan Cooking cookbook by Eric Obenauf, Jean-Claude van Randy, and Speed Dog (Two Dollar Radio, September 2020). Photo credit: Two Dollar Radio. Article written by Gina House and edited by Amanda Meth. Please note that this article contains affiliate links that help support our work at World of Vegan!