Who doesn't love fruit? I seem to crave fruit all year long, but especially as soon as spring starts. It must be the growing light of golden sunshine and warming wafts of fresh air that stimulate my hunger. I created this easy fruit salad recipe to satisfy my sweet (and tart!) tooth and I think you'll like it berry much!
This simple recipe requires only a few fruits, a little lime juice, and a minute of mixing. After that, it's all done and ready to be devoured! You might find this sensational salad holds the kiwi to your heart 🙂
Amp Up the Antioxidants
Fruit, in my opinion, is the most fantastic and filling of all foods. Not only are most fruits low in calories, fat-free, sodium-free, and cholesterol-free, they are all high in water, fiber, vitamins, and minerals. Here are more fresh fruit facts:
Strawberries – High in vitamin C, manganese, and potassium
Cherries – Good source of vitamins B6, C, potassium, and magnesium
Oranges – Packed with vitamin C, vitamin A, calcium, and potassium
Kiwi – A powerhouse of antioxidants (including choline, lutein, and zeaxanthin), vitamin C, vitamin E, and potassium.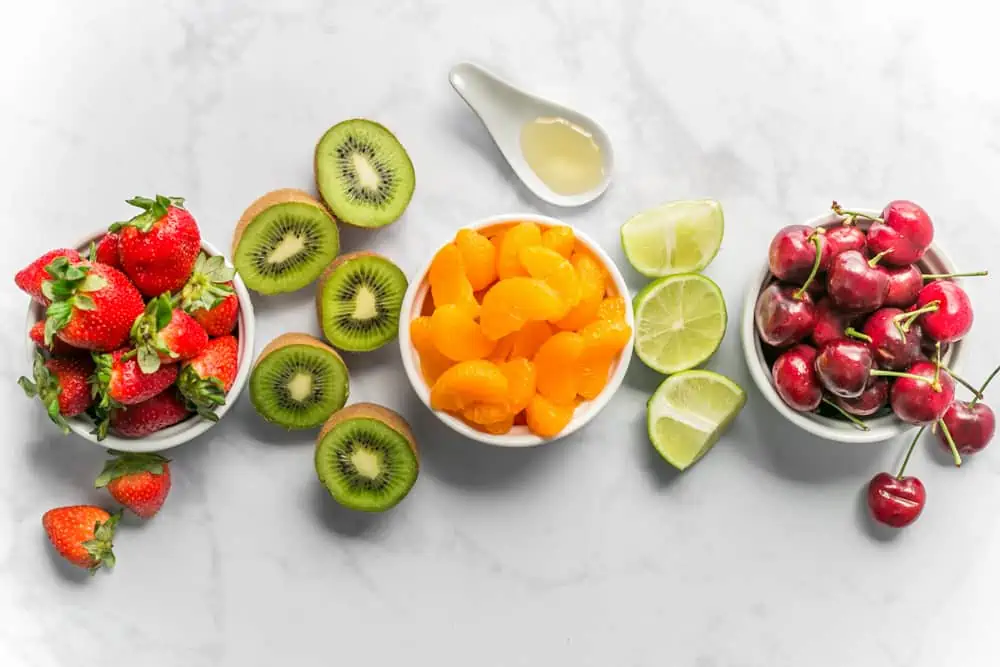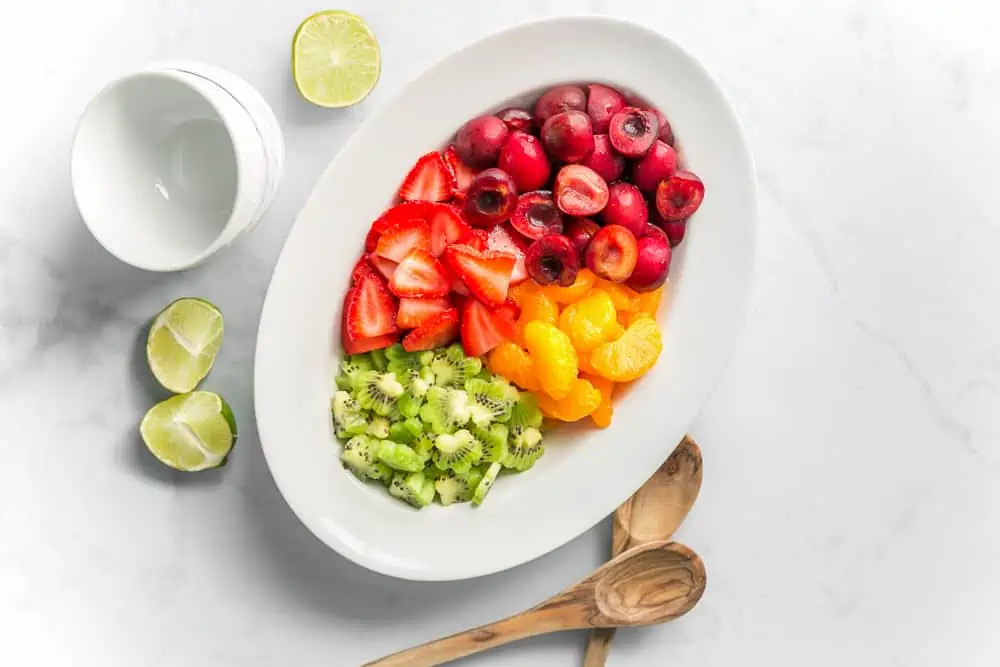 How to Serve Up Your Sweet Tart Easy Fruit Salad
I love to find new ways of managing mini meals and dishing up desserts. To serve up a simple dish as something special is really magical. Here a few ideas to make your fruit salad flourish:
Beautiful Bowl – Nothing beats a gorgeous glass or pretty pottery bowl for presentation. Choose a contrasting color or neutral (white or black) for the most impressive background. You could even use the inside of a watermelon, pineapple, or other large melon or gourd!
Call On the Cups – For kids, using silicone baking cups is not only colorful and fun, but make for super easy clean up. Just add a few tablespoons to each cup and off they go with a portable snack.
Grab a Garnish – Garnishes are usually for appearance only, but they can sometimes be a tasty treat. Mint leaves go really well with fruit and also freshen your breath at the same time. Also consider candied walnuts, whipped coconut cream, or coconut flakes.
Alluring Ambrosia – Turn your Sweet Tart Easy Fruit Salad into a delightful and decadent dessert! Add a half cup each of It Doesn't Taste Like Chicken's vegan marshmallow fluff and Savanna Mehrad's vegan sour cream to your salad. So delicious!
Equipment You'll Need
1 cup sliced strawberries, tops removed
1 cup sweet cherries, pitted and cut in half
1 cup chopped kiwi, about 2-3 kiwis
1 can mandarin orange slices, preferably, in fruit juice, not syrup or 1 cup of fresh orange segments with pith removed.
1 tablespoon fresh lime juice
1 tablespoon your favorite sweetener or mandarin orange juice, maple syrup, brown sugar, agave, etc., optional
Wash and dry all of the fruit, except the canned oranges.

As you prepare the fruit, you can add the pieces directly to the mixing bowl.

Peel the kiwi, cut into small chunks.

Open up the can of mandarin oranges and drain (you can keep the juice to add to the fruit salad instead of the lime juice and sweetener, if you wish). If using fresh oranges, follow this tutorial on how to get pith-free segments.

Take the top off of the strawberries and slice.

Pull the stems off the cherries, take out the pits, and slice in half.

Cut the lime in half and squeeze one tablespoon of the juice right into the bowl.

Stir the mixture well and taste.

For a sweeter fruit salad, add one tablespoon (or to your liking) of a natural sweetener. Mix again.

If not serving immediately, place the bowl covered in the fridge for up to a day or two. Before serving, let the fruit come to room temperature, if possible.
This recipe is very versatile! Substitute any fruits that you wish. Try to have a mix of two sweet fruits and two slightly sour fruits for the best flavor.
If you don't want to add the lime juice or sweetener, feel free to leave them out. You can also use lemon or orange juice, as well.
This can be made with frozen fruit, if you don't have a lot of time. Take the fruit out of the freezer the night before and place each fruit into its own bowl or covered container. The next day, measure out your fruit and mix it all up. You can either drain the extra juice or keep it for your fruit salad. It's up to you. Keep in mind that your fruit salad will be softer and not as fresh looking if you use frozen, but it will still taste delicious.
Other fruits that would go well in this salad: apples, blueberries, blackberries, peaches, pineapple, or mango.
Calories: 85kcal | Carbohydrates: 21g | Protein: 2g | Fat: 0.4g | Saturated Fat: 0.03g | Polyunsaturated Fat: 0.2g | Monounsaturated Fat: 0.1g | Sodium: 6mg | Potassium: 317mg | Fiber: 4g | Sugar: 16g | Vitamin A: 892IU | Vitamin C: 81mg | Calcium: 34mg | Iron: 1mg
Simple Storage
Sadly, fruit salad never stays fresh for long. However, there are a couple of ways that you can make it last a little longer. Drain any excess liquid that accumulates at the bottom of the bowl and then add a small splash of lime juice before storing. If you keep the fruit covered in the fridge, it should last about two to three days.
Any leftover fruit can also be frozen, but I would use the frozen fruit in a smoothie or smoothie bowl instead of defrosting it and eating it that way. In short, making a new batch of Sweet Tart Easy Fruit Salad (perhaps trying a new fruit combination?) is your best bet.
More Fresh Fruit Recipes to Try
Sweet Tart Fruit Salad Recipe and article by Gina House and photos by JJ Steele, copyright of World of Vegan™, all rights reserved. Article edited by Amanda Meth. Please note that this article may contain affiliate links which helps support our work at World of Vegan.