Chicken nuggets are a timeless favorite, beloved by the young and young-at-heart alike. They never go out of season, satisfy at any time of day, and transcend all cultural boundaries. If you have chicken nuggets on hand, you can rest assured that you're in for a savory treat. You could even say they're more valuable than gold nuggets when it comes to culinary currency.
What if it was possible to build a better nugget? It may sound like a lofty feat, but it's stunningly simple to improve on the original using all plant-based ingredients. Nisha Melvani has done just that in her new cookbook, Practically Vegan.
These veggie chickpea nuggets are the stuff of dreams and childhood nostalgia, all wrapped up in one brilliantly easy recipe. Once you know the secret to starting from scratch, it'll be tough to go back to processed frozen meals again.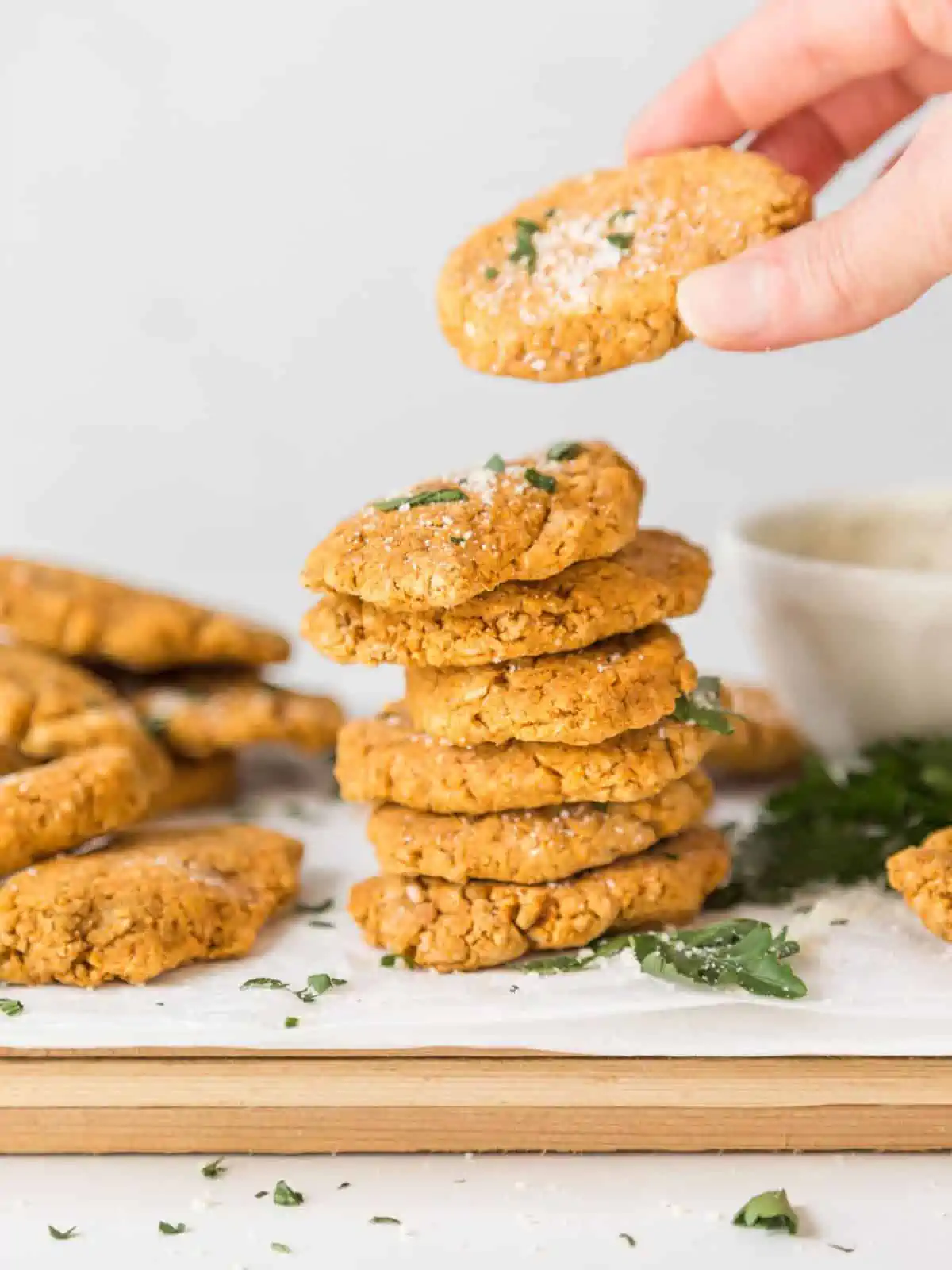 What Makes These The Best Nuggets Ever
Whether you're looking for a healthy kids meal or an adult snack or appetizer, they come together quickly and only require 8 ingredients. Plus they're incredibly delicious on their own or dipped into your favorite sauce!
Meatless: Conventional chicken nuggets are so passé. Plants can do everything meat can do, and better!
Healthy: Hello, protein powerhouse! You'll only find whole foods here, packed with nutrition and zero cholesterol. There's barely any added fat on top of that, making them surprisingly low in calories. Solo diners could easily eat the batch without any guilt.
Great for kids: Picky eaters will meet their match when veggie nuggets are on the menu. They're ideal finger food for small hands, making them fun to eat. The whole family will love the taste, too.
Freezer-friendly: Prep ahead and stash extra servings in the freezer to heat on demand. They keep brilliantly for up to 6 months in an airtight container.
Versatile: The simple, savory flavor palate allows for endless modifications based on your tastes. If you want them spicy, add sriracha! Craving BBQ? Go ahead, smother them in your favorite sauce.
Gluten-free: Everyone can enjoy this meal, worry-free. Make sure you buy oats that are certified gluten-free in case of severe allergies.
What Are Other Options For Vegan Chicken Nuggets?
Plant-based meat alternatives are more widely available than ever, and there's no lack of options available at any given grocery store. If you want to switch up your protein but don't have the energy to start from scratch, here are a few ready-made vegan chicken nugget brands to try:
SIMULATE Nuggs
Impossible Nuggets
Incogmeato Chik'n Nuggets
Morningstar Farms Veggie Chik'n Nuggets
Jack & Annie's Crispy Jack Nuggets
Gardien Ultimate Plant-Based Chick'n Nuggets
Alpha Original Chik'n Plant-Based Nuggets
Raised & Rooted Plant-Based Nuggets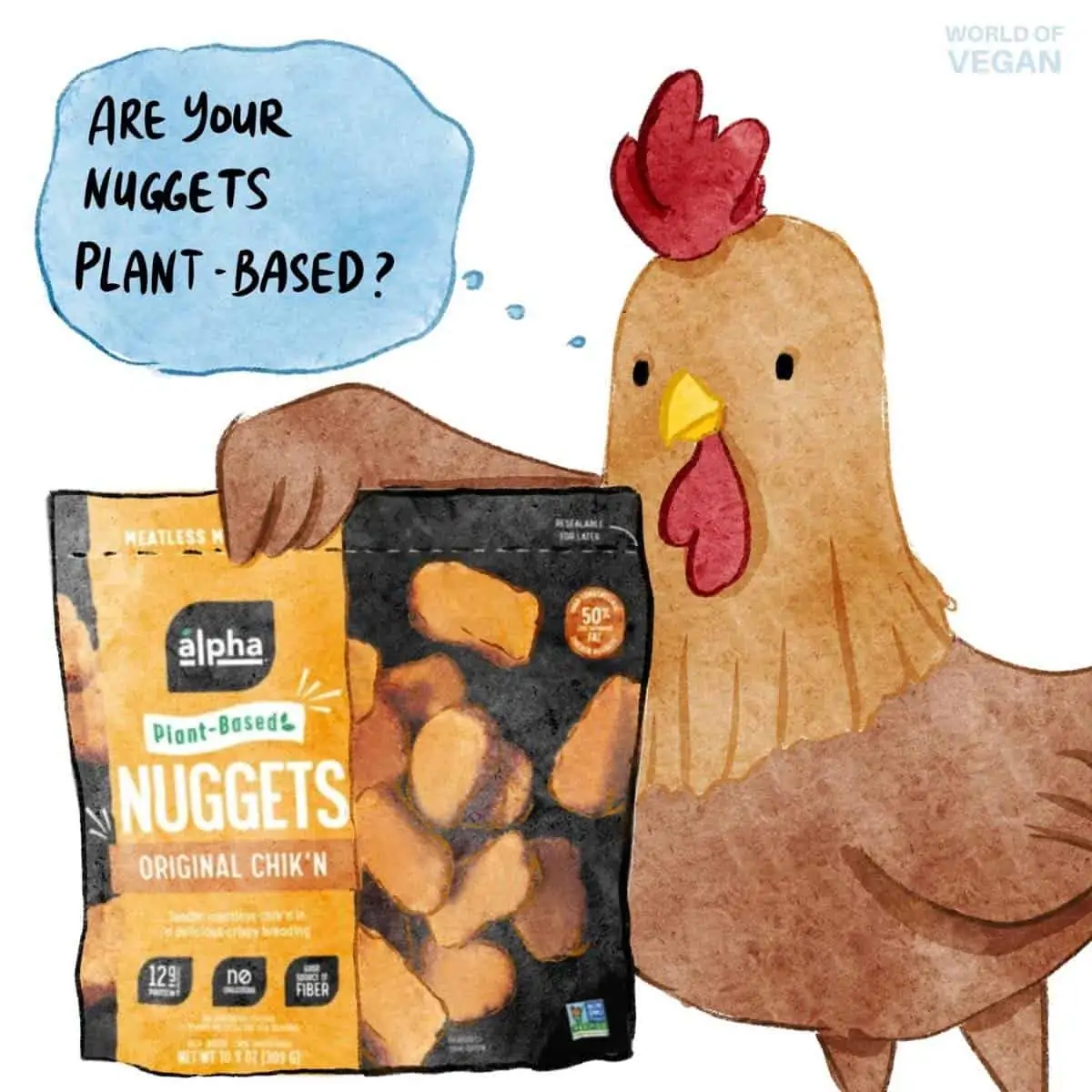 Key Ingredients
You only need 8 simple ingredients to make these vegan chicken nuggets. For exact measurements, reference the recipe card below.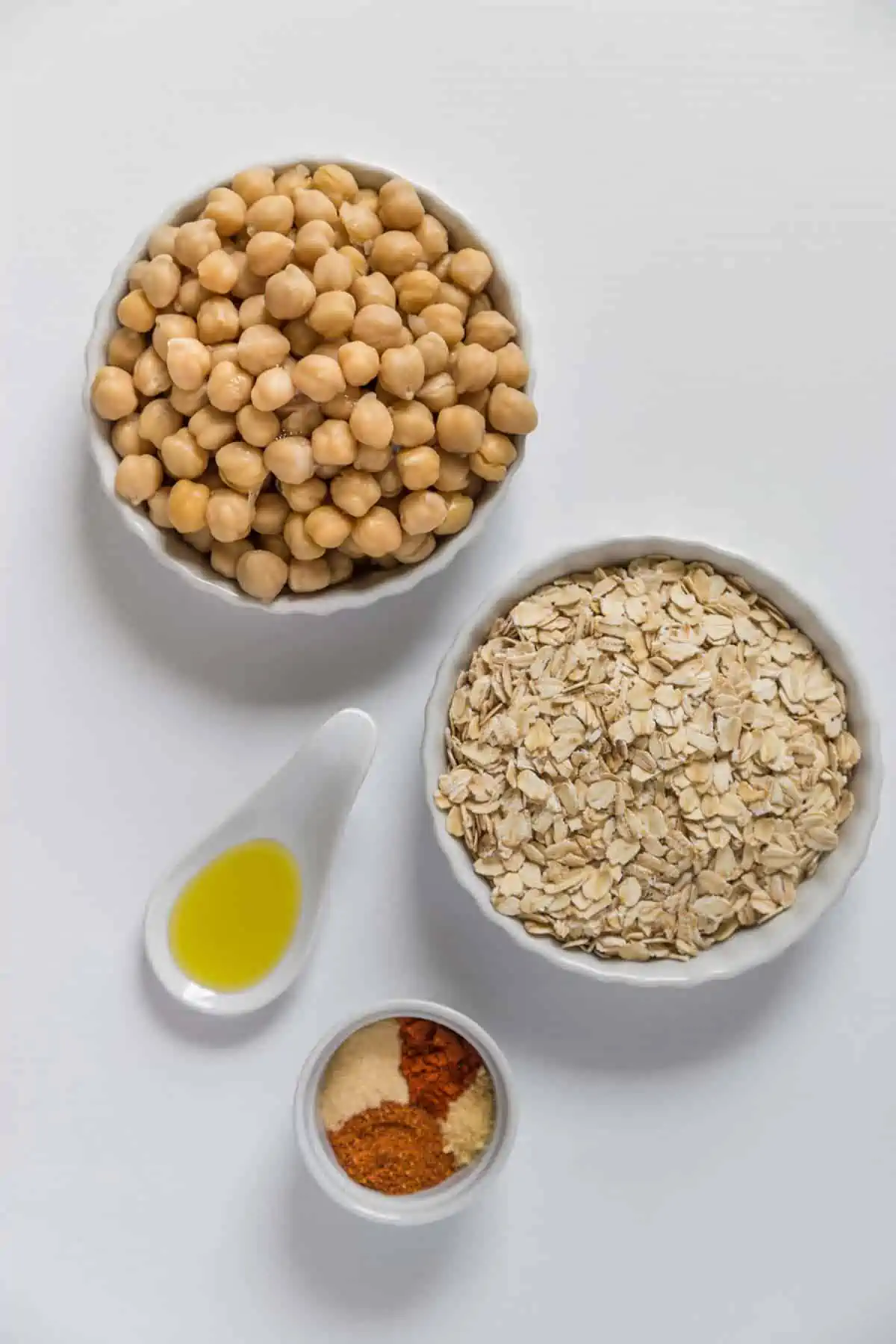 Chickpeas: This humble bean knows no bounds. Canned chickpeas are ready to use, are shelf-stable, and have the added benefit of being packed with aquafaba, which is the brine surrounding the beans. Aquafaba itself is an excellent binder and egg-replacer in many recipes, so never dump the excess down the drain.
Old-fashioned rolled oats: Acting as both the thickener and coating, high-fiber oats keep everything together here. They're ground into a fine powder, but if you don't have a blender or food processor, you can start with 1 ¼ cups oat flour instead.
Spices and seasonings: No need to empty out your spice rack! We're just talking about the basics here, covering garlic and onion powder, paprika, and chili powder. If you'd like to take a handy shortcut to instant umami, you could always swap in about a tablespoon of vegetable bouillon powder.
Olive oil: Just a dab will do! Only a small drizzle of oil does the job to prevent the nuggets from sticking while creating that perfectly crunchy, crispy exterior.
How to Make
This step-by-step tutorial shows the process of making these veggie chickpea nuggets. For exact times and temperatures, reference the recipe card below.
Process the rolled oats in a food processor.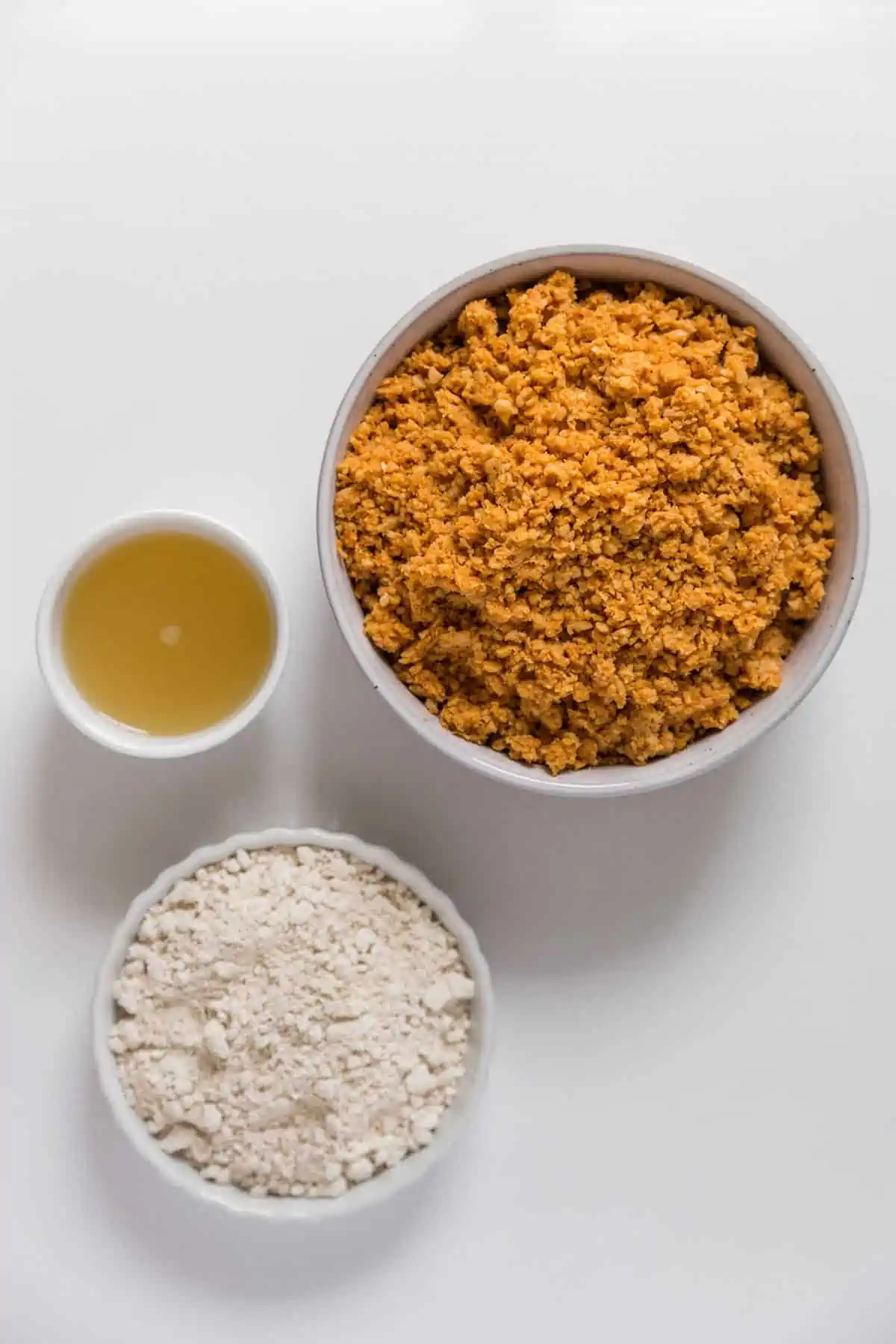 Prepare the chickpeas and blend with the spices. Be careful not to pulse the chickpeas too much—we want to avoid making hummus.
Roll out the chickpea mixture into nugget shapes and place them on the prepared baking sheet.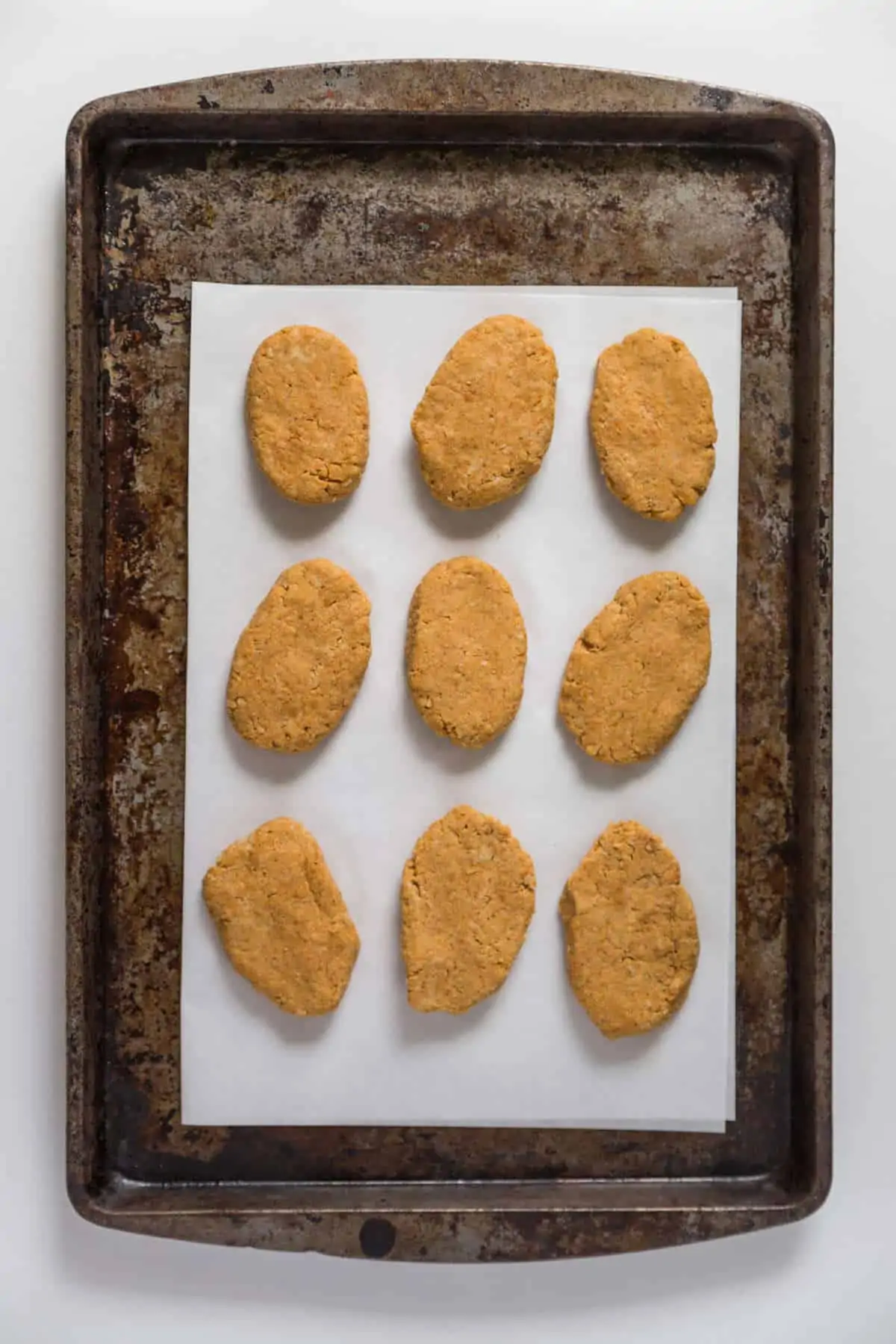 To make sure the nuggets become crispy and golden brown on both sides, make sure you flip them over halfway through the baking time.
What To Serve With Chickpea Nuggets
When you have hot and crispy nuggets, you're well on your way to a well-balanced meal! There's no wrong choice when it comes to side dish options, but here are some of my favorites:
Alternate Cooking Methods
Maybe you don't want to crank up the oven on a hot day or you don't have a full kitchen at your disposal. Whatever the case, you have plenty of different choices when it comes to preparing your nuggets.
In an air fryer: Air fry at 400 degrees for 12 minutes, flip, and cook for another 6 – 8 minutes until golden brown on both sides.
On the grill: Heat the grill to approximately 400 degrees and cook for 3 – 5 minutes on each side, using tongs to turn them. If the slats are spread too far apart and you're worried about the nuggets falling through, use a metal basket or foil boat to keep them contained.
In a skillet: Set the skillet over medium-high heat and add a thin layer of oil. Once shimmering, add the nuggets and let cook for 8 – 10 minutes. Once golden on the bottom, and flip, cooking for another 5 – 8 minutes until crispy on both sides.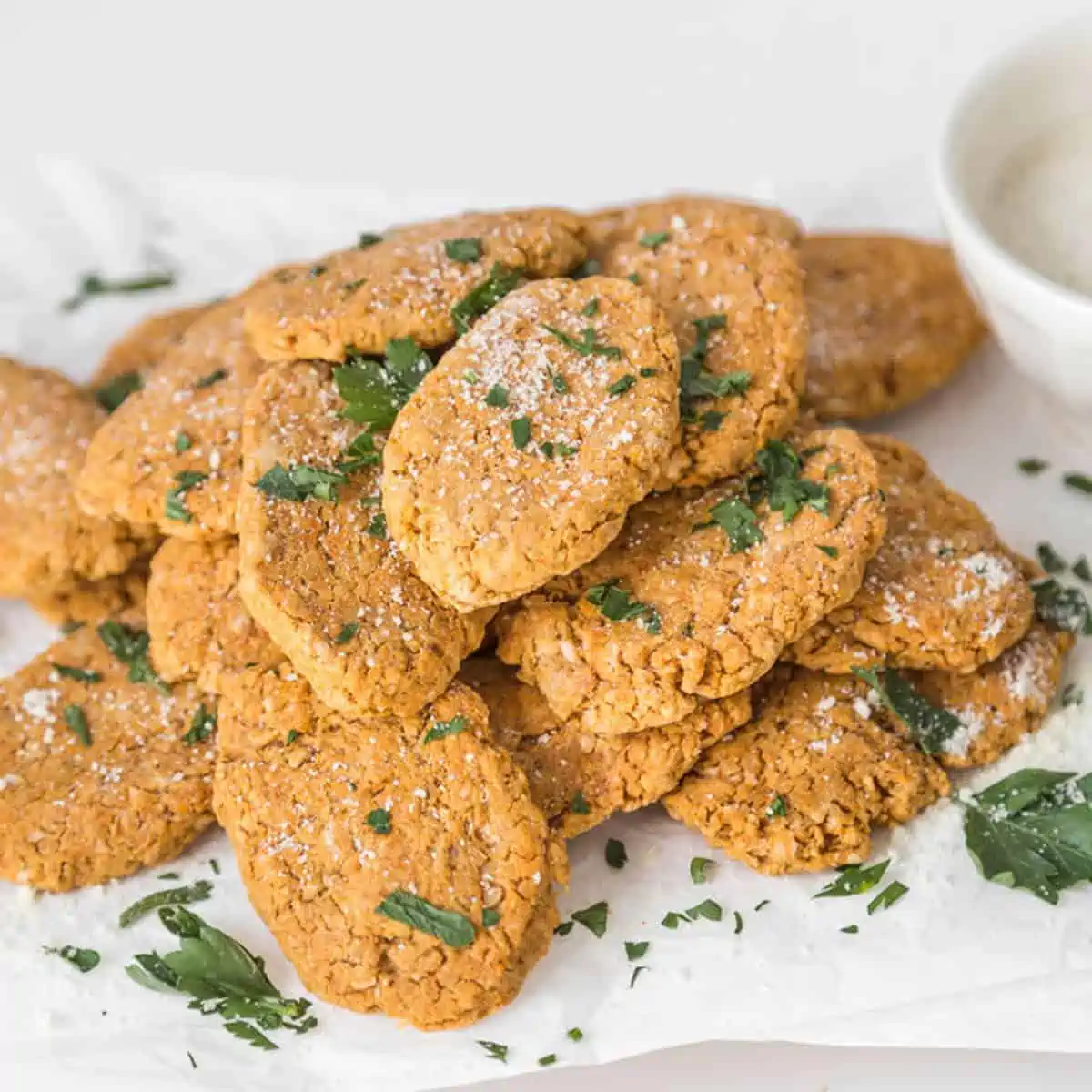 Tips For Making Perfect Veggie Nuggets
Make sure your oats are ground very finely. If they're still chunky, they may contribute a distinctly grainy texture. Pass the flour through a fine mesh sieve if you want to be thorough and grind the larger pieces again until consistent.
Don't over-mix your chickpeas into a paste. We don't want them to be mushy inside, so stop while they still look slightly coarse.
Take time to rest the batter. As it sits, the oat flour absorbs more of the liquid and continues to thicken, creating a more cohesive batter that holds together nicely.
Preheat your oven and keep an eye on the temperature. Many digital read-outs are inaccurate which is why it's a good idea to keep a separate thermometer inside to double-check.
Serve right away because they're best piping hot!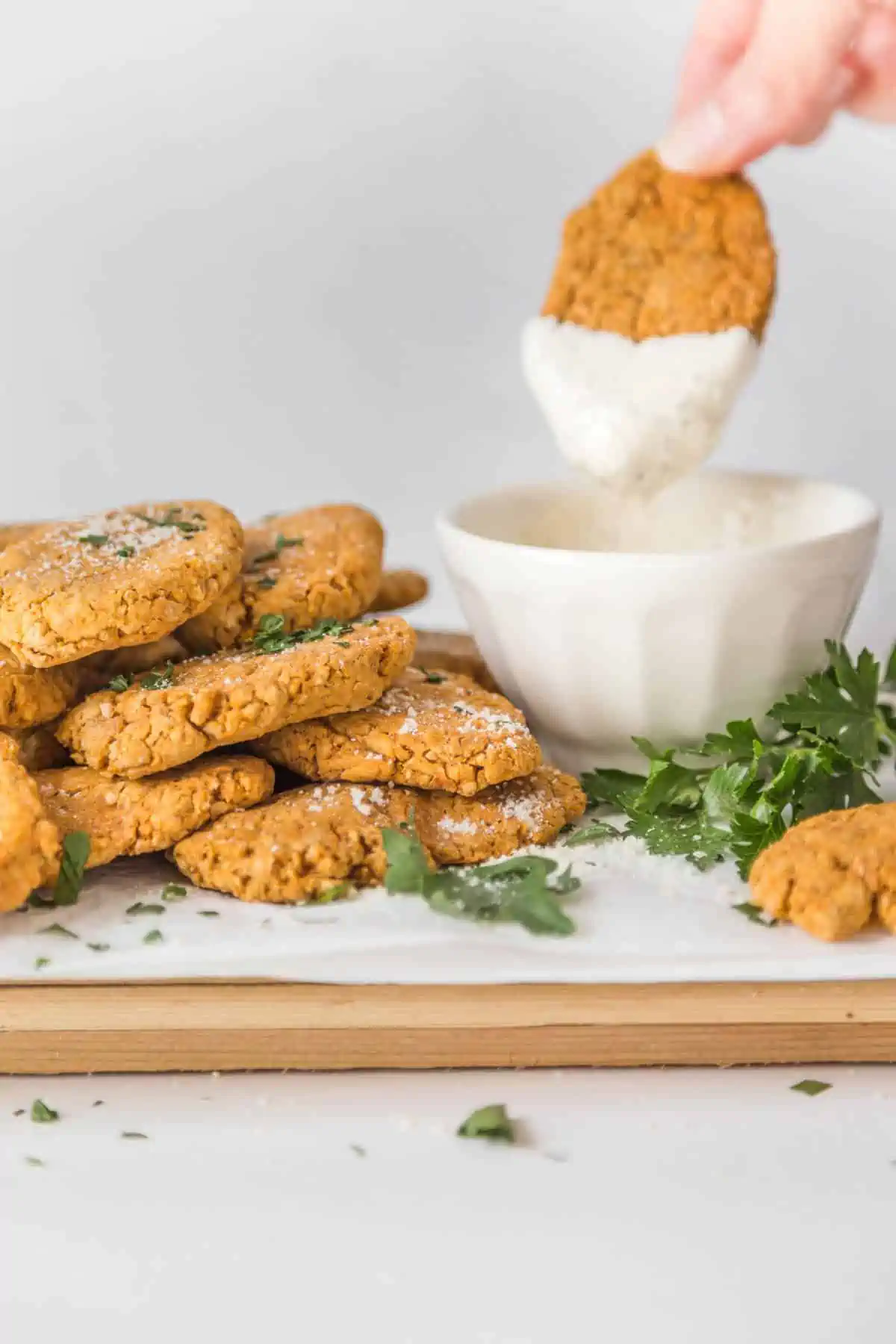 More Recipes For Family-Friendly Finger Foods
Hungry for more recipe ideas that will satisfy hungry herbivores? These recipes are great for all ages, from young children to gray-haired adults. Pick your favorites and add them to your meal plan lineup!
1 cup old-fashioned rolled oats
1 15-ounce can chickpeas, or 1½ cups cooked chickpeas plus ¼ cup cooking liquid
¾ teaspoon onion powder
¾ teaspoon garlic powder
¾ teaspoon smoked paprika
¾ teaspoon chili powder
1 tablespoon olive oil
½ teaspoon salt, to taste
Process the rolled oats in a food processor until they are ground into a coarse, powder-like consistency. This may take 3-5 minutes. Transfer to a small bowl and set aside.

Drain the chickpeas, reserving ¼ cup of the liquid from the can. Rinse the chickpeas. Transfer them to a food processor with the onion powder, garlic powder, smoked paprika, and chili powder. Pulse for 15 seconds, or until the chickpeas are crumbly in texture. (Be careful not to pulse the chickpeas too much—we are not making hummus!)

Transfer the crumbled chickpea mixture to a large bowl. Add the ¼ cup reserved liquid, the olive oil, and ground oats. Mix well to incorporate all the ingredients. Add ½ teaspoon salt and adjust to taste. Let the chickpea nugget batter rest for 10 minutes.

While the batter is resting, preheat oven to 425°F and line a large baking sheet with parchment paper or a silicone mat. Using 2 tablespoons of the batter for each nugget and your hands, form them into the desired shape (about 12 nuggets). Place the nuggets on the prepared baking sheet in a single layer, also not touching.

Bake the nuggets for 15 minutes. Flip them over and bake for another 8 to 10 minutes, until they are crispy and golden brown.
Storage – Store leftover chickpea nuggets in an airtight container in the refrigerator for up to 4 days or freeze for longer. They keep well frozen in a freezer-safe container for up to 6 months.
Calories: 38kcal | Carbohydrates: 5g | Protein: 1g | Fat: 2g | Saturated Fat: 0.2g | Polyunsaturated Fat: 0.3g | Monounsaturated Fat: 1g | Sodium: 100mg | Potassium: 33mg | Fiber: 1g | Sugar: 0.1g | Vitamin A: 99IU | Vitamin C: 0.03mg | Calcium: 5mg | Iron: 0.4mg
About the Author
Nisha Melvani is a plant-based registered dietitian with a master's degree in Nutrition from Columbia University, and a culinary school graduate. She completed the esteemed Chef Training Program at the Natural Gourmet Institute in New York City before authoring Practically Vegan: More than 100 Easy, Delicious Vegan Dinners on a Budget. Published by Penguin Random House. She's also a mom of three!
This veggie chickpea nugget recipe was reprinted with permission from Practically Vegan. Copyright © 2022 by Nisha Melvani. Published by Rodale Books, an imprint of Penguin Random House.
Article written with support from Hannah Kaminsky and edited by Rachel Lessenden. Photos by J.J. Steele for World of Vegan, all rights reserved. Thanks to our recipe testers Kim Comeau, Dyanne Elliott, and Jessica Sabbagh.