We'll be preparing these oven-baked, outstanding crackers using only almond flour, ground flaxseeds, and water (with a little spice to make everything nice). Yup, you read correctly. How can this be? Is it some sort of mixing magic?
The almond flour acts just like wheat flour (which is the foundation of most crackers), the flaxseeds mixed with water are the binding which holds the dough together, and the nutritional yeast (and other spices) deliver the delectable flavor.
When hunger attacks, bring on the flax!
Why These Almond Flour Crackers are So Awesome
Delicious
Savory and salty
A healthy snack
Inexpensive
Easy to make
Fun activity for the whole family
Many options for flavors
Gluten-free
Soy-free
Dairy-free
Helpful Kitchen Items To Have on Hand
While you really only need a bowl, sharp knife, and baking sheet, here are other pieces of kitchen equipment that might come in handy when making these crackers. A quick and easy substitution for the rolling pin is a wine bottle or any large, cylindrical object.
Rolling pin
2 sheets of parchment paper or a silicone baking sheet and one sheet of parchment paper (for rolling out the dough without it sticking to the rolling pin)
Pizza cutter or cookie cutters (optional if you do not have a sharp knife and also fun to make cool shapes)
Star Ingredients
It's rare that a recipe has such few ingredients while, at the same time, score pretty high in the health department. Adding just a handful of flaxseed crackers to your day will not only increase your fiber and omega-3s, but it will also save you money compared to most boxed brands.
Flaxseeds – A single tablespoon of flaxseeds is low in calories (55 calories), high in fiber (almost 3 grams!), and omega-3 fatty acids. We also love them because you get an extra protein boost (2 grams) if added to any dish, baked items, or even smoothies. Fantastic flax!
Almonds – Almonds are a great source of vitamin E, calcium, copper, magnesium, riboflavin, protein, and fiber. They also contain iron, potassium, zinc and the B vitamins, niacin, thiamine, and folate. Plus, lots of healthy unsaturated fat.
Nutritional Yeast – These fluffy flakes of cheesy goodness are packed with Vitamin B power (B1, B2, B3, B6, and B12) and protein (8 grams per serving). This savory topping also packs a punch with high levels of potassium, calcium, and iron. With 3 grams of fiber in every serving, you can't go wrong with this nutritious recipe ingredient!
How To Make These Gluten-Free Crackers
Once you make a single batch of these almond flour crackers, you'll get the hang of how thick you'd like to make the dough. The next batch will be even easier and simpler to bake. It's just a matter of making the dough, rolling it out, and cutting into uniform shapes before baking. If you have time to make one batch after another, you'll be glad you did. These crackers are so yummy that you might eat an entire batch yourself!
Step One: Mix the almond flour, ground flaxseed, nutritional yeast, and spices a bowl.
Step Two: Add the water a tablespoon at a time and really squish the ingredients together. You'll be surprised how little water you actually need. The less water you use, the crunchier the crackers will be.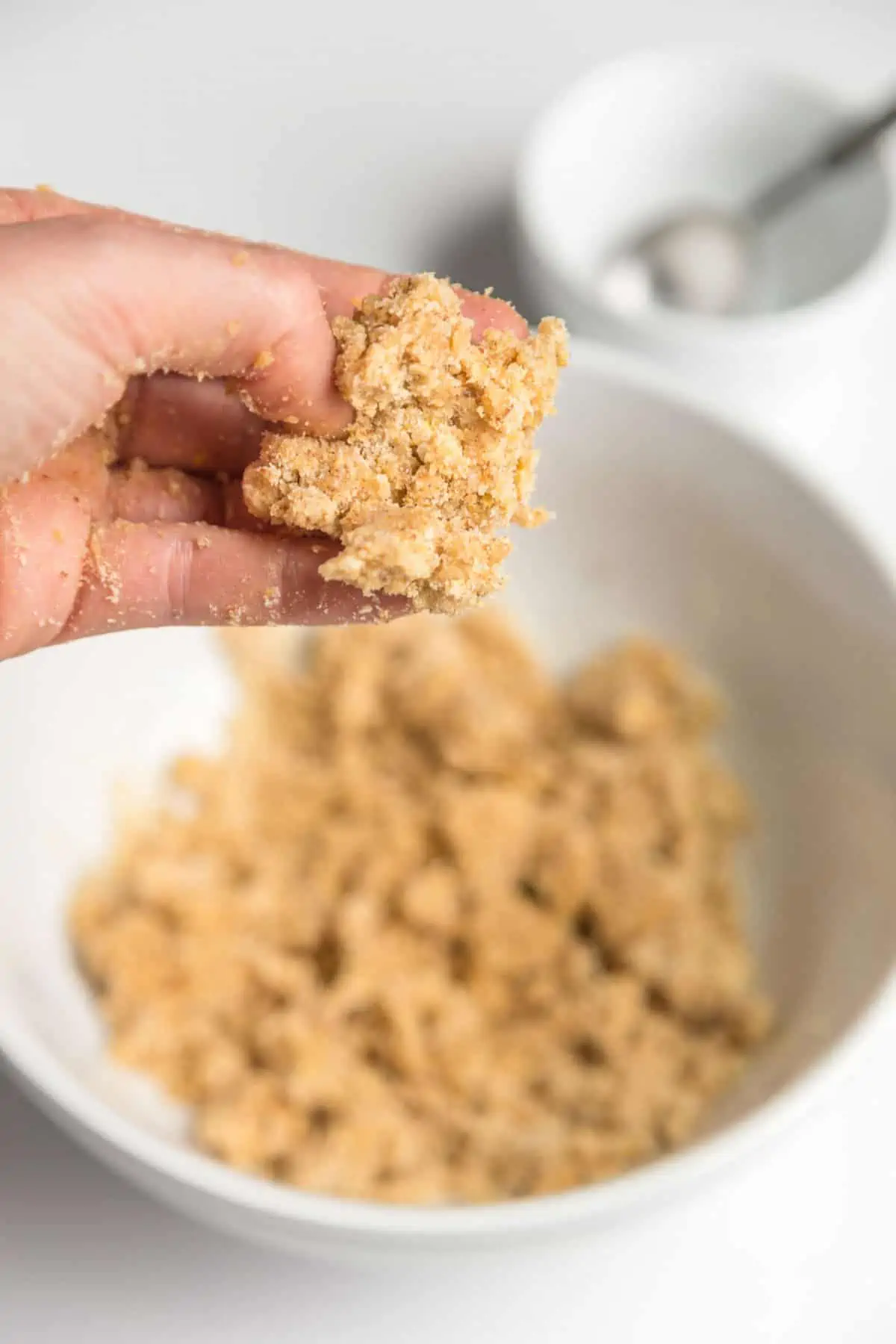 Step Three: Form the mixture into a ball and place between sheets of parchment paper.
Step Four: Roll out the dough into a rough square shape and peel off the top sheet of parchment paper before cutting into cracker shapes.
Step Five: Use a sharp scoring knife to slice through the dough into square cracker shapes. You can make the crackers any size, just make them all the same size. I made my crackers about 1-inch in size.
Step Six: Transfer the entire parchment sheet (with almond flour crackers on it) onto a baking sheet. Bake for 10-12 minutes in a preheated oven at 400F, making sure to keep a careful eye on them after 5 minutes due to oven variations.
Step Seven: When the almond flour crackers are done, remove from oven and allow to cool on the baking sheet for at least 10 minutes before trying to remove them.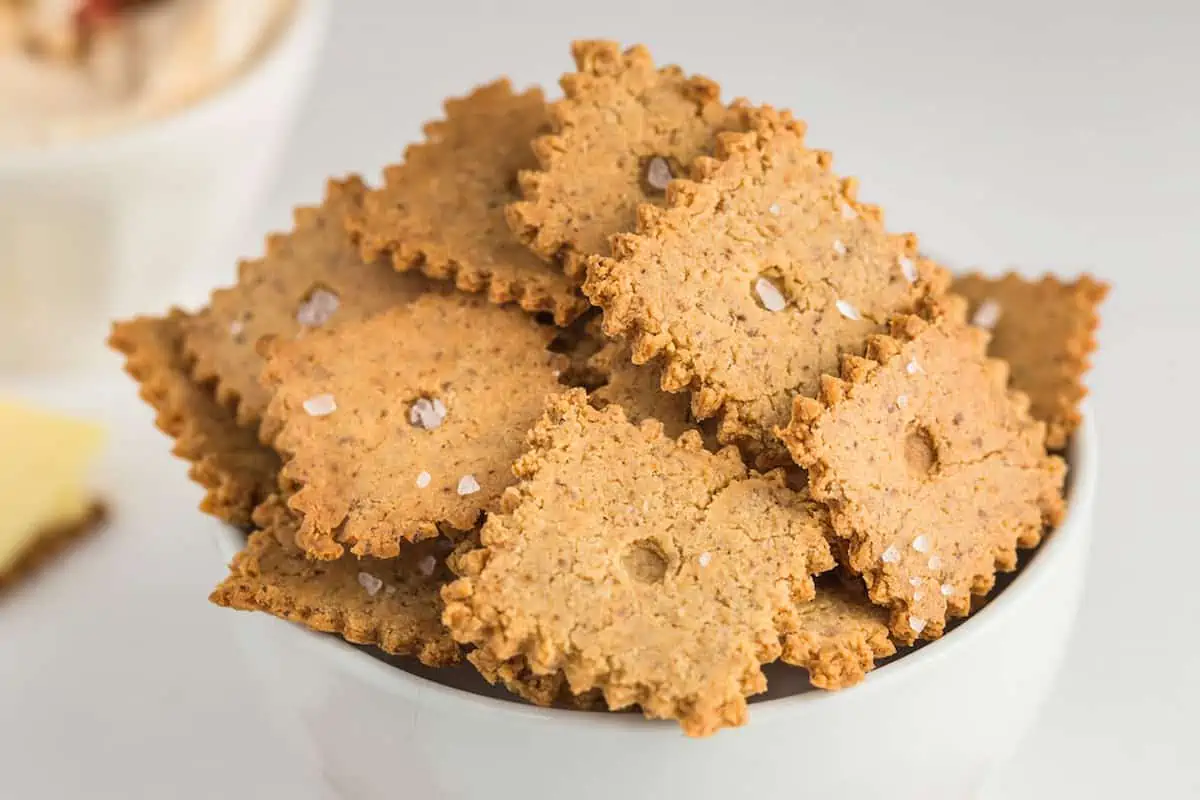 How Long Will These Almond Flour Crackers Last?
These crunchy crackers keep fresh in a covered container (or tin) for around 3-4 days. They can also be frozen for up to 3 months in a freezer-safe container.
Suggestions For Serving
Because these baked almond crackers are so darn simple and easy, there are dozens of ways to make this recipe your own. Vary the seasonings, alter the shapes, serve with savory sides, or enjoy along with fruit and chocolate. We'd love to hear what additions you come up with for your crackers!
Swap Seasonings – Adjust the seasonings to your liking. Add any herbs, spices, or dry flavorings that you wish. Rosemary, thyme, dill, chives, oregano, or basil are delicious in this recipe. Even cinnamon and sugar! (Trader Joe's has many tasty seasoning mixes to choose from!)
Be Creative with Cracker Shapes – You don't have to stick to just squares. Use any unique cookie cutter shapes you like to cut out your crackers. It might be fun to make a few different shapes to go along with the season––such as leaves for autumn, mini snowflakes or snowmen for winter, flowers for spring, or suns for summer. Think of the holiday possibilities!
Pair with Delicious Dips– These gluten free crackers are delectable with hummus, salsa, vegan cheese, or even artichoke dip. Also incredibly yummy and addictive on their own!
Super Snack Sensation – For a quick and nutrient-dense snack, pair your almond crackers with fresh or dried fruit and even a few squares of vegan chocolate. Mmm!
Recipe FAQs
Are almond flour crackers healthy?
These almond flour crackers are chock full of nutrients like omega-3s, thanks to the flaxseeds, and tons of fiber, protein, and vitamins in the almonds. You'll only find whole food ingredients in these crackers, making them a healthy, nutrient-dense option!
What if I can't find ground flaxseed?
No problem! You don't need a flaxseed grinder to make them, either! Just use a simple coffee grinder to grind up a couple tablespoons of the whole seeds. Any leftovers can be stored in a covered container in the fridge for a couple of weeks before going rancid.
Can I use chia seeds instead of flaxseeds in this recipe?
You can give it a try. Flaxseeds and chia seeds are both chock full of omega-3s. The flaxseeds have more of a nutty taste compared to the chia seeds. So, you could use ground chia seeds (not whole), but the flavor and texture of the crackers will be a bit different.
Is it possible to make flax and chia seed crackers using these directions?
Sure! Our suggestion would be to use the full amount of ground flaxseeds to make the dough. Then, sprinkle whole chia seeds onto the surface of the crackers once they are rolled out and precut. Finish with a dash of salt and bake in the oven as usual. Great topping addition for even more omega-3s!
More Scrumptious Snack Recipes to Try
Our new vegan kids' snacks guide will help to make small meal choices a snap! Let us know your favorites in the comments below!
Servings 70 1-inch crackers
1 cup almond flour
3 tablespoons water
1 tablespoon ground flaxseeds
1 tablespoon nutritional yeast
½ teaspoon salt, Use salt flakes if just adding to the top of the crackers and fine salt if adding to the recipe itself.
¼ teaspoon garlic powder
¼ teaspoon onion powder
¼ teaspoon smoked paprika, optional, but recommended
¼ teaspoon cayenne pepper, optional
Preheat oven to 400 degrees.

Add the almond flour, ground flaxseed, nutritional yeast, salt, garlic powder, onion powder, smoked paprika, and cayenne pepper into a bowl. Mix well.

Add one tablespoon of water at a time to the mixture. Use clean hands (or rubber spatula) to combine the mixture, pressing down firmly as you go. Keep adding one tablespoon of water at a time until the mixture feels like a moist (but not sticky dough). It should stick together, but not be wet or crumbly. Go slowly with this. If the mixture is too wet, add an extra tablespoon of almond flour. If it's not wet enough and crumbles in your hands, add a half tablespoon of water.

Once the cracker mixture forms a nice dough consistency, form into a ball and place on a piece of parchment paper. Add another piece of parchment paper on top. Use a rolling pin to roll out the dough into a rough square shape and about ⅛-¼ inch thick. Peel off the top sheet of parchment paper.

Using a sharp knife score (or cut through) the dough into square cracker shapes by making first vertical and then horizontal lines about 1-inch apart. (You can make the crackers any size, just make them all the same size.)

Once the cracker shapes are the way you like them, transfer the uncooked crackers and parchment paper onto the baking sheet. Pierce the tops of the crackers with the fork to make little holes. Not necessary, but it looks appealing after the crackers are cooked.

Bake for 10 minutes, keeping a careful eye on them after 5 minutes. Since every oven is slightly different, this is important. The crackers are done when they look lightly golden at the edges. If you like a darker cracker, you can keep them in for an additional minute or two.

When done, let the crackers cool on the baking sheet for at least 10 minutes before trying to remove them.
Thickness Matters – The most important thing is to try and get all of the crackers to a uniform thickness so that they will bake evenly.
Salt Sensitive? – If you are trying to reduce your salt, you can use a natural salt alternative or leave the salt out all together.
Calories: 10kcal | Carbohydrates: 0.4g | Protein: 0.4g | Fat: 1g | Saturated Fat: 0.1g | Polyunsaturated Fat: 0.03g | Monounsaturated Fat: 0.01g | Sodium: 17mg | Potassium: 3mg | Fiber: 0.2g | Sugar: 0.1g | Vitamin A: 6IU | Vitamin C: 0.01mg | Calcium: 4mg | Iron: 0.1mg
Thank you to our recipe tester, Ruth Havertz!
This easy gluten-free cracker recipe was developed and written by Gina House and edited by Rachel Lessenden. Photos by J.J. Steele for World of Vegan, all rights reserved.