Nutritional Yeast—or "nooch" as it's affectionately called—is a truly magical ingredient idolized by vegans everywhere. Despite the off-putting name and bizarre appearance, nutritional yeast somehow manages to win over the hearts and palates of almost all those who give it a chance.
Today we're going to dive into what this crazy ingredient is, how it's used, where you can find it and more. Buckle up and get ready for a cheesy ride!
What is Nutritional Yeast?
Nutritional yeast is a deactivated yeast that comes from saccharomyces cerevisiae, also known as baker's or brewer's yeast. It comes in the form of yellow flakes and can be used as a condiment or in recipes for cheesy sauces, cheesy soups, and beyond.
Don't bother trying to use it in baked goods that need to rise. Because it's deactivated, it doesn't have any leavening capabilities. Instead, it's best used for flavor as it imparts an umami, cheese-like taste to the dish.
Is Nutritional Yeast Healthy?
As the name implies, nutritional yeast is packed with nutrients—although the specifics vary between brands and depending on whether or not it's fortified. Nutritional yeast inherently contains protein (including all the essential amino acids), iron, fiber, and vitamin B1 and B2. Fortified nutritional yeast typically also includes a hefty dose of vitamin B12 and additional iron.
Where Can I Get Nutritional Yeast?
Nooch can be found in the bulk aisle of many grocery stores like Sprouts, Whole Foods, Winco, and natural food stores. The price of nutritional yeast can vary widely so bulk options are usually the most affordable. However, several companies also sell pre-packaged nutritional and this can often be found in the health food or natural food section of well-stocked grocery stores.
Large supermarket chains often have their own branded nutritional yeast such as Simple Truth or Trader Joe's. If you can't find it in stores, many online retailers offer nutritional yeast, making it convenient to purchase from the comfort of your home. Popular options include Amazon, Thrive Market, and specialty vegan and health food websites.
Nutritional Yeast Brands
In the world of nutritional yeast, there is a wide array of brands that cater to the growing demand. While this is not an exhaustive list, we've compiled a selection of the most common and easy-to-find nutritional yeast brands to guide you in your culinary adventures. These brands have gained popularity for their quality, availability, and versatility, making them go-to choices for many plant-based enthusiasts looking for that "cheesy" goodness.
Started as a health food store over 100 years ago, Bragg may well be one of the most prolific brands of nutritional yeast available today. Whether online or in stores, there's a good chance Bragg will be in stock. It comes in a convenient shaker bottle and is gluten-free, kosher, and fortified with B vitamins.
This popular brand is another often-stocked option, making it easily accessible for all your cooking and baking needs. It comes in a resealable pouch, is rich in vitamin B-12, and provides 8 grams of protein per serving.
Trader Joe's
If you're lucky enough to have a Trader Joe's within driving distance, their nutritional yeast is one of the more affordable prep-packaged options. It's also fortified with B vitamins and comes in a pouch with a velcro closure, making it easier to reseal compared to other pouch designs.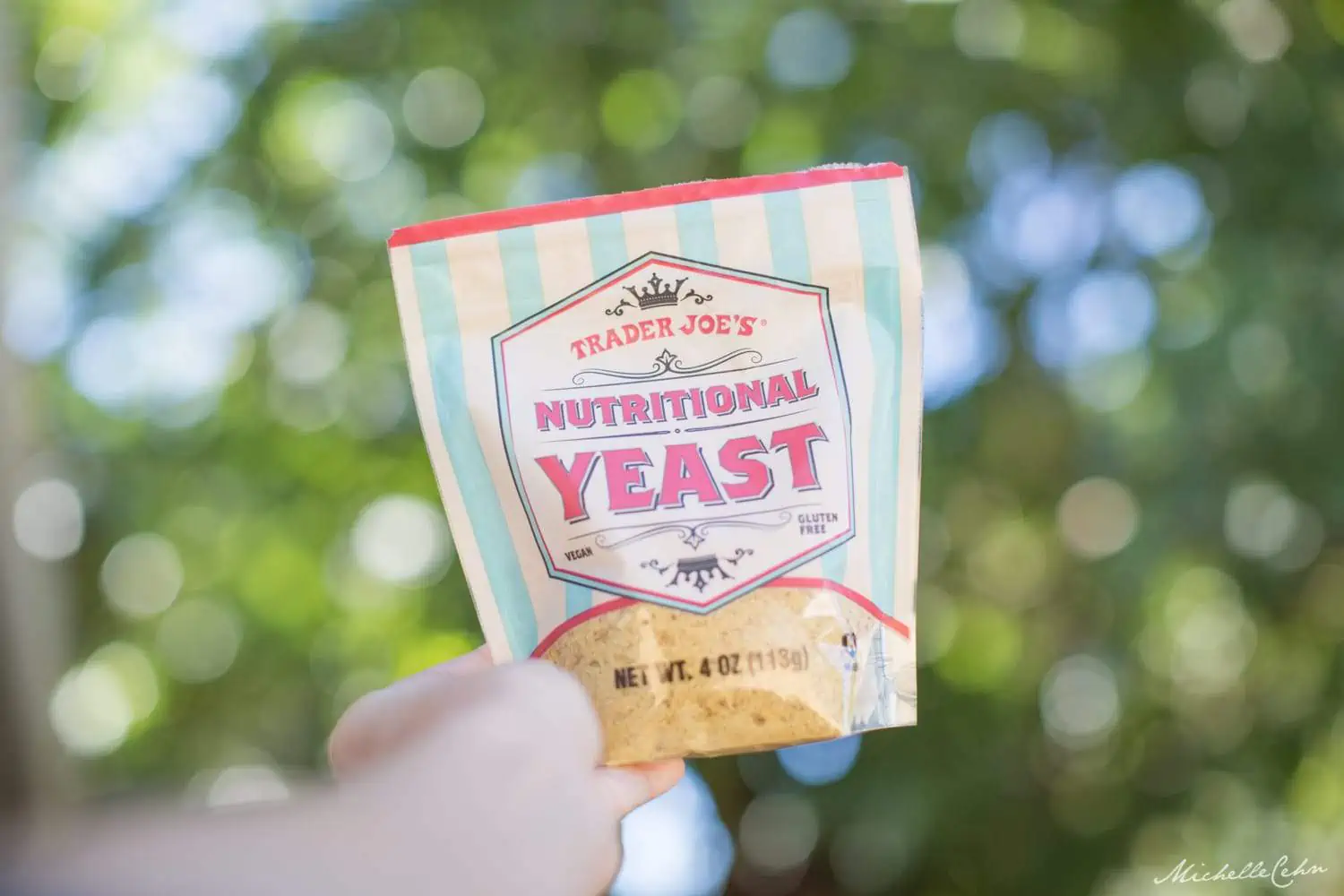 Kroger's organic and natural food brand offers an affordable nutritional yeast option. Look for it at your local Kroger store for an inexpensive nooch that's fortified and perfect for adding that savory, cheese-like flavor.
Anthony's Nutritional Yeast is also an excellent source of B vitamins, naturally fortified through fermentation, making it a nutritional powerhouse for plant-based eaters. Sold in 10oz and 1lb bags, you can easily stock up so you don't risk running out right when you made a big batch of pasta or popcorn! You can find Anthony's online through their official website or popular online retailers.
Red Star is a trusted and renowned brand specializing in nutritional yeast products. With a rich history dating back to the 1950s, Red Star has been committed to delivering high-quality, vegan-friendly, and gluten-free nutritional yeast. Find them at Walmart or popular online retailers.
How To Use Nutritional Yeast
A quick search online will provide infinite recipe ideas that make great use of nooch. The most common has to be vegan macaroni and cheese, but the recipe options using nooch are endless. Here are a few of our favorite nutritional yeast recipes:
It's also fantastic sprinkles on popcorn with some olive oil and salt. Needless to say, nutritional yeast is an absolute vegan pantry staple. This Homemade Chipotle Seasoning is also another delicious spice option for snacks or potatoes!
Nutritional yeast has undoubtedly earned its place as a beloved ingredient in the world of plant-based cooking. With its cheesy, nutty flavor, versatility, and impressive nutritional profile, it has become a pantry staple for many. Whether you're seeking a dairy-free alternative to enhance your dishes or looking to boost your vitamin B12 intake, nutritional yeast delivers on both taste and health benefits. From savory recipes to creamy sauces and vegan cheese substitutes, the possibilities are endless. So, next time you're browsing the aisles of your local grocery store, don't forget to grab a container of this magical ingredient.