"Pretty in pink" takes on all new meaning when you pour yourself a tall glass of this vibrant, easy raspberry smoothie. Naturally balanced with the subtle tartness of the berries, it's a treat that both kids and adults will love. Picky eaters, junk food-lovers, and health fanatics will all agree that this blend beats the competition by a mile.
Light, bright, cool, and creamy, it's a refreshing change of pace from the super indulgent, overpriced blends coming from most cafes. Save yourself the hassle, money, and sugar rush by starting from scratch!
Table of Contents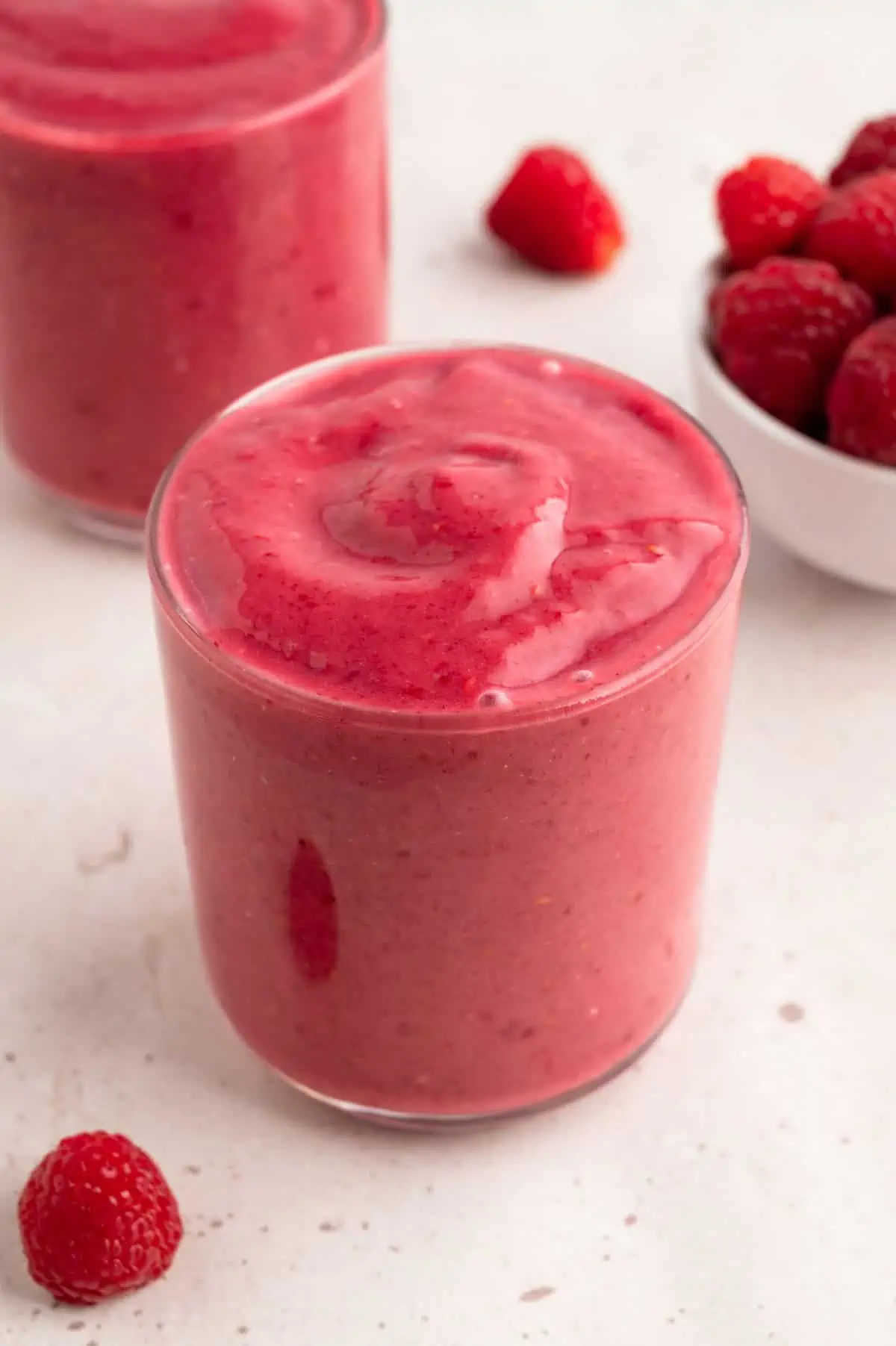 Why You'll Love This Recipe
Whether it's the delicious eye-opener that gets you out of bed in the morning or midday pick-me-up, there's never a bad time to enjoy raspberry smoothies. That's just the first reason why this will quickly become your new go-to smoothie recipe.
Key Ingredients
There's nothing to hide in this super short ingredient list. Since you can taste every component, quality counts!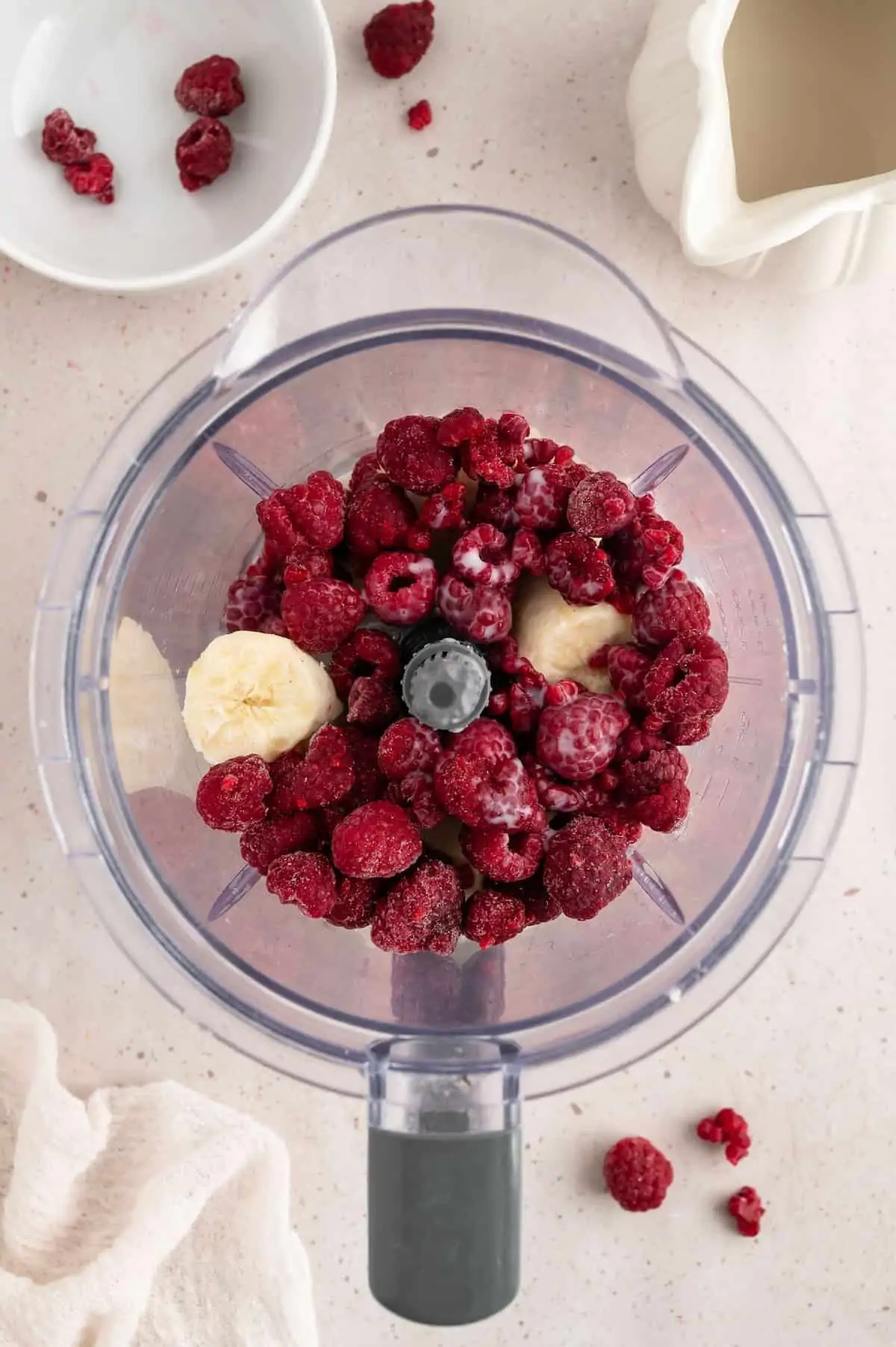 Fun Flavor Variations
The beauty of starting with such a simple base is that you can mix and match flavors to make it your own. Whip up a different raspberry smoothie combination everyday to keep the concept fresh! Here are a few of my favorite twists that won't let you down:
Ideas For Adding Nutrition
If you're wondering how to make a raspberry smoothie into more of a meal, you've come to the right place! Amp up the nutrition by including some powerful supplements and superfoods. Try including one or two of the following options: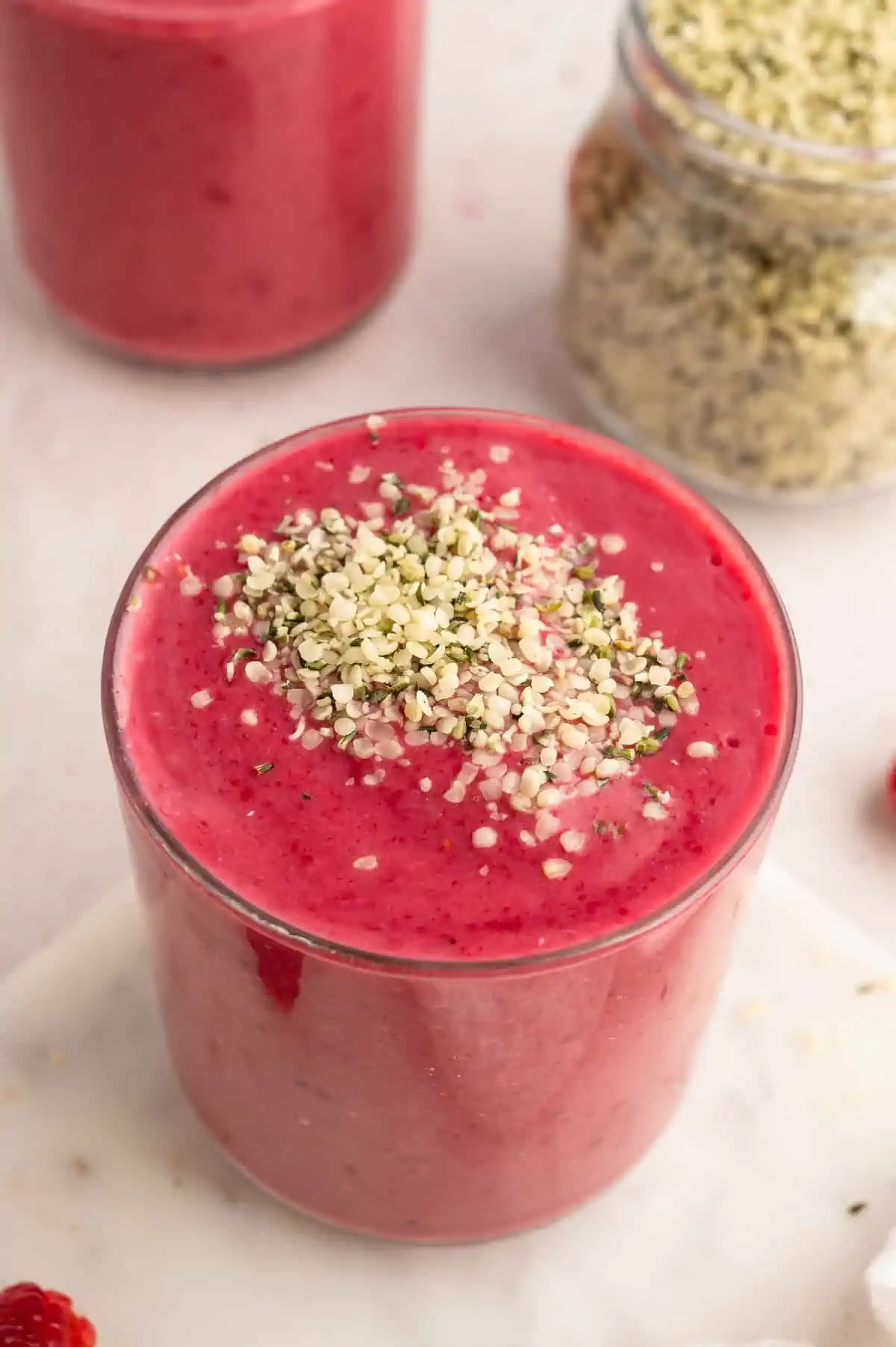 FAQs
Is drinking a berry smoothie healthy?
Absolutely! You get all the fiber, vitamins, and minerals from the fresh fruit in a more compact, sippable format. Berries especially are high in antioxidants that are beneficial for digestion, healthy skin, immunity, and much more.
What ingredient goes first when making a smoothie?
Contrary to popular belief, the liquid should go into your blender first, before any of the solids. That ensures that the blades will be able to spin freely and be able to work up to the harder ingredients. To that end, anything frozen should go last since it will be toughest to process.
Can you prep smoothies in advance or save leftovers for later?
It's always best to make your blends fresh, especially since it's so quick and easy, but you can absolutely save extras for later. Store smoothies in an airtight jar in the fridge for 1 to 2 days and shake well before drinking. You may want to blend some ice cubes in to get that same frosty experience.
 
For long term storage, you can pour your smoothie into ice cube trays and freeze solid. Store in a zip top bag for 6 to 8 months. When you're ready to enjoy, pop them back into the blender with more soymilk, as needed.
Do you need a high-speed blender to make this recipe?
No fancy equipment needed! These basic ingredients are soft enough to blend smoothly with the most basic models; even portable mini blenders will do the trick. If you only have a food processor, that will work too! Just be careful pouring it into cups when it's done, since the bowl is a bit unwieldy when doling out liquids.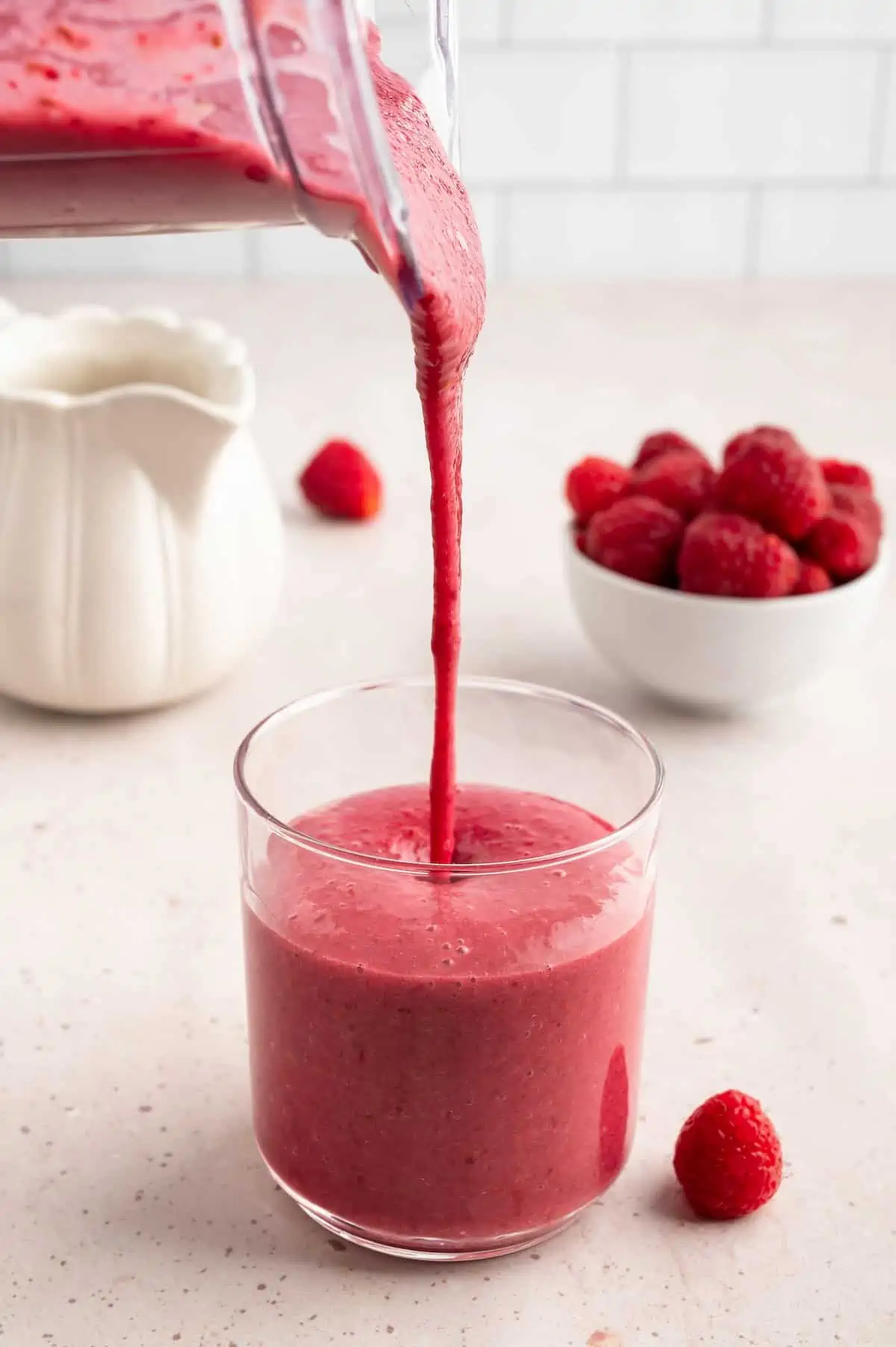 More Healthy Smoothie Recipes To Try
For those who love both a sweet and tangy taste, this light and lovely Lemon Smoothie or mighty Mango Pineapple Smoothie would do the trick! Pour yourself a pitcher-full of pink-a-liciousness with our Vegan Strawberries 'n' Cream Smoothie or Dragon Fruit Smoothie––one is oh-so-creamy, while the other vibrant and vivacious.
Orange you glad we have two more smoothies to recommend? Take yourself off to a virtual vacation in the tropics with this Tropical Mango Banana Smoothie. Or, stay at home, and sip on a Spooky Jack-O-Lantern Smoothie while handing out candy to the kids! If royal purple is your favorite color, you won't want to miss this luscious Grape Smoothie!
If you're looking for something completely new and packed with protein, how about this cheery Cherry Silken Tofu Smoothie? You'll love it!
2 cups frozen raspberries
2 bananas, super ripe and spotty
1 cup soymilk, any variety
In a high-powered blender, add the frozen raspberries, peeled ripe bananas, and soymilk. Blend on high until smoothie is creamy. Pour into glasses and enjoy!
Note: adjust ingredients as needed to get your perfect smoothie! For a thicker smoothie add less soymilk or more frozen strawberries. For a sweeter smoothie, add more ripe banana.
Calories: 221kcal | Carbohydrates: 45g | Protein: 6g | Fat: 4g | Saturated Fat: 0.4g | Polyunsaturated Fat: 2g | Monounsaturated Fat: 1g | Sodium: 61mg | Potassium: 770mg | Fiber: 11g | Sugar: 23g | Vitamin A: 579IU | Vitamin C: 50mg | Calcium: 201mg | Iron: 2mg
This raspberry smoothie recipe was developed by Michelle Cehn. Article written with support from Hannah Kaminsky and edited by Rachel Lessenden. Photos by Amanda McGillicuddy for World of Vegan, all rights reserved.