Here at World of Vegan, we're all about simple, affordable, and delicious recipes, especially when they're healthier than their Standard American counterparts! These air fryer potato wedges fall right into all four of these categories. Crispy on the outside and soft on the inside, these air fried fries are irresistible!
I have to admit, when I first got an air fryer it sat in the box for months before I pulled it out. It took a while before I developed a lineup of favorite recipes to air fry—and this is one of them. It's faster than the oven (and crispier!) and way healthier than deep frying. A win-win-win.
So…ready to learn how to prepare them to perfection? Let's get to it.
1 large russet potato, about 1 pound
1 tablespoon vegetable oil
¼ teaspoon paprika
⅛ teaspoon salt
⅛ teaspoon black pepper
Additional salt, to taste
Ketchup, mustard, and/or sriracha, for serving
Wash potato and slice lengthwise into approximately 10-12 wedges.

In a large bowl, add the potato slices, sprinkle with vegetable oil, paprika, and the 1/8 teaspoon of salt, and mix well using your hands.

Arrange potato slices in the air fryer basket in a single layer and air fry at 400° F for 10 minutes. Flip and continue air frying at 400° F for an additional 5 minutes, until crispy.

Plate, sprinkle with additional salt (to taste), and serve with ketchup, mustard, and/or sriracha. Enjoy hot.
Calories: 207kcal | Carbohydrates: 34g | Protein: 4g | Fat: 7g | Saturated Fat: 1g | Polyunsaturated Fat: 4g | Monounsaturated Fat: 2g | Trans Fat: 0.04g | Sodium: 155mg | Potassium: 777mg | Fiber: 3g | Sugar: 1g | Vitamin A: 126IU | Vitamin C: 11mg | Calcium: 25mg | Iron: 2mg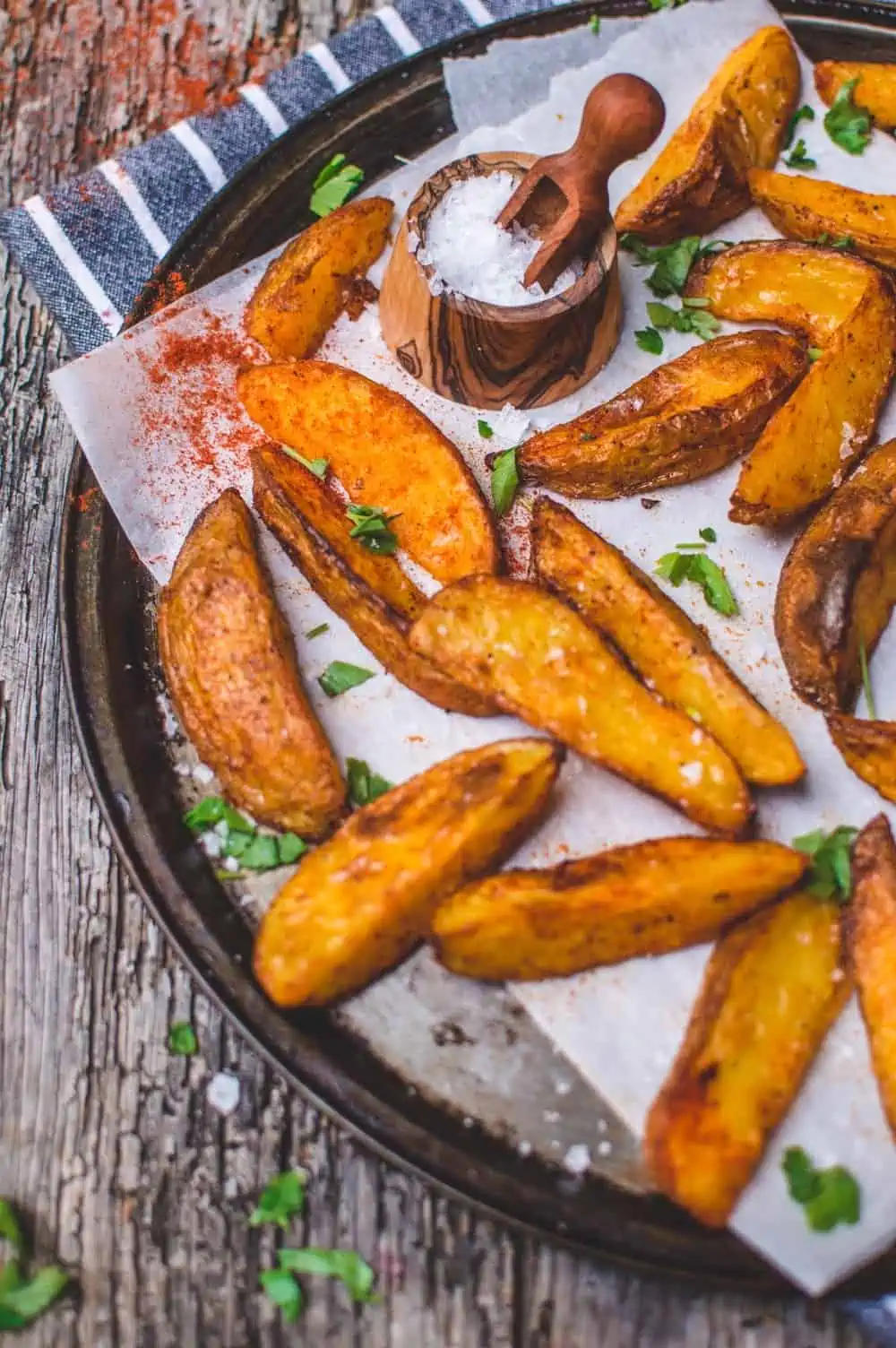 What Kind of Potatoes Are Best For This Recipe?
This recipe is perfect when made using one of the most widely available and affordable potatoes on the planet: Russet potatoes! They are super-starchy which works well with this recipe, and they crisp up beautifully in the air fryer.
We used one very large russet potato—but the size of the potato doesn't so much matter. Just keep in mind that air fryers have limited space. So if you use several small potatoes rather than a big one, or if you double the recipe, you may have to cook them in multiple batches.
Russet potatoes are a great staple to keep in your kitchen. Not only so these fries are always just a quick air fry away, but they're also great diced up and added to soups, tofu scrambles, stir fries, and beyond. And of course you can always whip up a classic baked potato!
What If I Don't Have An Air Fryer?
Not to worry! Here is a simple recipe that works great in the oven. They don't come out quite as crispy, and they take longer to bake this way, but they are still delicious!
Baked Potato Wedges (Instructions):
Preheat oven to 375° F.
Slice one large russet potato into wedges (not too thick!).
In a pot on the stove, boil the slices for 15 minutes. Remove from heat, drain and rinse with cold water, pat dry, and allow to dry fully.
In a large bowl, add the boiled potato slices and mix with the oil, paprika, salt, and pepper (ingredients listed in the recipe above) until thoroughly coated.
Assemble on a baking sheet lined with a silicone mat and bake for 30 minutes. Remove from oven, flip, and bake for an additional 10 minutes, or until crispy.
I am a huge potato wedges fan and I try to make them at home as often as I can. No matter how empty your fridge and pantry are, there's always a few crazy potatoes lying around. They can save you an impromptu trip to the grocery store every time!
The Perfect Vegan Dip!
Once you have the gloriously perfect crispy potatoes wedges, you'll probably want to serve them up with a dip. Although they're delicious just sprinkled with some sea salt, too! Here are a few dip ideas for these yummy potatoes:
Classic Ketchup
Sriracha
Srirachup (sriracha mixed with ketchup—my fave!)
Mustard
Vegan Cheese Sauce
Salsa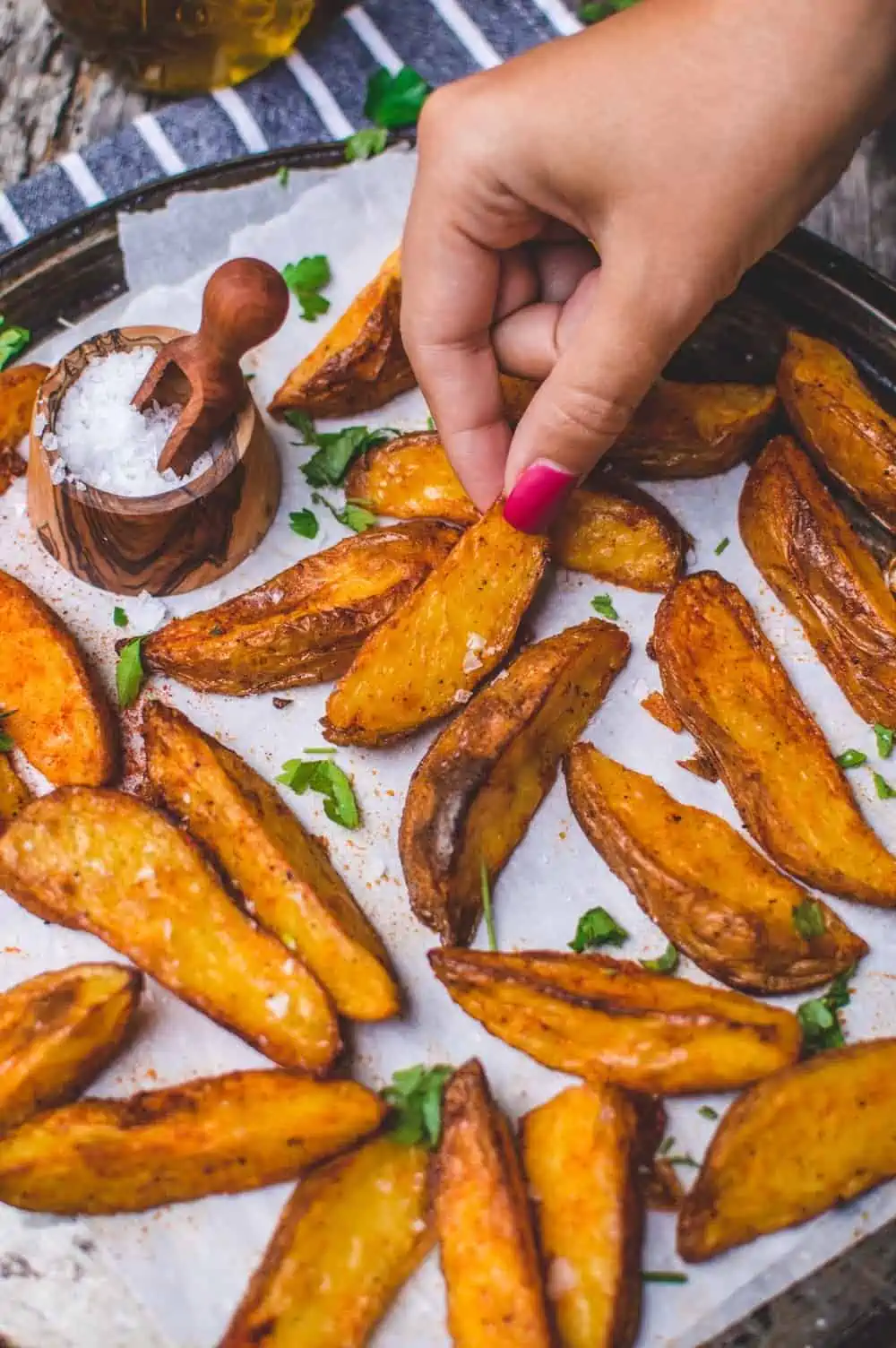 There's No Better Side!
These amazingly crispy air fryer potato wedges are by definition the best side for a homemade vegan burger (or Impossible burger!) but we can get creative and eat them with so many different main dishes! What about with these rainbow collard wraps? Or maybe with our vegan BLT sandwich? Trust me, you'll find a way to eat them!
Hungry for More Potato Recipes?
This vegan air fryer recipe is by Michelle Cehn and the photos are by Zhoro Apostolov for World of Vegan. Recipe and photographs copyright of World of Vegan™, all rights reserved. Please note that this article may contain affiliate links, and shopping through them supports our work at World of Vegan!