Welcome to a whimsical world of vegan desserts, where cake meets cuteness in the form of irresistible vegan cake pops! These tiny treats are a delightful fusion of moist, flavorful date dough, and creamy vegan chocolate, lovingly crafted into bite-sized spheres of pure joy. But what makes these adorable cake pops super cool is the creativity and versatility they bring to the dessert table.
From enchanting designs and vibrant colors to delectable flavor combinations, these little pops are a canvas for your imagination to run wild. These "cake cuties" also are also a party in themselves, adding a dash of whimsy and fun to any vegan party or occasion. Birthdays, baby showers, weddings, or simply a delightful treat for yourself—vegan cake pops bring a touch of playfulness and charm that will leave your taste buds dancing and your guests begging for more.
So, grab a stick, prepare to savor the sweetness, and let's get ready to devour some delicious chocolate date-filled pops!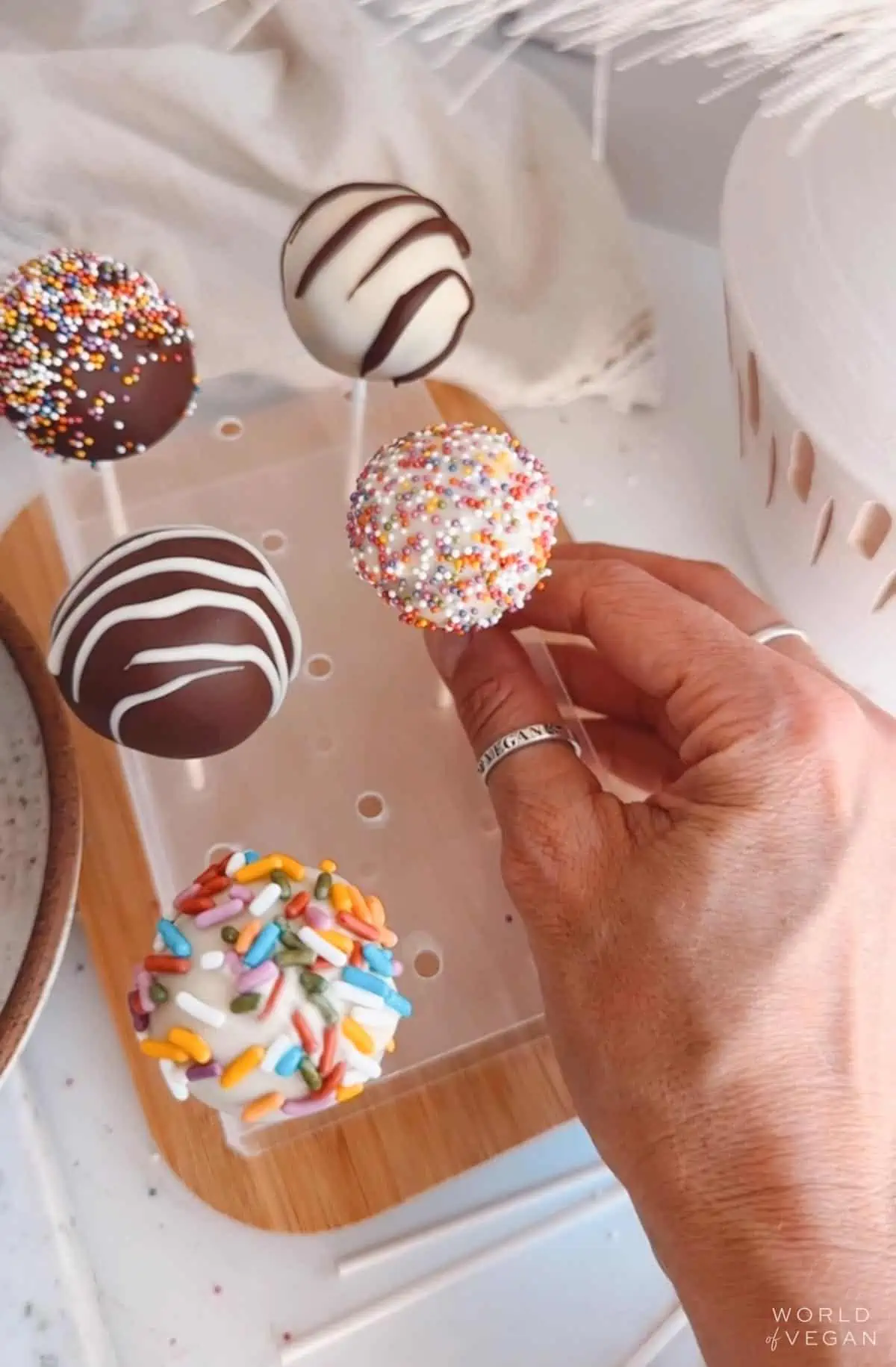 Why These Vegan Cake Pops are So Awesome
Hold onto your sweet tooth, because these cake pops are about to redefine your dessert game in the most amazing way! These cruelty-free confectioneries prove that whole plant-based foods never tasted so deliciously delightful. And healthy to boot! Here's why you need to make this recipe ASAP:
Raw, No Bake, and Delicious. Besides the melted chocolate, this date dough is raw (with no eggs or dairy) and requires no baking at all. Just mix and dip!
Tastes Exactly Like Cookie Dough, Only Healthy. You won't believe how much this mixtures tastes just like cookie dough! You can eat it right out of the bowl, if you'd rather not make pops. Add in a scoop of mini chocolate chips and you've got yourself the real deal!
Quick and Fun to Make. For the young and young-at-heart! A joyful and entertaining activity for the entire family. Some may want to mix and some may want to dip and decorate.
Only a Few Ingredients Needed. If you have a handful dates, walnuts, and a little bit of chocolate, that's all you really need. A few seconds of chopping, a quick turn in the food processor, and a diminutive dip are pretty much the only steps.
Full of Fiber and Nutrients. Each cake pop will have almost 2 grams of fiber (and more if you add chopped nuts or seeds as toppings) and omega-3 healthy fats, plus vitamin E, B-vitamins, calcium, iron, magnesium, potassium, zinc, and manganese. Wow!
Choosing the Best Dates for this Dessert
The dates you choose are actually important in this recipe. Too dry (such as in the pitted variety) and your dough won't be moist enough to hold together. Too wet (probable with very fresh dates) might make the dough too wet.
If the dates are too dry, soak the dates in a cup of hot water for about 30 minutes before draining and mixing with the dates. If the dates are too wet, add more walnuts to the mix.
The best advice is to use Medjool dates with pits and try to use newly bought dates for this recipe. Ones that have been sitting around for a while tend to be on the drier side. Medjool dates are a better choice than Mazafati or the smaller Deglet dates.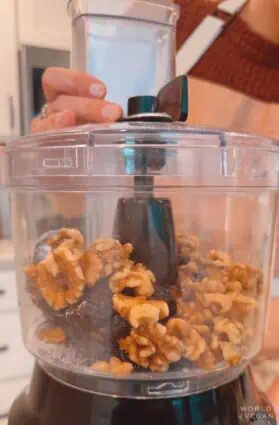 Appetizing Date Alternatives
Not a huge date fan? No problem! There are a number of fun and festive dried fruits that can be substituted for half of the dates (up to 1/2 cup) to make these vegan cake balls. Just make sure there is at least Here's a list of our favorites:
Dried Apricots
Dried Cherries
Dried Cranberries
Dried Figs
Prunes
Raisins
Toppings and Dips for Your Vegan Cake Pops
There are dozens of delightful options that will make your cake pops the life of any party. From sprinkles that sparkle like edible confetti to drizzles that ooze with mouthwatering decadence, these healthy cake pop toppings will elevate your treats to a whole new level of yum!
Tasty Toppings
Delicious Dips
Upgrade Your Cake Pop Production
Using a cake pop kit will make things much quicker and easier. Each kit comes with white sticks, two stands, treat bags, and golden twist ties. It's totally worth it. You can even get 2-3 batches out of a single kit. Consider making a few as gifts for friends or neighbors!
You can always make these healthy vegan cake pops without all the gear, but this inexpensive set can save you both time and frustration. If you don't have time to buy a kit, you could fashion one from a sturdy cardboard box. Just punch some holes across the top (preferably two rows at least a few inches apart) that will fit the sticks you have on hand (maybe some clean popsicle sticks?). Place something heavy inside the box from to keep the entire thing from flipping over once you add the decorated cake pops.
Let us know if you have any other crafty ideas in the comments below!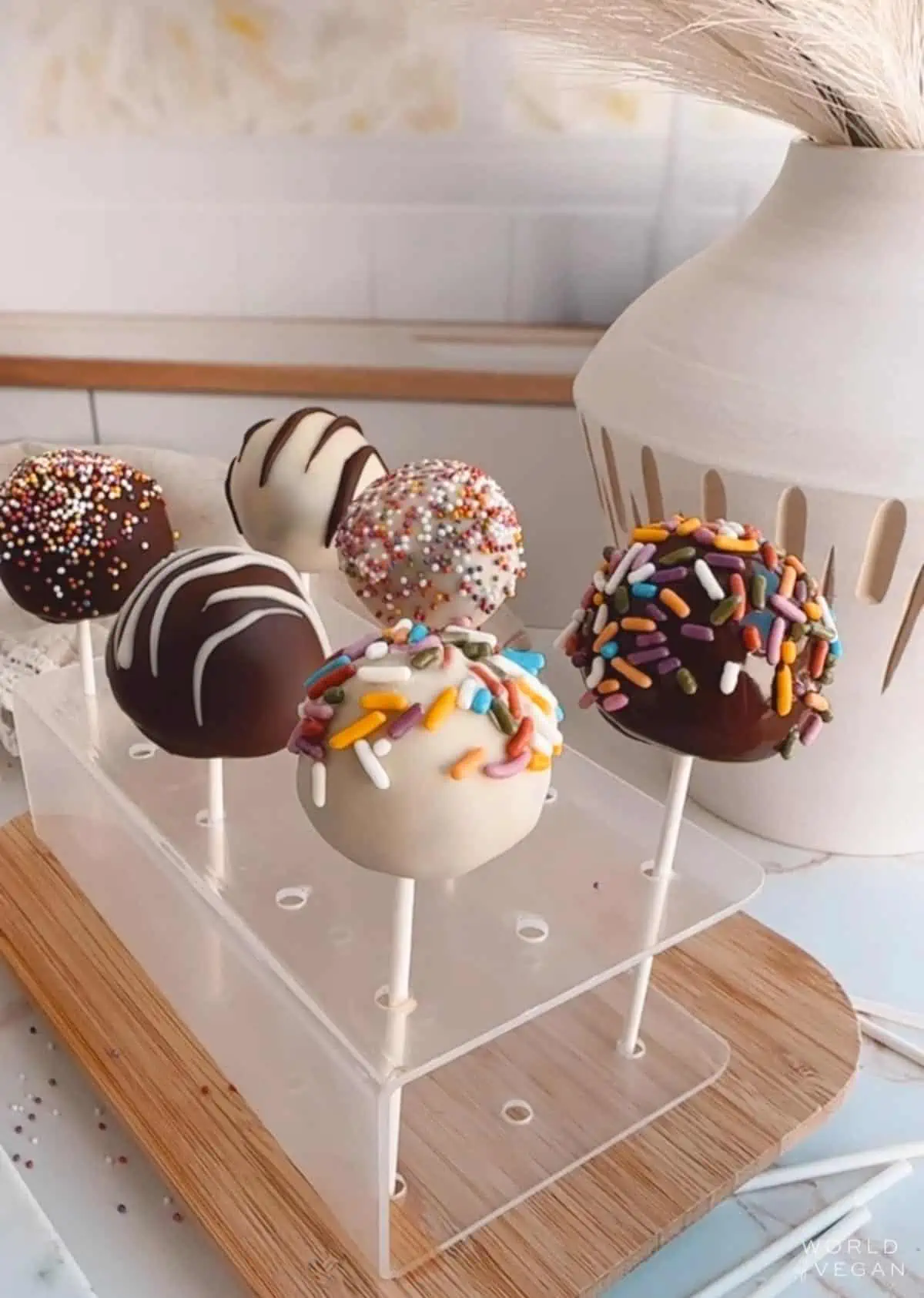 More Crave-Worthy Cake Recipes to Try
So, what are you waiting for? Dive headfirst into this guilt-free (and healthy!) indulgence and let your taste buds do a happy dance. One bite and you'll be convinced that happiness can indeed come in the form of a tiny, adorable, and utterly delicious dairy-free cake pops. It's time to treat yourself to a little slice of vegan cake pop heaven!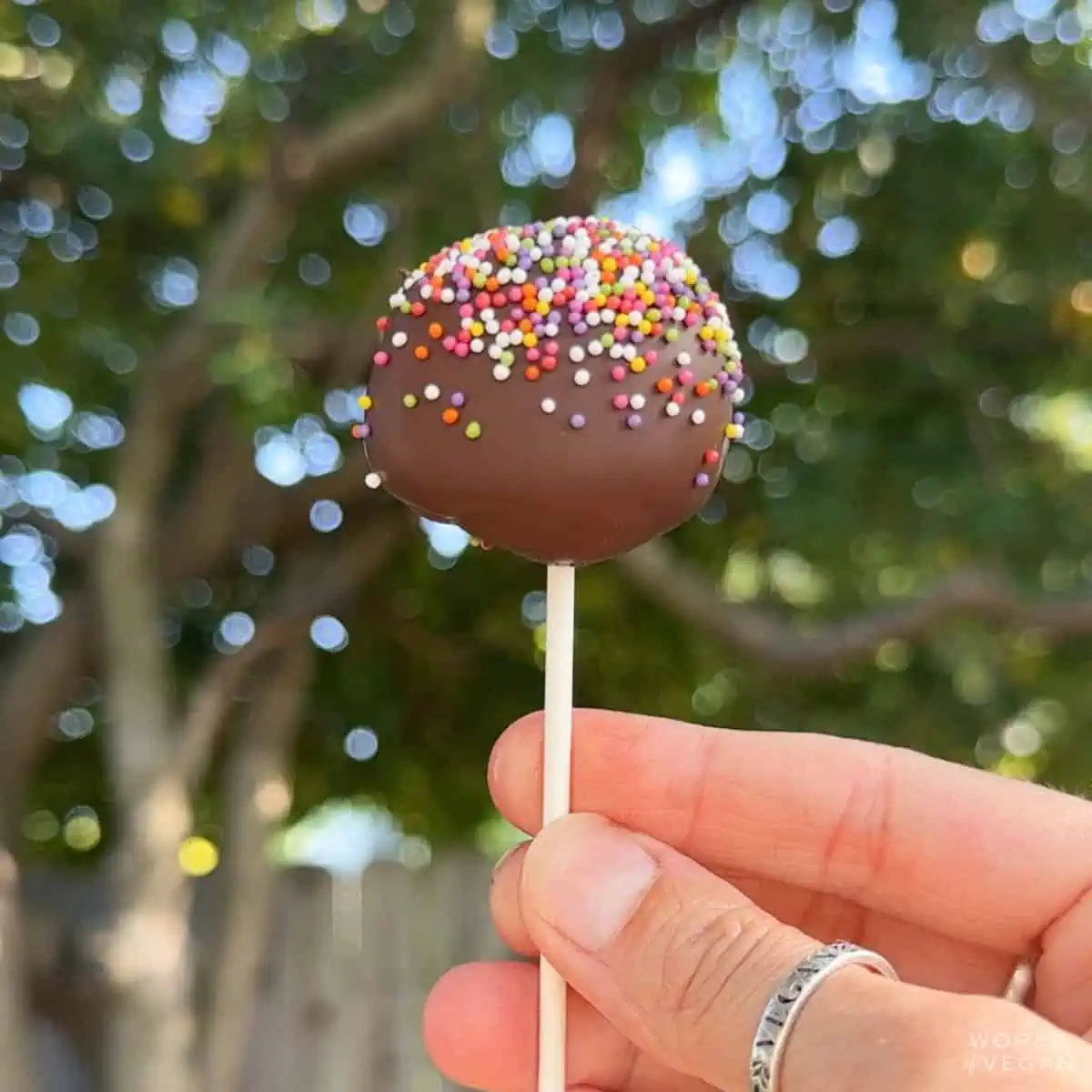 1 cup raw walnuts
1 cup medjool dates, pits removed
½ teaspoon vanilla extract
¼ teaspoon salt
½ cup chocolate chips, dark chocolate and/or white chocolate, melted
sprinkles, vegan, to taste
Add the walnuts, dates, vanilla, and salt into the food processor and process until the mixture turns into a big dough ball.

Divide the dough ball into 12 parts and roll each into a sphere ball, place in a container, and freeze for at least 1 hour.

Melt the chocolate in a small ramekin. Push a cake pop stick halfway into a chilled dough ball, dip in melted chocolate to coat, allowing excess chocolate to drip off, and quickly add sprinkles before the chocolate hardens (or allow to harden and then add a chocolate drizzle). Place in cake pop stand.

Once the chocolate has hardened completely, either place cake pops in a container with a lid and store in the freezer, serve at a party in the stand, or individually wrap each cake pop (most cake pop sets come with mini plastic bags to put over the confetti pop and gold twist ties to seal them up.
Serving: 1pop | Calories: 136kcal | Carbohydrates: 15g | Protein: 2g | Fat: 9g | Saturated Fat: 2g | Polyunsaturated Fat: 5g | Monounsaturated Fat: 1g | Sodium: 49mg | Potassium: 129mg | Fiber: 2g | Sugar: 12g | Vitamin A: 20IU | Vitamin C: 0.1mg | Calcium: 27mg | Iron: 1mg