Full of flavor, jam-packed with nutrition, and absolutely addictive with its curly crunch, these vegan cheesy dehydrator kale chips are going to knock your socks off! This savory snack is as delicious as potato chips, but actually healthy. Kale chips do feel like the ultimate life hack.
This savory snack is filling and packed with antioxidants from the green leafy veggies, vitamin C from lemons, and healthy fats from the cashews, so these chips won't leave you scouring the kitchen in fifteen minutes for more food. Plus, they're shockingly easy-to-make with the help of a dehydrator (or your trusty old oven).
Yes, these may be available at the grocery store, but the store-bought kind can be insanely pricey and they can't compare to the captivating crispiness of a newly baked bunch at home. Free of conventional packaging and preservatives, these homemade chips win hands-down in both freshness and flavor.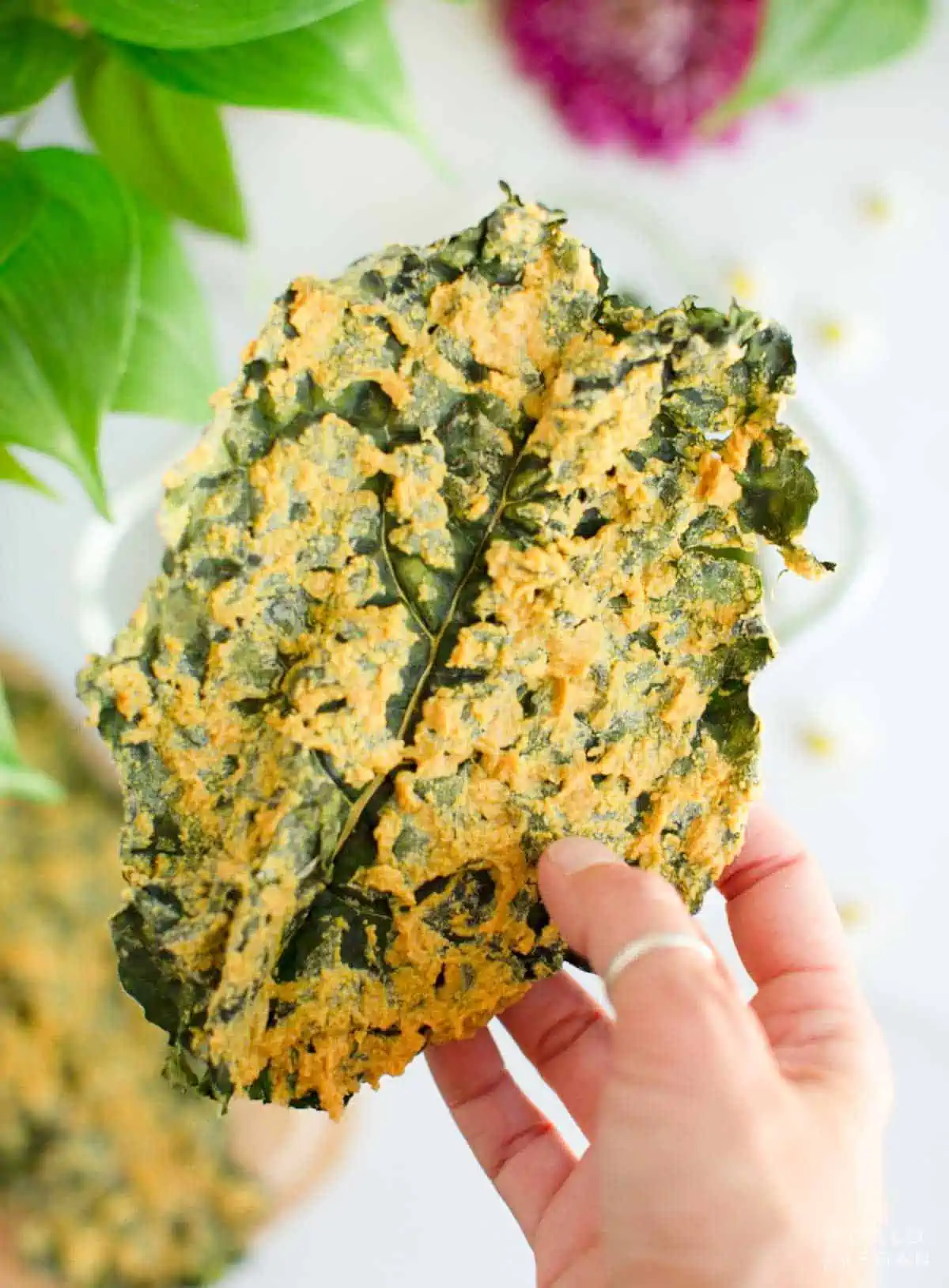 How to Serve Up Your Cheezy Kale Chips
Chips You Can Feel Good About – serve 'em up in a bowl and devour the whole thing without a second thought about the impact on your health—because these will be supporting your wellbeing with every bite!
Simulate Salad Croutons – sprinkle into your salad for a satisfying crunch and terrific texture. They would be perfect with our savory Vegan Chickpea Salad.
Bring Home the Hummus – pair your kale chips with cool, creamy hummus and other crispy veggies, such as carrots, cucumbers, and celery. Try our fantastic 5 Minute Olive Jalapeno Hummus or our radiant Roasted Beetroot Hummus!
Veggie Burger Variation – some people like to add potato chips to their veggie burger, so how about cheesy kale chips instead? An amazing alternative to the usual lettuce leaves. Buddy up with our delicious Quick & Easy Red Bean Burger or Barbeque Black Bean Burger for the best flavor combo!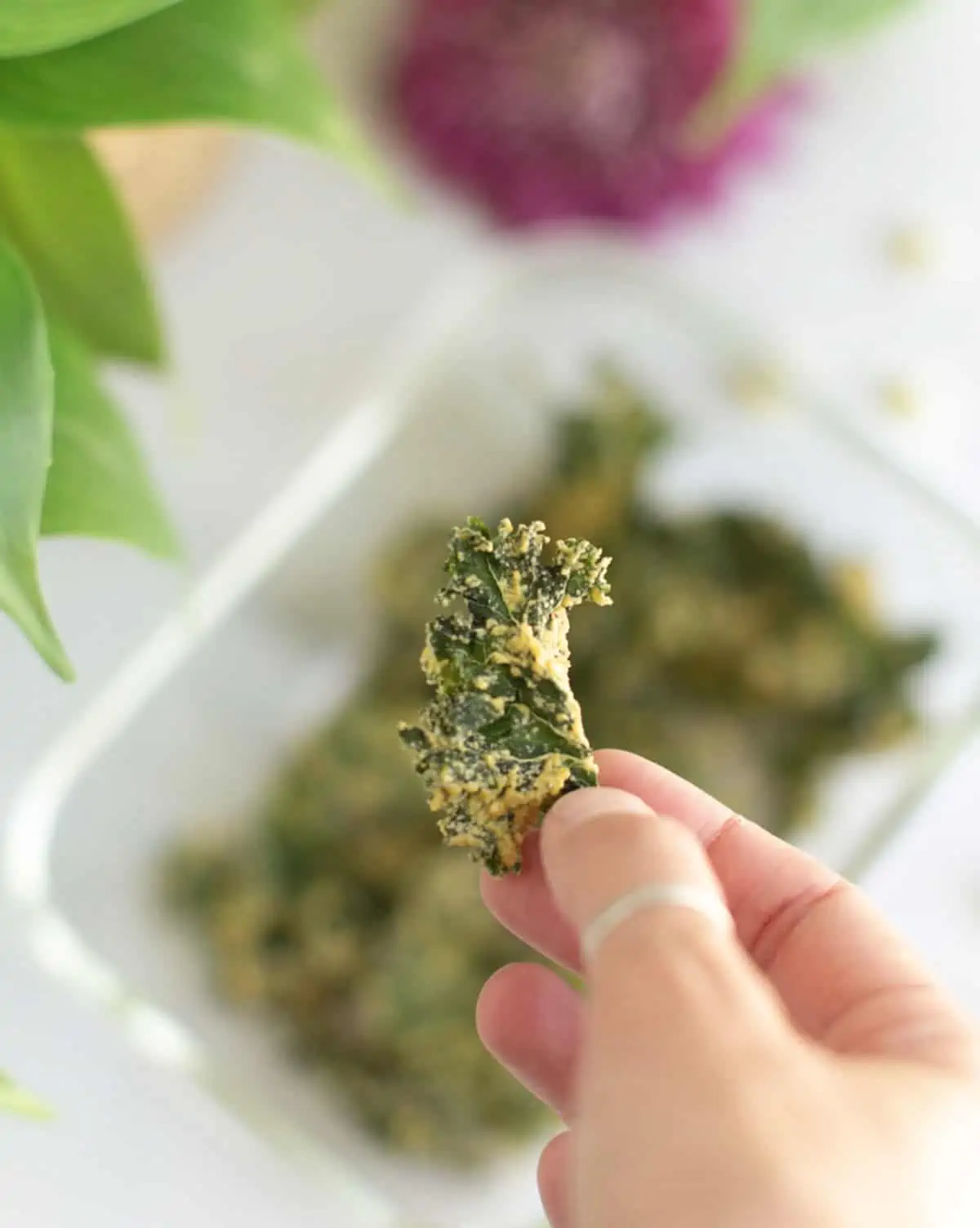 Why We Should All Eat More Kale
Kale is the Superhero of plant-based superfoods. Although this long-limbed leaf sometimes gets a bad rap for either taste or texture, you can count on kale to give your body the very best of its cruciferous care.
One of the most nutrient-dense foods on the planet, this vital vegetable is highest in vitamins A, C, and K. All kinds of kale are anti-inflammatory, high in antioxidants, and rich in calcium, iron, and potassium. It's amazing how this one glorious group of greens can be so low in calories and so high in friendly fiber.
Fun Fact: Kale has an ANDI score of 1000. ANDI is the Aggregate Nutrient-Density Index.
Though we may have taken your numerous nutrients for granted in the past, we will certainly not now, dear kale. Hail to Cheezy Kale Chips!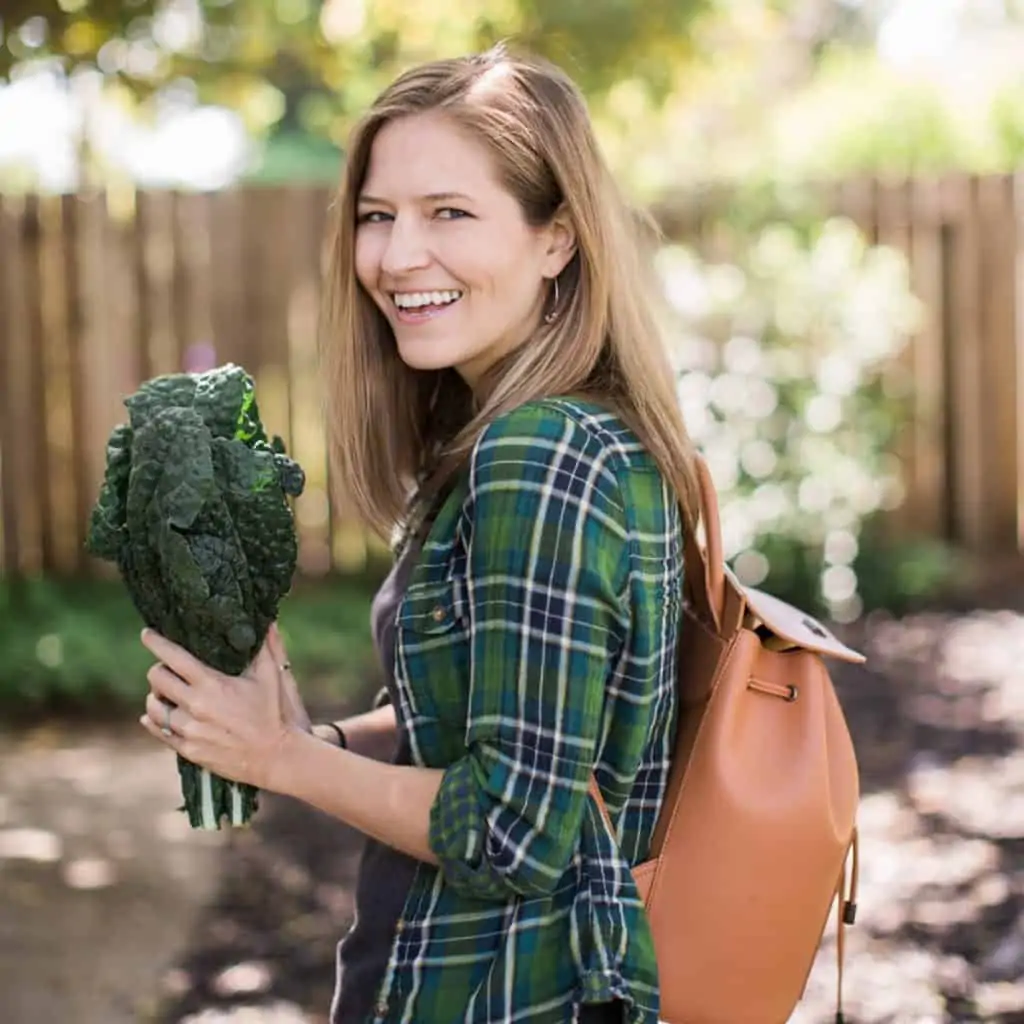 Store Bought vs. Homemade Dehydrated Kale Chips
Buying kale chips at the store will save you time, sure, but here's the catch. They're wicked expensive! One bunch of kale can cost around $2 and can make about 5 store-bought bags of kale chips, which can easily set you back $25.
We can all stand to save money, and making your own from scratch is a great way to do that. Plus, this recipe for homemade kale chips is so much better than any store bought kale chips I've tried.
Nuts or Seeds for Your Mineral Needs
Healthy fats are essential to a satisfying and sustainable vegan diet. Did you know that including mono and polyunsaturated fats in a meal can help to lower your risk of heart disease and support cell growth, as well as hormone function?
Cashews are also a major source of vitamins and minerals: Vitamin E (anti-inflammatory), folate (DNA synthesis), B6 (cognitive function), phosphorus and manganese (bone health), selenium (antioxidant protection), and magnesium (helps to lower blood pressure and risk of heart disease).
Plus, these adorable oblong nuts taste great and create a very creamy sauce!
Budget-Friendly Tip
If you're looking for an even more budget-friendly option than cashews, try substituting sunflower seeds instead! They hold many of the same nutrition benefits and have a similar flavor profile to cashews that pairs well with these chips.
Feast on Nutritional Yeast
Ahh, nutritional yeast. Every vegan's best friend. Also known as "nooch," these tiny flakes of savory goodness are packed with Vitamin B power (B1, B2, B3, B6, and B12) and protein (8 grams per serving). This tasty, cheesy topping packs a punch with high levels of potassium, calcium, and iron. Add 3 grams of fiber to the mix and you've got yourself one delicious and nutritious recipe ingredient!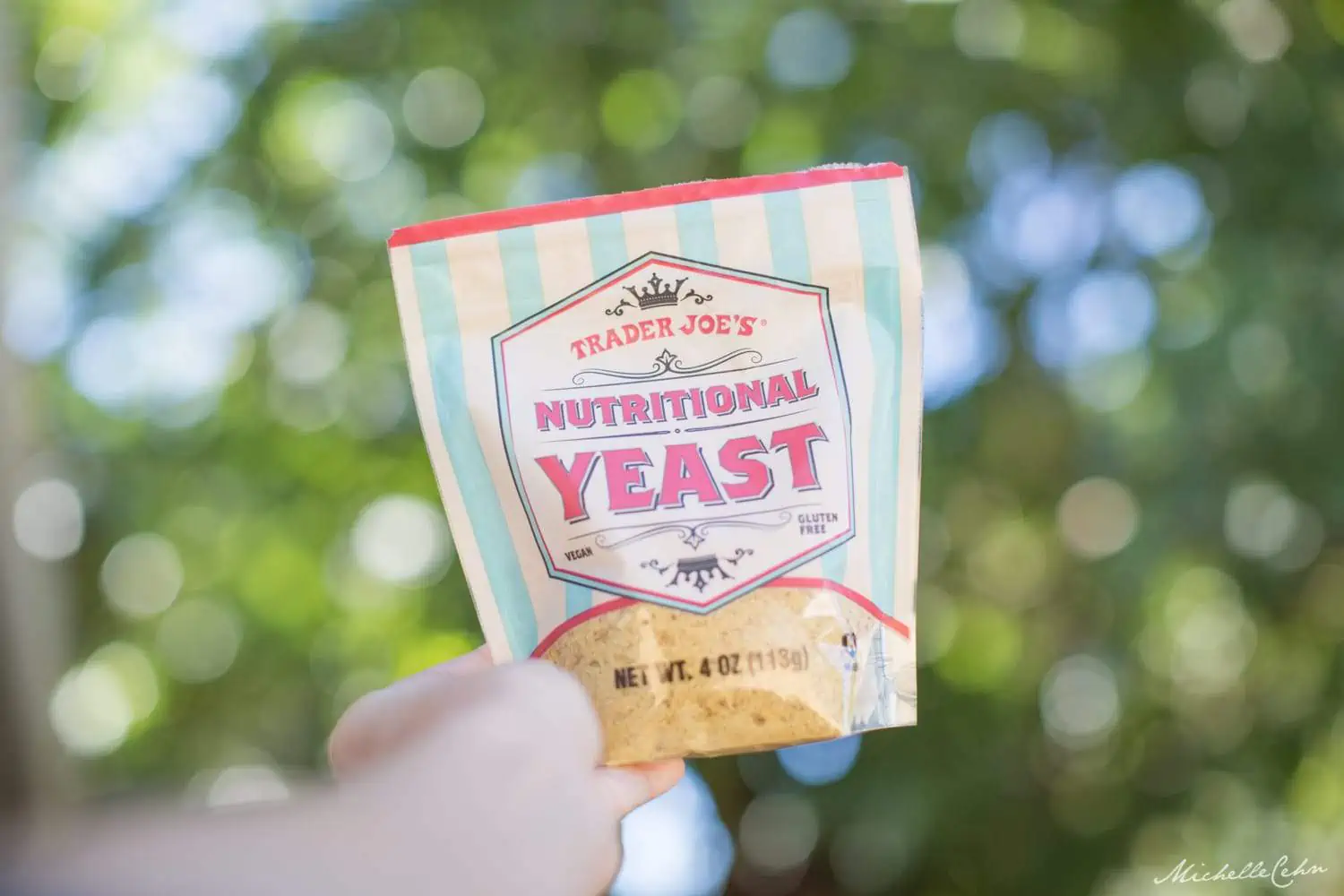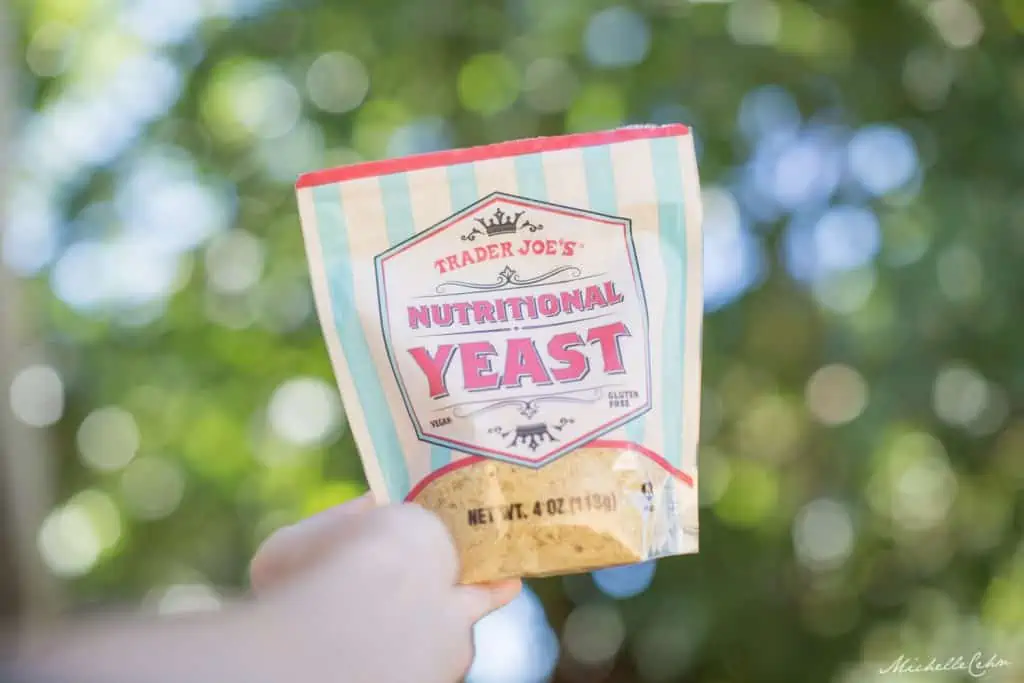 Choose Your Kale Adventure
For this recipe, you can use any type of kale. We've made these kale chips with the most universal curly kale torn into bite-sized chunks. And we've made it with dino kale kept whole to create show-stopping large fun-to-eat (albeit very crumbly) crackers. Check out the three most common types of kale below and choose your own adventure!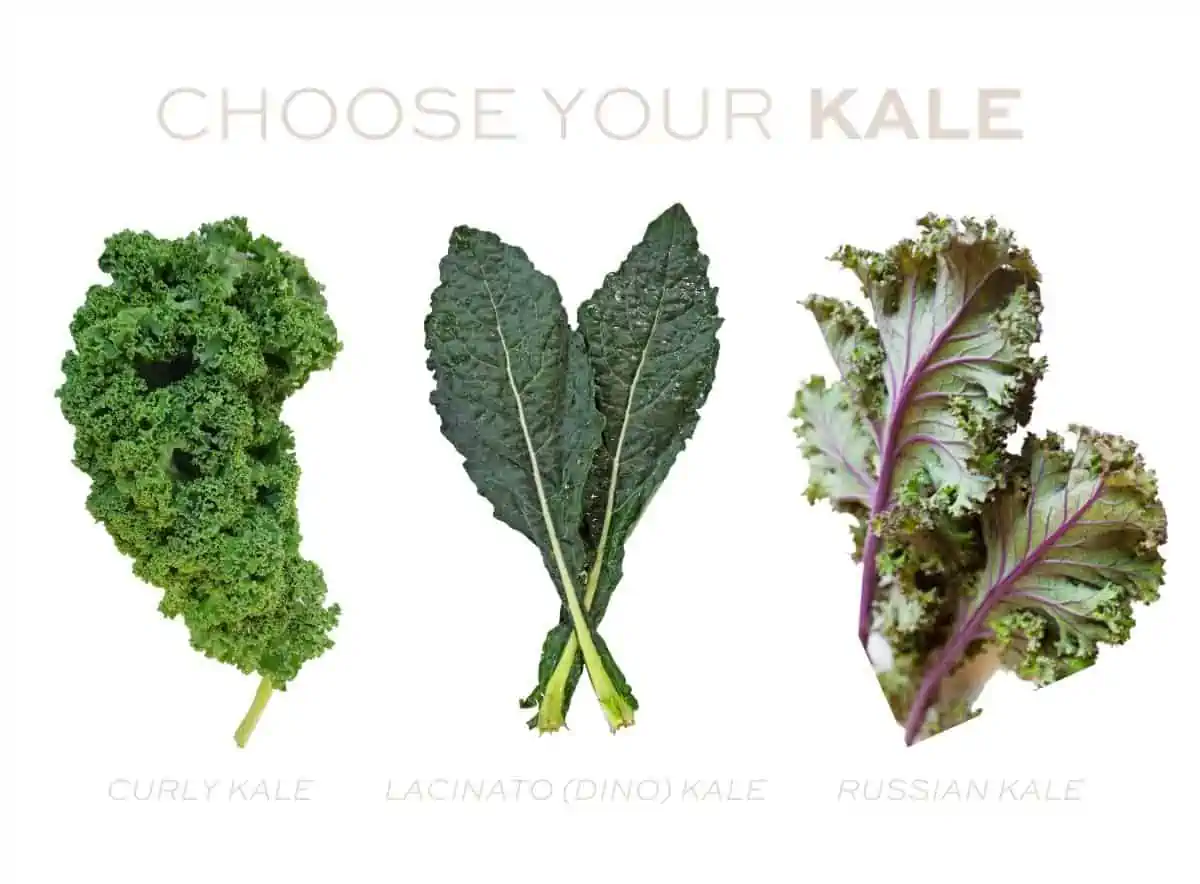 Tips for Prepping & Preparing
Here are some tips on prepping and preparing this recipe:
If you aren't able to soak the cashews, blanch them in boiling water.
Delve into a deeper flavor by using toasted instead of raw cashews seeds for the kale coating.
For the ultimate enjoyment of the cheesy kale snack, allow the chips to completely cool and crisp before eating.
Step 1: Soak Your Cashews
Soak your cashews for at least one hour, or longer! This will soften them so that they blend to form a very creamy paste; plus it will add moisture to the equation.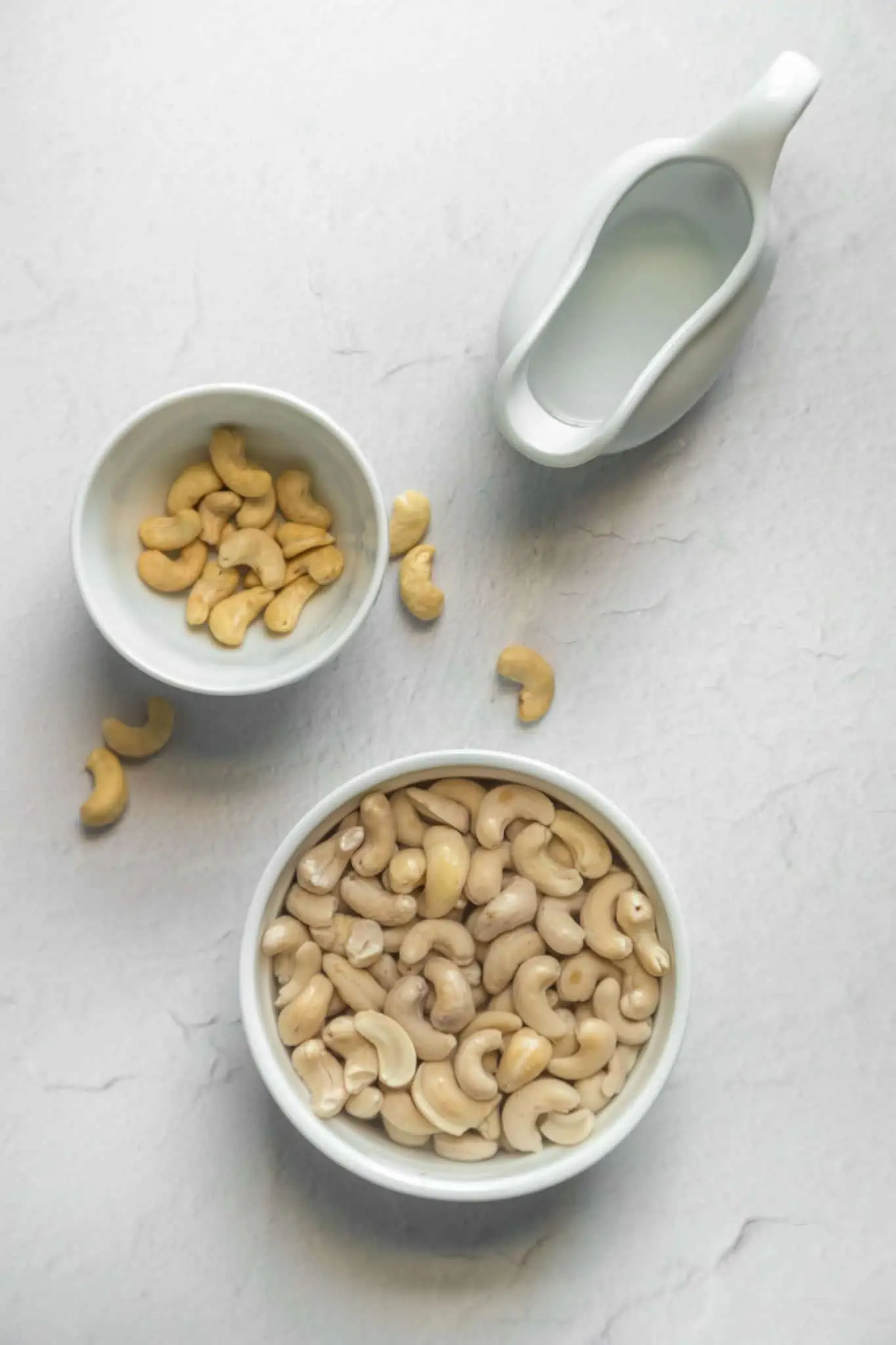 Step 2: Wash & Prep Your Kale
You'll need your kale to be completely dry for the paste to adhere, so you might be tempted to skip the washing step. I'm telling you right now—don't!
Let's remember that kale is grown in the soil, and curly kale has so many nooks and crannies for our bug friends to hang out in. I once opened a bundle of kale that had been in my refrigerator for three days and there was a giant caterpillar hanging out inside, still very much alive.
Don't let that freak you out, just give your kale leaves a good rinse and gentle scrub and set them on towels to dry before moving on to the next step.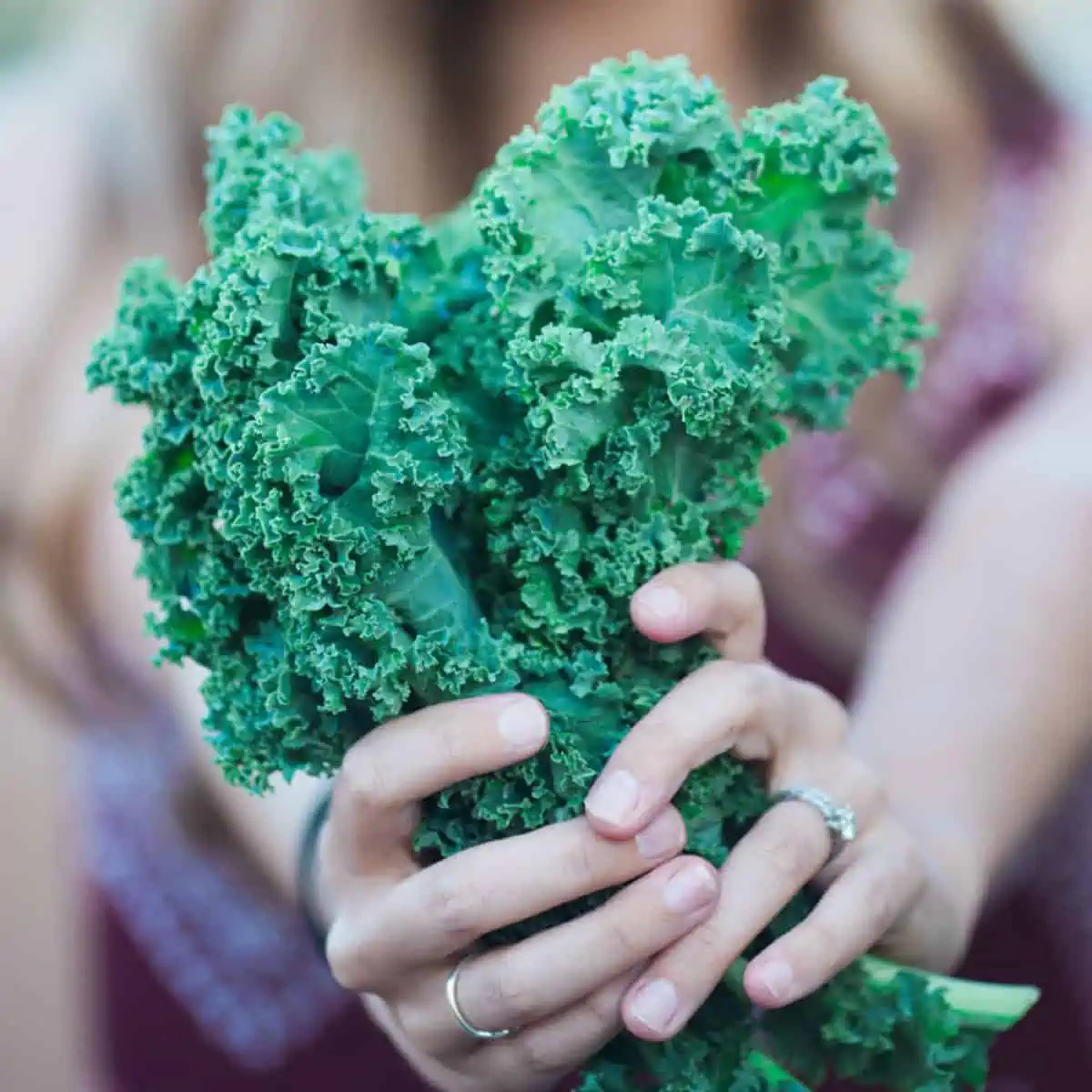 Step 3: Prepare Your Paste
Add the nuts, nooch, freshly squeezed lemon juice, oil, onion, and spices to your food processor and blend into a paste. It's okay if it's a little chunky, but if you're unsure if it's done, blend a little longer.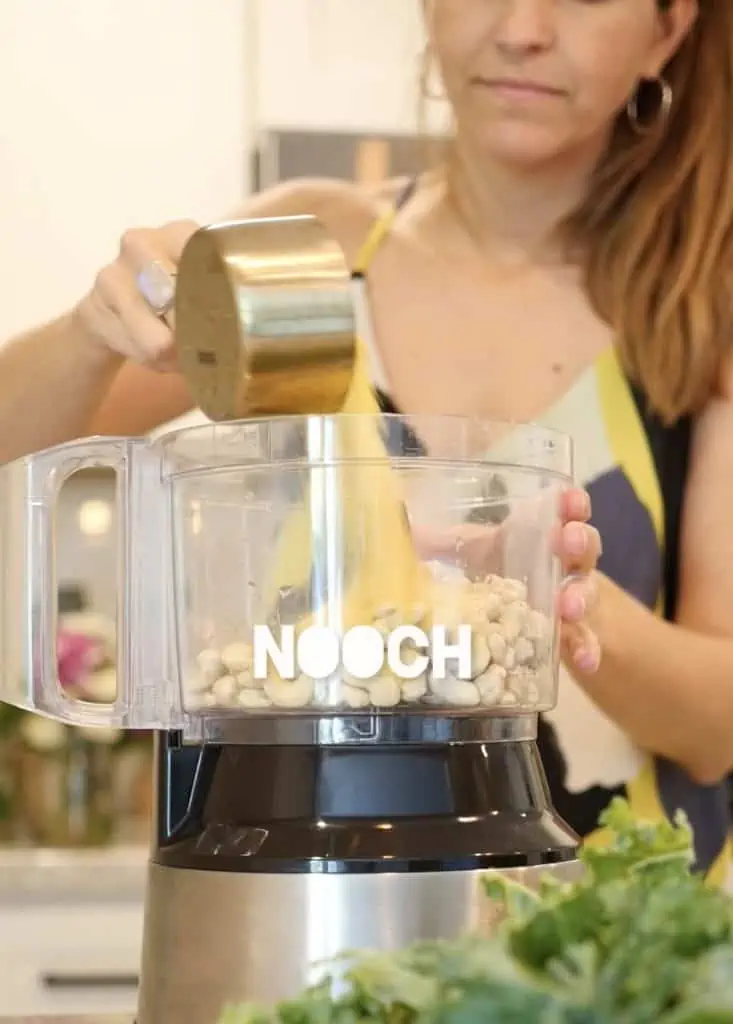 Step 3: Coat & Dehydrate
Scoop up the paste with your hands and rub it all over the kale pieces. It should generously but imperfectly coat both front and back off the kale, as pictured below.
Lay the coated kale pieces flat in a single layer on the dehydrator trays and voila! You're ready to dehydrate!
The dehydration takes a long time (we're talkin' 6 whole hours), but you can set it and forget it, and the result will be wildly worth the wait. We promise.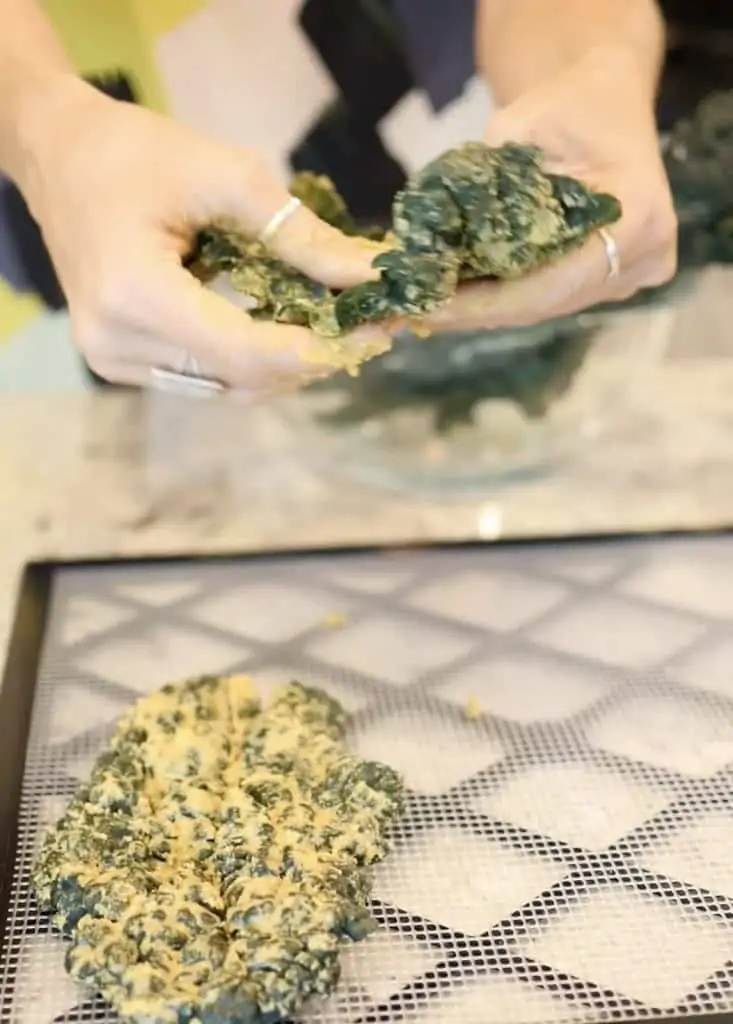 Lacking Leftovers?
If you love kale chips as I do, you probably won't have any leftovers. Dare to double the recipe when you wish to share with friends. Make sure to place each savory batch on a separate baking sheet. Cheezy kale chips need a breathing room while baking to become super crispy.
More Kale Recipes You'll Love
Can You Make These Kale Chips in the Oven?
Yes, you can! While there is no denying that kale chips taste the best, hold the flakiest crunch, and have a longer shelf life when they are dehydrated using an actual dehydrator, there are oven hacks so you can make these at home without any fancy equipment.
How to Make Oven Baked Kale Chips:
Preheat the oven to 275°F and line large baking sheets with silicone baking mats or parchment paper.
Spread the prepared kale with cheezy sauce on your prepared baking sheets, providing space between each for good air flow. Be careful not to overlap kale as that may prevent it from drying and becoming crispy.
Bake for 12 to 15 minutes, pull them out and flip the kale pieces over, and bake for an additional 5 to 10 minutes. The perfect finished kale chips should be crunchy but not burnt.
Remove from oven and allow to cool completely before enjoying or storing.
Manage Those Munchies
When you get a case of the crunchies, you can either dive into a bag of pre-packaged snacks or bake up these super healthy, super cheesy kale chips. You'll not only rack up vitamins and minerals to the max, but also a fantastic amount of fiber with this homemade choice. Fiber keeps you fuller longer and will help to keep your vegan munchies managed.
Other Savory Snack Recipes to Try
2 large bunches kale, washed and dried (whole dino kale leaves or curly kale de-stemmed and torn into bite-sized pieces)
2 cups raw cashews, soaked in water for at least an hour and then drained
1 cup nutritional yeast
¼ cup lemon juice
¼ cup olive oil
⅛ medium yellow onion
1 teaspoon garlic powder
½ teaspoon salt
¼ teaspoon chipotle powder
Soak cashews in water for one hour.

In a food processor, add the soaked cashews, nutritional yeast, lemon juice, olive oil, onion, garlic powder, salt, and chipotle powder. Process on high, adding a splash or two of water if needed, until you have a thick uniform paste.

Massage paste onto kale leaves with your hands until all the kale leaves are evenly coated.

Lay the kale flat on dehydrator trays (without overlapping), place in your dehydrator, and dehydrate for 6 hours at 135ºF.

Remove from dehydrator and enjoy, serve at parties, or store in airtight containers.
Storage: Kale chips are best enjoyed fresh; however, you can store them in an airtight container for 2 to 5 days. Pro tip: Any leftover cheesy sauce can also be used as a salad dressing. Just mix in 1 – 2 tablespoons of water to thin it out. 
Calories: 263kcal | Carbohydrates: 13g | Protein: 9g | Fat: 21g | Saturated Fat: 3g | Polyunsaturated Fat: 3g | Monounsaturated Fat: 13g | Sodium: 151mg | Potassium: 340mg | Fiber: 3g | Sugar: 2g | Vitamin A: 44IU | Vitamin C: 3mg | Calcium: 14mg | Iron: 3mg