Looking to promote creativity and release stress? This cloud dough recipe is absolutely wonderful to handle at any time or in (mostly) any place! With only two simple ingredients you probably already have around the house, you can make a batch of super silky play dough that is perfect for both children and adults.
This dough has to be felt to be believed. It's almost impossible to put down once you start kneading it. Your mind, as well as your hands, will start to feel more relaxed and at ease. It's a lovely mobile item to have for stressful times, car or airplane trips, and even to use before bed or during meditation.
If you've been searching for a fun group project to do with your children, friends, or family, this is it. Not only is it easy to make, it's also incredibly entertaining to come up with different color and scent combinations (with endless items to add for texture). Gather up a few large bowls, measuring cup, a big ol' tub of cornstarch, and a bottle of cruelty-free conditioner and let's get started!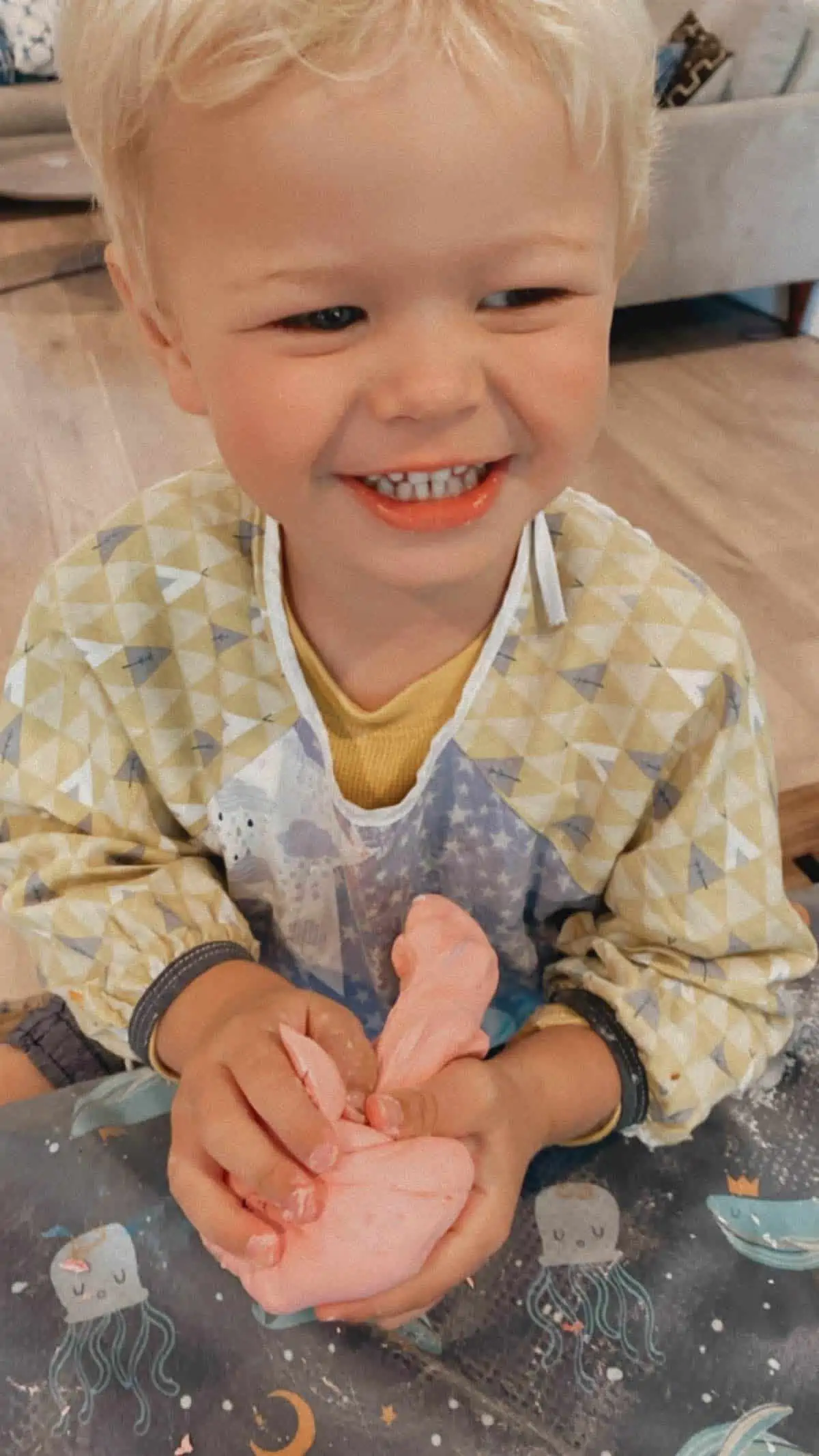 What is Cloud Dough?
If you've never heard of cloud playdough, you're in the perfect place. Cloud dough made with conditioner is one of those effortless recipes that you wish you knew how to make ages ago. It sounds a little fancy and perhaps intimidating, but it's so much fun!
The texture of cloud dough is very soft and airy, unlike most play doughs which are tougher for more stability when crafting. Traditional play dough is great for making figures, forms, and anything that needs to keep its shape longer.
Cloud dough has the feeling of an imaginary cloud—very light and easy to mold. This dough is best to use for sensory play, relaxation, and stress relief. It allows the hands and mind to work together to release tension and promote flexibility.
How To Make Cloud Dough
Crafting this DIY cloud dough recipe couldn't be more simple, friends! All you need is two hands (either an adult's, child's, or a mixture of both!), cornstarch, and hair conditioner! If you have a measuring cup and spatula nearby, all the better.
To start, just add two cups of cornstarch and one cup of hair conditioner of choice to a large bowl. Mix thoroughly with a rubber spatula or your hands until the mixture becomes a soft, pliable mass.
Depending on the conditioner, you may need more cornstarch as you mix. Add a couple of tablespoons at a time until you get the desired cloud-like texture.
Helpful Tips for Cloud Dough Recipe Creation
This gluten free cloud dough is not only easy-to-make, but very versatile. You can choose your cloud play dough recipe to be fragrance free, unadorned, and natural or saturated with scent, super colorful, and chock full of stuff. It's totally up to you!
Fun Color Combinations
Add 3-6 drops of vegan-friendly food coloring or a teaspoon or so of fruit/spice powders (like beet powder, turmeric, or pink dragonfruit) to the hair conditioner before adding to the cornstarch. If you'd like smaller amounts of many colors, reduce this recipe by half so you can make multiple colors.
Mix-Ins and Alluring Adornments
Consider adding vegan sprinkles or eco-friendly glitter to make this kids project even more fun. Want to get even more crazy? Try getting creative with household items like marbles, magnets, beans, dry-pasta, foil, beads, mini figurines, popsicle sticks, pipe cleaners, nuts and bolts, faux flowers, corks, legos, seashells, rocks, etc. So many options!
You can also pull out an array of cookie cutters to play with!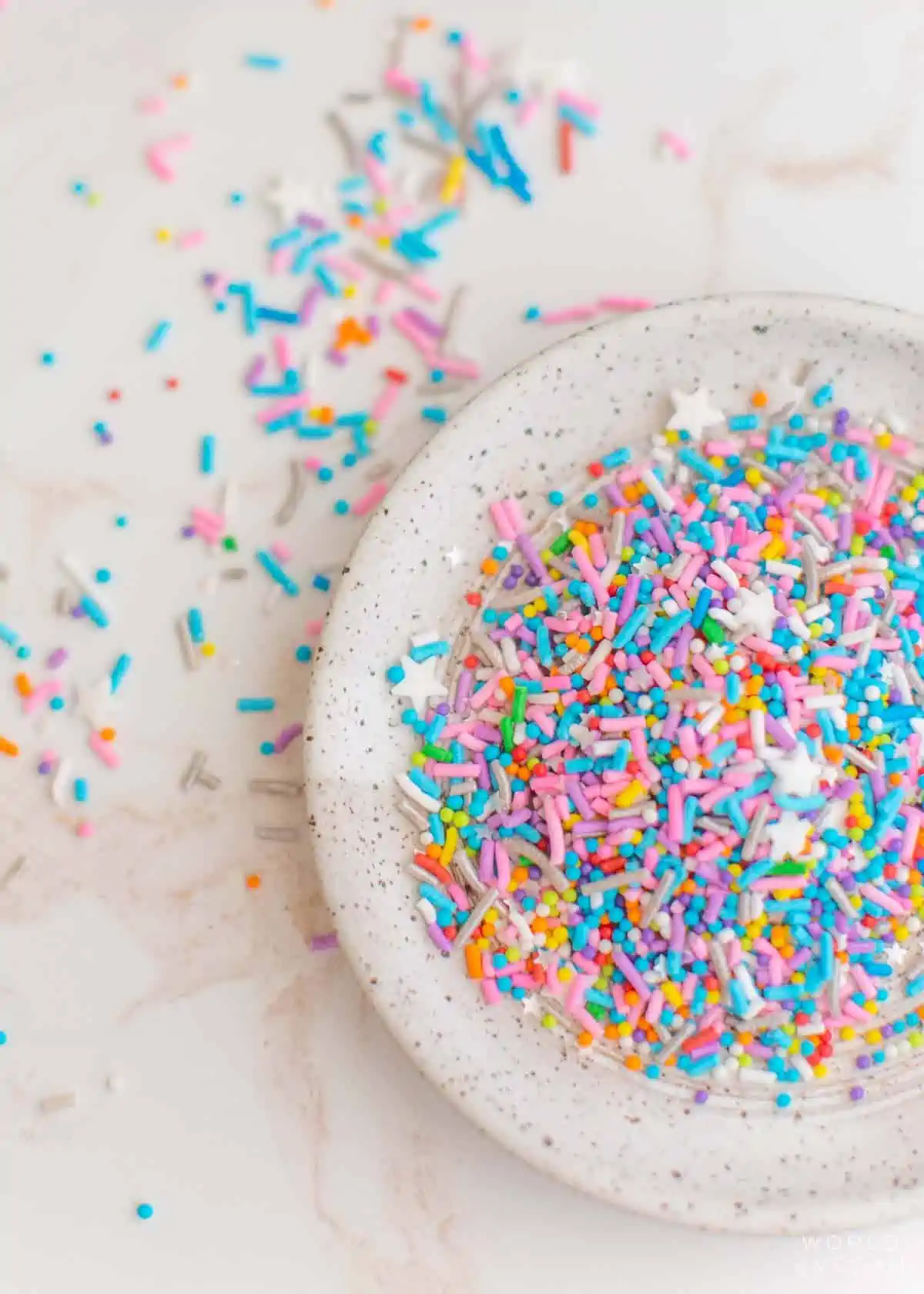 Choose Your Own Scent Adventure
The scent of the conditioner that you use is important in this recipe. If it's not a fragrance that you absolutely love, or you're sensitive to scents, try to use an unscented conditioner. To this, you can add non-toxic fragrances, extracts, or essential oils of your choosing to the cloud dough.
Important: If using essential oils, they should be mixed with the conditioner before adding to the cornstarch. About 40 drops or ½ teaspoon is a good amount to start with. Feel free to add more or less to your liking. Child-friendly essential oils include lavender, lemon, lime, orange, tangerine, chamomile, peppermint and vanilla.
Best Vegan Conditioner Brands For Cloud Dough
This is where the fun is! Because there are only two ingredients for making this cloud dough with conditioner, you should choose the brand that you love best. Make this lovely, squishy dough entirely your own!
Fragrance-Free Conditioners for Sensitive Skin
Scented Conditioners
Eco-Friendly Conditioners
Can You Use Lotion Instead of Conditioner for Cloud Dough?
Yes, you can! Both lotion and conditioner have similar ingredients and, if you're out of conditioner, lotion will work. The amount added would be the same, too. Keep in mind that the scent of your lotion will be enhanced once you start working with the dough for a long period of time with warm hands. Some find it better to use a fragrance-free lotion/conditioner and add their own. Here are some of our vegan brand suggestions for both scented and unscented lotions:
Fragrance-Free Lotions for Sensitive Skin
Scented Lotions
Does Cloud Dough Get Hard?
Your cloud dough recipe with conditioner can last for at least a week if you store it correctly. Wrap any clay that you want to reuse in a damp cloth or plastic wrap. Place in a tightly sealed container and keep either on the countertop (for daily use) or in the refrigerator (for weekly use) for up to two weeks.
If you want to keep the cloud play dough clean, make sure to wash and dry your hands (or the child's hands) thoroughly before touching the dough each time. If the dough gets goopy, dirty, or just plain nasty, it might be best to dispose of that piece and make a new batch. This is especially true if anyone who uses the dough who has a cold or flu. Yikes!
Once the dough starts feeling a bit tough or looking like it's seen better days, it's time to let it go and make more. Every time you whip up another recipe, make sure to experiment with various colors, scents, or fun additions for more exciting play! (See above for inspiration.)
Frequently Asked Questions
Can I use shampoo instead of conditioner in this recipe?
Yes, technically, you can. They're both gel-like liquids so shampoo could be used. The reason why conditioner is used more often is that shampoos usually contain a cleaning agent that can eventually dry out your hands. Conditioners, on the other hand, contain softening ingredients that keep both your hands and the dough softer for longer. But, it's totally up to you.
Is cloud dough edible? Can you eat cloud dough?
We wouldn't recommend it. If you use a conditioner that is completely non-toxic, then you can technically consume it because the corn starch is edible. Not sure if anyone would enjoy eating cloud dough, but if it's a concern for little children, make sure to use a non-toxic, all natural conditioner in this recipe.
Does cloud dough become moldy?
It would take a long time for this dough to grow mold, unless it was sitting in a bowl of liquid. The dough itself stays on the drier side because of the corn starch and conditioner itself usually includes a preservative in the ingredients. What happens more often is that the dough will get dirt, hair, grease, and dust in it if handled often with hands that are not clean or it rolls onto a dirty floor.
More Homemade Dough Recipes
Looking for more fun dough crafts? This Homemade Play Dough without Cream of Tartar is another easy-to-make dough with just a few more household ingredients. It's also ready in 15 minutes—no baking needed!
For a fun craft that you can make little keepsakes with, try these salt dough ornaments! Made with simple ingredients and perfect for celebrating any special occasion!
More DIY Creative Recipes To Try
2 cups cornstarch , (plus an additional 1-2 cups)
1 cup vegan-friendly hair conditioner, (unscented, if possible)
In a mixing bowl, combine 2 cups of corn starch and 1 cup of hair conditioner with a rubber spatula or with your hands.

Knead well until the dough is slightly sticky and damp. Add a few tablespoons of cornstarch to get the perfect consistency. It should be soft, slightly dry to the touch, but also springy and easy to manipulate.

To store, wrap the finished dough in plastic wrap or a damp cloth and store in a sealed container or bag for up to a week or so. Keep in the refrigerator if you would like it to last longer.
Add 3-6 drops of vegan-friendly food coloring or a teaspoon or so of fruit/spice powders (like beet, turmeric, or pink dragonfruit) to the hair conditioner before adding to the cornstarch. If you'd like smaller amounts of many colors, reduce this recipe by half so you can make multiple colors.
The scent of the conditioner that you use in important in this recipe. If it's not a fragrance that you absolutely love, try to use an unscented conditioner. See tips in article for more information.
Vegan, Cruelty-Free, Inexpensive, Eco-Friendly
This cloud dough recipe was written by Gina House and edited by Rachel Lessenden. Photos by Michelle Cehn for World of Vegan, all rights reserved.