Let's get this par-tea started! If you're someone who loves vegan food and fabulous parties (and who doesn't?), you'll love our plant-based plan for hosting your very own afternoon tea. All you need are a few delightful table decorations, a pot or two of steaming tea, and several scrumptious vegan tea sandwiches.
Sadly, the most common tea party sandwiches contain dairy and animal products. We're convinced that eliminating the dairy and meat only enhances the flavor, while also saving the animals! Woo! We guarantee that these vegan tea party recipes will tempt and tantalize even non-vegan friends and family. (Shh…if you don't say anything, we won't either!)
Wishing you the most wonderful and magical vegan tea party adventure! Let us know in the comments below what you'll serve at your next afternoon tea. We'd love to hear all about it!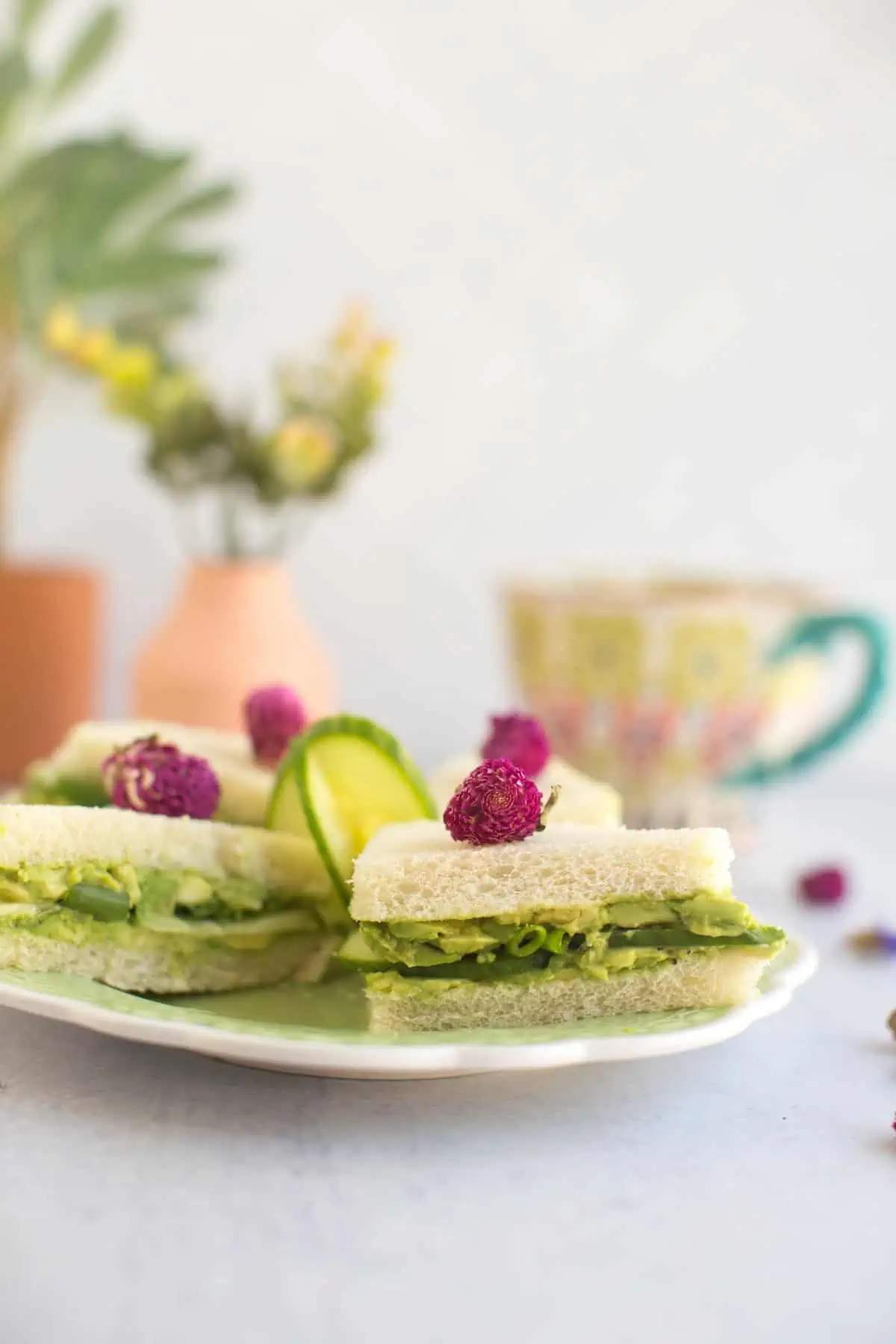 How Should I Prepare For a Vegan Tea Party?
The most important elements of a tea party are the freshly brewed tea, fabulous food, and decadent desserts. And, of course, your closest friends! But, there are a few overlooked details that can transform a regular old beverage and buffet into something really special.
Another helpful tip is to make the desserts and baked goods ahead of time. It will save you time and stress the day of your festive tea.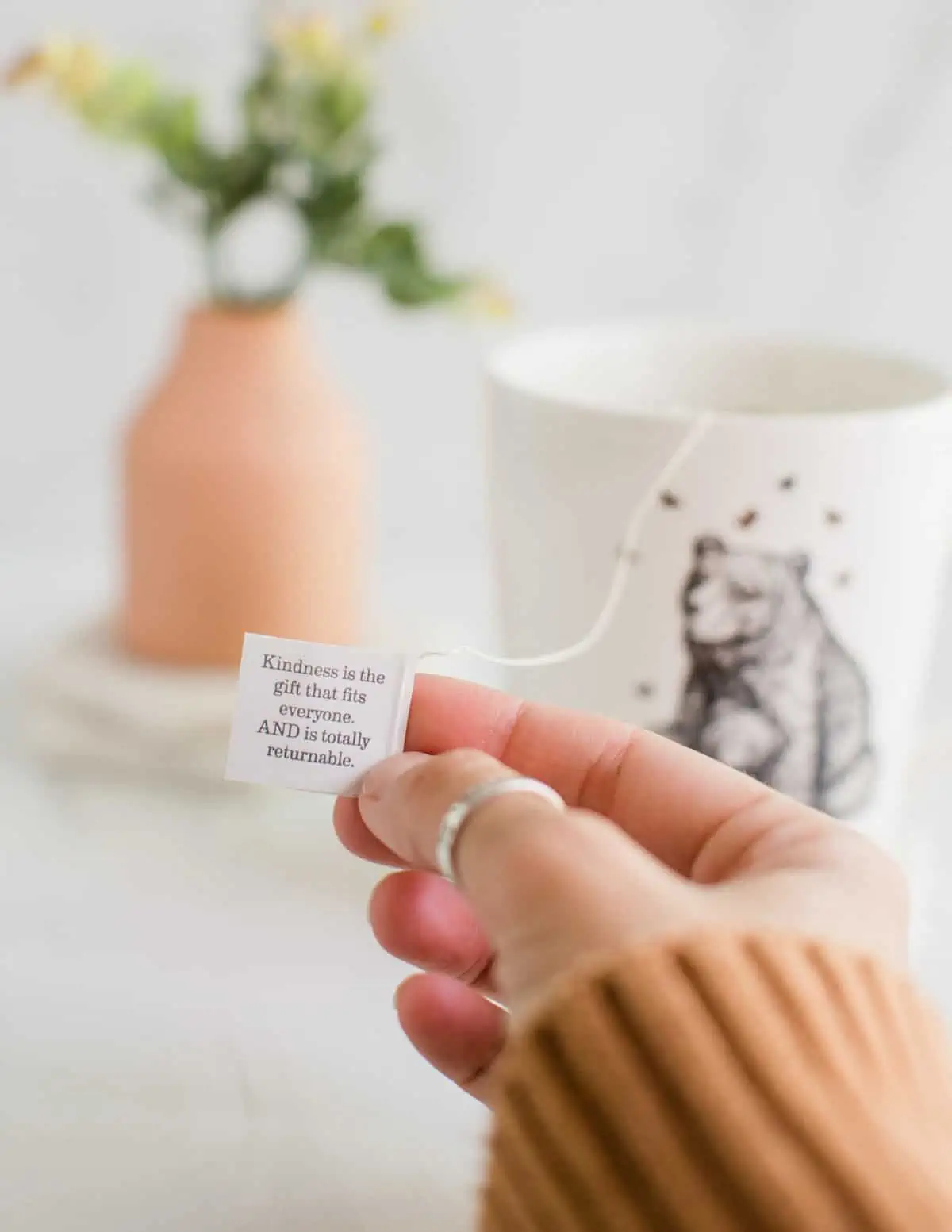 What Is the Best Time for a Tea Party?
The most common time for an afternoon vegan tea party is between 3:00 and 5:00 pm. That way, it's more of a treat and, as hostess/host, you are not required to do a lot of cooking. If you'd like to prepare a "high tea", it would be similar to a dinner and would take place around 5:00 pm. With this type of tea party, you should include more substantial food, such as a warm main dish.
Our favorite high tea main dishes include:
How To Serve Vegan Finger Sandwiches
Traditional finger sandwiches are simply sandwiches cut into slim triangles or rectangles (also called "fingers"). All you need to do is to make a batch of vegan tea sandwiches and do a bit of careful slicing with a sharp knife. Ideally, you should count on one full sandwich per person. In case your guests are extra hungry or thinking the tea party is more like lunch, it's best to add an extra sandwich count to the list.
Serving these dainty, itty-bitty sandwiches is super fun. The time-honored way is to display your delicious food on a three-tiered tea party tray. But, feel free to use anything you have on hand such as pretty platters, a variety of plates, or even a couple of cake stands. Whatever you decide will be just right.
Here is how to arrange the foods in each tier: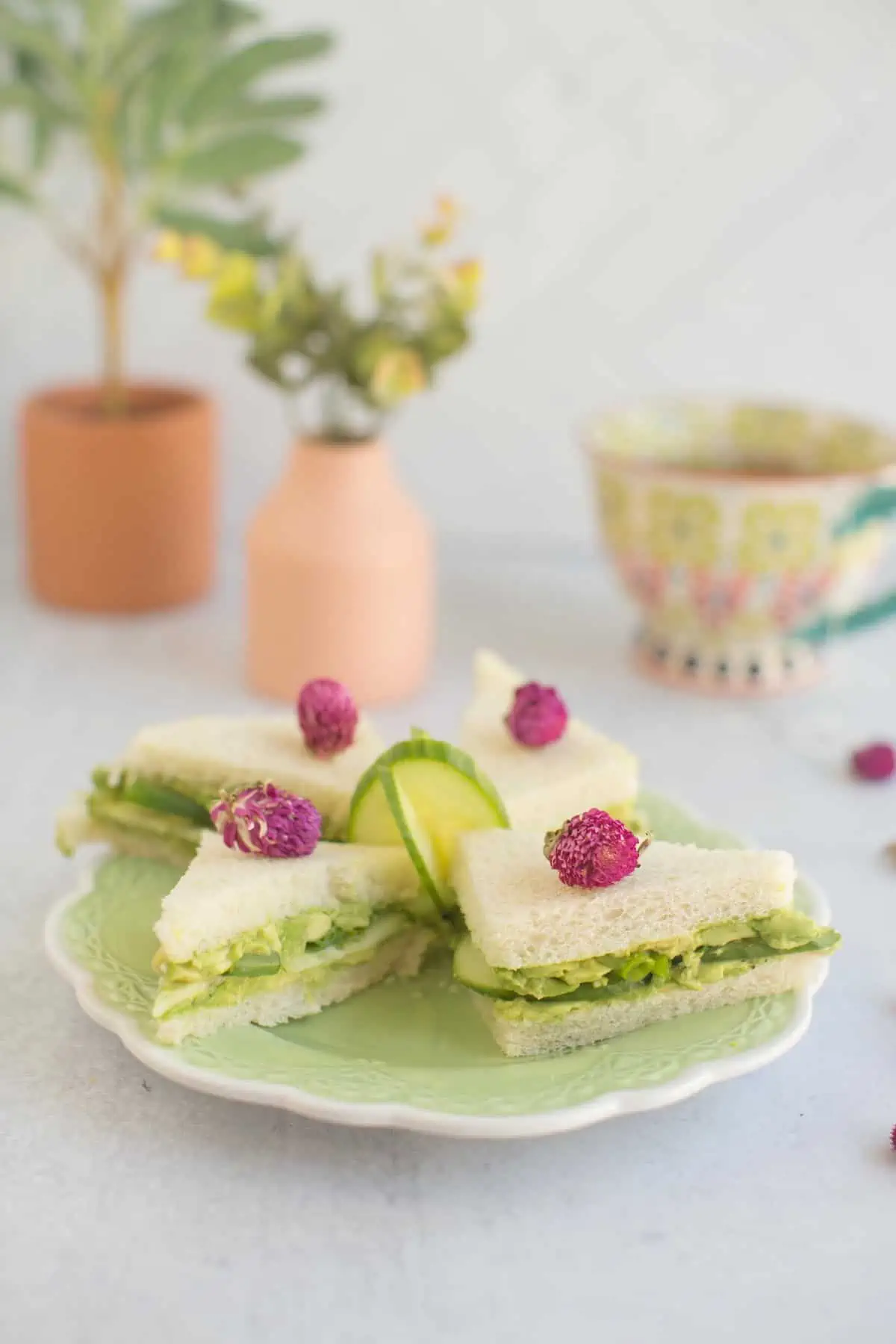 Must Have Recipes for a Vegan Afternoon Tea
It's very exciting to create a mouthwatering menu for a tea party, especially a vegan one. These heavenly recipes will have your guests hankering for more! Choose at least 2-3 different choices for each tier.
Desserts (Top Tier)
Baked Goods (Middle Tier)
Sandwiches (Bottom Tier)
Avocado Cucumber Sandwich (recipe below!)
When you're making the sandwiches, make sure to use vegan bread (preferably white) and dairy-free cheese. Slice the finished sandwiches into 4 delicate triangles (or "fingers") and layer in sections onto the bottom tier of the tea tray. Always make your sandwiches fresh right before serving. No one likes stale or dry sandwiches!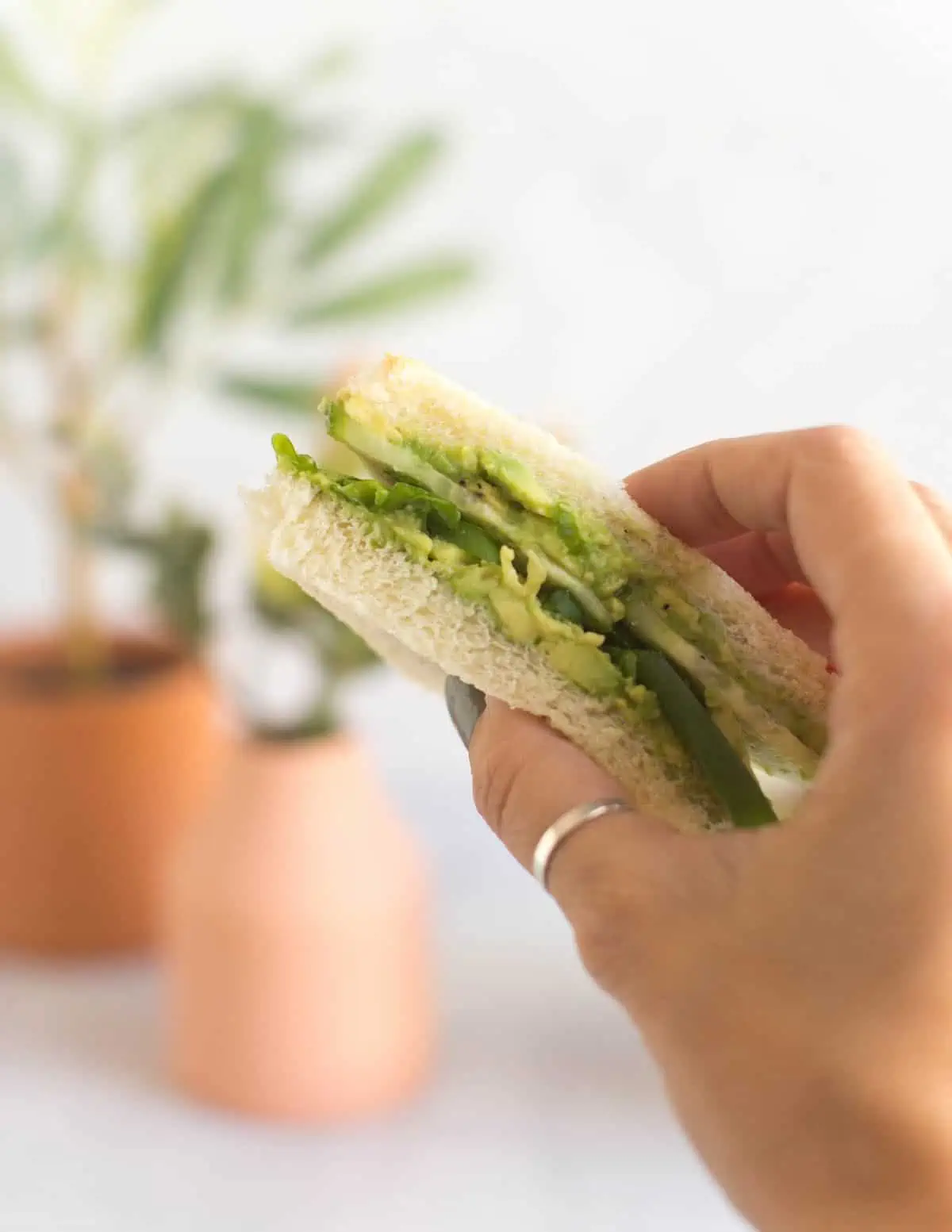 Don't Forget the Tea!
To make the very best beverage, use loose leaf tea. Fill the kettle with cold, filtered water, bring to the desired temperature (on package instructions), and brew for the suggested amount of time.
Vegan Tea Party Locations
If you're just not into planning, decorating, and spending time in the kitchen, consider going out for a tea party celebration. Although there aren't too many (yet!) that specialize in vegan tea parties, here is a list to check out:
If you're lucky enough to be in London, there are some incredible vegan afternoon tea restaurant options!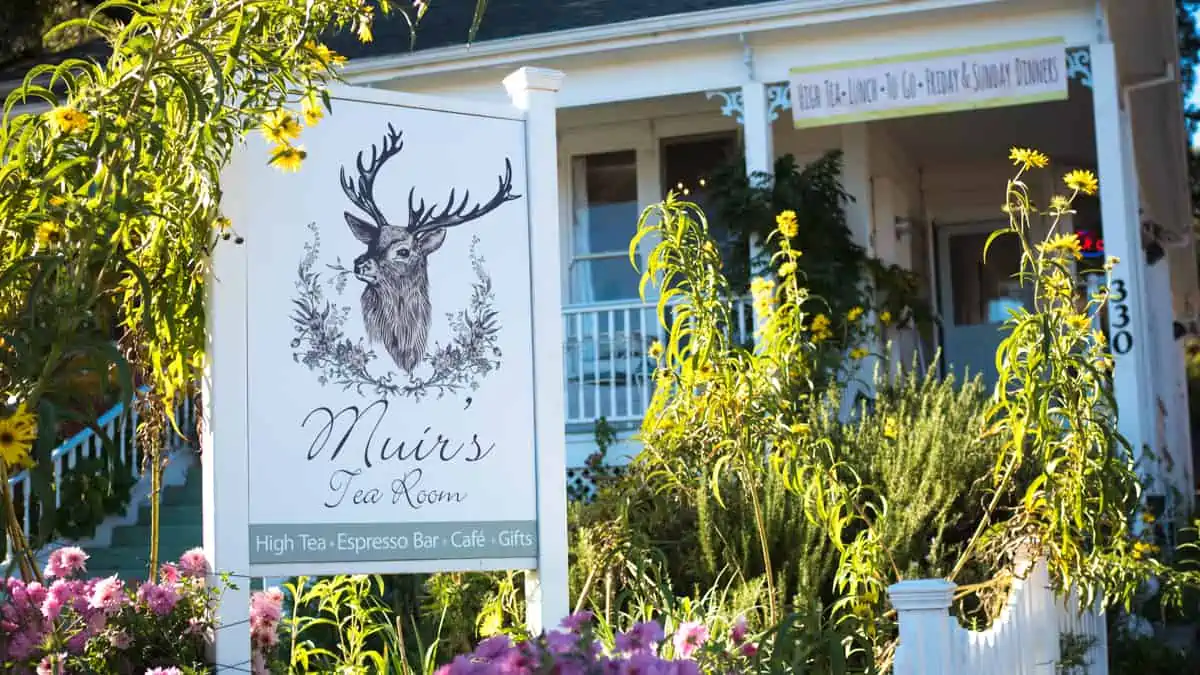 More Vegan Sandwiches To Try
Servings 4 finger sandwiches
2 slices white bread
¼ avocado, thinly sliced
5 rounds cucumber, thinly sliced
1 tablespoon green onions, finely sliced
dash salt
dash pepper
dash garlic powder, optional
On top of one slice of bread, add the avocado slices. Then, layer with slices of cucumber.

Sprinkle with green onions, salt, pepper, and garlic powder (optional).

Top with the second slice of bread, press down gently. If desired, slice off the crusts and cut into 4 triangles.
Substitute vegan mayo for avocado, if desired. 
Feel free to add more or less avocado and cucumber to your taste.
Swap the green onion for red onion, if you like that type better.
Calories: 54kcal | Carbohydrates: 7g | Protein: 1g | Fat: 2g | Saturated Fat: 0.4g | Polyunsaturated Fat: 0.5g | Monounsaturated Fat: 1g | Trans Fat: 0.003g | Sodium: 61mg | Potassium: 81mg | Fiber: 1g | Sugar: 1g | Vitamin A: 34IU | Vitamin C: 2mg | Calcium: 29mg | Iron: 1mg