Oatmeal is widely appreciated as a nutritious and fiber-licious breakfast food for kiddos and adults alike. But many people have never ventured beyond basic hot oatmeal.
Overnight oats are one of the most popular and "trendy" spins on oatmeal. Overnight oats have been sweeping the internet, Pinterest, Instagram, and beyond—and for good reason. They're ridiculously easy to prepare.
Just grab a mason jar, pour in some oats, sprinkle in any add-ins you want (like frozen berries, fresh fruit, dried fruit, nuts, and seeds). Add a generous pour of your favorite plant-based milk (maintaining a 1:1 oats-to-milk ratio), and pop it in the fridge!
Voila. Tomorrow's breakfast is ready.
This recipe was generously sponsored by our friends at One Degree Organics featuring one of our favorite foods—oats! Enjoy 🙂
What Are Overnight Oats?
Overnight oats are the no-cook, meal prep version of oatmeal. Instead of making your oatmeal on the stove each morning, you can whip up a batch the night before and have an easy grab-and-go breakfast the next morning.
Instead of heating the oats to soften, oats are soaked in water or milk. After several hours they soften enough to be enjoyed as if they were prepared in a pan!
The secret to a perfect bowl of overnight oats is using the right kind of oats with the right ratio of liquid. When you have it all in balance, it creates a creamy texture that's the perfect base for a filling breakfast. From there, you can keep it simple and enjoy as-is, or get creative with your toppings to round out the meal.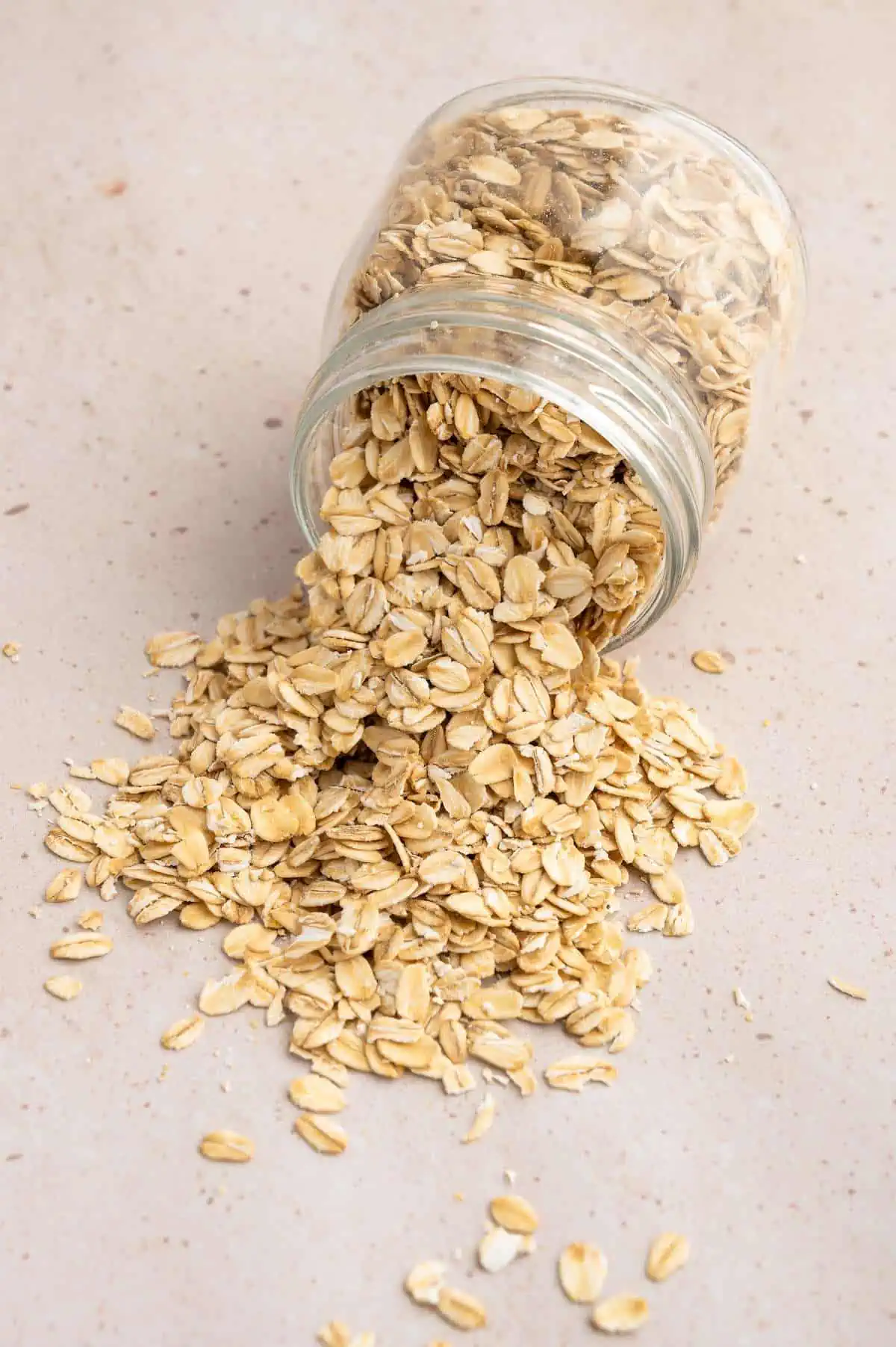 Why You'll Love Overnight Oats
It's pretty incredible how the littlest bit of meal prep the night before can totally transform the vibe of your morning. No more hustling so you'll have time to make breakfast. No more leaving dirty dishes in the sink while you rush out the door. And no more skipping the most important meal of the day because you don't have time.
Seriously, what would you give for an extra 5 minutes in the morning? Well, here you go. Hit that snooze button and take an extra 10.
You'll have a delicious healthy breakfast ready and waiting for you when you wake up. You can devour it when you first crawl out of bed or grab it on your way out the door. Boom—breakfast handled!
Are Oats Healthy?
Yes, oats are very healthy! They are a whole grain and are high in fiber, protein, vitamins, and minerals. Oats can help lower cholesterol levels, reduce the risk of heart disease, and aid in weight loss.
Overnight oats are just as healthy as eating regular oatmeal so regardless of how you prefer to enjoy it, you'll be reaping the benefits either way! It really comes down to all the additives you put into your oats. If you're adding lots of brown sugar, it may not be as healthy as, say, sweetening it with a little date paste or maple syrup.
Key Ingredients For Overnight Oats
To create the perfect bowl of overnight oats, you only need three simple ingredients:
Rolled oats: Also known as old fashioned oats, these will get you the best results. You can get away with quick oats, but they will be more mushy, however, don't try steel cut oats as they won't soften enough.
Chia seeds: Not only do these little seeds help to thicken the consistency, they're also an extra boost of fiber and protein to keep you full longer!
Plant-based milk: Any kind will do. For more protein, try soy milk, or if you fancy some extra creaminess, use coconut milk.
How To Make Overnight Oats
This basic recipe for overnights is quick and simple to make! Once you know this recipe, it unlocks the door for myriad possibilities. Customize it with your favorite toppings and mix in additional flavors for a different option every morning!
Combine: In a sealable container like a mason jar, add the base ingredients and mix well. If the container has a tight lid, you can simply seal and shake to mix it all together.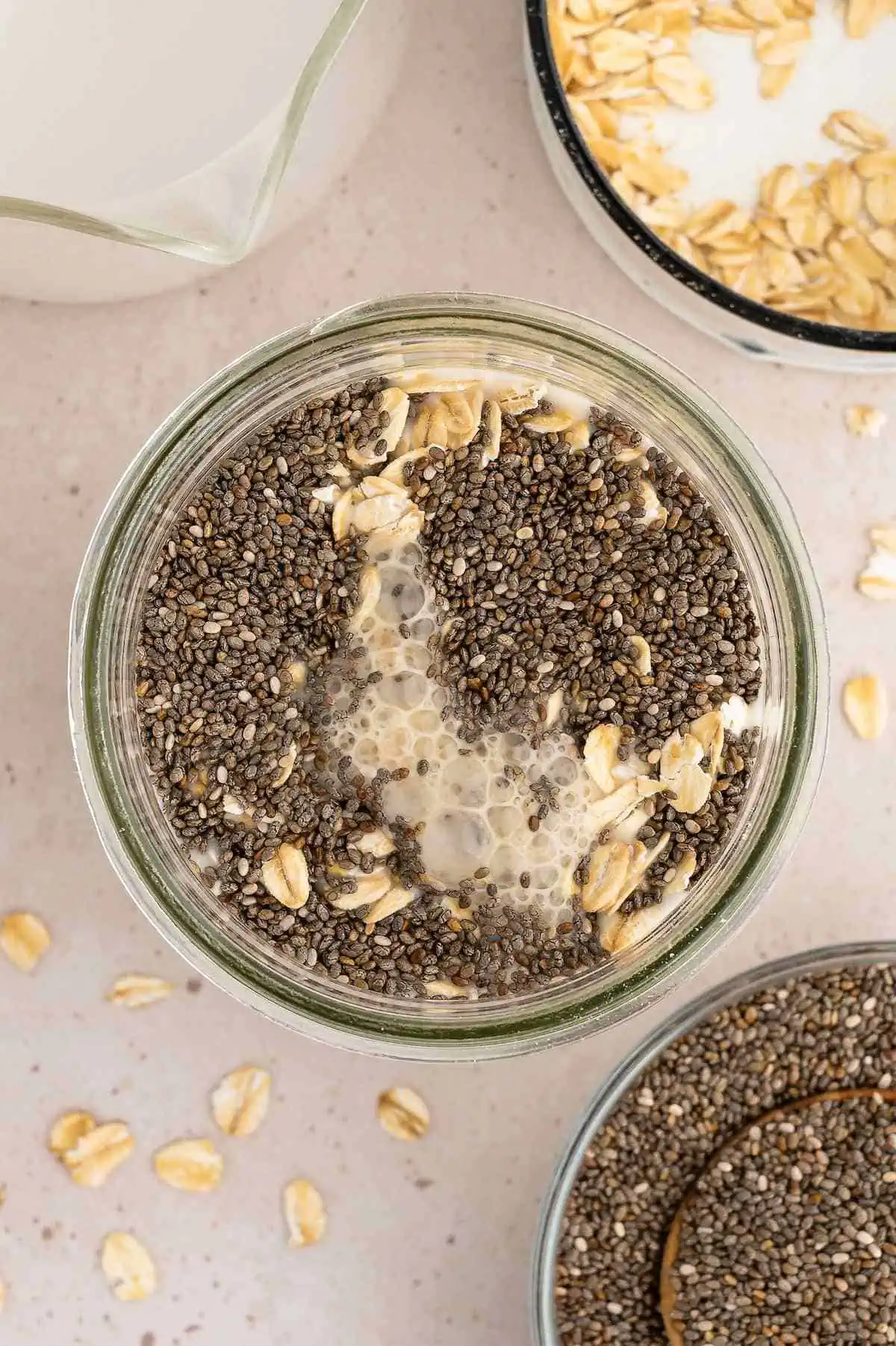 Soak: Allow the oats to soak and thicken for at least a few hours or overnight. If you're meal prepping for the week, you can make a big batch and allow it to soak for several days even.
Top it off: When ready, add your favorite toppings like fresh or frozen fruit, nuts, seeds, chocolate chips, shredded coconut or anything else that sounds good to you. For more ideas, see our add-in suggestions below.
Top Tips
Use rolled oats, also known as old fashioned oats for best results. Quick oats will become too mushy and steel cut oats won't soften enough. Rolled oats are the goldilocks of overnight oats.
The base recipe is simple. If you like thick oatmeal, use a 1:1 ratio of oats to milk. You can always top it with another splash of milk in the morning when you eat it. If you like softer oatmeal, feel free to add more milk.
Heat them up if cold oats aren't your fancy. Although they're perfectly safe to eat cold, and it's the most common way to enjoy overnight oats, you can definitely warm them in a microwave for 1-2 minutes. If you're going to add toppings like fresh fruit, warm it up first.
Make a big batch to meal prep for the whole week. This base recipe keeps all week long in an airtight container in the refrigerator. Just keep in mind any toppings that may affect its shelf life. It's best to not add fresh fruit until right before serving.
Overnight Oats Add-Ins
This is one of those recipes that you can get really creative with by using various plant milks, flavorings (like cinnamon or nutmeg), sweeteners (like maple syrup or brown sugar), and add-ins (like fresh fruit, chia seeds, raisins, goji berries, or even chocolate chips). Have fun with what you have on hand, and take a look at the ideas below for inspiration! If you need some go-to ideas, try Strawberries and Cream Overnight Oats, Apple Overnight Oats, and these delicious Peanut Butter and Jelly Overnight Oats!
Plant-Based Milk Options
Coconut milk
Soy milk
Almond milk
Cashew milk
Water (yes, even water will work)
Oatmeal Mix-Ins
Frozen berries
Sliced banana
Fresh fruit (Both Apple Pie and Strawberry overnight oats are scrumptious!)
Toppings
Shredded coconut
Raisins
Jam
Nut butter (Peanut Butter is a favorite of ours!)
Maple syrup
Agave nectar
Brown sugar
Cinnamon
Nutmeg
How Long Do Overnight Oats Last?
Overnight oats will stay fresh for up to 5 days if stored properly in an airtight container in the refrigerator. You can store them in individual serving-sized containers or meal prep in one big container and portion it out each morning when you're ready to eat.
The longer oats soak, the softer they'll get. If texture is a concern for you, you may only want to make enough for a few days instead of the whole week.
Can You Freeze Overnight Oats?
Yes! Overnight oats freeze beautifully. Allow the oats to soak for a few hours to properly soften before freezing. Place them in a freezer-safe container and store in the freezer for up to three months.
When ready to eat, transfer to the fridge to thaw overnight. Then when you're to eat, add your toppings and enjoy!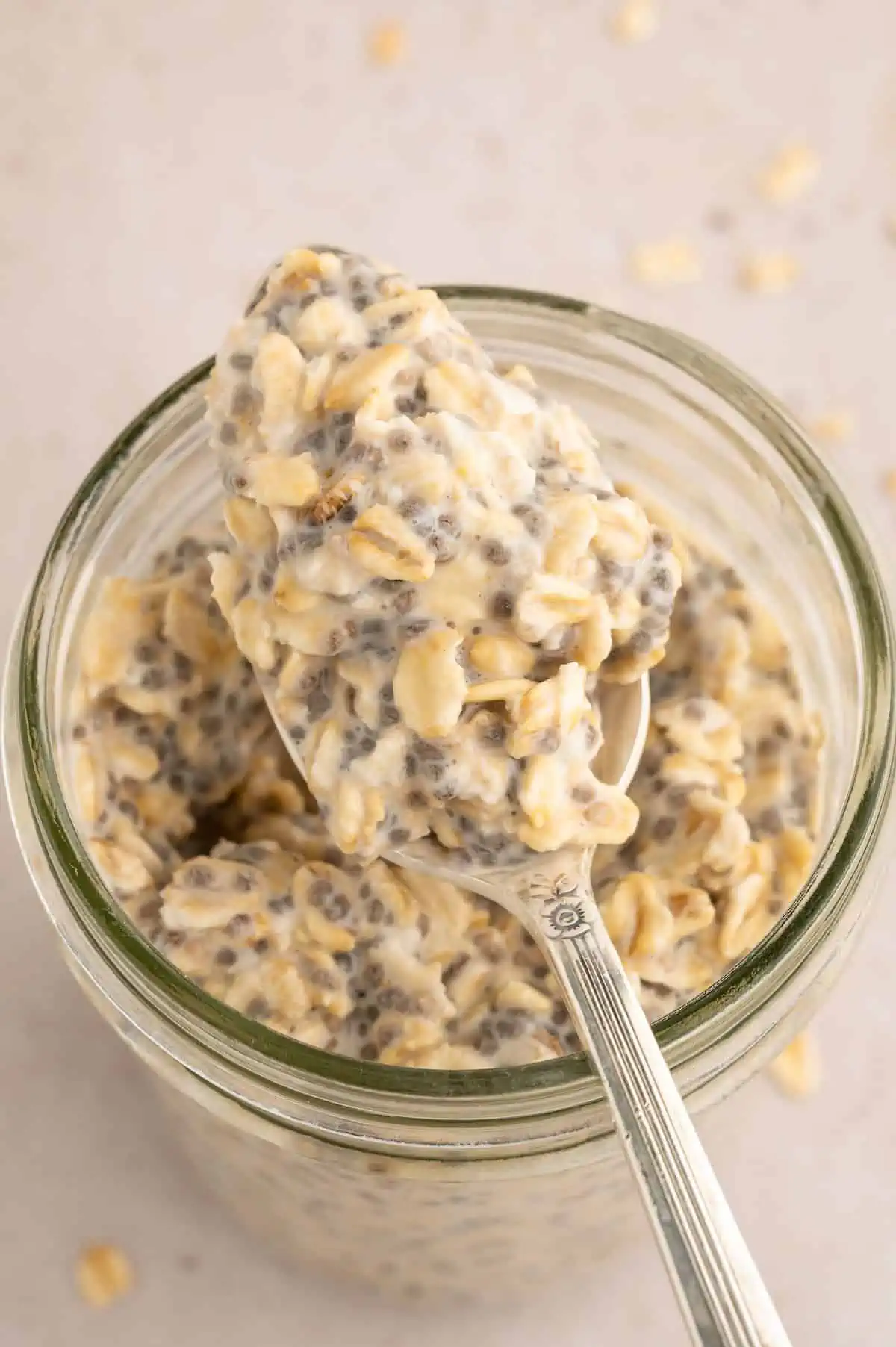 Organic Oats
In this recipe, we used oats from One Degree Organic, a brand we've long-loved for their commitment to sustainability, consumer transparency, and organic farming. In fact, they even go beyond organic!
The first time One Degree Organics caught my eye at the grocery store was several years ago when I spotted cereal labeled "Veganic." What?! I had never heard of such a thing before. But as a passionate vegan, I was intrigued.
Veganic Farming
What does "Veganic" mean, exactly? Here is how One Degree Organic defines it…
Veganic agriculture is a principled way farmers grow crops without the use of chemicals, compounds, or animal inputs of any kind.

One of the key tenets of veganic agriculture is to reject animal-based fertilizer of any kind. The reason for this is to keep pathogens and contaminants away from crops. Even many organic farms use animal waste on fields, including blood meal and bone meal. These sources may carry an array of hormones, antibiotics, pesticides and other chemicals.
If you've ever dabbled in vegetable gardening—or even tinkered with house plants—you've probably noticed that almost every single bag of soil out there contains animal products. I went to Home Depot looking for a vegan soil and not one of the dozens of bags of soil they had was vegan. And of course, nobody there had ever heard of "veganic."
Veganic gardening is not easy, and committing to veganic agriculture as a business involves paving a new path. That's one of the reasons I have so much respect for One Degree Organic. They've been paving the way for more ethical and sustainable farming practices since way before it was cool.
We Vote With Our Dollars
Here at World of Vegan we often talk about the power we have as consumers. Every time we purchase something, we are casting a vote. A vote in support of that product. A vote in support of that company. A vote in support of that company's practices and methods of operation. A vote in support of the ingredients used and how they were harvested. A vote for or against organic farming. A vote for or against sustainability. A vote for or against fair labor practices.
I could go on and on….
I personally feel very inspired by companies like One Degree Organic who are taking their ethics beyond the "norm" and even beyond the expected. They are striving to do even better than all else that's out there. And when I put my dollars toward their oats, their cereals, their bread, and beyond, I know I'm voting for positive change in our food system.
So, the next time you go to the grocery store, tune into the products your buying and brands you're supporting. See if they're aligned with the world you want to live in and know that you're impacting the world when you cast your vote in the checkout line!
More Oat Recipes
1 cup rolled oats
1 tablespoon chia seeds, optional
1 cup plant-based milk, use full-fat coconut milk for extra creaminess and decadence
In a container, cup, or glass jar, add the rolled oats, chia seeds, plant-based milk, and any other desired add-ins and mix well. 

Cover and refrigerate overnight (or for 3+ hours).

Remove from fridge and enjoy chilled! If you'd like, top with any desired toppings. Reference the post above for flavor and topping ideas.
Leftovers – Store covered in the refrigerator for up to 5 days.
Calories: 400kcal | Carbohydrates: 61g | Protein: 14g | Fat: 12g | Saturated Fat: 1g | Polyunsaturated Fat: 6g | Monounsaturated Fat: 3g | Trans Fat: 0.02g | Sodium: 332mg | Potassium: 342mg | Fiber: 13g | Sugar: 1g | Vitamin A: 6IU | Vitamin C: 0.2mg | Calcium: 418mg | Iron: 4mg
Recipe by Michelle Cehn and photos by Amanda McGillicuddy for WorldofVegan.com. All content copyright of World of Vegan™, all rights reserved. Please note that this article contains affiliate links. Many thanks to One Degree Organics for supporting our work at World of Vegan!