So you've finally made it through another long (or short) day, and you're staring longingly into your fridge, wondering what you'd like to make. Pasta again? Burgers? Tacos? The possibilities are vast, and with dozens of vegan dinner recipes here at World of Vegan, you may feel overwhelmed by what to choose.
We hope that with this Vegan Dinner Recipes Guide you'll feel inspired to try something new or give an old favorite an exciting twist.
Many of the recipes below can also be made in advance so you can easily meal prep some of the ingredients when you have a spare moment for easier cooking! We hope you get a chance to try some of these delicious vegan dinner ideas and that you never have a boring meal ever again.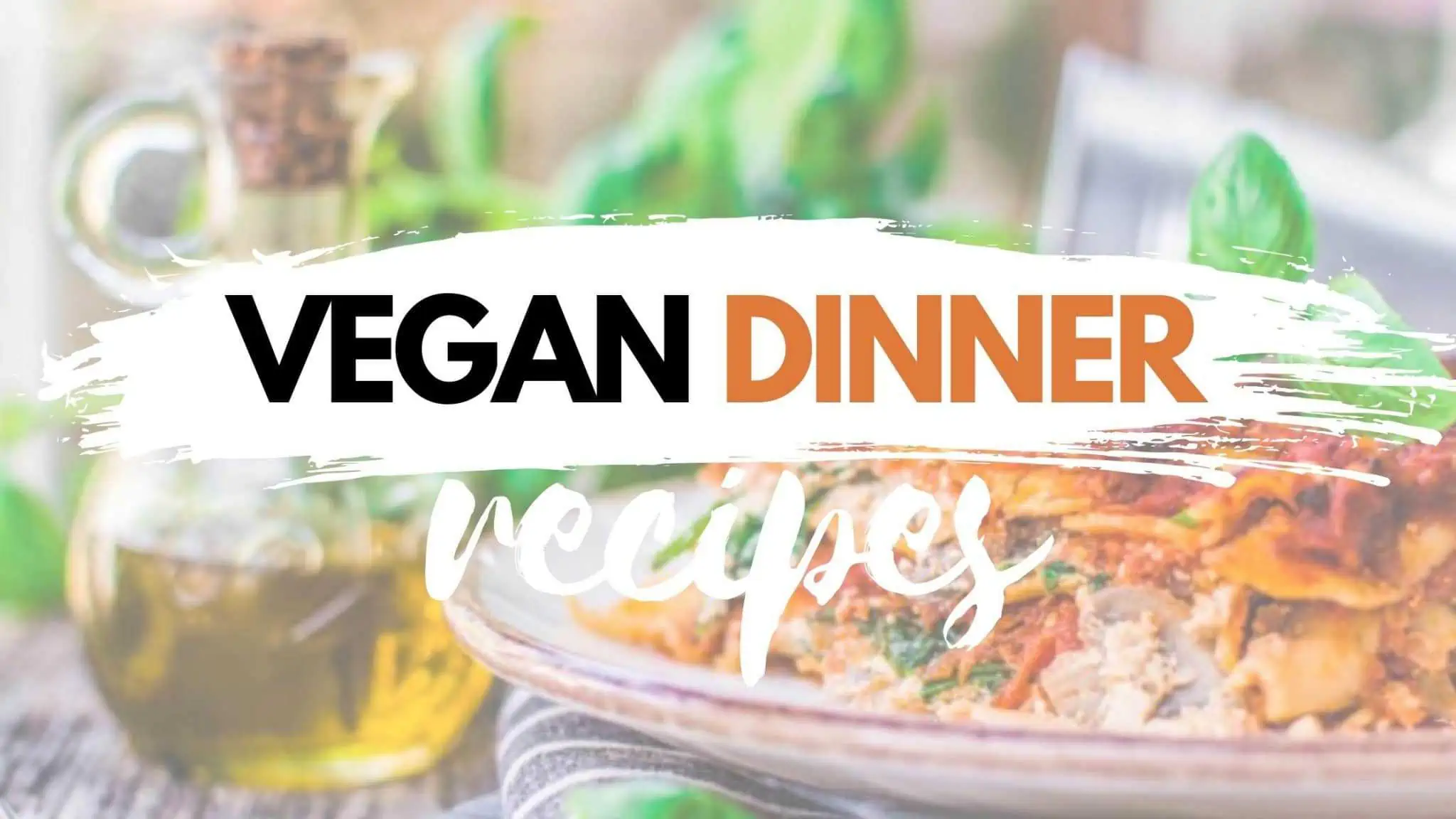 What Are You Craving for Dinner?
Before we jump in, here are some recipe round-ups with lots of vegan dinner recipes:
If you need some help meal planning, check out or collection of Plant-Based Meal Plans that will help you plan a week of healthy plant-based meals, save money, and build healthy habits. The Daily Dozen Meal Plan inspired by Dr. Michael Greger's bestselling book How Not to Die is one of our favorites!
Best Vegan Dinner Recipes
Vegan lasagna is not only a classic dinner dish but it's the obvious go-to for a variety of occasions. Throwing a Garfield-themed party? Meeting your future in-laws? Trying to impress a friend from Italy? The answer to all of these questions is simple: Bake a vegan lasagna with tofu ricotta. Along with tofu ricotta, this vegan lasagna features zucchini, button mushrooms, and spinach to give it a deeply enriching texture and flavor. Buon appetito!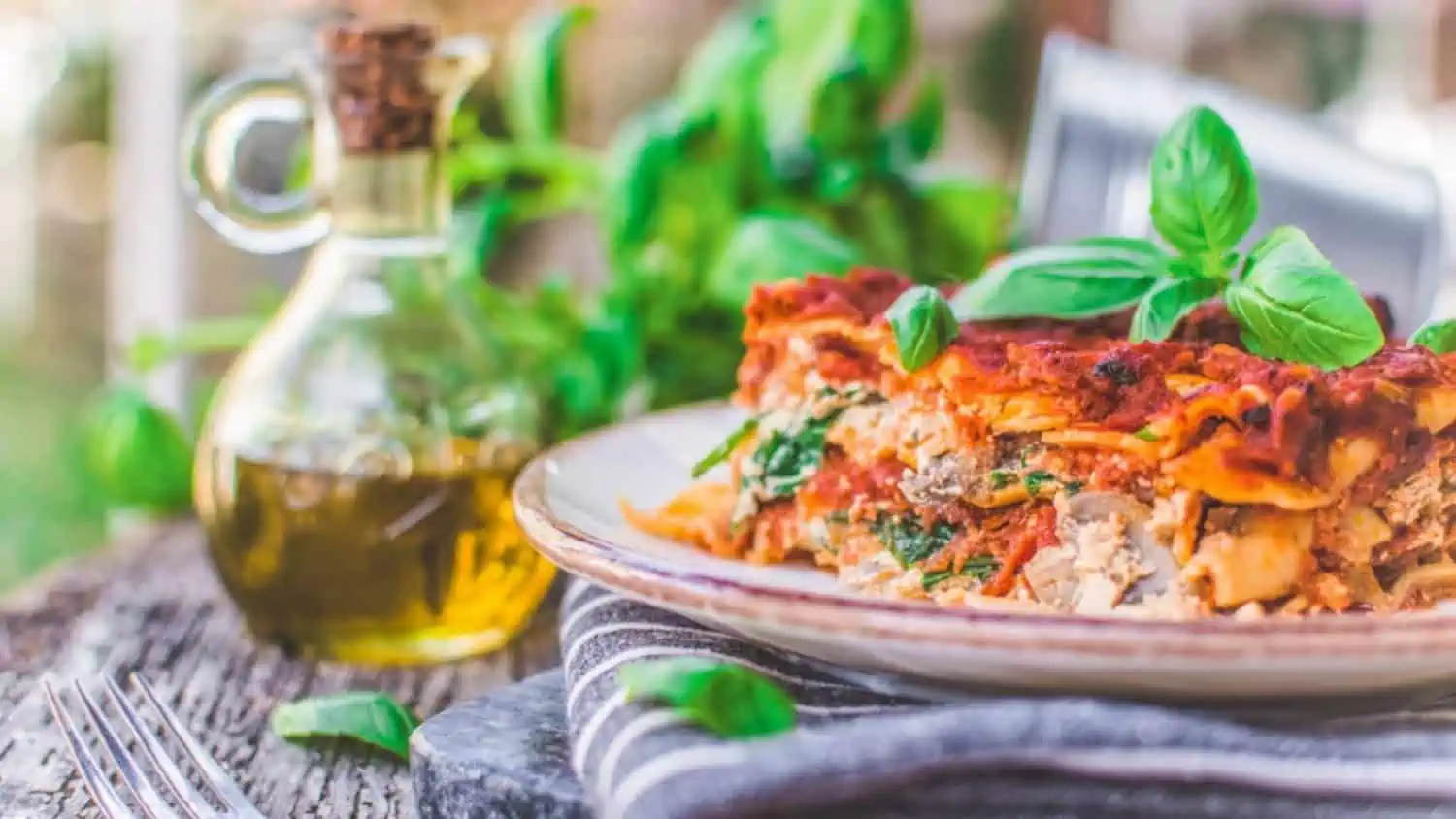 If you want your kitchen to smell like your favorite Indian restaurant, then this recipe is for you! This vegan butter chicken recipe is an absolute delight and is also perfect for impressing a loved one or vegan skeptic. Made with traditional Indian spices and cashews for that buttery texture, you may just find yourself having this for dinner multiple times a week! While it goes great with rice, it's also perfect for throwing onto salads, eating as a wrap, or smothering onto potatoes.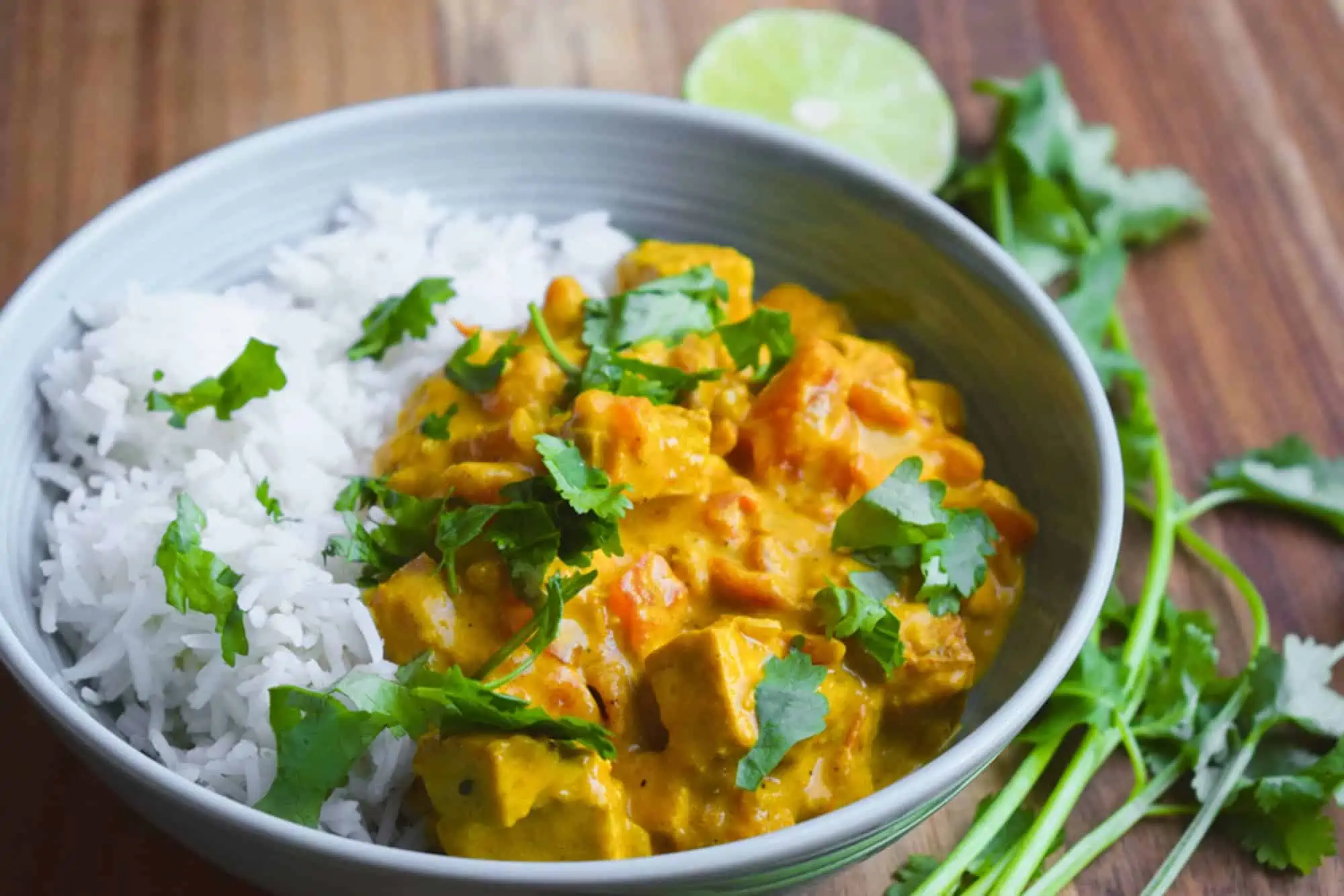 Hearty, savory, and oh-so comforting, this vegan Shepherd's pie from From My Bowl will hit the spot with a delicious combination of potatoes, carrots, lentils, mushrooms, and more. With only 20 minutes of prep time and an hour in the oven, you'll be all set on dinner for the week with this tasty vegan dinner!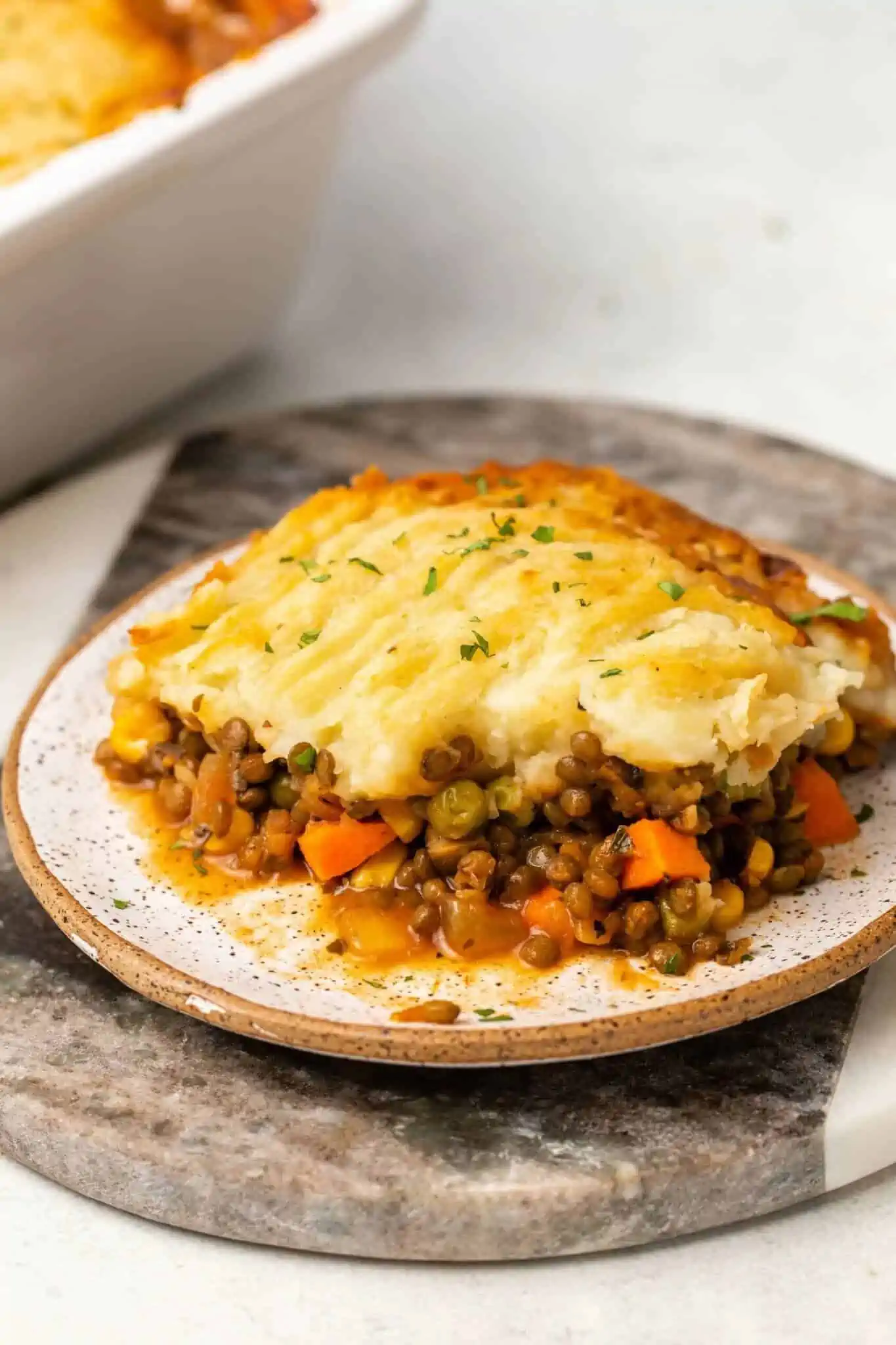 Nourishing, filling, and so satisfying, this garlic ginger soup by our friends at Plant Based on a Budget is great for the cooler weather! With every spoonful of tasty broth, you also get chunks of tofu, veggies, and noodles to truly round things out.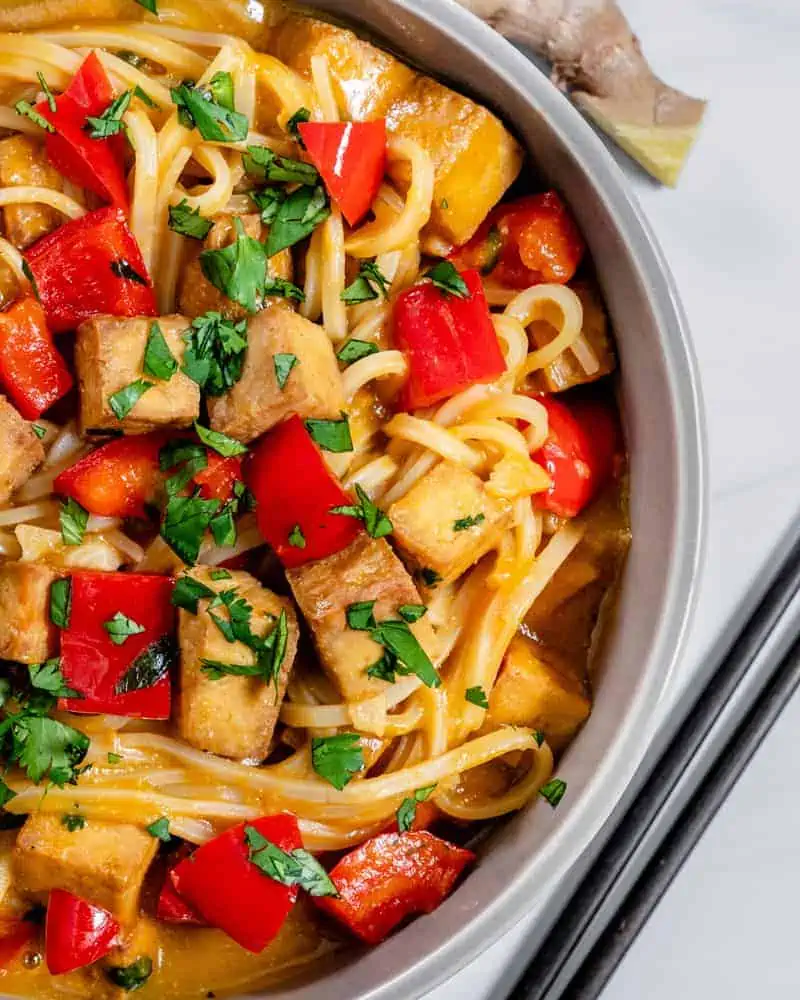 While some folks may tire of having pasta in their vegan dinner rotation, we don't believe there's such a thing as too much pasta here at World of Vegan. This awesome vegan feta pasta recipe is anything but boring and once you try it, you'll wonder why you didn't think of making it sooner. Thank you, TikTok, for this brilliant idea! Made with vegan feta cheese, tomatoes, basil, spinach, pasta, and seasonings, this recipe is great no matter the season.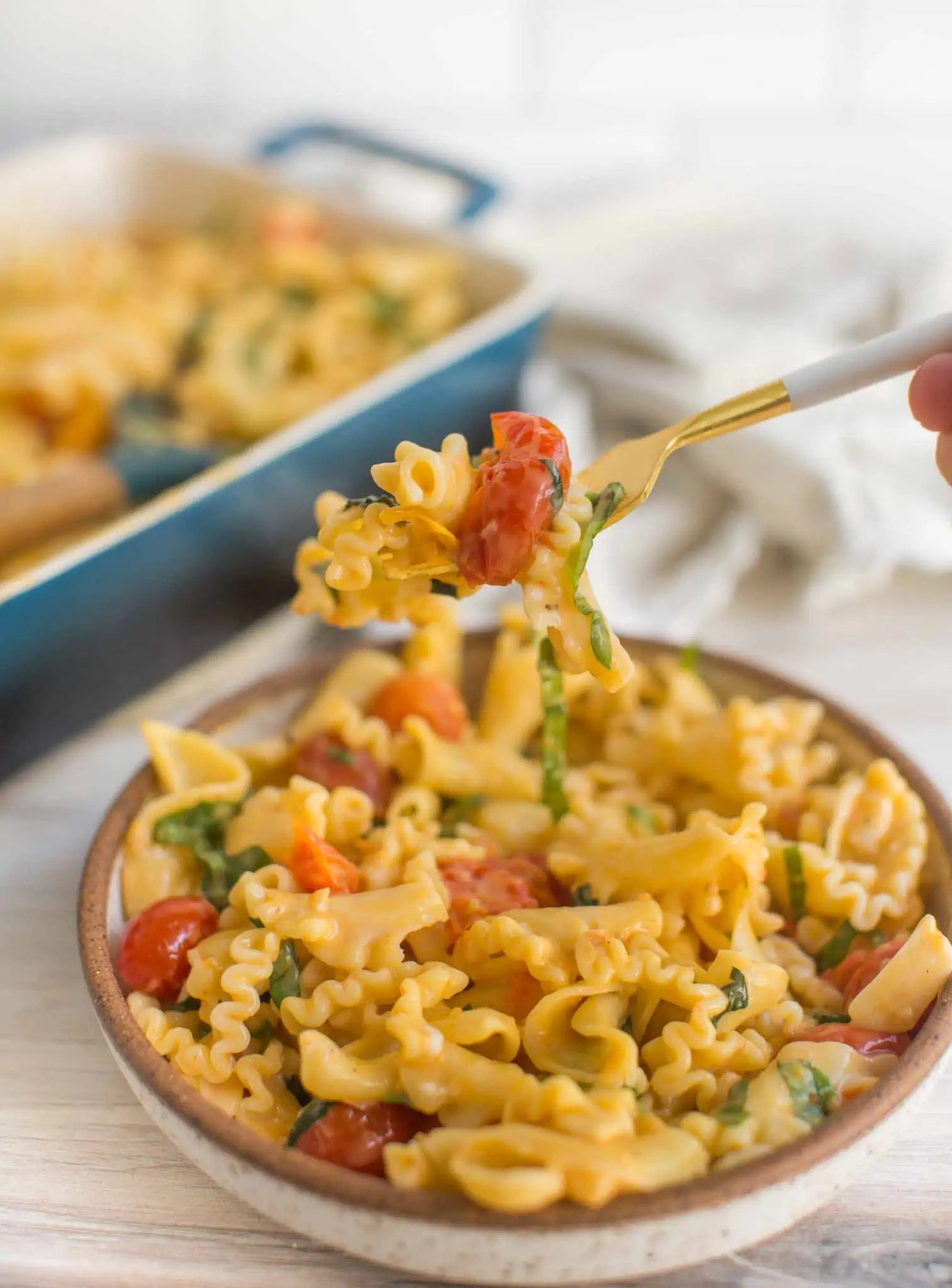 Looking for the ultimate comfort dish to satisfy your deepest dinner desires? Then this vegan chicken and dumpling soup has your name on it! Made with delicious dumplings, soy curls, and plenty of other hearty and flavorful ingredients, it truly covers all the bases of being filling, nutritious, and deeply satisfying. This also makes a great holiday dish if you're wanting to make something a bit more unique than a vegan roast.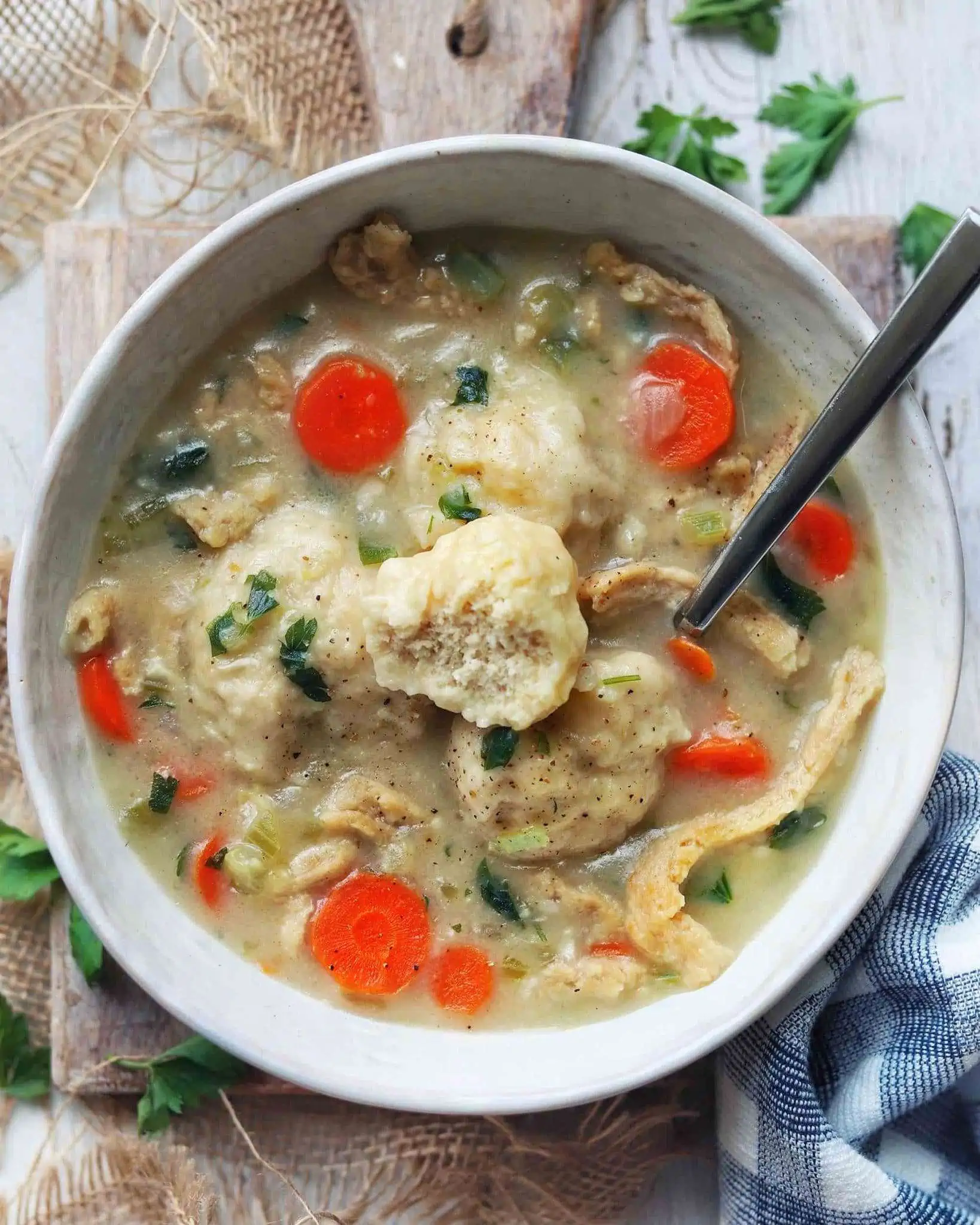 This flavorful curry rice bowl from Kathy Patalsky at Healthy Happy Life is packed with protein, veggies, and curry flavor! It's made with chickpeas, jasmine rice, coconut milk, sweet potato, spinach (or kale), and spices. It only takes about 10 minutes to prep and 15 to cook and then you'll be devouring this deliciousness. Serve it up in a pita pocket, alongside your favorite vegan meat, or on its own.
Want an easy vegan dinner with a kick? The team at Dora's Table have come up with a bangin' vegan version of this Mexican classic which comes together in just a few minutes! Roast your chiles, make the red sauce, stuff with your favorite vegan cheese, batter, fry, and serve!
If you're craving a bit of crunch in your salad, then you've got to try this cool and crispy salad by hot for food! You'll love the mix of sweet and savory flavors and how easy it is to throw together!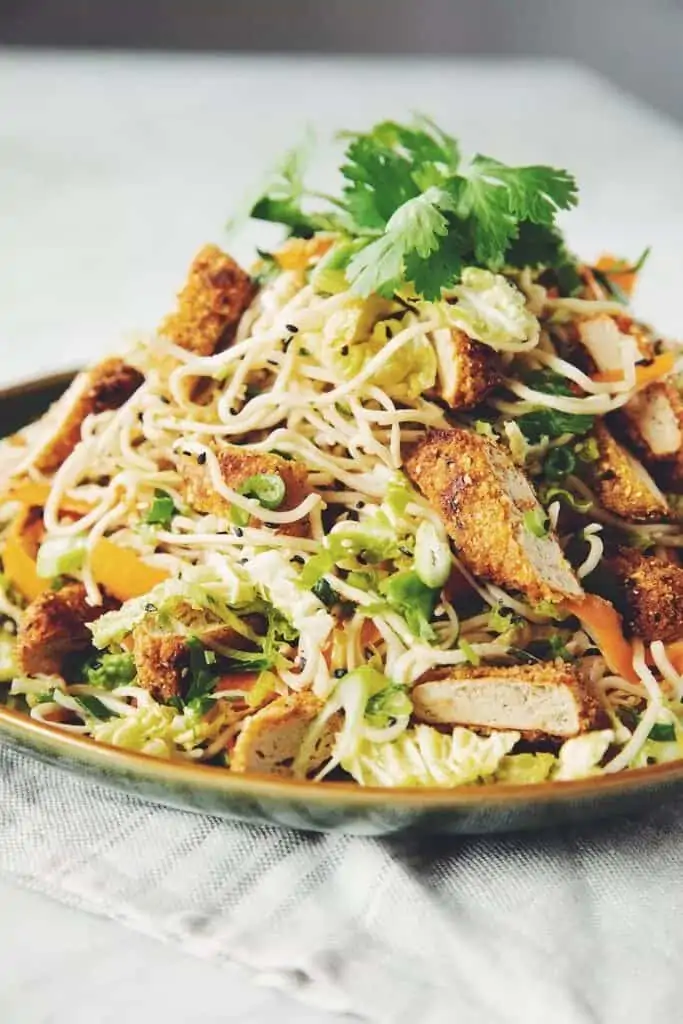 Packed full of protein and perfect for prepping in advance, you're sure going to want to make these easy vegan lentil burgers by The Banana Diaries. Best of all, they won't fall apart! Serve alongside some polenta fries and you'll have quite the meal!
Want to make your own Korean BBQ right at home? Then you'd be remiss not to try this incredible recipe by Shane & Simple. Made using soy curls and a variety of vinegars and spices, you only need about 30 minutes from start to finish before you have a delicious vegan meal to enjoy! Serve with a side of steamed rice or noodles and you'll be all set!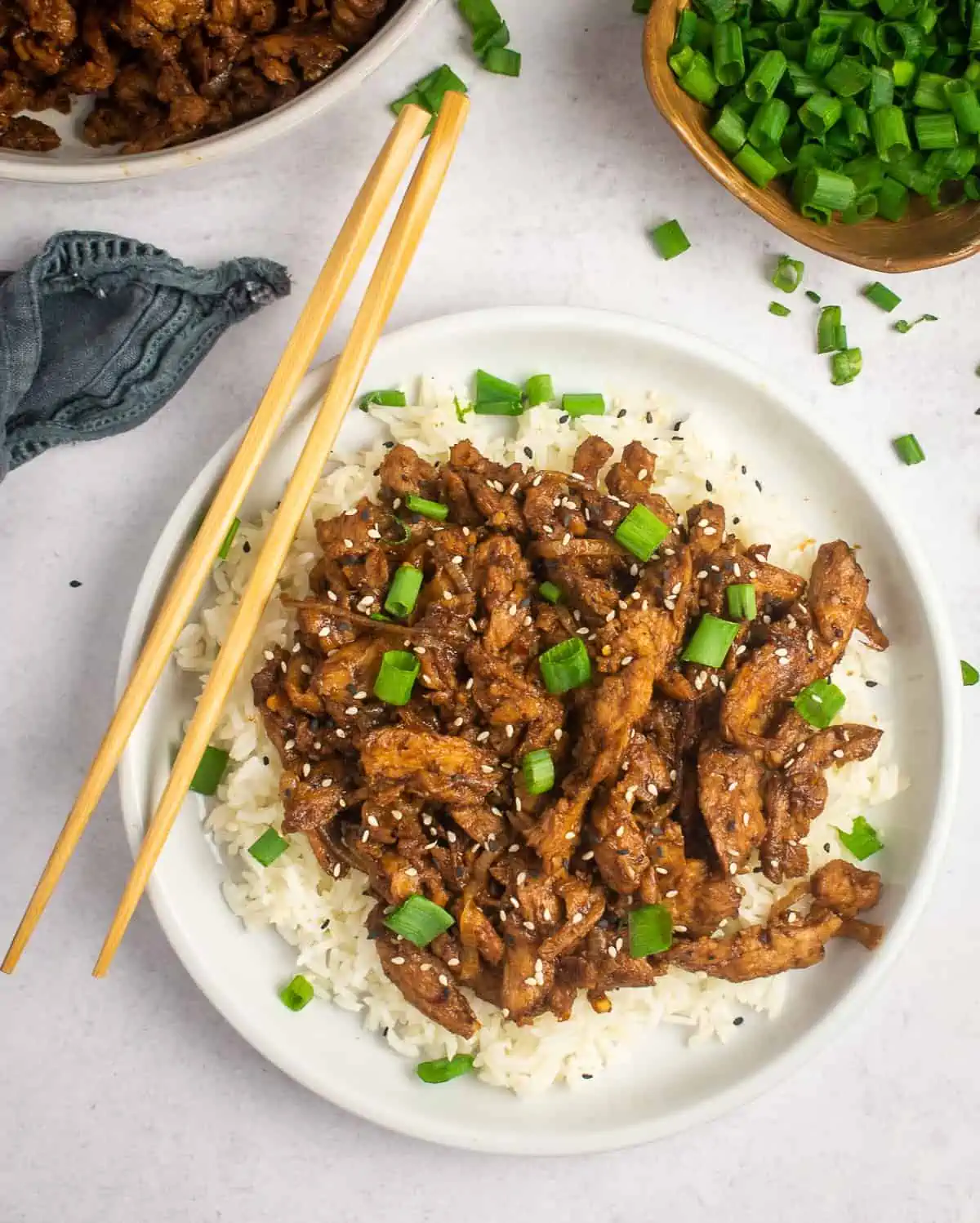 A total crowd-pleaser, these vegan sheet pan quesadillas from Make It Dairy Free just make sense! Layers of tortillas encompassing a tasty tofu mix slathered by vegan cheese is everything you could want in a vegan dinner and more. Enjoy with a side of Mexican red rice and thank us later!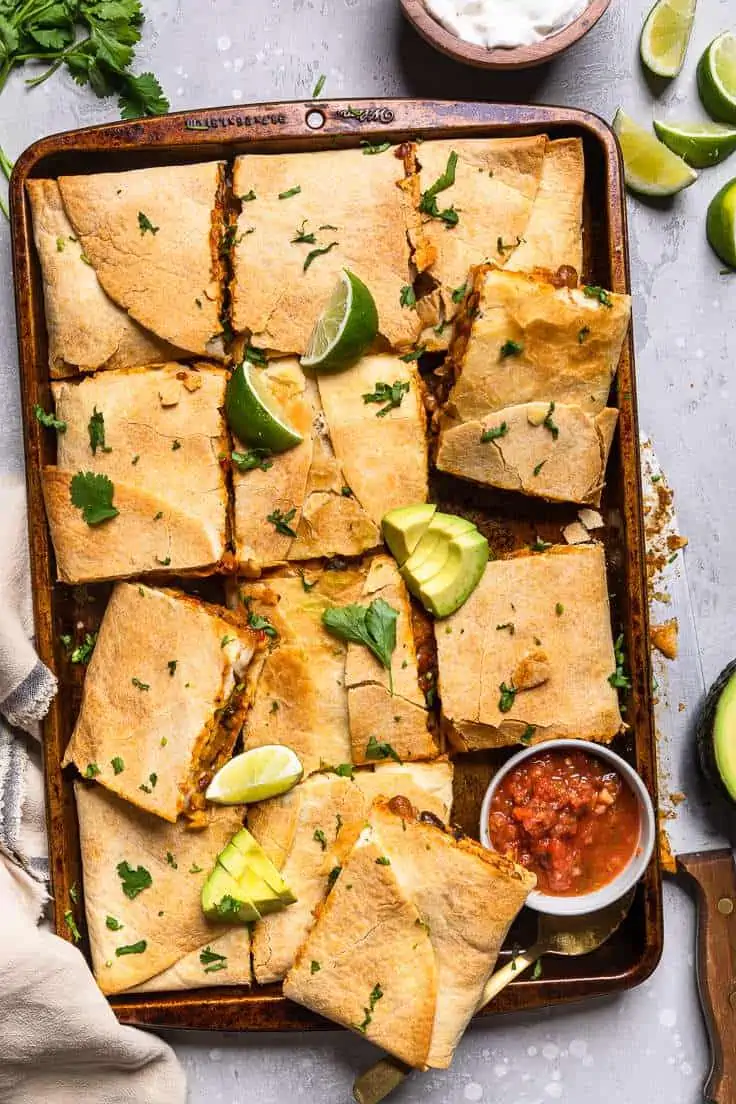 Sometimes the answer to a great dinner is some vegan black bean burgers with tangy bbq sauce! One of our favorite things about this recipe is how easy it is to prep and store the patties for future use. Made with brown rice, black beans, corn, onion, and plenty of spices, these vegan bbq burgers are naturally gluten-free, soy-free, and 100% delicious. Serve on a bun, bread, or even atop a salad with some sweet potato fries!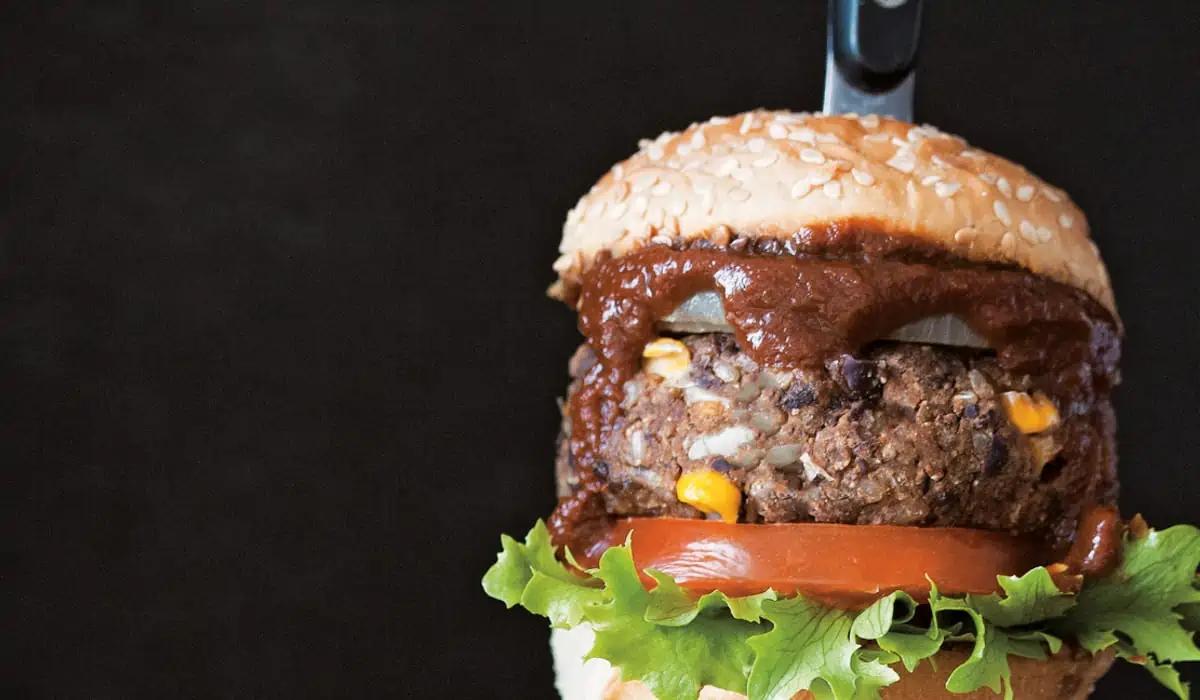 These vegan tostadas are simply fantastic. Naturally gluten-free and soy-free, the star of the show here is pulled jackfruit! Yes, when seasoned and cooked correctly, jackfruit tastes just like pulled pork but with zero animal cruelty! These jackfruit tostadas are completed with refried beans and toppings such as vegan crema, corn, guacamole, and pico de gallo. Round out this recipe with a side of Mexican red rice for the ultimate vegan and gluten-free dinner.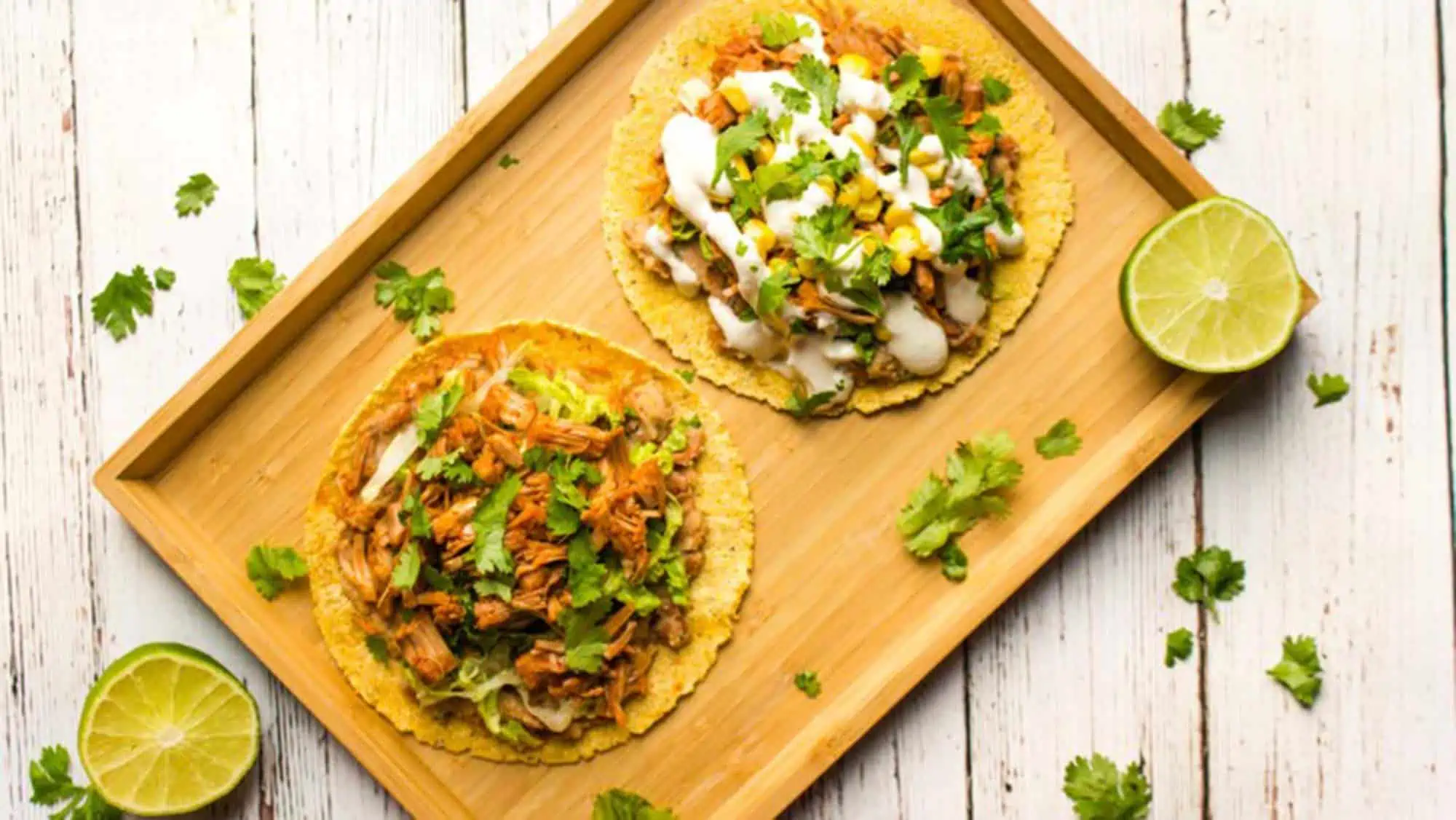 This Thai-inspired yellow curry recipe is one of our favorites! It's flavorful and made with a flavor base of yellow curry paste and coconut milk, so you don't need to hunt for any hard-to-find spices. The potatoes and tofu cubes make this dish both comforting and filling, and packed with protein and nutritious veggies.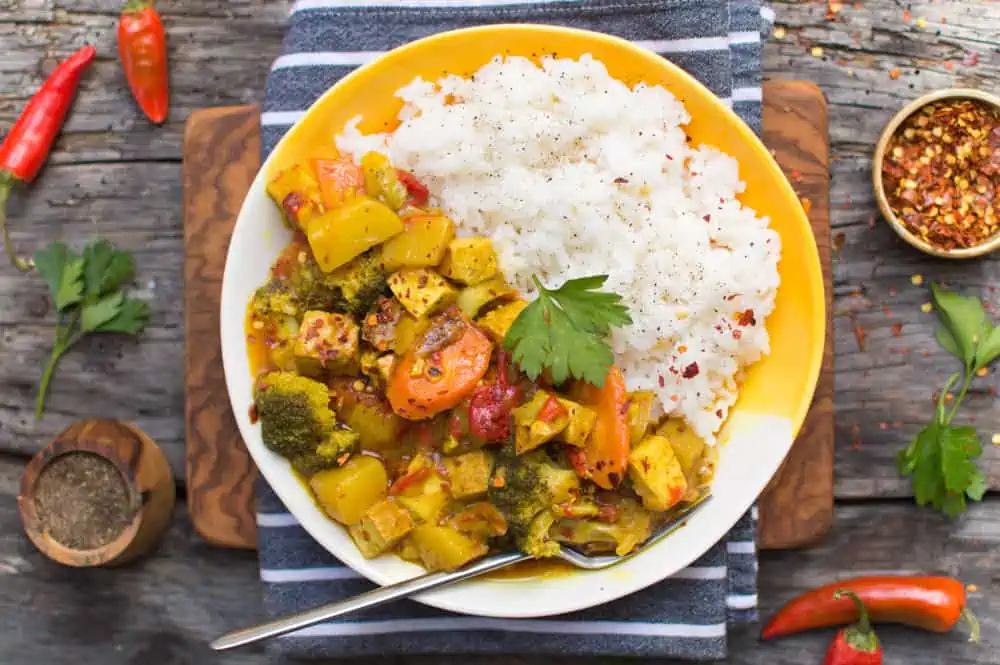 Every meat lovers dream, this recipe is a winner with vegans and omnivores alike! It's easy to make using your favorite store-bought vegan meatballs, vegan mozz, and marinara sauce cooked up to perfection. This epic vegan sandwich is a must-try dinner recipe—we can almost guarantee you'll fall in love.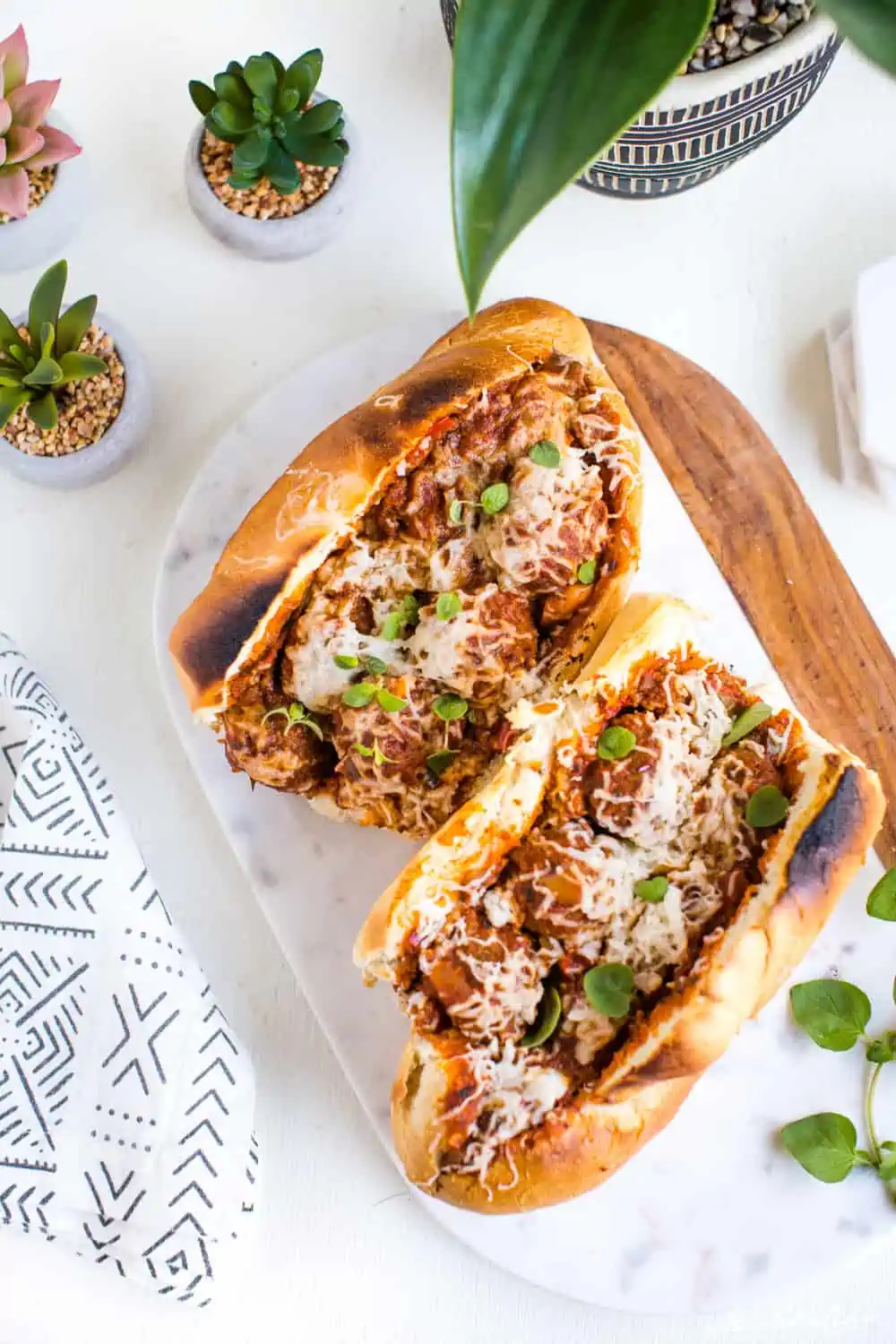 Sometimes you just want to have a bit of a lighter vegan dinner. Maybe it's summer and the heat isn't quite forgiving or maybe you've had a heavy lunch and just don't want a large dinner. Whatever the reason and no matter the season, this delicata squash salad is a true delight. Made with roasted (or air fried) delicata squash, vegan feta (optional), pomegranate seeds, apples, pecans, and massaged curly kale, there is absolutely no shortage of incredible flavors and textures in this delicious salad! If you want to bulk it up, you could easily add a grain such as farro or even pieces of toasted bread.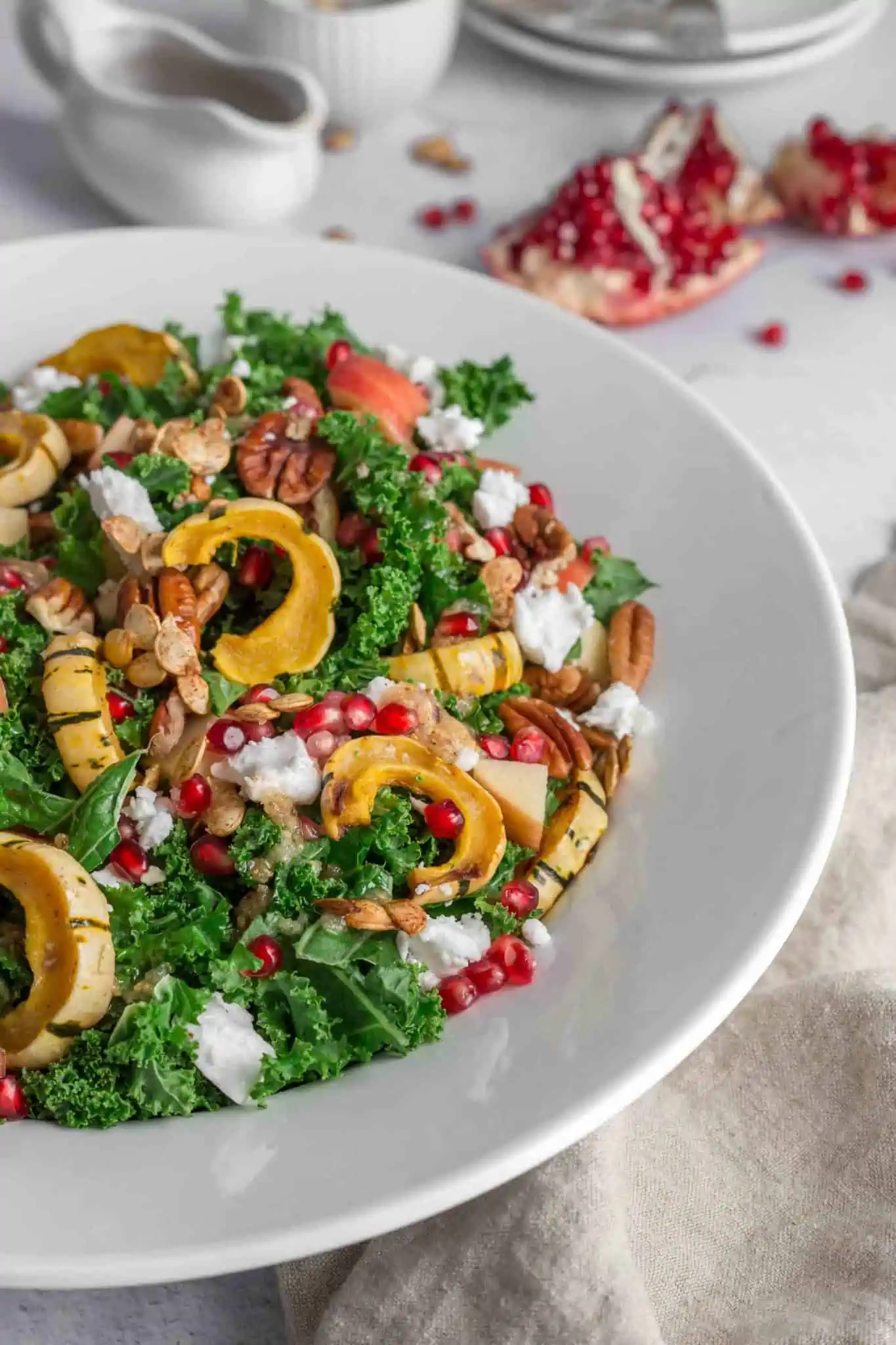 We couldn't write a vegan dinner guide without featuring at least one Instant Pot recipe! This recipe for vegan pasta and meatballs is perfect for those moments when you just need to whip something up in a pinch or if you have a large party to feed and don't want to spend hours prepping in the kitchen. While this recipe calls for shells, you could easily use a different pasta shape such as penne or rigatoni! Serve with a side of salad or even throw in some spinach right after the pasta has finished cooking to wilt down.
Vegan risotto? Oh yes, it's possible, and it's insanely delicious. This is the easiest risotto recipe you'll ever make, and it's the perfect vegan dinner recipe for mushroom lovers everywhere. We promise you won't miss this meat!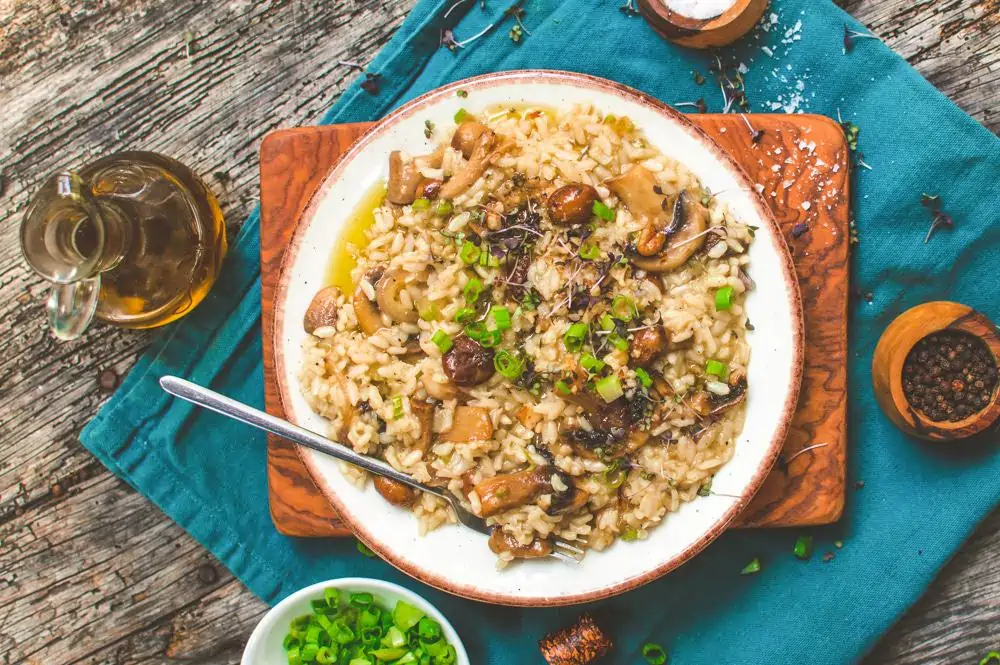 Easy to make gluten-free, quick to throw together, and absolutely bursting with flavor, this red curry noodle soup truly has it all. Making adjustments to this recipe is a breeze, too. Easily swap out your favorite veggies, add extra protein, or use rice instead of noodles! This soup is great for colder days but is truly delicious any day. Want to cut down on time? Just use frozen veggies!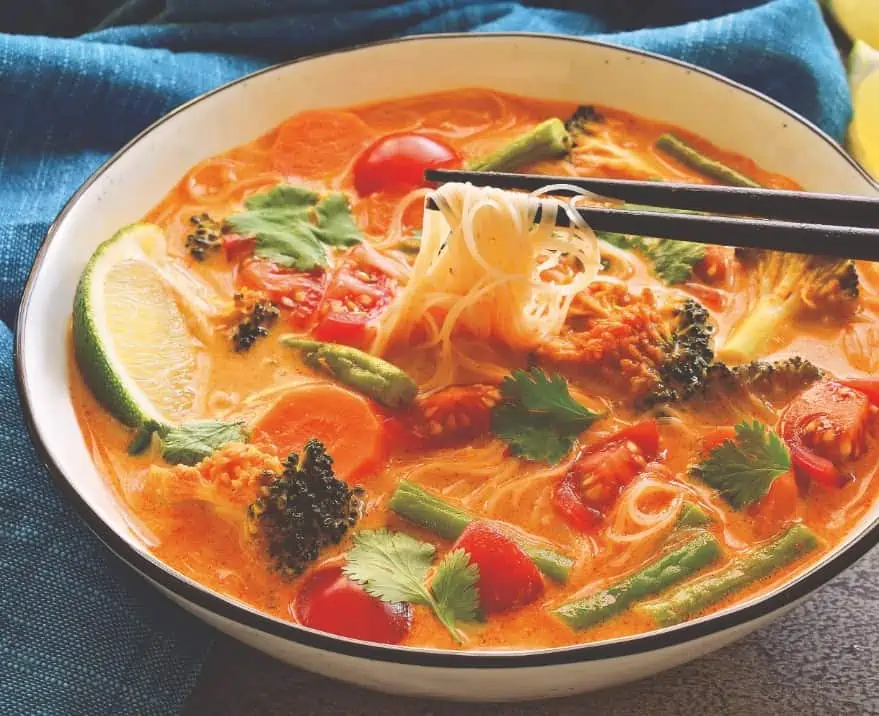 These stuffed sweet potatoes are quite the perfect recipe for fall but we think you'll love them any time of year. Wildly simple and deeply delicious, you only need a small handful of ingredients to whip up this vegan dinner! Crunchy walnuts, curly kale, and sweet dried cranberries join forces to deliver some serious nutrition and full on flavor with the baked sweet potatoes. Feel free to dress up or down as you please with other toppings such as meatless crumbles, Brussels sprouts, mushrooms, and more!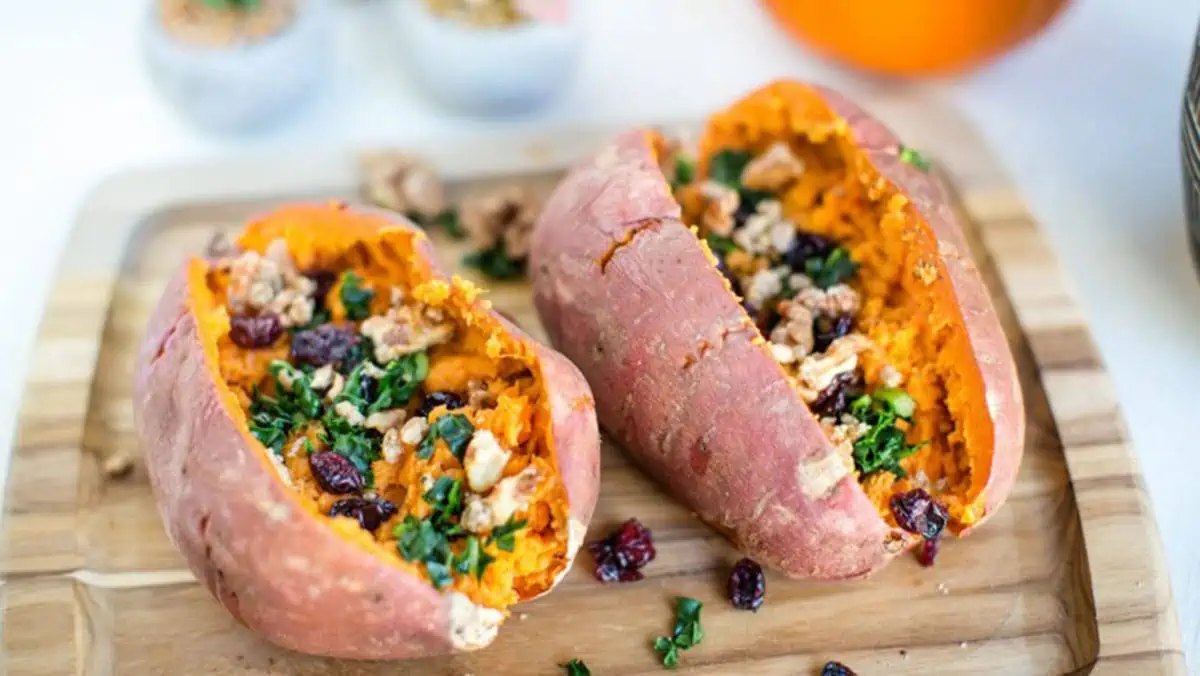 Want a low maintenance dinner that tastes like it's from a gourmet restaurant? Then you absolutely have to try this recipe for vegan gnocchi! Made with roasted veggies and vegan pesto, this dish is creamy, dreamy, and a great switch-up for your nightly meal routine. The pillowy gnocchi goes perfectly with the roasted vegetables and pesto with pine nuts for added flavor and protein. As with most of the recipes mentioned, you can dress this dinner up or down more if you'd like by adding extra plant-based protein, aromatics, or vegetables!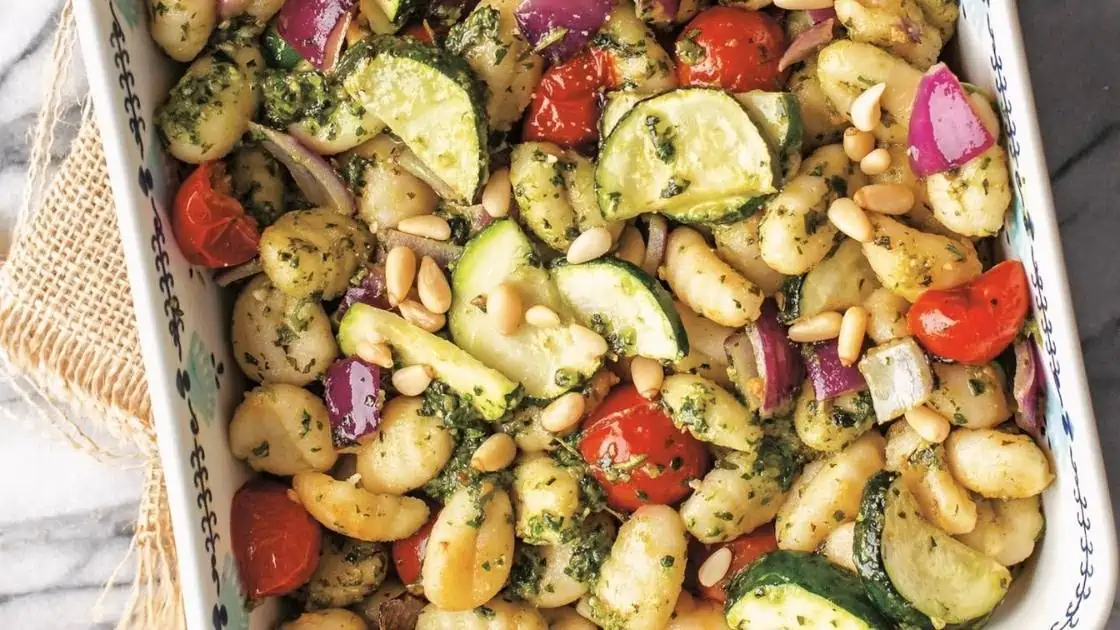 We love soup here at World of Vegan and couldn't forget this lovely Italian Wedding Soup with quinoa meatballs! This recipe does require a little more preparation for the "meatballs" but we promise your efforts will be well worth it. Made with orzo, carrots, greens, chopped potatoes, and more, this soup is exciting, comforting, and quite tasty. If time really is of the essence, go ahead and prep your quinoa meatballs in advance! Not into quinoa? Use a pre-packaged vegan meatball instead or make your own!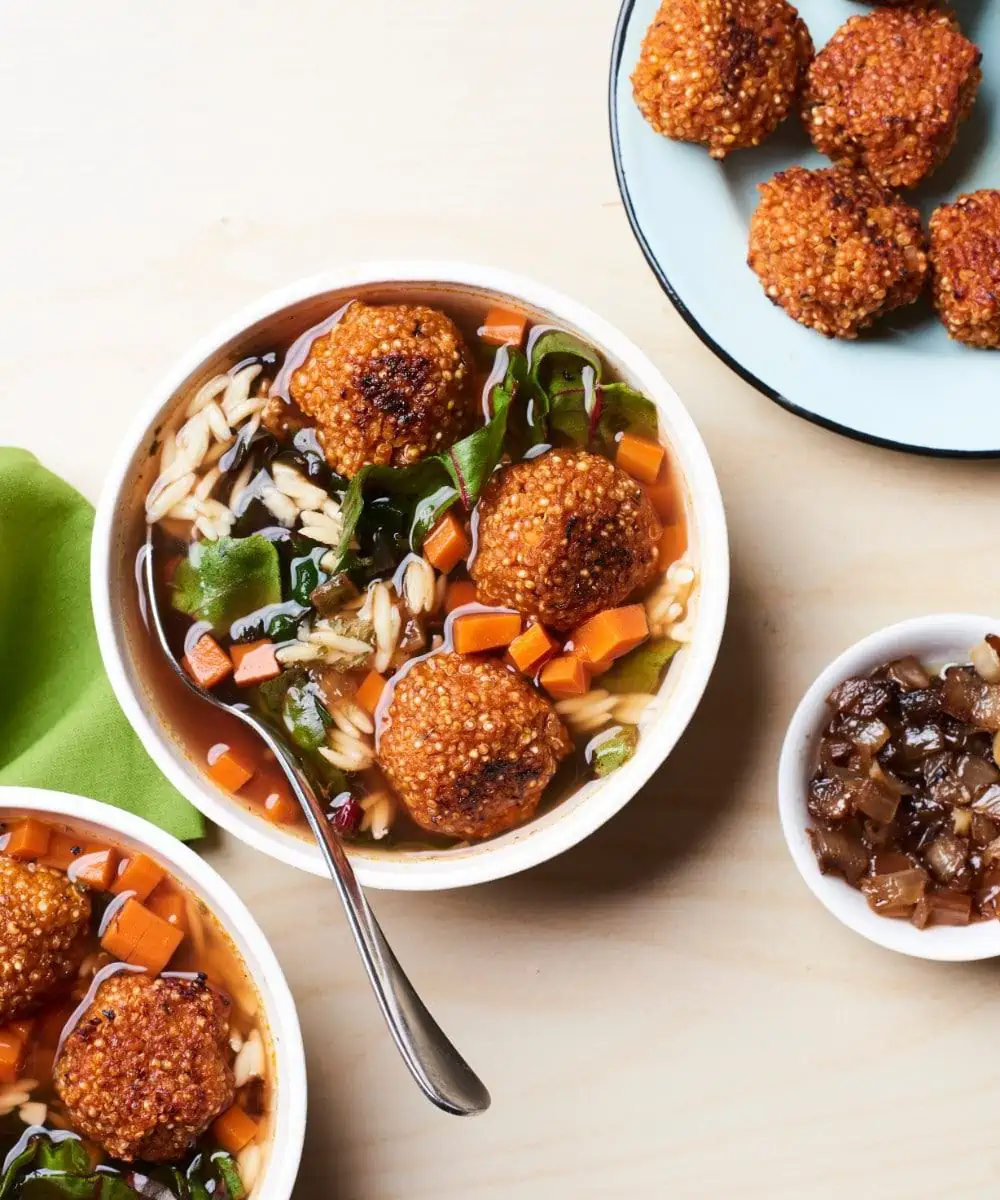 Sometimes it's hard to know exactly what to choose for dinner. Well if the mood ever strikes for pasta and enchiladas, we have just the recipe for you! Our one-pot enchilada pasta covers all the bases of easy, delicious, dynamic, and filling. Made with rotini pasta, beefless crumbles, and a flavorful enchilada base, this could very well become a weekly hit in your household. Gluten-free? Just use your favorite gluten-free pasta and vegan beefy crumbles.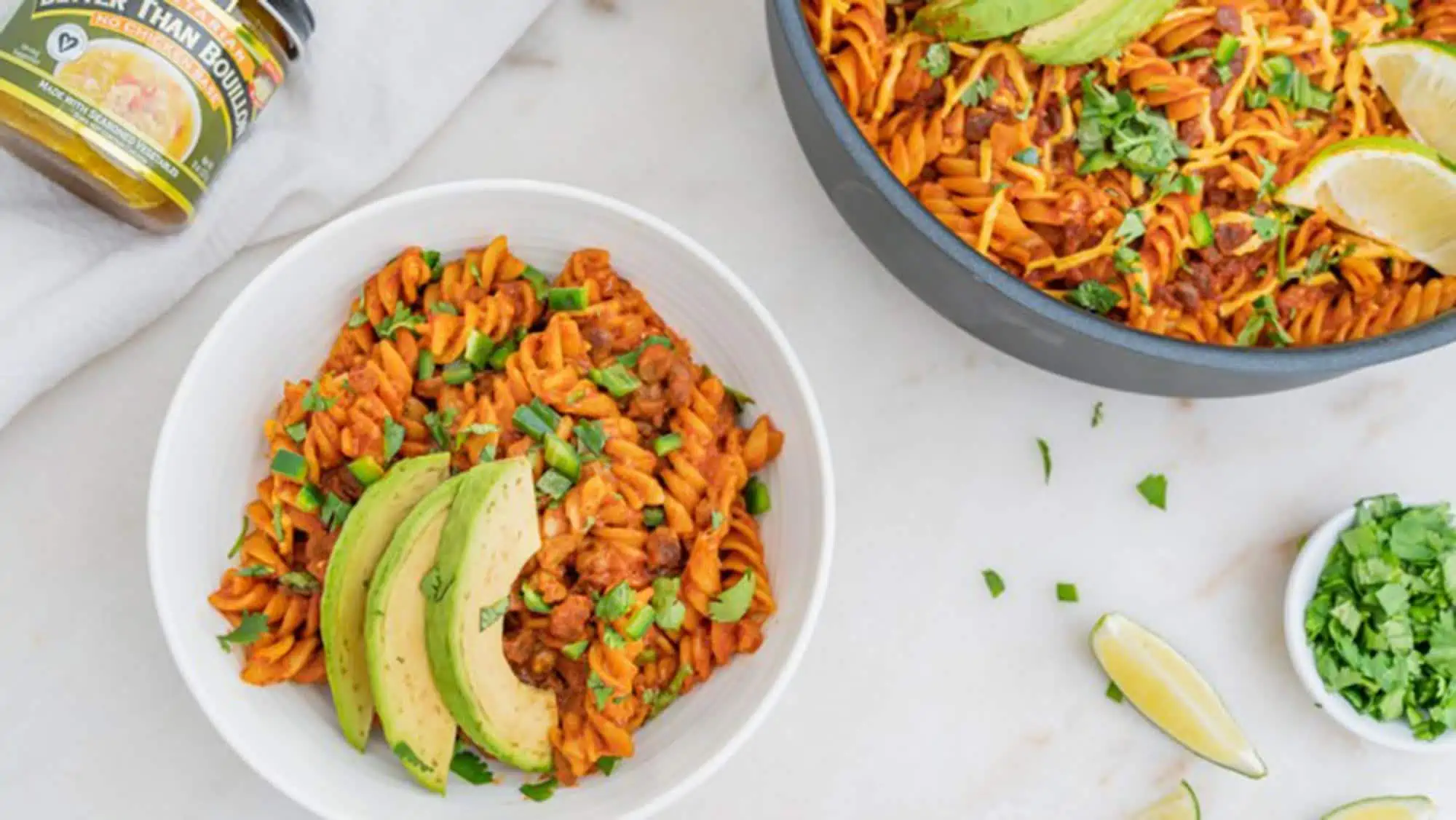 When you're looking for the ultimate vegan comfort food dinner, this plant-based pot pie recipe is waiting for you! Print it out, pop the ingredients in your grocery cart, and tie up your apron. Before you know it you'll be digging your fork into crispy puff pasty and scooping up a mouthful of savory gravy and veggies. The whole family will be going back for seconds!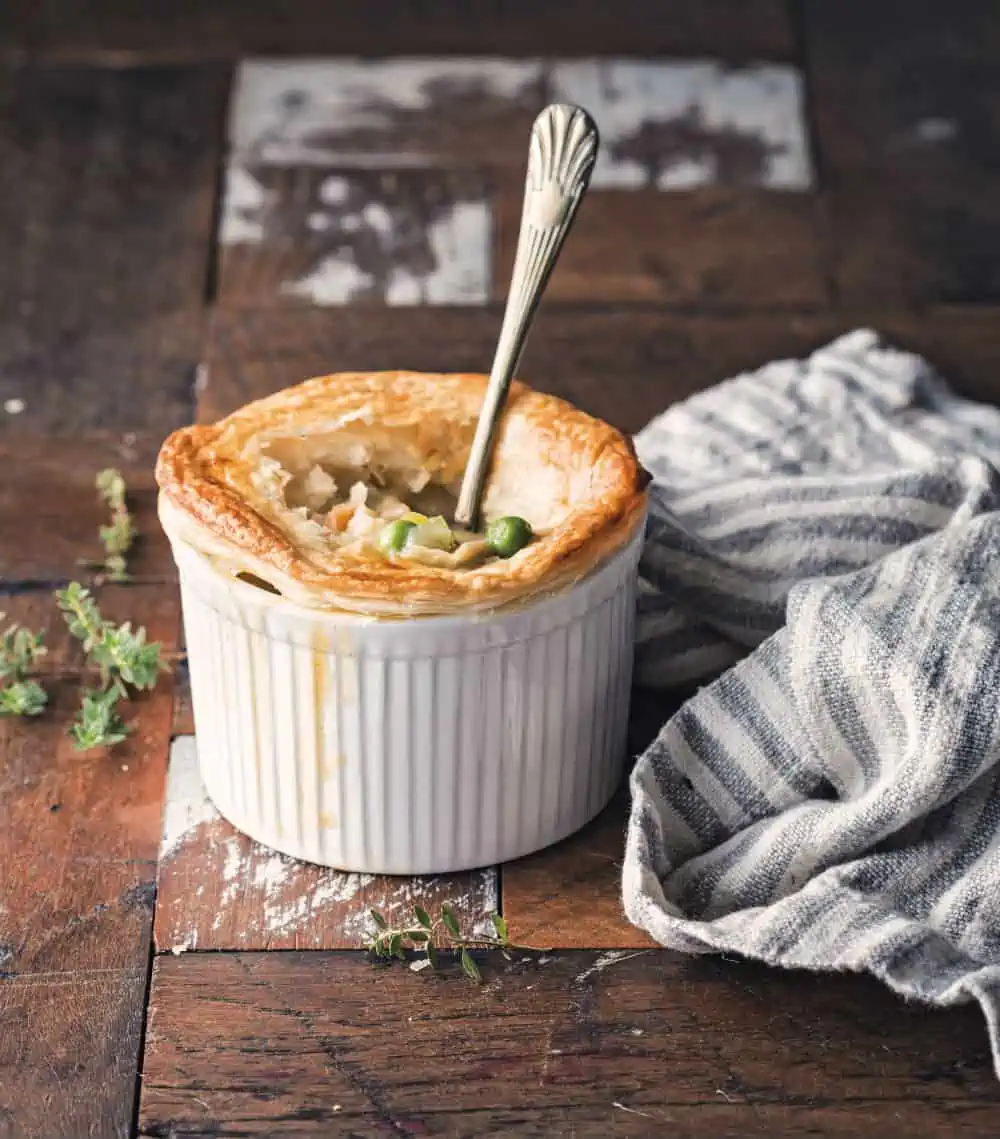 We hope you've found this roundup of vegan dinner ideas to be inspiring, mouthwatering, and refreshing! If you happen to try any of these recipes, let us know what you think by leaving a comment and rating below! Be sure to follow along on Pinterest, Instagram and Facebook for even more vegan recipe inspiration.
You can also find lots of vegan dinner recipes in our cookbook, The Friendly Vegan Cookbook!
Other Vegan Meal Ideas & Recipes
This round-up of the best easy vegan dinner recipes was written by Amanda Meth and Michelle Cehn. We hope it gives you enough vegan dinner ideas to keep you inspired for months (or years) to come!