I didn't grow up knowing how to cook. It was a skill that I learned over the years from many mentors and inspiring chefs who lead by example.
This vegan pesto recipe was one of the first "complicated" things that I mastered in the kitchen. When I first tried it, I couldn't believe how delicious it was.
My first head chef taught me how to prepare it. He had worked for four years in professional kitchens in Italy, learning their amazing cuisine and soaking in all their rich traditional Italian dishes. I was so lucky to have him teach me all his secrets. And now I can share them with you!
Why This Vegan Pesto is the Best
This vegan pesto is so incredibly versatile. From pesto pasta to bruschetta, from a burger topping to a delicious lunch sandwich spread, there are no limits to what you can do with pesto. It would go great on some crostini too!
This recipe is a veganized version of classic Italian pesto. That means fresh basil leaves blended with garlic, pine nuts, olive oil, salt, pepper, and lemon juice. Don't forget to toast the pine nuts for a richer toastier flavor! It's a crucial step to make this recipe so heavenly. I promise you, you won't miss the cheese!
Pesto Tradition
This sauce (or spread!) originates in Genoa, Italy. It is an Italian classic and a world favorite!
Pesto is traditionally done in a mortar with a pestle, but using a food processor (a vegan kitchen essential!) cuts down on time and effort considerably.
That said, if you're good on time and feeling fancy (or nostalgic) you can give the mortar and pestle method a go. You'll feel like the Nonna preparing pesto the old way.
If you can, try not to rush the process of cooking. There's something special about the following steps and mixing things together to create something new. Try it when you have the time…you might enjoy it!
How to Make Vegan Pesto
For this quick and easy vegan pesto sauce, no mortar and pestle needed. Simply add all ingredients into a food processor or blender and pulse until a paste forms.
Some basil chunks are okay. You don't want overdo it and have it be completely smooth, otherwise it will turn into a purée.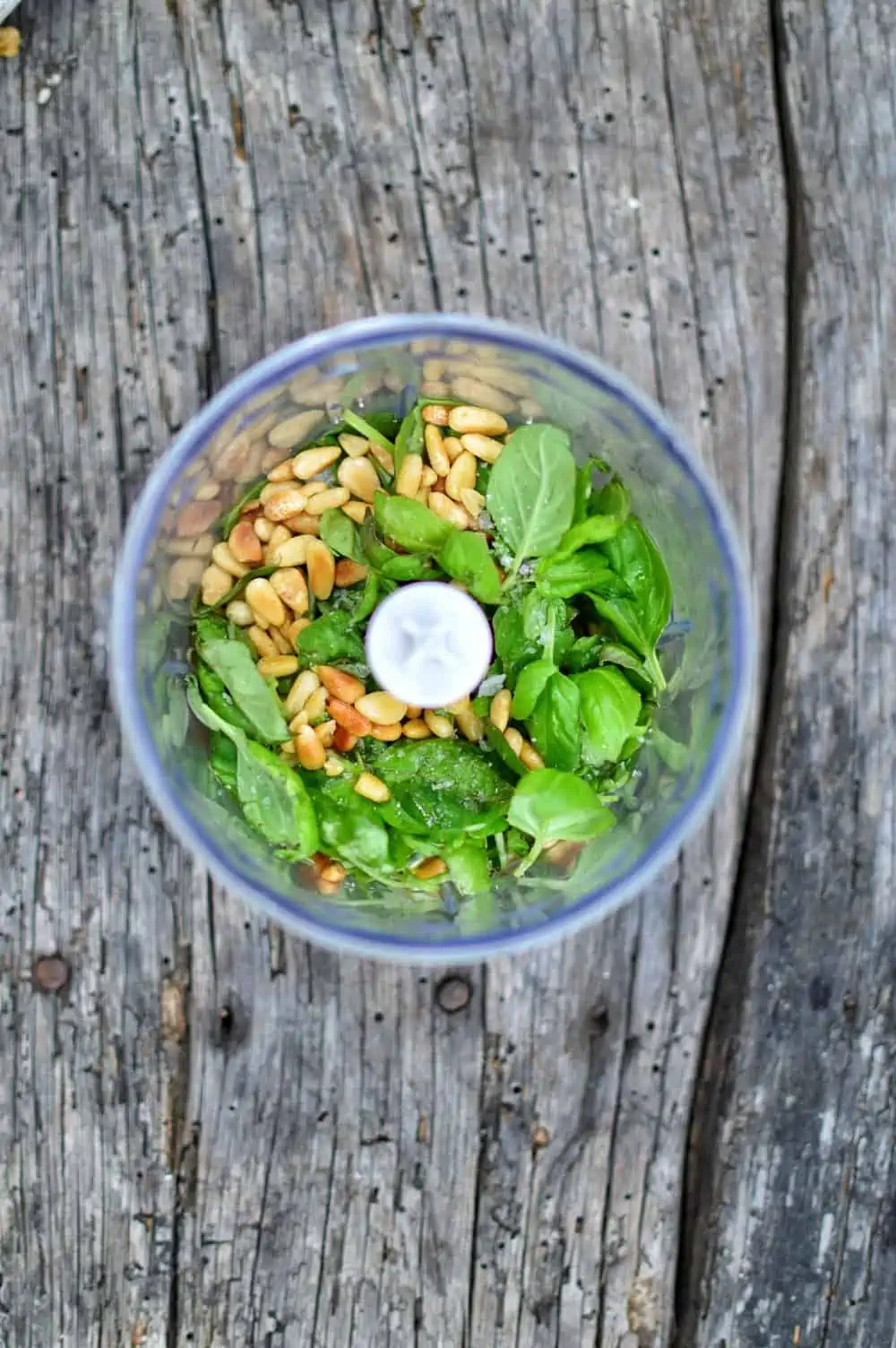 Pesto Variations
Another fantastic thing about pesto (as if we need to add more!) is that you can make so many variations using the same base recipe.
You can swap the pine nuts for walnuts which will give it a nice nutty spice. Bonus: it will also save you money, as pine nuts are crazy expensive.
Or you can switch the basil for parsley (or mix both) to try a "different" style of herby pesto.
You can reduce the amount of olive oil and add half of an avocado to make it creamier. It makes it sweeter, and it's a great chance to add some healthy fats in your diet.
Another cool twist is, if you're not feeling very green you can use some roasted peppers instead of green herbs and make a pesto rosso. Who wouldn't love some sweet peppery pink pesto?
If bruschetta is something you'd like to try, it's really simple. It also makes a great appetizer when you're not feeling very Master Chef-ish. Just spread some pesto onto a slice of bread, then toast it well. Toasting it with the pesto will take the pesto flavors to a whole new level! Then just add on some fresh tomatoes and garlic, and you're set! The most delicious 5-minute appetizer you'll find.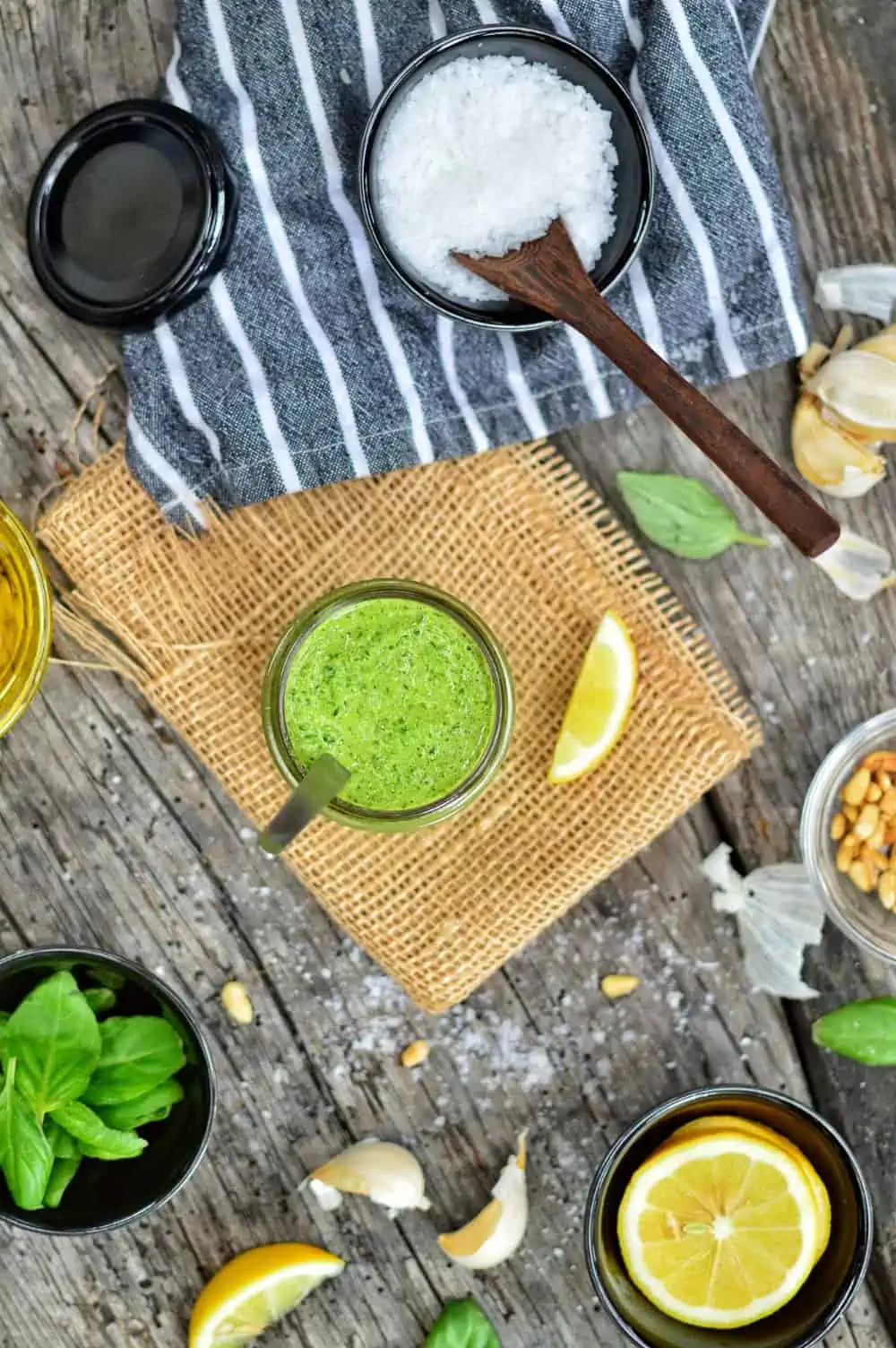 Are Nuts a No-Go? Try Seeds!
If you have an allergy and can't get close to nuts, don't despair! We've got you covered. This pesto will also work with seeds.
Yes, seeds!
Sunflower seeds are a great option so you could give them a try. They're also one of the most affordable seeds and protein sources out there. You can toast them slightly before adding them in your food processor just like the pine nuts to get their flavor come out a bit.
Pumpkin seeds are also a possibility, but they have less fat content so it won't come out exactly the same way.
If you're struggling to recreate certain vegan dishes without using nuts, seeds might be your best friend. Start experimenting and find your favorites! Going back to basics is always a good idea.
Top Tip From a Chef
One of the most important things I've noticed since those days learning my craft in the kitchen is that when you cook any recipe, you must have love. Yes! Love for food! Love for eating and everything that comes with it!
Food brings us together and makes us bond with our loved ones. So no matter how simple the recipe is, don't forget to add passion and care for what you are creating. It'll make a world of difference.
More Delicious Vegan Recipes
Are you inspired by this worldly recipe? Don't miss these other international recipes!
¼ cup fresh basil leaves
¼ cup toasted pine nuts
1 clove garlic
1 tablespoon olive oil
1 tablespoon water
1 teaspoon freshly squeezed lemon juice
pinch of sea salt
pinch of black pepper
Storage – Keep in a sealed container in the fridge for about 10 days.
Calories: 358kcal | Carbohydrates: 6g | Protein: 5g | Fat: 37g | Saturated Fat: 4g | Polyunsaturated Fat: 13g | Monounsaturated Fat: 17g | Sodium: 3mg | Potassium: 237mg | Fiber: 1g | Sugar: 1g | Vitamin A: 327IU | Vitamin C: 4mg | Calcium: 22mg | Iron: 2mg
Vegan pesto photos by Zhoro Apostolov for World of Vegan. Recipe and photographs copyright of World of Vegan™, all rights reserved. Article edited by Rachel Lessenden.