In celebration of the world's most famous weekly holiday—Taco Tuesday—I'm sharing a delicious vegan taco recipe! There are infinite ways to make vegan tacos—you can use tofu, jackfruit, seitan, tempeh, lentils, mushrooms, fajita veggies, and beyond.
Without further ado, enjoy the recipe!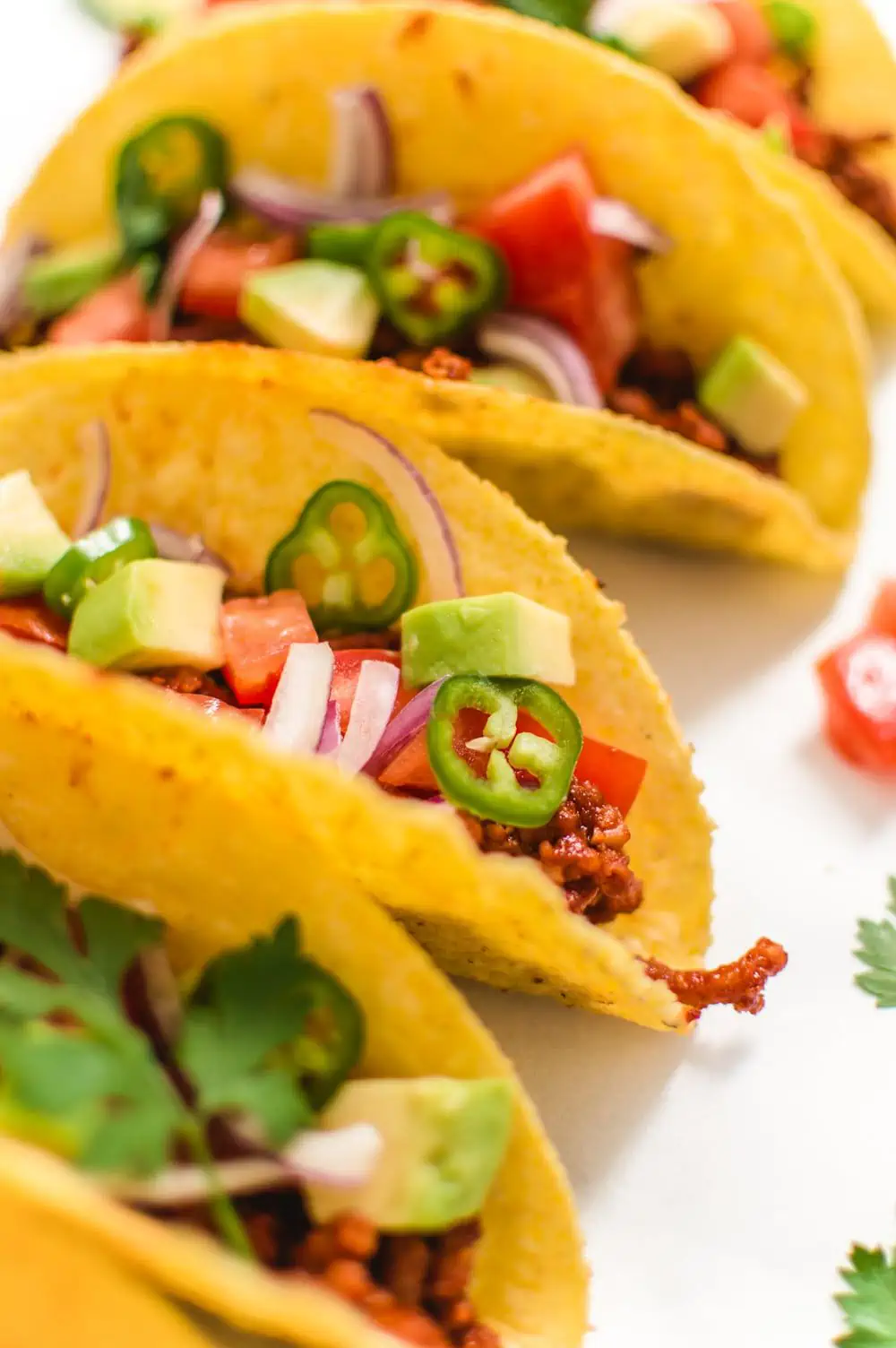 Why You'll Love These Vegan Tacos
Mouthwatering Flavor: Despite being entirely plant-based, these vegan tacos boast an incredible depth of flavor that rivals their meaty counterparts. The combination of seasonings, spices, and carefully selected ingredients creates a savory and satisfying experience for your taste buds.
Meaty Texture: Sink your teeth into these vegan tacos and be amazed by the remarkable meat-like texture. Through innovative techniques and the use of plant-based meat substitutes, we've crafted a filling that mimics the tenderness and juiciness of traditional beef, providing a truly enjoyable eating experience.
Customizable and Versatile: One of the best things about these vegan tacos is their versatility. Feel free to customize and personalize your toppings, fillings, and garnishes to suit your preferences and dietary needs. Whether you enjoy them with fresh salsa, creamy guacamole, or a variety of vibrant veggies, these tacos provide endless options for creative expression in the kitchen.
Environmental and Ethical Impact: By choosing these vegan tacos, you're making a positive difference for the planet and animals. Opting for plant-based alternatives reduces the environmental footprint associated with traditional beef production and promotes a more compassionate and sustainable food system. Indulge in these tacos with the knowledge that your meal is not only delicious but also aligned with your values.
Embrace the delightful flavors, textures, and benefits of these vegan tacos and get ready to redefine your perception of meatless meals. Whether you're a seasoned vegan or simply looking to explore new culinary horizons, these tacos are sure to win over your taste buds and leave you craving more.
Key Ingredients
Vegan ground beef – Provides an incredible meat-like texture. More and more plant-based ground beef options are becoming available so take a look in the frozen aisle at your favorite grocery stores. Beyond, Gardein, Lightlife, Impossible, and Quorn are just some of the brands that offer meatless ground beef!
Tomato sauce – Plain tomato sauce adds a rich and tangy element.
Vegan Worcestershire sauce – Be sure to select a vegan one, taking care to verify that it doesn't contain anchovies.
Seasonings – Lawry's seasoned salt dried basil, garlic powder, and dried oregano all enhance the savory profile of the filling.
Tabasco – For those who enjoy a bit of heat, a few drops of Tabasco can be added, but it's entirely optional and can be adjusted according to personal preference.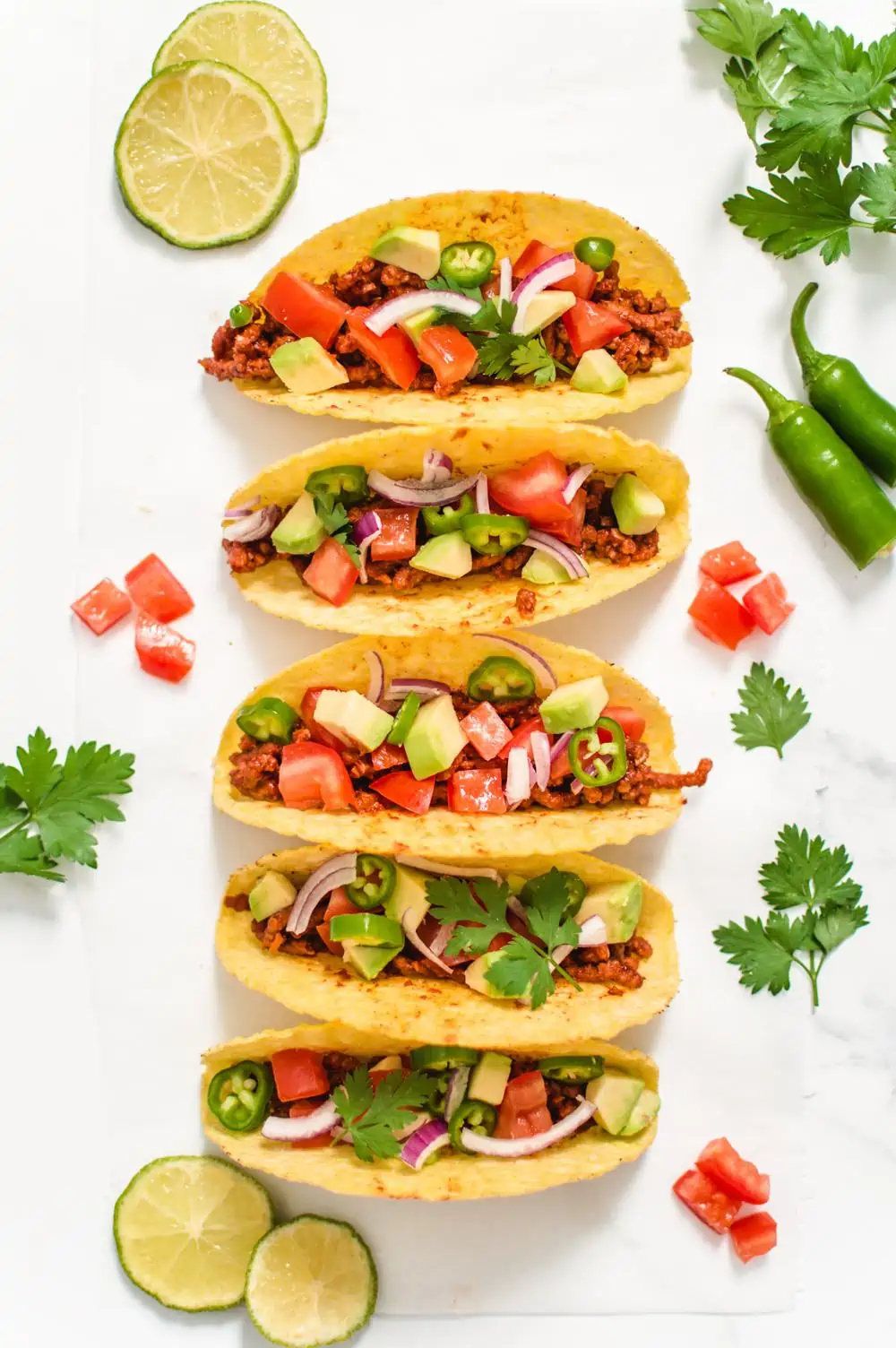 Filling Variations
This version is for the die-hard meat lovers out there. Just a few months ago, that was me. So if you're someone who can do without all the veggies and tofu, and want the base of your taco to be a hearty, flavorful beefy crumble—I hear you.
These are the ultimate comfort tacos and are a great staple for family dinners. You can whip up a big batch of this flavorful vegan beef in no time and have it on hand for all your taco needs throughout the week (if you don't demolish it all on the first night, that is).
However, if beef-less ground meat hasn't made its way into grocery stores near you, here are some great alternatives to use as the base instead:
Tofu
Tempeh
Jackfruit
Black beans
Lentils
Walnuts
Tacos or Burritos?
This filling is so crazy good, you could easily use it for so many other preparations! This meaty and tasty filling would be perfect burrito base, right? Add some romain, rice, and guacamole and you have yourself a fully loaded burrito. But what's the advantage of turning this recipe into a burrito? Well, it makes them a lot more transportable if you're someone who's constantly on the go or if you'd like to organize a vegan Mexican picnic.
Another advantage of burritos is that you can pack way more veggies in it, which is always a good idea when it comes to those picky little ones. Try it! You can even try to make your own homemade tortillas at home!
More Mexican-Inspired Vegan Recipes to Try
soft tortillas or crunchy taco shells, your pick!
For the vegan taco meat
24 ounces vegan ground beef, two packages
16 ounces plain tomato sauce, 2 small cans
2 ounces vegan Worcestershire sauce, watch out for anchovies!
1 tablespoon Lawry's seasoned salt
1 teaspoon dried basil
1 teaspoon garlic powder
1 teaspoon dried oregano
5 drops Tabasco, optional
Taco toppings (Optional)
lettuce or cabbage, shredded
onion, finely diced
jalapeño, finely diced
tomatoes, diced
avocado, sliced
vegan cheddar cheese, shredded
salsa
Over medium heat, add vegan beefy crumbles, tomato sauce, Worcestershire sauce, seasoned salt, basil, garlic powder, oregano, and Tabasco (optional). If the mixture appears very thick and dry, add a splash of water.

Cook covered for 5 minutes. Then uncover and allow to simmer until moist but not liquidy.

Heat soft tortillas or taco shells, assemble the vegan tacos with your favorite fixings, and enjoy!
Calories: 687kcal | Carbohydrates: 68g | Protein: 57g | Fat: 22g | Saturated Fat: 5g | Polyunsaturated Fat: 7g | Monounsaturated Fat: 6g | Cholesterol: 17mg | Sodium: 6935mg | Potassium: 2081mg | Fiber: 21g | Sugar: 15g | Vitamin A: 1084IU | Vitamin C: 37mg | Calcium: 555mg | Iron: 13mg
Meat Lovers Vegan Tacos recipe by Greg Hicks. Photos by Zhoro Apostolov for World of Vegan. Recipe and photographs copyright of World of Vegan™, all rights reserved.