I recently fell into the world of veganism. Though I was loving many new plant-based dishes and creations, I found myself wondering when my desires for some old meat-lover favorites would surface and pull me back.
While shopping at Sprouts one day, I came across Gardein's meatless meatballs and had an ah-ha moment: What if I could re-create one of my all-time favorites but plant-based? That's how these awesome vegan meatball subs came to be.
These fabulous vegan meatball subs fast filled a void I assumed I'd live with when I went plant-based. Excited by how delicious these were, I've shared them with many friends and family and everyone has loved them. Give them a try, you'll love 'em too!
½ jar, 12 oz of organic vegan pasta sauce
⅛ teaspoon of dried oregano
⅛ teaspoon of dried basil
⅛ teaspoon of garlic powder
⅛ teaspoon of crushed red pepper
1 package of frozen vegan meatballs, I've used Gardein and Beyond Meat
½ chopped bell pepper, or 1 cup frozen bell peppers
¼ cup of chopped onion
¼ diced jalapeño, optional for additional spice
hoagie rolls, deli fresh—I've also used whole grain
vegan mozzarella cheese, I've used grated Miyoko's mozz and Field Roast Chao slices
In a large saucepan add marinara sauce and spices and mix thoroughly.

Then add frozen meatballs, cover over medium heat, and allow to come to a boil (about 15 minutes). Reduce heat to medium-low, add bell peppers, onions, and optional jalapeño and allow to simmer, covered, for 30 minutes (or until meatballs are hot all the way through), stirring occasionally.

To prepare rolls, slice open and use your fingers to compress the inner roll. Add cheese inside the roll and heat in microwave for 10-15 seconds per roll to soften and melt.

Fill each roll with piping hot meatballs and sauce. (If desired, add extra cheese on top and broil briefly to melt.)
If you're cooking for more than two or love leftovers, double the recipe! The leftover meatballs and sauce make a great addition to a pasta marinara for dinner the following night.
You can find vegan hoagie rolls at many mainstream grocery stores in their fresh-baked section—but it will take some label reading! I've found them at both Safeway and Ralph's.
Watch This Recipe in Action!
Want to see this recipe come to life? Watch the recipe video below (and be sure to subscribe on YouTube for more vegan food and lifestyle content).
The Meatballs & Cheese
This recipe is best with Gardein's classic vegan meatballs which are now widely available at mainstream grocery stores like Whole Foods, Sprouts, and even Target. These meatballs are quite firm and don't fall apart after being cooked for a long time.
For the cheese, great options are Miyoko's vegan mozz or Field Roast CHAO cheese slices. But you can use any plant-based cheese you can get your hands on!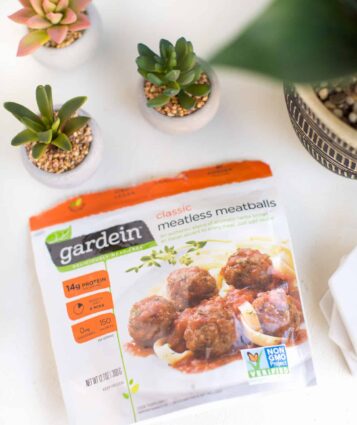 Take It To A Party!
These vegan meatball subs make for a great dish to take to parties. For a recent football get together, I took a crock pot of my marinara meatballs and some slider rolls and they were a huge hit. They've now been served to countless friends and family members—vegan and omnivore alike—all with rave reviews.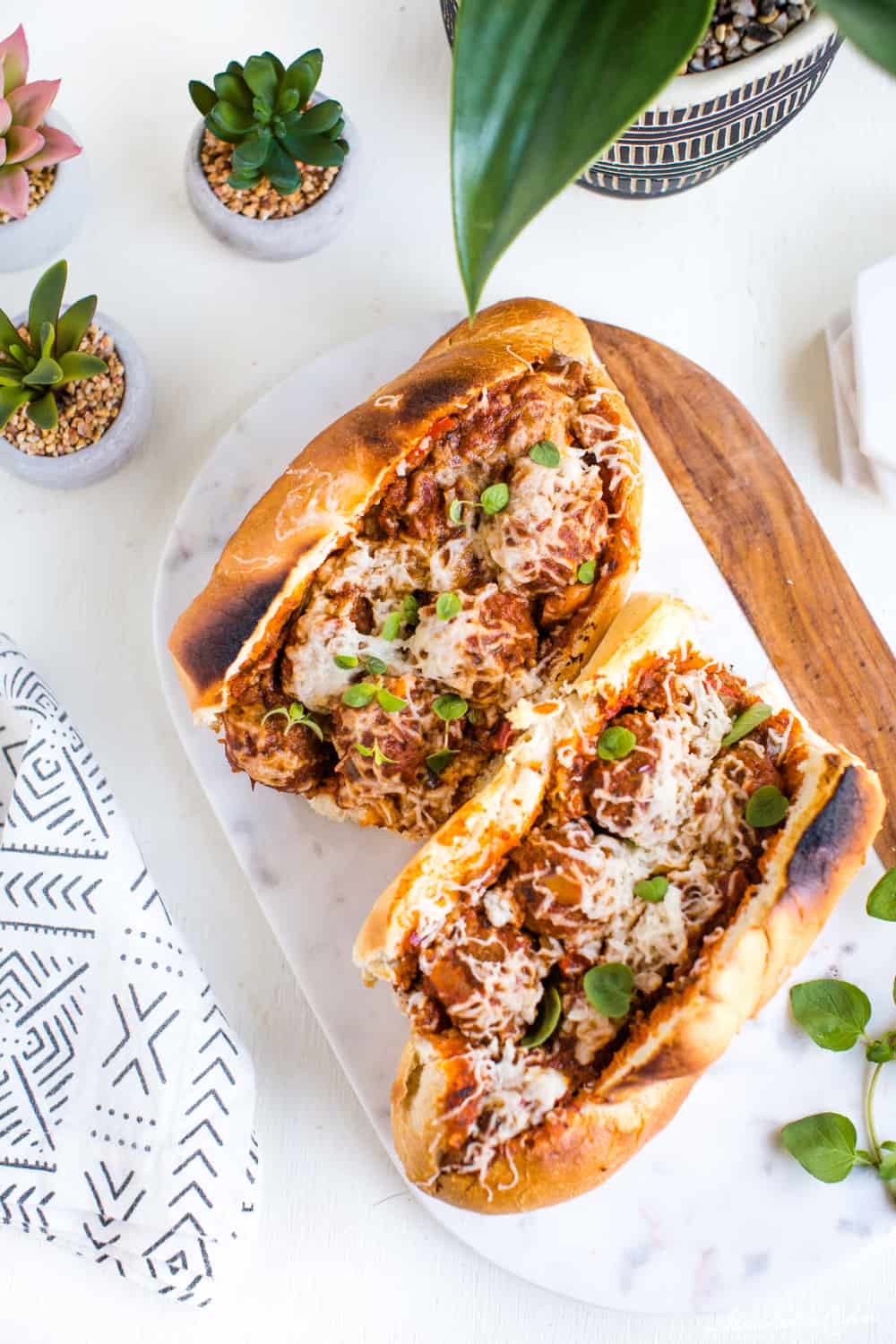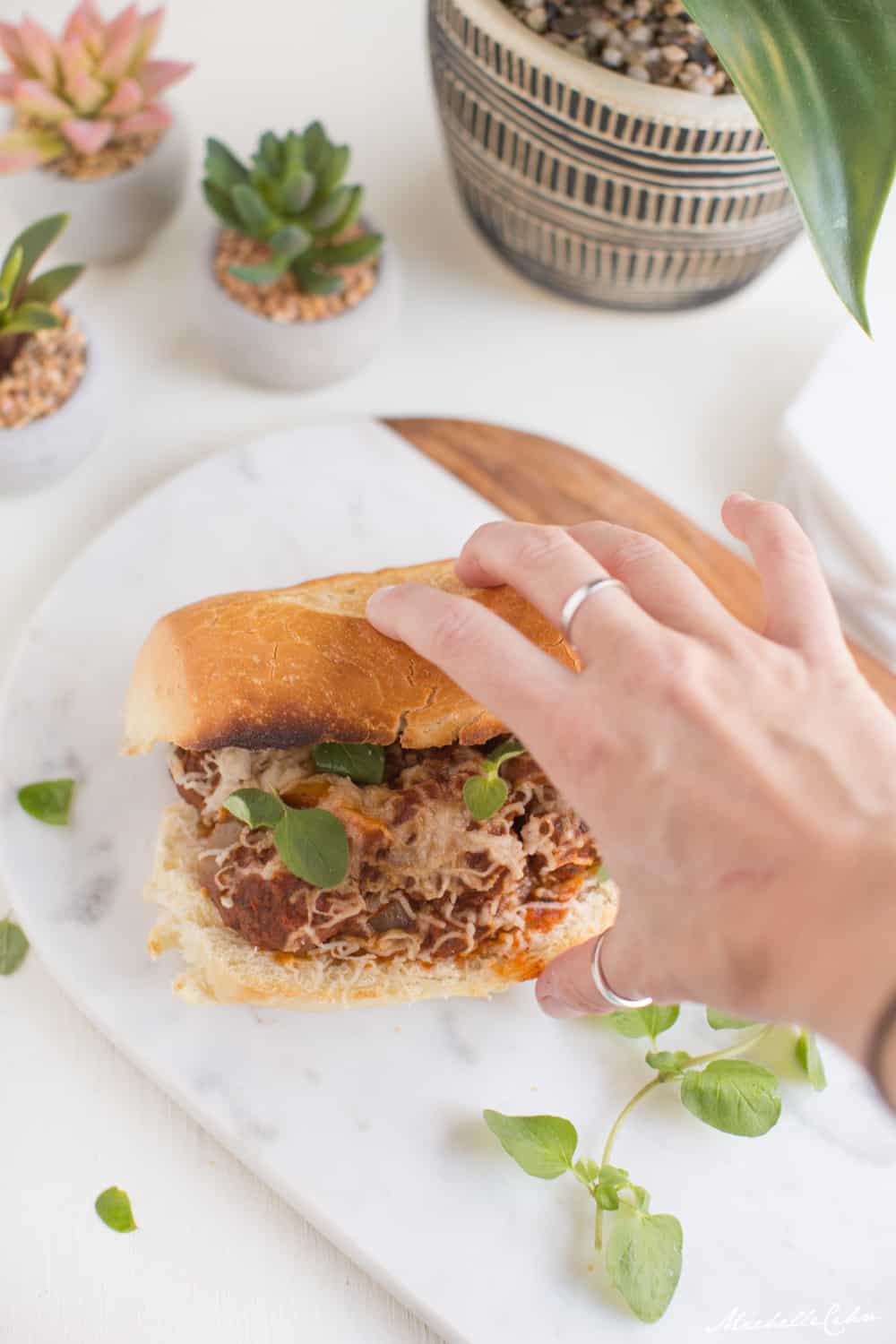 More Delicious Recipe Ideas
Vegan meatball subs recipe by Greg Hicks and photos by Michelle Cehn for World of Vegan. Article edited by Amanda Meth. Please note that this article may contain affiliate links which supports our work at World of Vegan. Hungry for more plant-based inspiration from Greg? Follow him on Instagram at @EmpowerVegans.