Plant-based meal delivery services have proliferated in recent years, expanding from an obscure business model to one as common as the standard grocery store. There's something for everyone now.
If you like to cook, you can get bundles of ingredients with recipes.
If your expertise in the kitchen ends at the microwave, you can have finished dishes ready to heat and eat land on your doorstep with just the click of a button.
For those feeding a family, still more options abound for bulk meal prep.
That's to say nothing of specialized diets, from paleo to keto vegan to gluten-free, sometimes available all on the same platform. How does one begin to pick apart the best choices, given such a superabundance of promising meals—and seemingly endless deals?
While most enterprises now offer at least a handful of plant-based entrees, a growing number of meal delivery services boast a fully vegan menu across the board. Depending on what you want to eat, how much work you want to do, and additional restrictions, here's what you need to know before you hit "add to cart."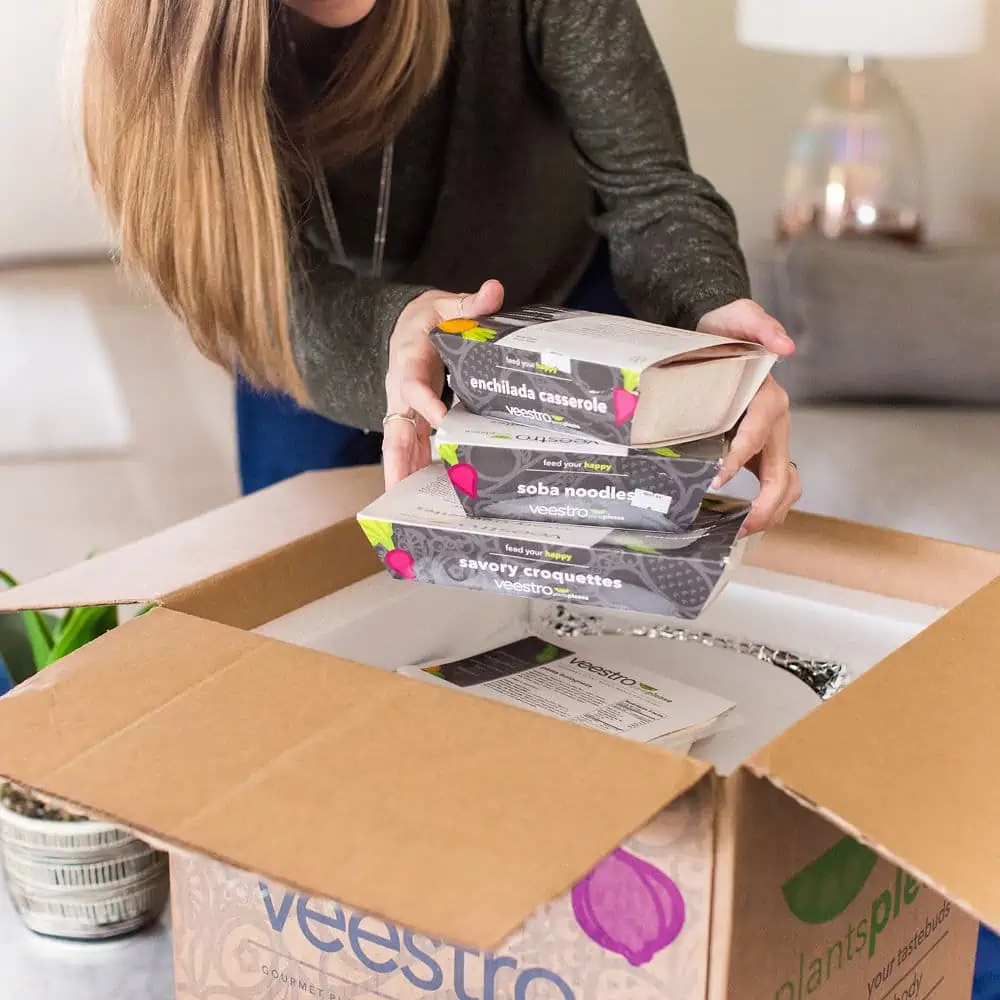 100% Plant Based Meal Delivery Options
No need to comb through ingredient lists with a magnifying glass here; every dish on offer is completely vegan! You'll have the widest variety of choices without worrying about animal products when you shop from these websites. Here are the best vegan meal delivery options that exist today!
One of the best-known names in the meal delivery game for good reason, Veestro offers over 50 plant-based meals that are frozen, ready to heat and eat. Options range from breakfast to dinner, so you'll never go hungry. They also offer seasonal specials so you'll be covered for the holidays, including festive Thanksgiving entrees that will make your omnivore family jealous.
For those who want to cook up a more flexible meal plan, Purple Carrot has you covered. Chose whether you want to make 2 servings or 4 for each dinner, and add-ons for breakfasts, lunches, and snacks. If you've got a rough week ahead, you can skip the cooking and opt for fully prepare, single serving meals instead. There are even Purple Carrot frozen entrees now being sold at Sprouts and Whole Foods, in case you want a taste before committing to a full shipment.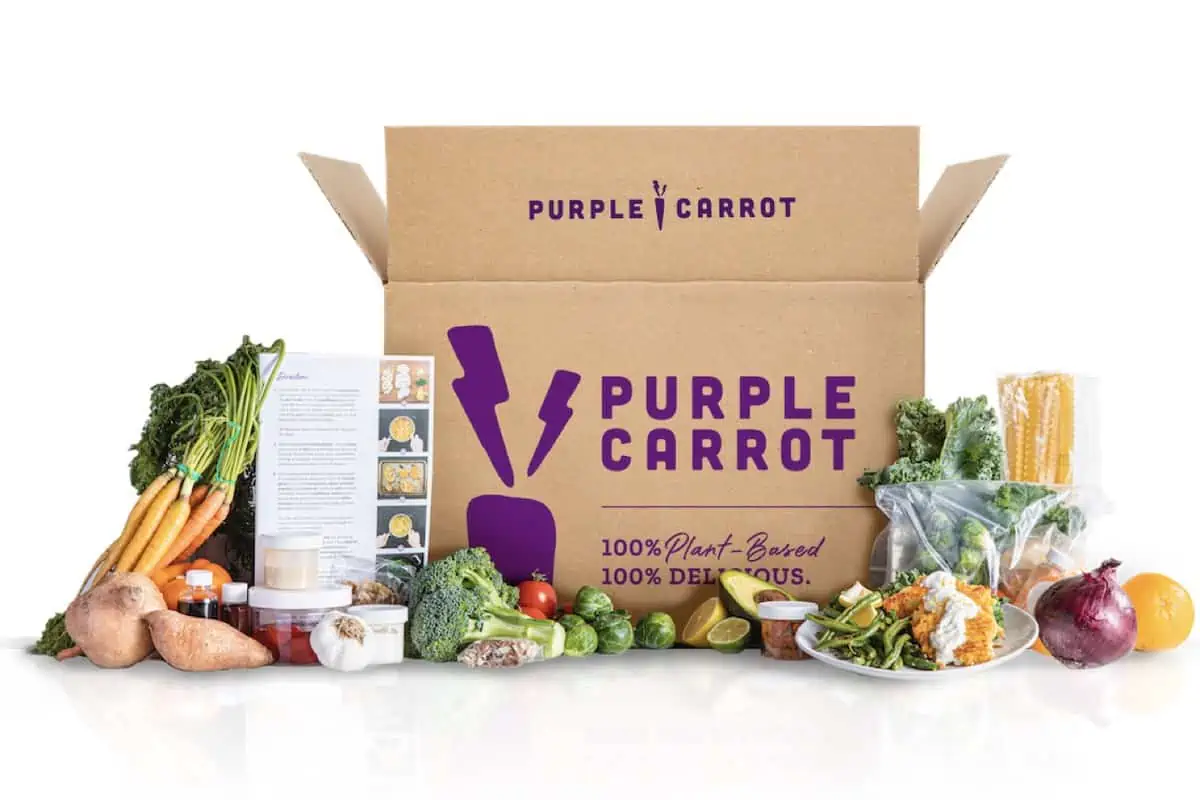 Originally focused entirely on frozen smoothies, ready to blend, Daily Harvest has since expanded to offer a wide range of flatbread pizzas, grain bowls, soups, and even superfood lattes. You can pick and choose exactly what you want, whenever you want, rather than on a set schedule. No cooking required aside from microwaving and sometimes blending, in the case of frosty beverages.
Splendid Spoon is on a mission to fuel ambitious lives with exceptional plant-based nourishment. Founded on the healing principle of the bottomless bowl, Splendid Spoon delivers prepped-for-you meals for every mood and season. From soups and smoothies to noodle and grain bowls, they have lots of good food fit to your life. All meals are plant-based, gluten-free, and free from dairy and artificial sugars. From hearty Dishes for dinner to grab-and-go breakfasts for those busy mornings, they offer 65+ meal options every week.
Consider this the "luxury" meal delivery option when you want to splurge on selfcare. Touted by celebrities and full of buzz-worthy super foods, the emphasis is on wellness with high-quality, nutritious foods that will get you glowing.
Meal Delivery with Vegan Options
If you have a diverse range of tastes in your family, some might want both vegan and non-vegan options. These companies can fill your plate with exactly that!
Catering specifically to specialty diets, there's a range of options here from keto to gluten-free. They send organic, pre-portioned ingredients and easy to follow recipe cards that take the stress out of the typical dinner rush. The "plant-powered" menu does sometimes include meals with dairy, so double-check before checking out.
Shop for recipes or just to fill your fridge, all the prep work is done for you to eat or explore on your own terms. Meal suggestions are quick, simple, and easy to whip up, made of healthy staples that you can mix or match as desired.
Designed with nutrition in mind, the goal of this service is to put healthy eating on autopilot. The vegan options are relatively limited in the protein-heavy listings, but there are some innovative alternatives to explore, such as their meatless "chickN." As a bonus, everything is gluten-free.
This is what your personal trainer would eat- if you had a personal trainer. These ready-to-eat meals are made for those focused on fitness and weight loss. Nutrient dense but calorie controlled, anyone who wants to kickstart a new health program would be well served here.
Mosaic meals are 100% vegetarian with plenty of vegan options, as indicated by the (V) symbol by the name. Global flavors that span from curries to stir-fries add excitement to these options, that also include breakfasts and lunches to make meals a no-brainer.
Markedly different from conventional frozen meals or recipe services, this approach takes nearby chefs based on your location to provide the menu. Get as few as 4 or as many as 16 meals a week. Bear in mind that availability does vary greatly depending on the chefs nearby; you may not have any vegan options for some weeks.
As the largest meal-kit provider in the United States, it's surprising that so little attention is paid to the plant-based population. There is no HelloFresh vegan option; rather, you can select the "veggie box" and omit the cheese or eggs provided with cruelty-free options of your own, if you really wanted to order.
Online Vegan Grocery Stores with Fresh Meal Options
What's more convenient than online shopping? How about online shopping for your groceries AND dinner at the same time? That's a snap with these all-in-one vegan grocery delivery services that offer completely plant-based goods alongside heat-and-eat entrees.
For rare specialty goods like vegan lobster or plant-based fried eggs, this is where you'll discover a bold new world of cruelty-free innovation. You can get all that and a bundle of tamales, frozen pizzas, and falafel for dinner.
Recently acquired by Vejii, VEDGEco is the wholesale branch of the same concept. For restauranteurs or those with very large families, this is the best way to stock up on alternative proteins, dairy-free cheeses, and more. There are no order minimums, and you can get some deep discounts by buying in bulk.
Voted as the best online vegan grocer from 2005 – 2020, this shopping resource has withstood the test of time. Shop with confidence for animal-free and cruelty-free products from this vegan-owned company that's been operating for over 20 years.
Local Same-Day Grocery Delivery
Of course you can also order grocery delivery through Amazon (Amazon Fresh and Whole Foods Market) and Instacart. If you're short on time or stuck in your house for any reason, this is an affordable and incredibly convenient way to save time and outsource your vegan grocery shopping!
Homemade "Delivery" Meals
If you're hooked on the convenience of vegan delivery services but can't afford to indulge every week, don't worry! Most companies offer a recipe section for all their menu options online, completely free.
Scope out the meal plan and build your own schedule accordingly, but shop on your own to save on costly delivery fees and excessive packaging. That's a delicious win-win!
You can also find lots of vegan dinner recipes on the blog and in our cookbook, The Friendly Vegan Cookbook!
Vegan Subscription Boxes & Snack Boxes
Hungry for vegan snacks delivered right to your doorstep? There are several vegan snack boxes and other various vegan lifestyle subscription boxes to choose from. Vegan Cuts is the original vegan snack box, and is still one of the most popular! Check out our Vegan Subscription Box Guide to see them all.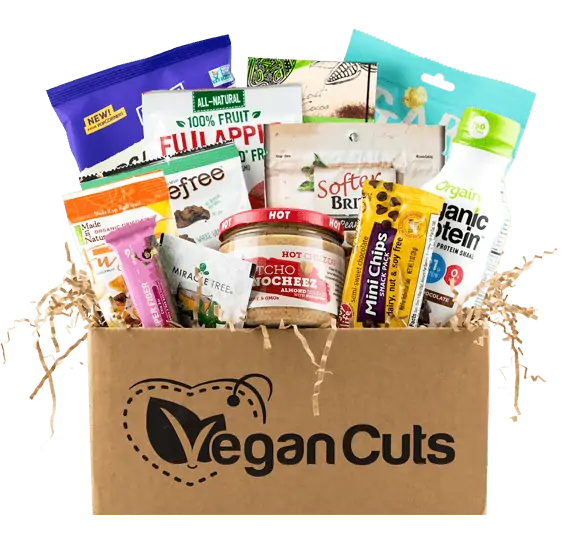 Plant-Based Meal Plans
If you'd like to follow a meal plan without the work of creating one yourself, check out our Plant-Based on a Budget Meal Plans! These one-week meal plans were designed to keep your grocery budget extremely low, your meals very healthy, and your effort in the kitchen minimized.
Thousands of people have enjoyed these meal plans and they are a great way to practice meal prepping without the expense of pre-prepared meals delivered!
Vegan Restaurants Near Me & Local Takeout Delivery
Craving takeout but don't want to make the drive to pick it up? You can order takeout from most of your favorite local restaurants—and even fast food spots—delivered to your door through Grubhub and Doordash.
Do a quick Google search for "vegan restaurants near me" to support your local vegan restaurants. Whether you dine in, pick up takeout, or have takeout delivered using a service like Grubhub or Doordash, you'll be helping your local vegan restaurants thrive.
Vegan Fast Food Options
If you're itching for drive-through or a quick meal at a fast food spot, you'll find vegan options on most mainstream menus. Visit our Vegan Fast Food Guide to see your options at each location (including all the biggest fast food chains including:
Other Vegan Meal Ideas & Recipes:
Did we miss your favorite plant-based meal delivery options? Please share them in the comments below!