Can anyone resist the temptation of tater tots? We say no way! This flavor-packed vegan tater tot casserole takes tots to the next level. With their crusty, crispy texture, pillowy potato insides, piled with chewy meatless crumbles, crunchy onion, juicy tomato, and silky plant-based cheese, we are helpless to refuse the rich, luscious layers.
This super simple recipe from the Epic Vegan Quick & Easy cookbook can be made in no time. All you need is an oven, pre-made potato tots, and a few tasty toppings. If you have extra time and a few added ingredients, you can create a couple of savory sauces to slather over the surface. Our mouths are watering just thinking about it.
Firstly, find those frozen tots in the freezer, preheat your oven, and let's follow those directions. Three cheers for cheesy burger bites!
How to Serve Up Your Vegan Tater Tot Casserole
These terrific tots taste top notch without any other sides, but you may want to stretch this delicious dish into a supper-sized meal. Too much of a good thing can sometimes cause tummy troubles, so it might be best to balance things out with a bit of healthy, plant-based fare.
Lettuce Make Wraps – Consider using your toasty tots as a filling in a butter lettuce leaf––almost like an inside-out vegan cheeseburger. Pop some tots in the middle, add your selected sauce, and munch away. Mmmm…
Always Add Veggies – When you've got a calorie-dense meal on your hands, it's nice to throw in a whole lot of raw or steamed veggies into the mix. How about a fresh garden salad or a couple of ears of corn-on-the-cob? Perfect combo! Here are more vegan vegetable recipes to explore.
Serve Along With Soup – Another way to add fiber and fullness to your plate of potato puffs is to supplement with a big bowl of vegan soup packed with lots of vegetables.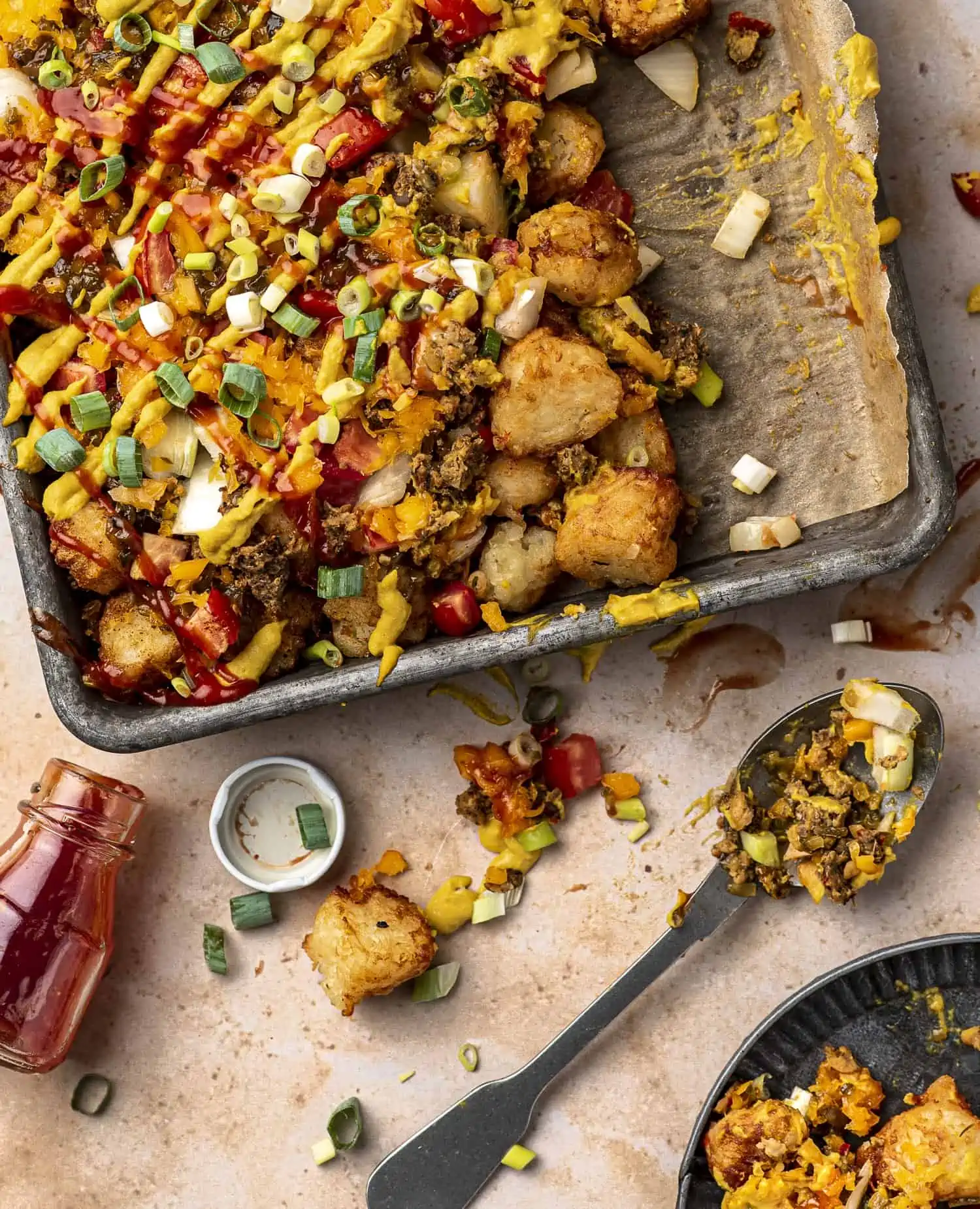 What's in Old Bay Seasoning?
Actually, it's a bit of a mystery! We know for sure that it contains celery salt, salt, red pepper, black pepper and paprika, but they also list "spices" as one of the main ingredients. Although some food lovers have suggested dry mustard, ground mace (or nutmeg), cinnamon, cardamon, allspice, cloves, and ginger as being part of the magical mixture, we may never know. Even Sherlock Holmes might be mystified by the illusive ingredients!
Note: It's not a certainty, but it's suspected that Old Bay contains MSG. In other words, if you are sensitive to this sinister seasoning additive, consider making your own. This recipe got rave reviews.
Simple Storage
Vegan cheesy burger tater tots are best eaten right out of the oven. After a half hour, they lose their lovely crisp texture. If you have extra tots that you haven't tasted, store them in a covered container in the fridge for a few days. To reheat, simply place the leftovers on a parchment lined baking sheet and bake at 425 degrees until desired temperature and texture.
Better yet, if you have an air fryer, let them cook for 5 minutes at 400 degrees or until they're as crispy as you like them. To freeze the remaining tots (I bet you won't have many––or any!), place them in a sealed, freezer-safe container for up to 2 months. Similarly, keep in mind that the vegan cheese might not reheat as well as the tots or vegan burger.
So Much (Awesome) Sauce
Want to take your Cheesy Burger Taters Tots to a whole new level? Pssst..the secret is in the sauce! Here are two simple, saucy recipes for a Thousand Island Dressing and Punk Cheddah Sauce to smother onto your tots and add a bit of sass.
This Thousand Island Dressing will bring back memories of trips to McDonald's as you transform your tots into a bold, vegan Big Mac style dish!
In a bowl combine:
½ cup (115 g) of vegan mayonnaise
2 tablespoons (30 g) of sweet pickle relish
1 tablespoon (15 g) of yellow mustard
1 tablespoon (15 g) of ketchup
Drizzle the dressing over your team of tater tots instead of mustard or ketchup. Keep refrigerated for up to 2 weeks in an airtight container.
More Vegan Cheese, Please!
Next up is a smooth, velvety Punk Cheddah Sauce. If you prefer homemade to store-bought vegan cheese, then this recipe is for you! This silky sauce is very mild and very simple to make because it uses canned pumpkin for the base.
For Punk Cheddah Sauce, you'll need:
1½ cups (218 g) of pumpkin puree
½ cup (68 g) of raw cashews, soaked overnight or boiled in water for 10 minutes, drained and rinsed
¼ cup (20 g) of nutritional yeast
2 tablespoons (32 g) of white miso
3 cups (705 ml) of water
1 tablespoon (15 g) of Dijon mustard
1 tablespoon (15 ml) of soy sauce or gluten-free tamari
Juice of ½ lemon
1 tablespoon (20 g) of maple syrup
1½ teaspoons of sea salt
1½ teaspoons of onion powder
1½ teaspoons garlic powder
To make the Punk Cheddah Sauce: Add the pumpkin, cashews, nutritional yeast, miso, water, Dijon mustard, soy sauce, maple syrup, lemon juice, salt, onion powder, and garlic powder to a blender. Blend for 1 to 2 minutes, until smooth and creamy. To store, place in a covered, sealed container. It should last for a few days in the fridge.
About the Author
Dustin Harder is the creator of the vegan travel culinary series The Vegan Roadie. In addition, he works as a culinary instructor and is the head of culinary development at the Atlanta-based restaurant, Arden's Garden.
His recipes have been featured in popular foodie magazines such as Eating Well, VegNews, Vegan Lifestyle Magazine, Chowhound, Vegetarian Times and Paste Magazine. Moreover, Dustin has appeared on Food Networks Girl Scout Baking Championship sharing his amazing vegan baking skills using girl scout cookies in February 2020.
Dustin is the author of three cookbooks, Epic Vegan Quick & Easy, Epic Vegan, and The Simply Vegan Cookbook. The Simply Vegan Cookbook has recently been added to Forbes' list of "Best Vegan Cookbooks."
More Amazing Appetizers to Try:
Equipment You'll Need
If you try this vegan Cheesy Vegan Tater Tot Casserole recipe, let us know what you think by leaving a comment and rating below! Be sure to follow along on Pinterest, Instagram and Facebook for even more vegan recipe inspiration.
4 cups frozen tater tots, (half of a 32-ounce (905-gram) bag)
½ teaspoon Old Bay Seasoning, optional
1 cup frozen vegan ground beef or crumbled vegan sausage, (110 grams)
½ cup roughly chopped white onion, (80 grams)
½ cup diced tomato, (90 grams)
¼ cup sweet pickle relish, (60 grams)
¾ cup vegan cheddar shreds or Punk Cheddah sauce, (88 grams)
Mustard
Ketchup
Quick Thousand Island dressing, optional, see recipe below
2 scallions, chopped (optional)
Preheat the oven to 425°F (220°C, or gas mark 7).

Line a sheet pan with parchment paper.

Spread the tater tots out on the prepared sheet pan and sprinkle with Old Bay Seasoning (if using).

Bake for 20 minutes, remove from the oven, and flip the tater tots with a spatula.

Position the tater tots close together so they are touching to minimize the toppings falling through to the sheet pan.

Top the tater tots with ground beef, onion, tomatoes, relish, and cheese.

Bake for 10 to 12 minutes, until the cheese is melted and the tater tots have turned golden brown.

Drizzle tater tots with mustard, ketchup, or dressing, and sprinkle with chopped scallions (if using).
Calories: 447kcal | Carbohydrates: 56g | Protein: 13g | Fat: 20g | Saturated Fat: 4g | Polyunsaturated Fat: 5g | Monounsaturated Fat: 6g | Sodium: 1253mg | Potassium: 637mg | Fiber: 8g | Sugar: 7g | Vitamin A: 303IU | Vitamin C: 17mg | Calcium: 135mg | Iron: 3mg
We want to thank our amazing recipe testers Annie Sparks & Tracey Ferren for helping us perfect this recipe!
This vegan Vegan Tater Tot casserole recipe was reprinted with permission from the Epic Vegan Quick & Easy: Simple One-Pot and One-Pan Plant-Based Recipes cookbook by Dustin Harder (Quarto Publishing Group, Co, 2021) Photography by Ashley Maddem @riseshinecook. Article written by Gina House and edited by Amanda Meth.