Many people are surprised when they ask, "Can you air fry tempeh?" and hear the answer. Yes, you can and must! Air fryer tempeh is an easy and mouthwatering way to enjoy this nutty and wonderful plant-based protein.
Tempeh, like tofu, can take on the flavors of any marinade. In this recipe, salty and savory ingredients combine with a sweet sauce for maximum satisfaction. With only one bite, you'll be totally hooked on this anytime, air fryer technique.
If you've had tofu too many times this week, we highly recommend giving air fried tempeh a try!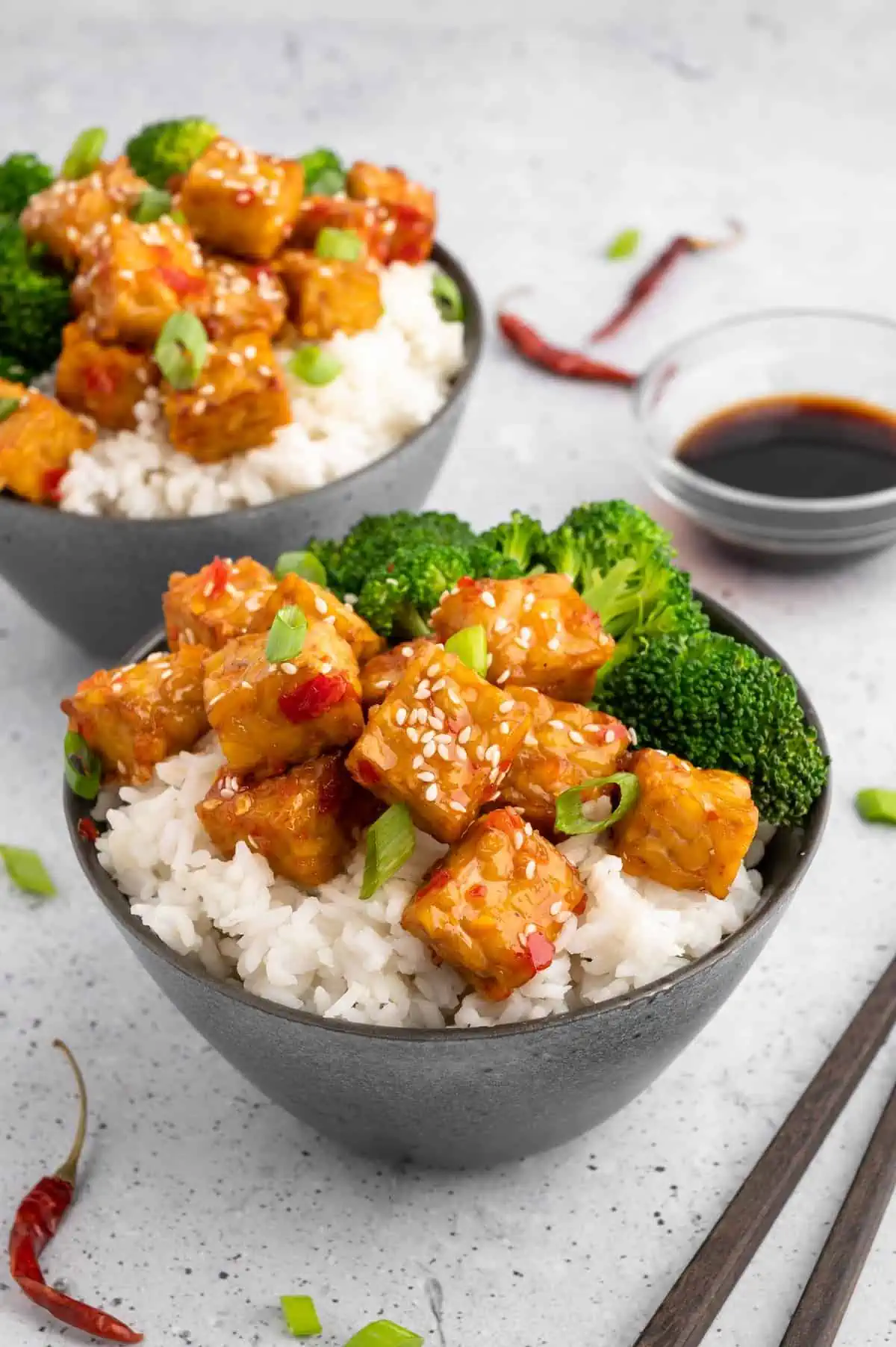 Why Air Fryer Tempeh is So Awesome
You don't have to take our word for it, but air fryer tempeh is the tops! Not only is the block unfailingly fun to cut into chunks, but the chewy quality is extremely satisfying. Want more reasons to enjoy this fermented food?
High in plant-based protein (around 31 grams in one cup).
Excellent in a variety of different dishes from salads, soups, tacos, noodles, and everything in between!
A delightful snack for any time of day.
The air fryer creates the best combination of a crispy outside and tender inside for the tempeh.
What is Tempeh?
Originating in Indonesia, tempeh is a rectangular block (or patty) of fermented soybeans. The texture is firm, slightly crumbly, and has a white overcast (created from the fermentation process). Tempeh's flavor is dry, nutty, and slightly bitter.
Key Ingredients and Smart Substitutions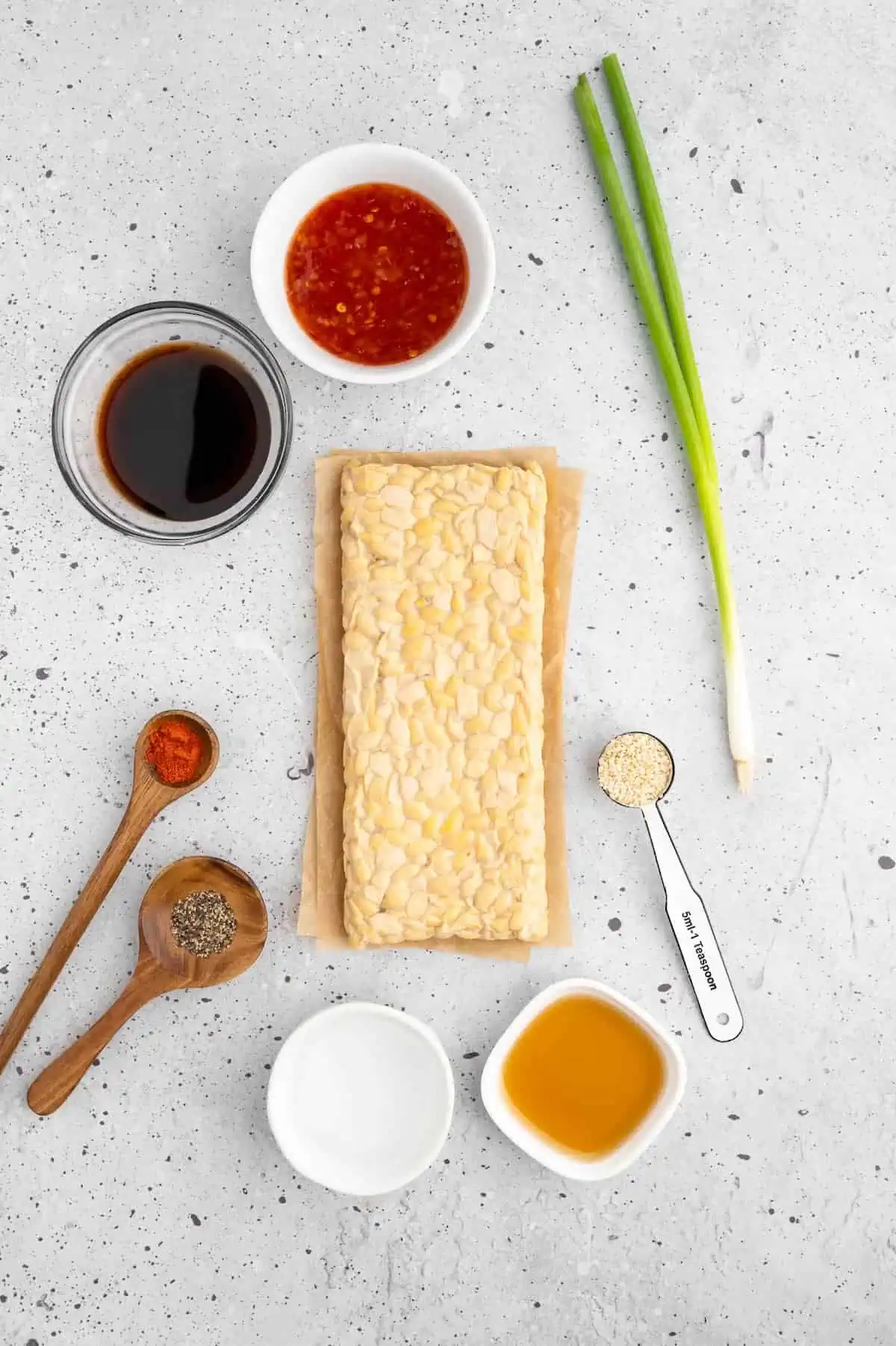 Feel free to swap out an ingredient or two to help personalize this recipe and make it your own. The essential ingredients are listed at the top with some suggestions on items you can change underneath. If you feel adventurous with sauces, go for it!
Tempeh: This isoflavone-rich food is a great source of protein, B-vitamins, iron, fiber, and calcium. It's easy to find in most grocery stores and can be a savory sandwich filler.
Toasted Sesame Oil: A little goes a looong way! Be careful that you use toasted rather than plain sesame oil for this recipe. The flavor is completely different—the toasted element is essential.
Soy Sauce: If you're gluten-intolerant or gluten-sensitive, swap out the soy sauce for tamari or coconut aminos.
Sweet Chili Sauce: This slightly spicy, slightly sweet condiment creates the most luscious glaze on the tempeh. It's the perfect complement to the dry, crumbly texture of the tempeh.
Saucy Suggestions: Tempeh, like tofu, is extremely versatile when it comes to flavors. Other sauces that would go well with the air-fried tempeh include—peanut dipping, panang curry, sweet and sour, and homemade barbecue.
This recipe is so easy and full of flavor! With just a few simple ingredients, you'll be able to create a bold dish that's delicious and filling.
How To Cook Tempeh
Tempeh needs to be cooked before eating. Besides baking and pan frying, this nubbly and pleasant protein can be also be air-fried. The best way to take out the bitterness of tempeh is to steam it first.
How long to cook tempeh? For baking, give the tempeh about 15-20 minutes to cook in a 350 degree oven. If you're pan-frying, 10-12 minutes should work out well over medium heat in an oily skillet.
How To Air Fryer Tempeh
Step One: Start with a block of tempeh. Cut into ½-inch thick cubes. Steam the tempeh for about 10 minutes to help remove some of the bitterness. Allow to cool before marinating. Combine the marinade ingredients together in a plastic bag or container, making sure each piece is evenly coated. Marinate for 1 hour, or up to overnight, for the best flavor.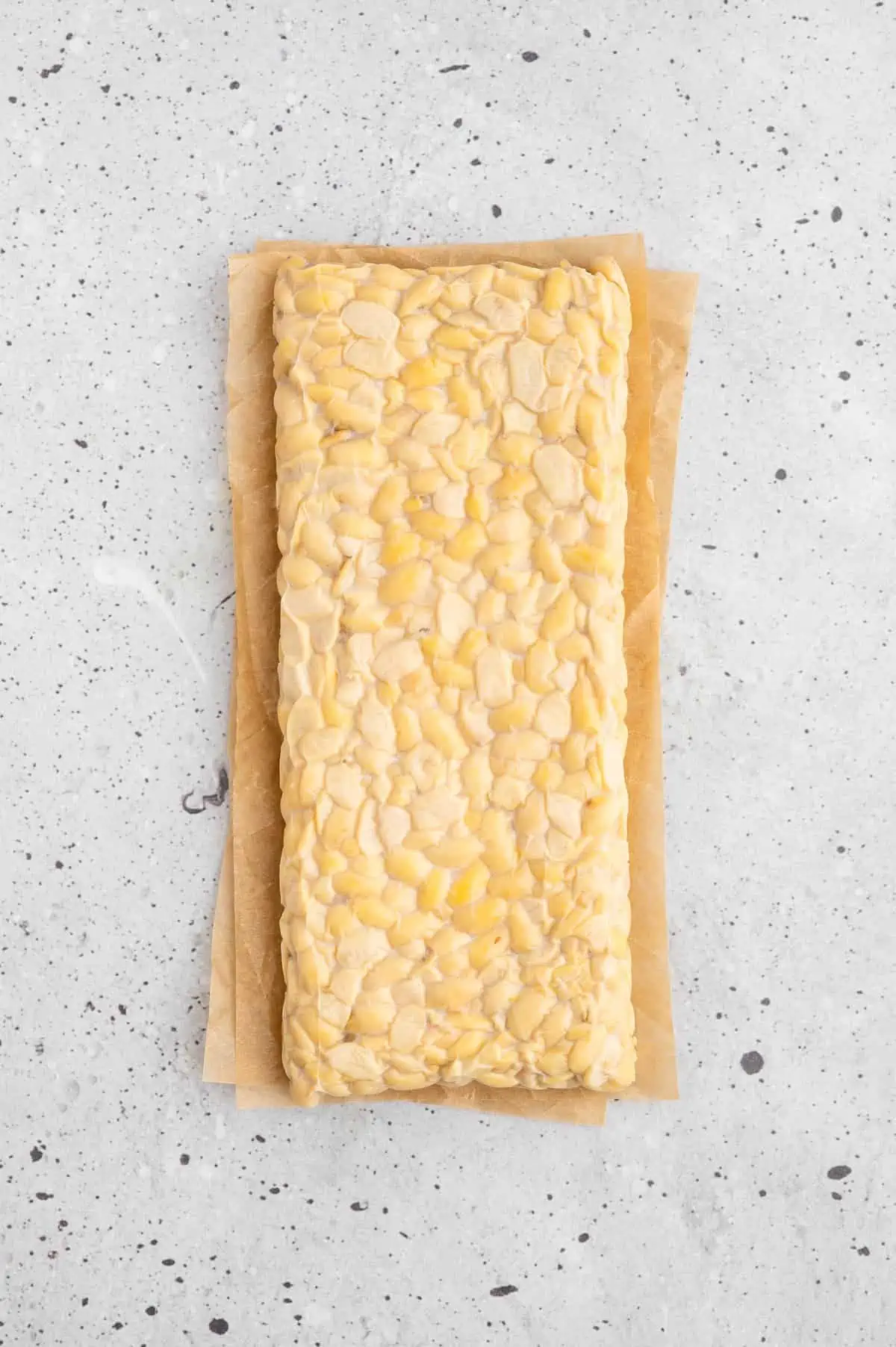 Step Two: If your air-fryer requires preheating, do so first. Remove the tempeh from the marinade, shaking off any excess and add to the basket in a single layer. Cook at 350 degrees for 10 minutes, shaking the basket once after 5 minutes. Garnish with the scallions and sesame seeds and drizzle with the sweet chili sauce. Serve immediately!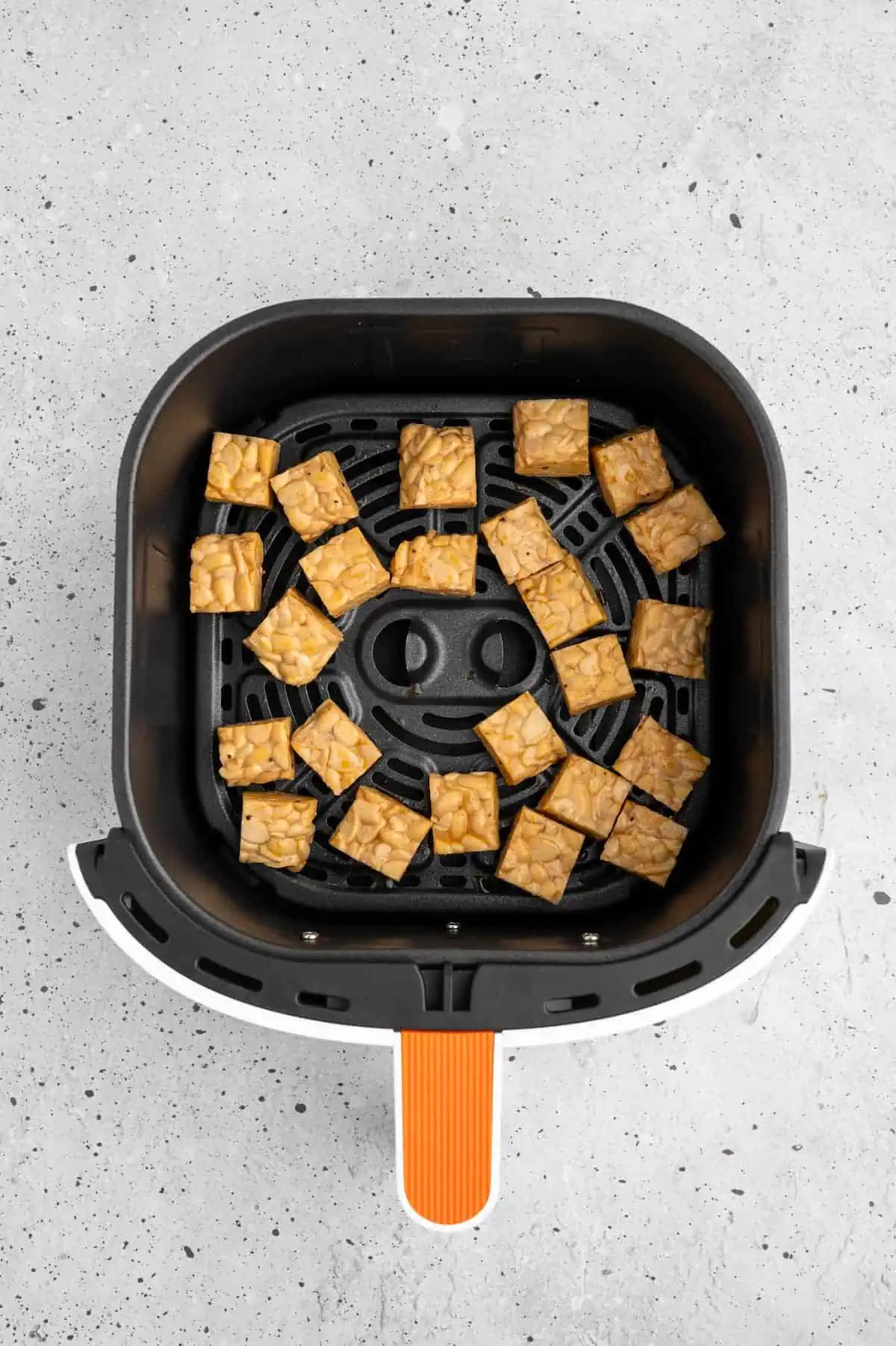 How To Serve Up Marinated Tempeh
This is the fun part! Once you have cooked and marinated your tempeh, there are endless ways to add it to your weekly meal plan. If you come up with an especially delectable combination, make sure to share it in the comments below!
For an Asian-inspired dish, serve with broccoli (steamed, baked, or air-fried), sticky rice, and/or peanut noodles.
If you're in the mood for Mexican, swap out the sweet chili sauce for avocado or salsa. Then, plate up with homemade corn tortillas and a tomato-based, seasoned rice.
Lovers of Korean food will love this tempeh prepared with rice, kimchi, pickled veggies, bean sprouts, and cucumber salad.
Boost the protein in your everyday salad by adding tempeh! You'll wonder how you ever enjoyed fresh and crisp or sauteed greens without it! (Also, once cooked, the tempeh can be thrown into your salad cold and it's still really tasty.)
Tempting toppings can add even more depth and dimension. How about crushed red pepper, hot sauce, pickled ginger, or wasabi?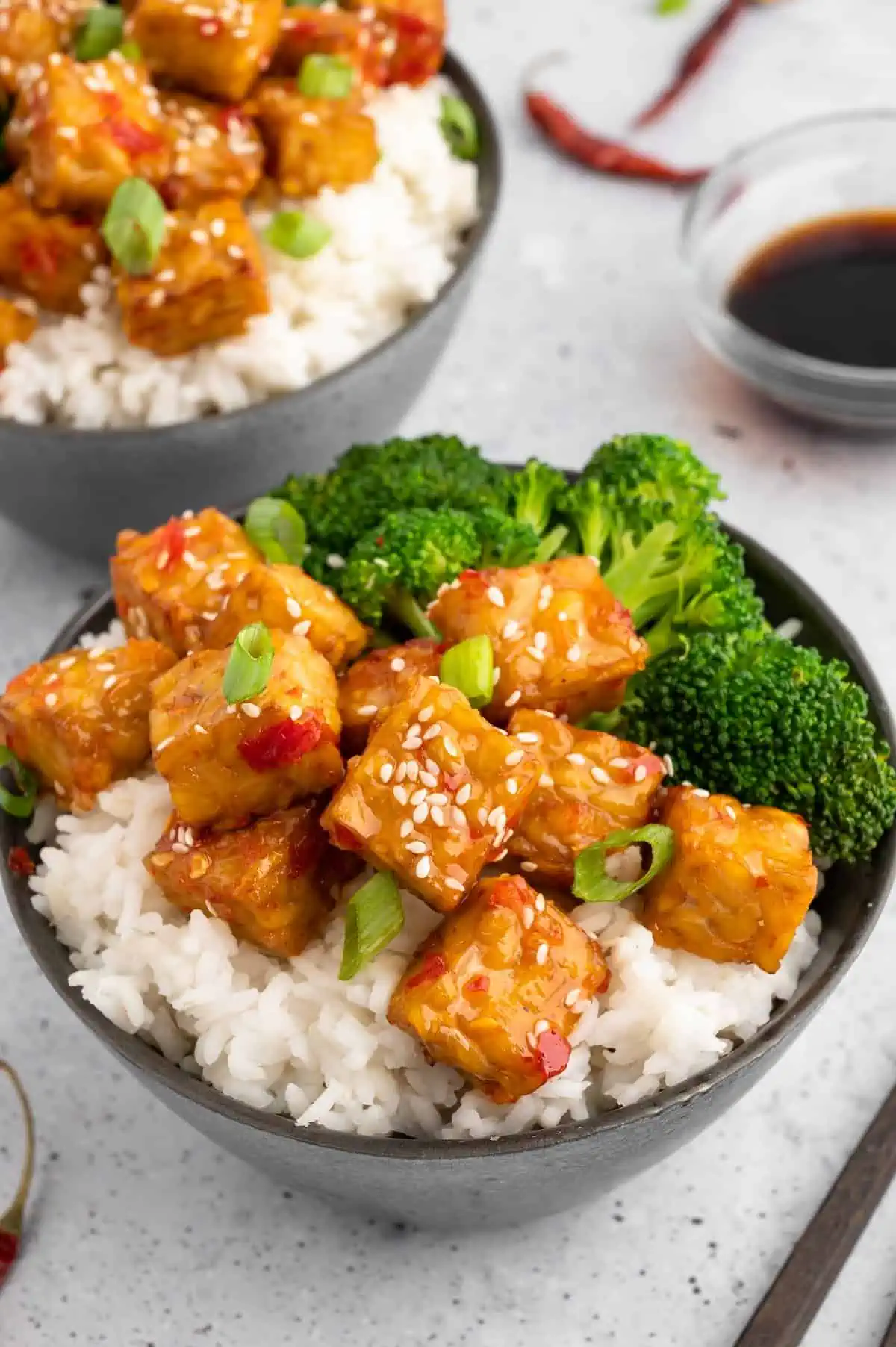 Air Fryer Tempeh Q&A
I don't have an air fryer! Can I bake or fry tempeh instead?
You sure can! Simply place the cubes on a parchment or silicone-lined baking sheet and bake in a pre-heated 350 degree oven for about 15-20 minutes. Or, you can fry it in a pan with a little oil over medium heat for around 10 minutes. Make sure to turn the cubes over to brown on all sides.
Can you eat raw tempeh right out of the package?
Please don't! Tempeh needs to be cooked (either by baking or frying) before being eaten. Steaming the tempeh before cooking will also eliminate any bitter flavor, but this is optional.
What is the best way to eat tempeh?
There are so many delicious ways to enjoy this fermented soy protein! Slice into strips and use in sandwiches, chop into cubes and serve with salad and/or rice, or crumble up and season and add to tacos or pasta. You can use tempeh in place of almost any protein in plant-based recipes.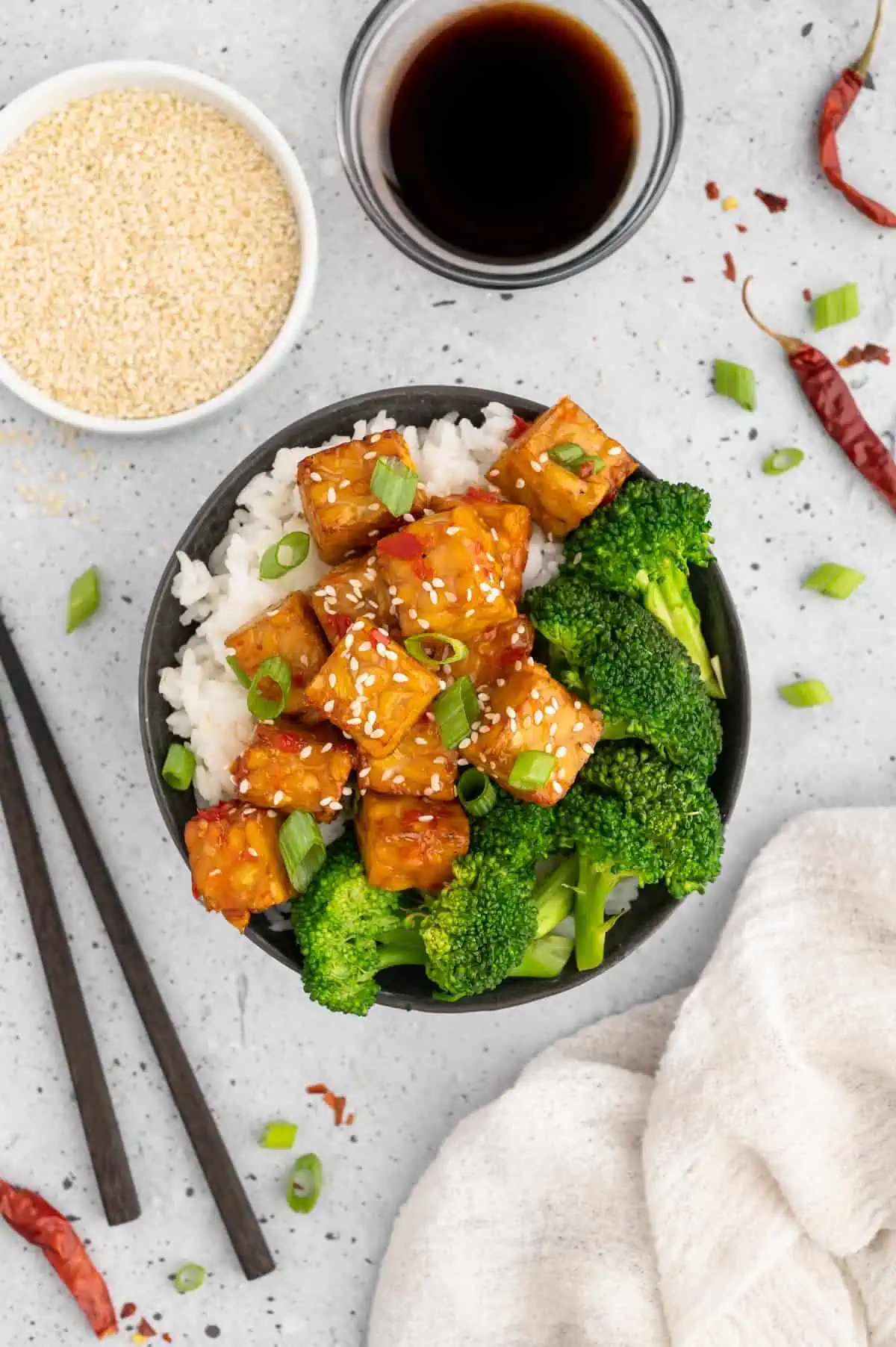 More Appetizing Air Fryer Recipes to Try
1 8-oz block of tempeh , plain
3 tablespoons low sodium soy sauce, tamari or coconut aminos
1 teaspoon toasted sesame oil
¼ teaspoon black pepper
¼ teaspoon smoked paprika, optional
3 tablespoons sweet chili sauce
1 large scallion, finely sliced
1 teaspoon sesame seeds, black or white
Advanced Instructions: Steaming (optional) & Marinating
Cut the block of tempeh into ½-inch cubes.

Place the cubes in steaming insert, cover, and steam over boiling water for 10 minutes.

Once at room temperature, place the tempeh cubes into a container or a zip bag. Pour in the soy sauce, toasted sesame oil, pepper, and smoked paprika and shake or mix. Make sure every piece is coated, and then cover the container or seal the bag. Let marinate for at least 1 hour, or overnight (for deeper flavor).
Cooking Instructions
Preheat the air fryer (if your air fryer model requires preheating).

Carefully scoop out your marinated tempeh, allowing any excess marinade to drip off, and add it to the air fryer basket.

Cook at 350 for 10 minutes, shaking the basket halfway through.

Transfer the air fried tempeh to a serving bowl, drizzle with the sweet chili sauce, and mix well. Garnish with scallions and sesame seeds.
This air fryer tempeh is perfect served with steamed rice, noodles, and/or with a mixture of roasted, air fried, or fresh vegetables.
Calories: 157kcal | Carbohydrates: 13g | Protein: 12g | Fat: 8g | Saturated Fat: 1g | Polyunsaturated Fat: 3g | Monounsaturated Fat: 2g | Sodium: 566mg | Potassium: 300mg | Fiber: 0.5g | Sugar: 6g | Vitamin A: 125IU | Vitamin C: 1mg | Calcium: 77mg | Iron: 2mg