I just got my paws on The Vegan Burgers and Burritos cookbook by Sophia DeSantis which features 75 plant-based burger-themed recipes. I can't wait to dig in—and I don't want you to have to wait either! So here is one of the author's favorite recipes from the cookbook, so you can give DIY black bean burger making a spin as soon as tonight.
If you're new to homemade burgers, don't worry. The recipes in this cookbook are rated by difficulty level, and this is a Level I recipe—so easy anyone can do it! So what are you waiting for? Let the vegan burger making begin!
Print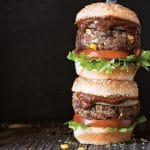 Barbecue Black Bean Burgers
---
Description
Bringing BBQ to your table the nontraditional way. No animals were harmed in this hearty meal, but all of your taste buds will party at the first bite. Slather on as much BBQ sauce as you want and grab a napkin—it's going to get messy. Hope you aren't wearing white!
---
1 cup

cooked brown rice

1 cup

cooked or canned black beans, drained and rinsed

½ cup

chopped sweet or yellow onion (Save some rings of onion to use as an optional topping.)

¼ cup

cooked chopped potato (Any type of starchy potato works—I use red. Sweet potato is not recommended as it is not starchy enough. Cook the potato in the microwave or oven. I don't recommend boiling it because it makes the potato too wet. Measure the potato by mashing it into the measuring cup.)

2 tablespoons

cornmeal

1 tablespoon

Easy Homemade BBQ Sauce (see recipe below)

2 teaspoons

garlic powder

2 teaspoons

chili powder

1 ½ teaspoons

liquid smoke

1 teaspoon

sea salt

1 teaspoon

maple syrup

¼ cup

cooked frozen corn (defrosted to room temp) or fresh corn
To Serve
4

to

5

buns
Lightly grilled rings of sweet or yellow onion
Lettuce
Tomato
Easy Homemade BBQ Sauce (recipe below)
---
Instructions
Place the rice, beans, onion, potato, cornmeal, BBQ sauce, garlic powder, chili powder, liquid smoke, salt and syrup into a food processor. Pulse a few times until chunky. Add the corn and pulse a few more times. Don't overpulse or the mixture will get too soft and diplike.
Place the mixture into a bowl, and put it in the fridge for at least 20 minutes; an hour is best. Making this the day before and letting it sit overnight is optimal. This helps all the flavors marinate and leads to a sturdier burger.
To cook, shape the mixture into patties. If you're not using a nonstick pan, then you may want to prepare the pan by brushing it with a tad of oil to avoid sticking. Place the patties in a pan on the stovetop over medium heat for 15 minutes on each side. Pans and stovetops vary, so begin to check the patties at 10 minutes. If you try to slide your
spatula under a patty and it won't give, then it isn't ready and needs to cook longer.
You can also bake the patties on a parchment-lined cookie sheet at 375°F (191°C) for about 20 to 25 minutes on each side. Allow the patties to cool and set for 5 to 7 minutes.
Serve on buns with the toppings of your choice.
---
Notes
Kids—Make patties into a smaller slider size or into nuggets. Serve sauce on the side as a dipper.
Print
Easy Homemade Vegan Barbecue Sauce
---
Description
Whip up this homemade sauce in no time. It's way better than the bottled version and much healthier. You can even add more sweet or tang to meet your BBQ sauce desires. My newfound favorite snack is dipping fresh, crisp fries into this sauce. Get out a bowl and pile it on, cowboy!
---
1 cup

tomato paste

½ cup

low-sodium veggie broth (see notes)

3 tablespoons

maple syrup

3 tablespoons

molasses

4 teaspoons

apple cider vinegar

2. teaspoons

liquid smoke

2 teaspoons

chili powder

1 ½ teaspoons

sea salt

1 teaspoon

garlic powder
---
Instructions
Put the tomato paste, broth, maple syrup, molasses, vinegar, liquid smoke, chili powder, salt and garlic powder in a bowl and mix well until smooth.
People have many different opinions when it comes to the kind of BBQ sauce they like. If you fall in the spicy camp, then add more chili powder ¼ teaspoon at a time to get the level of spice you like. If you are in the sweet camp, add more maple syrup ¼ teaspoon at a time until you get the sweetness you like. If you are in the tangy camp, add more vinegar ¼ teaspoon at a time until you get the tang you like. This is a good middle-of-the road BBQ sauce, the perfect average mix of sweet, spicy and tangy, according to what I like and the opinions of those who've tried it.
---
Notes
You can use water instead of broth, but I find the broth gives it a bit more flavor. Add more or less broth for the thickness you like.
This sauce is best if made ahead of time so the flavors are allowed to marinate. Marinating also allows the spices to fully combine with the tomato paste. If your sauce seems a little "gritty," then allow it to sit longer. You can speed this up by heating it slightly.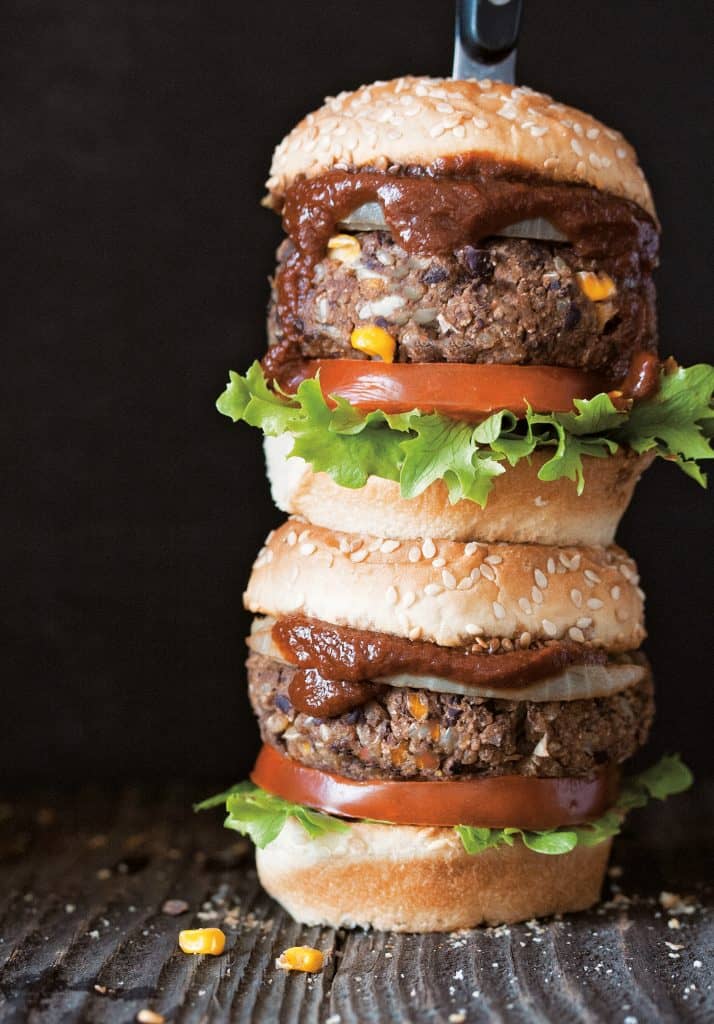 Reprinted with permission from Vegan Burgers and Burritos by Sophia DeSantis, Page Street Publishing Co. 2017. Photos by Sophia DeSantis. This post is not sponsored and all thoughts are my own. For your convenience, this article contains Amazon affiliate links which help us keep the lights on here at World of Vegan.