This cozy soup is one of our favorites. The pillowy dumplings are cooked right in the soup pot, and pair perfectly with the thick savory broth.
Perhaps you have thoughts of sitting in front of your window as the snow falls while you dig in to a huge bowl of soup. Perhaps there's a longing for all of your favorite fall flavors and smells in one place. Or, maybe you're a "hot soup on a hot day" kind of person. Whichever way your tastebuds dance, this delicious vegan soup recipe for plant-based chicken and dumplings will hit just the spot you're looking to warm!
Why You' Should Make'll Love this Vegan Chicken and Dumplings
There are so many reasons to make this scrumptious soup from the Plantiful cookbook by Francesca Bonadonna. While you may feel inclined to wait until the colder months to whip up this delectable dish, we think you should get a head start and get cooking right now!
Not only is this soup perfect for weekly meal prep, it's also sure to be a huge hit during the holidays. If you're getting tired of having a vegan a vegan Tofurky roast for Thanksgiving, this soup will save the day!
Soup for Days – Soup is a fantastic meal to make in advance. It freezes well and is incredibly easy to reheat. It's also great for feeding large groups of people! Hosting a potluck or throwing a party? This soup is the go-to, especially for the winter holidays.
Impress Your Skeptical Friends – Vegan chicken and dumpling soup is not a dish most non-vegans would think of when they think of vegan food. This soup is so good that it'll blow away your skeptical friends and family, thanks to the addition of soy curls! If they happen to be gluten or soy-free, it's also quite easy to adjust this recipe accordingly.
Versatility Level: High – This vegan chicken and dumpling soup is wildly versatile. You can easily swap ingredients in and out and still get amazing results. We've highlighted a couple of the star ingredients below along with suggestions for swapping them out if they're not quite your style.
Star Ingredients
This soup contains a plethora of amazingly delicious and nutritious ingredients that are easy to adjust, if you so please. Soy-free? Use seitan instead! Seeking spice? No problem! Forgot the parsley? That's quite alright! We're here to show you that you don't need to be perfect to make this soup into a memorable meal.
Soy Curls – If you've ever been to the beautiful Pacific Northwest, you may already be familiar with soy curls—a protein-packed soy product that boasts a hefty serving of fiber, iron, and potassium. If you're unable to find these in your area or prefer something else in your soup, you have plenty of choices! Easy swaps include seitan, oyster mushrooms, or cooked tofu. You're also welcome to leave them out without a replacement; that's what Michelle did when she made this soup and it still came out delicious!
Celery – This is one ingredient that we don't recommend leaving out. Celery is not only full of amazing health benefits such as high levels of antioxidants and lots of digestive fiber but it adds a distinctly crunchy and salty flavor to this soup that wouldn't be quite the same without it. If you truly can't sit with celery, decent alternatives could include green bell peppers, fennel, or even zucchini.
Parsley – Like celery, parsley is another component of this vegan chicken and dumpling soup that we recommend not leaving out due to its distinct flavor. Parsley also boasts high levels of vitamins A, C, and K along with a hefty load of antioxidants. If you're negative on parsley, dill, chives, or even sage could make excellent replacements!
How to Serve Up Your Vegan Chicken and Dumpling Soup
While this soup is a complete meal in itself, there are a number of ways to turn it into a side dish or complement it with another excellent recipe!
Feast Your Holiday Heart Out – This soup is absolutely perfect for a holiday spread! Vegan green bean casserole, asparagus, or a simple salad are all great choices for side veggies. If you can't get enough bread, you can't go wrong with jalapeño corn muffins or fresh focaccia!
Spice It Up – Like your soup a little on the spicier side? Bump up the black pepper or add some extra heat with red pepper flakes. Also consider a spicy side such as chipotle corn ribs or spicy sesame kale!
Soup on the Side – There's nothing wrong with turning this delicious soup into a side! Bean burgers, mushroom tacos, or veggie rainbow wraps would all go along with this savory soup just swimmingly.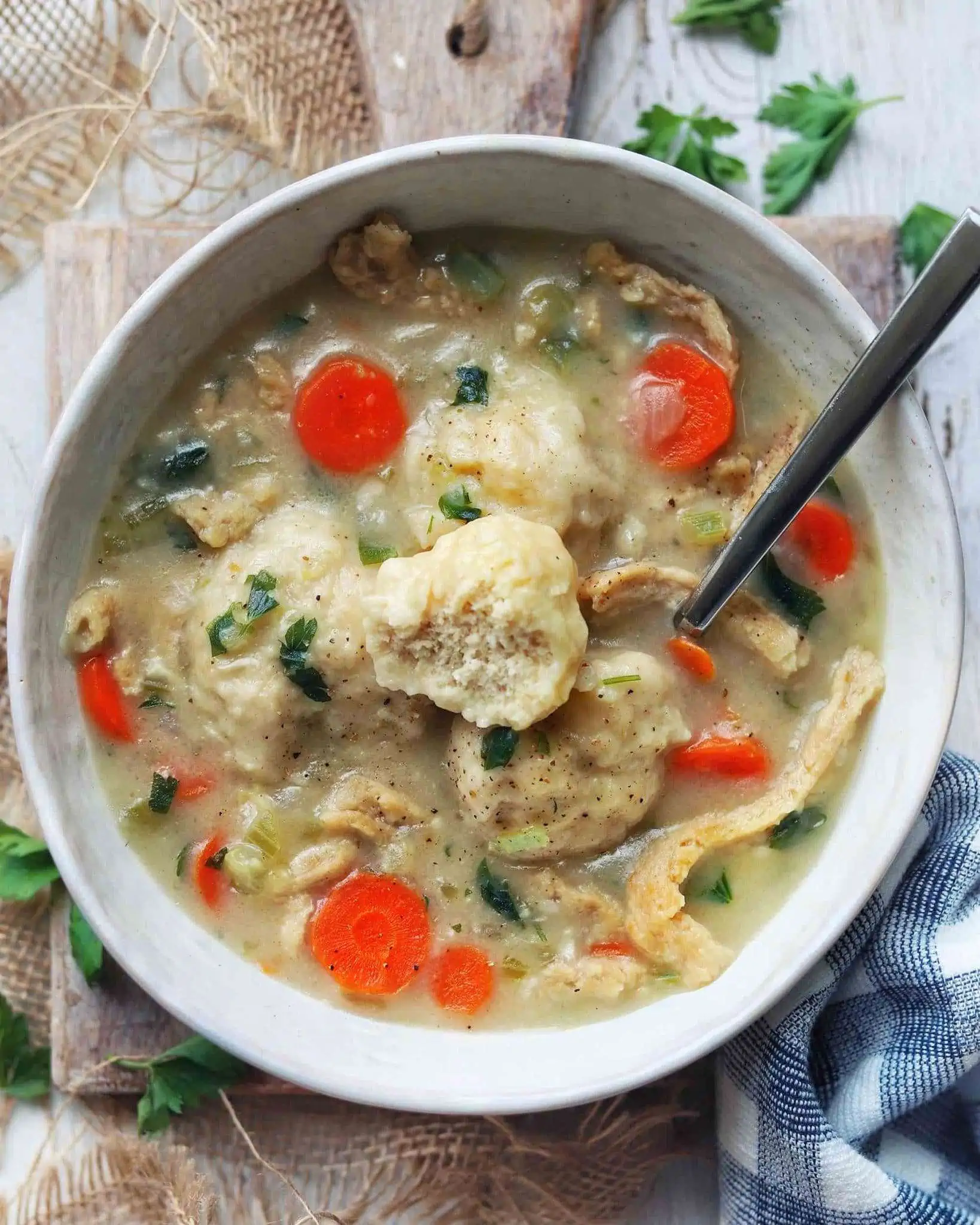 Simple Storage
Soup is one of the best meals to make ahead of time for the week. You can store this delicious vegan chicken and dumpling soup in an airtight container for 4-5 days. Freezing your food instead? Pour into freezer-safe bags or containers such as mason jars and keep for up to one month. Do note that the quality of the dumplings may diminish while in the freezer but the soup will still be soup-er tasty!
More Seriously Great Plant-Based Soups
Don't miss our round-up of incredible plant-based soup recipes you've gotta try! Here are some that may grab your interest:
For The Soup
2 tablespoons olive oil
2 carrots, about 4 ounces/115 grams, sliced
¼ onion, about 2 ounces/55 grams, chopped
2 ribs celery, chopped (about 5 ounces/140 grams)
2 cloves garlic, chopped
10 cups low-sodium vegetable broth, (2.4L)
2 bay leaves
2 tablespoons vegan butter
¼ teaspoon salt
¼ teaspoon ground black pepper
½ cup all-purpose flour, (60 grams)
1½ cups dehydrated soy curls, (60 grams)
¼ cup chopped fresh parsley, (15 grams)
For The Dumplings
2 cups all-purpose flour, (240 grams)
2 teaspoons baking powder
1 teaspoon salt
⅔ cup non-dairy milk, (160ml)
2 tablespoons vegan butter, melted
To Make The Soup:
Heat the oil in a 6-quart (5.7L) pot over medium heat. Add the carrots, onion, celery, and garlic and sauté for 5 minutes, or until the vegetables are fragrant. Pour in the broth and stir to combine. Tie the bay leaves together and place them in the pot along with the vegan butter, salt, and pepper. Bring to a boil over high heat, then continue to boil for 8 to 10 minutes, until the soup is very hot and the vegetables have softened.

Carefully scoop out 2 cups of the soup broth and whisk it with the flour in a large bowl to make a slurry. Remove and discard the bay leaves. Pour the slurry into the soup (this will help thicken it) and reduce the heat to medium. Add the soy curls and parsley and stir. Simmer over medium heat for 5 to 7 minutes, until the soy curls are rehydrated and soft.
To Make The Dumplings:
In a large bowl, whisk together the flour, baking powder, and salt. Pour in the non-dairy milk and melted vegan butter and mix with a spoon to form a sticky dough.

Scoop 2 heaping tablespoons of the dough into the simmering soup to form a dumpling. Repeat until all of the dough has been used; you should get 12 dumplings total.

Cover the pot with a lid and simmer the soup over medium heat for 15 minutes. The dumplings will puff up during cooking; if you cut one in half, it should look like a dry biscuit.
If you don't have soy curls, worry not! This soup will be just as delicious without them and you're welcome to replace them with an item of your choice such as seitan or mushrooms instead.
Better Than Bouillon will work great as a veggie broth if you are looking for a more sustainable option! Just follow package instructions on how much to measure out.
Out of parsley? Other fresh herbs you have on hand such as dill, chives, or sage will work great, too!
Calories: 548kcal | Carbohydrates: 79g | Protein: 13g | Fat: 21g | Saturated Fat: 3g | Polyunsaturated Fat: 5g | Monounsaturated Fat: 11g | Trans Fat: 2g | Sodium: 1130mg | Potassium: 373mg | Fiber: 6g | Sugar: 5g | Vitamin A: 5507IU | Vitamin C: 8mg | Calcium: 245mg | Iron: 5mg
If you try this vegan chicken and dumpling soup recipe, let us know what you think by leaving a comment and rating below! Be sure to follow along on Pinterest, Instagram and Facebook for even more vegan recipe inspiration.
Chicken and dumplings recipe and photos by vegan food blogger Francesca Bonadonna, published with permission from her gorgeous vegan cookbook Plantiful: Over 75 Vibrant Vegan Comfort Foods.