Everyone needs a go-to lasagna recipe, and this one from The Friendly Vegan Cookbook is our favorite of them all. It's simple to make, perfect for batch cooking, and great for feeding a crowd. Plus, it stores well in the refrigerator and freezer and reheats beautifully. But most importantly, this vegan lasagna is absolutely delicious!
With a delightful protein-rich tofu-based ricotta made from extra-firm tofu and traditional Italian herbs and spices, this dairy-free lasagna dinner has the same yum-factor as the cheesy lasagna you grew up eating, but it's way healthier and also cruelty-free!
I've been making this lasagna for years. I've made it for myself and my husband to enjoy throughout the week, I've made it when guests visit from out-of-town so there's always a hearty omnivore-approved meal ready in the fridge, and I've made it for vegan dinner parties with friends. I even made a double-batch to freeze when I was nearing the end of my vegan pregnancy so I would have ready-made vegan meals when my newborn arrived. Needless to say, I love it, and I hope you will too!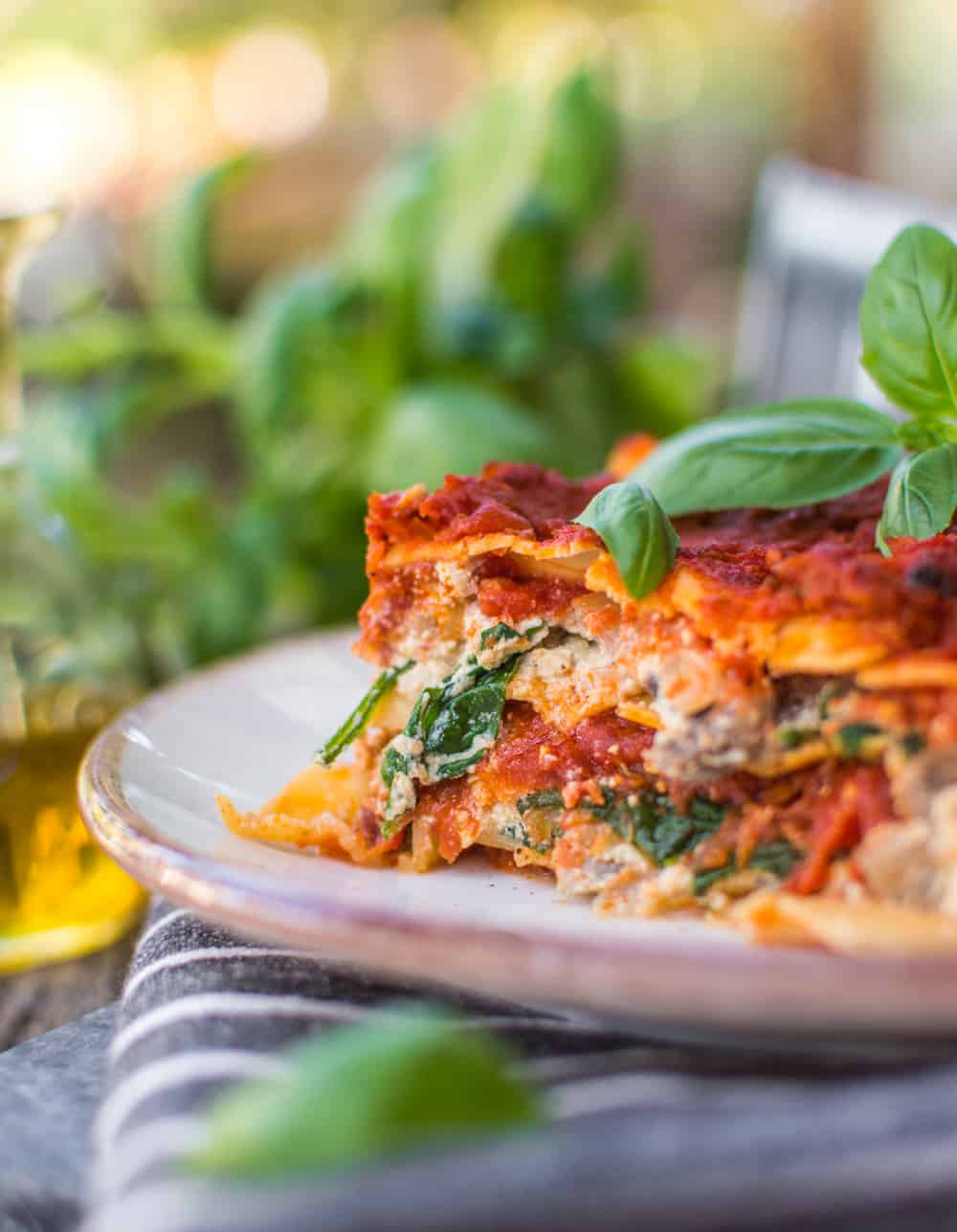 Get Creative With Your Veggies
This plant-based lasagna recipe is incredible versatile, and we encourage you to get creative with add-ins and use the veggies you have on hand.
Not a fan of mushrooms? Leave them out!
Like your lasagna extra cheesy? Sprinkle some vegan cheese shreds on top before baking.
Prefer kale to spinach? Make that simple swap!
Have some broccoli nearing expiration? Chop it up and toss it in!
Feel drawn to the dried oregano in your spice cabinet? Toss a teaspoon in with the basil!
Have a plethora of squash? Dice or thinly slice it up and add it in with the zucchini.
…you get the idea. There are so many ways you can go with this delightful dish. If you have a favorite way to prepare it, we'd love to hear about it in the comments below!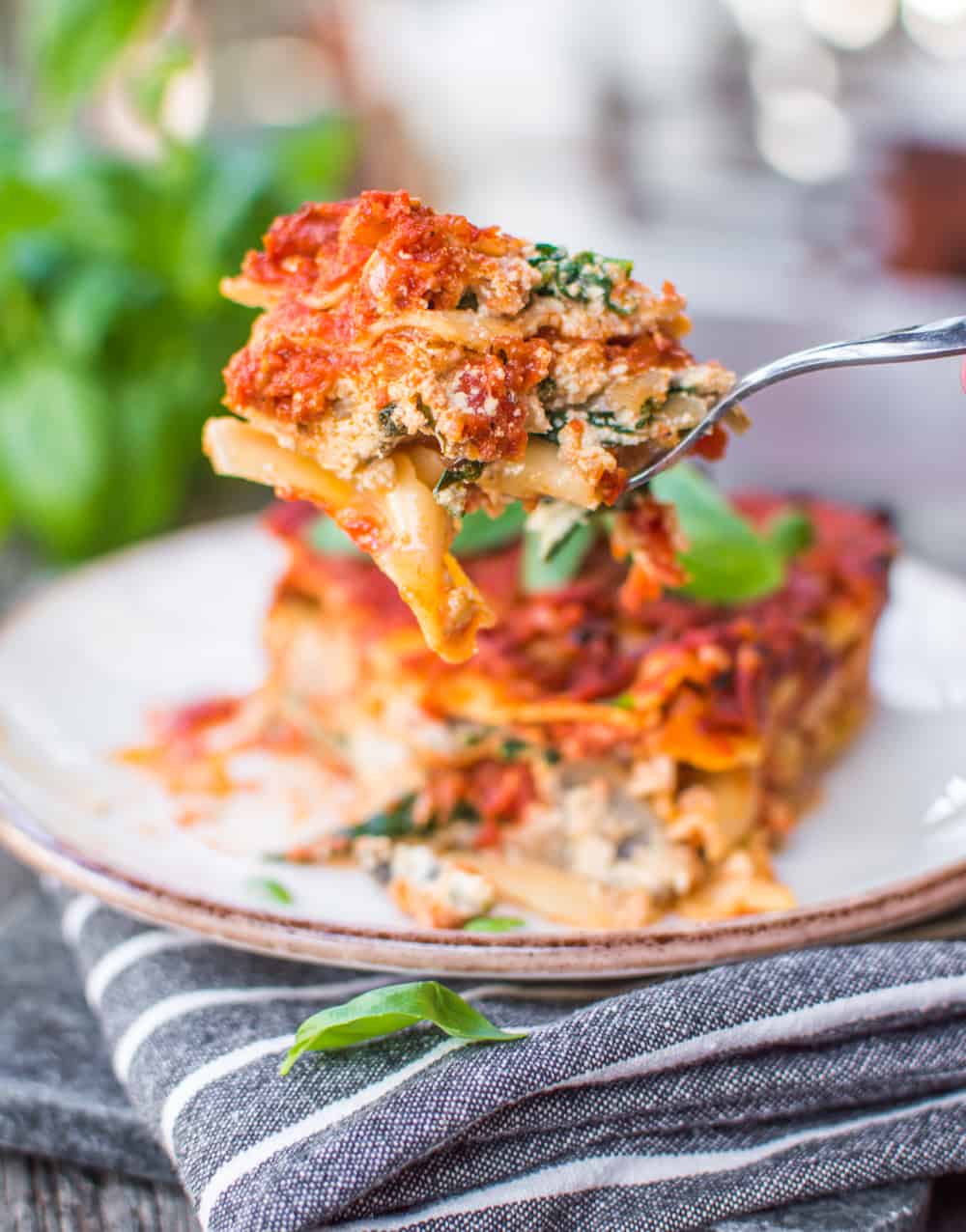 You Need This Tofu Ricotta Lasagna In Your Life!
I know so often we come across recipes online, save them, maybe pin them on our vegan Pinterest inspiration board, or leave the tab open on our computer until we're so overwhelmed that we shut them all and it's lost forever.
Dear friend, don't let that happen with this lasagna recipe! You can click the "print" button on the recipe card above and add the ingredients to your grocery list right now. When you have meals for days in the week ahead, you'll be so glad you did!
This makes a great:
Vegan freezer meal that you can meal prep now, divide into serving sized glass containers, and save until you're ready to enjoy
Meal to bring over to a sick, pregnant, or busy friend or neighbor
Family meal to fill many hungry bellies
You get the gist. It's a crazy handy recipe to get to know and love. From my kitchen to yours, enjoy it!
More Vegan Dinner Recipes
12 lasagna noodles, standard size, enough for 3 layers
2 tablespoons of olive oil
½ of a large yellow onion, diced
1 of a small zucchini, diced
1 cup of sliced button mushrooms
4 large cloves of garlic, roughly chopped
6 ounces of fresh spinach
2 16-ounce blocks of super-firm tofu, patted dry and cut into chunks for easy blending
¼ cup of unsweetened, plain soy milk
2 tablespoons of lemon juice
1 teaspoon of dried basil or 1 tablespoon of minced fresh basil leaves
2 teaspoons of salt
5 cups of marinara sauce, store-bought or from the recipe on page 228, divided
Fresh basil leaves, for garnish (optional)
In a large pot of boiling salted water, cook the lasagna noodles according to the directions on the package. Drain the noodles, rinse with cold water to cool, and set aside.

Heat the olive oil in a large skillet over medium heat. Add the onion, zucchini, mushrooms, and garlic and sauté for about 5 minutes stirring occasionally, until slightly softened. Turn off the heat. Stir in the spinach, cover the skillet, and set aside to allow the spinach to wilt.

Place the tofu, soy milk, lemon juice, basil, and salt in the bowl of a food processor and pulse to combine. Depending on the size of your food processor, you may need to push everything down with a spoon several times between pulses so all the tofu gets evenly crumbled. When you reach a crumbly ricotta­-style consistency, spoon the mixture into a large bowl. Stir in the sautéed vegetables and spinach until evenly combined.

Preheat the oven to 350 degrees F. Spread 1 cup of the marinara sauce evenly across the bottom of a 9 × 13 ­inch baking dish. Follow this with a layer of 4 overlapping lasagna noodles, then a layer of half of the tofu mixture. Repeat with another 1½ cups of the marinara, another layer of noodles, and the second half of the tofu mixture. End with another 1½ cups of the marinara and a final layer of noodles, and spread the remaining 1 cup of marinara sauce on top, being sure to coat all the noodles.

Bake for 45 minutes. Garnish with the basil leaves (if using).
You can prepare this lasagna in advance and keep it in the refrigerator (or freezer!) until you're ready to bake it. If the lasagna is frozen, thaw in the refrigerator for 24 hours before baking. If you bake it from a refrigerated state, increase the bake time to 1 hour or until heated all the way through.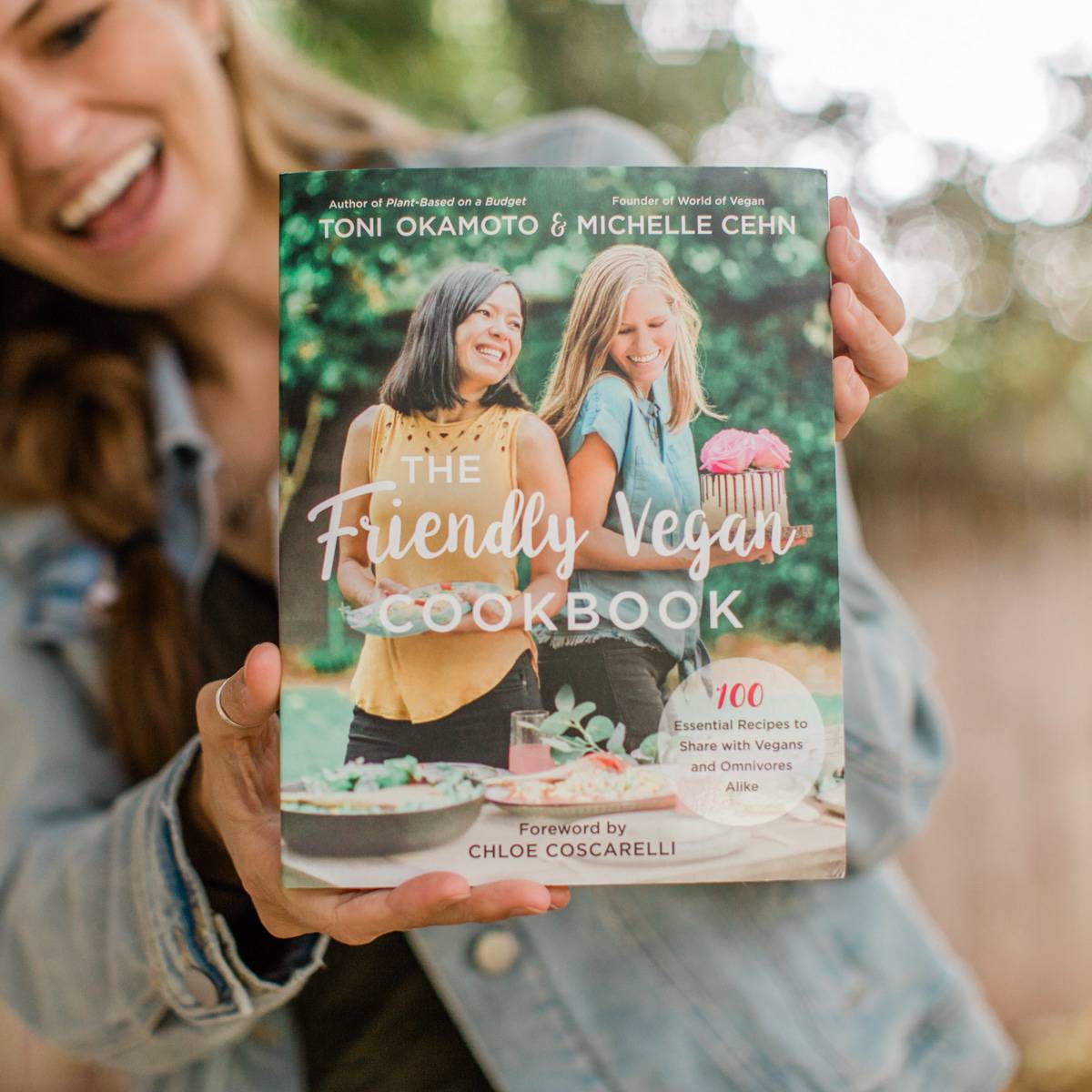 The Friendly Vegan Cookbook
This is a recipe from my book, The Friendly Vegan Cookbook, which is all about providing perfected recipes for the most important staple meals to have in your arsenal. The book featured veganized recipes like:
Classic Italian Stuffed Shells
Perfected Pot Pie
Vegan Pop Tarts
Peanut Butter Chocolate Shakes (That Are Actually Healthy)
…and 100 more. My co-author Toni Okamoto and I wanted to create the ultimate cookbook that could help every vegan nail the basics in their own kitchens. If that's you, and you could use the help of our rigorously tested recipes, you can get a copy here!
This vegan lasagna recipe is from The Friendly Vegan Cookbook by Michelle Cehn and Toni Okamoto. Photos by Zhoro Apostolov. This easy vegan dinner recipe was published with permission from BenBella Books, 2020, all rights reserved. Please note that this article may contain affiliate links that support our work at World of Vegan.