What's the best option for vegan feta cheese? That's an excellent question and one that we get asked often! In this feta-filled guide we aim to please all of those who love truly cheese, but also want to become vegan. Find out what feta cheese actually is, the very best vegan feta brands available in stores, fantastic plant-based feta recipes, and a homemade tofu feta that you can whip up in your very own kitchen!
While delicious vegan dairy products always seemed like an unattainable dream, things in the cheese world are a' changing (and, in our opinion, for the better)! It always amazes us that there is not only one dairy-free cheese out on the market, but many. And, thanks to creative culinary cooks like Miyoko Schinner and Julie Piatt, we can form our own vegan cheeses with very little fuss.
Are you ready to learn more about vegan alternatives to feta cheese and, if someone asks you, feel at ease answering the question––is feta vegan? Keep reading to find out the full story.
What Is Feta Cheese?
Traditional Greek feta cheese is made using goat or sheep's milk. Overall, it is soft in texture, white in color, and is formed into large blocks, which are aged in brine (a salty water bath).
The texture of this dairy-based cheese is crumbly and primarily used as a 'table' cheese, served alongside salads, savory olives, or sandwiches. Fresh or dried aromatic herbs may be also added. Since this process includes using the milk of animals along with other animal ingredients (such as rennet and whey), it is not vegan.
Lucky for us, many companies are trying their very best to create vegan-friendly alternatives for 'hard-to-give-up' dairy products. Because cheese has such a specific texture and flavor, it's not at all an easy task. We're super impressed by the huge strides made by many brands to recreate such a finicky flavor and texture profile.
Here are some of the ingredients used to create feta cheese substitutes:
Best Grocery Vegan Feta Cheese Brands
Now that you know all about dairy-free feta cheese, you might be wondering where you can buy some so you can try some. It's very exciting that there are so many new brands of vegan cheese arriving in stores all the time and we're always anxious to give them a taste. At the moment, these are the brands we feel are way up there on the cheese wheel:
Violife's "Just Like Feta"
We have to admit that the coconut oil-based Violife vegan feta is our favorite. The 'Just Like Feta' block has the perfect combination of silkiness, saltiness, and mild, tart flavor. It is certified vegan and non-GMO. Perfect cut into cubes or thin slices and add to virtually anything! (Or eaten right out of the container! shhh…don't tell anyone.)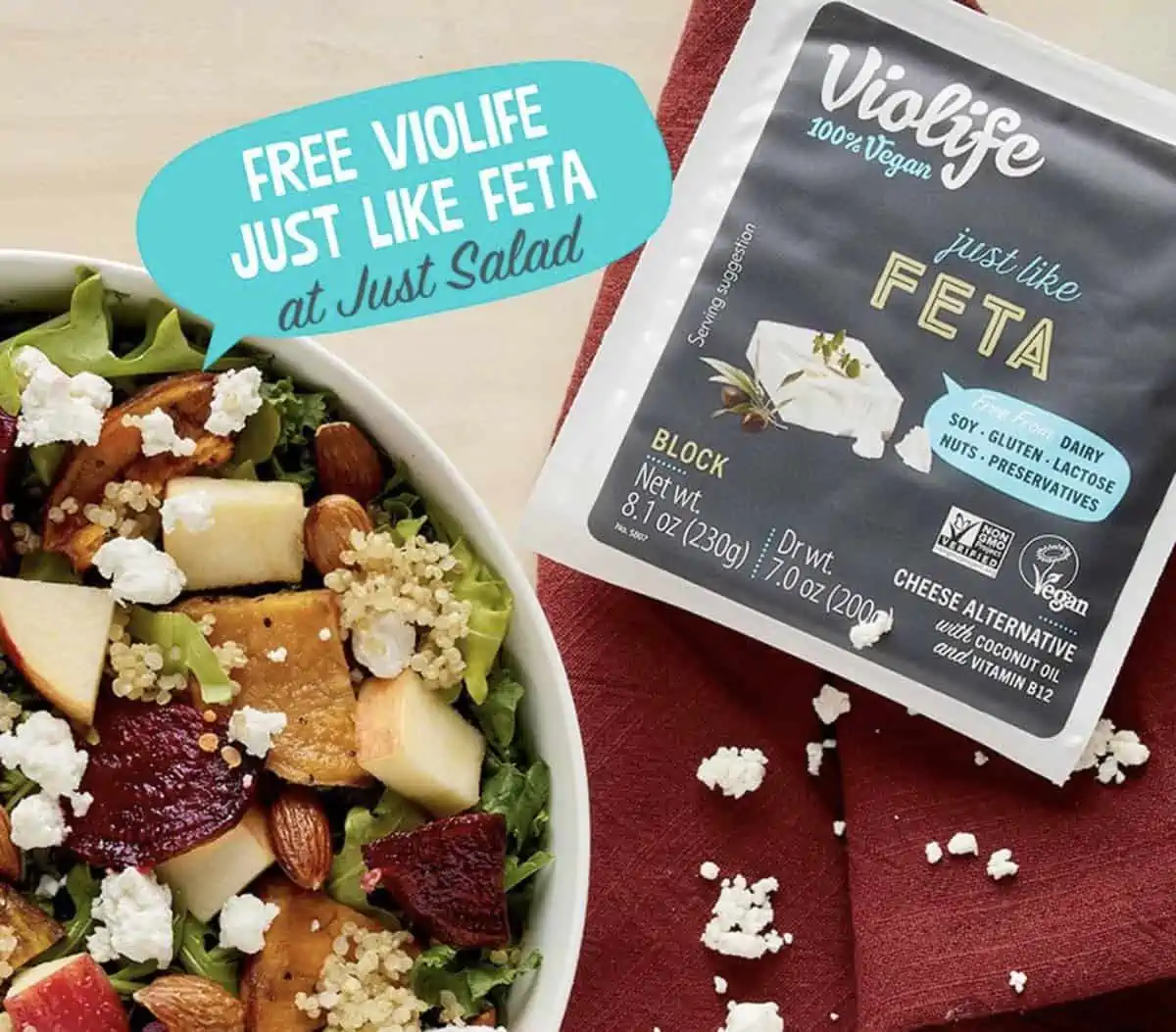 Follow Your Heart's "Dairy-Free Feta Crumbles"
Best selection for salads! Versatile, easy to use, and overall fantastic umami flavor. These vegan crumbles are certified plant-based, gluten-free, soy-free, Kosher, and non-GMO. Follow Your Heart also uses a coconut oil and potato starch base, similar to Violife.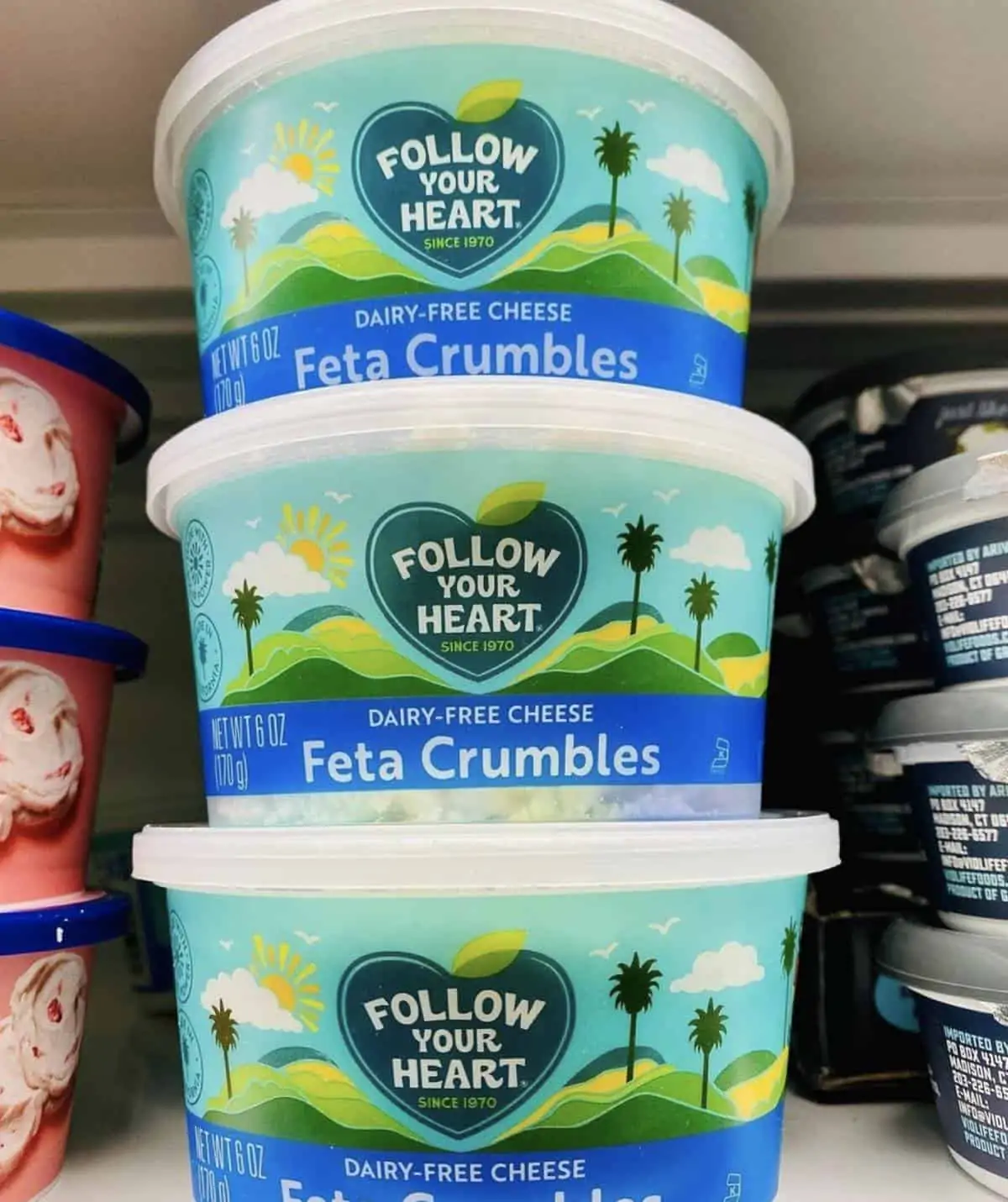 Trader Joe's Feta Cheese Alternative
Not quite as flavorful or salty as Violife, but that might be exactly what you're looking for in a vegan cheese. Nice texture and even more mild. As with Violife and Follow Your Heart, TJ's uses coconut oil and potato starch as their main ingredients.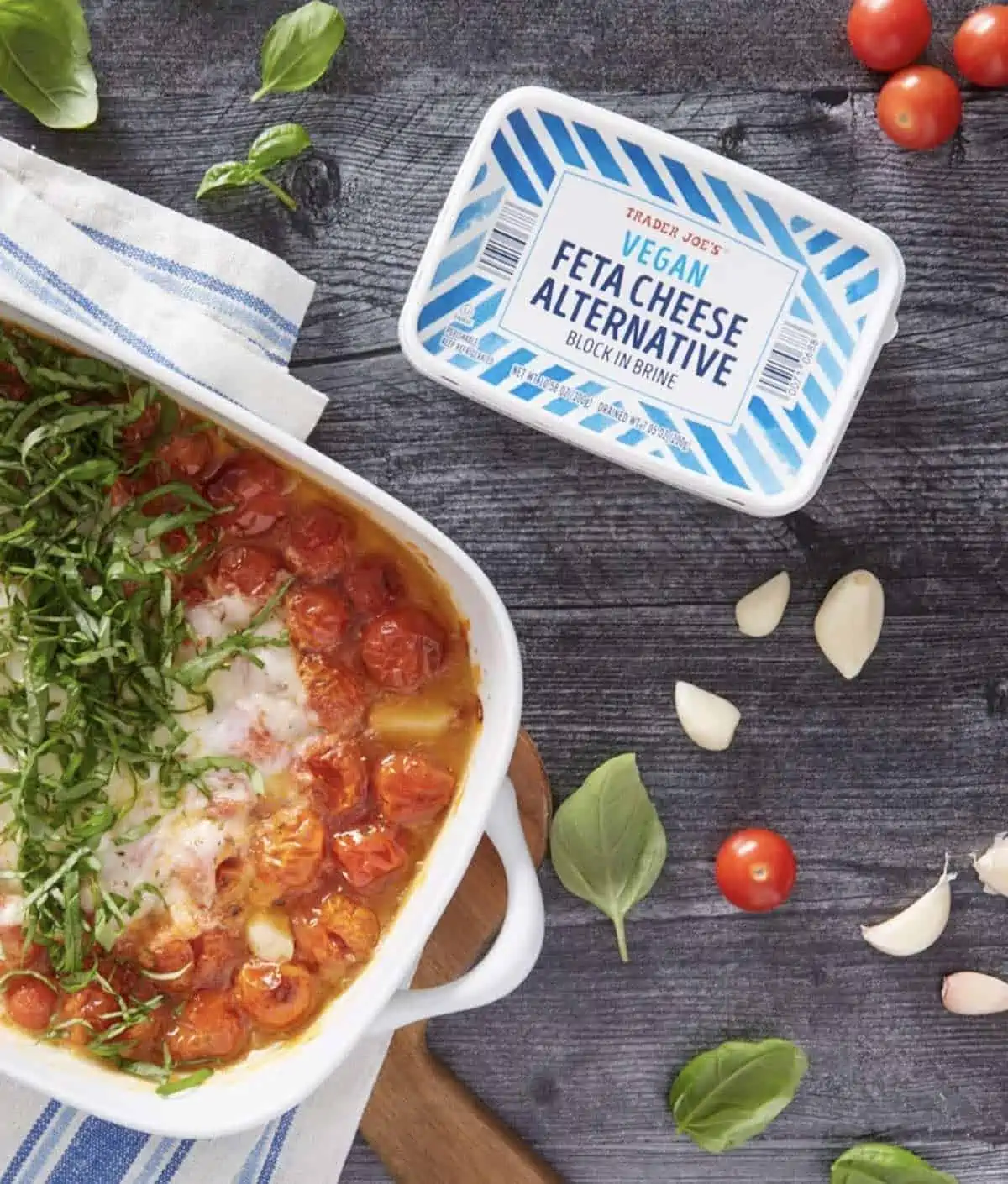 Artisanal Vegan Feta Brands
When only something very special will do, you may want to go above and beyond when it comes to choosing your vegan feta cheese. These brands excel at dairy-free alternatives with a whole lot of flavor and authentic appearance. If you can't decide, buy a block of each and have a taste-testing get together!
Peaceful Rebel Herbed Feta: The great option if you are searching for something with a bit more gusto. This herb-filled cheese goes extremely well with Greek salads, gyros, and pita sandwiches. Gluten-free and tofu-based with coconut oil, vinegar, and herbs.
Virgin Cheese Organic Artisan Feta: If you're hosting a party or romantic dinner, this is the dairy-free cheese to choose. Unlike some of the cheese mentioned above, this one is cashew-based and traditionally cultured. Excellent with wine and crackers. Organic and free of soy, GMOs, lactose, gluten, or dairy.
Cheeze & Thank You Artisanal Feta: This company takes advantage of the silkiness of organic tofu and soybeans (along with a little bit of coconut oil) to make its signature tofu vegan cheese. The white wine vinegar, basil, and oregano add that bit of tang that people are usually searching for in a feta. Made specifically to both crumble and melt, this artisanal cheese is dairy-free and lactose-free.
Recipes Using Plant-Based Feta Cheese
This particular dairy-free cheese is really versatile because of its naturally neutral taste. You can include it in many different dishes for added creaminess, contrasting color, and an extra salty bite. These are our favorite ways to use vegan feta:
Full of intense and flavorful ingredients like olives and a special Mediterranean marinated tofu, this vegan greek salad is sure to become a new favorite side.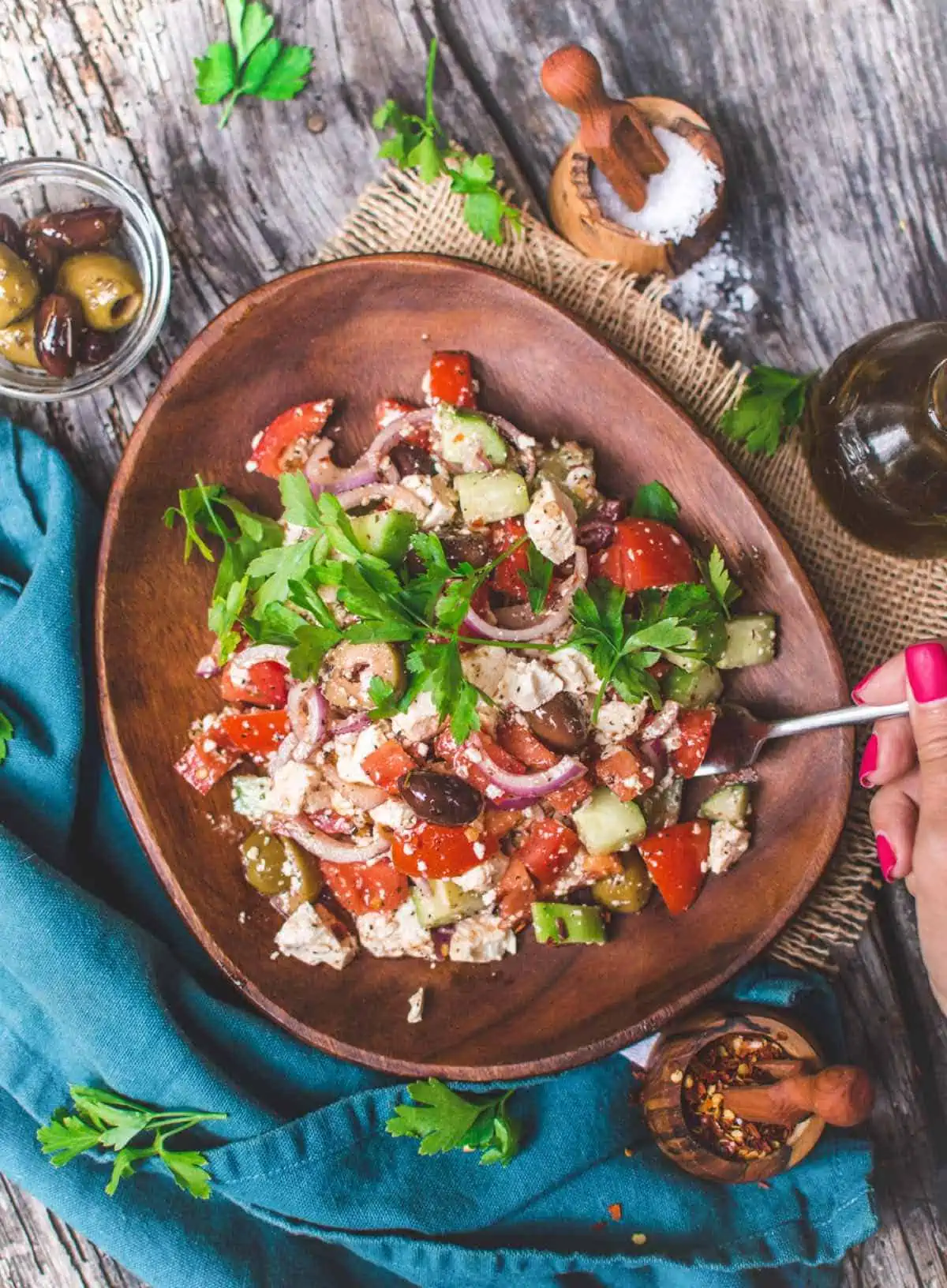 Creamy, savory, and full of tomatoey goodness, not to mention easy to make. A definite crowd pleaser!
Bruschetta with Feta
Cook up crisp slices of homemade bread until golden brown, brush with olive oil, and top with fresh basil, and thinly-sliced garden tomatoes. Add crumbles or thick chunks of feta vegan cheese. Or, what about a mouthwatering, marinated bruschetta feta that has all of the summery, herb flavors incorporated right inside the vegan cheese itself? Yum! Feel free to experiment with all types of culinary combinations when making DIY dairy-free cheese.
Quick Substitutes for Feta
When you're in the middle of cooking a meal and you have no means to grab more ingredients, here are the best plant-based substitutes for vegan feta:
Ideas for Using Vegan Feta in Everyday Recipes
Since vegan feta has a specific taste and texture, you wouldn't want to add it to just anything. (Though we're sure our dairy-free feta cheese lovers may disagree.) If you always wanted to try feta that's vegan, but not sure what to eat with it or how to serve it, here's a list of enticing and appetizing options for you.
Sprinkle Over Salads – One of the best ways to use this tangy vegan cheese is to carefully crumble it over crisp salads. Not only does it give your veggies that extra oomph it needs, but it adds a new texture and fun flavor to simple greens.
Crunch With Crackers – If you're choosing a cool and creamy, mild vegan feta, pair it with a super crunchy and savory cracker. Our favorites include Mary's Gone Crackers, Blue Diamond Nut Thins, or CrunchMaster Multi-Seed varieties. Add a tiny spoonful of raspberry or strawberry jam for a little something extra special.
Feature Beside Fresh Fruit – It's no surprise that fruit and vegan cheese go perfectly side by side. Pairing sweet with savory is always a good choice for a snack. Try to serve apples, dates, figs, grapes, or pears because their sweetness and interesting texture is a nice contrast to the smooth vegan feta.
Homemade Tofu Feta Recipe
We love making our own dairy-free cheese at home and we've created a delicious, herb-filled recipe just for you! Don't be at all intimidated by the recipe. It's simple once you read through it and get started.
All you need to do is drain the tofu, cut the tofu into cubes, make the marinade, and let sit for at least 2 hours (overnight is best!). Then, it's done! You'll have a batch of homemade tofu feta cheese that will last at least a week in the fridge.
Equipment You'll Need
Servings 4 -6 (16 ounces)
1 16-ounce container super or extra-firm tofu
½ cup white wine vinegar
¼ water
2 tablespoons freshly squeezed lemon juice, from one large or two small lemons
2 tablespoons reduced-sodium tamari
1½ tablespoons nutritional yeast
1 tablespoon dried oregano
¼ teaspoon dried dill
Drain the Tofu: Place the colander inside of a large bowl. Wrap the block of tofu well and place inside of the colander. Carefully arrange a heavy bowl or other 3-5 pound weighted object on top of the tofu to aid in pressing out the extra liquid. Let sit for at least 30 minutes. You can also use a tofu press, if you have one.

While the tofu is draining, mix up the marinade. Add all of the ingredients (minus the tofu) into a jar or bowl and whisk together well. Put aside for later.

Once the tofu is drained to your liking, take it out of the cloth, pat dry, and cut it evenly into ½" cubes.

Place the cubes into a mason jar or large container with a tight fitting lid. Pour the marinade over the tofu cubes. Cover and give a shake.

Shake the container every few hours if you can so that all of the tofu cubes are coated with the marinade. Place in the refrigerator for a minimum of 2 hours, but overnight is best. (One or two days is even better!)

Shake the container several times during the marinating process. At least 4 times total is ideal.

After desired soaking time, shake the container one more time and drain the excess marinade.  Store the tofu feta cubes in a closed container in the fridge. Not recommended for freezing. They will last in the fridge for 4-5 days. Enjoy!
Tofu Firmness – It's very important to use super or extra firm tofu. The other types will not give you the same consistency that you find in dairy feta cheese. Using the firmest tofu you can find and then pressing it to release all of the excess liquid truly makes this recipe much more like the feta you were used to eating in the past.
Savory Substitutions – You can use any type of vinegar you would like. We found the white wine vinegar gave the best resulting flavor, but you can experiment with apple cider, rice wine, red wine, or any other vinegar your choosing.
Dairy-free, nut-free, and gluten-free
Calories: 27kcal | Carbohydrates: 3g | Protein: 3g | Fat: 0.2g | Saturated Fat: 0.02g | Polyunsaturated Fat: 0.03g | Monounsaturated Fat: 0.01g | Sodium: 506mg | Potassium: 113mg | Fiber: 1g | Sugar: 0.4g | Vitamin A: 25IU | Vitamin C: 3mg | Calcium: 25mg | Iron: 1mg
More Delectable Dairy-Free Guides To Try
We hope you enjoyed this non dairy feta cheese guide sharing the best dairy-free feta cheese brands and recipes out in the world today! From mild tasting feta to delightfully herb-filled feta, fabulous options are fast growing and brands are becoming increasingly accessible. Did we miss any of your favorite brands or recipes? Please show them some love in the comments below!
This vegan feta cheese recipe was created by Gina House. Photos are from from Canva and feta brand Instagram channels. This article may contain affiliate links that support our work at World of Vegan.